I love creating free content full of tips for my readers, you. I don't accept paid sponsorships, my opinion is my own, but if you find my recommendations helpful and you end up buying something you like through one of my links, I could earn a commission at no extra cost to you.
Learn more
If you are going to paint you will need sandpaper. By degreasing and sanding well before painting, you ensure optimal adhesion between the paint and the substrate.
Do you want to know which sandpaper you need for your painting job? Sandpaper is paper saturated with sand grains.
The number of grains of sand per square centimeter indicates the P value of sandpaper. The more grains per cm2, the higher the number.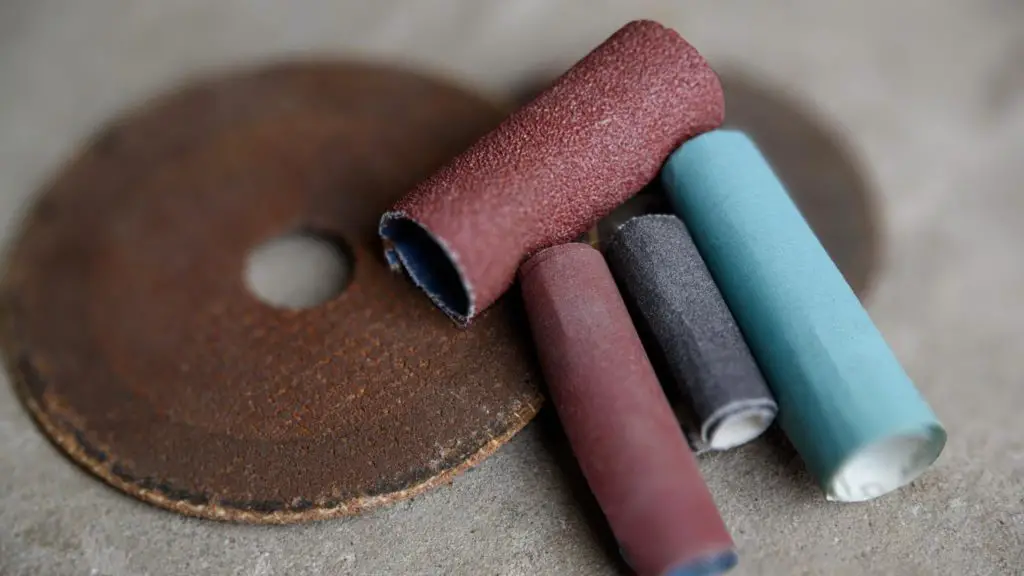 Common sandpaper types used in painting are P40, P80, P100, P120, P180, P200, P220, P240, P320, P400. The lower the number, the coarser the sandpaper. Sandpaper comes in many shapes and sizes. Sandpaper can be used both manually and mechanically. The one-time purchase of a sander can save you a lot of labor.
Click here for the entire sandpaper range
Buy coarse sandpaper
You need coarse sandpaper when removing rust and old paint layers. P40 and p80 are so coarse that you can easily remove old paint, dirt and oxidation with a few sanding movements. Coarse sandpaper is indispensable for every painter and you should add it to your collection of painting tools. When you use coarse sandpaper for coarser work, you save a lot of time and also fine sandpaper which quickly clogs. After using coarse sandpaper, you should first switch to a medium/fine grit. Otherwise you will see scratches in your paintwork.
Medium-coarse grit
Between the coarse and fine grit you also have medium-coarse grit sandpaper. With a grit of about 150 you can sand away deep scratches from coarse sandpaper and then sand it with a fine grit. By sanding from coarse, medium to fine, you get a perfectly even surface and therefore a sleek end result.
Fine sandpaper
Fine sandpaper has the most grit and therefore makes the least deep scratches. Fine sandpaper should be used last, but you can also use it directly on a previously painted surface. For example, if you are going to paint a door that is still undamaged in the paint, you can only sand with a fine sandpaper after degreasing. This is then enough to start painting. Also for plastic you only use a fine grain to prevent scratches. So you always end up with a fine grain when sanding. Always clean after sanding before painting. Of course you don't want dust in your paint.
Advantage of Waterproof sandpaper
Waterproof sanding can be a solution. Regular sandpaper is not water resistant. If you use waterproof sandpaper, you can sand dust-free. Waterproof sandpaper can also be a solution if you have to work in a wet environment.
Sanding with scotch brite
In addition to waterproof sandpaper, you can also sand wet and dust-free with a "scotch brite". Scotch brite is not paper but a kind of "pad" that you can compare with the green sanding part on a scouring pad. When you sand with a scotch brite, it is smart to do this in combination with a paint cleaner, degreaser or suitable all-purpose cleaner (one that does not leave any traces).By wet sanding with a degreaser and a scotch brite you do not have to degrease first and then sand it, but you can do both do it in one go, imitate it after sanding and you are ready to paint.
Do you have any questions about this article or would you like personal advice from a painter?
You can ask me a question here.
Good luck and have fun painting!
Gr. Piet
I'm Joost Nusselder, the founder of Tools Doctor, content marketer, and dad. I love trying out new equipment, and together with my team I've been creating in-depth blog articles since 2016 to help loyal readers with tools & crafting tips.