I love creating free content full of tips for my readers, you. I don't accept paid sponsorships, my opinion is my own, but if you find my recommendations helpful and you end up buying something you like through one of my links, I could earn a commission at no extra cost to you.
Learn more
Your workshop may seem empty without a miter saw, not only for you but for any handyman.
But among miter saws, sliding compound miter saw has the most significant ability to make precise cuttings. A regular saw can not do some angle cuts like bevel and miter cuts.
If you are a DIY person or a woodworker, you may know the importance of the best sliding compound miter saws.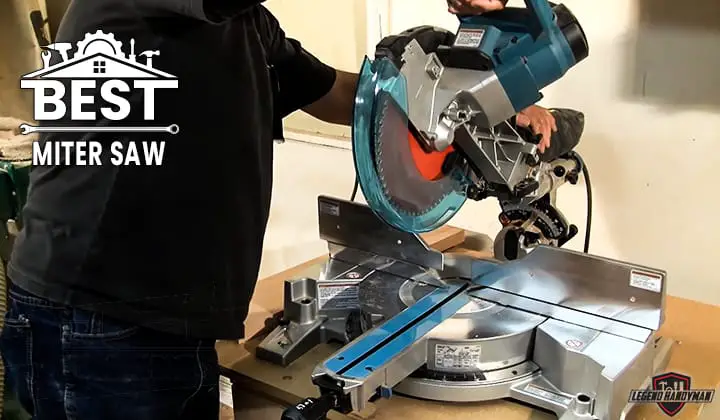 A sliding miter saw is usually manufactured for crown moldings, making photo frames, casings of a window, or any other angled cuts. But it is not easy to choose the suitable one where the market offers many of it. The wide variation and diverse quality will make it confusing for the buyers.
Hence, this article will review some of the top-rated sliding compound miter saws for you to decide. Also, we will provide some detailed guidance to help you buy the one convenient for you. So let's get started!
What is a Sliding Compound Miter Saw?
A sliding compound miter saw is similar to a compound miter saw. This is because they have almost all the qualities of a compound miter saw.
This miter saw is a tool that has rails to allow the saw blade to move efficiently to and fro. The sliding feature is an advantage that allows for cutting thicker and broader materials.
These miter saws also can make bevel and miter cuts. They can cut up to 16 inches thick materials easily. Some of the sliding miter saws are heavy enough that keep it stuck over the table. Moreover, this saw comes with a dust collection system for tidying up space.
Lastly, this saw tool gives a considerable amount of power for ensuring even and smooth cuts of materials.
Best Sliding Compound Miter Saw Reviews
As you have read about what a compound miter saw is, you may also want to know how the market serves us with their products. A miter saw is one of the most useful and adjustable products in a woodworking workshop.
Here, you will be enlightened with various types of compound miter saws available in the market. Let's go through the following reviews for you to choose the best one.
DEWALT Sliding Compound Miter Saw, 12-Inch (DWS715)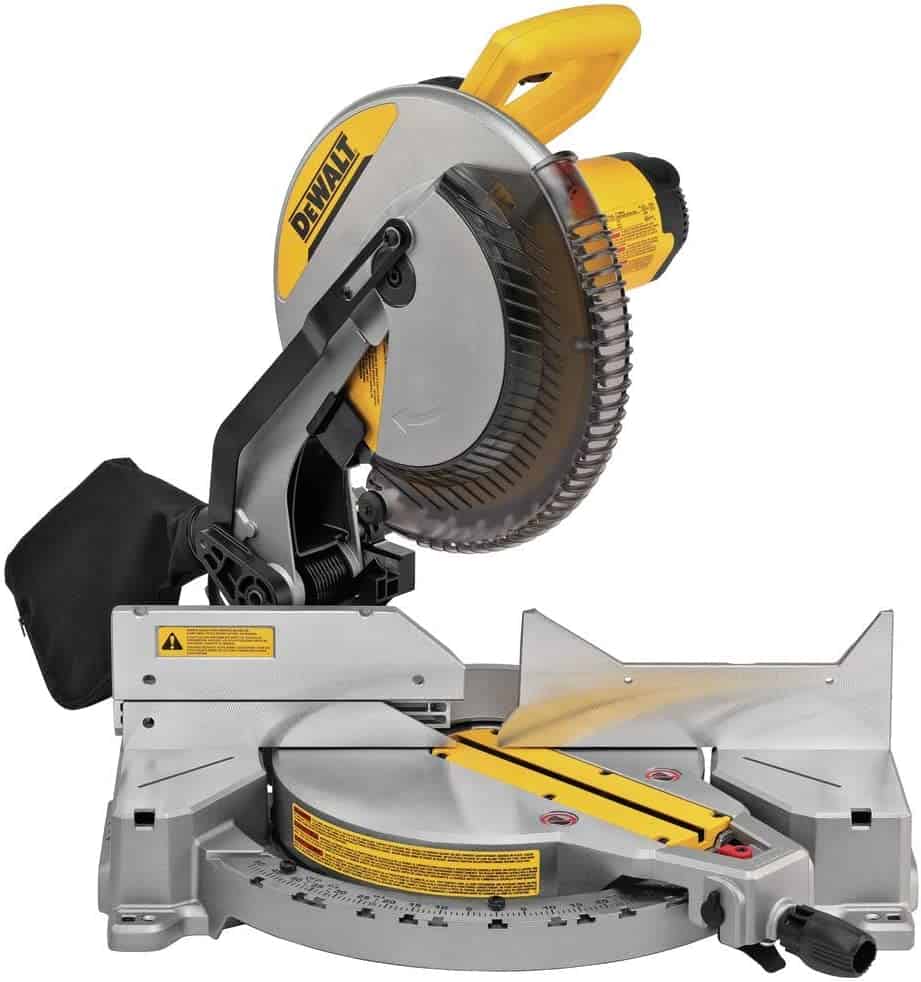 It is very natural when you slice off wood material, your workspace gets dusty! Let's look forward to DeWalt brand reviews that feature 75 percent of the dust collection aspect.
This silver colored miter saw weighs about 56 pounds. The components present in the package of DeWalt are miter saw, user guide, carbide blade, and a blade wrench. They are well designed with 15 amp and 3800 RPM motor, and they offer unlimited power and permanence.
Moreover, this precision tool is the strongest with high capacity and accuracy for woodworking projects. Also, these have a cam lock handle for exact results over the angles. It has a tall sliding fence that slices up 2 x 16 and 2 x 12 dimensional wood at 90 and 45 degrees, respectively.
Interestingly they can cut up to 6.75 inches of thickness. You can achieve professionalism in your woodworking tasks because this miter saw provides a capacity of 60° to the right and 50° to the left.
Additionally, for bringing out better finishes to your wood, it is featured with a cutline blade placement system. This allows free and quick adjustment indication for visualizing better.
If you desire capacity for cutting vertically, features like gearbox and belt drive will make it done. Moreover, the saw is highly compact. The dual steel rails are horizontally aligned with the updated mechanism of clamping and linear ball bearings. These innovative features equally help in keeping the tool durable.
For visualizing your work clearly, you can add a small shadow light. Insert the shadow light just above the place where the cutting is done. Model number 780 has an LED light inserted previously.
But it is much more expensive than just buying that attachable shadow light. It is quite simple, less expensive, and results in perfect bevel cuts.
Pros
Well built
Easily adjusted
Less dusty
Updated Mechanism Clamp
Cons
Bosch Power Tools GCM12SD-15 Amp 12 inches Corded Dual-Bevel Sliding Glide Miter
You are all familiar with the Bosch brand as it is one of the famous brands in the mechanical industry. This brand is known for its smooth finishes of lumbers. Weighing about 65 pounds, it results in an incredible performance.
This blue colored miter saw features an axial glide system. And this system helps in saving your workspace of 12 inches. Moreover, this system of sliding allows broader cuts with easy alignment for the user.
Bosch miter saw holds up to 14-inch capacity horizontally and 6 ½ inch capacity vertically. Well, you must know that against the fence, the best capacity is 45 springs.
When a tool is adjustable, it requires less time for arrangement. This brand is excellent with adaptable issues. Consisting of an extensive reading bevel and stainless steel material, the user will find it easy to assemble. Not only this, but they also have detents marked, and roof pitched angles too for accurate cutting. 
In comparison with DeWalt, Bosch manufacturers offer a higher percentage of collecting dust. It is featured with a vacuum for dust collection up to 90% for user convenience.
For more precise working, there is a square-shaped lock for unlocking the fence lock quickly. You can easily set the settings of the bevel with the upfront bevel controller. It is so easy that you won't even have to go behind the saw for selecting the range. With the tip of your finger, you can lock and unlock the fence locker.
Moreover, this miter saw has a lower guard for clear visibility while working. Well, it is essential to mention that this tool comes with a 60-tooth saw blade. For your comfort, manufacturers designed soft trigger handles too.
Pros
Effortless glides and cuts
User-friendly
Clear visibility
Requires less time for arrangement
Cons
SKIL 3821-01 12-Inch Quick Mount Compound Miter Saw with Laser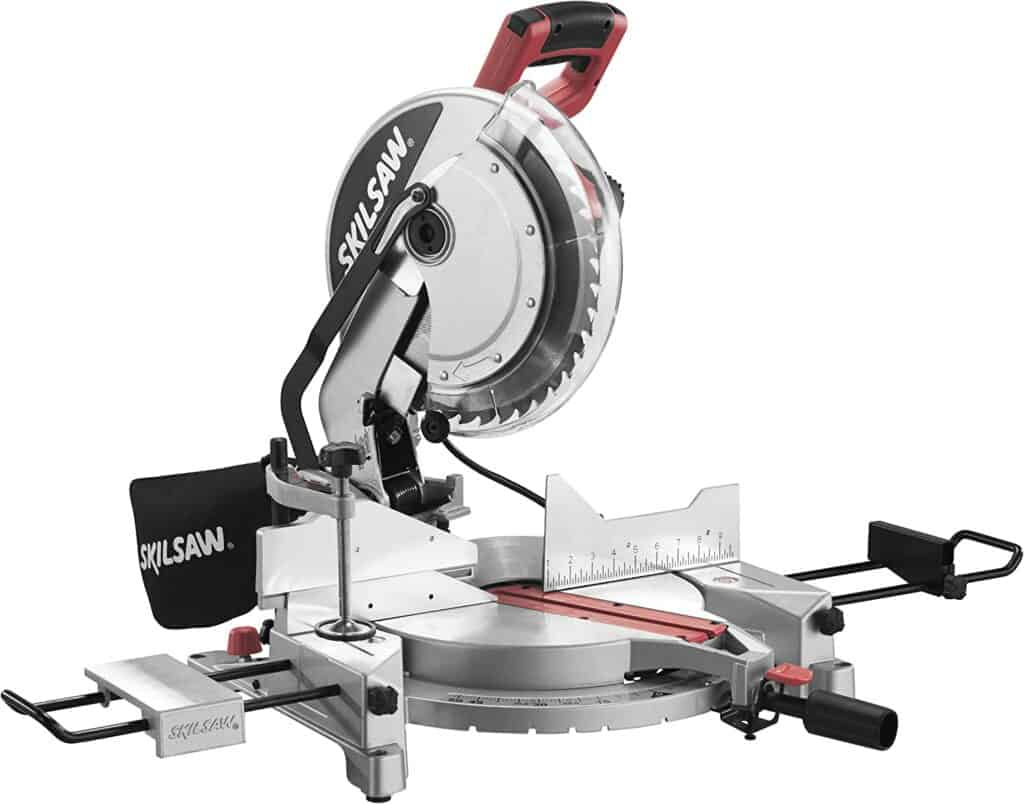 Most of the time, more substantial and heavier woodworking applications are performed outdoors. In that case, these heavy miter saws are difficult to carry with you. Hence, Skil miter saw brand can solve all your travel and work issues.
Weighing about 42.5 pounds, this miter saw is corded-electric. The amperage capacity of this red colored miter saw is 15 amps with 120 volts.
As said earlier, these have a mounting system for easy and fast set up. They also have handles for easy carrying. Besides this, for collecting dust, they comprise of a dust bag too for keeping your workspace clean.
Mentioned before, it has 15 amps motor, which means it can produce 4500 RPMs. That means it is powerful enough to slice up softwood materials precisely and accurately.
This miter saw tool comes with a unique feature of a laser cutline guide system. It guides you where to cut through. It will help you in adjusting the saw for precise cuttings with your desired angles. This is a plus point for a new user as angled cuts can be done with less effort.
Interestingly, Skil miter saw is manufactured with nine positive stops. Are you wondering what it does? They are made for you and your work's convenience. Firstly, these provide stability while working on wood or some other materials. Secondly, the saw can be easily adjusted and angled.
Moreover, they contain table extensions keeping space for working on large materials. Hence, Skil miter saw is an excellent tool for DIY users as well as professionals. With an affordable price, they will provide you everything your woodworking project requirements.
Pros
Highly qualified motor
User-friendly
Inexpensive
More stable woodworking
Cons
Lack of advanced features
Craftsman 7 1/4" Single Bevel Sliding Compound Miter Saw CMCS714M1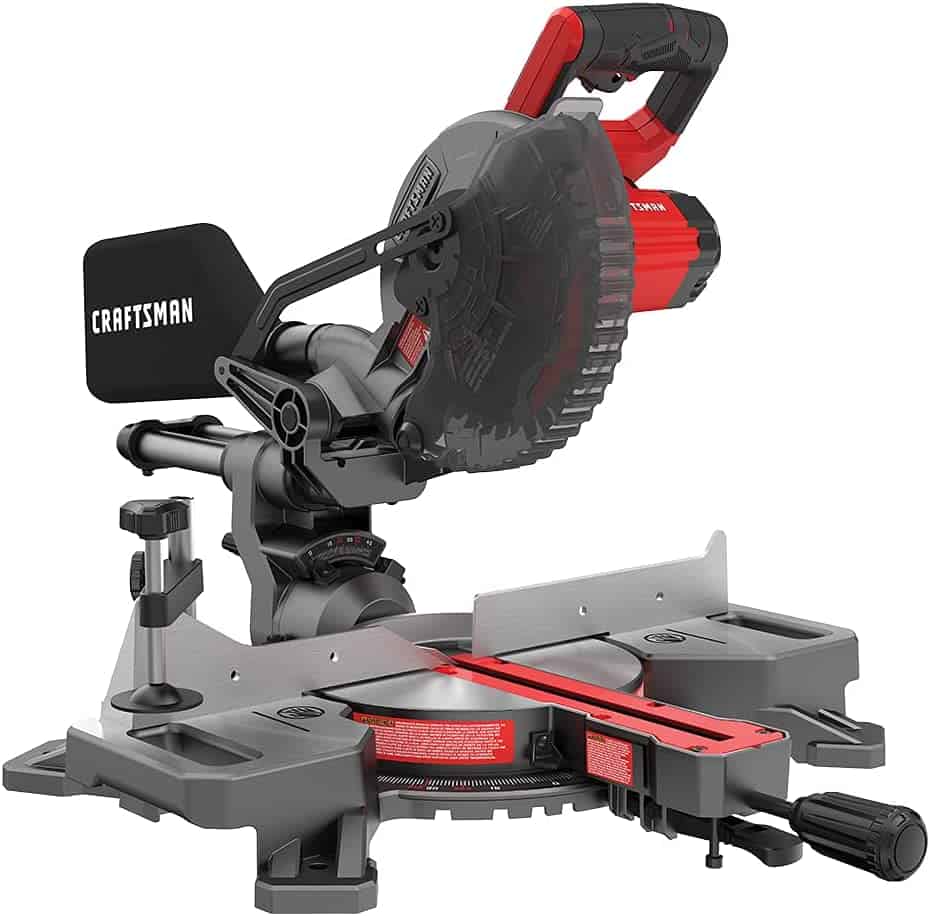 Craftsman Compound Miter Saw weighs about 45.9 pounds. This tool is made up of metal material. Also, they are corded-electric that supplies 120 volts of voltage power.
Slightly different from other miter saws, this comprises of a red beamed laser guide for precise woodworking jobs. The laser guide allows the operator to cut both hard and soft material smoothly. Besides this, Craftsman also ensures quick sharp corners and edges.
Every cut can be done precisely with whatever blade is used under the saw tool. It is light-weighted and portable enough to carry to your job site or at any other location.
Unlike other miter saws, Craftsman saw uses blades of small size for easy maintenance and money-saving. This saw tool spins at 4800 RPM, delivering 12 inches wide cut through materials. It is featured with 15 Amps powered motor for a higher speed of the machine.
The Craftsman is sold with a full package. It includes miter saw, saw blade, dust collector, blade wrench, laser guide, clamps, and instructions sheet. They are entirely constructed with aluminum for durability. Assembling is easy by following the user guide instructions. Table extensions are also included here for portability.
You will be happy to know that adjusting the miter is very comfortable with positive stops. Manufacturers designed the machine with 60 carbide teeth and a blade of 10 inches. These features allow accuracy in cutting as well as long-life batteries, making it highly convenient.
Pros
Well angle cuts
Affordable with good performance
Highly powerful
Easy and quick in working
Cons
Improper alignment
Poor adjustments
Metabo C12RSH2 15 Amp 12- Inch Dual-Bevel Sliding Compound Miter Saw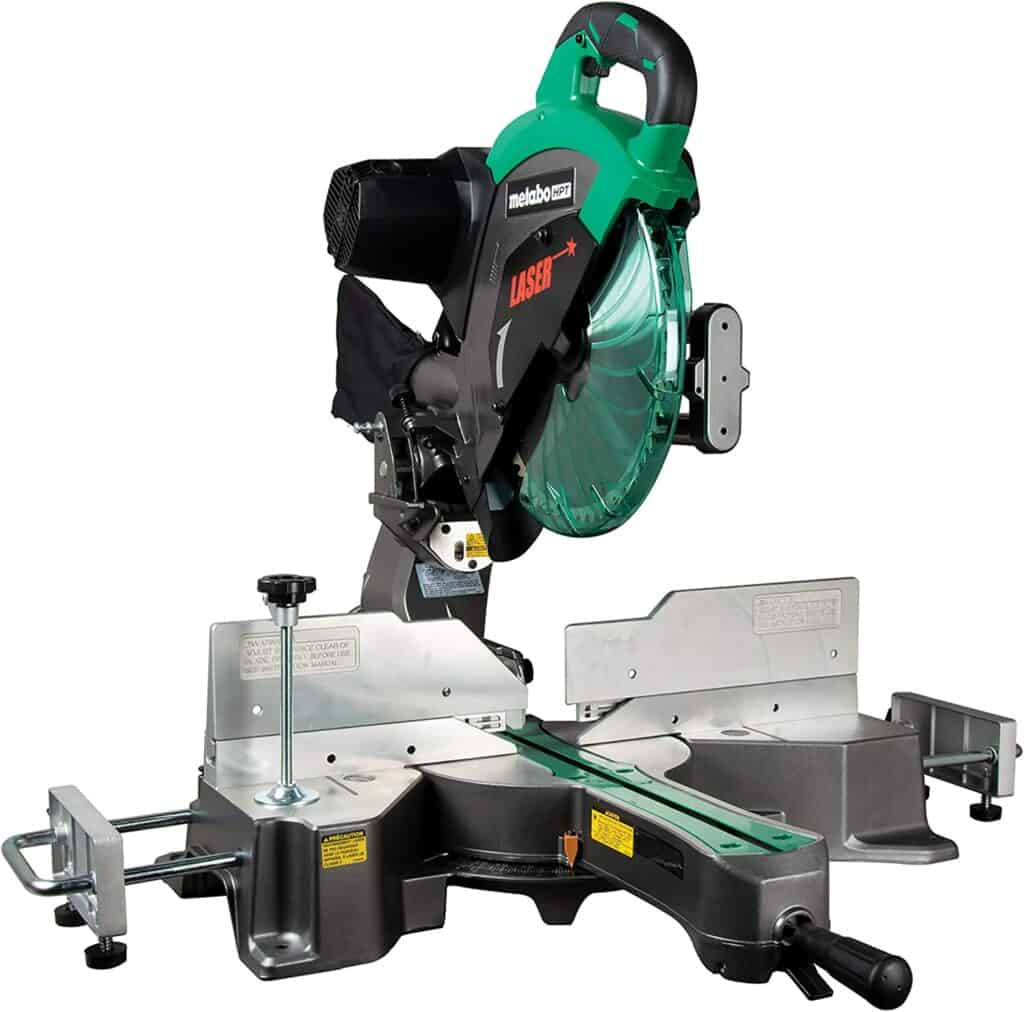 Precise cutting is the primary desire of every woodworker. The best-rated sliding compound miter saw comes with the maximum cutting capability. Thus, Hitachi is one of the known brands for offering a higher capacitor. For your knowledge, Hitachi is the former brand name of Metabo HPT.
They offer a laser marker for more exact cuts of the materials. These laser guides can bring out perfection from even new users. For many conveniences, this tool has a compact slide system to move the saw along the rails. This is constructed for zero rear clearance and accuracy while working.
Moreover, you can easily cut more abundant materials because of the featured tall sliding fences. These fences also ensure fine bevel cuts with smooth sliding. The product weighs 59 pounds. These also contain a laser light notifying that the machine is running.
Similar to other brands, Hitachi also offers a dust bag for clearing your workspace. The package includes a saw blade of 12" 60T TCT, box wrench too. They usually provide features for making it user-friendly. The elastomeric grip reduces the vibration of the tool for excellent control and comfort.
Do not worry about thick and steady materials. These tools empower 15 amps motor to cut through sturdy materials. Additionally, they comprise of features like indications and positive stops. With these features, you can easily change the settings and also keep track of the measurements.
This does not end here; manufacturers have done a great job in featuring a flip-up saw blade. It allows working flexibly with the saw tool, and the material does not move from its place. Hence, manufacturers have carefully designed the machine according to the user's convenience.
Pros
Has a thinner blade that cuts finely
Great for the money
Reliable product
Laser guide
Cons
Guide rails are very stiff
Metabo HPT C10FCGS 10" Compound Miter Saw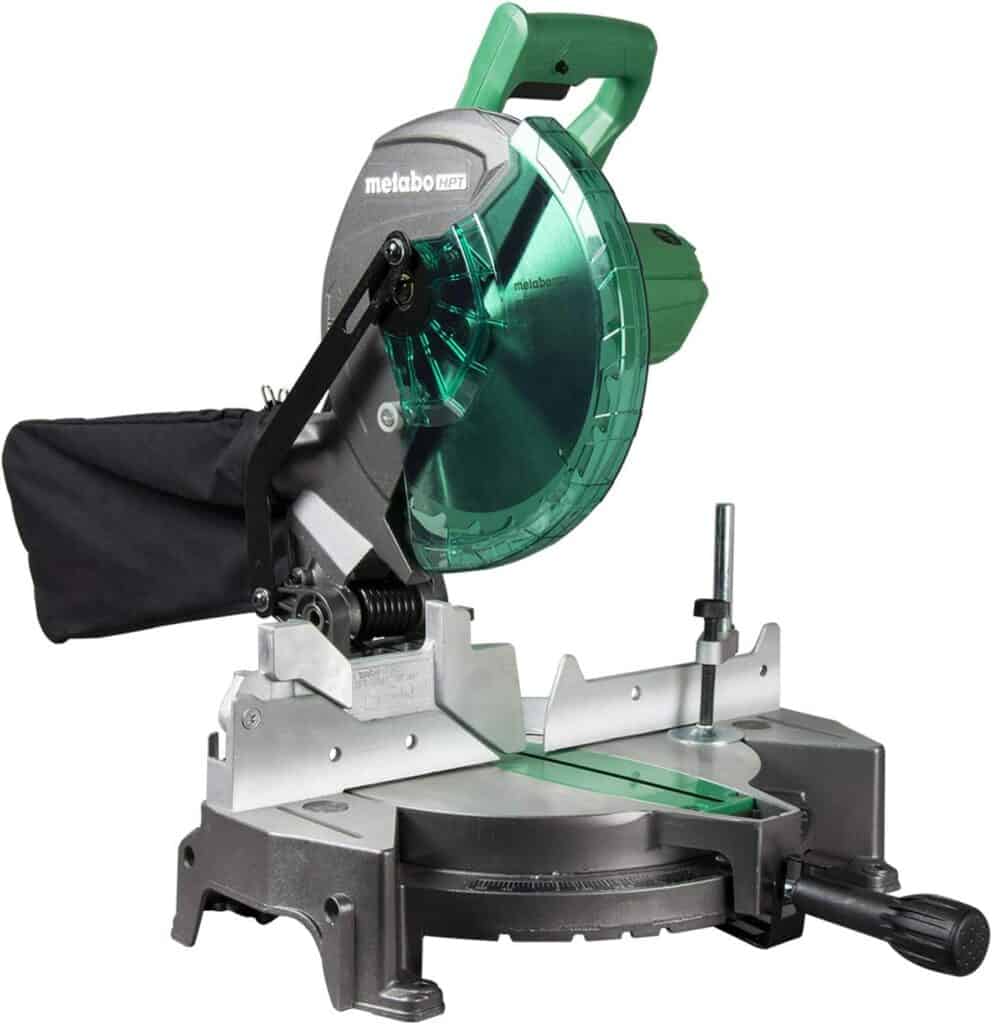 As said earlier, Metabo is the new name of the Hitachi brand. Although the name has changed, the quality will remain the same. This tool has the capacity of 0-52 range of miter angle degree. Additionally, the bevel angle range is 0-45. These miter saws weigh about 24.2 pounds.
Interestingly, Metabo miter saws are light-weighted, and for that, it will be more comfortable in transportation. You can quickly complete your task of cutting with this 15 amperes powered tool. It is because 15 amps provide approximately 5,000 RPM with low load speed. 
Woodworkers who desire for accurate bevel cuts can choose this. This brand miter saw comes with a large table for the operator's ease in handling materials. Moreover, they are built-in with a clamping system for easy placement of the workpiece. If holding a tool is difficult, it will gradually take time to finish one project.
Thus, Metabo tools also include a gripped handle for holding the machine comfortably and securely. This will not only comfort you but will also quicken your hands at work. Similar to other brands, this model is also designed with positive stops. These positive stops are thumb-actuated systems.
Adjusting your miter saw is vital if you want to cut through all types of materials evenly. Hence, your miter saw can be easily adjusted for giving out finer and clean outputs.
Dust tray is like an important feature in all miter saw models. It allows the woodworker to work in a dustless environment for quickening his task. The carbon brush is also included here for prolonging the life of the tool. You also have the option to replace the brush.
Pros
Clean trim cuts
Good for DIYs
Smooth and quick cuts
Comfortable to hold
Cons
Before You Buy, What to Look for
Appending below are some important features that need to be taken into consideration while choosing the best sliding compound miter saw. These factors will help you in opting-out a convenient tool for your project. Read on!
Power
Power is one of the most important factors when you deal with machinery. Therefore, you have to choose the one which offers enough power. The sliding miter saw should be powerful enough to cut through the smallest or thinnest piece of material.
That means the tool blade should provide the capability to slice up the material easily. The pressure must come from the blade and not from your hands.
Moreover, you need to keep in mind how the transmission mode of power is. Some miter saws have a motor that is connected to the blade directly. While few of them transmit power with a belt that is connected to the blade, you must remember your cutting ability depends on the capacity of the power.
Accuracy
Accuracy or precision is another main important feature. And accurate results are like a dream come true for every woodworking professionals or DIYs users.
If you are working for applications like photo framing or any carpentry at home, molding, or trimming, in these cases, accuracy is a vital need for every small or big application.
Hence, your hard work will go to waste if your miter saw does not provide precise cutting. It is because your whole project will come out to be distorted. Therefore, get to know about the efficiency of a miter saw and then decide if you want to own the machine.
Easy-to-Use
When a machine can be used easily, it brings out better results. To perform bevel or miter cuts, it is important to have miter and bevel scales. This is because if the scales show the marks perfectly, then it will be easy to make the cuts.
Another point here is that the blades should be changed easily. Sometimes, you may feel that this blade needs to be sharper for the work. Therefore, the adjustment should be simple when you try to replace it with another one.
Check out for a miter saw that is user-friendly, which will allow your work to be easy and quick.
Dust Collection
When you are working on wooden applications, it is confirmed that dust will spread all over the place. But if you continue working in a dusty area, then it may surely hamper your work. It may cause a problem in the accuracy of the saw tool.
Therefore, dust collection is a necessary factor to be considered. A sliding miter saw is designed with a dust collection port. A good miter saw will allow a higher percentage of collection of dust.
Capacity
Another important factor you need to keep in mind is the capacity of your saw tool. It is essential to know how much capacity the miter saw can provide to cut a wider or thicker baseboard.
The capacity of the miter saw is determined by the size of the blade and fence. Different sliding compound miter saws come with different sized blades. As you have read in the reviews above, most have 10 and 12 inches blade. You can crosscut wider boards with a larger size of blades.
Also, the size of the fence determines the capacity of the miter saw. The horizontal fence capacity will decide on how wide baseboards can help you cut. Whilst the vertical fence capacity will decide how much of the molding can be cut through.
Hence, before purchasing your desired saw tool, remember to check the capacity of the product.
Portability
It is always recommended to use a machine tool depending on the location. If you want to use your saw tool only in your workshop, then you may not need a portable one. But if your work is a moveable job, then you need to look for a mobile miter saw.
In that case, many things need to be taken into consideration — for example, the design of the handle, the tool weight, etc. Weight is important to allow easy carrying from workshop to truck and truck to work site.
Purchasing a cordless miter saw is another essential factor here. Many of us find it easier to work without the extension wires or cords while carrying. Additionally, a cordless machine allows the user to work freely at job sites or workshops.
Therefore, remember to check the weight of the tool before ordering. That is only if you need to move around a lot. Then it is advised to take a portable, and light-weighted miter saw. But if your work is limited only to the workshop, then the weight is not a factor.
Blade
The whole machine depends on one thing, i.e., the saw blade. Whatever cuts you want to make, it merely depends on the size of the blade. That means the size of the blade is one of the most important factors you need to consider.
To decide on the blade size, you first need to know your cutting needs. As you have read in the product reviews, blades sizes are mainly 10 to 12 inches. If your cutting need is larger than that, then you may put up a larger sized blade.
A point to note here is supposedly your miter saw is a 12-inch miter saw. In that case, you cannot use a blade beyond a 12-inch blade size. Why? It is because some brands disallow it because of safety purposes.
Well, another point is the teeth count of the blade. Teeth count is necessary because the smoothness of your work relies upon this factor. You had noticed that the saws come with a specific number of teeth. Large size blades have several teeth in contrast to smaller ones.
Therefore, it is important to consider the size and tooth of the sliding miter compound saws.
Safety
Using such types of machinery needs to have some safety features. It is because mishaps are inevitable in dealing with saws. And it is no doubt that almost every company provides full proofed safety measures. But yet, we, as the operator, need to check those features out before purchasing.
The saw guard is one of the safety features in miter saws. It prevents from accidental catastrophes while using the miter saw. And it also provides guarding your saw while moving it from one place to another.
Another safety feature to look out is the electric brakes. They allow the blades to stop spinning in a few seconds. This means a reversal of the electricity flow, which gives a prompt ending to the blade.
Hence, it is important always to explore the features of the miter saws. Have in mind the safety of yourself and your environment.
Extra Features
The top-rated sliding compound miter saws usually offer some add-on features for user's convenience. These features make things easier for the operator. The most reviewed features are the laser guide and the clear-cutting guard. Mostly, the miter saws come with laser guide or laser attachments.
This remarkable feature allows the user to view the position of the blade. Moreover, cuts can be done precisely using the laser. The clear-cutting guard also allows the user to see the blade cutting the material. This ensures the user that the process is being done correctly.
Another feature is the locked-in angle technology. This technology comes with some positive stops at a certain point in angles. With the help of this technology, you can easily get the angle cutting with precision.
Most of the miter saws offer the feature of table extensions. This feature allows an extended space while working. It is applicable when you work with larger pieces. Thus, you won't feel the scarcity of space during work. So why not spend a little more on getting these amazing additional features?
Compound Miter Saw vs. Sliding Compound Miter Saw
A sliding compound miter saws and non-sliding miter saws have similar qualities, but they are different.
Rail
The most visible difference is that compound miter saws do not have rails, whereas sliding ones have rails. With the railings, it is easy to move the head of the saw to and fro. Larger pieces can be cut across the boards with the help of it.
Blade
Sliding miter saws usually have a great number of inches of blades than the compound miter saws. Hence, they can cut wide materials easily. But a compound miter saw can cut thicker materials because they don't have arms.
Capacity
Sliding compound miter saws ensure greater capacity in cutting, whereas compound miter saws have the lesser capacity. For this reason, sliding compound miter saws are more expensive than compound miter saws.
Size
Compound miter saws can be better handled than a sliding one. This is because they occupy space lesser than the sliding miter saw machine. Therefore, if your room is congested, then you better opt for a compound miter saw. Nevertheless, compound miter saws are less heavy and can be carried easily.
Usage
If your work is lighter like making frames, moldings, or DIYs, then compound miter saw is good. In contrast, sliding miter saws are used for wider materials or tough cutting jobs.
Frequently Asked Questions
Here we have some of the most commonly asked queries regarding miter saws:
Q: How does a bevel cut differ from a miter cut?
Ans: A bevel cut is done by cutting the edge of the material in an angled way. On the other hand, a miter cut is slicing off the material's two structures that are joined, making a corner.
Q. Does miter saw come with stands?
Ans: Yes, some of them have a combo, but it's easy to find the best miter saw stand.
Q: What is the meaning of a sliding compound miter saw and a non-sliding miter saw?
Ans: The sliding compound miter saw is the one that has radial arms for moving the head of the saw. A non-sliding compound miter saw comprises of no such radial arms or railings.
Q: How much of width can a sliding miter saw of 10 inches cut through?
Ans: Generally, a 10-inch sliding miter saw model can cut through 5 and ½ inches wider materials. Hence, two-by-six inches of lumber is the typical size.
Q: Which one is required: single bevel miter saw or a double bevel miter saw?
Ans: Single bevel miter saws can slice bevel and miter cuts separately. Bevel cuts are usually done in either left or right. Double bevel cuts can be done on both sides, but you need to turn over the material.
Q: Is sliding compound miter saw better than a compound miter saw?
Ans: This depends on your workpiece. A compound miter saw is good if you are working for lighter tasks like DIYs, picture frames, etc. Whereas, if your workpiece is wider in size, then a sliding compound miter saw will be a better option.
Conclusion
We do understand that it is not so easy to shop a tool as a sliding compound miter saw, but we hope our reviews and other necessary points related to this miter saw will be helpful.
With this idea and knowledge, you will be able to purchase the best sliding compound miter saw for you. Our comment section is always open for your valuable comments and queries. We appreciate your time for reading us.
I'm Joost Nusselder, the founder of Tools Doctor, content marketer, and dad. I love trying out new equipment, and together with my team I've been creating in-depth blog articles since 2016 to help loyal readers with tools & crafting tips.