I love creating free content full of tips for my readers, you. I don't accept paid sponsorships, my opinion is my own, but if you find my recommendations helpful and you end up buying something you like through one of my links, I could earn a commission at no extra cost to you.
Learn more
Apart from bringing you that manly feel, these century-old weapons do the job a lot better than many automated machines out there. Yeah, I understand using an axe may seem exhausting. But the pleasure! Those deranged won't have the comfort 'n style that we guys have while chopping woods. I know you're on my side, right?
Hunting down my fav chopping axe wasn't a short-lived one. But once I was in the woods for it I realized there's more than just the size and weight. Now let's get down to finding the best chopping axe for you and your biceps.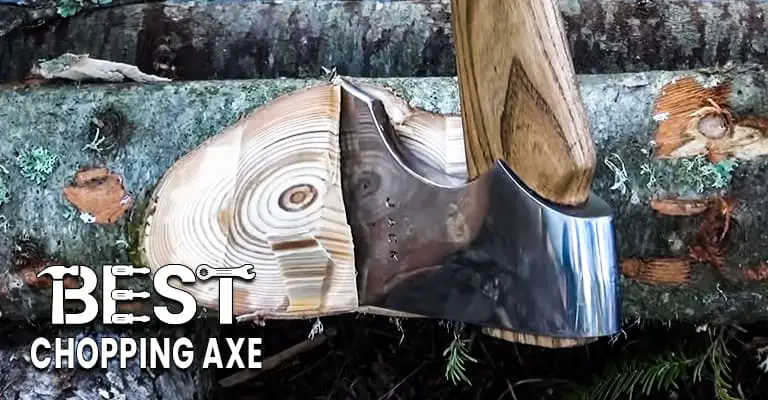 Chopping Axe buying guide
Throughout my research period, I've come in contact with different types of axes, from different brands, models and manufacturers. Besides, from my experienced colleagues, I've learned so many different specs that a true professional would really crave for. But in this section, I tried to describe some features that must be tested carefully before picking up your axe.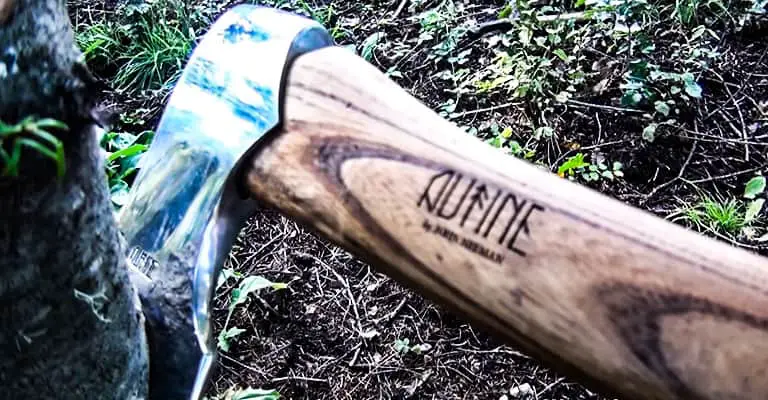 1. Head
As a woodworker, you know that the head is the main part that strikes the wood. That's why it's important for the head to be sharp enough. Usually, the head is made of steel. But you can find different types of steel instead.
It's preferable to choose ahead which is made of high carbon steel. Why? Because this type of steel is less vulnerable to rust. Hence, the axe will last long.
Yeah, the head design. You know, there are different axes meant for different purposes. Some of the axes have an extra mechanism that helps the head to go through the wood. In some cases, the head is conventional and so these extensions are missing. It's better to go for an axe that has such a mechanism though this option may be more expensive.
2. Handle
Probably it's the most important part of getting better ergonomics. Different manufacturers use a different sized handle that can ease the task of cutting. Actually it's the handle that in many cases solve the dilemma between a chopping axe and a felling axe. Actually, here you need to consider two things: your purpose 'n your height.
Your purpose
Firstly, if you need to cut down heavy woods on a regular basis, it's important for you to go with axes that have a long handle. The short axes (or hatchets in other words) have smaller handles. But they won't give you the flexibility to deal with more woods and also won't perform well in cutting heavy woods on a regular basis.
Your height
Then, the factor that needs to be considered is your height. If you're a guy with average height, then most of the axes will be right for you. But if you're a bit taller, there are sophisticated axes for you. You may switch to those ones as long as 36 inches or so for better ergonomics.
3. Grip
Good griping is important for a perfect cutting experience. If you can't grip properly, you may end up in a fatal accident. Besides, the chances of uneven cuts are high. That's why you should go with axes that have a rubber grip.
For durability, manufacturers may use rubber nylon grip. That's a good choice as it ensures both better gripping and durability.
4. Weight Distribution
Another key player in terms of ergonomics is weight distribution. If the weight is distributed properly throughout the whole body of the axe, it is a good choice. But how can you understand the weight distribution? It's simple! If the head is heavy, there should be a counterbalance mechanism close to the head for better weight distribution.
Best Chopping Axes reviewed
Get excited! This is high time I had to reveal the list. Of course, there is a reflection of my personal choice and my experience of using these types of axes for decades. But there's a combination of opinions that I received from my fellow workers and my deep research over the internet. I assure you that finding the finest chopping axe after this section will be a piece of cake.
1. Fiskars 378841-1002 X27 Super (36″) Splitting Axe
What's hot?
Have you ever faced those difficulties that a tall guy faces with the axes? Yeah, I'm talking about the gripping problem tall people usually face. The handle is not simply long enough! But with this Fiskars product, you get the solution!
The first thing to be noticed is its distinct 36-inch handle. The manufacturer has put extra attention to design the handle of the axe and came up with the solution of the problem mentioned above. They've even highlighted the feature as one of the many mind-blowing specs.
You have the option to save some bucks. If you need more than one axe, you can go with 2's pack or 3's pack. This will be a better option as you get an extra discount if you go for these options. If you're up to splitting medium to large logs, this 36-inch axe can give you improved ergonomics and better control.
With improved blade geometry, this axe provides you with accurate power just in position. And of course alike every X-series axes, this product also ensures better weight distribution which ultimately results in improved ergonomics.
Glitches
This axe may seem heavier to you than other conventional axes.
Besides, you may find it difficult to cut logs that don't have straight grain.
2.  Husqvarna H900 13″ Composite Hatchet
What's hot?
Husqvarna is a top-rated player in the race, has brought about a set of hatchets and axes for a different purpose. You can find a wide range of variety for numerous usages. They have got a tiny 13-inch hatchet to a huge 32-inch splitting axe in their collection.
A 13-inch hatchet that can make you full of joy is in this list. Of course, this product had to pass many tests and only then it secured its place in the row. The most amazing fact is this is a multi-purpose hatchet and can survive in different conditions. Good stuff in your budget!
If you're up to searching for a tool fit for firewood or garden work or even for hiking, this 13-inch hatchet can be a good option. It can endure pressure from a different angle as it has a PA shaft which is fiber-reinforced. As you know, fiber reinforcement is a better option especially in the light-weight section for making a sturdy structure.
When it comes down to the axe head, it has a non-stick coating on it. This coating helps the axe to penetrate easily in the wooden surface and that's why you face less friction.
Besides, the soft grip and improved design featuring a balance point near the axe head. This design makes the axe more fit for work with its better weight distribution. The splitting wedge is there to further increase the function.
Glitches
Some users have some issues with the handle.
Some didn't like the design whereas some have objections about the ergonomics.
3. Estwing  Axe – 14″ Camping Hatchet
What's hot?
Here comes another hatchet with numerous usages. The manufacturer claims it as a mightier one and fits for your daily purposes. We, eventually, see the difference between the build quality and the effectiveness as we dig deeper into the matter.
First and foremost thing you should notice that the hatchet is made in one piece. This sturdy construction has made the hatchet more powerful. Besides, the durability is also increased.
As there are no parts that can simply break apart, so you need not worry about the durability of the tool.
You get enough force to strike through the wood. That's why, with this hatchet, you can chop logs, small-sized trees and branches. This tool is good for splitting firewood and doing some kindling. Besides, you get a smooth finish with leather finished handle. Good looks for good moods, right?
The manufacturer provides you with a tough ballistic nylon sheath. You know how important it is to protect yourself from the sharpened edge while you are carrying the tool. On top of that, you get a leather grip that is carefully crafted to give you a comfortable grip along with durability.
Glitches
You may have to face a hard time while removing the packaging.
4. Gerber Bear Grylls Survival Hatchet
What's hot?
If you're up to a hatchet that you can use in it for your next tracking tip, then you can check it out! Being tested in wild diversity in a hostile environment, it has achieved the hearts of million adventurers. And guess what? Yeah, this essential tool is approved by the great adventurer Bear Grylls!
But what about the cutting experience? Can you use it for your next woodworking project? Of course! This tiny hatchet is capable of cutting woods into pieces with its sharp blade of 3.5-inch. You can have a quick cut in addition to precise shaping. But all these advantages can be carried easily as it is portable enough.
When it comes down to durability, you need not worry. This tool features a full tang shape which is better for durability. Besides, the primary build material is high carbon steel. That's why you get better protection against rust.
This tool also features better ergonomics as it has non-slip rubber grip 'n improved design. For easy accessibility nylon sheath which is mildew-resistant is added. That's why you get extra from this tool.
Glitches
You can't use this hatchet for cutting faster.
Besides, heavy logs can't be chopped easily using this.
No products found.
5. TABOR TOOLS Chopping Axe Camp Hatchet
What's hot?
Another manufacturer who provides numerous options for different usages. I understand, there're lots of guys who want different types of tools but want them of the same quality. This manufacturer can meet the need by providing you with a hatchet, chopping axe and also splitting axe.
When it comes to the time to check out the chopping axe, I will personally prefer the handle of it. This handle is made of fiberglass and for a comfortable grip, there is a cushion that is made of non-slip rubber.
As you know, fiberglass is light-weighted but can endure much pressure. So, improved durability is guaranteed. Because of the orange-colored handle, you can find it easily even in a rush.
As for the better ergonomics, the tool has some top-notch features. The overall length (27-inch) is perfect for regular use. The handle is 24-inch; quite impressive for using it in a better way.
The tool has a balanced body with a proper distribution of weight. As for the safe storage and portability, you get a protective band. The blade can be sharpened again to prolong the life of the axe.
Glitches
You may not get the same performance from the blade after sharpening it for several times.
6. RAZORBACK 4112000 Axes
What's hot?
Here's come a chopping axe that is fit for heavy-duty woodworking. If you deal with heavy logs and chop woods on a regular basis, this can be a better option.
Besides, you can use it for trimming branches and clearing extra hassles from the tree. But what about splitting wood? Of course, you can do it with this mighty tool!
This axe features a handle that is made of fiberglass. Like other axes having a fiberglass handle, this axe is light-weighted. Fiberglass is a composite material that can go through extreme pressure but won't easily break apart.
Moreover, the enriched formula of fiberglass has its own impact. That's why you get better ergonomics 'n total control.
I like the design changes that the manufacturer has made. They have introduced a head design that helps to stable the tool and get improved control. The forged head, made of steel, has a great role to improve durability.
Glitches
Some users have said that the head is not sharp enough to get the ultimate cutting.
7. Hults Bruk Kalix Felling Axe
What's hot?
Last but not least! In the end, it does matter as we introduced an axe meant for pros! If you need an axe that can endure the pressure of your daily chopping, you may consider this. With its solid construction and high-quality build material, this tool can be enough for cutting tons of wood.
We begin with the weight distribution. This tool is a marvel in distributing weight. The head weighs 2.25 pounds. But the overall weight is 3.6 pounds. As other axes of this category feature a curved design, this axe is way ahead of them with its improved cutting-edge design.
The handle of this felling axe is made of solid American hickory with a length (only handle) of 28-inch. It means you get better ergonomics along with better gripping. Probably you know that the hickory is a great choice for durability.
Along with this, the head is made of Swedish steel. That's why you get a sharp blade with enriched durability.
Glitches
This axe is heavier than the usual ones. Though it's needed for better ergonomics, unfortunately, hard to carry.
FAQ
Here are some frequently asked questions and their answers.
What is the difference between a chopping and splitting AXE?
Chopping Axe & Hatchet
A chopping axe is different from splitting axe in many ways. The blade of a chopping axe is slimmer than a splitting axe, and sharper, as it's designed to cut cross-way through the fibers of the wood. … It's suitable for cutting small pieces of wood.
What's better for splitting wood AXE or maul?
For very large chunks of wood, the splitting maul is a great choice, as its heavier weight will give you additional power. … However, smaller users may find the heavier weight of the maul difficult to swing. For smaller pieces of wood, or splitting around the wood's edges, a splitting axe is the better choice.
Which one is easier to chop the wood with blunt or sharp AXE?
Answer. Actually area under shape axe is very less as compared to area under blunt axe. Since, less area applies more pressure, so, a sharp knife can easily cut across the trees bark than the blunt knife.
What is the sharpest AXE in the world?
Hammacher Schlemmer
The World's Sharpest Axe – Hammacher Schlemmer. This is the felling axe made in the United States that holds the sharpest, strongest edge in the world.
Is AXE a good brand?
They produce great, high-quality products but they cut a few corners to pass along some savings to their customers. The price of a single-bit axe from Council Tools, for example, is less than half the cost of one from Gransfors Bruks or Wetterlings.
Can you chop with a splitting AXE?
The new splitting axes are closer in appearance to the chopping axes, so they might be OK for chopping duty. If you want a dedicated splitting axe get the old version. Product #7854, called the "Super Splitting Axe".
What length AXE should I get?
The standard length for the handle of a felling axe is 36", but Brett says that's even too long for most men. Instead, he recommends a 31" handle for your average six-foot-tall male. This length will provide you with both force and control.
Can you use a maul as a sledgehammer?
Somewhat Miniature Sledge
The splitting maul isn't quite as strong as a standard sledgehammer, nor as heavy or as broad, but it isn't that far off. It's more like a minisledge with a slightly longer handle.
What AXE is used on alone?
Schrade SCAXE2
I would bring a Schrade SCAXE2 hatchet. It has a sheath, it is 11.8 inch (30.0 cm) long and weighs 1.37 pounds. It is a very good axe that I used everyday during my 6 months in the forest.
Where are Stihl axes made?
Italy
The Head. The head of this model is 600g and made in Italy.
Should a maul AXE be sharp?
Overall it's better to sharpen them. A maul doesn't have to be sharp enough to shave with since the edge is needed only on the first swing. After that, the wedge shape of the head parts the round. A blunt maul will split red oak and other species where you have a crack or check at the ends of your blocks.
Can you split firewood with a chainsaw?
In some cases, you might even have a tree that's fallen. For power and efficiency, especially if you have a lot of wood to work with, consider using a chainsaw instead of a hand saw for the job. Chainsaws make it easy to cut trees into logs, and they'll leave you with enough energy to finish the job.
Why is it easier to cut the fruit with a sharp knife as compared to a blunt knife?
The pressure exerted by the sharp knife edge is more than that exerted by the blunt one because the area on which force is exerted with a sharp knife is very small. Thus, it is easier to cut with the former than with the latter.
Q: What safety measures should I take?
Ans: While dealing with an axe, you must be very careful. If you're an expert, it's unnecessary to narrate its importance to you. But as a beginner, you need to have the lesson. It's simple; follow these steps:
1. Hold the axe using your two hands.
2. Use a suitable platform to place the workpiece.
3. If you're carrying an axe always hold the blade pointing down to the ground.
Q: How can I prolong the service life of the axe?
Ans: Make sure that you keep it clean after every use. If you want the blade to last longer and provide a lifelong performance, you need to clean it after each use.
Wrapping UP
Okay, I think you've got plenty of options in front of you. Are you in the sweet dilemma of choosing the best chopping axe from these many options? Good stuff! Anyways, let me help you a little more. I have a special shortlist of axes that have fascinated me the most. These axes are perfect for specialized use in a particular sector.
You can check Fiskars 378841-1002 X27 Super Splitting Axe, if you need an axe that can give you a premium experience in cutting. Gerber Bear Grylls Survival Hatchet will be a good choice for meeting the need of a light-weighted axe that can be transported easily. RAZORBACK 4112000 Axes is fit for chopping up with your need for heavy-duty cutting.
I'm Joost Nusselder, the founder of Tools Doctor, content marketer, and dad. I love trying out new equipment, and together with my team I've been creating in-depth blog articles since 2016 to help loyal readers with tools & crafting tips.