I love creating free content full of tips for my readers, you. I don't accept paid sponsorships, my opinion is my own, but if you find my recommendations helpful and you end up buying something you like through one of my links, I could earn a commission at no extra cost to you.
Learn more
Owning a neat workplace as a DIYer sounds like an impossible fascination. A bunch of tools here, a bunch of them there, and that's the image you get while thinking of your place too, right? Well, a top-notch tool chest is all you need to fix things up.
A tool chest offers the required storage facility for all your tools. Therefore, it can give you the pleasure of working neatly and can also keep your tools protected from unforeseen situations. Who says that organizing your tools requires a lot of cash? Time to prove them wrong, as there are a handful of tool chests at a reasonable price.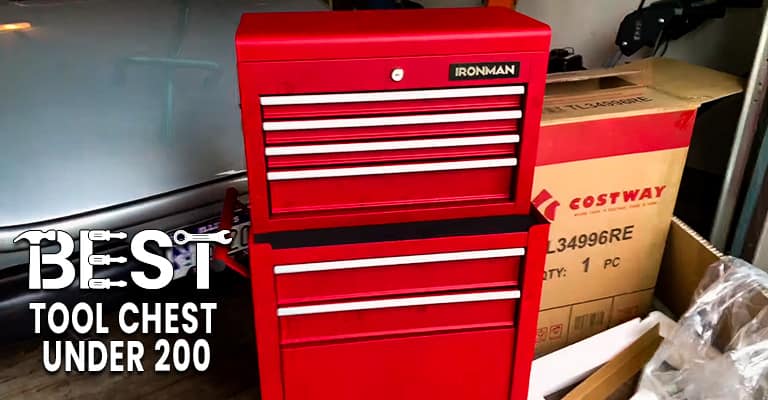 Unfortunately, as seen with most manufacturers, low pricing brings low quality. As a result, the job of finding a suitable tool chest becomes very tough. But you can leave that hard part on us, as we're here to guide your way to the best tool chest under 200 bucks.
Finding a perfect balance of quality and a reasonable price can prove to be a tough job, especially when you have so many options in hand. We tried our best to make it easier for you to select the best tool chest under 200. Here we have brought five selected items and explained all the info you need to know about them.
1. Giantex TL30208 2pc Mini Tool Chest & Cabinet Storage
Interesting Aspects
When it comes to innovative design, Giantex has been pretty successful in keeping its TL30208 way ahead of the other products down this list. Such success is possible due to the detachable chest, which allows you to carry only the tools you need instead of all of them.
With a top handle, the top chest is comfortable to carry and can also give you some additional storage when you open the top lid. Feel free to trust this chest as its two safe locks will always be there to guard your valuable tools from intruders.
In addition to that, you can organize your tools according to their size and use, as it has three drawers inside the top chest and two layers inside the bottom cabinet. Also, you will find it quite easy to slide the drawers in and out. The six hooks on the side door mean more tools in less space.
Although it can take all the weight of your tools, you won't have to put much effort to move the cart. That's because of the four flexible casters which allow a smooth transition in all the directions. Even with two portions, the product has an overall length of only 35.8 inches and won't take up much space in your garage or working area.
Pitfalls 
Well, heavy use may damage it as the build quality is not so high.
2. Craftsman 965337 Portable Chest Toolbox
Interesting Aspects
Here comes one of the top-class portable toolboxes just like stackable toolboxes out there which will fit well within your budget. The Craftsman 965337 features a compact design including three drawers, which are made of high-quality steel with compound action for full-length sliding.
Although it is not so large as a cabinet, it allows excellent capacity for storing all the tools that you use most often. Your tools are likely to remain secured because of the lid-activated drawer lock mechanism featured in it. On top of that, you'll be impressed by its built-in hasp and staple mechanism that allows secure padlocks every time.
Thanks to the smart designing, you'll get easier access to the top tray, which is hinge-covered and pretty much spacious for your hand tools. Security is never an issue with the secure draw-bolt latches of it. You will also get a premium and hassle-free feel carrying this red lightweight toolbox.
Pitfalls
Slight drawbacks of this product include the lack of strength in the hinges. Some folks also complained that the drawers were automatically sliding while carrying.
3. Goplus USES-000019 Rolling Tool Chest
Interesting Aspects
When it comes to building quality, it's hard to find a competitor of this tool chest from Goplus. They have made it using high-quality cold-rolled steel so that you get maximum durability and longevity. Speaking of longevity, it also features glossy paint for preventing rust and corrosion, meaning that you can use it both indoors and outdoors.
Now let's move on to the storage sector of this chest. You will be able to keep a handful of your tools in it, as it has a total of six drawers, two trays, four hooks, and one large cabinet at the bottom. Besides, the drawers are of two different sizes, including four small ones above, and two large ones in the lower portion, which will let you organize tools of different sizes.
You can also detach the top and the bottom portion, depending on your use. Then the steel construction and the keyed external lock system of the drawers are sure to keep your tools safe and sound. A handle on the side along with four swivel casters will help you move the rolling cabinet, smoothly. Don't worry about keeping it steady in one place, as it comes with two additional brakes too.
Pitfalls
The overall size of the tool chest may disappoint you, as it is quite small compared to the other alternatives.
4. Keter 240762 Modular Locking and Roling Tool Chest
Interesting Aspects
Regular metal tool chests bring home the extra stress of rust, rot, and also a dent. Luckily, Keter 240762 will remove all your stress regarding these, as they made it from polypropylene resin plastic, that delivers the same strength as metal, but weighs less at the same time.
Furthermore, your tools will remain safe from getting stolen due to its excellent central locking system. With the help of this locking system, you can keep each of the drawers secured. Apart from that, the size of this 23.5 inches high tool chest is just ideal for regular use around your house. You won't face any difficulties while rolling this one as it is lightweight and has four swivel casters.
Storage won't be the sector that you have to worry about at all. Cause, the bottom drawer will be an ideal place for your big tools while the remaining four drawers do the job for the smaller tools. Moreover, you'll get sixteen bins and dividers that are easily removable so that you can store your things in a more organized manner.
Pitfalls
It looks quite flimsy when compared to its metal-built competitors and is not a good choice for storing too heavy tools. Also, it's not an ideal choice for tough workplaces.
5. High Capacity Rolling Tool Chest
Interesting Aspects
Getting such build-quality that this tool chest offers, is rare at this price range. You are sure to get maximum durability from it because of its top-class stainless-steel body along with powder-coating for rust prevention. Due to its tough material, you will find it quite hard not only to put a scratch on it but also to dent or break this thing.
You will never run out of storage with this tool chest as it offers three small drawers, five tray drawers, and one bottom cabinet. All these, along with the additional hooks on the side panel, will definitely hold all the tools you own. Having drawers of multiple sizes that are easy to slide, you'll find plenty of room for both your big and small tools.
Apart from these, the cabinet has two keyed locking systems on lid and bottom for providing the utmost security. There is a solid working surface on the top for keeping tools while working. Your tool chest can not only move fluently but also stay well at a fixed place because of its swivel casters, side handle, and brakes. Feel free to use this multipurpose thing in both home and professional environments.
Pitfalls
Although it is not a flimsy one, it doesn't ensure a great experience for heavy usage either.
Tool Chest buying guide
A mistake that most people make is purchasing a tool chest without managing to get a minimal proper knowledge about exactly what to expect. To make sure you don't make such a mistake, our team has sorted it out for you by listing a bunch of things that you need to consider. Once you have a look through this list, we bet you will even be able to advise others.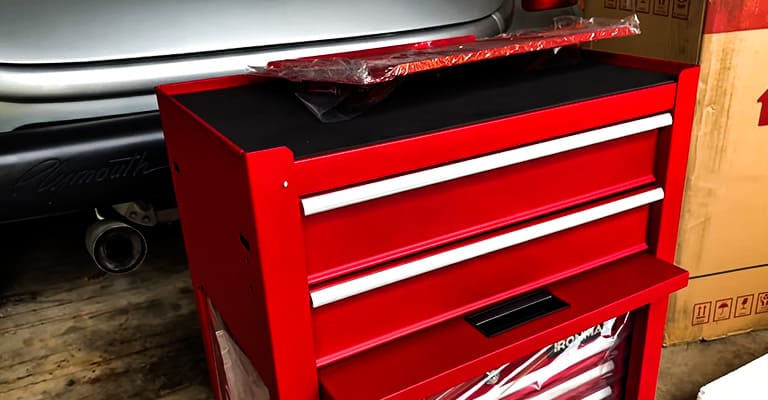 Storage Capacity
Well, storage is something that comes first while searching for a tool chest. You'll find a variety of products out in the market offering different capacities. Make sure you look for the ones that can hold all your tools and then have some space left for the tools that you may buy in the future. Searching for several storing facilities is wise, as you'll need drawers, cabinets, trays, and even hooks.
Drawers and Cabinets
Consider getting a tool chest that has a wide range of drawer sizes so that you can organize your tools according to their sizes. Also, make sure it has a large cabinet for keeping the larger tools easily. Check if the drawers feature a smooth sliding option to give immediate access to your devices.
Build-quality and Durability
Since you may have to store your expensive tools, the durability of your toolbox does matter. What materials to find? The answer depends on the weight of your tools. If you own heavy and valuable tools that require safety, you should go for heavy stainless steel. On the other hand, if you deal with lighter tools and don't have to move them very often, get a plastic one.
Locking Systems
The locking system of your tool chest will determine how safe your tools will remain. Most of the products offer different kinds of locks that provide varying levels of safety. Try to go for the ones that feature individual locks for all the drawers and sections for utmost security.
Mobility
You may have to change workplaces frequently, and for that purpose, you'll have to move your toolbox with you. It will be wise to choose a rolling toolbox that features high-quality swivel casters. These casters will help you move the tool chest anywhere you need to.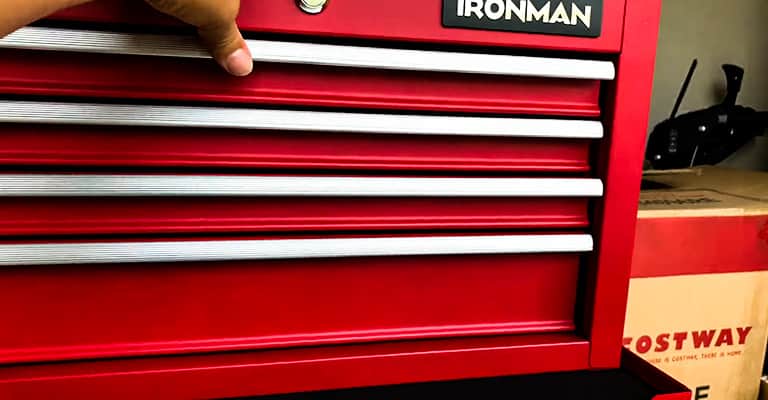 Frequently Asked Questions
Here are some frequently asked questions and their answers.
Are Harbor Freight tool chests any good?
They're pretty sturdy boxes and are even better than some of the snap on boxes we have in the shop for half the price.
Do I need a tool chest?
One of the main reasons for using a tool chest is to ensure the safety of your tools. For this reason, the tools chest needs to have a well-designed lock system. Some chests have an internal locking system that cover up the drawers after you close the top lid, others have a key-operated lock for extra security.
Is Harbor Freight cheaper than Home Depot?
home depot lets you return virtually anything. Home Depot aims more at contractors. Lowe's is tilted towards homeowners and DIY. Harbor Freight is cheaper, which either means it's less precise or less durable.
Why are Snap On tool chests so expensive?
People pay big bucks for Snap On boxes for a couple reasons… they are high quality, which costs money. They are bigger, which costs more money. They have Snap On on them, which costs even more money. They are hauled around on a truck for 6 months, which costs even more money.
Who makes Snap On tool chests?
One for the bench and one to travel with. Who makes Snap-On tool boxes? They are made by Snap-On in their Alona, Iowa facility.
Who makes Kobalt tool chests?
Many of the Kobalt ratchets, sockets, wrenches, and drive acessories were made by Danaher in the USA . The same company has the made Craftsman tools such as those for over 20 years. Also, where is Kobalt Tools manufactured? The Kobalt name is owned by Lowe's, which is based in Mooresville, North Carolina.
Are snap on boxes worth the money?
Yes, they're more expensive, but IMO, they're worth it for someone who is a tool / garage junkie (like myself). I will say the new boxes, other than the new casters and roller bearing drawers aren't built like they used to be.
Are Craftsman tool chests good?
The Craftsman 3000 Series Tool Chest is an excellent option in tool storage. The quality of materials and this chest's overall build are exceptional. Craftsman has brought a wide range of storage options to the market, with this being their top of the line offering.
Where are Craftsman tools made?
The majority of Craftsman tools are not produced in the United States. They use many third party manufacturers to make their various products. Beginning in 2010, many of Craftsman's hand tools (manufactured by Apex Tool Group) began to be assembled in China in Taiwan.
Are Husky tool chests good?
It was black, so it didn't stick out like a sore thumb. Those Husky tool boxes were priced competitively, and had some features that made them a pretty good value. … They're tougher tool chests, they have better drawers, upgraded slides, and all models sport a new look that's stunningly subdued.
Where are Husky tools made?
Husky hand tools were formerly manufactured exclusively in the United States but are now largely made in China and Taiwan. All Husky hand tools have a lifetime warranty.
How do you organize your tools?
The first step to organizing tools is to do a thorough inventory. Once you have a general idea of the tools on hand, sort them into like categories. Group all of the power tools, the small hand tools, and so on. Next, create zones and use cabinetry to keep the like items together.
Is ridgid better than Milwaukee?
Rigid is great for the home DIY kind of guy, but they won't last in a professional environment like Milwaukee or others. If you're just using them for personal projects around the house Rigid is a good brand don't get me wrong.
Q: Is it possible to replace the locks?
Ans: Yes, it is. Most of the companies leave an option to do so, and you can replace it by following some quick instructions.
Q: How to organize a tool chest properly?
Ans: Although many manufacturers provide bins and dividers with their products, you can also buy them if you want a decent organization. It's quite an open question of your taste.
Q: What use do the ball-bearing slides have?
Ans: Ball-bearing slides enable smoother sliding of the drawers and make the opening and closing seem almost effortless.
Wrapping It Up
It's truly unnecessary to state the importance of a tool chest if you're a professional or amateur DIYer. Regardless of the products, we believe that it's possible to get all you want, even within the budget, even ou are a newcomer in this sector. To do so, you have to keep your eyes open and search in the right direction. That's what we tried here; to guide you in the right direction.
We found that the Goplus USES-000019 Rolling Tool Chest can be a better option for you if durability and build-quality is your priority. On the other hand, if you're looking for a smaller toolbox that is easier to carry around, go for the Craftsman 965337 Portable Chest Toolbox. Not only will it fit your budget, but it'll also help you carry your tools quickly, with the help of its excellent portability.
You are free to pick any of the five products we recommended, as any of them, deserve to be the best tool chest under 200. So, why waste any time? Go on, place your order, and start organizing your tools accordingly. Who wants a messy worksite after all?
I'm Joost Nusselder, the founder of Tools Doctor, content marketer, and dad. I love trying out new equipment, and together with my team I've been creating in-depth blog articles since 2016 to help loyal readers with tools & crafting tips.