I love creating free content full of tips for my readers, you. I don't accept paid sponsorships, my opinion is my own, but if you find my recommendations helpful and you end up buying something you like through one of my links, I could earn a commission at no extra cost to you.
Learn more
A trim router helps you make an ordinary project transform into a gorgeous one. You can decorate your residence by making elegant trims by using this device. If you are planning on buying a trimmer for yourself, it is time you invested in a device like this for we have come with the best trim routers' reviews for you.
There is a good chance of getting a great deal through online shopping. But, you don't want to go around purchasing stuff without knowing about them properly. That is why we have stepped in to go through the research for you.
We have included a buying guide as well in our article. Read on to make a good buying decision.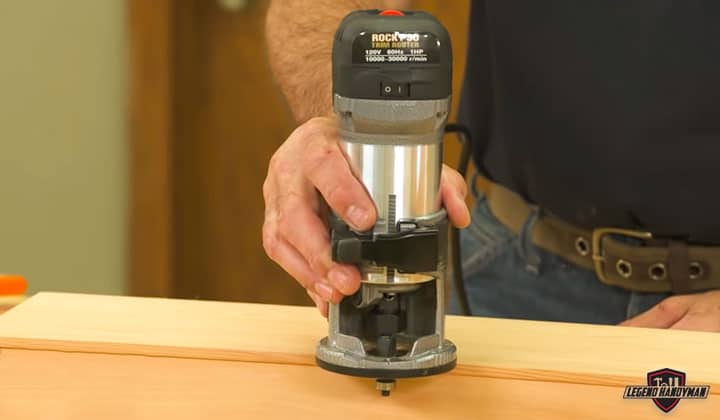 Best Trim Routers We Recommend
We have done some research and decided that the following products are the best ones available out there.
DEWALT DWP611 1.25 HP Max Torque Variable Speed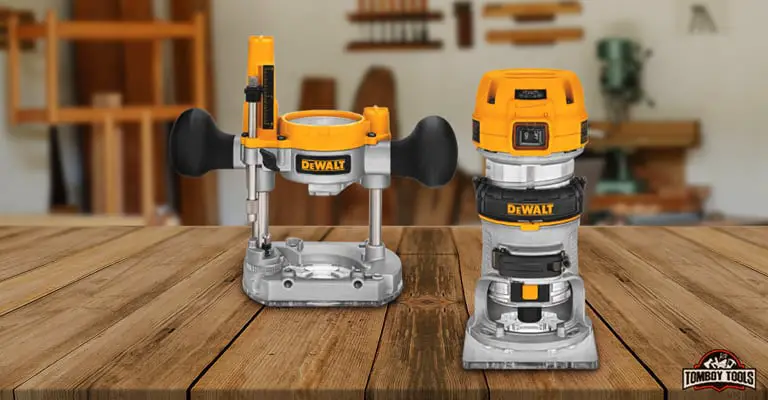 Of the products the company has marketed so far, this is among the best ones. This wood router is combined with marvelous features that make it a great product. It has the capability of doing a wide range of stuff, such as bevel cuts, edge cutting, flush trimming, etc.
Designers kept an eye on making the device easy to use. They have introduced a visibility controlling feature in this tool. The woodworkers will love its performance, too.  This thing has a 1-1/4 peak HP motor.
It is more powerful than a lot of other devices out there. There is a variable speed control to assist you in choosing the appropriate speed for the task you will do.
You will appreciate the perfectly designed grip situated near the working surface. It lets you have better control over the machine resulting in more productivity and accuracy in the work. You have a soft starting motor to help you maintain the speed of the motor during the cut.
Also, you will find the featured adjustment ring useful.
An impressive feature the product comes with is the dual LEDs. It improves visibility during the job. Also, there's a clear sub-base.
The bit shaft of this router will provide you with better bit contact than other routers, thanks to the ¼-inch router collet. Moreover, it offers firmer bit grip as well as lesser router vibration.
Pros
It is well built and has LEDs for better visibility. Also, the adjustment is quite easy to make.
Cons
Comes with no storage case and you may have difficulties in changing the bits without removing the motor first.
Makita RT0701CX7 1-1/4 HP Compact Router Kit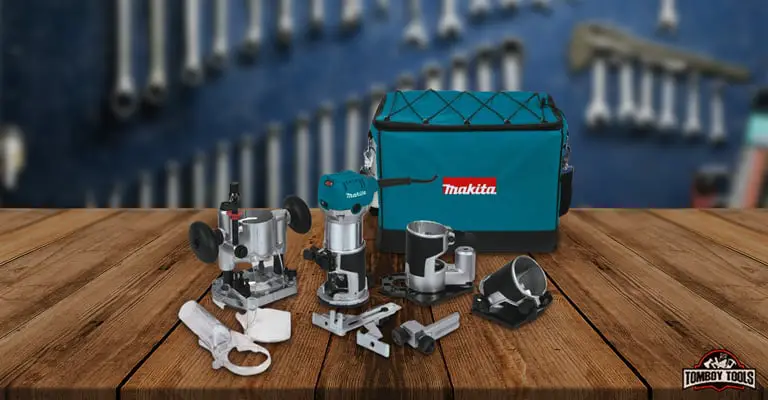 This Makita product looks like those top-class small sized trim routers available in the market. Precision, high performance, and perfect design are of its many qualities.
They have included an electronic speed control that helps in maintaining a constant speed when the machine is under load. Also, there's a soft starter for easy operation. It has a slim body that is neatly designed for comfortable and well-controlled use of the device.
You will have to love the large number of accessories the tool comes with. Not only the plunge base but manufacturers have also included an offset base that lets you have better access to tight corners.
Also, this feature has multiple benefits. You will have safer and easier angled routing as well as extended molding style. All you have to do is alter the bits angle. There are other useful accessories such as a template guide, an edge guide, a carrying bag, and a pair of dust nozzles.
The machine has a motor with 6 ½ amp and 1-1/4 horsepower. That's tremendous power for a trim router to have.
One would also find the router size to be just perfect for house jobs. The soft starter of the machine aids in reducing the load of the motor. Moreover, the variable speed control ranges from 10,000 to 30,000 RPM. Just turning the speed dial will do it for you.
Pros
It has a parallel metal guide and a slim design. This thing is perfect for house jobs.
Cons
The power switch lacks dust shield.
Bosch Colt 1-Horsepower 5.6 Amp Palm Router
This tool is rich with accessories. The accessories help in installing cabinets and the countertops that are laminated. This router rivals the machines bigger than itself in forming an edge. From chamfers to round overs, it does it all; and that too, in a much easier way.
You can mortise stringing with nice decoration on the fine furniture. The job becomes fun with the device.
As for motor speed control, the machine is absolutely spectacular. It works best on ¼-inch shaft bits. You can install and remove the Colt rapidly. That's the stand out feature of this tool, the ridiculously quick setup, even at the time of base changing.
The shaft lock provided with the machines works smoothly. But, in case there's any complication, you can always pick up the wrench included with the product and fix it up. The motor sliding capacity of the machine is also good.
Though, the offset base slides with a bit of effort. You have a square sub-base associated with the standard base. To make the motor clamp work, you only have to use the thumb. You will find the fine adjustments simple. But, you have to clean it regularly. Otherwise, you will have dust combining with grease.
They have also added a straight edge guide along with a roller guide with the standard base to make the work easier. Another great feature it possesses is the Underscribe Attachment. It is useful in cutting the joints accurately.
Pros
The unit comes with some really great accessories. And it has a rapid installation and removal.
Cons
The side base is difficult to set.
Ridgid R2401 Laminate Trim Router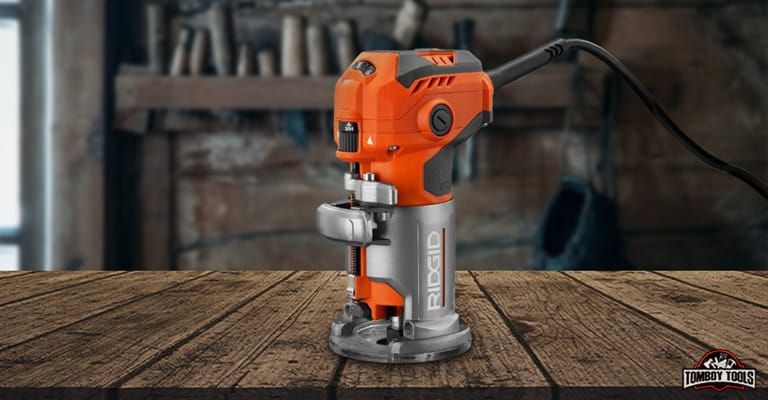 Manufacturers have used top-class materials in bringing this quality product. This isn't one of those lousy tools that go nuts after a few uses. The thing contains an orange casing along with a rubberized grip.
You will find it comfy to hold this 3 pounds weighing device. The flat top allows you to flip the device every now and then in order to change the bits.
They have provided an installed ¼ inch collet. There is around and clear base with the router base. What's worth mentioning is that setting up the device is really easy.
The bit installing isn't any rocket science either. All you have to do is depress the spindle lock, slide it into a collet, and tighten the nut afterward. Like other products the company has produced, this one has a safe and simple power button.
Manufacturers have introduced a depth control system in their product. This mechanism is amazing. After choosing the depth, you can do the fine adjustments by using the micro adjust dial. One might find the dial to be too small and hard to push with the thumb.
Also, the machine comes powered with a 5.5 amp motor. It includes electronic feedback for maintaining constant power and speed. Also, you have a variable speed mechanism that ranges from 20,000-30,000 RPM. You can adjust it with the micro depth adjustment dial.
Pros
The device is well built and gonna last a really long time. In addition, it is easy to setup. Its versatility is a huge help too.
Cons
The spindle lock is sloppy at times
Ryobi P601 One+ 18V Lithium-Ion Cordless Fixed Base Trim Router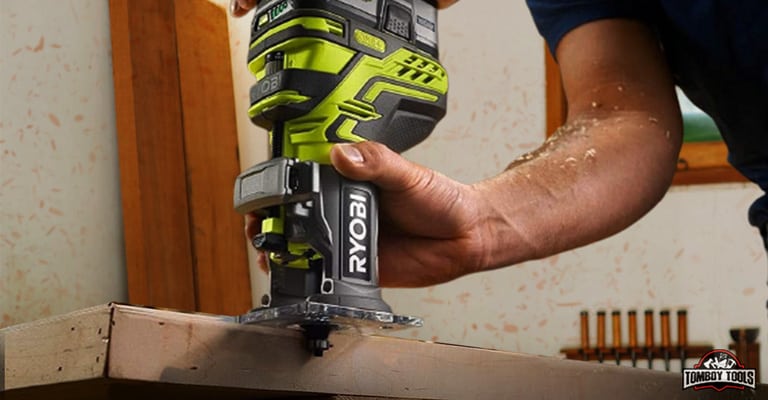 This is a small router specially designed to cut grooves and dados. You will find the cordless router along with a collet wrench inside the box. The device comes with square sub-bases. There's an LED light for illumination during work. I would recommend that you get an edge guide for the tool if it's not provided.
An 18V lithium-ion battery is behind the power of the device. This battery is responsible for the heaviness of the tool. But, to have the privilege of avoiding a cord, there need to be some sacrifices made, right?
Now, you will find on the lower surface of the battery a rubberized portion they have named 'Gripzone'. One might find it fancy while the others finding it useless.
This device has a fixed speed of 29,000 RPM. You will find the cutting depth adjustment to be rudimentary. A fast release lever is there to help you out in doing so. There's a micro depth adjustment for the bits.
But, the tiny ticks may be a bit wiggly making it difficult to find accuracy. Not to mention the occasional vibrating of the micro adjustment knob during work.
What I really liked about the tool is its easy bits changing mechanism. You have to flip the unit over to make it sit on the flat surface. That way you have proper access to the bit and collet. I suggest that you remove the battery during changing bits.
Pros
It is really easy to change bits with this one. There's also led light for your convenience. This one also offers micro depth adjustment.
Cons
It's a bit heavy.
PORTER-CABLE PCE6430 4.5-Amp Single Speed Laminate Trimmer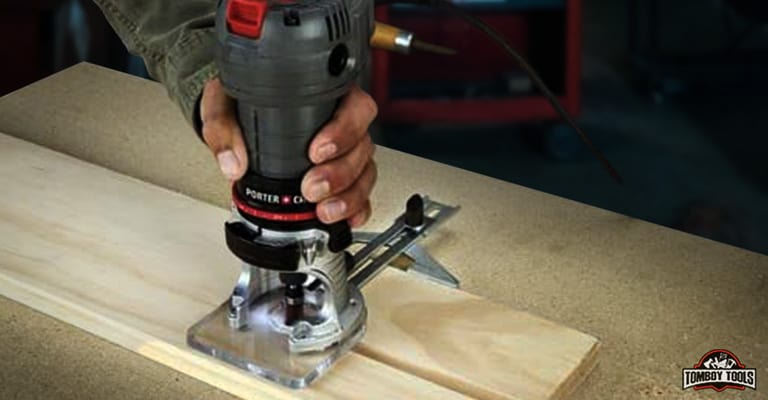 This device would suit the one who is looking for a classic type of trimmer that is reliable. You got to love the XL fastening clips facilitating a faster release. This thing comes with a 4.5 amp motor having 31,000 RPM.
That's quite powerful as far as trimmers go. So, you can be assured to do multiple types of jobs with this tool.
They have included a depth ring for precise and quicker bit height adjustment. We must mention that this product would be one of the greatest deals you can find out there. Though it is expensive, it ensures quality performance. The powerful motor and great speed will allow you a smooth cutting experience.
There is a cast aluminum base for withstanding adversity. What's more, you will have locking clips for removing the motor and locking it whenever you need.
Its slim design offers you comfort in controlling the machine. Another worth mentioning feature is its lightweight. Also, it has a moderate height. These lead to an easy using of the device altogether.
To add with the ease in use, they have provided an LED light, too. Also, one would like the long cord. The machine is noticeably quiet. During edge routing, you can hold and manipulate it simply. There is an issue though. Some users are not quite happy with the tightness of the depth control system.   
Pros
The easy adjustability of bit length is great to have. Also, this thing is lightweight and has a comfortable grip.
Cons
The depth control starts slipping after a few years.
MLCS 9056 1 HP Rocky Trim Router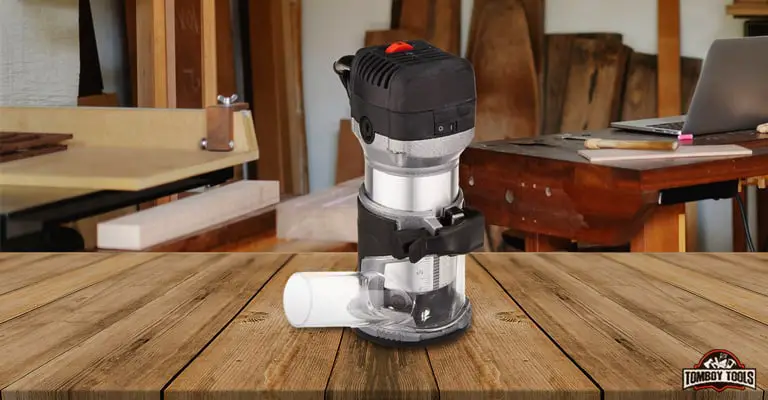 This tool has been appreciated by the users for its extreme ease of use. Not only that, it is durable and very stable as well, thanks to the height adjustment mechanism it offers. This one's among the top quality palm routers the market has produced.
They have introduced a 1 HP, 6 amp motor that ensures high-quality performance.
There are 6 variable speed dials in this machine. That helps to deal with laminates of various sizes and weights. You have the powerful motor associated with aluminum. They have used sturdy metal as the router's base.
An impressive feature of this unit is its rack and pinion motor height adjustment. It works on the base. A flip lever that is released quickly is used to do the locking, thus making an easy adjustment.
Moreover, this compact trimmer measures 2-1/2 inches. The variable speed system ranges from 10,000-30,000 RPM. To provide easy access, the tool has on its motor housing's top the flip button for speed adjustment.
You can easily see the ruler and the increments during adjusting the bit depth. There is a spindle lock button to make the bit swapping all too simple.
The rubber padding the machine comes with offers stability. It is located around the machine's base. Therefore, you have a firmer grip to avoid any marring of the cutting area. This sturdy tool has a weight of 6 pounds. It also comes with a removable dust extractor.
Pros
It's really easy to use and has a compact design. This one doesn't make much sound.
Cons
It's unable to do heavy stuff and depth adjustment needs fixing at times.
Avid Power 6.5-Amp 1.25 HP Compact Router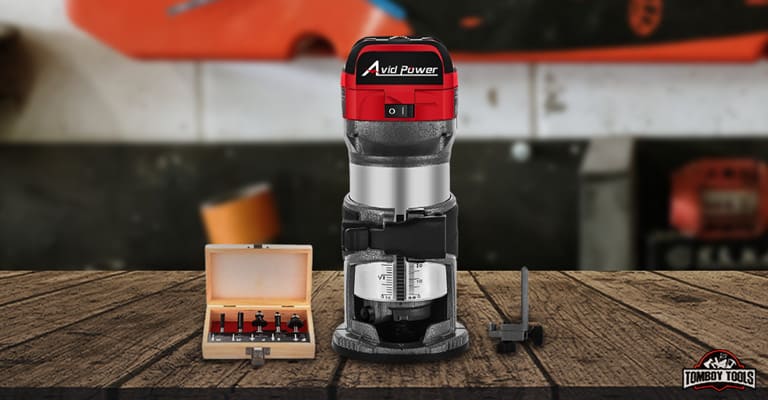 This router boasts a 6.5 amp motor along with 1.25 HP max horsepower. It also provides a variable speed dial. The speed control ranges from 10,000-32,000 RPM. Thus you are able to select a speed that suits the particular work you have on the hand.
What's more? They have included the rack and pinion depth adjustment facility in this machine.
This unit does different kinds of woodworking. Also, you can use it for cabinetry. The tool handle is ergonomically rubberized. So, you can have perfect control over your tool.
It also ensures accuracy in work. Another outstanding feature of this machine is its fast locking system. It makes sure of the perfection of depth adjustment.
Like some other quality products, this unit comes with dual LEDs. In addition, there is a sub base that is see-through. Together they provide improved visibility in areas where there isn't enough illumination.
For easy replacement of brush, you have the exquisite design of the external brush cap. There's a dust eliminator that provides a cleaner working environment.
Other accessories the tool comes with are a cord, an edge guide, 5 router bits, roller guide, collet, tool bag, and wrench. They have placed the speed dial on the top to provide better visibility. What's worth mentioning is that you have a motor that runs quiet and cool.
Pros
Comes at a very reasonable price. The unit features several important accessories. There are also led lights.
Cons
The vibration is more than usual.
What Is A Trim Router?
This is a machine people use for woodworking. Basically, it works on small workpieces providing precise cuts. Its principal job is to cut the laminate into small fractions. This is a compact tool that is used to make the work piece's edges smooth once the lamination is done. 
You have to hold the piece you are working on with one hand and use the router with the other hand. There is an adjustable base plate for height adjustment. The collet of the router is sized in a way so that you can restrict the bit size. 
Best Trim Routers Buying Guide
Before we get started with our recommended products, let's talk about some features you need to look for in them.
Power
This is the first thing you want to look into. Within the same price range, different models demand a different amount of money.
Therefore, you can get a better deal with the same power if you are okay with doing a little research on the tools. I suggest that you do not go for any device that comes with a horsepower below one.
With less powerful machines, you cannot work on harder wood or with bits of low quality. In order to complete your job quicker, you should always look for the more powerful machines. Or else, the weaker router will leave you devastated in the middle of your work, refusing to handle the heavy task.
Some users think that strong tools are hard to control, so they want to go for the weaker ones. We cannot deny that their perspective is right in a way. Then again, you can always choose the routers that come with soft start system to fix the problem.
Speed
The speed requirement varies according to different sort of work. Bits get along with lower speed sometimes and higher speed at other times. Depending on the woods being soft or hard, you will need changing the speed.
As for softer woods, you don't want to go too hard on them, for they are most likely to splinter and crack.
With harder woods, make sure you don't go with higher speed, in order to avoid premature wearing down of the bit. For you don't want the burden of extra cost resulting from this. So, in a nutshell, look for a router that provides variable speed control.
There are some routers that include electronic speed control. A chip maintains the spinning of the bits at a constant speed. The change in resistance has an effect on bit speed.
Sometimes it gives rise to bad feedback resulting in imperfect cuts. If your machine has the electronic speed control, then you need not worry about those mishaps for this mechanism will keep the speed constant.
Precision
Check the bit adjustment capacity of the router. You will find the quality routers to have a large scale bit adjustment with little sensitivity to any change.
Cheaper models offer only 1/16-inch sensitivity, whereas better units provide a sensitivity of 1/64-inch. Also, you can look for a plunge base in your router for expanding the bit depth scale.
Trim Router Uses
Trim routers were originally produced for trimming laminate material. You can also use them for edging the hardwoods, routing for rounding edges, etc. This tool nowadays is widely used in workshops. Other uses of this device include parts duplicating, hinge mortise cutting, edge profiling, etc.
These routers have beneficial roles in veneer cleaning and plug flush cutting. Drilling hole is possible with this thing. You can also trim the shelf lipping with the device. It is widely used to cut joinery. In addition, if you want to mortise the inlays, you will find the tool handy.
Trim Router vs Plunge Router
Trim routers are basically regular routers, only compact and more lightweight. After lamination, it is used to make the work piece's edges smooth. On the other hand, plunge routers boast more power with their sturdy build.
In plunge routers, the base plate carries the bit and motor. The good thing about them is that you can start cutting in the middle of a workpiece. They come with a depth adjustment facility.
Frequently Asked Questions (FAQs)
Q: Is there any similarity in bits between a trim router and regular router?
Ans: Regular routers have two types of collets for router bits, whereas the trim routers have only one type.
Q: Can I change the bearing of the bits?
Ans: Yes, they are changeable.
Q: How can I guide my router during the work?
Ans: The trimming bit has a wheel that prevents it from going far. So, you won't have to guide it manually. Also, you can buy a flush cutting bit.
Q: What is a flush trim router bit?
Ans: This is a bit that trims a material flush edge with another material's edge.
Q: Which one's better for trimming laminate; router or trimmer?
Ans: Laminate trimmer would be better to use on a laminate.
Q: What is a trim router used for?
Ans: It is mainly used to cut the laminate into small factions. 
Conclusion
We hope the best trim router reviews were beneficial and you have made your mind about buying the product you liked. Let us know your thoughts on our recommended products in the comments section.
I'm Joost Nusselder, the founder of Tools Doctor, content marketer, and dad. I love trying out new equipment, and together with my team I've been creating in-depth blog articles since 2016 to help loyal readers with tools & crafting tips.