I love creating free content full of tips for my readers, you. I don't accept paid sponsorships, my opinion is my own, but if you find my recommendations helpful and you end up buying something you like through one of my links, I could earn a commission at no extra cost to you.
Learn more
Your everyday vacuum cleaner will utterly fail when it comes to keeping your workshop clean or any place more welcoming to dust. Having an enormous capacity for storing dust is what got its place.
People started making networks out of pipes starting from the dust extractor. Hence enabling to keep the entirety of the workshop clean with just one of these.
Getting the most suitable and useful dust extractor is not rocket science. All you need is proper analysis and time.
Below we will give you a detailed guide with reviews of a few top-notch dust extractors to help you select the best dust extractor in your budget.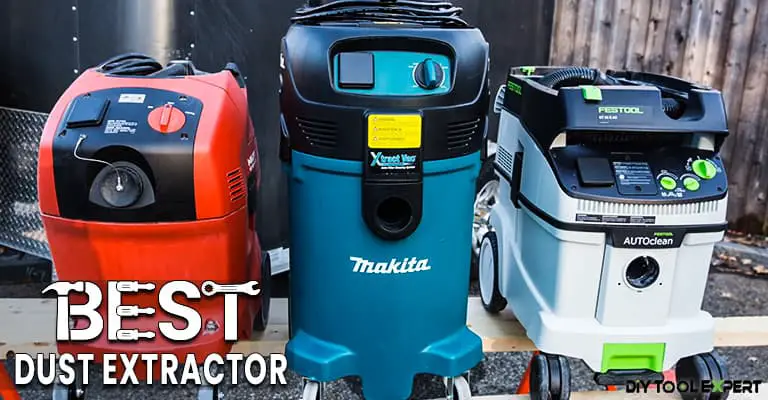 I'd recommend going for this add-on kit by Oneida so you can keep using your own vacuum. It saves quite a pretty penny and the extraction system is top-notch. I haven't gotten any dust in my vacuum whatsoever!
But, if you're in the market for a new vacuum for your dusty work anyway, there are a few other options.
Let's look at the top choices real quick, and after that I'll get into what to look for when buying one.
Dust Extractor buying guide
Choosing a premium quality dust extractor entirely depends on your workshop setting and the type of job you do with it. All those dust extractors of different shapes and sizes with the individual distinctive feature may confuse you profoundly.
This certainly demands research and we've done that- let's have a look at the results.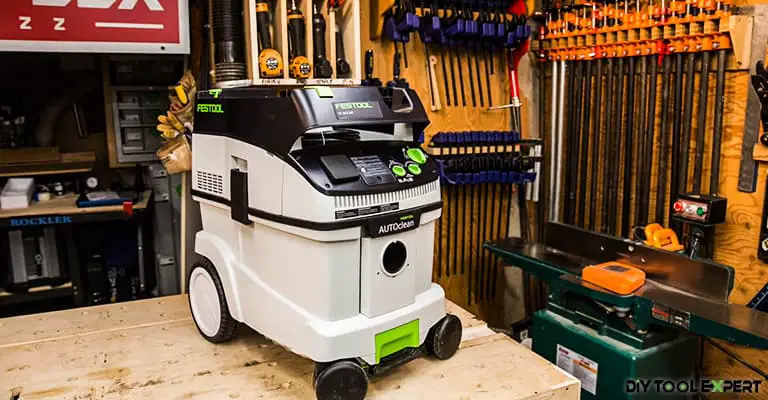 Automatic Filter Cleaning System
Cleaning dust of any type becomes much harder if automatic self-cleaning is not there. Generally, a filter having this very feature cleans itself every 15 seconds.
So if you want a ceaseless working experience, and who doesn't want, you have no alternative other than having an extractor featuring it.
Apart from having peaking comfort, automatic cleaning keeps an eye on the longevity of the device.
As it saves your time, on one hand, it reduces wear and tear of the other which translates to less maintenance and further reduction of time consumption.
Storage Capacity
Although a general-purpose dust extractor is enough to clean up all sorts of waste, it is good to have a large capacity tank for better functionality.
The larger the waste bin, it can store more dirt or debris in a short amount of time and also allows you to remove waste in the middle of cleaning.
However, large storage capacity can be pricey. Also if you are going to do small cleaning jobs, then dust extractors with big storage will be a waste for you.
So don't buy a storage bin that you cannot fill. Try to balance your needs with your budget and then purchase.
Lightweight
If you want to use multiple machines with your dust extractor, having a lightweight extractor makes your cleaning job way easier.
It assists you to move it around your workspace. So try to buy a lightweight option for your work.
Convenience
When you are spending enough money on a product, you expect this to be easy to use. Having complicated features with complex controls can be troublesome to many.
No one wants to read the manual for better understanding. Thus make sure to buy a dust extract with easy functions.
HEPA Filter
All top-notch dust extractors have a HEPA or high-efficiency particulate air filter which ensures elimination of 99.97%  dirt or other toxic substance and offers a cleaner, habitable work environment.
You can receive the highest results than any other filter with this filter.
Air Flow (CFM)
Airflow is measured in Cubic Feet per Minute of CFM. Higher airflow or CFM indicates a large volume of dirt being cleaned from the air. When it comes to CFM, more is not always better.
It is essential to choose a dust extractor with airflow rating according to what sort of tool you are going to use or the volume of dust you need to remove.
For instance, if you are looking for a dust extractor for your small daily jobs then you should buy an extractor with a low CFM rating.
Like you will need a low rated CFM if you are cleaning the router, table saw, a drill will require CFM of a low rating.
However, you should go for a model that has a CFM rating higher than 200 CFM model for effective cleanup.
Wet or Dry
A simple vacuum cleaner like one of these types is ineffective if you are removing wet dirt, dust or other toxic substances since electric components of a vacuum cleaner can be damaged as soon as it comes in contact with moisture.
Fortunately, there are wet or dry or both dust extractor with maximum functionality. However, it is beneficial to buy a dust extractor suitable for both wet and dry conditions.
Anti-Static Hose
The anti-static hose is another indispensable feature which you should review before buying.
Static current is produced by millions of sawdust particles gliding up and down inside a hose which might lit the dust on fire and explode the extractor.
Thus to prevent this static electricity expansion, it is recommended to buy with an extractor that comes with an anti-static hose.
Generally, some models do not come with an anti-static hose. In that situation, you should buy the compatible anti-static hose separately.
Hose Diameter
Since some dust extractor can be lengthy in height, you need a longer hose to reach certain ports. Moreover, if you want to move freely, the length of a hose matters a lot.
Hose length and thickness of your dust extractor solely depends on your workshop needs.
However, wider and lengthy pipe reduces suction power. So it recommended not buying a longer hose than your requirement.
Portability
Portability is a prime function to move your tool around your workspace and hard to reach dirty places.
Since dust extractors don't come with a long hose, it is extremely important to buy a mode which has large caster wheels. Also, the size and construction should be appropriate for easy navigation.
Low Noise Level
If your dust extractor functions in low noise, then it is a huge advantage for you. If already your workspace is noisy, you don't want to append unnecessary noise from your dust extractor.
The lower the decibel rating, the quieter it is. Some models come with auto settings to decrease the noise level when the machine is on. Keep these in mind before purchasing.
Motor Quality
The motor is the core part of your machine. The power capacity of the motor affects the workability of your dust extractor and it is measured in watts.
The higher the capacity the more effective they are. Again, the speed of the motor affects performance.
At the same time, a stronger motor can create excessive noise and consumes high current which can be costly as well.
Nevertheless, some models come with auto settings where you can control the power and speed of the motor.
Try to look for this type of dust extractor which will allow you to play with the power level and set noise level too low for your convenience.
Automatic Turn On/ Off
A premium quality dust extractor has an outlet that permits you to connect a power tool and automatically activates and shuts down your machine. A built-in Bluetooth does this quite efficiently.
It is a great feature but is limited which varies with a power tool. Even so, it is productive to have this feature in your dust extractor.
Power Control Dial
This accessory is valuable for dust extractors as it allows you to vary the power of the machine directly. Normally people set this dial to high most of the time.
However, when you are using an onboard power supply, the power typically drops. So make sure to read the manual and set the dial at rated value.
Multi-Stage Filtrations
If you are buying for industrial purposes, a general dust extractor is not a logical choice to accommodate itself in your cart.
The model that comes with two-stage filtration is capable of collecting huge amounts of dirt or debris and is proven to be efficient for industrial purposes.
If you think you are into a bigger mess as far as dust is concerned, the three-stage filtration system that can provide outstanding service. However, these are very costly and heavy.
Other Features
Apart from the above filters, there are a few more aspects that you should look for before buying a top-notch filter.
For example, though dust extractors can be connected directly to the power tool, it is always better to find a model that comes with various cleaning attachments.
Other than this, a two-stage motor balances weight distribution and pre-filter save the main filter from clogging.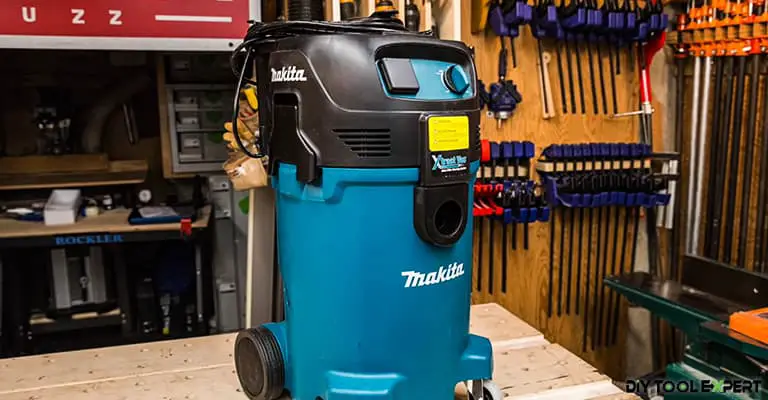 Best Dust Extractors Reviewed
In our step by step guide, we have addressed and discussed all the basic features that you need to consider.
To help you more, we have highlighted some strength and downfalls of few dust extractors which we think are finest in both quality and application among all other dust extractors available in the current market
Best add-on kit for vacuum: Oneida Dust Deputy Cyclone Bucket
It does not only work on dust, but it also works on leaves, hair, water, and more. Also having a small workshop is not a problem with this kit.
Especially if you've been annoyed with sawdust and wood shavings keep this one beside your carving knives' set.
With highly efficient neutral vane technology, dust, debris, and dirt cannot get inside its filler providing a longer lifespan.
You also don't need to replace the vacuum filter and dirtbags for its increased sanction power which saves a lot of your time and money with maximum effectiveness.
It does not matter whether you want to use a wet or dry vacuum. Just purchase any good affordable vacuum and attach this to your dust deputy kit and you can have a cyclonic dust collector at a very affordable price.
And beyond that, setup is extremely easy and you can upgrade its portability by attaching a portable cart under it.
This dust deputy kit is not recommended for filtering explosive dust. It does not work well with a rigid shop vacuum that has 2 ½" hose.
Also, you cannot use it on multiple machines as it is not powerful enough to support multiple machines.
At first, its input and output diameters, different size hoses can confuse you. However, it can be resolved by working with each tool.
Overall best dust extractor vacuum: FEIN Turbo II X
This convenient tool is suitable to work on both wet and dry conditions with powerful integrated circuits that can be activated through a power tool socket.
Buyers who have this are impressed by its ultra-powerful turbine feature that can generate high airflow while effectively removing the tiniest dust with ease.
Not to mention, this turbine has a low noise level of only 66db providing a quieter environment for working.
The vacuum is large enough to reasonably handle small to medium ongoing cleaning without constantly interrupting cleaning to take the waste out and put it back during the process.
A protective filter cassette comes with it for handling the cellulose filter in wet conditions. At the same time, for ease of navigation and portability, it features a 360-degree large wheel.
Maintaining FEIN Turbo Vacuum Cleaner seems to be more costly than normal. The hose that comes with this product is extremely stiff and uncomfortable.
It does not come with extra attachments which is another major downfall of this product. Also, the locks of casters are not effective enough and the auto start feature may stop working after using a few months.
Highlighted Features
Suitable for wet and dry surfaces.
Very compact size for the power it commands.
It is light, easy to move, and easy to put away.
Super discrete. Can clean on a Sunday morning without waking up the family.
Really smart gadget has an auto-shutoff feature for overheating.
Takes care of itself.
Check prices and availability here
Best cheap dust extractor vacuum: Vacmaster Pro 8
Vacmaster is a state-of-the-art well-designed extractor that will never disappoint you in high performance, reliability, and convenience.
Not only is it adaptable for all sorts of vacuum cleaning around the house of job sites but also works extremely well with both wet and dry conditions.
This well-designed vacuum has a two-stage industrial motor that furnishes optimum suction to eliminate the waste without any pause.
Although it delivers strong performance, the sound is not loud or disturbing which gives you comfort while working.
On top of all, it is a certified HEPA system with 99.97% rated efficient capturing with four levels of filtration.
The eight gallons of large storage capacity tank makes it convenient to clean any dirt or debris in one go. Being made from premium polypropylene material guarantees durability with an extended life span.
While working for wet dirt, you should use optional foam filters instead of default fabric filters so as not to spoil the fabric.  Furthermore, it features ball-bearing casters for easy navigation while working.
Build quality is a questionable part of this product as many users found all the parts cheaply made with plastic.
Although a vacuum should seal all the mating elements from point of suction to canister to eliminate all the toxic substances, it does not have this feature.
Not to mention, the front hose seems flimsy and poorly made which can be detached easily.
Highlighted Features
The patented foam filter will take care of wet surfaces without worry.
The 2-stage motor is the reason why it has a suction rating of 99.97%.
The inside is as beautiful as the outside with its four-ply filter.
Rolls around with its casters even with 8-gallon collection capacity.
Has the perfect accessories for versatile cleaning needs.
Dust extractor with best auto filter clean: Dewalt DWV010
This model comes fully assembled so you don't have to think about all the complex procedures. You don't need to buy an additional HEPA filter or anti-static hose as these come with it.
Only 27 lbs. weight yet durable structure makes it very portable. Also, its relatively small dimension offers convenience while working in your small workspace.
On top of these features, it has a powerful 15 amp motor that delivers high airflow of 130 CFM to generate maximum suction of dirt.
What's more, the noise level is low compared to other dust extractors which will ensure peace while working.
Furthermore, this powerful machine includes a universal hose connector that delivers robust swivel capability for maximum workspace mobility.
Unlike other extractors we talked about so far, it is not suitable for cleaning wet areas. Also, the short power cord and different hose sizes make it frustrating to work with.
You need the wiring set up to hold both tools on the same plug, otherwise, you may trip the beakers while using the power activation tool. Aside from these, some customers complain that it has weak suction power.
Highlighted Features
Cleans itself every 30 seconds. 
Lightweight design with all of 27 pounds.
Quiet around the edges with 76 dB noise.
Swivels smoothly with its rolling wheels.
Comes fully suited up, so no worry about assembly.
Check prices and availability here
Best dust extractor for power tools: Bosch VAC090AH
Another great addition to this list is Bosch Dust Extractor for its reliable design with optimum performance.
This is an excellent dust extractor with a HEPA filter which can eliminate 99.97% of fine dust of your workspace to provide you full air-quality control with an ultimate clean work environment.
At the same time, the fleece bag secures your machine from any dirt and debris while ensuring long-shelf life.
With an extra-large capacity of 9 gallons, this vacuum can handle all the dust-dearest places without stopping to clean the filter during the cleaning process.
Also, the auto cleaning function cleans the filter every 15 seconds to facilitate peak suction without any hassle. Unlike others, here you can choose the suction power which will allow you to pick up thick and heavy material with ease.
For ease of control, it features an automatic turn and off power button. Beyond that, the automatic shutoff function stops the machine immediately when the water level reaches its peak.
This is a safety feature that halts any damage to your machine and prevents the water from spilling back to the surface. Not to mention, an audio signal is provided to alert you when there is low, blocked, low suction.
A major downfall of this dust extractor is, its auto cleaning feature creates loud noise which intercepts your peace while working.
When connected to a generator, it will not provide maximum service. Many users found the tool bit faulty and pricy than other models.
Highlighted Features
Auto clean every 15 seconds.
High-suction force.
Rubber wheels have locking caster.
Power broker dial. 
Automatic water level sensor. 
Best dust extractor for a small workshop: Festool Portable CT Sys
With HEPA filter and anti-static new suction hose, it is a solid extractor that will get your job done perfectly in no time.
For continuous high suction, this features a high-performance turbine so that dust or debris don't intercept the cleaning process. You don't have to stop in between to clean the filter since it does it efficiently with automatic self-cleaning function.
Also, the variable suction force system provides you the facility to select the required speed according to your needs.
It is small, lightweight, portable, convenient all you can ask for in a dust extractor. What's even more praise-worthy, it is also extremely quiet due to the low sound pressure of 67 dB.
On top of all, it is well suited with any sustainer storage box and can clean both wet and dry surfaces with convenience.
If you are looking for a cheap dust extractor, then it might not be suitable for you. It does not come with wheels which is a highlighted downfall of this product.
Unlike other dust extractors, you cannot move it anywhere you want. Some users complain that it releases all the toxic dust it cleaned previously after opening.
Highlighted Features
Ergonomic handle.
Shoulder strap and compact size. 
The best extraction rating of 99.99%. 
Perfect for remodelers and painters. 
Can be operated by triggering through a tool. 
Check prices and availability here
Best professional dust extractor: Pulse-Bac
All you need to leave power on of it in dust favorite areas or your workspace that you need to clean, the machine will do the rest. Besides, it is also HEPA certified for ultimate dust extractor experience.
Being made from sturdy steel and premium ABS, it ensures long time premium quality performance.
Also, a durable powder coating over its structure helps it not only to withstand any harshest outdoor circumstances by providing optimum protection but also adds outer beauty to any space.
Not to mention, it is suitable for both wet and dry dirt which makes it a good addition to your workspace.
Moreover, the airflow of 150 CFM with five filters ensures high suction power with 99.97% efficient filtration. There is a large capacity for dust or debris to store with the eight-gallon tank.
What's more, it features cyclonic debris management which was available in other extractors we talked so far.
Pulse-Bac Dust is not a lightweight dust extractor. Being heavy makes it hard to move around. Since a new dust extractor, there are not many reviews that can be found online.
On top of all, this dust extractor is the most expensive out of all other dust extractors we talked so far.
Best wet and dry dust extractor: CRAFTSMAN CMXEVBE17656 with Cart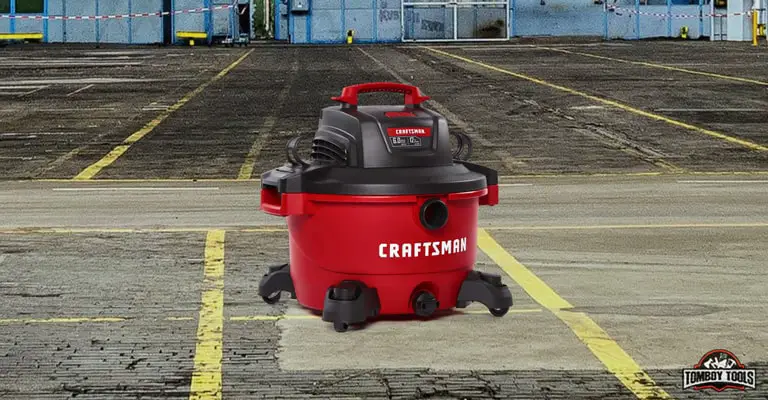 Talk about horsepower. 6.5 to be exact. This beast of a dust extractor has all the makings of the professional quality dust extractor. Take the large dust collection chamber, for example.
If you are going to be boasting about a piece of heavy-duty machinery that you can wheel around in a cart, you might as well put your money where your mouth is. And you bet they did us right with this one — a 20-gallon chamber for taking down a mammoth of a mess.
With a wet/dry option, you may forget about taking care while you make messes or when you clean them up with this dust extractor. With the accessories provided, you can reach all the hard to reach spots you used to depend on a shop vac for. 
Now this machine will do it all for you. Purify your air, check. Clean up the floor, check. And finally, wet dust, no problem. 
It has those filters that every dust extractor wishes it had. So, you don't have to worry about durability. Because all of the components, including the hose, is professional quality. Also, cool feature: it has strong exhaust air from a blowing port that will help you sweep through dusty decks and sidewalks like it was nothing.
Highlighted Features
It can roll like a cart.
Can roll 360 degrees for easy movement. 
Can carry on the shoulder with the strap provided.
Perfect for heavy-duty cleaning.
A large chamber for dust collection reduces cleaning hassle.
Dust extractor with best HEPA filter: Makita XCV11T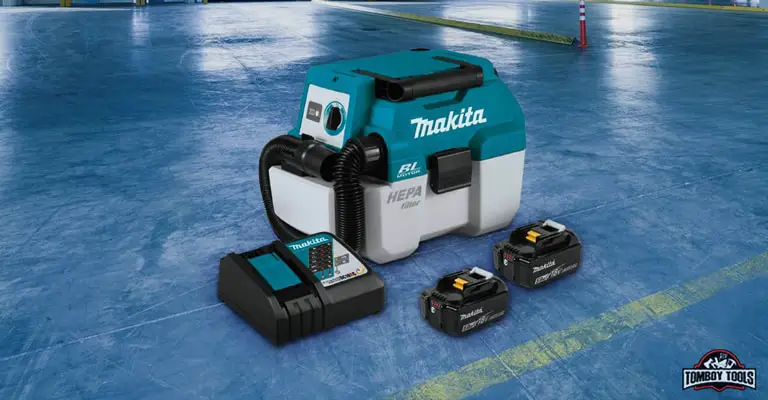 Meet the little boy that lives down the lane which you didn't know had suction enough for bags and bags of wool. This portable dust extractor can work for a whole hour without you ever having to worry about charging.
 Think about the last time a vacuum job took you an hour! It didn't. But think when you wished there were no damned cords on the cleaner. You did. This cleaner is an answer from the heavens for your perfect soulmate of a dust extractor.
They thought of it all with this one. There are a low power mode and a high-power mode for a variety of applications. If you thought there was no way this vacuum could double as a blower, you are wrong. Quickly converts to the blower with minimal effort. 
Charges up in 45 minutes and lasts for 60. Talk about efficiency. Yes, this machine is also HEPA certified. Get your hands on this if you want the best that dust extractor technology has to offer for all the versatile cleaning needs, wet or dry. 
So, what are you waiting for? Find a place to store this with a charging port nearby, and it can be your ready and willing companion wherever your messy job or butterfingers needs you to be.
Highlighted Features
It is cordless
One-hour charge backup plus battery low light indicator
The polymer shell is highly durable. 
It has straps.
Compact yet packs a punch with 57 CFM suction
Is There Any Fundamental Difference Between Dust Extractor and A Shop Vac and Cyclone Dust Collector?
Let's start from the most basic to the most efficient. A shop vac is best when paired with portable power tools. A cyclone dust collector (like these choices) can be mounted on stationary power tools i.e., the ones typically found in woodworking workshops.
When attached to the source, all the sawdust in the woodshop will be sucked into the dust collector as they are produced. To conserve power, the mounted collectors can be automatically turned on and off with the power tool.
Dust extractors are the most advanced models that serve all of the above functions in addition to also filtering the air. If you have an expensive model with high horsepower, high gallon count, high suction force, and weight, then you are probably on the more advanced end of the spectrum. 
The Dust extractors, while having multi-stage filtration, also uses a higher volume of air inside a larger volume hose to safely extract larger chunks of dust i.e., woodchips without endangering the unit's components.
This draws us to our overarching point, which is heavy-duty machines are more suited to professional use where the conditions will be averse for a humble machine.
It is better to err on the side of caution and acquire a heavy-duty model to protect your safety. Once you identify the job requirements, please do not try to discount the safety for the wallet.  
And finally, if you have a dedicated power tool with ports that you are trying to attach to a machine with a higher volume of air and lower suction, you are talking about a cyclone dust collector or separator. 
You will know you need these when your power tools are equipped for such machines. So do not wait for a huge mess and cleaning up with shop vacs. Instead, keep your job site neat and professional by attaching a mounted-on dust collector.
Frequently Asked Questions
Q: Do I need to worry about static pressure?
Ans: Yes, it is one of the only things to pay heed to when you are a regular user. 
Q: Is my model built for wet use?
Ans: Not always. Please check the features to identify a wet/dry variety. For more advanced users, a 50-inch static water pressure variant is compatible with heavy-duty wet dust extraction. 
Q: What is HEPA?
Ans: HEPA is a certification of vacuum filters and machines from the namesake association. If you are a professional, you will most likely be better off purchasing a HEPA compliant machine for greater durability and the best extraction.
In order to be HEPA compliant, a machine's efficiency rating has to be over 99%, and it has to be able to extract dust particles as small as .3 microns.
Q: How to make a shop vac last a long time?
Ans: Clean it often. No filtration will be done inside the collection mechanism. Hence this could hurt the motor if you use it for long intervals without cleaning out the collection bag.
Here are some frequently asked questions and their answers.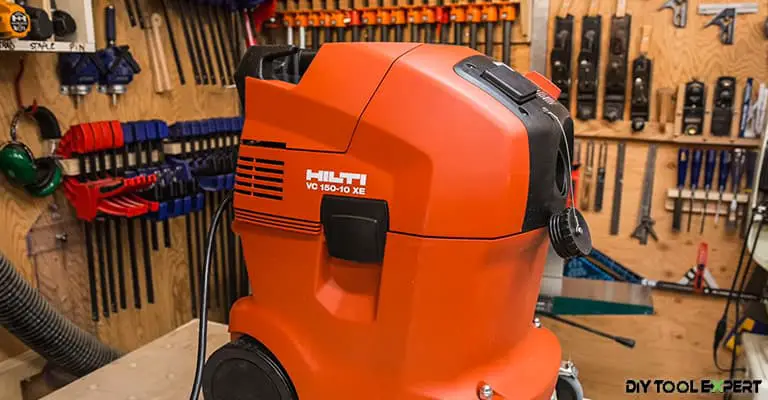 What is the difference between a vacuum cleaner and a dust extractor?
After this brief review, it is easy to see the differences between the two systems. A Vacuum is High-Pressure, Low-Volume and a Dust Collector is a Low-Pressure, High Volume. Vacuums are used mainly for precision cleaning and material conveyance, and dust collectors for full scale facility or process filtration.
How good is Festool dust extractor?
The Bottom Line. Even though the Festool CT SYS has suction power rated below the 130 – 137 CFM of its big brothers, the dust collection was certainly adequate for the woodworking tasks I set it to. When it comes to airflow, you need air volume to collect fine dust and air speed to collect course material.
How much CFM do I need for dust collector?
In general, the range for effective chip, shaving and large particle dust control is between 300 cfm for a tool with a lower dust and debris output, such as a scroll saw, and 900 cfm for a tool that really puts out the shavings, like a 24′ thickness planer.
Can I use Henry for dust extraction?
Can I use Henry for dust extraction? A commercial grade or industrial Henry can be used for dust extraction. When extracting dust, ensure that the vacuum features a proper filter for this type of cleaning.
Can you use a shop vac as a dust extractor?
Small garage workshops gather dust and dirt quickly, but many dust collection systems are too costly or large to install in smaller shops. A secondary option is to build your own dust collection system using a shop vac, which can be picked up for less than $100.
What is Class L dust?
L Class – for soft woods and solid surface material such as Corian. M Class – for hard woods, board materials, concrete and brick dust. In reality, you will find that most professional L and M Class dust extractors will have similar suction rates and filtration levels.
What Festool Sander should I buy?
The overwhelmingly most popular Festool sander is the 5″ diameter ETS 125. … The scratch pattern of the sander thereby varies, giving you a smoother finish. A newer version of the ETS series, the ETS EC sanders, are brushless and have a very low, more ergonomic profile. They are also about a 1/3 more powerful.
Who makes festool vacuums?
Festool Group GmbH & Co. KG is based in Wendlingen and is a subsidiary of the TTS Tooltechnic Systems holding company. It is known for its system-based approach to power tools and its focus on dust extraction. The company was founded by Gottlieb Stoll and Albert Fezer in 1925 under the name Fezer & Stoll.
Can you use Festool extractor without bag?
The Festool CT 26 is an excellent dust extractor. It uses fleece bags to collect the dust and very little makes it to the HEPA. The downside is that the bags are on the expensive side. It really shouldn't be used without a bag for dry use.
How many CFM is the Harbor Freight dust collector?
1550 CFM
With 1550 CFM air flow this portable dust collector is more effective than many big stationary units.
Can you wash the filter on a Henry Hoover?
Henry's filter is clogged up – Henry vacuum cleaners have a pre motor filter which is washable. It's a good idea to wash your filter every time you replace the bag. Simply wash it with warm water and replace the filter once it is completely dry.
Are all Henry Hoovers wet and dry?
The true "all in one" machine that is totally at home in wet or the dry. The combination of highly efficient Twinflo bypass vacuum motor and powerflo pump system provides professional cleaning standards, anytime, anywhere.
How do you use a vacuum sander?
Insert one end of the adapter to the exhaust on your sander. Insert the other end of the adapter to the hose on your vacuum. To secure the attachment, tighten the clamp.
Q: What is a delayed turn-off feature?
Ans: Some top-level model like Festool comes with delayed turn-off function. Though it is not a highly important feature, it is useful.
This lets the extractor run after the machine stops functioning to suck all the extra dust or dirt in the air.
Q: What is the cyclone system?
Ans: Cyclone system is a two-stage dust collection system where finer dust is sucked into the cyclone and filtered. This is one of the most effective ways of maximum cleaning but pricey for general people.
Q: How would you know if you have enough suction power?
Ans: You will know by checking the CFM rating of your machine. Most dust collectors have an airflow of 650 CFM.
If you are getting more than that, then it will be enough for your home or general job. However, you need more for heavy-duty jobs.
Q: How do you do the maintenance of a dust extractor?
Ans: Maintenance of a dust extractor is very simple and easy. If your dust extractor has enough air flow and motor in line, you won't have to worry a lot. You just have to clean the outside and empty it frequently for long term use.
Q: How do you save dust extractor from exploding?
Ans: Dust extractors rarely explode but you can install a grounding kit for safety which will minimize the chances of creating static electricity.
Conclusion
Hope that our step by step buying guide with reviews has assisted you enough to choose the best dust extractor for yourself. However, if you are still in a dilemma, feel free to select from our personal favorites among all the other extractors we talked so far.
If you are looking for reliable and convenient yet affordable vacs, then DEWALT Dust Extractor can surely be perfect for you. It is lightweight, highly portable, and hugely admired for exceptional performance in the market. On the other hand, if you want to try something new and different then you can try the Pulse-Bac Dust Extractor.
Another dust extractor that we think is top-tier because of its exceptional operation is Bosch Dust Extractor. This product is adaptable to both wet and dry conditions and comes with a large storage and audio alert system. Those who have bought it know that it is worth every penny.
I'm Joost Nusselder, the founder of Tools Doctor, content marketer, and dad. I love trying out new equipment, and together with my team I've been creating in-depth blog articles since 2016 to help loyal readers with tools & crafting tips.