I love creating free content full of tips for my readers, you. I don't accept paid sponsorships, my opinion is my own, but if you find my recommendations helpful and you end up buying something you like through one of my links, I could earn a commission at no extra cost to you.
Learn more
If you live in a small apartment, you probably want a good stick vacuum cleaner that doesn't take up a lot of room. But, you also need a versatile cleaner that you can use as a handheld device to clean those hard to reach places. Having a 2-in-1 stick handheld vacuum cleaner is extremely handy for those looking for a spotlessly clean home.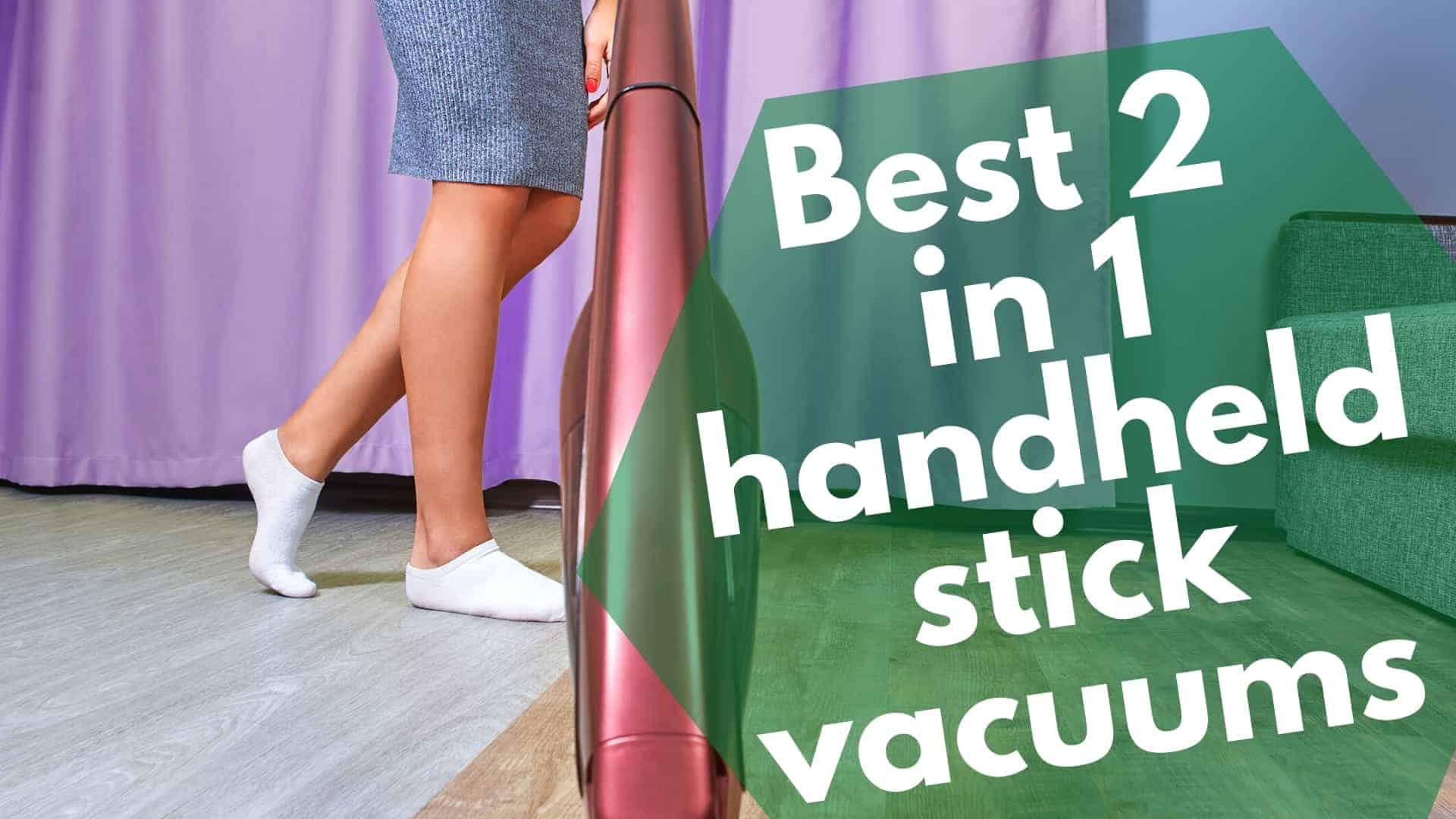 In case you have pets, then you are going to be very impressed at how useful and versatile a stick vacuum cleaner is. What is the best 2 in 1 stick vacuum? If you have a little more to spend on a top-notch vacuum cleaner, I would definitely recommend
this Dyson V8
. It's cordless and can reach everywhere you want it to with its long stick and multiple attachments. But we have a few more options for you, even some budget-friendly ones. We've compiled a list of the top 2 in 1 stick vacuum cleaners for all budgets.
Let's look a bit more at what to look at when buying one of these stick vacuums before I dive into the in-depth review of each of these.
What is a 2 in 1 stick vacuum cleaner?
A 2 in 1 stick vacuum cleaner is most often called a cordless stick. It is practical because it runs cord-free and it has a handheld feature. This means you can detach the cleaner and move it around as a small handheld device to clean those tight spots. A cordless stick cleaner has a motor and a dust bin on one end and a brush head on the other. These two parts are joined together by a long tube where the dirt flows. This part is called the stick. The best feature of a 2 in 1 stick vacuum is that it converts to a handheld device. This means that you can remove the hose and canister. It means that with the handheld vacuum cleaner you can clean the stairs, the curtains, and tight spaces your traditional vacuum stick can't reach.
Buyer's Guide
Before you make a purchase, check out all the information about 2 in 1 stick cordless vacuums. There are many pros and cons to this type of vacuum cleaner and knowing the ins and outs will help you make a smart decision.
What should you look for in a stick cordless vacuum cleaner?
Filter: If you want a filter that eliminates over 99% of dust particles, germs, bacteria, and allergens, your best option is a HEPA filter. These filters guarantee an allergen-free environment after your vacuum.
Cordless Feature: Not all stick vacuums are cordless. But, a 2 in 1 vacuum cleaner is cordless and has the handheld feature for portability. A cordless vacuum means you don't have to deal with tangled cables as you clean the house. As well, the cleaner runs on a battery and you can easily just recharge the device when it runs out of battery.
Floor Type Compatibility: The best cleaners can be used on carpets, rugs, and hard floor surfaces. When you use the vacuum cleaner as a handheld device, it should work on carpets, stairs, upholstery, cars, and bare floors.
Brush Roll: If you have any medium pile carpets, a good brush roll is an essential component of a stick vacuum cleaner. Brush rolls pick up any dirt and debris that's stuck deep in the rug's fibers. As well, these rolls also collect the debris on bare floors. For bare floors and low pile rugs, a stick vacuum without rotating brush rolls is fine. But, we recommend you choose a cleaner with rotating brush rolls so you can use it on more surfaces.
Easy to Convert: The advantage of a 2 in 1 is that it's convertible and does double duty. But, you should make sure it's easy to switch from stick to handheld mode. Usually, all you have to do is remove the motored top or the handle and voila, you have a handheld vacuum cleaner. So, in the case you spill some cereal, you can make the vacuum handheld and go straight for the spill.
Size: The size of the vacuum matters when it comes to portability and storage space. Look for devices that are not too heavy for you to carry around. As well, if the device is smaller, it's much easier to maneuver than a bulky old-style cleaner. The cordless vacuums come with a snap-in charging bracket. Therefore they are stored in an upright position in the charging bracket.
What are the advantages of a 2 in 1 stick cordless vacuum?
Portability – these types of vacuums are easy to move around the home because they don't have that annoying cord. As well, they are lightweight and you can easily snap off the motored top to convert the device into a handheld vacuum.
These types of vacuum cleaners are more affordable and many models cost about $100 or even less.
Great for pet hair and dander because you can spot clean dirty spots on couches, carpets, and stairs.
These devices are re-chargeable and lithium-ion batteries can offer anywhere between 20 to 60 minutes of continuous run time.
Most have rotating brush rolls that can clean all types of surfaces and remove stubborn dirt and dust particles in fibers.
Stylish design means that these vacuum cleaners don't look as ugly as classic canister cleaners. They are light and not bulky.
What are the disadvantages of a 2 in 1 stick cordless vacuum?
The design of such a vacuum cleaner makes it lightweight but this also means it doesn't have the most powerful suction power, thus it lacks cleaning strength.
This type of vacuum has a smaller motor size, which means it is less powerful than classical canister vacuum cleaners.
A larger motor would enable powerful suction, but a large motor makes the cleaner too heavy and uncomfortable to use.
The battery tends to drain quite fast, and most of these devices have a 20-30 minute battery life. Therefore, it's not suited for large multi-level cleaning jobs.
Cordless sticks are known to twist because they have a long tube.
They also tend to shift in your hand due to the weight distribution and this can be annoying.
Best 2 in 1 stick and handheld vacuums reviewed
Absolute best cordless stick and handheld vacuum: Dyson V8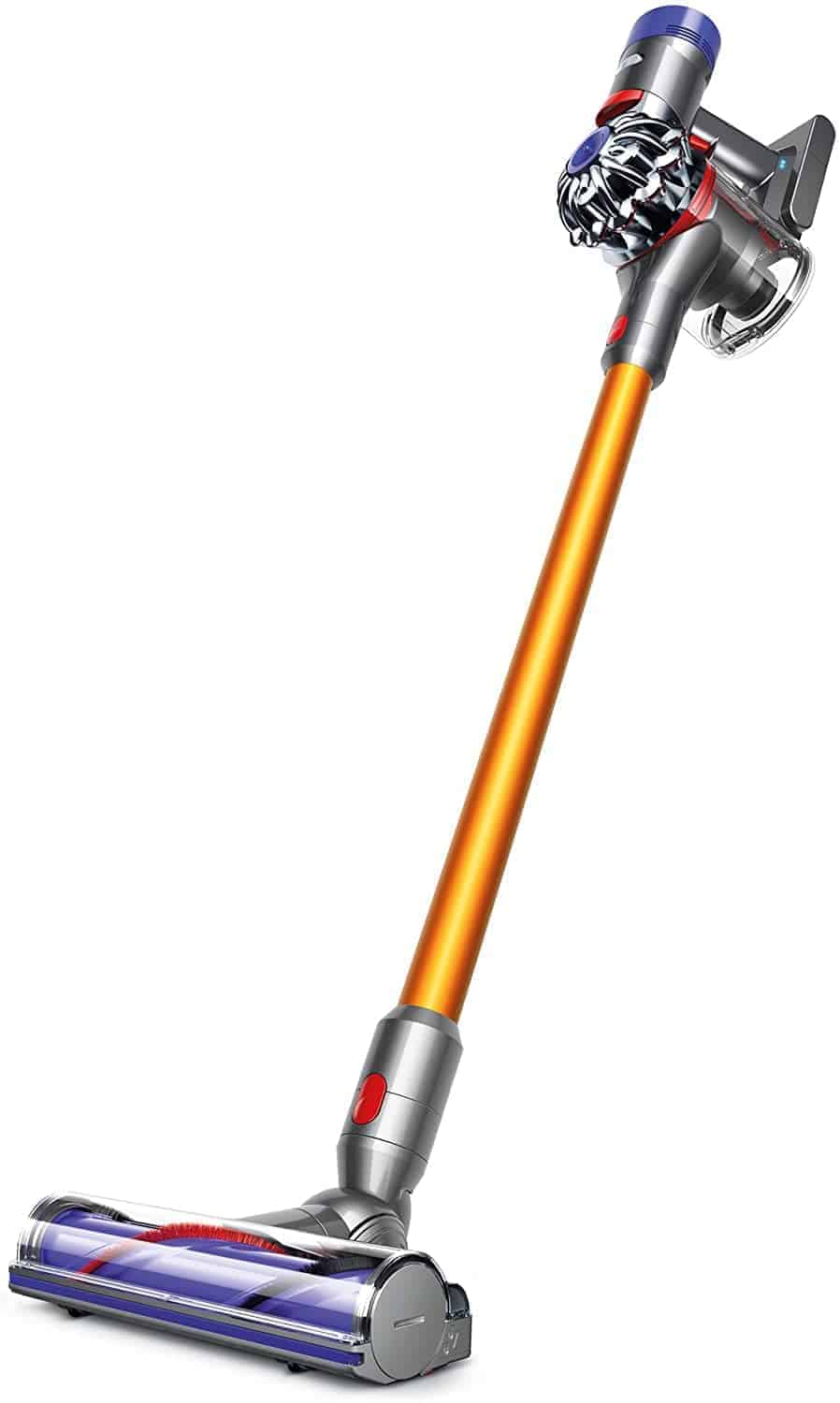 PROS
Ergonomic, effective, portable, and easy to use handheld vacuum cleaner capable of keeping and maintaining your home clean from dust and dirt.
CONS
The vacuum is very expensive for a stick & handheld vacuum, and customers claim that the battery doesn't last as long as promised.
VERDICT
Dyson V8 Absolute has been a remarkable handheld machine that is powerful, lightweight, and really easy to use. A more powerful version than the previous version, it comes with more features that make this handheld vacuum perfect for daily use. This is a versatile and high-quality cleaner, so it is highly recommended. Vacuum Wars have such a great channel and here they show this model:
Vacuuming Performance
The Dyson V8 Absolute Cord-Free Handheld Vacuum Cleaner version is a high performance and more powerful vacuum device compared to the previous V6 & V7 models. It's especially great that the power of the suction doesn't fade while you clean.
We can also see that it provides more powerful suction power compared to other handheld vacuum cleaners we have tried. Since it is powered by the Dyson Digital Motor V8 it is not surprising that it's the most powerful cord-free handheld vacuum cleaner.
Lightweight and Ergonomic Design
One noticeable feature that we love about the Dyson V8 Absolute vacuum cleaner is how it is very light. It weighs less than 6 pounds and it is ergonomically designed. Holding the device is not difficult at all. Since it is so lightweight, the design of the device makes it fit into the shape of the hand perfectly. It has also been designed so that the center of gravity is towards the grip, thus making Dyson V8 real easy to maneuver.
Battery and Cleaning
A truly amazing feature of Dyson V8 is the new Lithium-ion battery that delivers a fade-free suction and 1.5 times more brush power than the V6 version.
In addition to that, I find it really nice that Dyson V8 comes with a feature of hygienic bin emptying. This makes it really easy for cleaning. With just one touch, the vacuum is emptied right out of the bin releasing all the dirt and garage you've vacuumed out of your car. This just makes Dyson V8 a real convenient handheld vacuum.
HEPA filtration
The Dyson V8 Absolute expels cleaner air than the air you breathe with HEPA filtration which captures allergens.
Fully Loaded Accessories
The Dyson V8 also comes fully loaded with a main direct-drive cleaner head, soft roller cleaner head for hardwood floors, and a mini motorized tool for upholstery. It also has a soft dusting brush for electronics and other delicate surfaces.
Other Design Features
The Dyson V8 can easily convert from a stick to a hand vacuum for a car or other tight spots cleaning.
But these are not the only features of Dyson V8 that make it an amazing choice for a vacuum cleaner. With the 2-tier radial cyclones, max power mode, the house cleaning, and the max power mode all make this device an all-powerful house vacuum cleaner. You can use it all over the home and in your car. If you have pets, you'll notice that it's great at picking up pet hair and dander.
These features allow the device to capture more dust, even the finest of them. The Dyson V8 also has enhanced suction power for taking care of difficult tasks. It offers the capability of cleaning upholstery, footwells, and car seats better. Its power really feels like you're using a full-sized vacuum.
WARRANTY
The product comes with a 2-year limited warranty based on Dyson Terms and Conditions against original defects in the product's materials and workmanship.
FINAL WORDS
If you want to invest in quality products, we definitely recommend you to buy Dyson V8 Absolute. There are a lot of excellent vacuum cleaners for your house in the market but the Dyson V8 Absolute Cord-Free Stick and Handheld Vacuum Cleaner is one that truly offers you awesome performance for a cleaner home. All the features of the vacuum have enhanced performance and convenience that it is no wonder one of the best handheld vacuum cleaners on the market today.
Check the latest prices and availability here
Best cheap 3 in 1 handheld stick vacuum: Dirt Devil SD20000RED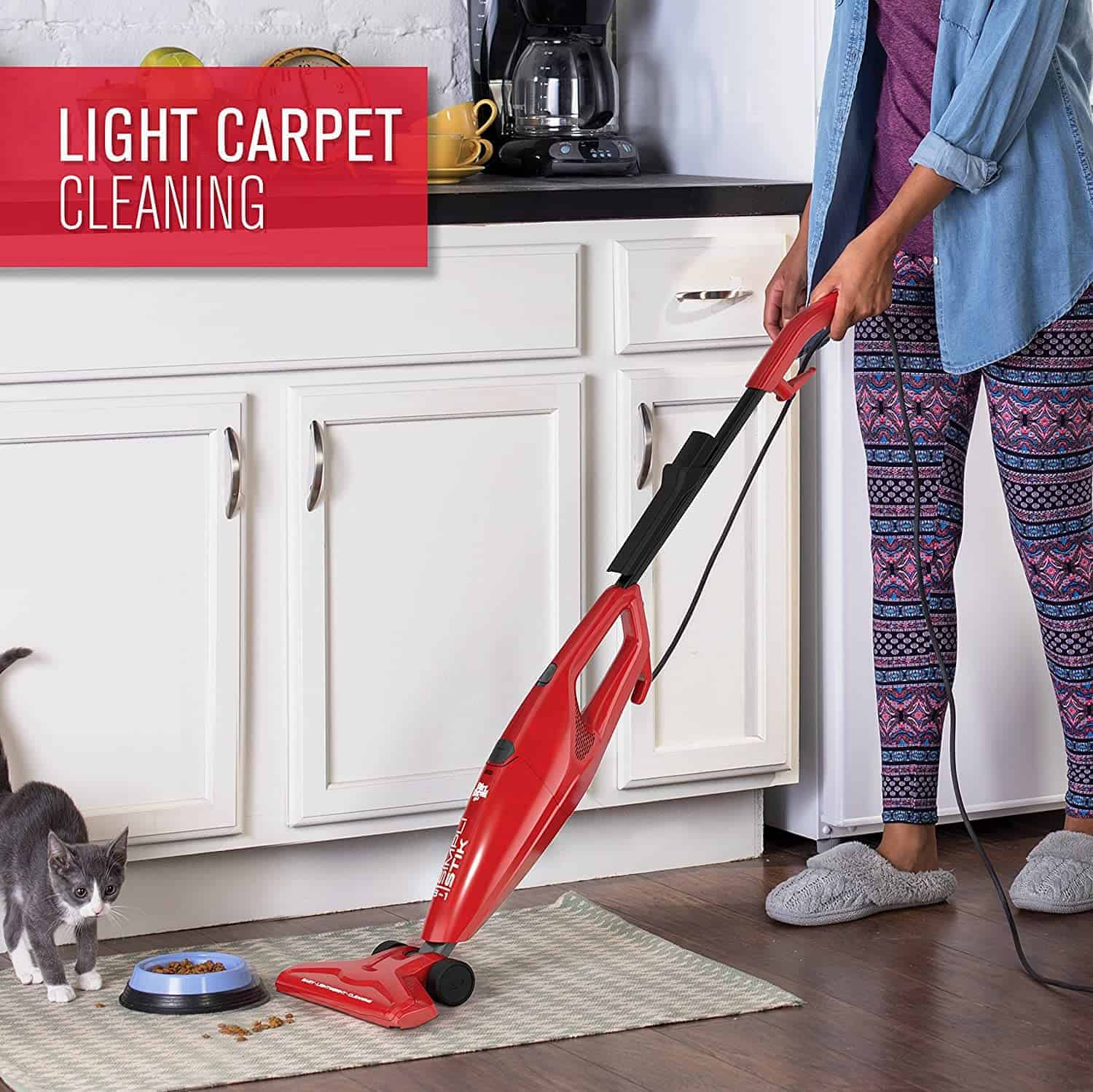 PROS
This handheld vacuum makes it easy to clean any space. It is a 3-in-1 vacuum cleaner featuring a stick vacuum, a handheld vacuum, and a utility vacuum. This works great as well when it comes to pet hair removal.
CONS
The main issue about the product is that it is perfect only for light housework that might leave one a bit disappointed.
VERDICT
The Dirt Devil Simpli-Stik Lightweight Bagless Corded Stick and Handheld Vacuum SD20000RED
is an awesome vacuum to consider because of its good strength, portability, power, and accessories. It does what it claims to do and effectively cleans rugs or carpet and hard floors. But, best of all is that it provides you the freedom to use it as an upright or handheld vacuum. Here you can see it in a real home use:
Vacuuming Performance
In regard to its vacuuming performance, it is excellent especially because the On-Board Crevice Tool conveniently fits into tight spaces. Since it is backed by the onboard crevice tool, you will not have difficulty trying to reach tight areas in the corners. Additionally, you can maneuver the vacuum around your furniture, and along all the edges of delicate electronics.
Note that this device is powered by 1.25 Amp Motor and a constant suction power that easily cuts through messes. Thus, this means a swift clean every time you use it. You will, just like us, be impressed by it.
It works surprisingly well on multi surfaces. We will buy one again for us to have another handheld vacuum to use in the future.
Portability
The handheld vacuum is known for its lightweight and portability. Thus, you can conclude that it is far more manageable to use than any other product. The floor nozzle also ultimately comes with smooth-rolling wheels that promise ease and convenience to move back and forward. You'll love how versatile this device is, and best of all, it's simple to maneuver and store.
Design Features
The Dirt Devil Simpli-Stik Lightweight Bagless Corded Stick and Handheld Vacuum SD20000RED
come along with its excellent design features like a "Rinseable Filtration". This feature allows you to keep it ready for future use. In addition to that, it has a detachable stick so you can convert it to a hand vacuum in second and carry it anywhere from room to room, up to downstairs.
WARRANTY AND SUPPORT
The handheld vacuum is eligible for a thirty-day returns policy and free shipping. It also comes with 1-year parts and motor warranty for your guaranteed satisfaction.
FINAL WORDS
The Dirt Devil Simpli-Stik Lightweight Bagless Corded Stick and Handheld Vacuum SD20000RED are worth the money paid for it because it is more compact and stronger. It indeed has powerful suction and meets our expectations. It comes with excellent features that include a detachable stick and nozzle. This allows the user to convert it to an upright or handheld vacuum depending on the cleaning needs. You are ready for dust, dirt, and crumbs on furniture, counters, shelves, upholstery, and drapes. So, there are many reasons you'll enjoy using this 2 in 1 vacuum cleaner.
Best 2 in 1 handheld vacuum stick for under $100: Deik for carpet & pet hair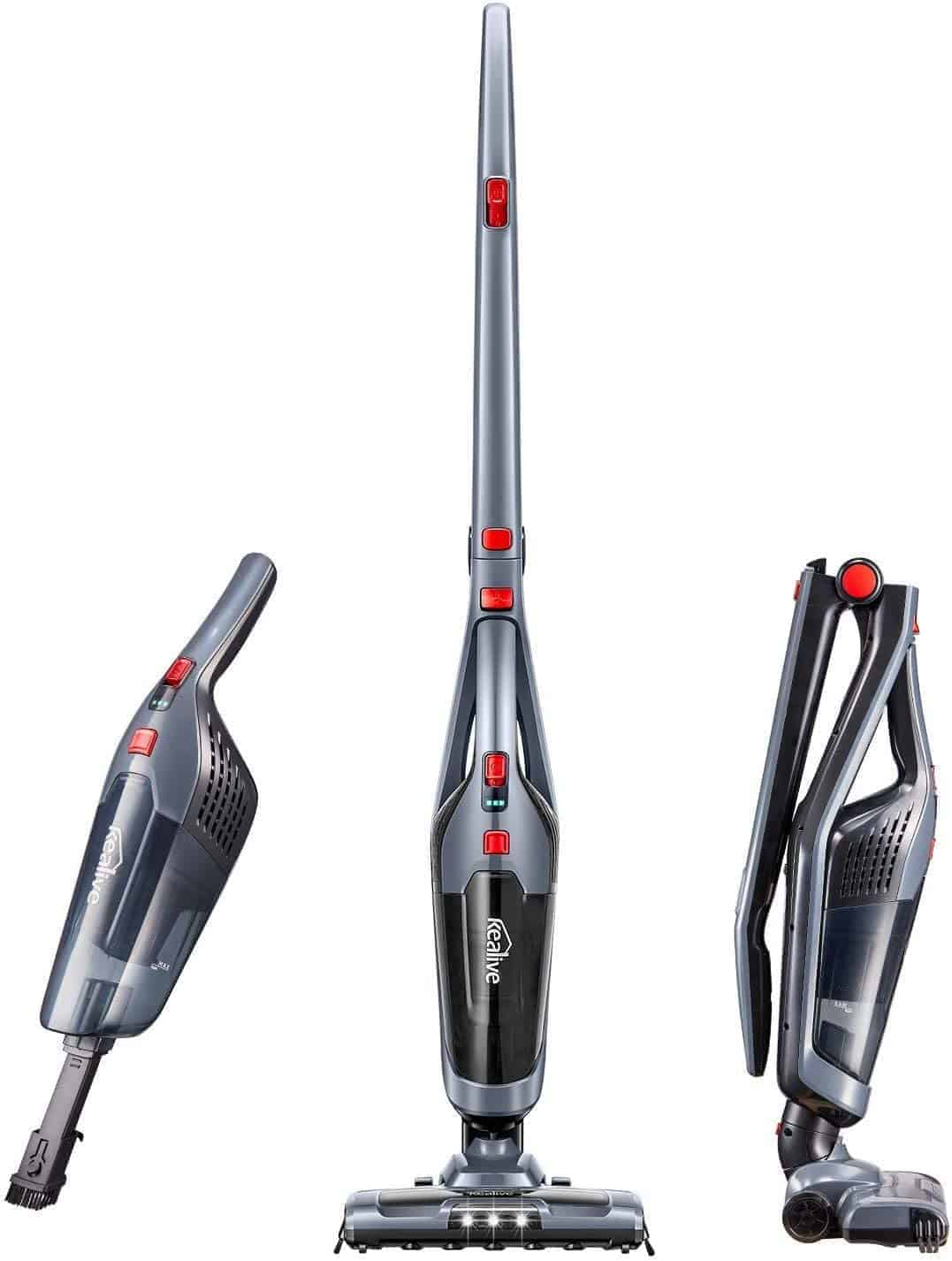 When it comes to finding a good quality vacuum cleaner, this Deik Vacuum Cleaner
tends to come pretty highly recommended. Why, though? Why do so many customers rate it as one of the best forms of the vacuum cleaner on the market at this moment in time? [metaslider id=2934]
FEATURES
Very lightweight design ensures that you should have no problems at all in getting this around at a meager 4.7lbs.
2V Lithium-Ion battery offers you a very strong performance, though around 20-25 minutes of runtime may be less than you needed.
The powerful suction caused by the DC motor ensures it can give you plenty of performance in that short time, though.
Useful wand solution for cleaning up high and getting to everything – including those dust particles that you can see on the ceiling!
High-quality filtration and brush roll ensures that it can clean well and get rid of as many allergens and irritants in the air as possible.
Comes with plenty of easy to use guides to help you gain full mastery of your Deik Vacuum Cleaner in no time at all.
SUPPORT & WARRANTY
This comes with a pretty decent one-year warranty that is about as comprehensive as you could expect when investing in a vacuum cleaner. While it does not cover commercial use, and only for domestic home cleaning use, it's a very impressive warranty that, from our research and experience, very few have ever had any real issues with.
PROS
Very strong suction power ensures that this delivers on a vacuum cleaner that is versatile, strong, and very effective in most normal ways.
Very lightweight so getting it up and downstairs are not really an issue – the Deik Vacuum Cleaner is one of the lightest we have come across in some time in terms of just general ease of movement.
Good cleaning quality ensures that it isn't picky; this Deik Vacuum Cleaner offers a fine cleaning option on both wood and carpet flooring for a smooth, simple option.
CONS
The battery has a rather minimal running time and it cannot be swapped out, meaning that you are left with a mediocre cleaning time on a regular basis, which can be rather annoying.
It cannot stand free so make sure you give it some kind of means of leaning or storing when you put it away or you can expect to hear it drop and smash! Durable enough to handle drops, but best avoided when possible.
VERDICT
This particular Deik Vacuum Cleaner is a good piece of kit, one that we would be happy to recommend. The 2-in-1 removable cordless hand vac is great for getting into smaller areas, and the large suction power of 7Kpa ensures it produces plenty of 'boom' – making it well worth your time and money.
FINAL WORDS
With all manner of useful add-ons and extras, the Deik Vacuum Cleaner offers a very powerful option for anyone who is looking for quality, consistency, and quality. The HEPA-level filtration makes sure you know that you are buying a piece of kit that can deliver on what you ask for.
Check prices and availability here
Best 2 in 1 handheld stick vacuum for hardwood floors: VonHaus 600W with HEPA Filtration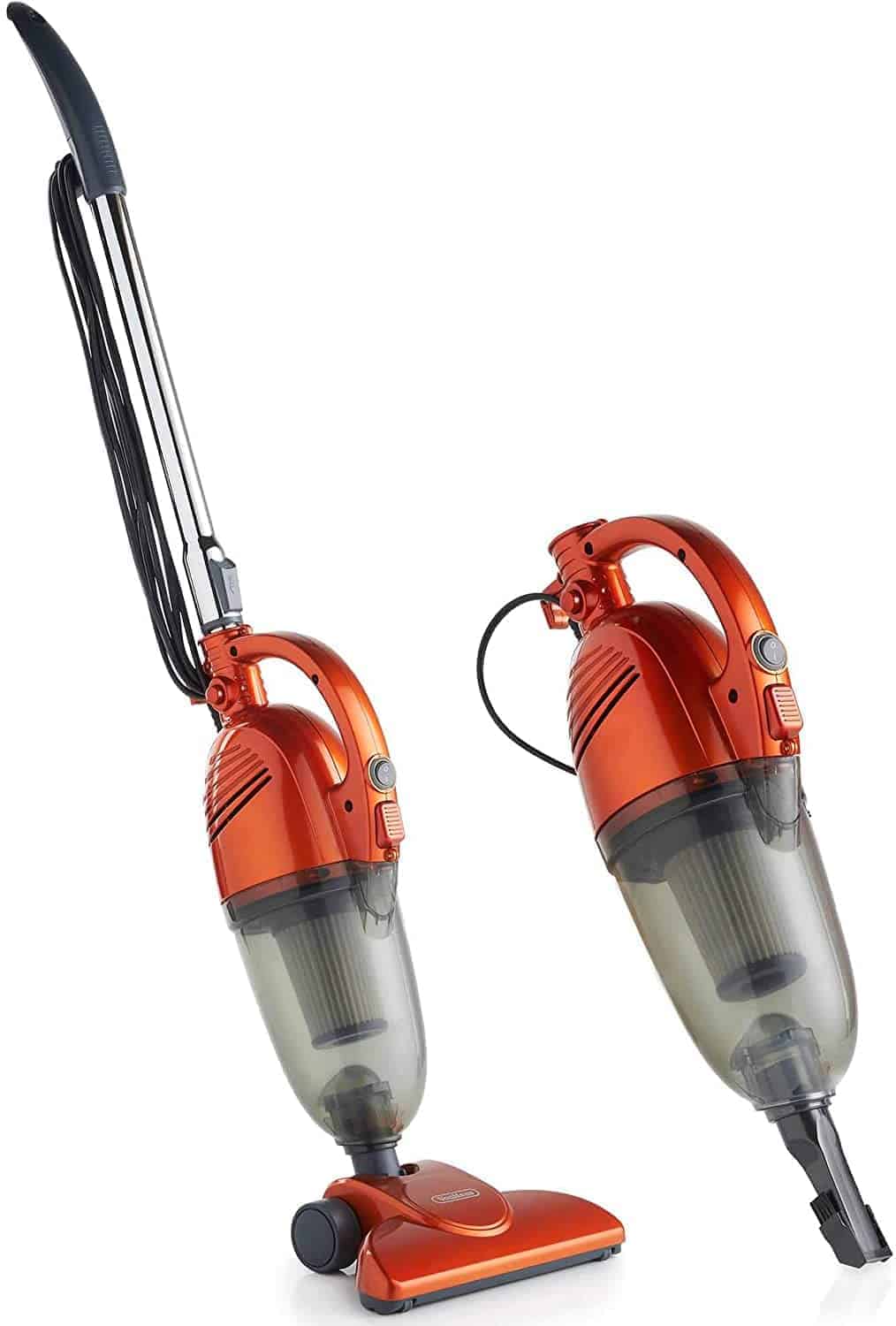 PROS
A fully functioning and reliable vacuum cleaner that delivers the best results especially in terms of handheld cleaning. Brush accessories and crevice tool are included for added functions and advantages.
CONS
This vacuum cleaner does not work perfectly on hardwood floors.
VERDICT
The VonHaus 600W 2 in 1 Corded-Upright Stick and Handheld Vacuum Cleaner with HEPA filter guarantees reliable suction power. As well, it can be used at full-length for more effective and easier handheld cleaning. This product is loaded with innovative and outstanding features making this cleaning tool more capable of doing its job more effectively. This handheld vacuum cleaner is proven to be a worthy investment for the home. Having this tool at home will surely offer you enormous benefits because it makes life easier. Here's What Mummy Loves showing you how she uses it:
Vacuuming Performance
VonHaus 600W 2in1 handheld vacuum cleaner performs as a traditional long vacuum cleaning tool. It utilizes a given extension tube when needed. As well, it functions as a handheld cleaner allowing a lightweight option for cleaning drapes and furniture. The even better performance of this vacuum cleaner was made possible with the help of its exclusive HEPA & sponge filtration. HEPA filtration system locks in smaller particles that other cleaners just re-circulate back to the air of individuals' homes. The VonHaus 600W handheld vacuum cleaner effectively prevents the spread of bacteria and allergens. The cleaner glides easily into several surfaces with its excellent and reliable performance and suction capability.
Portability
This premium quality handheld vacuum cleaner is lightweight and portable. You will surely love and appreciate this product's portability and easy to use features.
Design Features
The design features of VonHaus 600W 2 in 1 vacuum cleaner are truly impressive. This has specific unique design features that you cannot find in other brands of handheld cleaners. This is specially designed with the included 1.2-liter tank for superior dust capacity. The features make it easier to remove dust containers, detach, and simply empty contents straight to the bin. This was also designed and crafted with an included 19.5 ft. power cord, small brush, crevice tool, shoulder strap, and hose adaptor. This handheld vacuum cleaner is ideal for rugs, carpets, furniture, hardwood floors, and stairs. The design feature of this cleaner offers style and exclusivity that other handheld vacuum cleaners do not possess.
WARRANTY AND SUPPORT
The VonHaus 600W 2 in 1 Corded-Upright Stick and Handheld Vacuum Cleaner includes free 2 years warranty. You are given the assurance of getting the best quality out of their purchase. Since this product is backed with free 2 years warranty, you will have confidence and will be more encouraged to make a purchase.
FINAL WORDS
The VonHaus 600W 2 in 1 Corded-Upright Stick and Handheld Vacuum Cleaner w/ HEPA Filtration is by far one of the best home appliances available on the market today. With the product's impressive set of features and its solid performance, this cleaning tool is sure to work well. In addition to this, it also makes cleaning easier and more enjoyable. This comes with attachments and accessories that promote better performance and functionality. This is a highly recommended product. So those looking for a great handheld vacuum cleaner, the VonHaus 600W 2 in 1 Corded-Upright Stick and Handheld Vacuum Cleaner is an excellent choice.
Best 2 in 1 handheld stick vacuum with flexible brushes: Anuker

Cordless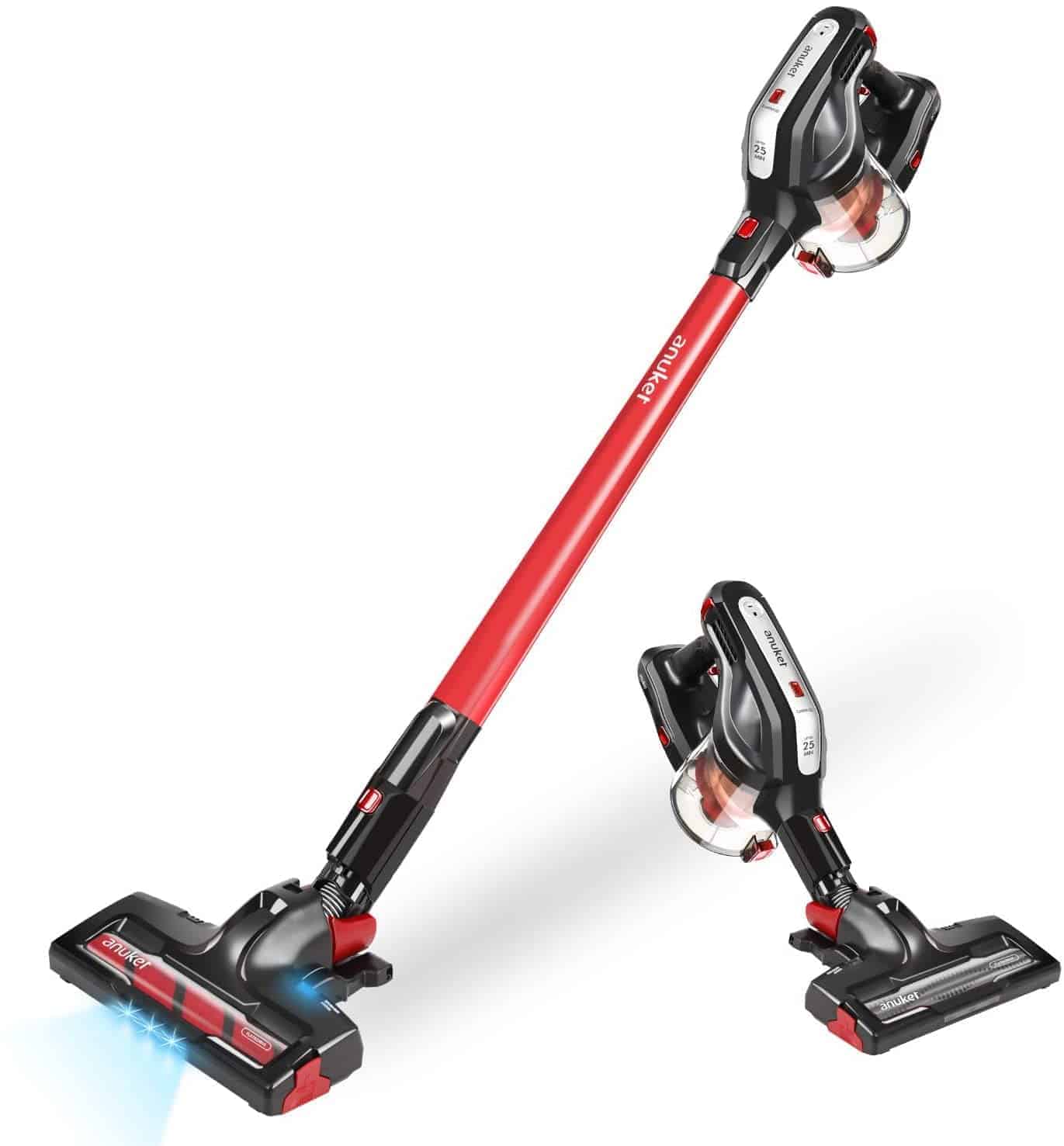 Not only is this vacuum cleaner very affordable, but it also has flexible brushes to make cleaning even easier. It can reach any dirt in any spot effortlessly.
FEATURES
5-stages of filtration: this vacuum cleaner has an outstanding filtration system. It has an extra filter on the handle, which makes it unique compared to other similar models. It can capture 99.9% of dirt and dust particles, thereby eliminating allergens from your home.
LED front-light: It has an LED light at the front which makes it easy to see what you're picking up so you don't miss any dirt. It is great at illuminating dark corners.
Flexible brush heads: this vacuum cleaner has rotating brush heads that offer a deep clean. The heads rotate and swivel at 180 degrees horizontally and 90 degrees vertically.
Two speed modes: switch between low noise function and max mode which is ideal for thought carpet messes.
Two charging modes: you can charge the vacuum cleaner individually or charge the detachable battery with the machine.
Stand alone: the device stands upright by itself without any support, thanks to its upright design.
PROS
What you'll love most about this great stick vacuum cleaner is that it has 3 sets of LED lights which make cleaning quick and easy. Since you can see all the dirt and dust particles and debris, you can go over the messy spots to ensure a deep clean every time. Also, you will appreciate the rotating brush heads which swivel in all directions and make cleaning tight spots a breeze. This device has a 25-minute battery life which is pretty good, but it is easy to charge and can be charged using two methods. It is lightweight at 5.21 pounds, which means that you can carry it around the home with easy and use it comfortably in handheld mode.
CONS
Some customers complain about the short battery life, although it is comparable to other devices that cost three times as much. It has a medium power suction and if you are dealing with a big mess, you may have to go over the same area a few times to pick up everything.
WARRANTY
This product comes with a 30-day refund option. As well, there is a 12-month warranty for the parts which means you can do a lot of worry-free cleaning.
VERDICT
For such a cheap stick vacuum cleaner, this one does a great job of picking up messes in an upright mode as well as handheld mode. Therefore, if you're looking for an easy-to-use cleaner that won't break the bank, this model is a good option. Although it has a weaker suction power and relatively short battery life, it still picks up dirt effectively, so we recommend it. It works well on carpets and best on hardwood floors but you'll appreciate that its rotating brushes remove lots of particles stuck to rugs and carpet fibers. Check out the latest prices here
Best 2 in 1 Stick Cordless Vacuum for Pet Hair:

BISSELL Adapt Ion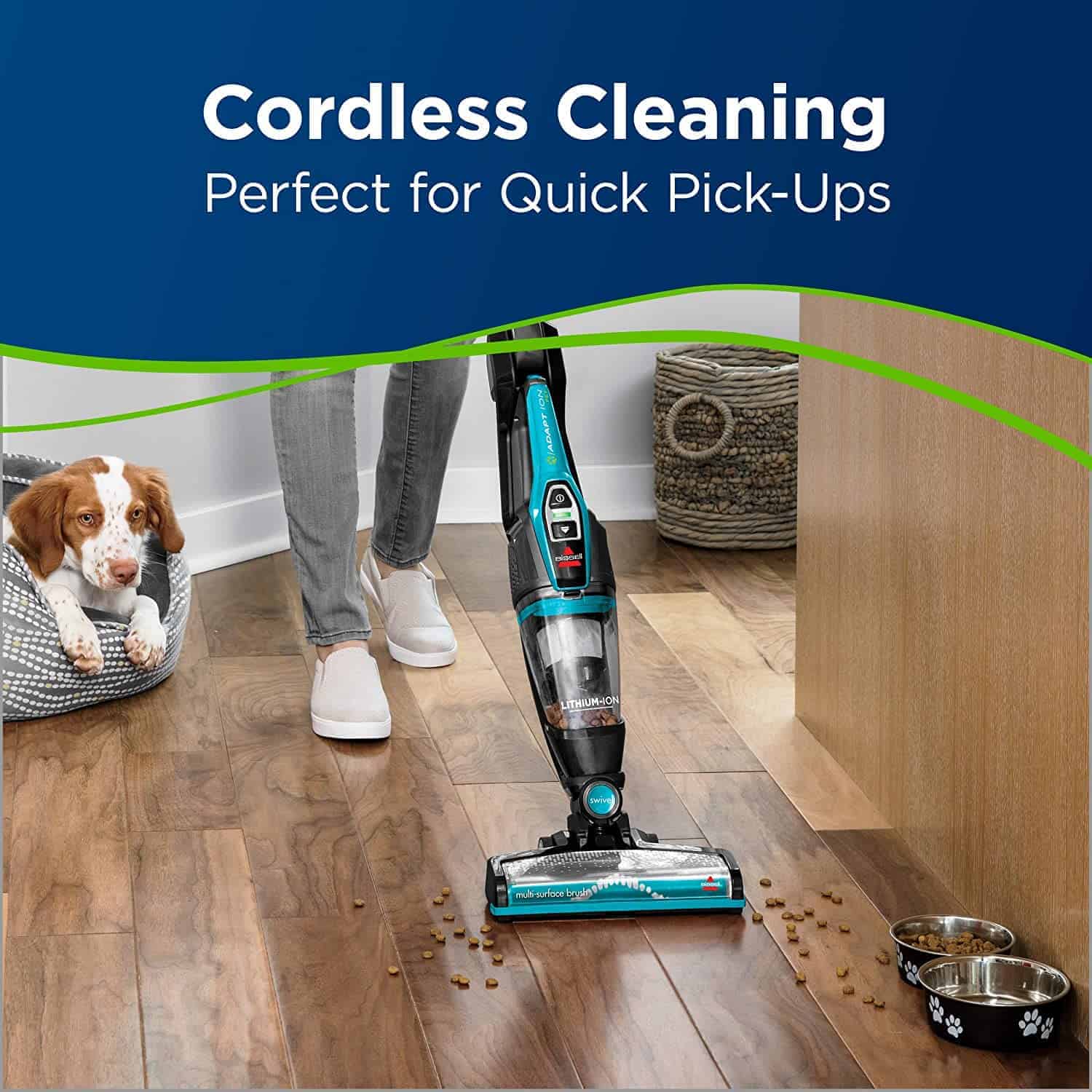 This is a great 2 in 1 vacuum cleaner from Bissell that is best for removing pet hair and dander and cleaning up messes on all surfaces. It has a huge 45-liter dirt cup capacity which means you can pick up all the pet hair in the room. At only $120, this is a great value purchase because it is an excellent vacuum cleaner, with many pro features at a low price.
FEATURES
2-way folding handle: this type of handle adapts in the way you need it to so it can fit under furniture and any tight spots.
Lithium-ion power: this means the vacuum has a strong suction power and good battery life on one charge, so you can get more cleaning done in one go.
Removable hand vacuum: when you don't need the full stick vacuum, or you have a mess on your couch, you can quickly turn the device into a handheld cordless vacuum. Therefore, you can pick up any mess anywhere, even in the car.
Special tools for pet messes: the vacuum cleaner comes with specialized pet tools. A crevice tool cleans those spots in the upholstery where pet hair and dander tend to hide. Oh yes, this includes little cracks and holes.
Easy swivel: the head swivels easily so you can steer well. The agile design allows this cleaner to maneuver and swivel around the obstacles in your home.
PROS
This is a versatile and convenient stick vacuum cleaner because it gets into those hard to reach (here more cleaning ideas for that) places and picks up all the dirt. As well, it has swivel brushes to ensure every crevice is clean. You can turn the brush roll on and off, depending on the type of surface you are cleaning. So, if you want to deep clean an area rug full of pet hair, you can turn the brush on. But, if you are quickly running over your hardwood floor, you can turn them off. I can't emphasize enough how good the Bissell is at cleaning pet messes because it swivels around obstacles into tight spaces where flyaway hair like to accumulate. So, you are going to get a deeper clean than with other devices. The handheld vacuum (like these separate ones) is removed at the middle near the base, so you don't need to worry about the motor or maneuvering the top of the device.
CONS
This vacuum cleaner is a bit heavier than some others as it weighs almost 8 pounds. But, if you use the handheld part, it is lighter to carry. Some customers say this product is not durable in the long run and breaks down. Very poor battery life of about 15 minutes.
WARRANTY
This product comes with a 1-year limited warranty for at-home non-commercial use. Contact Bissell for more information.
VERDICT
First, I have to say that the battery life of this vacuum cleaner is not excellent. But, it works very well and cleans all kinds of messes, especially pet hair, dander, and dirt. So, I would recommend this for people living in small homes with pets. You can vacuum the home easily because the device is easy to maneuver and the swivel head means you don't need to bend over and stretch to reach small tight spaces. As well, if you like to clean your upholstery and curtains regularly, you can do it quickly with this handy vacuum cleaner. It comes at a great price and it is manufactured by a trusted brand with a strong reputation for great cleaning products. Buy it here on Amazon
Bissell also has some great carpet cleaners for those nasty pet stains
Conclusion
Now that you've browsed through your best options, think about how much of your budget you want to spend and what you need your cleaner to do. The thing about these 2 in 1 stick cleaners is that they don't work too well in large homes. They are best for cleaning certain smaller areas, such as stairs, upholstery, small carpets, and area rugs. If you have kids and pets, a convertible vacuum cleaner like these is great to have around the house. You can quickly convert it to a handheld cleaner to pick up messes fast!
Also read: everything you want, no NEED to know about upright vacuums
I'm Joost Nusselder, the founder of Tools Doctor, content marketer, and dad. I love trying out new equipment, and together with my team I've been creating in-depth blog articles since 2016 to help loyal readers with tools & crafting tips.