I love creating free content full of tips for my readers, you. I don't accept paid sponsorships, my opinion is my own, but if you find my recommendations helpful and you end up buying something you like through one of my links, I could earn a commission at no extra cost to you.
Learn more
Waterproof tape, in all its different guises and sizes, has a myriad of uses.
Even the least practical person has, at some time, made use of waterproof tape, either to repair a hole in a paddling pool, to patch a leaky garden hose, or even as a replacement for a screw or rivet.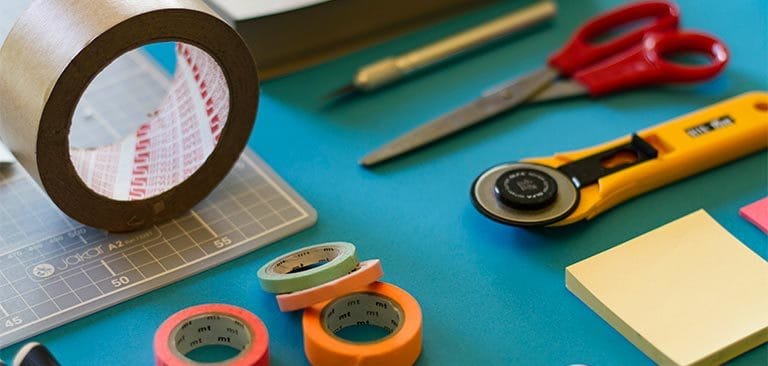 It is one of those simple, but incredibly versatile repair items that can be used to solve a vast range of household, plumbing, construction, even medical problems.
You can patch, seal, bond and repair virtually anything, using the right type of waterproof tape.
My top choice, after researching and reviewing the various products available is the SolutioNerd Self Fusing Rubberized Leak Tape. It is self-fusing, can withstand extreme water pressure and extreme temperatures, and is ideal for both outdoor and indoor use.
I'll tell you more about this versatile tape below, but let's look at all the best options first:
What is waterproof tape?
Waterproof tape is an adhesive tape that is also water-resistant. There is a vast number of waterproof tapes available, each one different, depending on the material it is made from and the problem it is designed to solve.
If you are in the market to purchase waterproof tape, the trick is finding the right tape for the right job.
Best waterproof tape – Buyer's guide
An understanding of the different types of waterproof tape is vital if you are to find the right one for your specific need. Each type is designed for a specific purpose and can be made from different materials.
Waterproof tapes differ in strength, size, water resistance, adhesiveness, and durability.
The following summary will give you an idea of what features to look for, in your search for the best waterproof tape for your purposes.
Type
Reflective tape is used to mark vehicles, driveways, and trash cans so they are easy to see at night or in poor weather.
Drywall tape is used to fill the gaps between two drywall pieces. Moisture-resistant drywall tape is a good choice for the bathroom, kitchen, and any room subjected to high levels of moisture and humidity.
Nonslip waterproof tape has a textured backing to prevent slipping. It is ideal for use on slippery surfaces like steps and patios.
Gaffer tape is much like duct tape in strength and adhesion, but it's more resistant to heat and easier to remove without leaving behind a sticky residue. However, because it is made with a heavy cotton cloth backing, it is only water-resistant, not waterproof.
Duct tape also has a cloth backing, but the cloth has a polyethylene resin coating, which makes it waterproof.
Material/waterproofing property
Waterproof tape is made from a range of materials, including cloth, plastic, and rubber. The material it is made from affects the waterproofing property of the tape.
Cloth generally refers to a cotton tape backing that is durable when applied but also easy to tear from the roll.
However, cloth is not water-resistant on its own, so it needs to be coated with another substance to be effective in wet conditions.
Plastic includes polyethylene, polyethylene terephthalate, polyvinyl chloride, and polymethyl methacrylate, which are used to provide a waterproof backing to common tape types, including duct tape, reflective tape, and nonslip tape.
Butyl rubber and silicone rubber tapes are used for outdoor repairs to seal up leaks in the roof, to fix a hole in the side a pool, or to patch up a boat.
Did you know some plastic repairs can also be done using a soldering iron?
Adhesive strength
Generally, waterproof tape can remain effective for up to 5 years before the adhesive begins to break down, usually as a result of temperature change, physical stress, and exposure to direct sunlight.
It's important to select the right adhesive strength for your particular project.
Tape products made for repairing leaks need to be extremely adhesive and these can be more difficult to apply because the adhesive is more viscous in order to create a bond that completely seals the hole or crack.
They might not be suitable to use in a tapegun for example.
Once this tape is in place, it can be difficult to remove without leaving a sticky residue behind.
Color
Color can sometimes be an important feature for certain applications like clearly cordoning off a hazardous area or highlighting a hard-to-see object, like a mailbox or garage door.
Electricians sometimes prefer to use different colored tapes to indicate different electrical circuits.
Waterproof tape with neutral colors is ideal for home design, as it fades into the background rather than drawing attention to the repair.
Best waterproof tapes reviewed
After spending some time researching the various types of waterproof tapes available on the market, I have chosen a selection that I feel I can recommend.
Best overall waterproof tape: SolutioNerd Self Fusing Rubberized Leak Tape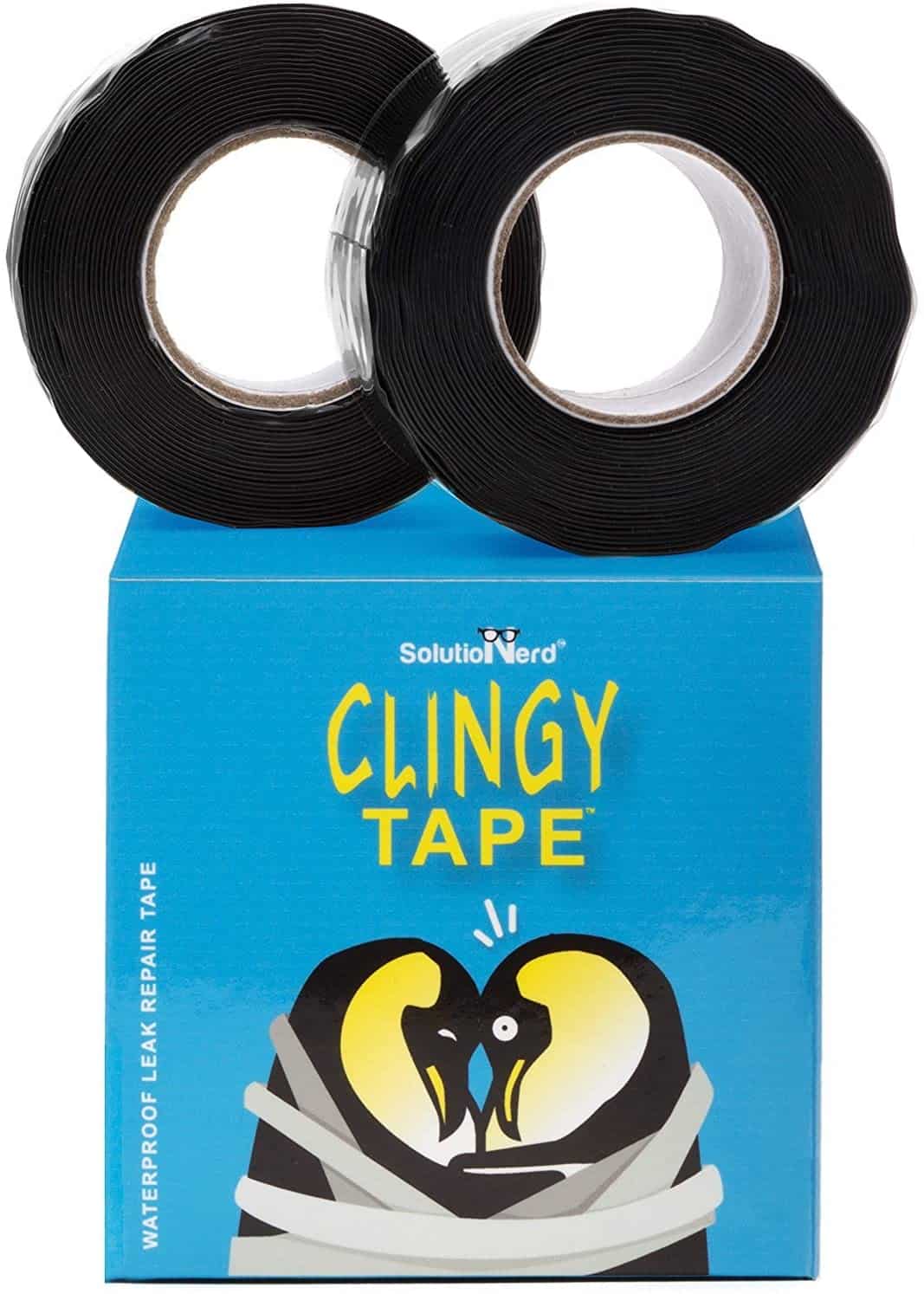 Ease of use and the ability to withstand extreme temperatures and pressure. These are the features offered by SolutioNerd's waterproofing repair tape, making it a great choice for the professional plumber or even the keen DIYer.
For repairing leaks or cracks in pipes or hoses or water heaters this tape comes out tops especially for outdoor plumbing repairs.
This tape wraps on to itself and is thus self-fusing. This achieves a tight seal and a completely airtight barrier.
There is no fiddling with messy adhesives that get everywhere and are hard to remove. The tape comes with step-by-step instructions and a box to practice on, before tackling a leak.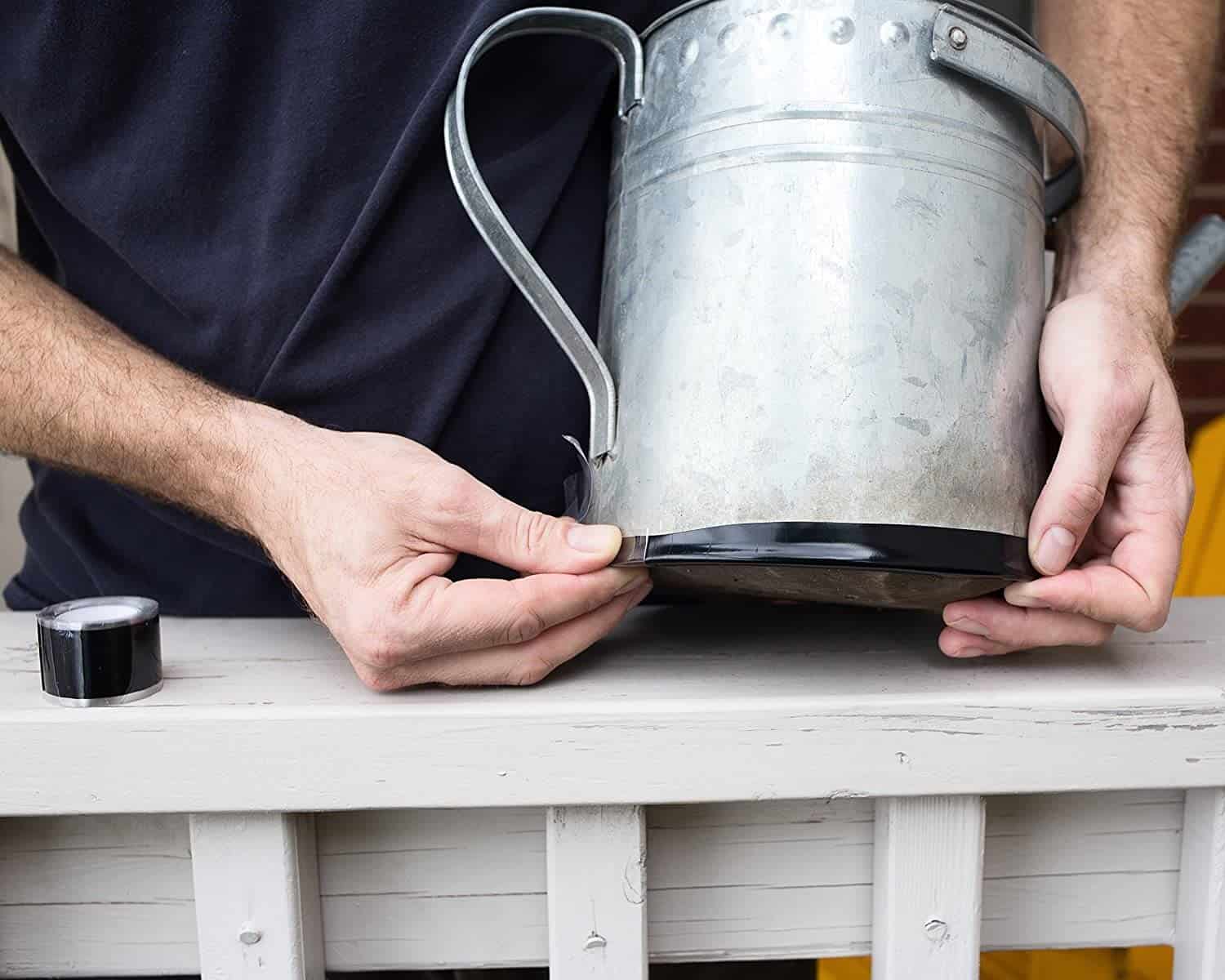 Made from silicone rubber, this tape is fully waterproof and can withstand extreme temperatures and high pressures. It is ideal for outdoor use where exposure to extreme temperatures is possible.
The tape works best when the surface is dry but can be applied to wet surfaces where it still holds very strongly.
The extra length of the roll means that you are unlikely to run out of tape before the repair is completed, and the second roll offered in the package is an added bonus.
Features
Made from silicone rubber, and thus fully waterproof
Self-fusing – creates a tight seal and a completely airtight barrier
Can withstand extreme temperatures, ideal for outdoor use
Can withstand extreme water pressure
Comes with step-by-step instructions and a practice box
Extra-length roll – 20 feet, plus a bonus roll
Best waterproof tape for first aid and medical applications: Nexcare Absolute Waterproof First Aid Tape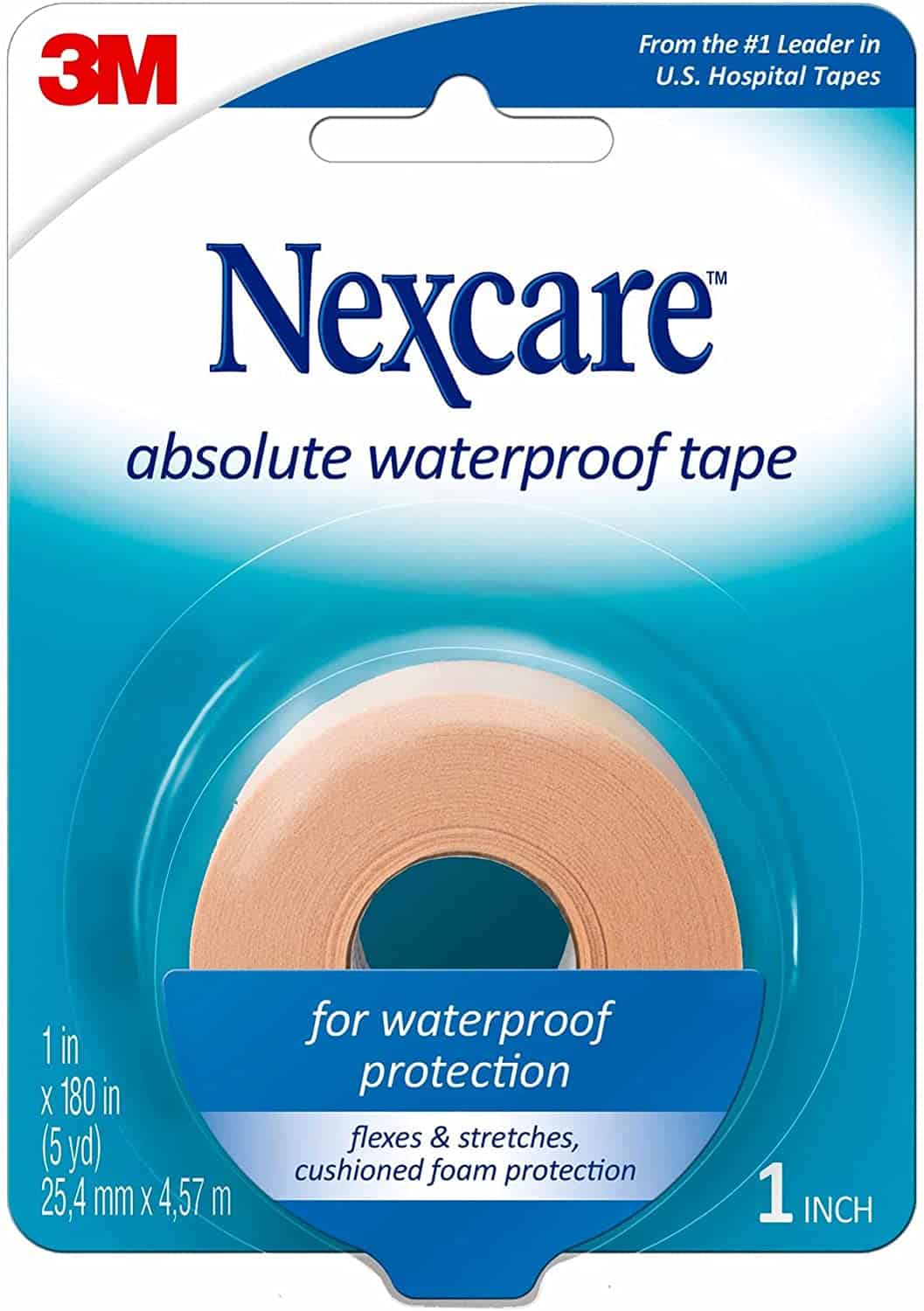 "As far as flexibility, adhesion, and waterproofness, this tape is quite incredible." This user's opinion of the Nexcare Absolute Waterproof First Aid Tape was echoed by a number of other reviewers.
The strength of the adhesive in this tape allows the user to continue to take part in all daily activities while offering reliable and comfortable protection for minor injuries.
Because of its stretch and flexibility, it maintains great adherence to the skin, even when there is major skin movement, such as around joint areas and hands.
It also adheres well to itself. It is fully waterproof and can be submerged in water for extended periods.
Also designed to help protect and prevent blisters, the tape is made of a soft and comfortable foam material. It also has hypoallergenic properties for users with sensitive skin.
Features
Stretches and flexes without losing adhesion
Made of soft, comfortable foam material
Fully waterproof, can be submerged in water for extended periods
Designed to protect and prevent blisters
Hypoallergenic for use on sensitive skin
Best waterproof tape for outdoor use: Permanent Gorilla Tape All Weather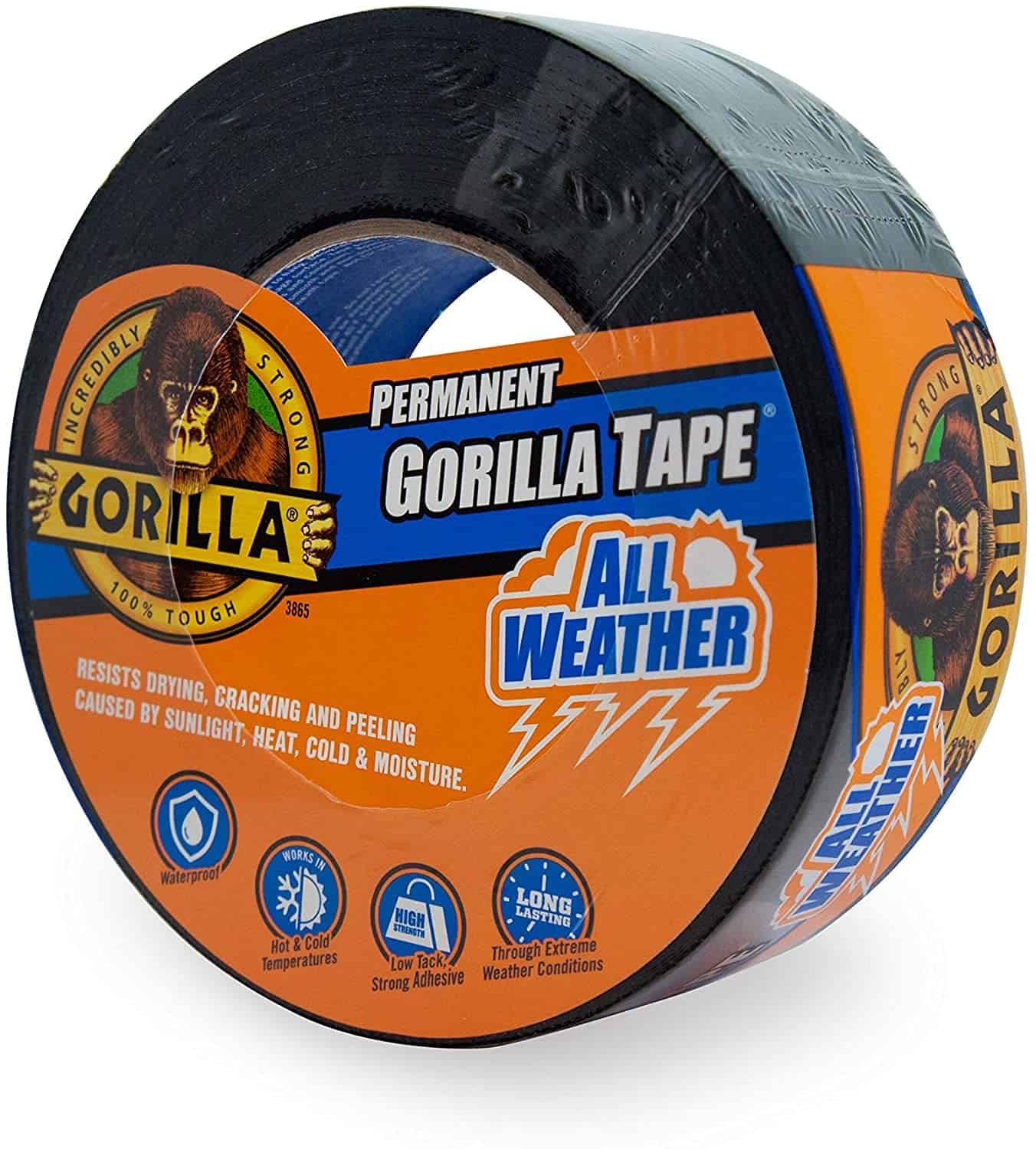 As the name suggests, the Gorilla all-weather outdoor waterproof tape is specifically designed to stand up to extreme weather conditions.
This makes it the ideal tape for use on roofs, tarpaulins, plastic sheeting, RVs, and other vehicles.
Gorilla All Weather Tape contains a highly concentrated rubber-based adhesive and sticks to most plastics, including polyethylene (PE) and polypropylene (PP).
However, it does not work on materials with high oil or plasticizer content, such as EPDM rubber or PVC.
Made from exceptionally strong, permanent butyl adhesive and a weather-resistant shell, this tape may feel less tacky than other tapes, but it is strong and permanent.
It is extremely effective in both hot and cold temperatures, with a range of from -40 degrees F to 200 degrees F, and is resistant to drying, cracking, and peeling caused by the sun, heat, cold, and moisture.
It is easy to use and can be torn by hand or cut to size with a knife or scissors. When applying the tape, simply smooth out any pockets or rolls on the surface.
Features
Designed to withstand extreme weather conditions
Ideal for outdoor use, resistant to drying cracking, and peeling
Sticks to most plastics, including PE and PP.
Made from strong butyl adhesive for strength and permanence
Effective over a temperature range of between -40 degrees F to 200 degrees F
Easy to use, can be torn by hand or cut with a knife
Rather have something even more permanent to fix a hole in plastic? Go for plastic adhesive
Best heavy duty waterproof tape: T-Rex 241309 Ferociously Strong Tape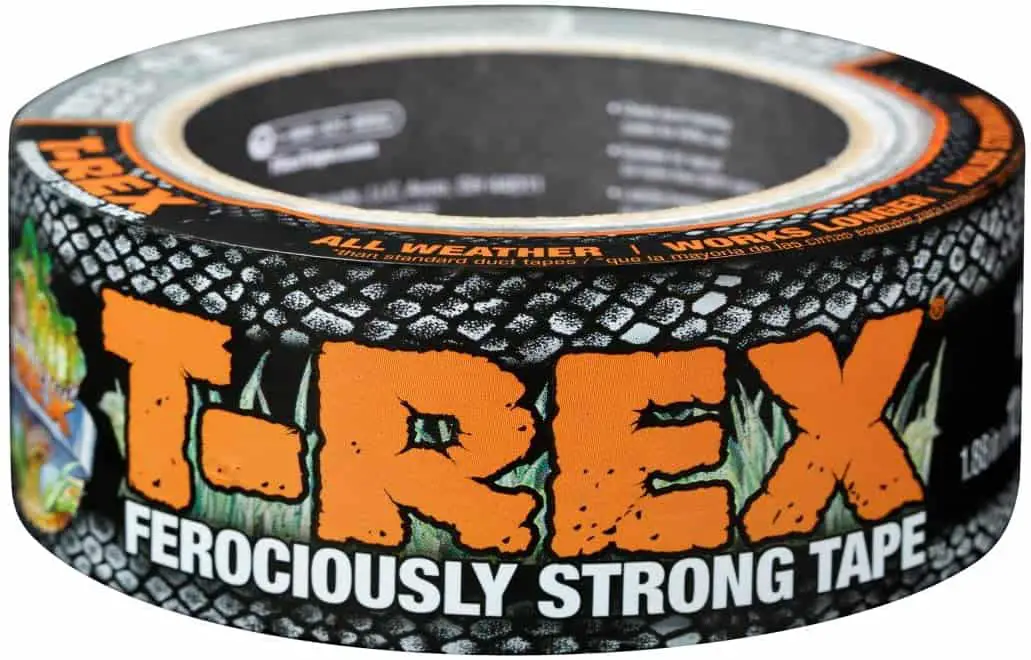 The name of this tape, T-Rex Ferociously strong tape, sums up its main features – strength and durability. Fierce in wet conditions, extremely durable in cold temperatures, with extra-strong holding power on rough surfaces.
Three separate layers combine to create this weather-resistant, ferociously strong waterproof tape. This should be your first choice for heavy-duty waterproofing projects, particularly outdoors.
It is made from a heavy-duty knit cloth with durable waterproof backing. The materials are UV resistant and prevent harsh UV rays from weakening the tape adhesive.
It is designed to be effective over the temperature range between 50- and 200-degrees F.
Because of its extreme strength and stickiness, this tape may be hard to remove and may leave behind a sticky residue on the surface.
It is easy to use, strips can be torn by hand, and rolls come in varying lengths.
Features
Extra strength and holding power both in wet and cold conditions
Weather and temperature resistant
Made of three layers, including heavy-duty knit cloth
Ease of use – easily torn by hand
Extreme adhesive strength makes it hard to remove and may leave a residue
Best transparent waterproof tape: Gaffer Power Transparent Duct Tape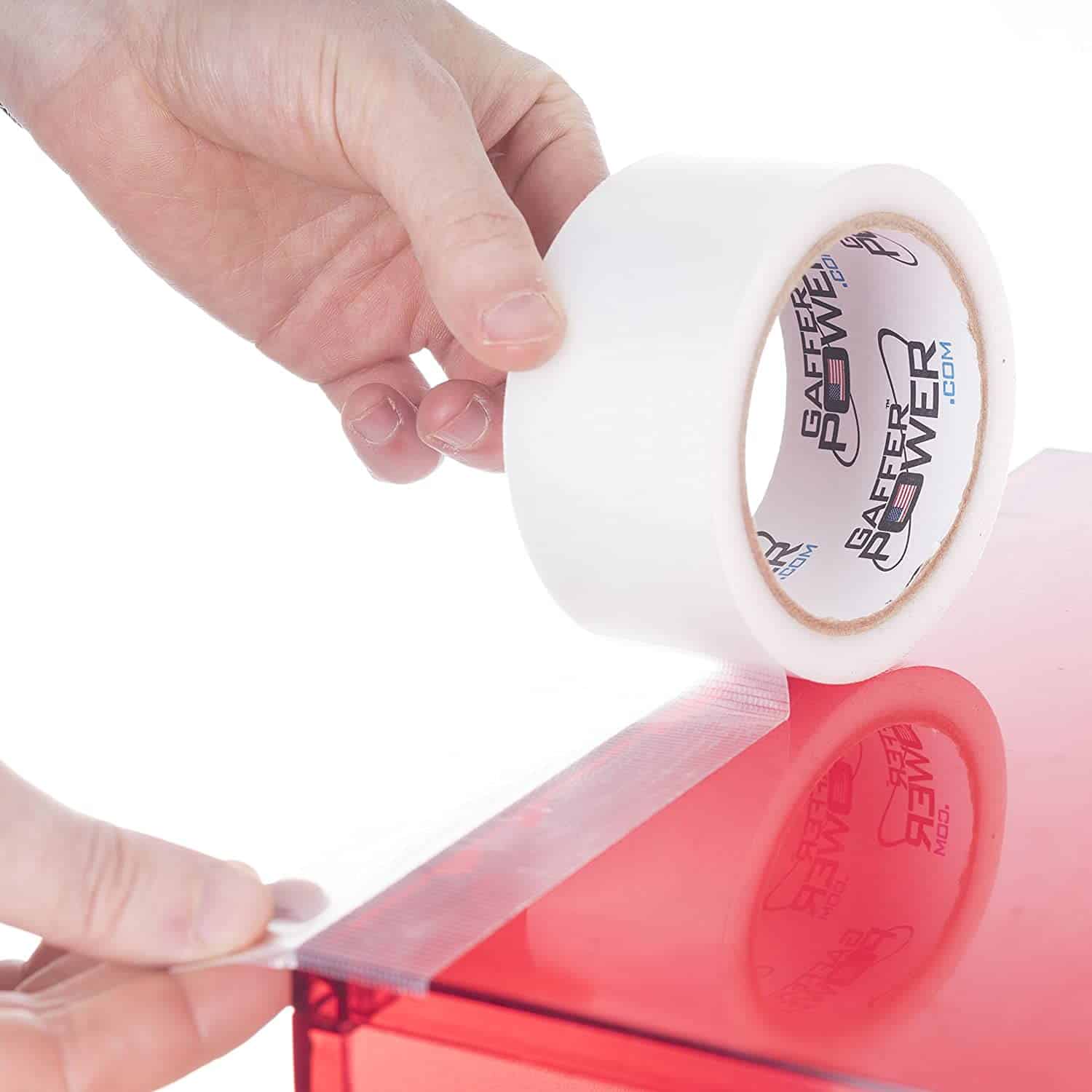 If you are looking for waterproof tape that can be used across a variety of applications, then the Gaffer Power Transparent Tape is the obvious choice.
This tape is suitable for both light and heavy-duty projects and can be used for both indoor and outdoor repairs.
It is made from high-quality acrylic resin and is effective on a variety of rough and uneven surfaces, including wood, plastic, glass, vinyl, and brick.
Its versatility allows it to be used as screen repair tape, seal tape, or window tape and because it is clear, it is ideal for home decor repairs because it does not draw attention to the repair.
It is equally effective outdoors and can withstand rain as well as heat and humidity. It is considered the perfect tape for greenhouse repairs.
The Gaffer power tape is an easy-to-handle, quick-tear tape that comes in three different sizes.
Features
Versatile tape, for both indoor and outdoor use
Effective on a variety of surfaces
Made of high-quality acrylic resin
Suitable for light and heavy-duty projects
Transparency is ideal for home décor or greenhouse repairs
Easy to use. Comes in three different sizes
Best waterproof tape for electricians: TradeGear Electrical Tape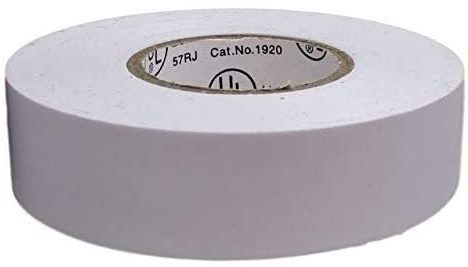 Designed specifically with electricians and engineers in mind, TradeGear electrical tape is the ideal tape for all kinds of electrical wiring projects and repairs – spliced wires, cable insulation, wire bundling, and more.
Made from heavy-duty, industrial-grade PVC, the tape is waterproof, flame retardant, and resistant to acids, alkalis, UV, and oil.
It is rated for up to 600V operating voltage, and 176 degrees F operating temperature, making it very safe to use. The high-quality sticky rubber resin is used in this tape gives it outstanding adhesive quality.
The TradeGear tape comes as a pack of 10 individually wrapped units, each measuring 60 feet in length, offering excellent value for money.
It is also available in multiple colors, useful for identifying different circuits.
Features
Designed specifically for electrical projects and repairs
Made of heavy-duty industrial grade PVC
Waterproof and flame retardant
Excellent adhesive quality
Available in multiple colors
Comes in a pack of 10 individually wrapped units. Good value for money
Also check out my review of the best wire strippers here
Best waterproof tape for easy removal: 3M No Residue Duct Tape
If you are looking for a waterproof tape that removes cleanly, even six months after application, 3M No Residue Duct Tape is the one to choose.
Apart from this feature, it also offers exceptional strength and extreme hold. It is suitable for both long-term and temporary holds like securing cords or keeping mats in place, and it can be used for outdoor and indoor repairs.
For a long-lasting bond without the messy clean-up, this is your best choice.
Features
Offers exceptional strength and extreme hold
Removes cleanly, with no residue, even after 6 months
Suitable for indoor and outdoor use
Great for bundling, securing cords and mats
Suitable for temporary and permanent repairs
Frequently Asked Questions (FAQs)
What is waterproof tape made of?
Waterproofing tapes are produced bitumen or butyl based, cold applied, one side coated with aluminum foil or colored mineral, and the other side with adhesive.
Can duct tape stop leaks?
Repair of holes in pipes and pipelines, for temporary plugging of small water leaks: waterproof duct tape is the perfect ally in your garden and your kitchen.
The tape does not fear water and can be used to seal small leaks and holes in ducts, pipes, watering cans etc.
Is masking tape waterproof?
Masking tape, also known as painters' tape, is water-resistant rather than waterproof.
Masking tape has to be non-porous as it is used by painters and decorators to mark off areas where they do not want the paint to go.
Can you tape a water leak?
There are two types of tape used to stop water leaks. A pipe thread tape, Teflon tape or PTFE tape, as it is called by professionals, is used to wrap around leaking joints before threading.
On the other hand, silicone pipe leak tape is used to form a temporary waterproof seal around a pipe leak.
Is flashing tape waterproof?
Flashing tape is a highly durable product used for sealing various elements, such as roofs, windows, chimneys, or furnaces. It's waterproof and resistant to many factors.
Are waterproof and water-resistant tapes the same?
No, there is a slight difference between waterproof and water-resistant. For example, all duct tapes are water-resistant but only some specially formulated duct tapes are waterproof.
Can I use any waterproof tape in the electrical line?
No, not all waterproof tapes are designed for use in the electrical line.
What is the highest temperature range a waterproof tape can be used?
It varies from model to model. Generally, a premium-quality waterproof tape can endure a maximum of 200 degrees Fahrenheit temperature.
Conclusion
Now that you are aware of the many options available and the features that you should look for in waterproof tapes you are in a much stronger position to select the best one for your specific repair needs.
Whether you're taping a leaking pipe, repairing an electrical circuit, doing first aid, or need heavy-duty, long-lasting waterproof tape, there's something on the market for you!
Next check out the Best Options & Ideas for Outdoor Backyard Bike Storage
I'm Joost Nusselder, the founder of Tools Doctor, content marketer, and dad. I love trying out new equipment, and together with my team I've been creating in-depth blog articles since 2016 to help loyal readers with tools & crafting tips.