I love creating free content full of tips for my readers, you. I don't accept paid sponsorships, my opinion is my own, but if you find my recommendations helpful and you end up buying something you like through one of my links, I could earn a commission at no extra cost to you.
Learn more
Working with woods can be tiring if you do not have the proper tools for it, reasons why the invention of innovative and unique machines on the market have taken place.
Speaking of such machines, this article has brought Bosch Pr20evs Review in front of you. This review is going to introduce you to one of these exceptional tools called "router". A router is a very important and necessary tool when it comes to working with woods while making furniture or cabinetry.
Hollowing out big spaces as well as edging and trimming in hard materials such as; woods, is basically the main motive of a router. This model you are about to be introduced to is a very advanced and versatile model found in the market.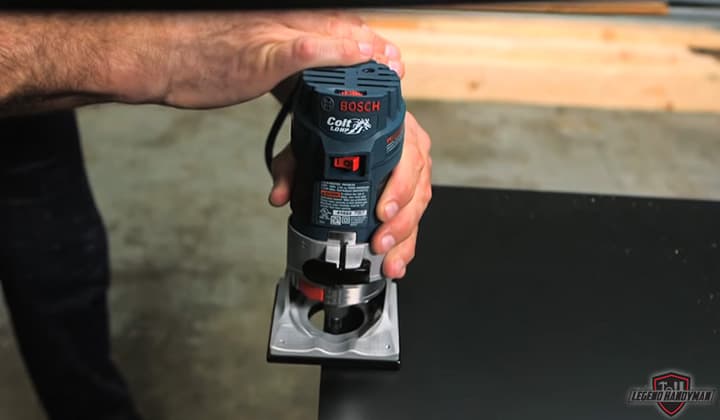 Bosch Pr20evs Review
As a first-timer or a beginner in the wood routing world, you might not know some of the important detailed information about a router. However, you do not have to worry, considering this article is going to make sure that you are well informed about everything that you need to know before purchasing a router for yourself.
The exceptional features and properties of this model by Bosch will be discussed and explained perfectly so that by the end of this article, you will be qualified enough to choose the right router for your work.
Ergonomically Designed Grip
Bosch Colt PR20EVS has a grip that is molded; as a result, it fits perfectly into your hand. This feature gives it the capability to work smoothly single-handedly. Precautions and actions have been taken, keeping your safety in mind.
On the front of the fixed base, finger guards are planted, which is there to keep you safe as well as lowers the vibrational effect you might feel while overworking. 
Horsepower Motor and Soft-Start
For producing 5.6 amp speed, the router requires to have 1.0 peak horsepower. You might be thinking that it is too low compared to other models in the market; however, the power is good enough for this palm router.
Furthermore, the motor always got enough power to perform small woodworking tasks, which include cutting or trimming.
The Bosch Colt PR20EVS also provides a soft-start feature that is there to reduce the rotations on the motor to let it work for a longer period of time. Exceptional features do not end here; it just got started.
Bosch PR20EVS is also equipped with a patent constant response circuit, which basically maintains the speed changes and ensures constant working. In doing so, it also ensures to keep your router protected from overloading.
Variable Speed
Despite being a small router, it provides you variable speed dial on the top so that you can set the appropriate required speed for the routing operation. 16000 to 35000 RPM is the rotations done in each minute.
On the other hand, the electronic speed control always keeps the twisting of startups lower so that the router does not overload itself.
If you are enthusiastic about working with bits that have larger diameters and cutter ranges, then the suitable range would be between 2.50 to 3 inches. In that case, you would need to dial the 1 to 3, which has a range between 16000 to 20000 RPM.
Plunge base and fixed base
The function of fixed bases is mainly to keep consistency as well as a constant behavior of depth during routing. On the other hand, the plunge base gives you the capability to plunge through the router bit and lift it back up when the required and desired cut has been made. Bosch PR20EVES comes along both kinds of bases. 
The fixed base is more compact with its size and also has better visibility. While the plunge base has a lock lever ergonomically planted on an easily identified place, where all you have to do is spring the lock position to release it.
This particular router is very suitable for edging and cutting large hard materials, so performing heavy, tough projects can be done with ease.
Collet and Cutting Depth
For a compact palm router, the ¼ inch collet is the most convenient size. As it is a lightweight router. Although, it may not be compatible for ½ inch bit shank. Moreover, the collet is very tough and durable. A spindle lock button also comes along with it, to ease up if any changes are made.
This model comes with a seven-step adjustable depth cutting system, which is there to maximize the speed and precision of the router. There is a wheel dial on the left side of the router, which allows you to make micro-adjustments. As each dial is made, 3/64 of an inch depth is cut off.
Durability
Bosch Pr20evs are made of aluminum, which has a shape of a palm and also contains rubber molded grip. Everything about its producing mechanism ensures durability. For your assistance, this model comes with a stable one-hand operation as well as to support your two fingers; they also provide you with side pockets.
On top of that, a hard case is provided just in case you would want to put your kit or other accessories such as; bits or guides that you may have to purchase separately on it.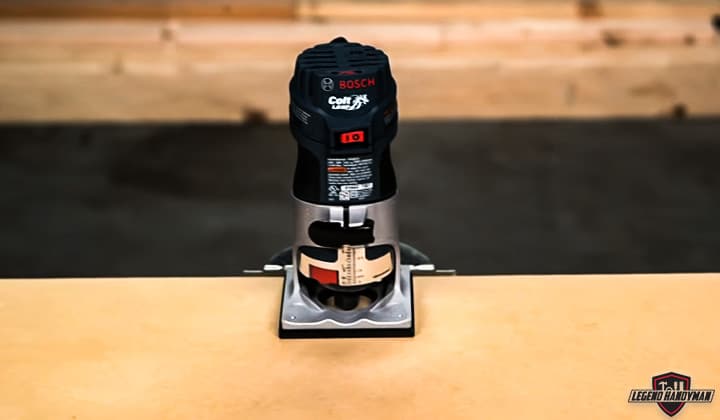 Pros
Speed dial is positioned on top
Ergonomically designed grip
Seven steps adjustable depth stop turret
Angled cord design
A quick clamp lever system
Air vent on top to keep the router cool
Cons
The power switch does not have a dust cover
¼ inch collet only
Frequently Asked Questions
Let's look into the frequently asked questions about this router.
Q: Where was it made?
Ans: As the labeling is concerned, the router was assembled in Mexico.
Q: Will ½ inch collet work?
Ans: No, ¼ inch collet only.
Q: Can the router be used with a router table?
Ans: Unfortunately not, you cannot use this router with a router table. However, contacting the manufacturer first would be the right choice.
Q: What is the difference between this router and the pr20evsk?
Ans: The EV is for variable speed; it does not have a kit. However, the "k" comes for the kit.
Q: Is the router compatible with porter cable bushing?
Ans: They all would be standard size, as long as the base plate you use is made for the bushing.
Final Words
As you have made it to the end of this article, it is really hoped that you have come to a conclusion if this is the right router for you to purchase. If this Bosch Pr20evs Review was of any help, the purpose of this article would be full filed. So without any kind, purchase your preferable router and start your artsy days on woodworking.
You May Also Review Ryobi P601 Review
I'm Joost Nusselder, the founder of Tools Doctor, content marketer, and dad. I love trying out new equipment, and together with my team I've been creating in-depth blog articles since 2016 to help loyal readers with tools & crafting tips.