I love creating free content full of tips for my readers, you. I don't accept paid sponsorships, my opinion is my own, but if you find my recommendations helpful and you end up buying something you like through one of my links, I could earn a commission at no extra cost to you.
Learn more
Woodworking has been one of the oldest forms of art. However, the devices that have been created throughout the world are just there to take woodworking into the next level.
With the help of various kinds of equipment, carpenters or woodworking hobbyist make their woods presentable and ready for display. From these many types of equipment, the router happens to be one of the main machines required during woodworking.
So here, this article presents you with a Ryobi P601 Review. The most versatile and popular on the market product by Ryobi. Routers are there to hollow out your chosen hardwood piece, as well as for trim or edge them.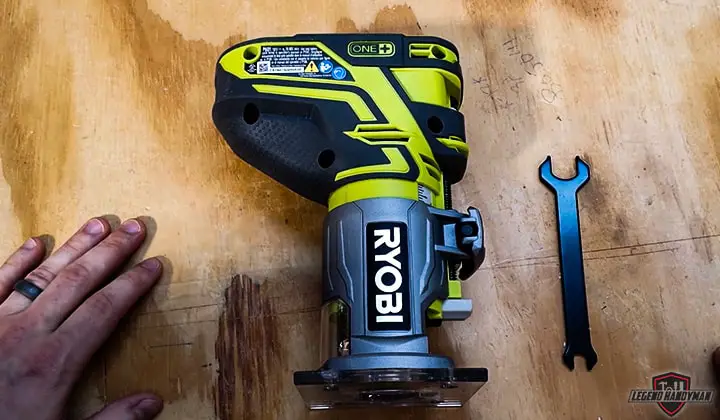 However, P601 by Ryobi does not only hollow out spaces but also make cutting dados or groves, as well as fine edging, seems like a piece of cake because the outcome is so smooth and satisfying at the end.
Ryobi P601 Review
Without making any hasty decisions, you should take your time. Rummage through the features and properties and decide for yourself if this is the suitable router for your chosen way of working or wood piece.
Well, if that why you are here reading the article in the first place? Then you do not have to worry, because you are exactly in the right place.
Here, in this article, we are about to discuss everything you need to know about this router by Ryobi. Without much wait, let's dig deep into the ocean of information; it is about to inform you about this unique router. 
Led Lights
The very first feature that you are about to be introduced to is super exceptional and praised because of its unique touch. LED lights are provided with the router. These lights promote excellent optimum visibility.
So it does not matter that you are in a less lit-environment, you will never have an issue while woodworking. Because in times of inlay woodworking as well as residents where after a time there is no light, the router happens to be useless. However, with this feature, it makes the machine always workable.
Grip Zone Over Mold
As mentioned, this router has taken its way to the next level; it has been made to be completely user-friendly. The router provides you with rubber-coated handles.
Rubber coated handles have a fine grip, so in times of slippery conditions or you have been working for too long with your router. In such cases, you will always end up having a precise and firm grip at all times.
Depth Adjustment Knob
For depth changes, this router operates with both kinds; quick and micro-adjustment process. Micro adjustments simply are there to untie the lever and spinning the adjustment dial whereas, the quick adjustments are there to media the quick lever and sliding the router base upwards and downwards. 
This dual adjustment technique ensures that you will have quick adjustments made to the rough depth as well as with the help of micro-adjustment dial, you will be able to fine-tune it.
Base and Body
Palm routers, as such, are usually equipped to 3.5 inches x 3.5 inches square base. For auxiliary bases, four screws are used during attachment. Talking about the router's body, it can be quite large and heavy.
However, there is a rubber molded grip as well as using the router is comfortable enough. As the power switch is concerned, it is planted in both backs and tops, so identifying it won't ever be an issue.
The base of this router is made of aluminum, which ensures that the compact power tool is always stable. So performing any tough application job which requires working with hard materials will always be done with ease.
ONE+ Compatible
This factor provides extra information which might help you in the long run, if you decide to purchase this particular router. For Ryobi, there are a variety of 18V lithium-ion batteries compatible in the market for the tool.
However, the most compatible would be; P100 to the P108, these two and each battery between the ranges.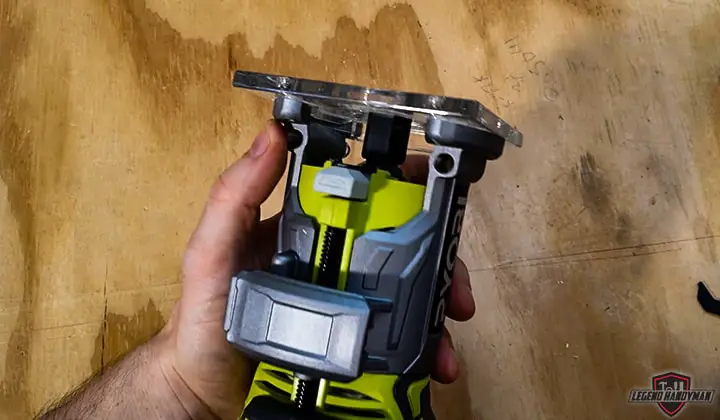 Pros
Cordless
LED lights provided
Rubber-coated grips
Depth adjustment knobs are offered
Aluminum base
Easy to work with
Compatible with a variety of 18V lithium-ion batteries
Cons
No batteries provided with the router
Can be a heavy tool
Frequently Asked Questions
Let's look at the frequently asked questions about this particular router.
Q: Where are the routers manufactured?
Ans: They are mostly manufactured in China.
Q: What does 'Bare Tool' mean? Does that mean it does not come with a battery?
Ans: Yes, Ryobi tools do not come with batteries. However, you can buy spare batteries alongside your router. The article has mentioned some of the compatible ones for your better understanding. 
Q: What kind of bits are recommended?
Ans: Just one quarter inch shank and the cutter will be enough, nothing too big is required.
Q: Can this router work with the Ryobi door hinge and mortising template?
Ans: Yes, it works wonderfully. Just follow the instruction manual and take your time to do so. And the rest, you are good to go.
Q: How many ah 18v battery does the Ryobi one+ trim router works with? Does it work with an 18v 4ah battery?
Ans: One 18V battery is good enough, and it works fine with 4AH. The AH rating usually tells you how much power it stores. Before recharging, if you want your tool to work for a long time, then higher AH is recommended.
Final Words
As you have made it to the end of this Ryobi P601 Review, you are now well aware of all the benefits and drawbacks, as well as all the required information you need to know about this particular router.
It is assumed that you have already made up your mind and come to a conclusion if this is the right router for you. So without much wait, purchase this unique P601 router by Ryobi and join the artsy world of woodworking. 
You May Also Review Makita Xtr01z Review
I'm Joost Nusselder, the founder of Tools Doctor, content marketer, and dad. I love trying out new equipment, and together with my team I've been creating in-depth blog articles since 2016 to help loyal readers with tools & crafting tips.