I love creating free content full of tips for my readers, you. I don't accept paid sponsorships, my opinion is my own, but if you find my recommendations helpful and you end up buying something you like through one of my links, I could earn a commission at no extra cost to you.

Learn more

Are you in search of an excellent miter saw machine? If you are someone who uses saw machines frequently, you know how a quality 12-inch miter saw can be a gamechanger. Now I know it is difficult to find a saw machine with superior cutting performance. But this best 12 inch miter saw review has seven various saw devices that come with superb features. You can count on these saw machines to deliver excellent results.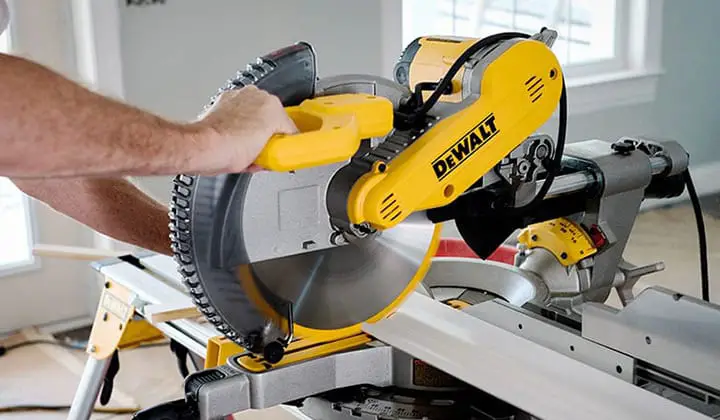 Benefits of Miter Saw

If you did not know, miter saw devices come with quality features and benefits. Miter saw products can deliver precise and accurate cuts, unlike any other machine. Most of the miter saw designs come with a lock feature that allows you to control the angle of the cut. You can ultimately reach the ideal angle by using a miter saw. Most miter saw devices come with excellent ergonomic construction. Starting from the bevels, handle for portability to the sturdy and steady base, a miter saw can make your cutting experience comfortable. Unlike other saw machines, the miter saw devices can offer you better quality cuts. Even if you have to deal with tough hardwoods, a quality miter saw can cut through that material without any issue.
7 Best 12 Inch Miter Saw Reviews

Here are 7 excellent miter saw products that come with superior features. These 12-inch saw devices will be the best choice for your projects.
1. DEWALT (DWS779)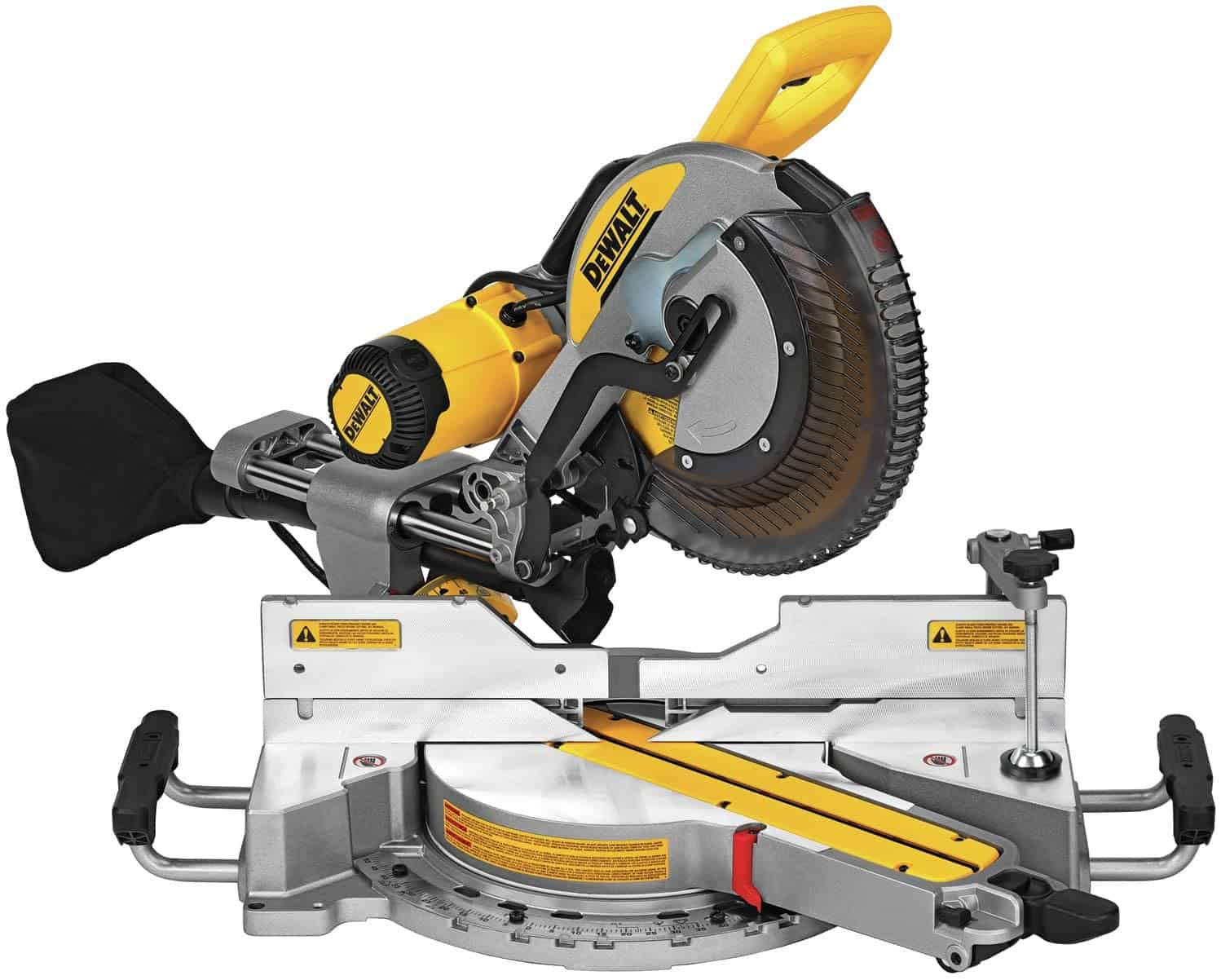 If you are on the hunt for a miter saw that offers accurate and precise results, the DEWALT (DWS779) Sliding Compound Miter Saw will be an excellent choice. This saw device delivers accurate cuts every time you use it. Its miter detent plate contains a stainless steel material that allows the device to function optimally. Plus, it contains a 12-inch miter saw blade that includes 10 positive stops. These positive stops allow the saw blade to cut materials precisely and quickly. This miter saw comes with machine-based fence support and an excellent miter system to enhance such precision. Additionally, the cam lock handle with detent override allows this miter saw to deliver quick cutting angles. Furthermore, the tall sliding fence of this device supports a 6-¾ inch base vertically. Its impressive cutting performance provides a 2 x 14-inch dimensional lumber cross-cut at 90 degrees and a 2 x 10-inch dimensional lumber cross-cut at 45 degrees. Also, it comes with an innovative clamping mechanism alongside dual horizontal steel rails. Thanks to the linear ball bearings of this saw machine, the device's accuracy and durability become significantly better. And since it comes with an exceptionally powerful 15 AMP and 3800 RPM motor, the overall performance of the saw device improves. Interestingly, you can add LED light to this saw machine. This way, you will visualize the blade's cutting movement. This 56 pounds saw machine may be too heavy; however, you will have no trouble handling it. Overall, this corded electric 12 inch saw machine would be an excellent choice if you want precise cuts. Pros
Miter detent plates contain stainless steel
Tall sliding fence support feature available
Utilizes a clamping mechanism
The linear ball bearings provide accuracy
It comes with a 32T blade
Cons
You have to add the LED feature externally
Verdict This saw machine comes with excellent features to offer accurate and long-lasting cuts. Check prices here
2. BOSCH GCM12SD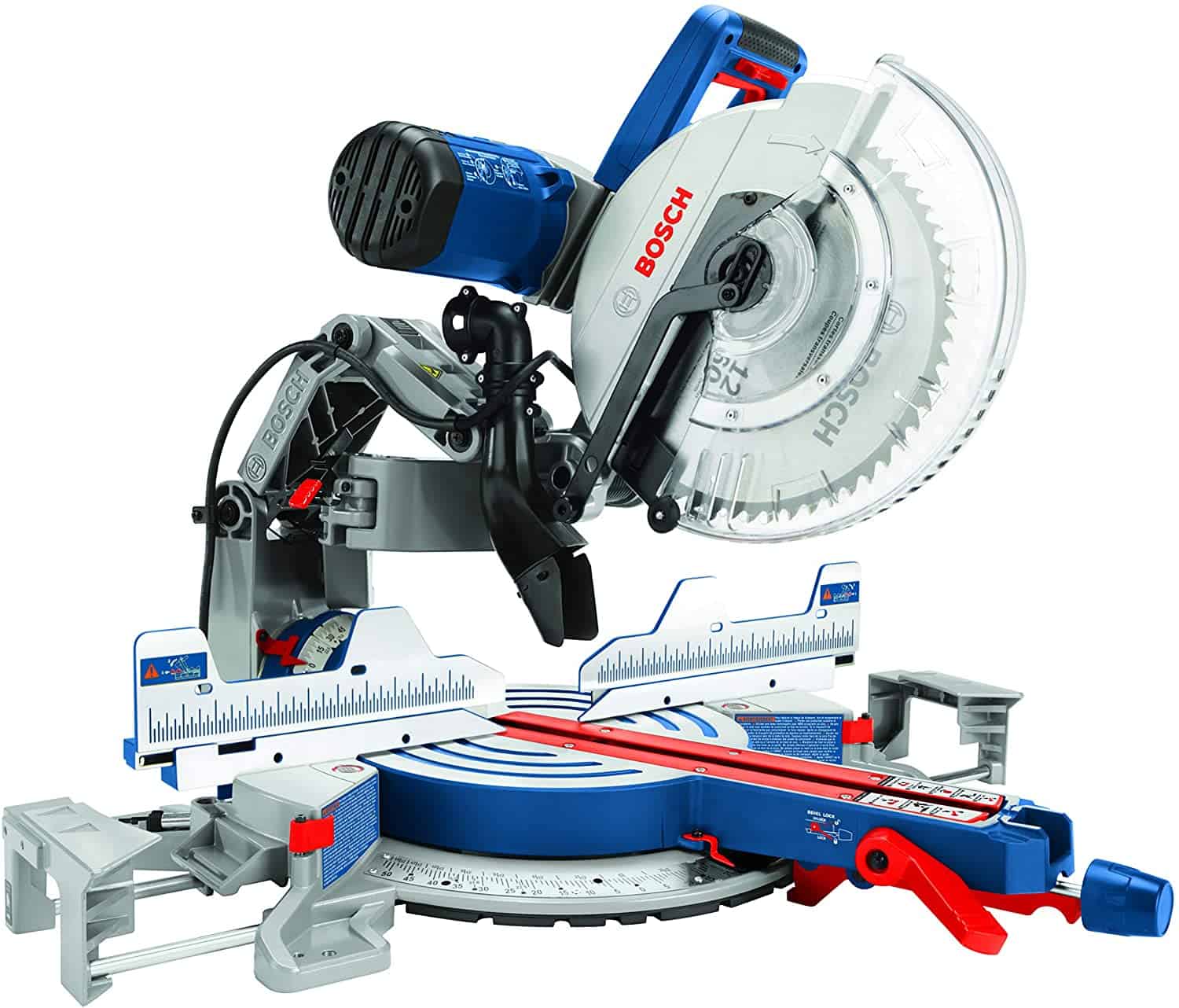 A compact saw machine that provides wider and better cross cuts is difficult to find. That is why The BOSCH GCM12SD Sliding Glide Miter Saw will be a better choice for you. Its unique axial glide system feature will ensure that you can achieve better alignment and wider cross-cuts more efficiently. This axial glide system allows you to save 12 inches of workspace alongside unmatched smooth cuts that no other saw machine will provide you. Furthermore, this 12-inch dual-bevel device offers precise control over the cuts. A quick-release square lock fence aligns the fence 90 degrees alongside the saw's table. As a result, additional adjustments to the alignment are necessary. If you want additional support, the one-touch lock and unlock will allow you to slide the fence properly. Its adjustment features come with an easy-to-read uniform angle for more efficient results. Moreover, this versatile saw machine has an exceptional 14 inch expanded horizontal cutting capacity. Aside from the horizontal capacity, the saw machine also provides a 6-½ inch vertical capacity alongside a 6-½ inch crown capacity. Hence, if you need a saw machine that offers a variety of cuts, then this BOSCH one will be perfect. The stainless steel miters of the BOSCH product come with roof-pitched angles and properly marked detents. Plus, the optimized 90% dust collection for cutting 2x materials is also possible with this device. Overall, this miter saw will be an excellent addition. Pros
This corded electric device comes with a 60T blade
One-touch lock and unlock option available
It comes with easy adjustments
The miter scales come with marked detents
Easy-to-read uniform bevel available
Cons
The dust collection system is not the best
Verdict The axial glide system of this saw machine will allow you to cut materials smoothly and efficiently. Check prices here
3. Metabo HPT 12 Inch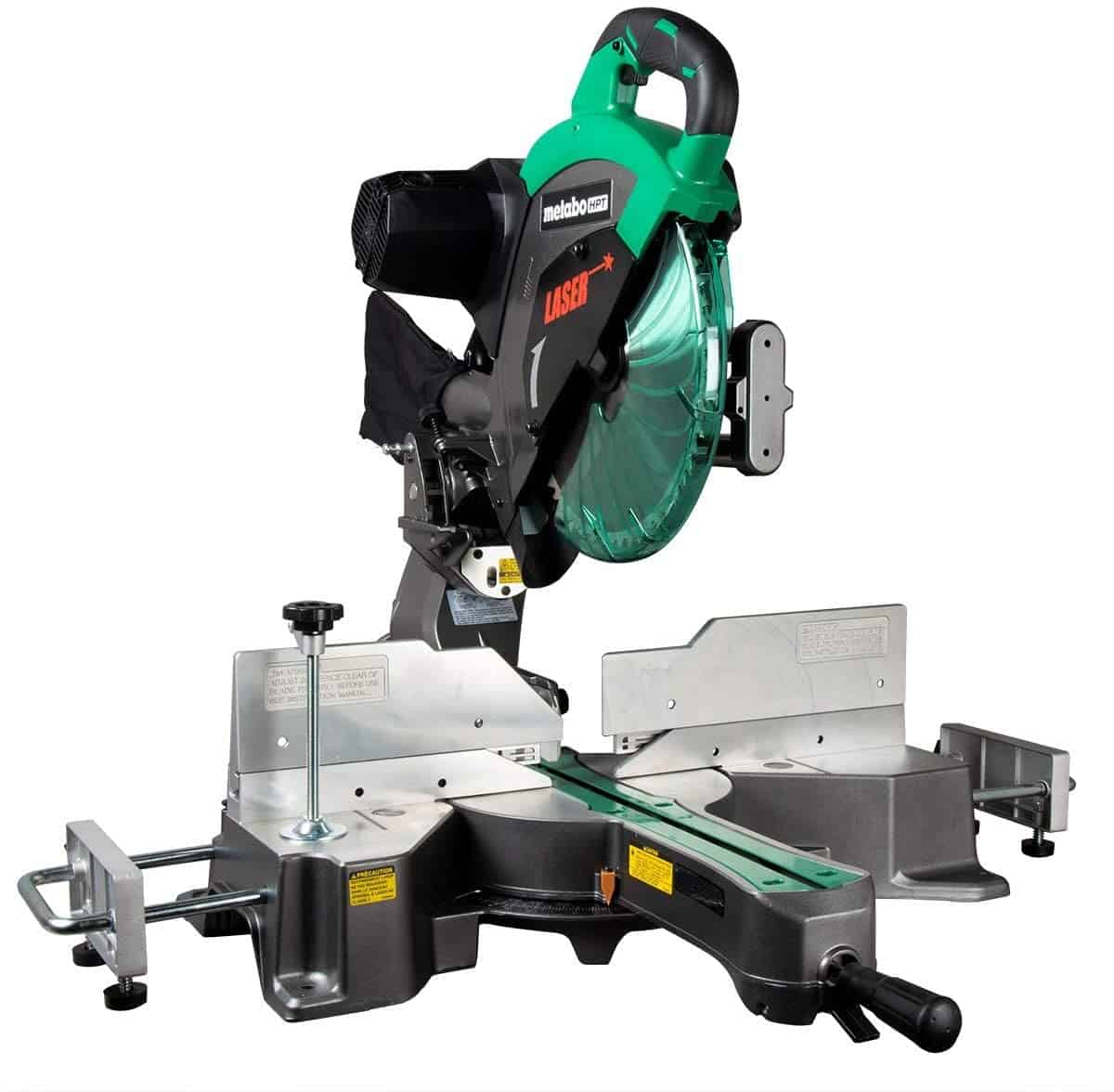 Finding the ideal compound miter saw that provides efficient results for carpenters, woodworkers, or framers is no easy task. But the Metabo HPT 12 Inch Compound Miter Saw device provides reliable and precise results. It comes with an excellent Xact Cut LED Shadow Line feature with an extreme cut capacity. If you want a saw machine that will offer faster cuts, then the Metabo product will be your go-to. It comes with a motor of 15 amp that ensures a high power delivery. Also, it can generate a no-load speed of up to 4300 RPM without any issues. Hence, even the toughest cuts will not be a problem for this saw machine. The 1950 W of the output power of this device will allow you to power through hardwood materials smoothly. Also, the miter scale range of this device is 0-52 degrees on both sides, which enables the saw machine to provide a broader range of cuts. Furthermore, the extreme cut capacity of this product offers a bevel range of 0-48 degrees on the left alongside adjustable bevel stops. The adjustable bevel stops allow the machine to provide precise cuts. It also comes with a 5-⅛ inch height pivoting aluminum fence. Thanks to this feature, you can cut crown moldings vertically. The Metabo machine offers you to get a precise angle. You can adjust the primary bevel angle and secure it in position. Afterward, the micro-bevel adjustment knob will allow you to dial in a more precise angle. All in all, this 44 lbs saw machine comes with superior features. Pros
It comes with a LED shadow line system
High power provided by 15 amps motor
Offers better maneuverability and portability
The 1950 W output smoothly cuts hardwoods
You can adjust the miter angles quickly
Cons
The packaging is not very good
Verdict If you want to cut hardwoods more smoothly, then Metabo saw machine would be the best choice. Check prices here
4. Milwaukee 6955-20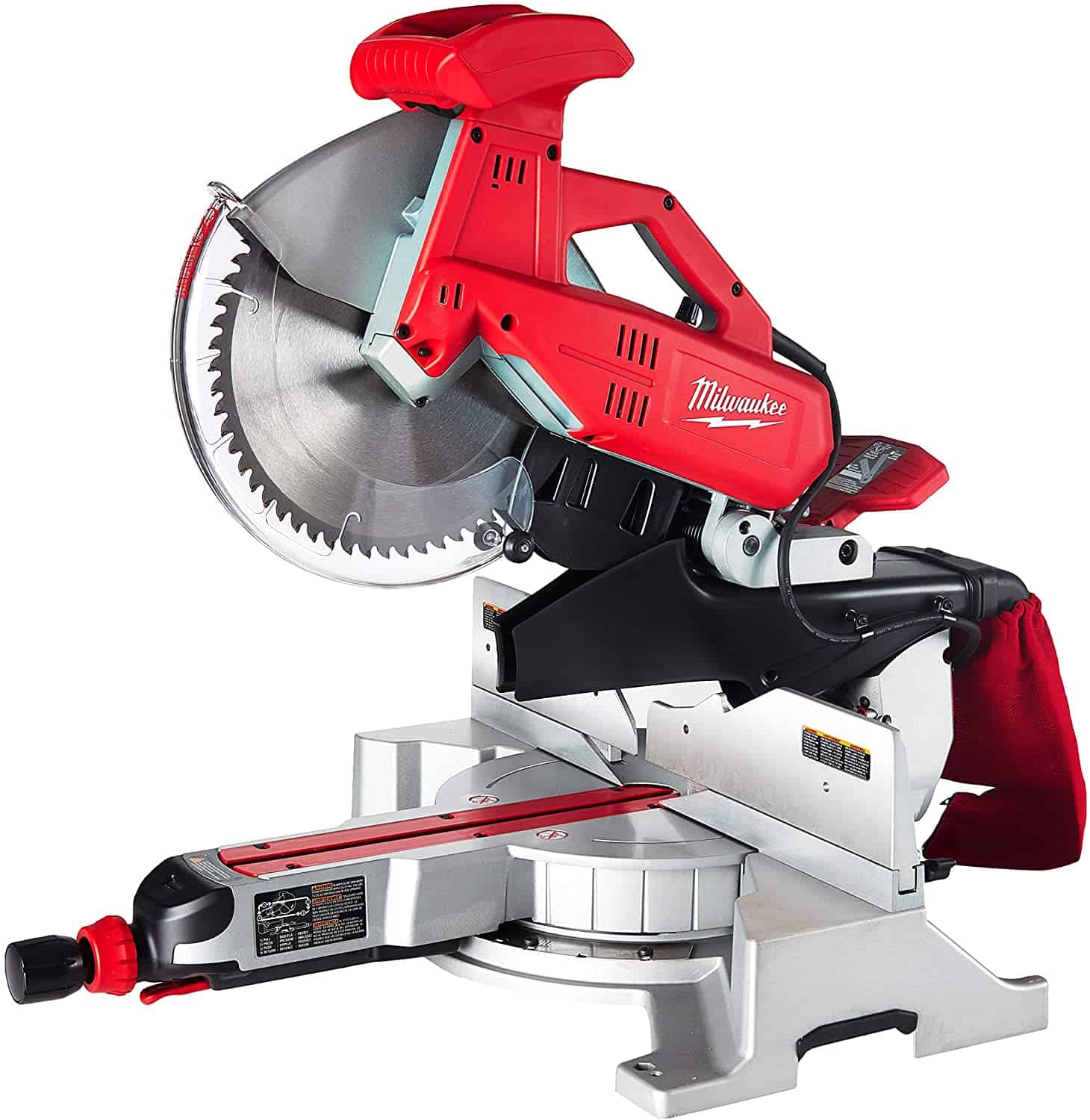 A dual bevel miter saw that offers adjustment on both sides is extremely helpful for working on large projects. Hence, Milwaukee 6955-20 12 Inch Dual Bevel Miter Saw product will be an excellent choice for you. This digital miter angle product allows you to make fine adjustments with detent override. Such a fine adjust feature makes it very simple for you to dial in the miter angles in a precise manner. As a result, a quick non-square environment adjustment will not be an issue anymore. Thanks to the fine adjustment feature, single hand adjust operations like a hand on material, and hand-making fine adjustment is also possible. The fine adjustment feature also offers a self-zeroing system. You can use this self-zeroing system on the entire miter angle range without any issue at all. Unlike many saw machines in the market, this one comes with an excellent digital readout system that provides a 0.1 degree of repeatable accuracy. Some saw machines do not provide any feature to illuminate the workpiece for better visibility. However, the Milwaukee product has an intriguing dual integral Jobsite lights feature. This feature will help provide better visibility by illuminating the cut line of both sides of the blade and workpiece fully. So, no more hassle of setting up independent lighting. The 15 amp motor of this product has increased power to achieve high-performance cutting results. And since the integral dust channel comes with the ability to capture 75% of the debris, this device can offer better airflow. This way, the waste can flow back to the waste container properly. Pros
Alloy steel is the core component
This 15 amp machine offers up to 3250 RPM
Dual integral Jobsite lights are available
The integral dust channel captures 75% of the debris
Cons
The lack of a laser line can be problematic
Verdict The Milwaukee device is an excellent choice for anyone who wants a dual bevel miter saw. Check prices here
5. Makita LS1221
When it comes to purchasing a quality miter saw machine, the machine's cutting capacity takes top priority. A higher cutting capacity will always be a better option. Hence, the Makita LS1221 12 Inch Compound Miter Saw device will be a quality addition. It comes with a large capacity of 3-⅞ x 6 inches at 90 degrees. A combination of power, ease of use, and high performance are what you will get if you choose this machine. It comes with a 15 amp dynamically balanced motor that delivers 4000 RPM. This direct drive motor will offer you improved performance. Unlike the belt-drive units, the manufacturers engineered this saw machine not to slip or bog down. The Makita device comes with a larger cutting capacity. It contains a 4-½ inch pivoting fence that will let you cut up to 5-½ inches of crown molding. Additionally, the pivoting fence of this machine supports the larger stock efficiently. This saw machine comes with a positive miter. The positive miter has 9 different stops; 15 degrees, 22.5 degrees, 31.6 degrees, 45 degrees (right/left), and 0 degrees (90 degrees cut). This device comes with an aluminum base to ensure that the cuts become more accurate. If you want a saw machine that provides comfortable operation and such a high cut capacity, then this Makita product is for you. Its exceptional horizontal D-handle design offers easy operation, unlike any other machine. Overall, this corded electric device will be an excellent option. Pros
Pivoting fence supports larger material
Easily portable
It comes with an electric brake
The horizontal D-handle offers comfort
9 positive miter stops are available
Cons Verdict This compound miter saw device is ergonomically designed to make your cutting experience comfortable. Check prices here
6. SKILSAW SPT88-01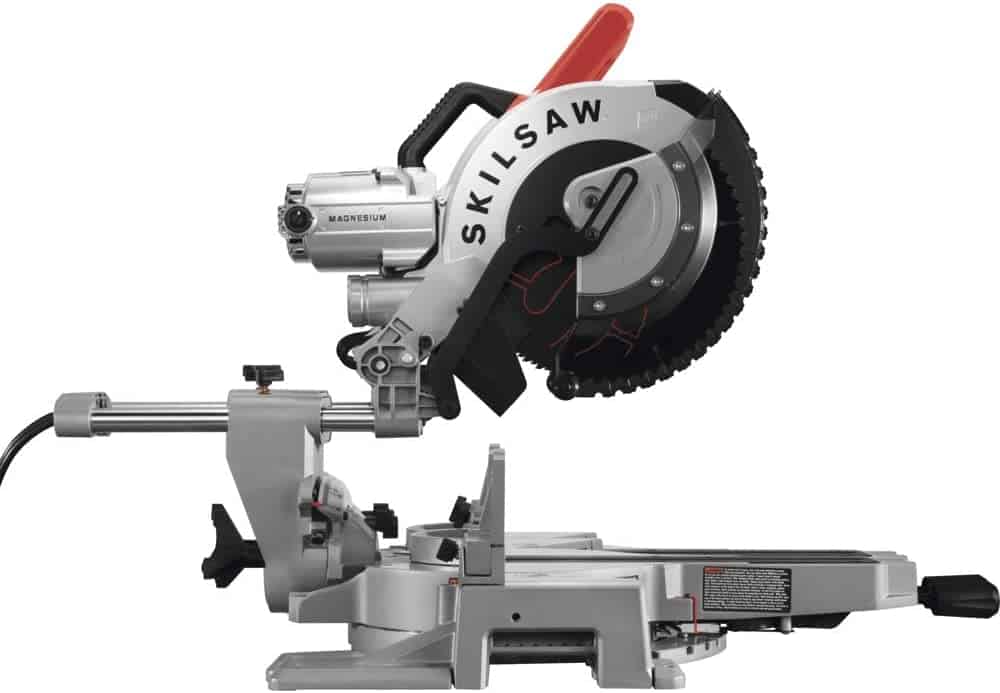 If you want a durable saw machine that provides superior features, then the SKILSAW SPT88-01 12 Inch Miter Saw Product will be an excellent choice. The word drive miter saw offers exceptional durability and relentless power. It has a 15 amp dual-field motor that provides better efficiency without heating up excessively. So, this dual-field motor remains cool while increasing its longevity. Additionally, it comes with an excellent dual bevel cutting capacity. This dual bevel feature is available for both the right and the left sides of the machine. With the help of this dual bevel, you will be able to cut with this machine more flexibly. It also contains adjustable bevel stop presets that offer superior accuracy. When it comes to achieving highly accurate cuts, no other miter saw will be as good as the Skilsaw one. An LED shadow light feature ensures high-precision cuts with better accuracy. This feature of the saw machine will allow you to have better accuracy than any lasers. I have mentioned various saw machines, but none offer better transportability than this one. This saw machine comes with an extremely light construction so that you can carry it without any trouble. Plus, it also contains a convenient top handle for easier portability. Moreover, this machine's 4 x 14 cross-cut capacity allows you to handle cuts without any issues. Also, the dual bevel feature for both right and left sides increases the flexibility. Its adjustable 0 degrees and 45 degrees stop bevel presets also help to improve the overall accuracy. Pros
15 amp dual-field motor
Extremely light in construction
The ergonomic top handle provides easier transportation
It comes with a 4 x 14 cross-cut capacity
Highly durable
Cons
Its upper sliding fence is nonadjustable
Verdict The Skilsaw power tool device will be an excellent option if you want highly precise and accurate cuts. Check prices here
7. Makita XSL08PT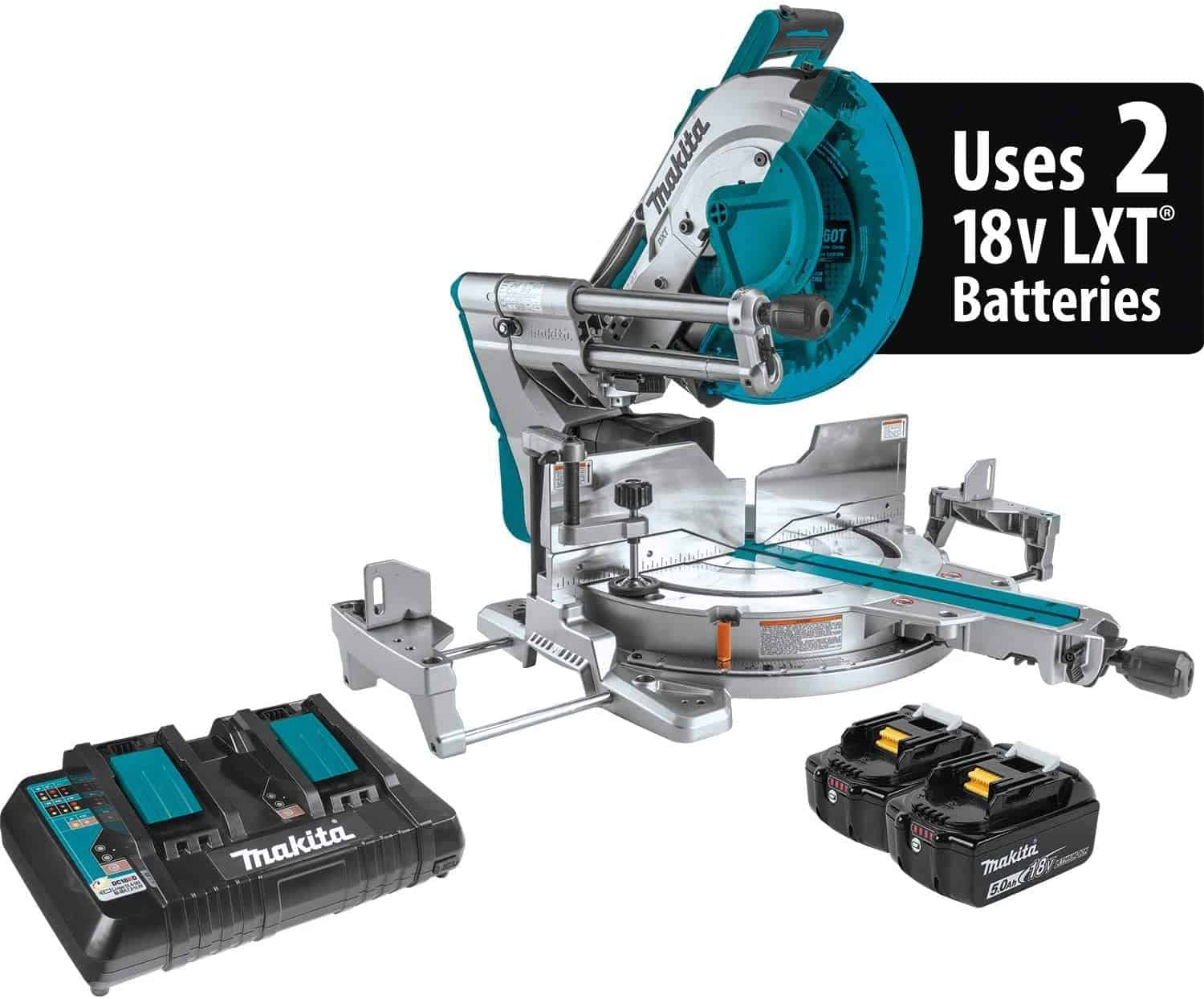 So far, I have mentioned some quality corded saw machines and their features. But not everyone wants a corded saw machine. In that case, the Makita XSL08PT Compound Miter Saw Kit will be a better choice. This saw machine offers higher power, speed, and quality run time. Furthermore, it comes with an electronically controlled BL brushless motor. This excellent motor can deliver up to 4400 RPM so that you can get a faster and smoother cutting experience. It also comes with an exceptional auto-start wireless system (AWS). The auto-start wireless system allows you to use Bluetooth technology. This way, you can use the wireless communication between the tool and dust extractor to turn the power on or off. You can also get an auto-start wireless transmitter additionally. This saw machine can make your life much easier from a technological point. The exceptional BL brushless motor feature of this device can eliminate the use of carbon brushes. By removing the carbon brushes, this BL motor can run cooler and more effectively for an extended period. Such higher durability will allow you to use this saw machine without any problems longer. The cross-cut capacity of this device is excellent. It cuts up to 6-¾ inches (vertical), an 8-inch crown (nested), and 15-inch cross-cuts at 90 degrees. The Makita product comes with an in-front bevel lock system for a better and convenient operation. The x2 LXT technology can provide up to 175 cuts per charge. Overall, this saw machine comes with useful features for you to achieve smoother cuts. Pros
It comes with a 60T carbide-tipped saw blade
BL brushless motor runs efficiently
Can deliver up to 4400 RPM
Wireless communication possible
Utilizes Bluetooth technology
Eliminates excessive noise production
Cons
The detents for 0 degrees and 90 degrees may be a bit off
Verdict If you want a cordless saw machine, the Makita XSL08PT will be the perfect option for you. Check prices here
What to Look for Before Buying

When it comes to buying a 12-inch miter saw, you have to consider features that make the saw machine more durable and efficient.
Durability

The durability of the saw machine allows it to function for an extended period. If you end up using the miter saw more regularly, the saw device has to be more durable. Therefore, you have to choose a miter saw that contains sturdy core material. Another point is that if the motor of the saw machine heats up easily, you cannot run the saw device for an extended period. You can look into the SKILSAW SPT88-01 12 Inch miter saw as its motor remains cool even when you use it for an extended period.
Bevel

Not all saw machines have a similar bevel model. I have mentioned a dual bevel saw machine in this review. The dual bevel feature offers a wider and better range than the other ones. For example, the BOSCH GCM12SD product contains a dual bevel system that provides better accuracy.
RPM

Revolutions per minute or RPM show us how quickly a saw machine can cut. A higher number of RPM will mean that the saw machine can cut better and tougher hardwood materials. Most saw devices come with an RPM level of over 3000. The Makita XSL08PT device offers up to 4400 RPM.
Dust Collection

Using a miter saw device can get pretty dirty. If your saw machine does not have a quality dust collecting mechanism, the cutting experience will become messy. A quality saw machine comes with proper dust collecting options. Usually, the products with 75% dust collection are a decent choice.
Laser

Laser cutting saw machines are popular because they offer precise cuts. The laser beams of such devices can provide clean cuts on various materials.
LED

Some saw devices come with an LED light feature that provides better visibility to get better cuts.
Safety Features

It is necessary for the saw machine you choose to contain good safety features. Some of these saw devices come with an electric brake. You can use the brake to stop the saw machine anytime you want.
Sliding Saw Machine

If you want a saw machine that offers a better cut length, you have to choose a sliding saw machine. These offer sliding rails that can increase the cutting length. You can check out the BOSCH product on this list for this sliding feature.
Frequently Asked Questions
What is the best 12-inch miter saw product?
There are many quality saw machines in the market. Depending on your work, the saw machine models can vary quite a bit. If you want a quality miter saw device for more precise and accurate cuts, the SKILSAW SPT88-01 12 Inch Miter Saw product will be an excellent opinion.
Should I purchase a cordless saw machine?
If you are tired of using corded saw machines, then a cordless one will be perfect for you. For example, the Makita XSL08PT Compound Miter Saw device has excellent wireless features. It allows you to use the auto-start wireless system and Bluetooth technology.
Are dual bevel saw machines good?
Yes, a dual bevel saw machine can be a perfect choice for you if you want a more comprehensive cutting range. The single bevel ones rotate in a single direction, whereas the dual ones rotate in both directions.
Which saw machine offers a higher RPM?
Various saw machines come with different RPM ranges. But if a higher RPM is what you are looking for, the Makita XSL08PT Compound Miter Saw Kit will be perfect. It offers up to 4400 RPM.
What saw machine offers a superior dust collection method?
The BOSCH GCM12SD Sliding Miter Saw product comes with an excellent dust collection system where the machine can collect up to 90% of debris.
Final Words

Achieving angled and intricate cuts with the help of a saw machine is a tricky job. So, you need to pick a saw machine that cuts properly and remains durable. This best 12 inch miter saw review can help you choose the perfect one for your woodwork.
Also read: these are the best miter saws in all inch categories
I'm Joost Nusselder, the founder of Tools Doctor, content marketer, and dad. I love trying out new equipment, and together with my team I've been creating in-depth blog articles since 2016 to help loyal readers with tools & crafting tips.