I love creating free content full of tips for my readers, you. I don't accept paid sponsorships, my opinion is my own, but if you find my recommendations helpful and you end up buying something you like through one of my links, I could earn a commission at no extra cost to you.
Learn more
So you need a new drywall screw gun ASAP, and you can't decide which one will suit your needs best?
I've done the leg work for you, and researched seven of the top options on the market right now.
From motor power to ergonomic design and everything in between, I've weighed up the pros and cons of all the options you should be considering, and put together a comprehensive guide on how to choose the best drywall screw gun for your needs.
Whether you're a professional installer, or an amateur doing home DIY, there's a perfect option for you.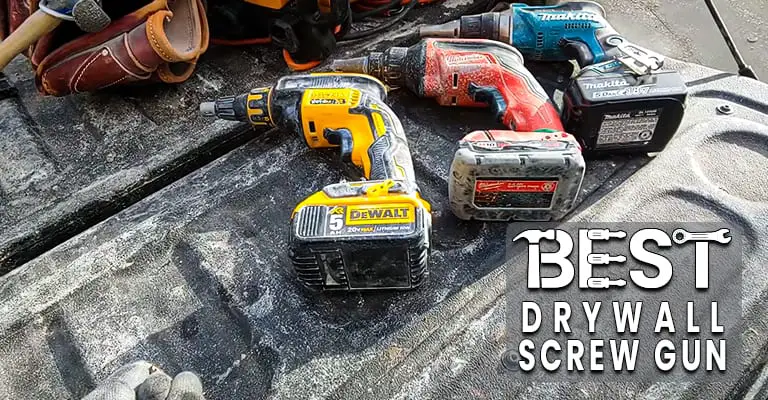 You've got a job to do – and no time to waste doing hours and hours of research.
So I've done it all for you. Just read through the summaries and pros and cons of each option below, and you'll be able to identify the best drywall screw gun for your specific needs.
I found that the most outstanding drywall screw gun was this Milwaukee Drywall Screw Gun as it ticks all of the priority boxes from value-for-money, to power, and durability. But what makes it the winner for me is that it's really quiet, even though it at 4500 RPM (one of the highest RPM's on the list!).
But, there are a few more options that might suit your needs better, like corded or with an auto-feed system.
Let's look at all of the top choices real quick, and after that I'll give you a detailed review of each:
Drywall screw gun buyer's guide
There's a very good reason the drywall screw gun was invented!
If you've ever installed drywall without one, you'll know why it's an essential piece of equipment for any drywall project.
Manually drilling each hole and then putting the screws in afterwards can add hours to each project. And if you're in large-scale construction – where time is money – every second saved is a bonus.
With a drywall screw gun (which is like a hybrid of an electric screwdriver and a drill), you can get your projects completed quickly, safely, and with far less effort than when using a conventional drill.
From amateurs to pros – if you're putting up drywall, you've GOT to have a drywall screw gun.
From the size of the motor to the noise factor, and whether or not you need a corded or cordless product, there are a lot of decisions you need to make before your final purchase.
I've helped narrow down the key factors to consider when choosing the best drywall screw gun for your needs. Read on to find out more.
Motor
The best type of motor to look for in a drywall screw gun is a brushless motor. These deliver speeds of up to 4000 RPM (some even more!) along with some very useful torque.
This allows you to work on many different types of materials including drywall and metal sheets.
Variable speed
One of the key features in a professional quality drywall screw gun is adjustable speed.
This ensures less damage and 'chipping' on your work surface, and also allows you to work effectively with different thickness of drywall with minimal scuffing or damage.
Cord
Are you looking for convenience or power? When it comes to choosing between a cord or a cordless tool the majority of users will go for cordless.
This is because they allow you to move around your workspace without worrying about tripping over cables, or having to find a convenient power outlet.
While a corded gun does have a bit more power, this is not usually overruled by convenience!
Handle
No one wants a hand cramp mid-project! On big construction sites, workers will secure thousands of screws a day – so you're going to want a tool that's ergonomically designed, and won't put extra strain on your hands.
Make sure the gun you're looking at features a finger pad settling design. The trigger should cover the middle and index finger (no more or less!)
Depth adjustment
Accuracy is key with drywall screws, and so an automatic depth adjustment feature is absolutely vital. If the screw is inserted too deep or too shallow, the construction will be faulty.
Make sure you have a depth adjustment setting on your drywall screw gun!
Weight
The best average weight for a drywall screw gun is around 3 pounds. Remember, you'll be working with the tool all day, sometimes in very awkward positions.
You'll want to ensure your hand and arm aren't under any more pressure than they need to be. Try to make sure the weight of your tool doesn't exceed 5 pounds.
Noise
Save your ears – and your neighbors'! The sound of a drywall screw gun can be very loud! Check the tool's features to find out if it includes noise reduction technology or not.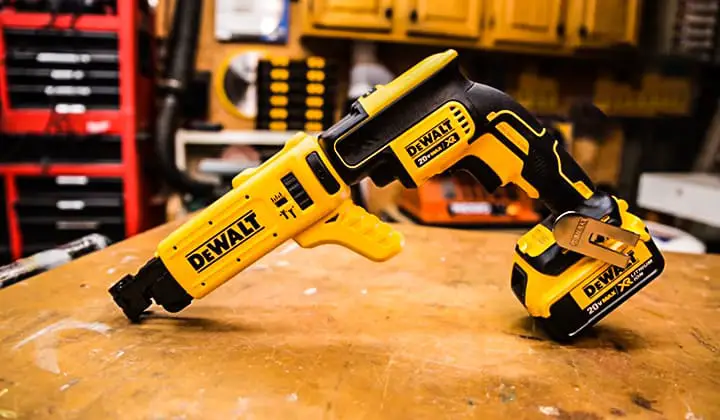 Screw Length
When looking to drill a wall, the length of your screw is very important. Most houses use ½ inch screws, but there are other sizes available, like ¼ and 5/8 inches. 5/8 inches are usually thicker than others to take into account of fire hazards used in garage walls.
Screw Threads
Coarse-thread screws are intended for use in wood studs. They are wide and help get a good grip. A downside of these is that they are mostly metal burrs that tend to get stuck in your hands. Make sure you wear proper gloves when working with these.
Fine-thread screws work best when applied to metal studs. Since course threads chew through wood, they have a higher probability of being unable to be reapplied if things go wrong. In the case of fine threads, they gradually cut through metal by self-threading to achieve a good grip.
Cordless Vs. Corded
Corded screw guns have the advantage of maintaining a constant working experience as they will never go out of power. They are reliable but take a hit on portability. They come in power options of 110v or 240v. For basic housework, it is recommended to buy 240v as a separate power transformer I needed for 110v.
Cordless screw guns, on the other hand, are very portable and usually more lightweight. However, investing in extra battery packs must be taken into consideration as you do not want to run out of power mid-work. They come in packs of 18 to 20-volt packs, which determine how fast you can work.
Weight
Cordless tools usually tend to be heavier than their corded counterparts as they have to bear the battery pack. The weight difference may not vary by much, but it is still important for it to be taken into consideration. Corded tools are usually lighter, but they come at the cost of being less portable.
When buying a screw gun, try to look for one between 3 to 7 pounds in weight. These are the market standards and will be easy to lug around. If you are already using a heavier tool investing in a lighter model maybe improve your efficiency in the long run
Speed and Clutch
Most powerful tools have a variable speed and adjustable clutch. An adjustable clutch allows you to use it on various materials. This also means that you will be able to use your screw gun to drill holes. If drilling is not a necessity, getting one without this feature also works.
Depth Gauge
Most screw guns have an adjustable collar that allows you to set the depth to which you can drill. If you screw in too deep, you will end up ruining the whole job. Thus, investing in a gun with a special collar will ensure that your drill stops operating once that depth is reached.
Additional Features
There are very few products out there that do not invest in value addition. Adding a few features make not break the product, but it will definitely give it a slight edge. Everyone loves a little more than what they came for, and a little can go a long way.
The addition of an LED light can be very useful when you have to work in dim lit areas. They usually do not take up much space and require minimum power. Make sure you check if it is properly placed so that it illuminates your working surface rather than cast a shadow.
Belt hooks are another thing you can look out for. A tool that can support the attachment of a belt hook will benefit you greatly. It simplifies your work in tight spaces. Look for guns that have removable clips. Stainless steel hooks are very strong and do not add much weight to the end product.
Warranty
We all want peace of mind with a warranty. Most tools offer a 1-3 year warranty, as well as a refund if you're not happy with the item.
Learn more about Types of Power Tools in 2021 and Their Uses: A Must Read
Best drywall screw guns reviewed
I've compared seven of the best drywall screw guns available on the market, and identified the pros and cons so you don't have to!
Overall best drywall screw gun: Milwaukee 2866-20 M18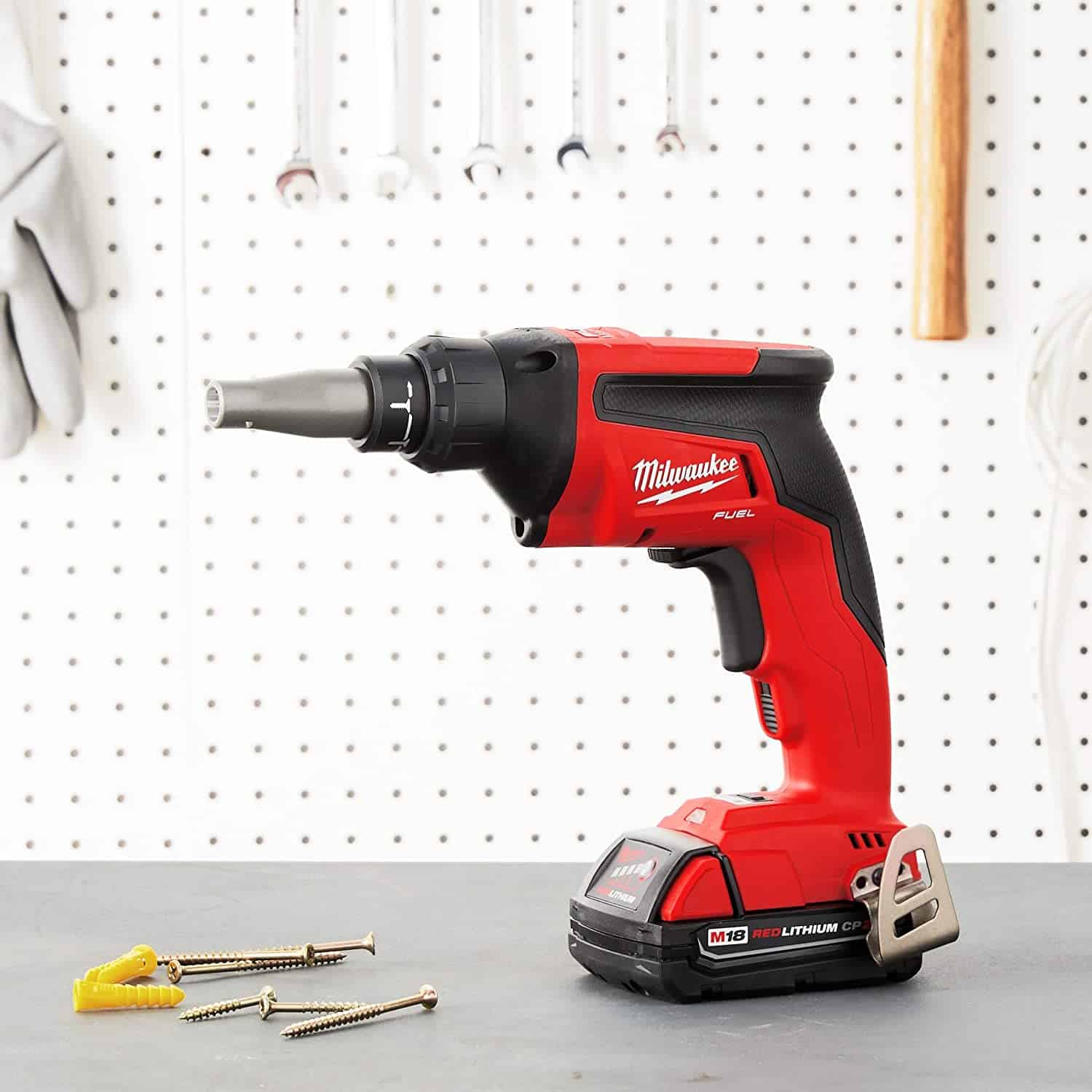 Favorable factors
Coming in at an average price, this is no average tool. This is why it's my top pick for anyone needing a powerful, reliable, and easy-to-use drywall screw gun.
Battery life! The Milwaukee drywall screw gun's battery life is one of its most outstanding features. You could get through the average project without even having to recharge the battery or swap it out.
The Milwaukee drywall screw gun is actually faster than some corded guns, and delivers up to 3 times longer run time than other cordless competitors. I also love its auto-start functionality.
Being cordless, you can carry the tool throughout your construction site without worrying about tripping over cables.
Shhhhhh… don't disturb the neighbors! This tool produces less noise than many others on the market, even though the brushless motor spins at 4500 RPM! And the trigger can be kept locked anytime.
The ergonomic design feels very comfortable in your hand, and there's also a useful LED light on the foot to make sure your work surface is always well lit.
This product includes free shipping, free return, and a limited-time warranty.
If you are on the hunt for a cordless drywall screw gun, the 2866-20 M18 Fuel from might just be the right product that you need. It's well balanced, lightweight, and comes with an auto-feature that saves battery life, extends tool-life, and provides additional safety.
Speaking of battery, it comes with Milwaukee's own REDLITHIUM 5.0Ah batteries that feature REDLINK PLUS Intelligence. This gives 3 times longer runtime than most of the similarly priced screw guns at this price point while also providing faster charging time.
This drywall screwdriver is faster than a lot of corded tools out there. Powering this tool is a brushless motor that Milwaukee calls the "POWERSTATE". It's a motor that is designed for productivity as it can deliver up to 4500 RPM. It's enough to get through most construction work.
On spec, this drywall specific gun is supposed to hang 64 sheets on a full charge. However, you can easily get around 50 sheets at a time on one run. As for usability, the weight and feel have the right combination that is desired by professionals for all-day use.
Features
Motor: 4500 RPM. POWERSTATE Brushless Motor: Delivers 4,500 RPM's to provide faster than corded productivity
Variable Speed: No
Cord: No. Compatible with all M18 Batteries
Handle: Ergonomically designed to be lightweight, balanced and comfortable for continuous use
Depth Adjustment: Yes
Weight: 2.5 pounds
Noise: Once the screw comes into contact with the drywall, the motor automatically starts, resulting in less noise between screws and 3x longer run time.
Warranty: This product includes free shipping, free return, and a limited time warranty
Negative factors
This is an extremely powerful drywall screw gun, so if you're not careful or don't have a lot of experience using one, you may end up damaging your drywall.
Best lightweight drywall screw gun: DEWALT 20V MAX XR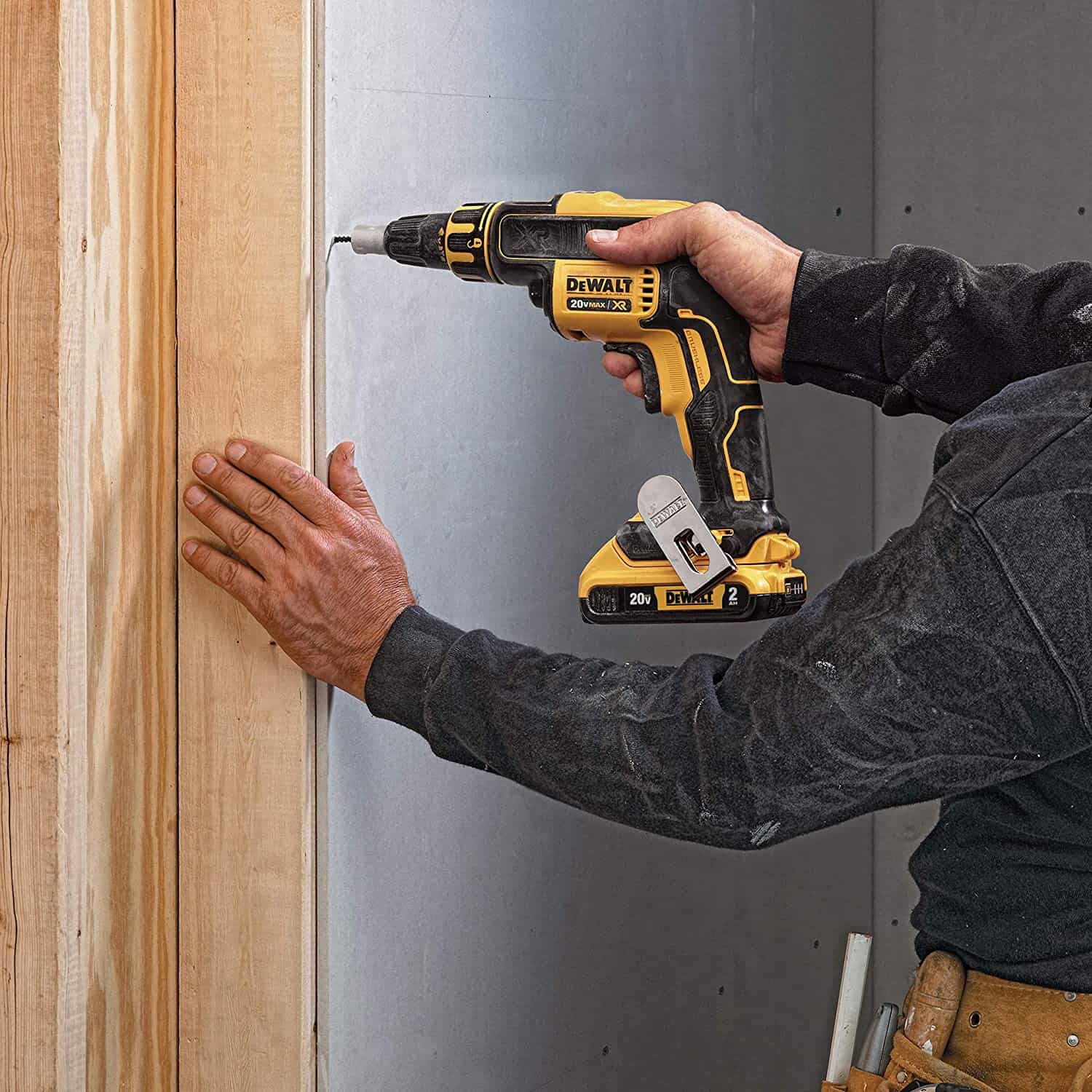 Favorable factors
For a fast, powerful, and ergonomic drywall screw gun that's suitable for amateurs and professionals, the DEWALT is a great product to invest in.
At just slightly under the power of the Milwaukee, the 4400 RPM motor runs smoothly and offers a long run time, and excellent speed. You'll get your projects completed in record time.
Carrying this tool around your site is hassle-free as it is cordless, and a convenient belt hook is also provided.
If you really want to up your game, and install your drywall in record time, a Drywall Screw Gun Collated Magazine Accessory can be purchased.
The nose cone locks securely onto the end of the tool and ensures the accurate placement of each screw.
The ergonomic design and lighter weight are two of the things I liked most about this tool. It also has a limited 3-year warranty from the manufacturer.
The tool has a soft-grip handle and is very ergonomic. It is lightweight and can easily be carried every day. The variable speed trigger allows it to have a smooth start to your work. Its design also allows the tool to be used with minimal workers' fatigue.
The motor in these tools has a lot of torque and efficiency. It is rated to be 33% more efficient than most in its class. Any standard battery pack will be enough to last for hours due to the improved motor.  It is fast and can perform basic work in no time.
The only downside to this tool is that it does not come with a battery pack. This is another reason this product is competitively priced. Given you are not new to this market, you probably have a few batteries lying around. So, buying this would make more sense.
Features
Motor: 4400 RPM. DEWALT-built brushless motor delivers maximum runtime
Variable Speed: No
Cord: No. 1 Lithium-ion battery required.
Handle: Balanced and ergonomic design
Depth Adjustment: Yes
Weight: 2.7 pounds
Noise: No noise-dampening features
Warranty: 3-year limited warranty
Negative factors
Both the battery and charger are sold separately.
The position of the switch is not user-friendly.
Check prices and availability here
Best battery-life: Makita XSF03Z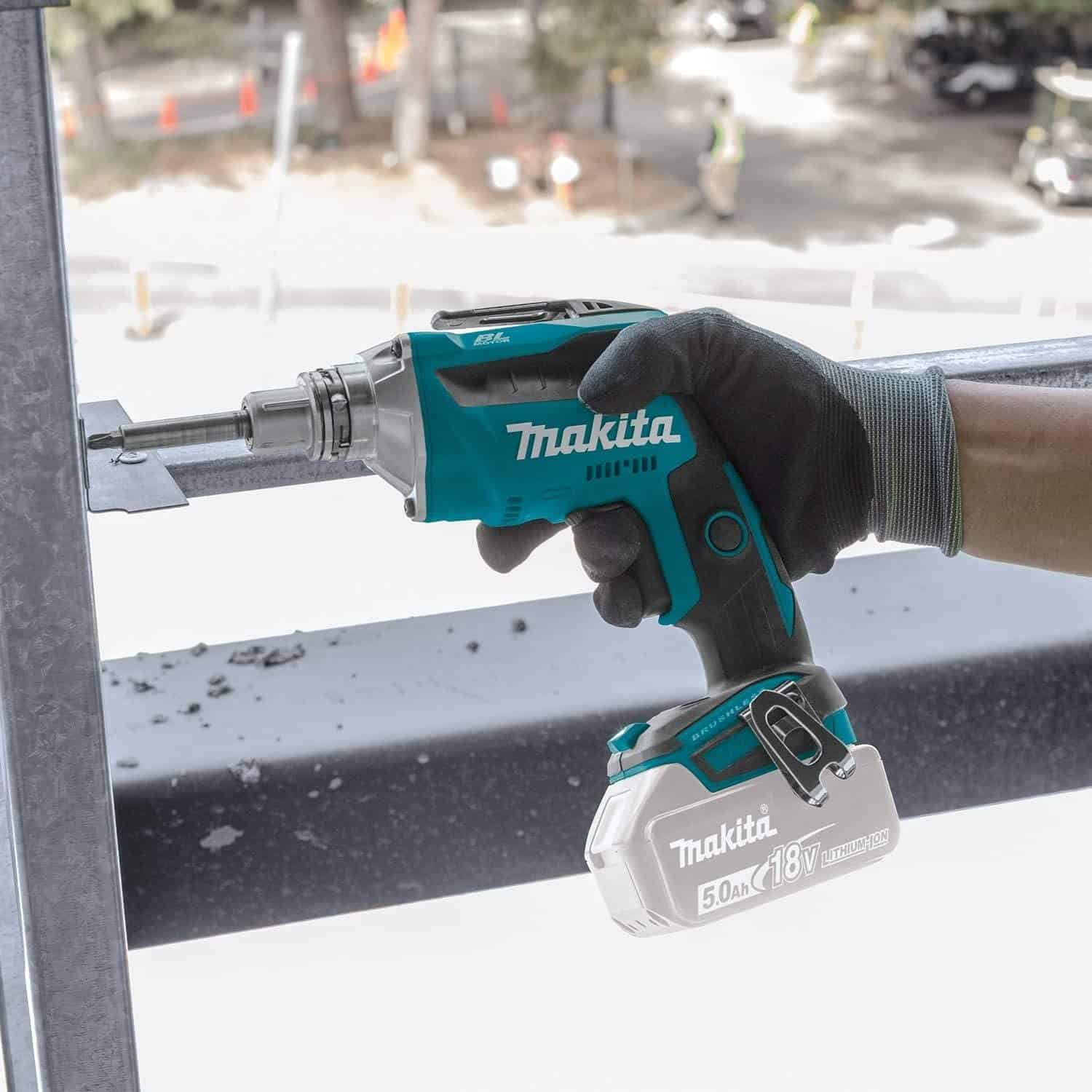 Up next we have an 18V brushless, cordless drywall specific screwdriver from Makita. The XSF03Z is a popular product in Makita's drywall screwdriver lineup for a couple of good reasons. It's a powerful tool that can easily keep up with high productivity standards of professional drywall contractors.
Powering this screwdriver is a powerful and efficient brushless motor and features an 18V LXT lithium-ion battery which is Makita's exclusive battery that has push-drive technology. With this feature, you can set the trigger on lock-on mode and the motor will only run when you engage the fastener.
This neat little feature can save you a lot of time and lower noise on the job site because the motor will only run when you need it to run. This also saves battery power. On spec, it can hang up to 40 sheets of drywall on a single run. The 4.0Ah battery is ideal as it gives more runtime per charge.
It takes around 40 minutes to fully charge the battery. This means, you will spend more time working and less time waiting for the battery to get fully charged. It also has an adjustable nosepiece for accurate and consistent screw depth. Finally, the design is compact and ergonomic which makes it very easy to use.
Favorable factors
If you're wanting a quieter work environment, then the Makita cordless drywall screwdriver is for you.
This tool features push drive technology which only starts the 4000 RPM motor when the fastener is engaged. This also helps save battery life.
This tool runs cooler and more efficiently for up to 50% longer run time per battery charge. A helpful LED gauge indicates your battery level, so you'll never be caught by surprise.
An added bonus is that it charges three times faster than the majority of the other tools I researched on this list.
I love how durable this tool is. It's perfect for harsh job site conditions as it features improved dust and water resistance (Extreme Protection Technology or XPT). It also comes with a three-year warranty.
Features
Motor: 4,000 RPM. The BL Brushless Motor eliminates carbon brushes, enabling the BL Motor to run cooler and more efficiently for longer life
Variable Speed: No
Cord: No. 1 Lithium-ion battery required.
Handle: Compact and ergonomic design at only 9-7/8″ long
Depth Adjustment: Yes
Weight: 3 Pounds
Noise: No noise-dampening features
Warranty: 3-year warranty
Negative factors
Neither battery nor the charger is included.
It is a bit heavier compared to other products.
The magnet at the end of the bit is not as strong as I'd like it to be.
Another must-have DIY-er tool: The Adjustable Wrench (Types and Sizes You Need to Know)
Best drywall screw gun for decking: Ridgid R6791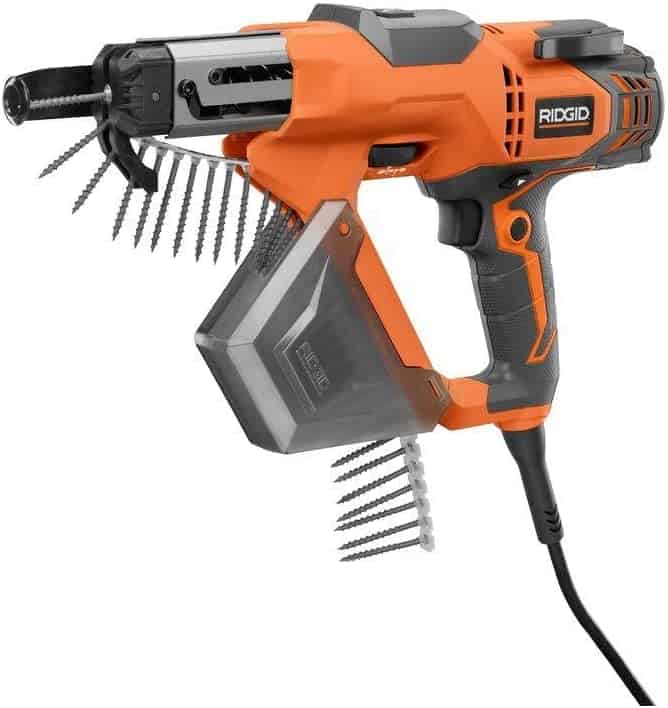 Favorable factors
This Ridgid R6791 3 In Drywall and Deck Collated Screwdriver is one of the most affordable on our list. The hardened steel motor is extremely sturdy and will ensure you get great use out of it for many years ahead.
It's extremely fast, but also very easy to handle and can be held in one hand. One of its best features is the depth control wheel which helps you get an accurate depth for each screw.
Because this is a collated screwdriver, you will need some practice to use it accurately, but once you're familiar with the use, your projects will run smoothly and speedily.
Features
Motor: 3, 700 RPM.
Variable Speed: No
Cord: Yes
Handle: Compact design that is lightweight and offers greater ergonomics for extended use. Hex grip features innovative micro texture for secure grip and maximum user comfort.
Depth Adjustment: There is a depth control wheel that you have to dial in for the desired depth of the screw
Weight: 7 pounds
Noise: No noise-dampening features
Warranty: Backed by the 90-day Amazon Renewed Guarantee.
Negative factors
Being a corded screwdriver, it restricts your movements.
You need to be familiar with this type of tool in order to get the best results, as it is extremely fast.
Lacks the high-end power and it won't work well with loose screws.
Best drywall screw gun with auto-feed: Senco DS232-AC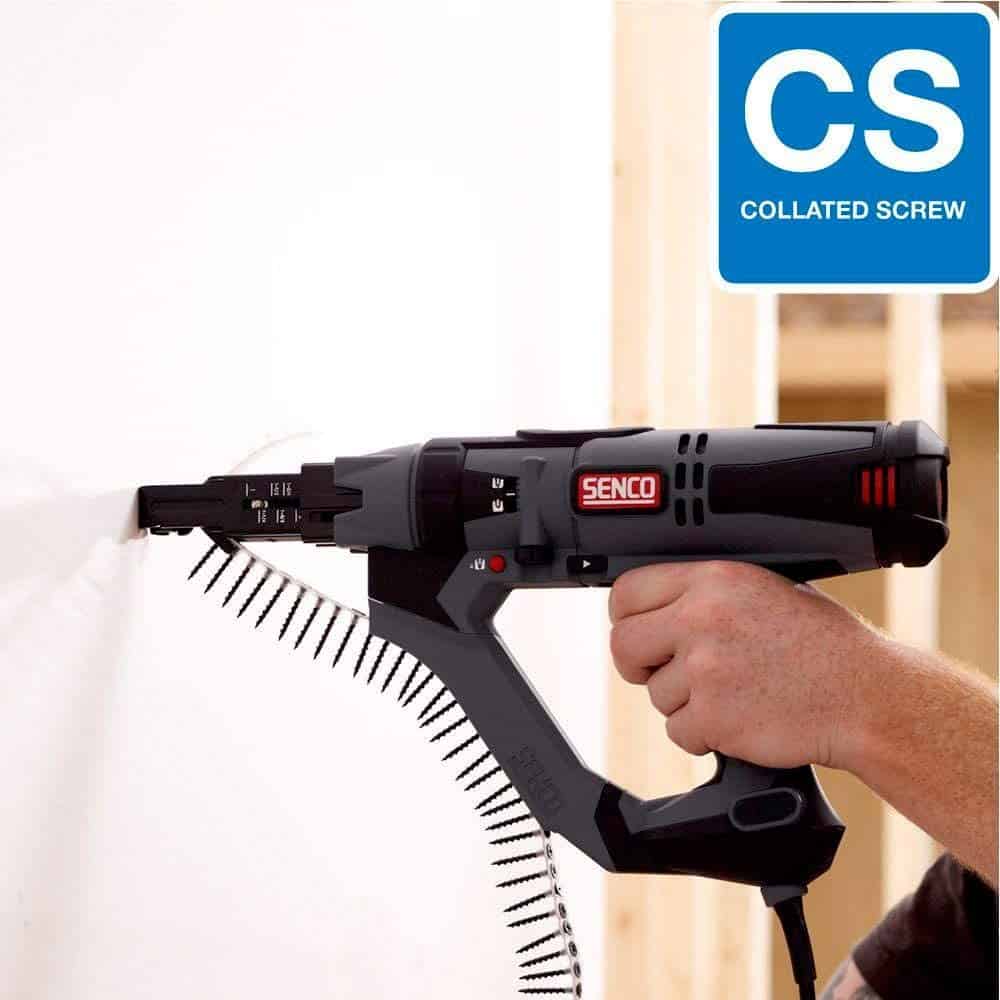 Favorable factors
For home use and smaller projects, this is one of the best auto-feed drywall cordless screw guns on the market.
Senco's drywall screw gun features a patented sliding screw guide and a quick slide button to change the bits. The screw length and depth of drive can also be quickly and easily adjusted
The powerful AC motor spins at 2500 RPM, but the spinning speed can be altered to your needs. The cordless drywall screw gun allows for easy movement around your entire construction site – no searching for available sockets!
I love the little extras that come with this tool including (1) drywall nosepiece, (1) wood nosepiece, (1) storage bag, (1) square bit and (1) Phillips bit.
Features
Motor: 2, 500 RPM high-torque motor and patent-pending corner-fit feed system.
Variable Speed: Variable speed trigger with lock and reverse.
Cord: Yes
Handle: /
Depth Adjustment: Patented sliding screw guide and precise depth-of-drive adjustment with depth lock
Weight: 5.6 pounds
Noise: No noise-dampening features
Warranty: /
Negative factors
The screw gun gets jammed occasionally
It's not as powerful as some of the other tools on this list
Best cheap corded drywall screw gun: Makita FS4200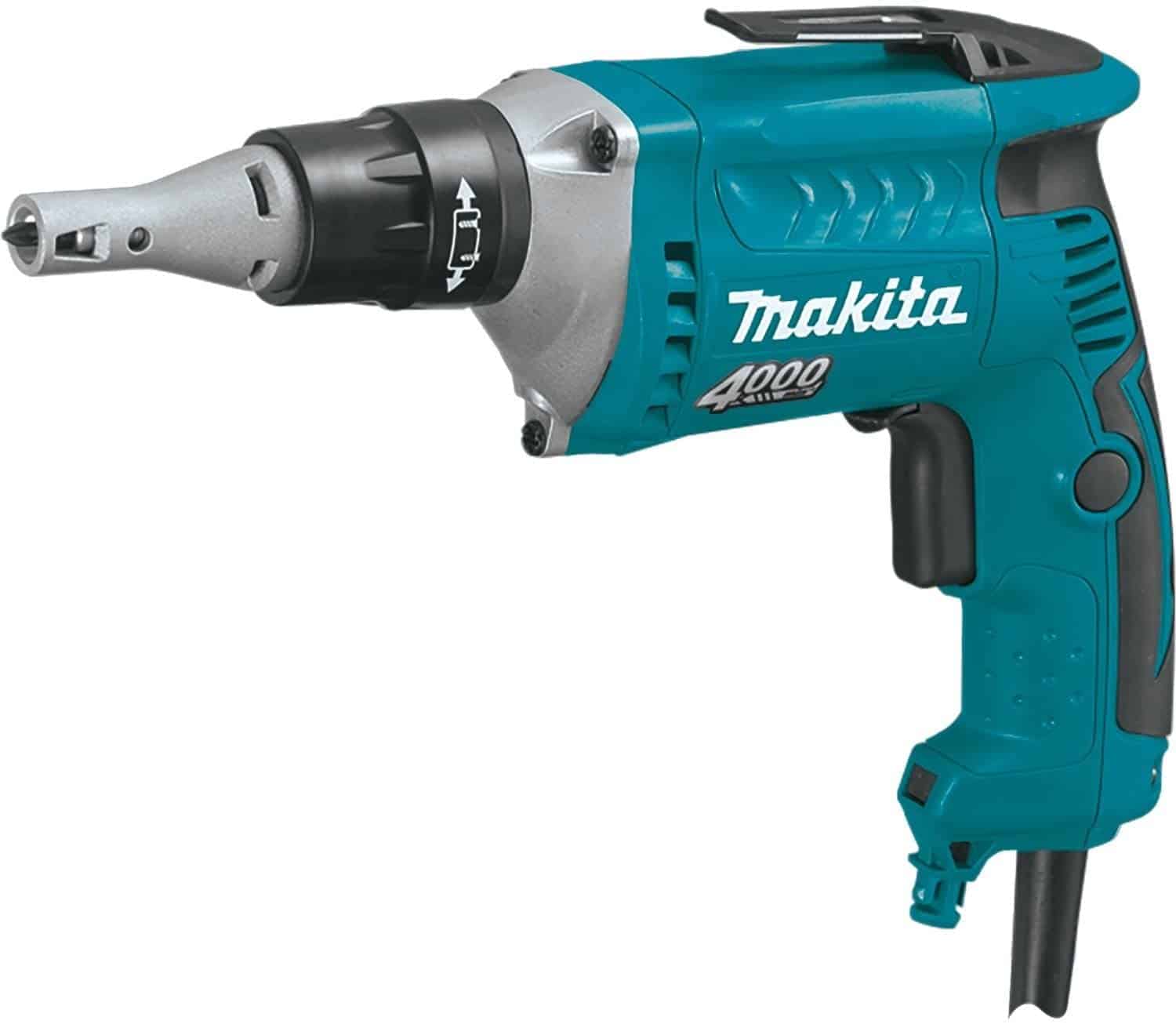 Favorable factors
This is the second Makita branded drywall screw gun on our list. This corded gun features a powerful 4000 RPM motor, and also comes with a Philips insert bit and a magnetic bit holder.
I love the ergonomic grip, lightweight (it's less than 3 pounds!) and the LED light that illuminates the work surface, as well as the lock-on button which makes it very easy to use. It also includes an adjustable depth locator.
The manufacturer offers a 30-day replacement or refund if you're not happy with the product, and a 1-year warranty for defective materials and workmanship. A great buy.
Features
Motor: 4,000 RPM
Variable Speed: Includes a large variable speed trigger with lock-on button for continuous use.
Cord: Yes
Handle: Ergonomically-designed rubberized pistol grip for comfort
Depth Adjustment: The adjustable depth locator assembly with Makita's Sure-Lock feature is engineered for consistent screw depth.
Weight: 3.08 pounds
Noise: No noise-dampening features
Warranty: Each Makita tool is warranted to be free of defects from workmanship and materials for the period of ONE YEAR from the date of original purchase.
Negative factors
Because this is a corded gun, you will have to locate convenient plug points around your construction site.
The component that maintains the depth doesn't always work perfectly.
It doesn't come with the variable speed feature.
Best collated drywall screw gun: Metabo HPT SuperDrive
Favorable factors
The Metabo HPT SuperDrive Collated drywall screw gun is the perfect combination of power and speed for your drywall installation.
The SuperDrive system means you can work with any kind of screws, and you can change the drive depth and screw length on the tool.
Even though it is a corded gun, the cable stretches over 20 feet in length, which means you are able to move easily around your site without worrying about power sources. The collated screws system means installation is quick and easy.
Another great plus about this tool is that it weighs only six pounds.
With your tool, you'll also get a Philips bit and case-hardened drywall nose piece along with the gun. There's also a 1-year warranty with the product.
Features
Motor: 4500 RPM
Variable Speed: No
Cord: Yes
Handle: /
Depth Adjustment: Tool free depth adjustment: No need to reach in the tool box to change screw depth
Weight: 6 pounds
Noise: No noise-dampening features
Warranty: 1 Year Warranty
Negative factors
The long cord can be a bit cumbersome.
Check prices and availability here
FAQs drywall screwguns
How long should drywall screws be?
If you are installing a ½ inch drywall, the screws should be at least 1¼ inches long to secure the joint and reduce the chance of popping out the screws.
Is it better to nail or screw drywall?
Nails are as effective as screws if you use them properly. But the building code requires using twice the number of nails instead of the screws.
So, the screw is the cheaper option here.
Besides, nails are more appropriate in carpentry like while using a brad nailer (like these we've reviewed here) or gauge nailer. Screws won't fit into the application there.
Can I screw straight into the drywall?
The answer is a big NO.
A screw directly into the drywall will not remain at the same place, it will pop out sooner or later. Also, the accuracy of the screw placement will reduce, and the work surface will be damaged.
Q: How many screws are there in a strip?
Ans: Most industrial-grade strips have 50 screws attached. These come with a stainless-steel housing and will easily fit on the front end of the screw gun. A separate extension may need to be purchased if your tool does not support it.
Q: When I drive screws, they smoke up. What may be the problem?
Ans: This is a commonly reported problem for many first timers. If you are not familiar with your product, check to see if it has a motion reversing function. Almost all the time, the chuck gets reversed, and you end up in such a situation.
Q: How do I adjust the nose piece?
Ans: When adjusting your nose pitch, make sure it is one notch past the point of a screw. To remove the nose pitch, you need to undo the Phillips screws holding it in place with the motor's head.
Q: Do the combos come with two battery packs?
Ans: The combos usually have two batteries included, one for each tool. It is a necessary addition, as buying a combo is worthless. However, most of them will include only one charger. So, investing in a second one will be a good idea.
Q: How do I control my speed settings?
Ans: Most of the screw-guns mentioned above have a variable pressure-sensitive trigger, which allows you to control power. They come with either a two or three setting speed controller.
Final statements
I hope you've managed to "nail down" the perfect drywall screw gun for your needs. Whether you're a pro or a home DIY enthusiast, there's a perfect tool out there for your needs.
As I said before, I absolutely love the features of the Milwaukee Drywall Screw Gun, and would highly recommend it for newbies or those in the trade. The price, power, speed, and design are unmatched.
But if you're looking for a second option, the DEWALT Drywall Screw gun would be my next go-to choice. The cordless, easy-to-use tool is definitely suited to the amateur user.
Looking to make space in your shed? Read How to Organize a Garage on a Tight Budget
I'm Joost Nusselder, the founder of Tools Doctor, content marketer, and dad. I love trying out new equipment, and together with my team I've been creating in-depth blog articles since 2016 to help loyal readers with tools & crafting tips.