I love creating free content full of tips for my readers, you. I don't accept paid sponsorships, my opinion is my own, but if you find my recommendations helpful and you end up buying something you like through one of my links, I could earn a commission at no extra cost to you.
Learn more
Ball-peen hammers are one of the basic tools needed in any toolbox. Every craftsman needs a hammer, whether it is used for a professional job, a garage or to keep and work at home.
These types of hammers are the ideal tool to work on metals. This robust tool, with wooden, fiber or carbon handles and having round head is used to rivet metal.
These hammers have evolved very little. Like the wheel, this tool design is perfect enough. The difference that makes them unique from other hammers is the rounded side.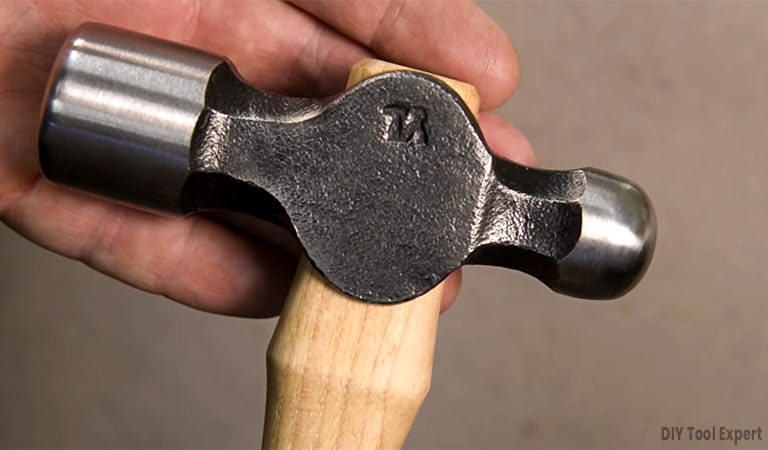 Choosing the best ball peen hammer is something like selecting a tool that's designed to work best for the projects you typically work on.
Here is a complete comparison guide to choose the best ball-peen hammer models for your working purposes.
Ball Peen Hammer buying guide
Some aspects you should consider before buying a ball-peen hammer. It will help to make it easy to purchase the right one if you know what you are buying.
None wants to regret their acquisition after a few times use. It's normal to face significances and difficulties of choosing the best ball peen hammers as there are many options. However, to be assured that you get the best ball peen hammer, it is important to consider some basic things.
Considering these things you can choose one by analyzing your demand.
Price
Remember that hammers are economic tools. Mostly a hammer doesn't exceed 60 dollars. Bearing this in mind, make a budget and don't overspend.
For professional work, choose top-of-the-range models or models from well-known brands, even if they are more expensive.
Materials
Ball-peen hammers are generally made of metal and the heads are made of forged steel. This forged steel has heat treatments that make it stronger and lighter. These heads are better for making work easier and last longer without deforming.
The handles are mostly made of wood. For ball-peen hammers, beechwood is used as its fibers absorb shocks and vibrations.
Glass fibers are also commonly used as it makes the hammer stronger and lighter than wood. Grips and handles are often coated with non-slip rubbers to improve grip and reduce slipping .possibilities.
Brand
You can buy a hammer from a recognized brand or one without a brand. Most often the quality and resistance of the tool are directly linked to the brand as well as the price. Choose a ball-peen hammer from a reliable brand whenever possible.
Renowned brands offer high quality, professionally tested tools and use the best materials, working with sizes and weights adjusted to the tasks. The cheapest hammers are usually made of weaker materials. So they break more easily and cause accidents.
Heads
The most important part of a ball-peen hammer is the head. The head withstands the blows and does all the work.
For this, you need durable materials. Look for forged and heat-treated steel hammers in order to ensure they won't be deformed or broken by long term use.
Weight
Weight is also an important factor in choosing the best ball peen hammer for you. Hammers require a lot of strength and arm movement can be annoying sometimes.
The hammer can also cause muscle damage to the shoulders and wrists if it is heavy. So it is important to look at the weight, especially if you have any type of injury.
Personal use
Depending on how you plan to use the hammer, you will have to choose one type or another. A claw hammer is not the same as a mallet. If you plan to work with wood, ball-peen hammers are not your best option. However, if you have a garage or want to straighten a plate, these are the best hammers.
Think carefully about how you will use it. Ball-peen hammers are widely used in forging, as the ball is used to straighten and shape. Although the flat part is also used for nailing, this type of hammer has other uses. Ball-peen hammers are ideal for locksmith's work and very popular in garages.
Best Ball Peen Hammers Reviewed
1. Tekton 30403 jacketed Fiberglass Ball Pein Hammer
The Tekton 30403 is intuitively designed to help the user to pound on nails and pull out a broad range of materials quickly, accurately and effectively.
Being a high-end choice, the hammer pulls no punches to remove the time and effort away accomplishing various woodworking or construction works, both around the house and in the worksite.
The sturdy and durable head pairs nicely with its ergonomic design, making it one of the best ball peen hammers on the market. The innovative design helps to strike hard, accurately, effortlessly and comfortably.
This tool comes with a heavy-duty and rugged rounded ball end perfect for shaping a plethora of sheet metals to the right contour. The smoothness of this ball end guarantees excellent results which make it hugely appealing to contractors in need of reliability and sturdiness.
The handle is made of made from high-quality fiberglass and is fastened to the head of the hammer to prevent looseness after frequent and heavy use. This design dampens the resultant vibrations with each strike and prevents wrist pain, strain, and exhaustion.
The lightweight construction and slip-resistant rubber grip make it the best choice. The head made from hardened steel weighs 16 ounces. The handle is 12.75 inches long to give sufficient leverage for striking hard at nails.
Pros
1. This tool is within budget.
2. Sturdy, rugged and long-lasting structure.
3. Simple to use
4. Versatile workability.
Cons
1. This tool has no rip claw.
2. Pittsburgh Stubby Ball Peen Hammer
The Pittsburgh Stubby ball-peen hammer is one of the best hammers for craftsmen. It helps to pound and smash away at things with remarkable speed, accuracy, and efficiency.
This tool sports a strong and sturdy head made from heat-treated drop-forged steel. The high-impact fiberglass soft cushion handle is little short to smash or hit nails and other things in confined space without hassle.
Driving nails into tough and abrasive materials don't require much effort and time with this hammer. That's because of its sturdy and durable construction. You can use it for splitting, breaking or cracking all day but it will last for a lifetime.
This tool weighs one pound and is a 6-1/2 inch long. It's ideal for garages, workshops or construction sites with tight spaces and to make work easier. The non-slip rubber contoured soft cushion grip handle gives much comfort.
This unique design lessens hand fatigue and strain and can be used for several hours. If you want a high-performance, versatile and easy to use options, consider this Pittsburgh Stubby ball-peen hammer.
Pros
1. It's comfortable to use.
2. Have lightweight and also compact for tight space.
3. Excellent and versatile performance.
Cons
1. It is not ideal for heavy-duty works.
3. SE 8325CH Chasing Hammer
This Chasing Hammer is one of the best ball peen hammers. It is a lightweight tool for a superb addition to your toolset. This hammer comes with two different faces making it a resourceful tool for completing various metalworking tasks.
This chasing hammer features a smooth face, a rounded face and flat sides on the handle. This structure makes this the perfect hammer for anyone working with multiple surfaces.
The smooth face is for flattening or forging metal, the rounded face for peening and riveting and the flat sides on the handle are for an ergonomic grip. It is an essential tool for artisans, jewelers, machinists, metalsmiths, etc.
The head is 2-1/2″ long having a diameter of 1″. It helps to pound or smash metal sheets or other things easily. There is a smooth flat face on one side and a rounded face on the other side. Each sides have different uses.
This hammer has a wooden handle with nice gripping facilities. This hammer is a good choice for your woodworking projects and also for metal works.
Pros
1. Good for metal sheet forming and also for woodworks as like a masonry hammer.
2. Versatile working ability.
Cons
1. Wooden handles don't give proper grip. So there's a chance for slipping while working.
4. ABN Ball Pein Hammer
This ABN ball pein hammer is one of the best ball peen hammers. It effortlessly shapes and strikes metals. You can use the ABN Ball Pein Hammer 5-pc set to easily work on any hammering application with simplicity and comfort.
This hammer is used for various applications like peening rivets, striking chisels and punches and shaping unhardened metals. Smaller hammers weighing 8-16 ounce are used for lighter-duty metals and larger hammers weighing 24 and 32 ounces are for heavy-duty metals.
The textured, molded fiberglass and rubber cushion grips are oil-resistant and reduce vibration and shock transfer. The oversized mechanic-style shaft is for sure grip. The handle size varies for hammer weights. The handle lengths are perfect for grip and also for working with these.
This hammer is constructed from 45# forged carbon steel with a mirrored polish for maximum strength and longevity that resists rust and corrosion. You can use this for a long without any deformation.
This one is a worthy one to use for your work.
Pros
1. The forged carbon steel structure is durable and sturdy.
2. Fiberglass and rubber cushion grin is slip-resistant.
3. Different sizes make it versatile for work.
Cons
1. Both ends are not sturdy enough.
5. Neiko 02870A Soft Grip Handles Fiberglass Hammer Ball Peen Set
The Neiko 02870A ball peen hammer is another good one. This ball peen set is made from sturdy material for long term use.
This tool is strong enough to pound nails. The lightweight fiberglass core handle provides great vibration absorptions when striking the hammer on nails and other things.
The ball pein round head allows you to quickly shape metal to however shape you want it.
The soft grip ergonomic handles provide a firm, non-slip grip. It helps you grip the hammer comfortably and also lessens slipping possibilities.
Mirror polished hammerhead is easy to keep clean and brightly colored handle makes it easy to identify in your toolbox
This set includes 8, 12, 16, 24, 32 oz hammers that coke in a heavy-duty canvas bag for easy storage. This makes it versatile in working purposes.
It is a good choice for crafts work.
Pros
1. Strong enough and also lightweight for easy use.
2. Polished head helps to smash metal sheet.
3. Ergonomic makes gripping comfortable and bright color helps to identify it easily.
Cons
1. The handles aren't sturdy enough.
FAQ
Here are some frequently asked questions and their answers.
Why do bikers carry ball peen hammers?
The ball peen hammer being carried by bikers has been synonymous with Hell's Angels for a very long time, because it used to be an unassuming and very affective weapon for them to use for self protection in a fight. Most people in the biker community still associate the ball peen hammer with HA.
What is the difference between a claw hammer and a ball peen hammer?
Claw hammers are built to drive nails and the hardness of their steel is designed accordingly. … Ball peen hammers are designed to strike hardened tools such as cold chisels. There are hammers that are shaped to strike into corners, drive upholstery tacks, fold metal—you name it.
What type of hammer should I buy?
For general DIY and remodeling use, the best hammers are steel or fiberglass. Wood handles break, and the grip is more slippery. They're fine for the shop or trim work but less useful on a general-purpose hammer. Other things being equal, fiberglass handles are lighter; steel handles are more durable.
How heavy is a ball peen hammer?
Common head weights for ball peen hammers are four, eight, 12, and up to 32 ounces. When driving a cold chisel or punch, a ball peen hammer with enough weight to drive the tool is required.
What is the most expensive hammer?
While looking for a set of wrenches I stumbled upon what has to be the world's most expensive hammer, $230 at Fleet Farm, a Stiletto TB15SS 15 oz. TiBone TBII-15 Smooth/Straight Framing Hammer with Replaceable Steel Face.
Why is it bad to hit two hammers together?
Hammers are intended to hit something softer than the hammer. Metals do have some degree of brittleness, and there's a risk that if you hit two of them together bits of metal can break off and fly around – you could blind yourself, or whatever. Most hammers are made of hardened and tempered steel.
What is a heavier hammer designed to drive a large amount of power?
A sledgehammer is a tool with a large, flat, often metal head, attached to a long handle. The long handle combined with a heavy head allows the sledgehammer to gather momentum during a swing and apply a large force compared to hammers designed to drive nails.
What do bikers call their girlfriends?
Old Lady
Old Lady. This is a term of endearment for a biker's girlfriend or wife. If a biker refers to his lady as such, you'll know to keep your paws off.
What does a 3% patch mean?
This is also known as the 3 per cent patch. This patch basically indicates that the owner of this patch is still awaiting the approval from the motorcycle club of choice in order to become a distinguished member of the club. Once they become the member of the club, they are fully allowed to wear the three-piece patch.
Is it illegal to carry a ball peen hammer?
Thanks. It's a legal-to-carry deadly weapon. Yep, a BFH is a bona fide automotive tool. Obviously NOT a weapon, and therefore legal to have and carry.
Which hammer is the most versatile?
common hammer
Unsurprisingly the most common hammer is the most versatile, though it's primarily for driving nails and light demolition. A small flat head puts all the force of the swing into a small area making it best for driving nails. Opposite the head is a split claw that give it its name.
What size ball peen hammer do I need?
The smaller 8 ounce models are ideal for light use such as upholstery or fabrication and the larger 24 or even 32 ounce hammers are best for heavy use and serious metal work.
Q. How to take the best care of the hammer?
Ans. Make a point n the wall for storing. Before storing ensure it's clean and defect-free. Always use glove while using.
Q. Any recommended ideal weight for ball peen hammer?
Ans. No, just match the weight to the nature of the project you intend to undertake. Medium weight is perfect for overall application and a heavier one for heavy-duty work.
Conclusion
Ball-peen hammer is a basic tool in any workshop and locksmith's shop. They offer great features to make all kinds of rivets and shape metals.
They can also be used for nailing and even for breaking and demolishing, they are ideal for working with metal. It's not easy to buy the best ball peen hammer as there are many options.
Consider certain criteria to buy a ball-peen hammer described in the buying guide. Materials, heads, weight or brand are key features, but so are safety and the use you will make of it. Take all factors into account before choosing one for your work.
I'm Joost Nusselder, the founder of Tools Doctor, content marketer, and dad. I love trying out new equipment, and together with my team I've been creating in-depth blog articles since 2016 to help loyal readers with tools & crafting tips.