I love creating free content full of tips for my readers, you. I don't accept paid sponsorships, my opinion is my own, but if you find my recommendations helpful and you end up buying something you like through one of my links, I could earn a commission at no extra cost to you.
Learn more
Woodworking activities like gardening, camping or making furniture on your own involve cutting green branches or woods of trees and shrubs. If you are interested in those activities, then you just need a tool called Bow saw. There are many categories of bow saw product are available in the market. Here is an overview of the five best bow saws available on the market.
Bow saws are a highly practical cutting tool and incredibly versatile. Many users often prefer a bow saw over a chainsaw for sawing projects, finding it more convenient, more effective and faster. Bow saws are an essential tool for them who wishes to keep their trees and shrubbery to a standard growth and willing to have straight or curved cuts on woods for versatile uses.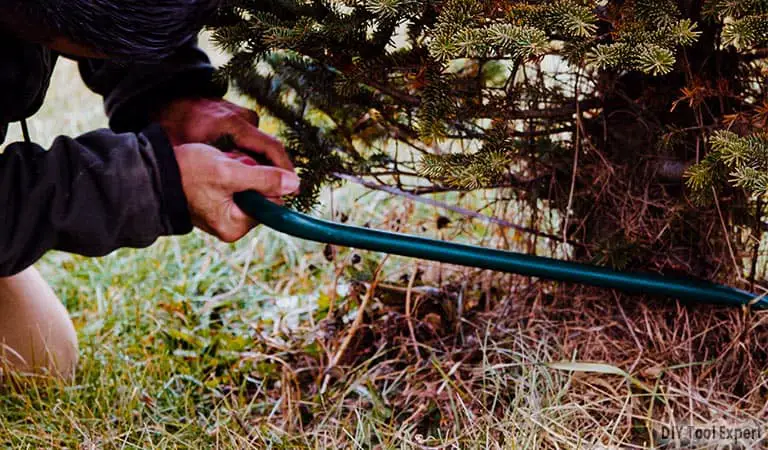 Bow Saw buying guide
Length of Bow Saw
Small bow saws are usually used to cut small tree branches or shrubs and larger bow saws can be used to fell a tree for example. But small bow saws are more portable and essentially cheaper. It is up to you why you are buying it.
The Shape of the Frame
You will notice there are bow saws in different shapes. Like example, oval tube shape which helps absorb the stress applied during the cutting process. Pointed nose-shaped frames are perfect for working in smaller spaces and jobs that require more precision. There are also foldable bow saws, compact bow etc.
Tensioner Adjuster
The blade tensioner attaches the blade to the frame of the bow saw and also does the job of releasing the blade so that you can replace it. The blade can become loose by using over time and will require blade tensioning. Before buying a saw, look whether your unit has an adequate blade tensioning mechanism.
Protective Sheath
It will be wise to choose a model that comes with a protective cover. Since the blades of a bow saw are very sharp and can easily cause injury, a protective sheath gives safety and it is also easier to carry around.
Handle and Hand Guard
If you are planning to use this tool for long hours, you will need an ergonomic and comfortable grip to the bow saw and a well-designed handle can give this to you. A handguard will also protect your hand from the material during intense forward and backward motion when working.
Blades
Know which type of blade you are going to be used. If you are sawing dry and hardwood, then peg a tooth blade is a good option and raker tooth blade is for cutting through wet wood. Again, choose the bow saw which usually comes with extra blades.
Best Bow Saws reviewed
1. Bahco Ergo Bow Saw for Dry Wood and Lumber
The Bahco Ergo Bow Saw is a famous model that comes in 3 sizes which are ideal for commercial projects, cutting and trimming tasks that are managed within the home and for camping events.  It features a 23-tooth blade that is designed solely for cutting green wood but can also be used for cutting dry wood and lumber as well as it is used in the required manner.
The construction quality of this bow saw is high, lightweight, and durable steel tubing which is very excellent. With the controlled knuckle protector and comfortable grip, it is easy to hold for long periods of time without unnecessary discomfort. This ensures that this bow saw can be used under heavy-duty purposes and will not bend under load.
The design of the oval tube frame gives the most efficient cut possible with minimum effort. It can be possible by adjusting the full force of the hand forward motion onto the teeth of the blade. The factory blade is sharpened initially to give you a faster, smoother cut. This bow saw is highly durable and will last a long time.
There is even an engineered blade tensioning mechanism which is easy to adjust by newbies and it provides an efficient cut, regardless of whether you choose the lumber model or dry wood one. It also helps you to keep the blade tight and reduce bowing and binding as you cut.
The one problem on this model is that it comes with a subpar blade cover which seems more like an afterthought and is made of lightweight plastic and that's hard to easily and safely put on the blade for storage. Again, this bow saw is too big to work in tight spots. However, that's a relatively small issue, and it still works well enough, and an excellent tool with or without the blade guard.
2. Truper 30255 Steel Handle Bow Saw
The Truper 30255 21-Inch Steel Handle Bow Saw is designed using the latest engineering technology available specifically for cutting greenwood. This model is solidly built from a durable metal alloy which manages to be strong without being super heavy and it is an affordable one comparing to others.
The Truper 30255 is a very handy bow saw that is well suited to professionals and hobbyists alike. For the bright orange color, it is easy to find the bow saw wherever you keep it. The blade comes with the bow saw has a nice design to its teeth and is sturdy enough to last through many sessions of heavy-duty cutting.
The most important feature is the cam-and-lever tensioning system which allows you to keep the blade tight and never allow the blade to drop in tension. It enables to perform straighter, faster cuts without problems. No additional adjustment of the tension is needed for this bow saw.
Overall the Truper 30255 21-Inch Steel Handle Bow Saw is extremely lightweight, featuring a comfortable handle and effective knuckle protector. The handle provides you to cut in comfort and the tensioned blade cuts easily through the largest logs and branches.
Something important to note is that this model comes with a blade for cutting green wood only. You can't use it for cutting dry woods and also can't order a replacement blade that would work with dry wood. If you're going to be working with green wood only, then you can buy it.
Many customers have complained that the rivets of the bow saw break easily due to lack of quality. Since they are easily replaced, it is an inconvenience for many users. Again, the Truper 30255 is a shorter saw and can make larger projects a bit more difficult and time-consuming.
3. Bahco 332-21-51 21-Inch Pointed Nose Bow Saw
In the earlier triangular category, this bow saw is both one of the most popular and quality ones on the market. Bahco 332-21-51 21-Inch Pointed Nose Bow Saw is made of high-quality steel and that's why it won't bend or bow even when heavy pressure is applied during usage.
For the build construction with the steel tube frame, it is both durable and lightweight. This particular model has an additional handguard to work with comfort without damaging your hand during the job. The blade on the bow saw cuts through dry wood very easily and you will be able to cut straight through with no problems.
As for the blade tensioning system, one of the most popular features of this saw is the dual tension control. It is very easy to adjust the tensioning, as well as release the blade from the bow saw. Adjustments can be made using two blade stops and a wing nut allows precise tightening which makes sawing simpler.
This pointed-nose bow saw is more suitable for pruning and roofing work. You will get a blade cover for safer handling between tasks. You can swap out the dry wood blade for one meant for greenwood, and it cuts through a wet branch with ease.
Furthermore, this model requires a little bit more force to cut, due to its low profile form factor and its small size. The 332-21-51 is preferred for small to medium jobs, where it is said to cut fast and smooth. Few customers have reported trouble with the blade securely setting but you can replace the blade to solve this situation.
4. Filzer Buckster Bow Saw BBS-1
Filzer Buckster Bow Saw BBS-1 is the right choice if you are looking for a traditional style, fold-down bow saw. This bow saw has some great features you will want to check out. Its frame is made of aluminum which makes it lightweight and easy to carry on the road. this bow saw can be easily folded down into a cylindrical tube when not in use.
It is shaped exactly as a traditional-style wooden bow saw but upgraded to a more modern form. this Filzer bow saw is built with a stainless steel tensioning system which helps you to cut a log that is up to 13 inches in diameter.
Filzer has been added additional cushioned rubber handles to both sides of the saw which makes long tasks more comfortable. It also provides a solid grip for your hands for more safety. However, this saw is very strong, and it can saw through logs quickly and cleanly.
This bow saw comes with a proprietary blade that you can't get replacements for from a third party and, the manufacturer's replacements are expensive. This ultimately keeps this model out of first place but if you can get replacement blades at lower prices, this model would easily shoot the top of the list.
While the aluminum frame is strong, it won't be as strong as an all-steel bow saw. The folding mechanism side could potentially come apart during usage. You may find this bow little smaller than usual and for this, it can take some time to finish these tasks.
5. Agawa Canyon BOREAL21 21-Inch Folding Bow Saw
Agawa Canyon BOREAL21 21-Inch Folding Bow Saw is a great collapsible tool in your backpack if you're a backpacker or like to go out into the woods, camping, backpacking, canoeing, off-trail, hunting, trail clearing or around the home. This saw can be considered the best on the market because it cuts well and the design means no wing nuts to worry about.
This versatile folding saw features automatic tension which makes it possible to open without touching the blade and the tension helps you keep cuts straight and smooth. You will find the process of changing blades is quite easy and simple. And the great part is because of the auto-tension, this saw can be opened and locked in place quickly and effortlessly.
This saw's 3 hinged trapezium-shaped frames is made of a high clearance aluminum and makes difficult cuts possible. With its anodized aluminum body, it comes with a standard dry wood peg blade, a heavy-duty peg and raker blade, and the sheath. That protective heavy-duty sheath keeps the saw from opening when you don't want it to and also includes a shoulder strap if you don't have pack room to spare, so you don't have to leave it behind.
Besides its high clearance aluminum frame and a glass-filled nylon handle, it features stainless steel hardware which makes this compact lightweight and strong enough. You can fit an extra blade inside the saw when it's not in use and replacement blades are also available. The blade's length is perfectly sized for strong sawing strokes, and yet short enough for packability.
Sometimes the folding mechanism part may be found ineffective because of over-usage. If you're on the go and traveling, this tripper kit is one of the best choices. But for those who are not travelers, may find other options in the market better than this saw.
What is a Bow Saw?
Bow Saw is a bow-shaped frame with a long straight blade which is designed for usually cutting green or dry wood such as tree branches and shrubs, firewood or sawing logs to size. Bow saws tend to be reasonably lightweight because they are made of hollow metal frame which thereby makes them easy to grip and carry.
Bow saw features a closed pistol grip handle with larger or longer blades which are designed for faster more aggressive cutting unlike a fret saw that's meant for more precise cuts.
The design of a bow saw features a peg tooth blade, which is designed for cutting through dry wood, and a raker tooth blade which is designed to cut wet woods or green woods. Due to its structure, the bow saw is perfect for cutting and curving through tree branches with great speed and efficiency.
How to Replace a Bow Saw Blade   
A bow saw has a removable blade installed in a metal frame. The blade is locked in place by two metal pins at either end of the frame which secure onto two corresponding holes on either end of the bow saw's blade.
Step 1 – First, you have to locate the wingnut. The wingnut controls the movement of a metal bar underneath the handle and holds one end of the blade. Then, rotate the wingnut anti-clockwise direction so that the blade is no longer stretched in the frame.
Step 2 – After enough tension is released, unhook the blade from the pins and remove the blade. First, unhook the side closest to the handle and then another side.
Step 3 – First, hook the furthest side from the handle, then turn on the closest side. Ensure the wing nut is loosened before hooking the replaced blade back onto the pins.
Step 4 – When the replaced blade is in place, rotate the wingnut in a clockwise direction.
How to Use a Bow Saw Safely?
Bow saws are very easy to use the tool but if mishandled, it can cause an injury. Here are some tips for you to keep safe when working with bow saws.
Don't hold the bow saw near to the blade. Always keep your hands away from the blade when cutting and hold your material by passing your hand inside the frame. Bypassing your hand inside the frame ensures that your hands are in contact with only the upper flat area of the blade.
You need to have an idea where your material will drop. Stand in a safe position. After a cut, it will be hot and can cause burns. Don't immediately touch the blade. Always keep the bow in its protective case if it has one.
When changing blades, know the process fully and then do it carefully, otherwise, it can be dangerous. You can also use protective gloves to avoid cutting hand.
What Will the Bow Saw Be Used For?
The application of bow saws is too many to describe.
Bow saws are used for cutting a variety of woods like tree branches, shrubs, sawing logs to size, among others.
These saws are also used for trimming dead branches, cutting firewood, cutting your family's Christmas tree or doing most light trimming and branch cutting jobs you need to do.
Folding bow saws are perfect for camping, backpacking, canoeing, off-trail, hunting, trail clearing or around the home.
Besides cutting woods, bow saws are also the easiest way to prune small to medium-sized branches on shrubs or trees.
If you have a woody garden at all, these are extremely useful tools in the woodshed.
Understanding Best Bow Saw Blades Quality
Bow saw blades are one of the most important features. Usually, there are 2 major types of blades in a bow saw:
•    Peg Tooth Blades – This type of bow saw blade is ideal to cut through both dry and hardwood without any hassle. The blade has an arrangement in a set of 3 triangular teeth set with pointy ends and the inclusion of a bigger gap amidst each group.
•    Raker Tooth Blades – This type of blade is designed to cut wet woods or green woods. It has a group of the set of 4 triangular teeth immediately followed by a "raker" tooth. The raker tooth prevents clippings from clogging the blade teeth, providing a more efficient cut when cutting through wet or greenwood.
The cuts of woods and the finishing are fully dependent on the quality of the blades. The best quality blades show their superior work in equally for the gasping and fresh woods.
Before buying the blades, you should ensure the quality of the blade before purchasing one and check whether it comes with any protective cover sheet or not.
The Best Bow Saw Blade Review
Bahco 51-21 Bow Saw Blade, 21-Inch, Dry Wood
Bahco 51-21 Bow Saw Blade is peg type tooth blade and the body is enamel protected that gives protection from rust and corrosion. This blade is designed to cut through dry wood and lumber. It can also cut green wood but not so much as like as a greenwood saw blade.
The fine blade is made of high-quality steel which makes it long-lasting. The peg-shaped tooth saws cut dry wood easily and reduce stress on hands. This saw blade marks wild and clean grazes along and across the grain. It comes packed in an individual sleeve.
It will easily fit in any Bahco 21" Bowsaw and also some other 21" which has screw systems in function. The blade is comparatively thinner than regular blades and it is supposed to need more teeth to cut dry woods for a neat finishing.
Frequently Asked Questions
Here are some Frequently Asked Questions and their answers with an explanation about Bow Saws for your query.
Which Saw Blade Makes the Smoothest Cut?
Most blades that are made from carbide or stainless steel can make smooth cut.
Can a Bow Saw Cut Down a Tree?
Don't forget the standard bow saw. It's an inexpensive tool that gets the job done and can take down a tree up to six inches in diameter in no time. You'll find plenty of uses for it when gardening season comes around.
What Is the Main Benefit of a Bow Saw Over a Coping Saw?
With the bow saw that I built, I can put more tension on the blade than my old Stanley coping saw. It makes cuts in thicker wood easier and more accurate.
How Tight Should a Bow Saw Blade Be?
As a general rule, you should tighten the blade enough so that it does not move about on the pins, but can still flex very slightly in the middle.
What Is the Best Saw for Cutting Logs?
bow saw
A bow saw is a much smaller type of saw for single person use, ideal for cutting logs for a wood stove or open fireplace. Typically 2 to 3 feet long, it has a "C" shaped frame fitted with a blade lined with rough teeth, suitable for cutting rapidly through logs, typically 5 inches or more.
Is More Teeth on a Saw Blade Better?
The number of teeth on the blade helps determine the speed, type and finish of the cut. Blades with fewer teeth cut faster, but those with more teeth create a finer finish. Gullets between the teeth remove chips from the work pieces.
How Do I Choose a Saw Blade?
Here's a quick reference guide to help you select the right table saw blade for most jobs:
For ripping solid wood: Use a 24-tooth to 30-tooth blade. …
For cross-cutting wood or sawing plywood: Use a 40-tooth to 80-tooth blade. …
For joinery work: Use a 40-tooth to 50-tooth all-purpose combination blade.
Are Diablo Blades Worth It?
The consensus is that Diablo saw blades balance great quality with excellent value, and are a good choice when replacing or upgrading the OEM blades that are often bundled with new saws. … These blades were used and tested with a Dewalt DW745 table saw, and a Makita LS1016L sliding compound miter saw.
How Do You Cut a Small Tree With a Bow Saw?
Q: What is a Bow Saw used for?
Ans: A bow saw has a wide variety of uses. But basically, it is used for cutting woods like tree branches, shrubs, sawing logs to size, among others, trimming dead branches, cutting firewood, pruning branches on shrubs or trees.
Q: What is the difference between foldable Bow Saw and Folding Saw?
Ans: When bow saws feature a foldable frame, they have a very different function than regular folding saws. A folding saw is used on smaller branches and generally flips open with little effort. But foldable bow saw is designed to tackle larger branches.
Q: How often do you need to replace blades?
Ans: It depends on your usage the saw, how often you sharpen the blades and run into problem cuts. Properly maintained and sharpened blades can last a very long time.
Q: Do all the bow saws come with two blades?
Ans: Not all the bow saws come with two blades. Sometimes they come with only one blade but you have the option of purchasing an alternative blade from the stores that you could use to replace depleted blades
Conclusion
This article reviews about 5 best bow saw's features and benefits, where does it fit best, pros and cons so that you can pick a model to your liking. If you are looking for a versatile bow saw for any range of cutting application,  then Bahco Ergo Bow is a good option for you. You can choose the Truper 30255 if you are looking for a very cheap and yet efficient bow saw.
Bahco 332-21-51 comes in a fixed size so it is recommended only for casual woodcutting in tight areas rather than heavy-duty applications. If you want a traditional-style saw but upgraded to the modern form which is very easy to carry, then there is nothing better than Filter Buckster BB-1.
Agawa Canyon BOREAL21 is not only a folding bow saw, but it is also very easy to carry, traditionally designed and do a great job. It is highly recommended if you are a traveler or go camping.
I'm Joost Nusselder, the founder of Tools Doctor, content marketer, and dad. I love trying out new equipment, and together with my team I've been creating in-depth blog articles since 2016 to help loyal readers with tools & crafting tips.