I love creating free content full of tips for my readers, you. I don't accept paid sponsorships, my opinion is my own, but if you find my recommendations helpful and you end up buying something you like through one of my links, I could earn a commission at no extra cost to you.
Learn more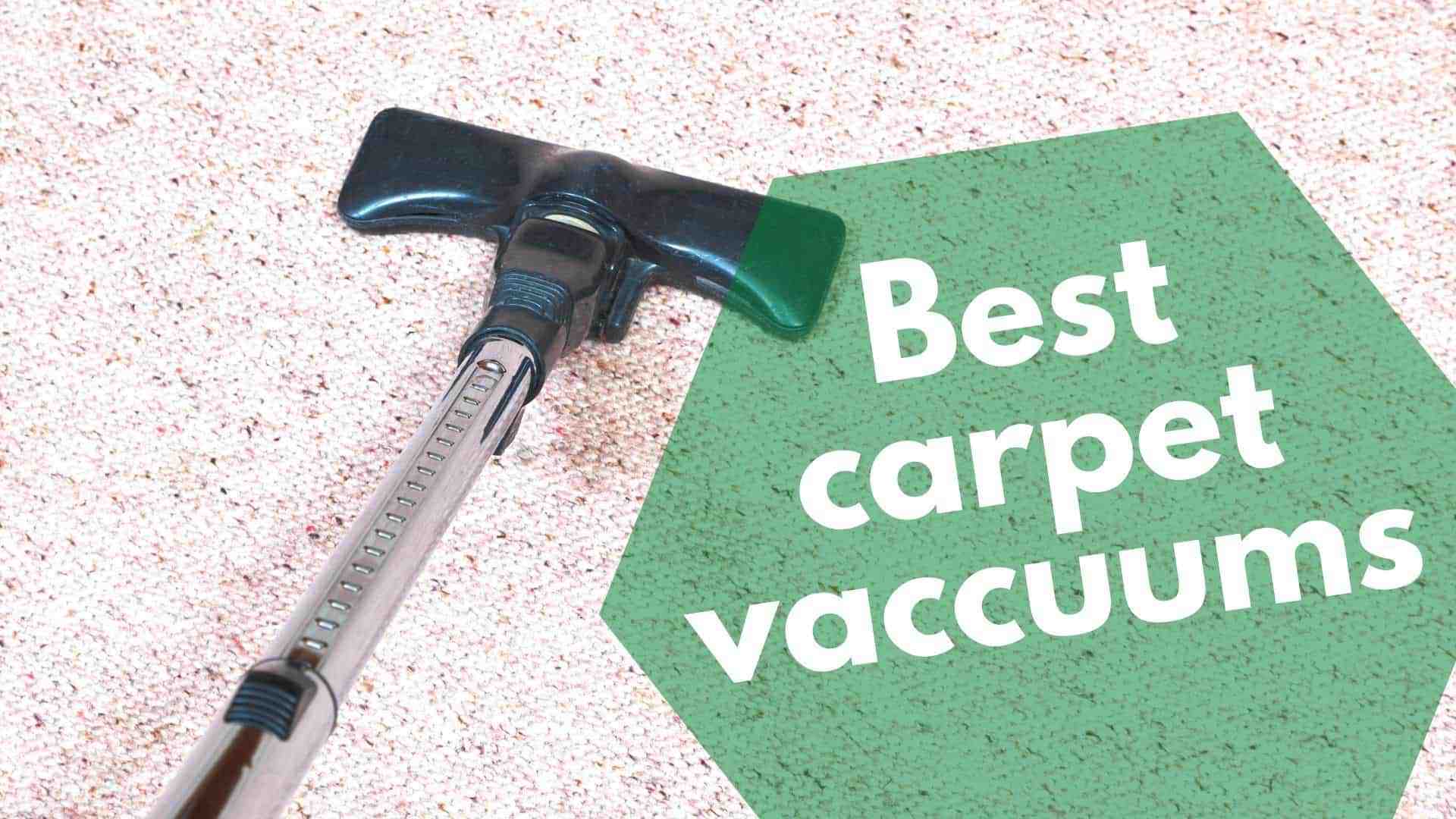 What is the best carpet vacuum? If you want that deep cleaning that only vacuuming along with shampooing can get you,
this Hoover Power Scrub
is the one you should get. Ideal if you have pets or children who often make messes on your carpets or upholstery. Of course, there are many more good vacuums out there, and we've reviewed a few of the best here:
What is a carpet vacuum?
A carpet vacuum is a type of suction device that picks up dirt from carpets. It is different than a regular vacuum. Both devices get rid of debris, hair, dirt, and dust using suction. However, the carpet cleaner uses water and a cleaning solution to remove dirt straight from the carpet. It can reach deep into the carpet fibers and removes and cleans dirt at the same it.
Buyer's Guide: What to look for when buying a carpet cleaner
Before you jump in and make that purchase, it's best to take note of what to look for in a good carpet cleaner. High price does not always equal high quality, so take these factors into consideration first.
Weight
Your average carpet cleaner is much heavier than a regular vacuum. Even the empty carpet cleaner is heavier, but consider that it gets even harder to lift when it's filled with liquid. Choose a carpet cleaner that you can lift and move around easily. A full Bissell for example weighs about 58 pounds! That's a lot of weight, so if you are petite or can't lift, choose a smaller model.
Cleaning Solution
Most brands recommend you only use cleaning solutions from their range of products. These are expensive if you consider that there are generic or store brand solutions for a fraction of a price. Check to see if your carpet cleaner is fit for use with other types of solutions.
There are all kinds of solutions for different issues such as deep stains, pet odors, and bad smells. Choose the type of solution you need and skip the rest.
Hose Length
Some people overlook the length of the hose. The last thing you want to do is keep having to find another power outlet as you're cleaning. Look for a model with a long hose.
Accessories
Look out for the number of water tanks the carpet cleaner has. Most cleaners have one tank for liquids, so you can either use water or a cleaning solution. But some models have two, so you can use both simultaneously. The more advanced models premix solution for you so you always use the right amount of cleaner.
Next, make sure the tank has a carrier handle, it makes life easier because you don't need to carry the heavy tank in your arms.
Noise Level
The average dry vacuum cleaner is quite noisy. It makes about 70 decibels of noise. Now, the carpet cleaner is even louder, and makes about 80 decibels, depending on the size and model. When you clean for a longer period, it can really cause hearing damage. So, we recommend you buy and use noise cancelling headphones.
Best carpet vacuums reviewed
While it seems there is a huge variety of carpet cleaners on the market, we've narrowed it down to a selection of the best, so that you can choose the cleaner suited to your needs.
Best carpet vacuum and shampooer: Hoover Power Scrub Deluxe FH50150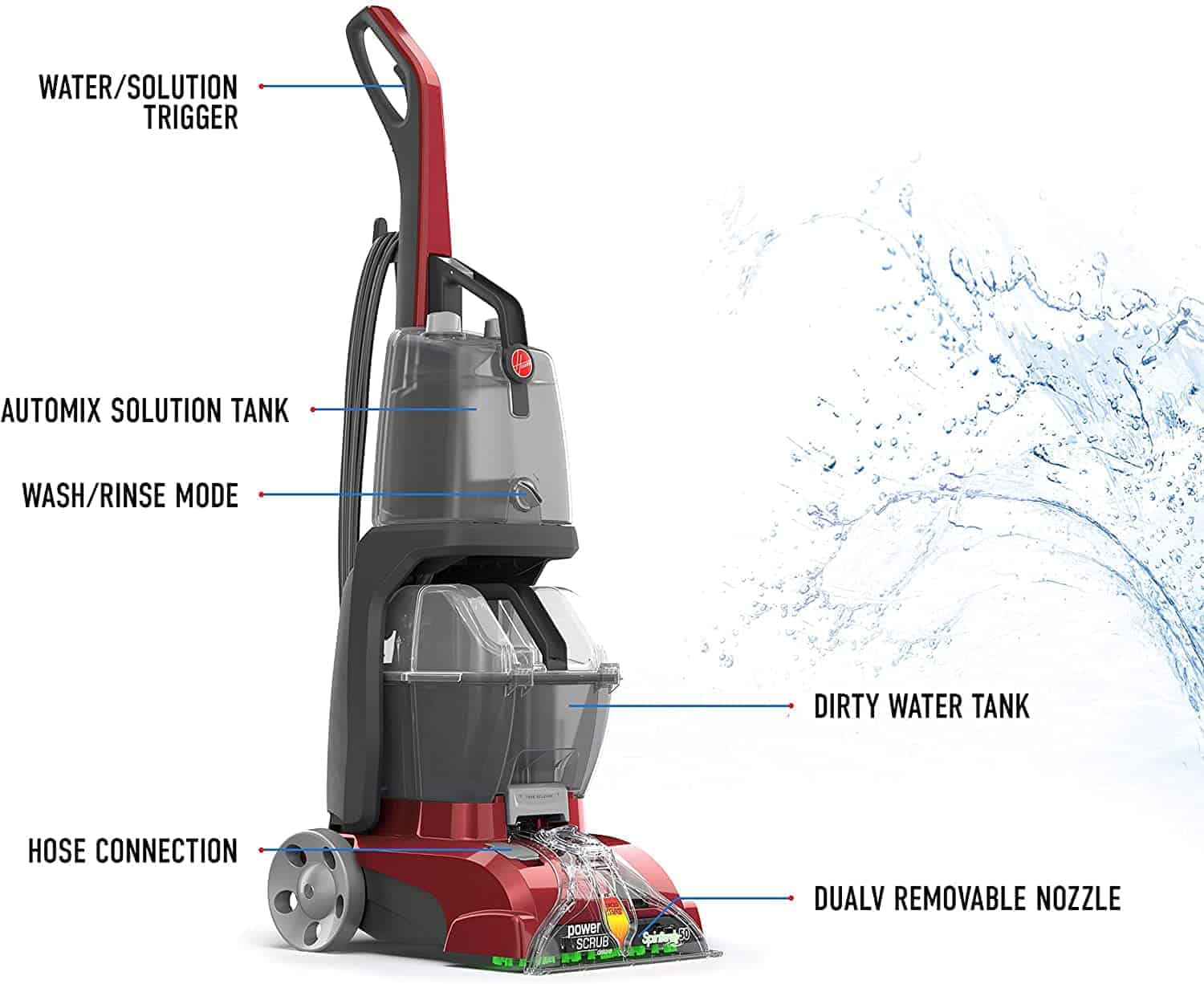 Known for its ease of use and versatility, the Hoover carpet shampooer has been a huge success in the market – and for good reason. Well-affordable and easy to work with for most general cleaning needs, it's a fine choice for those looking for power and strength. It's a fine choice for anyone looking to invest in a good quality of carpet cleaner, but is it worth the investment?
FEATURES
8ft hose and upholstery tool provided for super-simple cleaning.
360-degree cleaning all carpet fibers, using a counter-rotating brush spin for efficiency.
DualV nozzle ensures that you have strong and effective suction time and time again.
Wash and Rinse selector ensures that you can easily wash the carpet then get rid of residue with the same cleaning tool.
Smart tank ensures that you can fill up your solution without mess, time wasted or tools.
SUPPORT & WARRANTY
With this tool, you'll get a full two-year warranty from the day that you buy it. This covers parts and labor to correct defects. However, it does not cover commercial use, improper maintenance, misuse, vandalism, or the classic "Acts of God". If you need any kind of help with the hardware, then you can contact Hoover for support at +1 (800) 944-9200.
PROS
Very easy to use, with plenty of handles for simple gripping.
Easy to work with in terms of getting into carpet fibers for thorough cleaning and shampooing
Lightweight at just 18 pounds, ensuring you can move it up and down stairs easily.
Takes high-quality cleaning products and also ensures fast cleaning-up afterward.
Safe and easy to use with flexibility and general maneuverability.
CONS
Suffers from the oft-reported turbine mechanism faults and may need repairing.
Expensive cleaning products are needed, making it costly to use.
VERDICT
In general, it would be harsh to say anything too bad against the Hoover FH50150
. It's a very good carpet cleaner, but it does tend to suffer from issues like the turbine mechanism fault. This can be a nightmare as it costs a fair amount to buy and then has to be sent back, but not all models suffer from this problem, from what we can tell.
However, we don't fault the overall quality of the hardware. It's a very strong carpet cleaner that you can easily move around the place, clean up after yourself, and utilize a wide range of features. Here is team Klukas using the vacuum in their home:
FINAL WORDS
Flexible, versatile, easy to work with, and very lightweight despite being sturdy. This is one of the better mid-tier Hoover carpet cleaners, and makes a fine addition to any cleaning collection. While the main issues are cost and the potential need for repairs, the ease of use, and the general versatility that it offers more than makes up for that. Check the latest prices here
Best carpet vacuum and steamer: Rug Doctor Deep Carpet Cleaner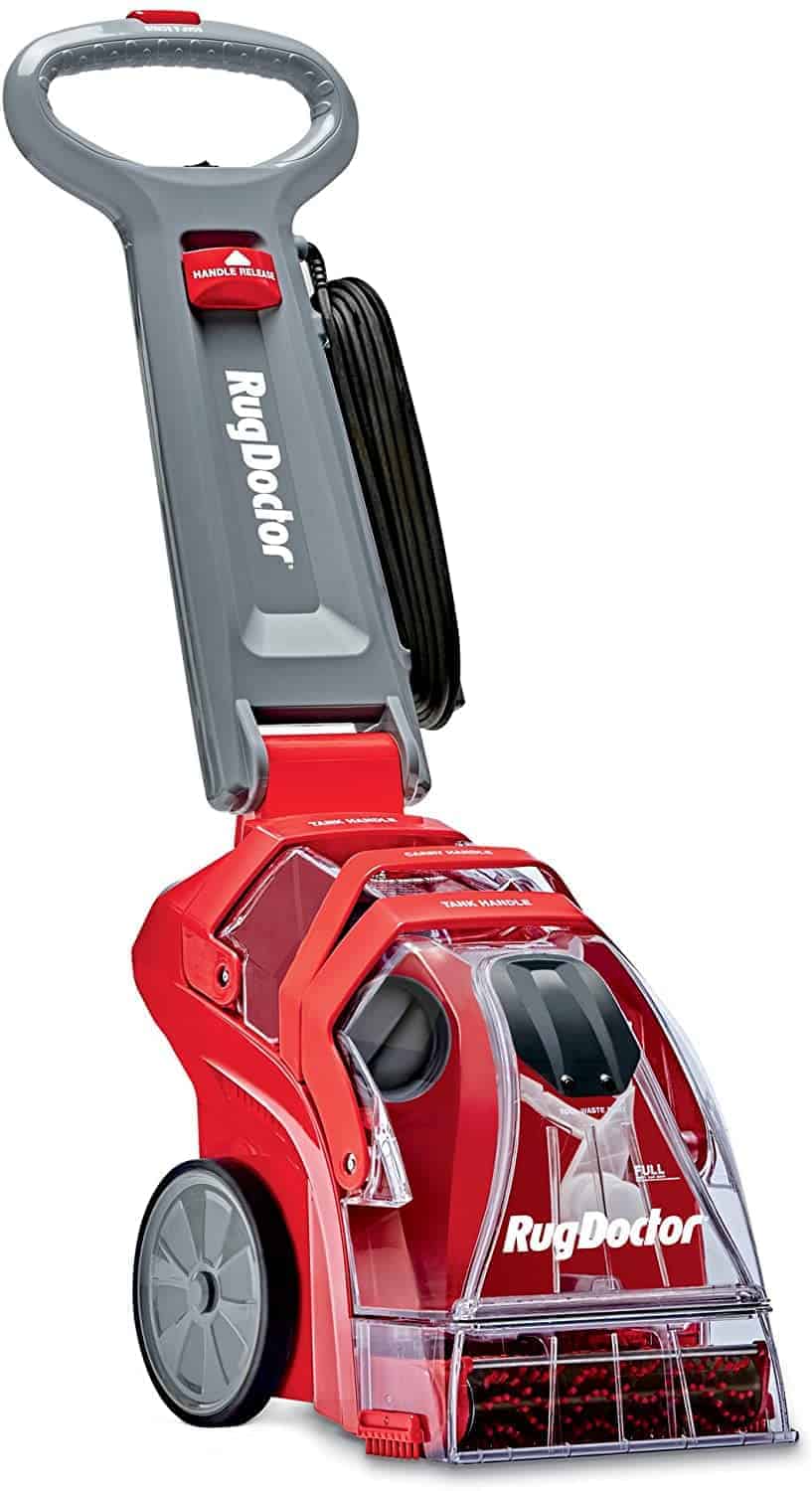 For those who are looking to make their home clean again, the rug doctor is one of the most reliable names on the market. The Rug Doctor Deep Carpet Cleaner, though, is a fantastic proposition for anyone who is looking for a high-quality piece of equipment. How good, though, is the carpet cleaner? Does it do the job that you would expect – especially given the not-insignificant price of around $200?
FEATURES
Comes with a range of upholstery tools for handling all manner of stains and tight spots.
Clean and dirty water tanks for easy emptying and simple management of the contents.
Carpet-friendly solution thanks to the easy to work with wheels.
Handles collapse in for easy storage and placement of the hardware.
7ft hose and 28ft chord length ensures this can be moved around the house with ease.
SUPPORT & WARRANTY
Like most Rug Doctor hardware, you get a 2-year solution that covers residential, not commercial, use. It also covers you for labor, part repair, workmanship issues, and other similar problems within two years but it does not cover you for wear and tear and self-caused damage. You should contact the Rug Doctor team via rugdoctor.com if you have to claim your warranty, with details of where and when you purchased the hardware.
PROS
Cleans a whopping 12" on the path, meaning that you can easily do large swathes of a carpet very quickly.
All manner of attachments and tools makes it very easy to work with for simple, easy cleaning.
11 amps power ensures that it offers plenty of strength, with a 75% improvement on suction capacity on top of some competitors.
Two-tank system is easy to clean up and ensures the good does not mix with the bad.
2-year warranty is a good deal given many competitors are less.
CONS
Bulky size can make it hard to use on stairs and other locations.
While extremely powerful, it uses up more power than your average cleaner.
Carpets can take up to half a day to dry after being used – sometimes longer without light.
Here's Lyndsay with some surprising results:
VERDICT
Overall, the Rug Doctor Deep Carpet Cleaner does exactly what it says it will. It cleans carpets deeply and lifts up everything. However, the length of time it takes to dry out and the rather bulky nature of it ensures you might take a bit longer to get cleaned up than you had hoped for.
FINAL WORDS
That being said, this is one of the best home-grade solutions that you can get. It's sturdy, strong, easy to work with, simple enough to clean out, and in general offers more than enough power to clean up even the most challenging of stains. Check it out here on Amazon
Also read: these are the best portable carpet cleaners to get the job done
Best carpet vacuum for large surfaces: Bissell Big Green Professional Grade 86T3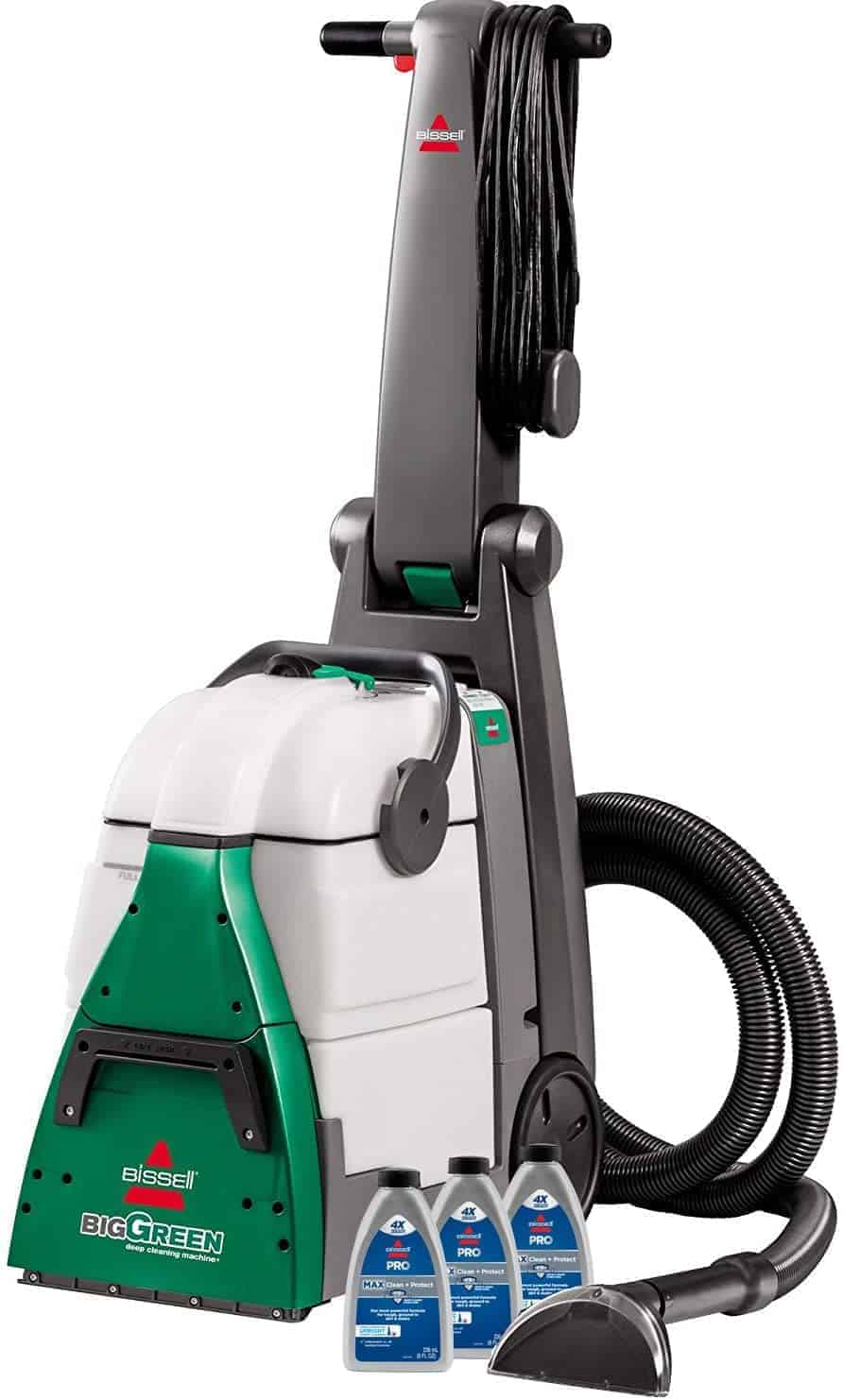 When looking for something that does the job that you need, the BISSELL 86T3 'Big Green' is one of the most respected of its kind. It's a very powerful system, providing massive levels of efficiency and cleaning control. Not only can it deep down into carpets, but it offers a range of cleaning solutions that will ensure you can make your cleaning so much simpler than it may have been in the past.
At close to $400, though, is investing in the 86T3 worth your time, or can you perhaps find better value elsewhere?
FEATURES
Strong and steady cleaning solution backed up with easy forward and backward movement.
Comes with the 2x professional Deep Cleaning Formula for incredible cleaning.
Rotatable DirtLifter brushes ensure that dirt is brought out of the carpet with the most ease.
Tools provided for areas that you cannot reach.
Rotating dirt lifter ensures that dirt is removed even from the deepest crevices of a carpet.
SUPPORT & WARRANTY
With a rather impressive 5-year limited warranty, this covers you for a variety of issues. Protecting personal rather than commercial use, this does not apply to parts like the fans, filters, belts, and brushes. Also, excessive negligent use, abuse, unauthorized repairs, and any other use not in accordance with the agreement will not be covered. To claim, be sure to contact BISSELL Consumer Care at bissell.com
PROS
Comes with all manner of tools, from the 24oz bottle of cleaning formula that should last a long time.
5" cleaning path, ensuring that it captures and cleans as much as it can in one single move.
6" stain attachment tool for easier and more effective cleaning and management.
75 capacity in the removable water tank which makes cleaning super simple and thorough. Ensures you spend more time cleaning and less time emptying the tank.
Power brushing ensures that it gets rid of more dirt than many hardware of a similar stature and power.
CONS
Very heavy machine in comparison to some of its competitors – can be hard to cope with at first when you are unsure.
Lack of water heater ensures that water can gradually cool as time goes on for longer cleans.
No edge cleaner amongst its tool which means it can be hard to get that perfected finish on awkward spots.
Here is Jay Rule with a lot of carpet to cover:
VERDICT
Overall? The BISSELL 86T3 Deep Cleaning Carpet Machine does the job that you ask of it. Strong, sturdy, reliable, and effective – if you are looking for a high-power solution this is it. The 5-year warranty is nice, too, though it is quite specific about what it covers.
FINAL WORDS
Equipped with all the tools needed to do a stellar job, this offers you all the help and assistance that you could need to clean up at home without any issue. It does a better job than both thanks to its multi-direction cleaning but the weight and overall bulk might put those of a more diminutive stature off it.
Overall, though? Excellent. Check the latest prices here
Best carpet vacuum cleaner for pets: Bissell SpotClean Professional 3624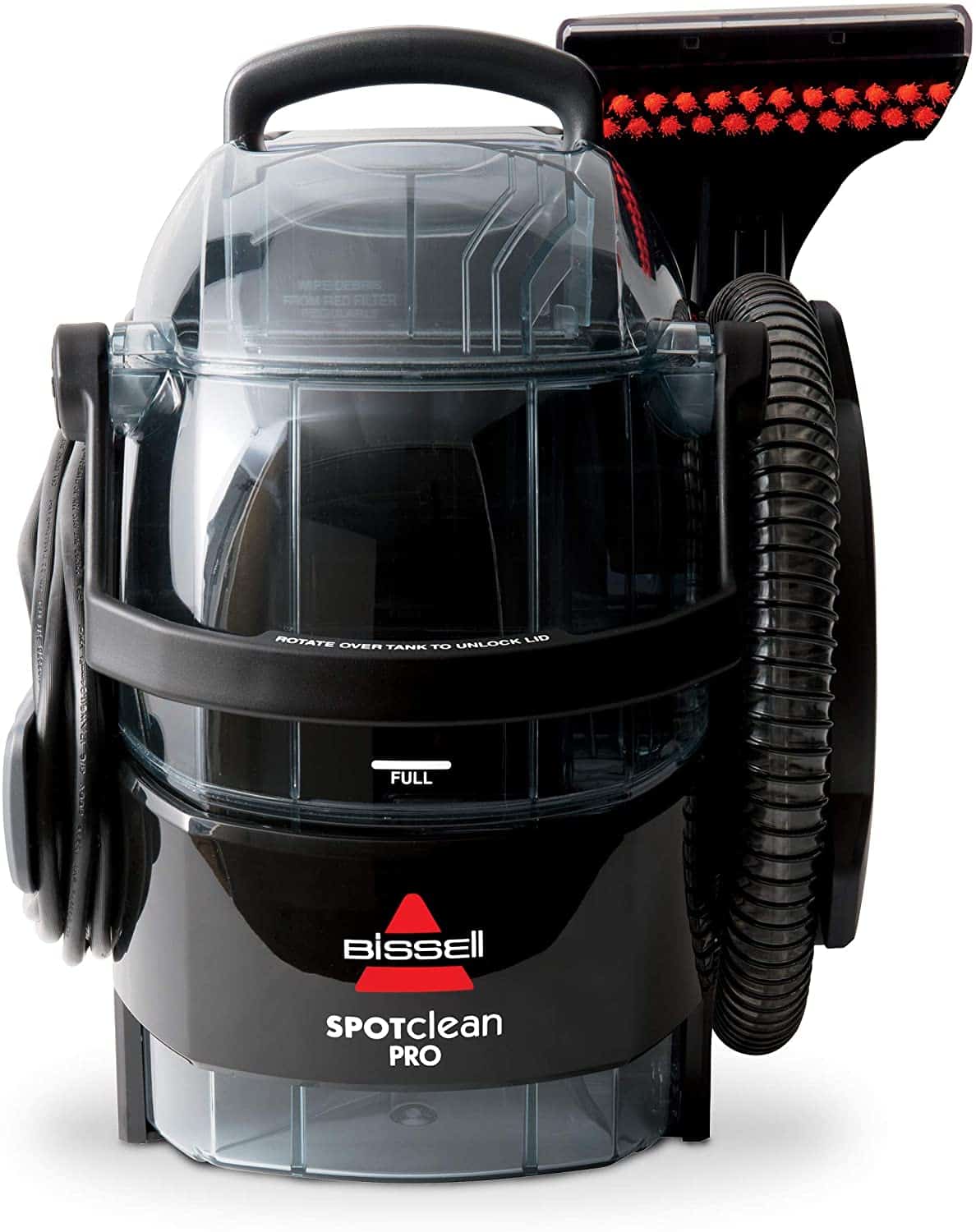 The BISSELL SpotClean is a piece of kit that has gathered quite a positive reputation as a strong mid-level cleaner. If you are looking for something that is in a relatively decent range in terms of general power and performance, is this something worth investing in?
Does it do the job that you need with regards to your requirements? Can it help you keep the house as spotless as needed?
FEATURES
Smart 8oz formula is provided with the product so that you can see how heavily this can clean with the right equipment.
Powerful, effective suction help to make sure that dirt is sucked out of the carpet and cleaned out with the utmost simplicity.
High power machinery that uses a 2-in-1 tank to make sure that the water is separate without making clean-up a challenge.
The nozzle can come off, making it easy for you to use various other tools. You can also remove the measuring cup and lint screens.
Powerbrush moves in four separate directions to help make sure it makes cleaning as quickly as possible
SUPPORT & WARRANTY
Like all BISSELL equipment, it comes with a relatively fair warranty, though it is of just 1-year. It covers you for basic use and will not cover you for commercial use, for negligence, for personal damage, and for any kind of 'routine maintenance' components like bags, belts, brushes, and filers. As ever, contact BISSELL Consumer Care via their website at bissell.com
PROS
Very easy to use thanks to the lightweight nature of the machinery.
An extremely powerful cleaning product that uses smart solutions to help make cleaning fast.
Less movement needed in a room as it cleans in all directions as you move.
Easy to carry thanks to the lightweight, simple nature and the added long chord.
Strong and reliable solution that, with the right cleaning product, can work wonders on a budget, even for the worst pet stains.
CONS
Cleaning product is expensive and on larger jobs will run out relatively quickly.
Lack of tools for getting in and around the smaller and harder to reach areas.
Check out the unboxing here:
VERDICT
Overall, BISSELL is a very good piece of hardware that would make sense for those who are limited in what they can afford to buy. With a lack of tools and the fact it's not a greater deal of life to use, it's more suited to those who have smaller homes or an apartment without too many carpets.
FINAL WORDS
A fine and fun choice for those who have carpets in minimal amounts, it can help to make cleaning fast. It's got greater power but not a huge amount of lifespan, and the fact that it cannot handle larger, longer cleans might make it hard for those who have larger homes to get the use out of it they needed. You can buy it here on Amazon
Best cheap carpet vacuum cleaner: Hoover PowerDash FH50700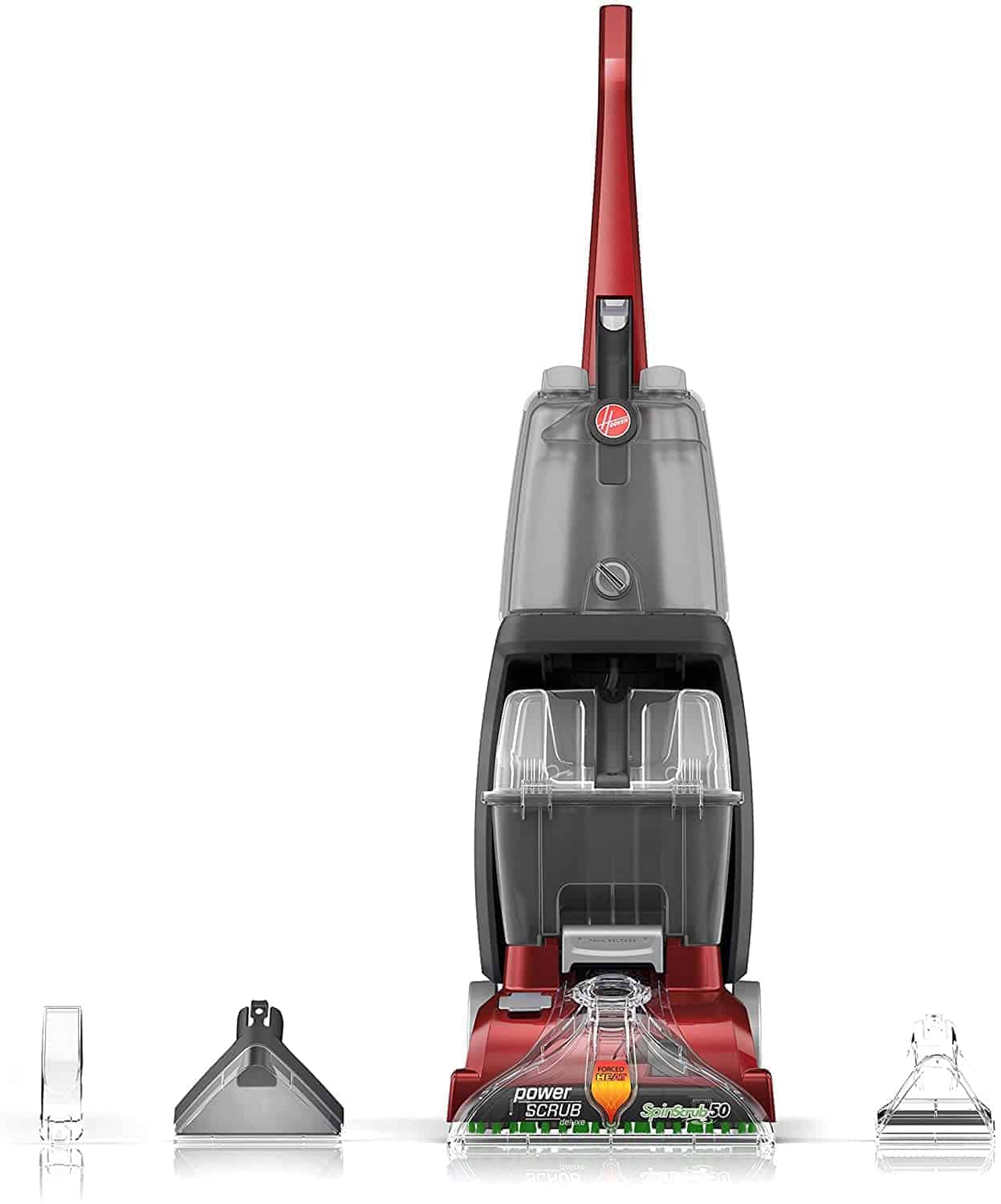 As one of the most popular names in the industry, Hoover tends to get the votes when people are looking for high-quality hoovers.
The Hoover PowerDash
range, though, is also well thought of if you are looking for something effective, reliable, and great for getting rid of odors and mess you get by having pets.
When used correctly, it is a very useful product – but is it worth the investment on your end?
FEATURES
'Tool Mode' ensures that you can easily work with the various smaller tools to get in and around nooks and crannies without the hoovers brushes spinning.
Brushes are easy to remove, repair, and replace when needed.
Deep cleaning of hairs wit the Powerspin pet brush roll
Makes use of a 12A motor and exceptionally strong suction to lift up even the worst of stains.
SUPPORT & WARRANTY
This provides a simple one-year domestic warranty that covers basic use for parts and labor at no cost on your part. The best bet to get a contact number is to either call 1-800-944-9200 or contact Hoover Customer Service online for more assistance.
PROS
The brushes are very easy to manage and when they are on they are very strong indeed!
Motor matches the power of the brushes, ensuring that this offers a deep, lasting cleanse.
Lack of belts means less money spent on maintenance, with durable equipment and accessories too.
8ft hose ensures you can get up and down the stairs without too much stress or strain.
3-speed brush control means you can use this to help lift up anything in general.
Super for pet hairs.
CONS
When the tank is full it is very heavy to lift; best to empty downstairs first if you can. The dirty water tank is very small, too, so empty trips are common.
Very noisy!
Here's Vacum Wars with their take:
VERDICT
The general take on the Hoover PowerDash
is a very impressive piece of kit that follows the general Hoover standard. While it might lack consistency at times because of the great power but small stamina, it's a very effective steam vac for those who are in the market for one. Given its size and bulk, though, make sure you can handle it up and down the stairs before you try!
FINAL WORDS
As a good piece of kit, this is a rather simple one to go for when you are looking for a high-class piece of equipment. However, it's bulk and its hardness to store away means that some people might not love this quite as much as others do.
Vacuuming Mistakes – Proper Way to Vacuum Carpet
When it comes to how your home looks, many people prefer to go for carpet over flooring. It adds an extra level of warmth and personality to a room, and can do an exceptional job in removing sound from travelling and from making sure you feel warmer in general.
However, carpets can be a nightmare to clean and for that reason most people will be struggling when dealing with handling a carpet. To help you avoid that problem, we recommend that you take a look at effectively vacuuming a carpet as soon as possible.
Using a vacuum is the best way to quickly clean a carpet – and you can use some pretty smart tips to lift that mess up quickly.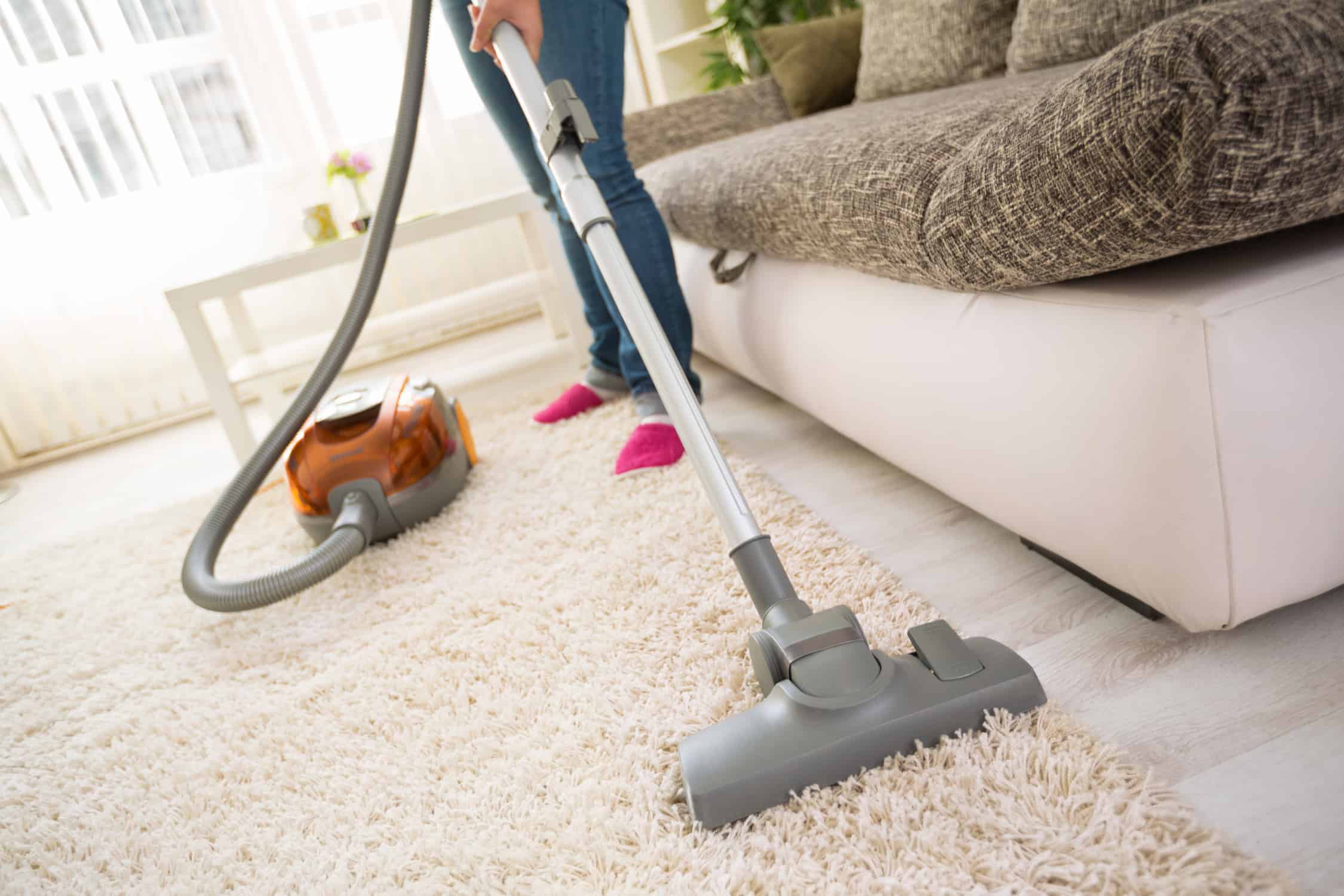 Before going any further with the vacuum, be sure to scout the carpet for any small items like pins, paper clips and other debris that might cause the vacuum cleaner to struggle or suffocate.
First off, invest in the right kind of vacuum cleaner. The best vacuum cleaners for carpets tend to be those that come with various heads to work with, so that you can find the right level and strength of suction. We recommend checking with your carpet dealer where you got it from, though, as they should have some helpful advice for you to make the cleaning process a little touch simpler.
Make sure you use a beater bar if you have one, though. These make perfect sense for quickly and easily lifting up the mess from a carpet as it irritates the carpet filters enough to help really lift up all the dirt and debris from deep down. As ever, make sure to check with your carpet manufacturer as they may have certain recommendations for what kind to use – and avoid. Every carpet is different, so be sure to look around and find the right kind of assistance.
Now, make sure you work through the carpet as slowly as you can. Moving back slowly Back and Forth, always taking it Slow and Steady and never pushing too hard on the carpet as this can impair and/or damage the carpet itself. Always take the time to nice and steady with your moves, as going too strong on the carpet is likely to lift up the mess but leave the carpet damaged.
The best tip we can give you about vacuuming a carpet, though, is to do is yourself on a regular basis. Once a week is enough, but many leave it to once a month. Set a day that you use for vacuuming, and maybe give it a smaller vacuum in-between set days. The more you do it, the less work is involved when it does become time to vacuum the carpet.
If you have a pet, though, try and get the carpet at least twice per week as this avoids the carpet from becoming a hosting ground for danger, dirt and allergens that might begin to irritate you and cause allergies and reactions.
Carpet Cleaning Secrets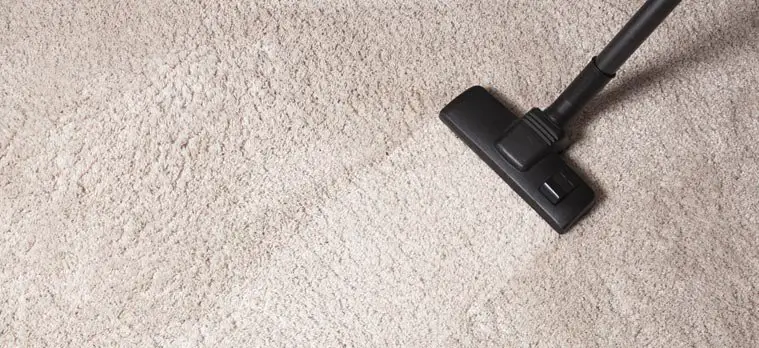 How often do you vacuum or deep-clean your carpets? Never? Well, just like the clothes you wear need periodic washing to maintain hygiene, your carpets also require regular cleaning. When you keep the condition of your carpet, you can also maintain fresh and hygienic indoor environment.
Despite your best effort to keep the clean condition of your carpet, it will eventually experience spills, accidents, drops, dust, dirt and debris. But, keeping the cleanliness of your carpets don't need to be very stressful. Read on and discover more on how you can clean your carpets in a more cost-effective way.
Why Is Vacuuming Necessary for Your Carpets?
Most homeowners want their homes to smell fresh, clean and hygienic. Regular cleaning of your carpets can really help to achieve that. But, cleaning them is just half of the battle. It's only important to keep and prepare your carpets for deep washing. One of the best tips that you can do to make sure that your carpet is clean as what you wish, you need first to vacuum them.
Vacuuming your carpets can help to effortlessly remove the dirt, dust and debris. A vacuum cleaner is also very efficient to remove things like pebbles, sand and any types of dust particles imbedded in your carpet. Apart from that, it makes your cleaning process much easier than doing it manually.
Furthermore, vacuuming first your carpet can help you to save more time and energy as well. It even reduces a carpet cleaner cleaning time process as there's less dust to remove.
By using a vacuum cleaner, not only you help your carpet to keep clean, but also help you and your family to improve the indoor air quality of your home. Vacuuming your carpets using a high-quality type of vacuum cleaner can be very beneficial, most especially for those families with asthma or allergies.
Why? It is because most modern vacuums have quality filters that are capable of cleaning dust particles, grimes or hair, which trigger asthma and allergy reactions.
Proper Ways to Vacuum Your Carpets
You might ask yourself if what is the right way to vacuum your carpet. Anyone who grew up in a house that used to do regular carpet cleaning must know the proper way of vacuuming their carpet. There are some best practices on how to vacuum your carpets correctly, and these are as follows:
Get the high-quality vacuum cleaner
Wipe or dust down the areas of your home (from top-bottom)
Always begin with bag or clean canister and vacuum
Pull your vacuum cleaner back slowly
Overlap the rows or areas you vacuumed
Use the attachment or pull out your vacuum cleaners' hose
Having the idea on how to vacuum your carpets in a right manner can help you to easily finish your cleaning process. Apart from that, you can also protect your carpets to last longer. Cleaning the carpets in your home regularly is very important, especially if you have kids that have long-haired pets.
Frequently asked questions about carpet vacuums
We know that many people are still curious to know more information about carpet vacuums, how they work, what they do, and how to use them. Therefore, we're answering your questions right here, so you can make an informed purchase!
Is it okay to vacuum a new carpet?
Yes, manufacturers recommend that you vacuum your new carpet as soon as you buy it to remove loose fibers. New carpets shed small amounts of fibers. You must remove these fibers with your vacuum. If they are not removed, the loose fibers make the carpet look matted.
Does vacuuming really clean the carpet?
A classic suction vacuum only cleans the surface layer of a carpet. Unfortunately, even the most powerful carpets can miss a lot of dirt. For example, carpets are full of pet dander, bacteria, dead skin, small dust particles, and all typed of allergens. A carpet cleaner can penetrate deeper into the carpet than your regular vacuum but it still doesn't remove all dirt.
That's why it's best to take your carpet to the cleaner for a deep clean once a year.
Is it better to shampoo or steam clean carpets?
It depends on how filthy the carpet is. We recommend that you use shampoo to clean the carpet when it is full of visible stains. When there are no major stains it's best to use a steamer. Hot steam removes surface stains and dirt particles effectively, therefore it leaves the carpet looking fresh and clean.
What cleaning solution do I use with my carpet cleaner?
You don't have to splurge on expensive carpet shampoos to use with your cleaner. We recommend something like the Ecozone Carpet Shampoo, which is available on Amazon: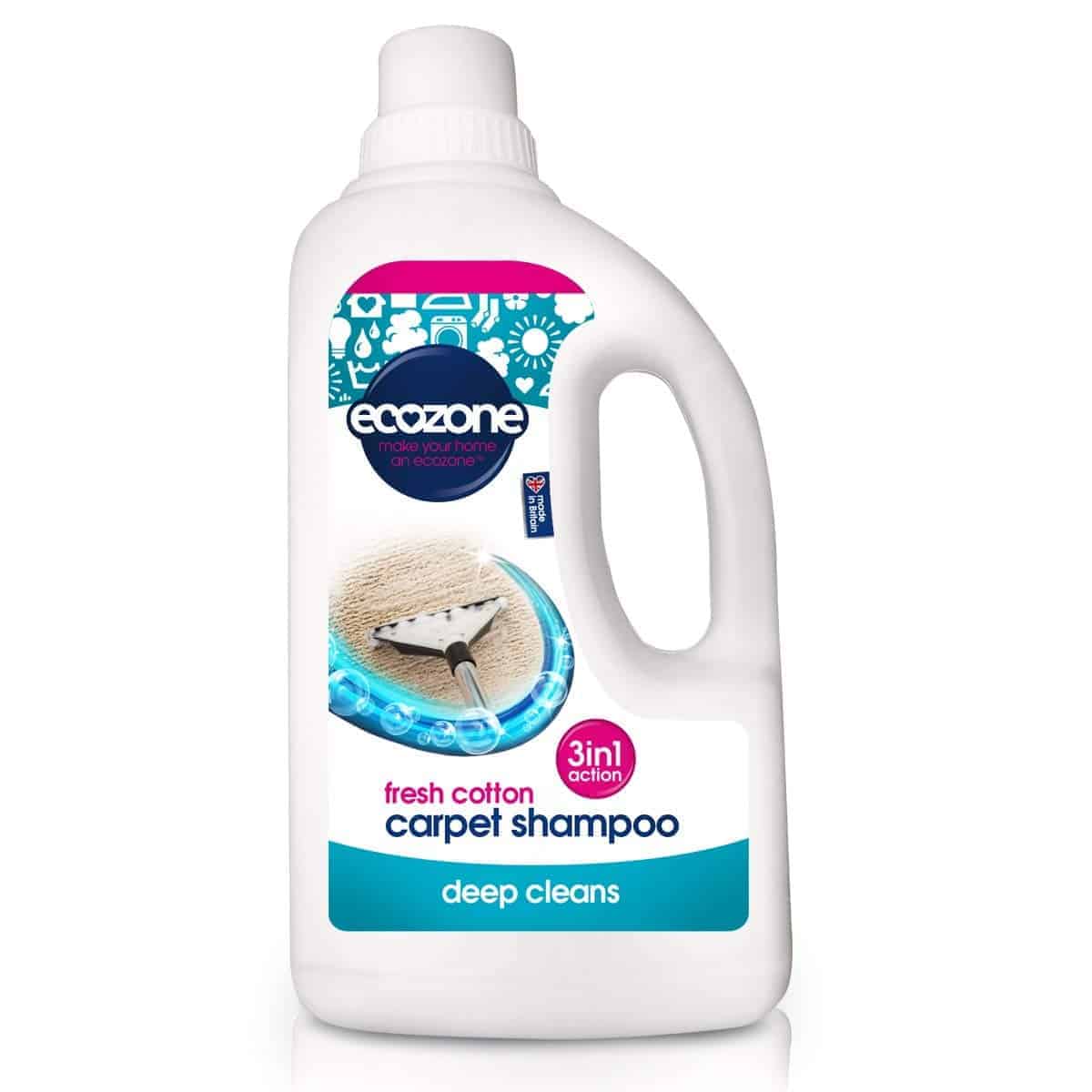 It is a plant-based product with natural ingredients, so it is safe and free of harsh chemicals. This is especially handy if you have children and pets who come into close contact with the carpet. It is easy to use manually with a scrubbing brush or use it with your carpet cleaner. As well, this product smells like fresh cotton, which infuses your carpet with that 'new' scent.
Conclusion
As with any vacuum, the ideal carpet cleaner must be easy to use, have a good price-quality value, and remove dirt and stains efficiently. With that in mind, look for a product that allows you to use multi-purpose cleaning solutions. This way it is much easier to clean your carpet quickly.
Also read: keeping your air fresh with the best air purifiers
I'm Joost Nusselder, the founder of Tools Doctor, content marketer, and dad. I love trying out new equipment, and together with my team I've been creating in-depth blog articles since 2016 to help loyal readers with tools & crafting tips.