I love creating free content full of tips for my readers, you. I don't accept paid sponsorships, my opinion is my own, but if you find my recommendations helpful and you end up buying something you like through one of my links, I could earn a commission at no extra cost to you.
Learn more
We all know that vacuuming and cleaning is a household necessity.
While most people use a vacuum cleaner to suction out dust and dirt, there are some cases when you really need to use a portable carpet cleaner.
It's the only way to remove a stubborn carpet stain, clean upholstery, pick up messes in the car, and clean in small hard to reach places.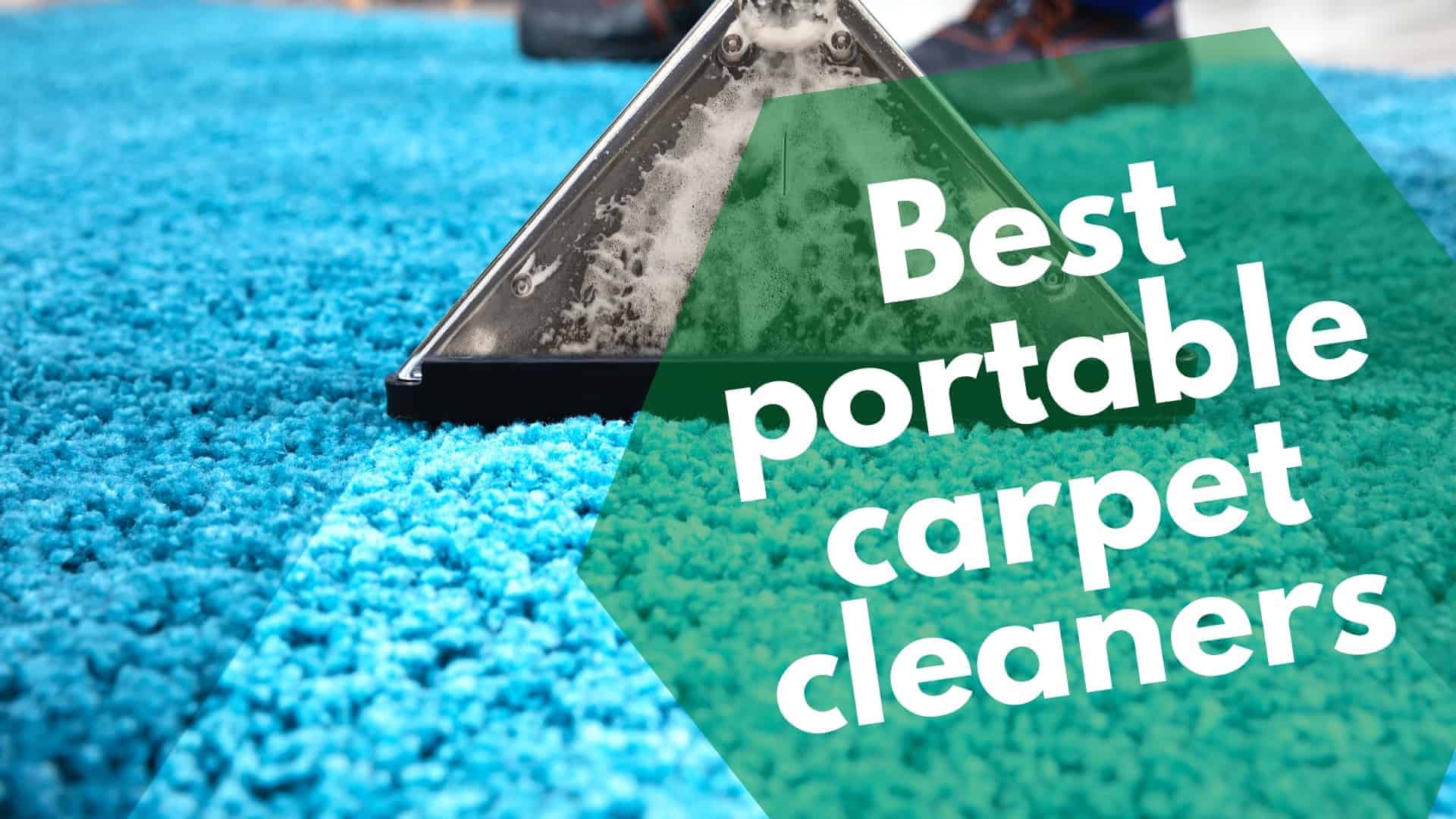 If you own pets, you know how tough it is to get those pet stains out. Or maybe your kids regularly spill juice on your couch. What's the best portable carpet cleaner for the money? If you regularly have stains in the house, the best value for money is this Bissell 3624 SpotClean carpet and upholstery cleaner. Perfect for houses with kids and pets where accidents are bound to happen.
Whatever the case, one of the small carpet cleaners can help keep your home clean and the air breathable.
The reason why portable cleaners are so handy is that they are spot cleaners.
So, to help you choose a great product, we've compiled a list of the best portable carpet cleaners.
Why would I need a portable carpet cleaner?
Before we get into the reviews, it's useful to go over what exactly a portable carpet cleaner is and what it does for you in your home.
Such a device allows you to move it around the house quickly and easily because it is lightweight. The best carpet cleaners on the market incorporate scrubbing and suction which means they can remove dirt, dust, bacteria, and liquids, including pet stains.
With a carpet cleaner, you can clean carpets, upholstery, soft surfaces, most hard surfaces, and your car. You can easily reach those tight spaces, corners, and hard to clean edges, hence these devices are extremely useful.
Buyer's Guide
Before you make a purchase, you need to consider what you want the cleaner to do for you. Think about features, warranty, reviews, and functionality. After all, you need the cleaner to work on carpets, rugs, stairs, upholstery, furniture, and even the car interiors. Many of these devices will cost upwards of $100, so it's best to make a wise decision.
Here is some important information to consider when buying a new portable carpet cleaner.
Tank Capacity
The size of the tank directly affects how long cleaning takes time-wise. If your cleaner has a small tank, it requires more frequent refills of water or cleaning solution, thus you must interrupt the task and go fill up. Look for a tank with a capacity of at least 30 ounces and that way you save some time.
Accessories and Attachments
The more attachments and accessories included with a product, the more versatile it is. It becomes handy for all kinds of deep cleaning tasks. The different attachment heads allow you to clean various types of surfaces, so your device is not only used for one task as that is wasteful.
Size and Weight
There's no use in buying a super heavy portable cleaner because it won't really be that portable. You want to look for a cleaner with a small, compact, and lightweight design. This ensures you can move around with it easily and carry it without having any pain or discomfort.
If the device is small and compact, it is easy to store and you don't need to free up extra space for it. As well, if it's light, you are more likely to enjoy using it to clean every area in your home, including tight spaces and stairs. Look for products with a weight under 9 or 10 lbs.
Cleaning Brushes
Look for rotating brushes or a sturdy dense brush that scrubs well. The last thing you want to do is have to go over with a brush manually. Generally, oscillating brushes are more effective at eliminating deep spots and dust particles. Also, you can choose a carpet cleaner with multiple brush attachments for specific spots like stairs or pet messes.
Suction Power
A good carpet cleaner needs to have very good suction in order to pick up the smallest of mites and particles. If the suction is weak you'll have to use a regular vacuum cleaner to go over the spots and that's useless because you're doing double the work. The suction is necessary to pick up liquids and water that you are using to clean. So, always consider the suction power of a cleaner.
How much suction power should my cleaner have?
A good quality carpet cleaner should have a suction power between 7 and 12 amps. Usually, the more costly a device is, the better the suction power it offers, which makes your life easier because it cleans well.
Brand
Of course, brand matters. When it comes to portable carpet cleaners, Bissell clearly outshines the competition due to the sheer volume of different carpet cleaners it offers.
But, Hoover is not far behind and offers excellent value for your buck. Their products are effective and innovative.
Remember that you always pay a little extra for a brand name, but when it comes to carpet cleaners, it's worth it because you want an effective product from a trusted brand.
Also read our complete guide on robot vacuum cleaners for this year
Best portable carpet cleaners reviewed
Best value portable carpet and upholstery cleaner: Bissell 3624 SpotClean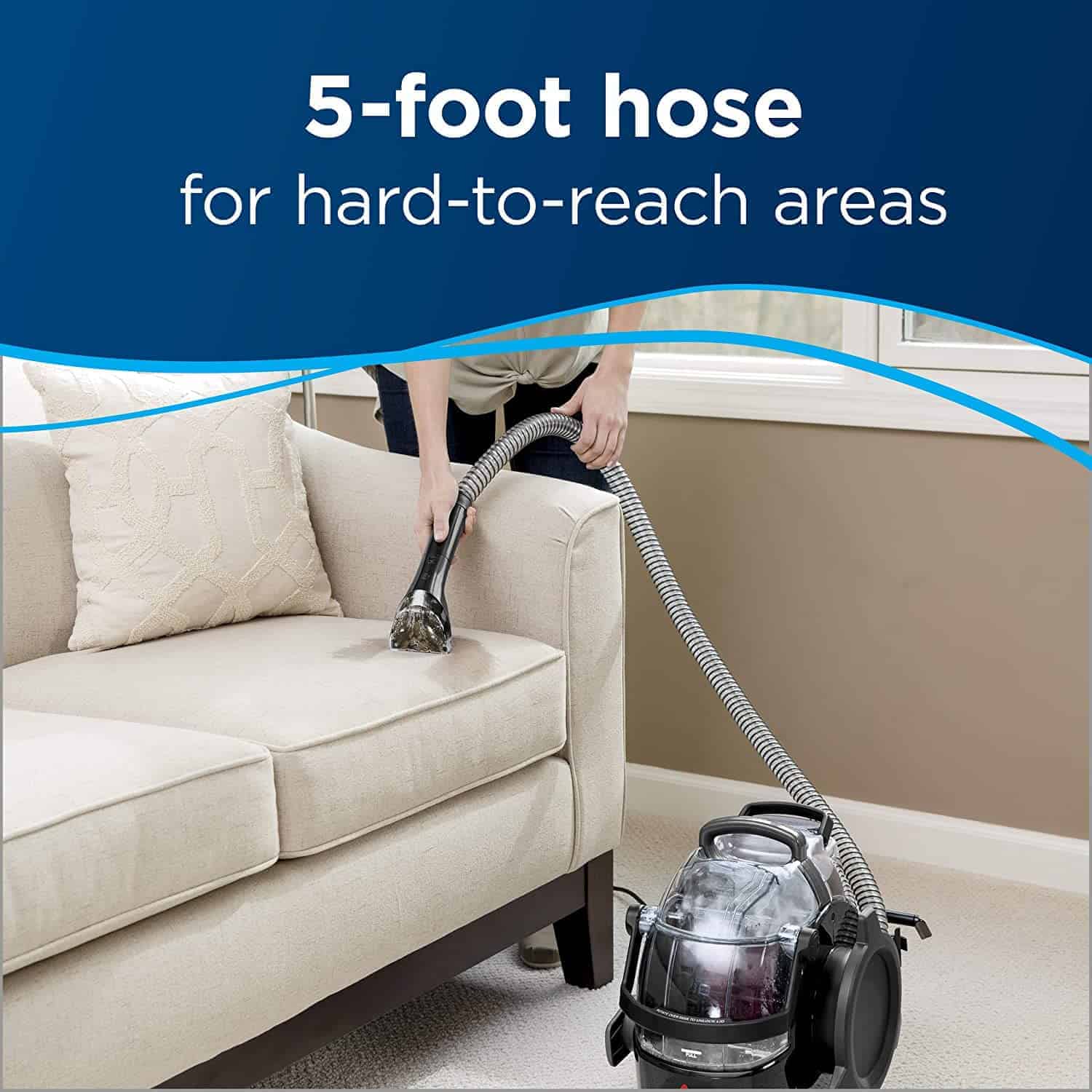 Known for its reliability, the Bissell 3624 SpotClean Professional is a very interesting piece of kit. However, if you are considering picking one up, this guide shall break down the key features that should inform your position. So, what makes the SpotClean a good piece of kit – and what means you should consider your decision wisely?
FEATURES
At just 17 pounds, it can be moved around relatively easily, making it lighter than many competitors.
Great for cleaning up spots of mess on everything from sofas and rugs to carpets and stairs.
Strong suction is backed up by a flexible and strong hose that makes it easy to clean up spots and remove stains.
Comes with a range of tools, from the 6" stair tool for easier mobile cleaning, the 3" tough stain tool for concentrated cleaning and an 8oz sample of the Deep Cleaning formula recommended.
A whopping 22" power chord ensures that you can easily use this in just about any spot of the house without any stress or strains.
SUPPORT & WARRANTY
As ever with BISSELL hardware, the SpotClean Pro 3624 is a fine choice of option for those who want a long-lasting option. It gives you a 2-year warranty that covers personal instead of commercial use. Also, this warranty does not apply to parts like the fans, filters, belts and brushes. Likewise, excessive negligent use, abuse, unauthorized repairs and any other use won't be covered. To claim, you can easily contact BISSELL Consumer Care at bissell.com
PROS
Extremely light and mobile, meaning that you can use it in just about any kind of spot.
7A motor keeps it strong, but supreme suction ensures that this can give you a very efficient clean up there with commercial quality suction and strength.
90oz tank size makes sure you have as much space as you need to get the cleaning done without having to stop and start again over and over.
Two tank system works to help keep the dirty water and the clean water separate from one another.
Removes deep stains and spills with the same ease that it gets rid of light marks; a very strong and efficient cleaning agent.
CONS
Remember that this is only for small areas, nowhere else; don't try a whole room with it.
Slightly immobile so will need to be lifted most places due to the lack of wheels.
Can't provide any kind of automated cleaning; full manual with the SpotClean.
VERDICT
Overall, Bissell 3624 SpotClean Portable Carpet Cleaner is a decent piece of kit that should more than give you the help that you need to work out most stains from their locations. While it could be easier to move around the place, it's a high-value piece of kit. Here's Electronics Reviews with their take:
FINAL WORDS
Most people will love the SpotClean because it does such a good and thorough job of lifting up dirt, muck, and grime without much issue. A fine choice for anyone who is looking for a consistent choice; just be prepared to keep picking it up and moving around with it.
Check prices and availability here
Best portable carpet cleaner for pet stains: Bissell 33N8A Spotbot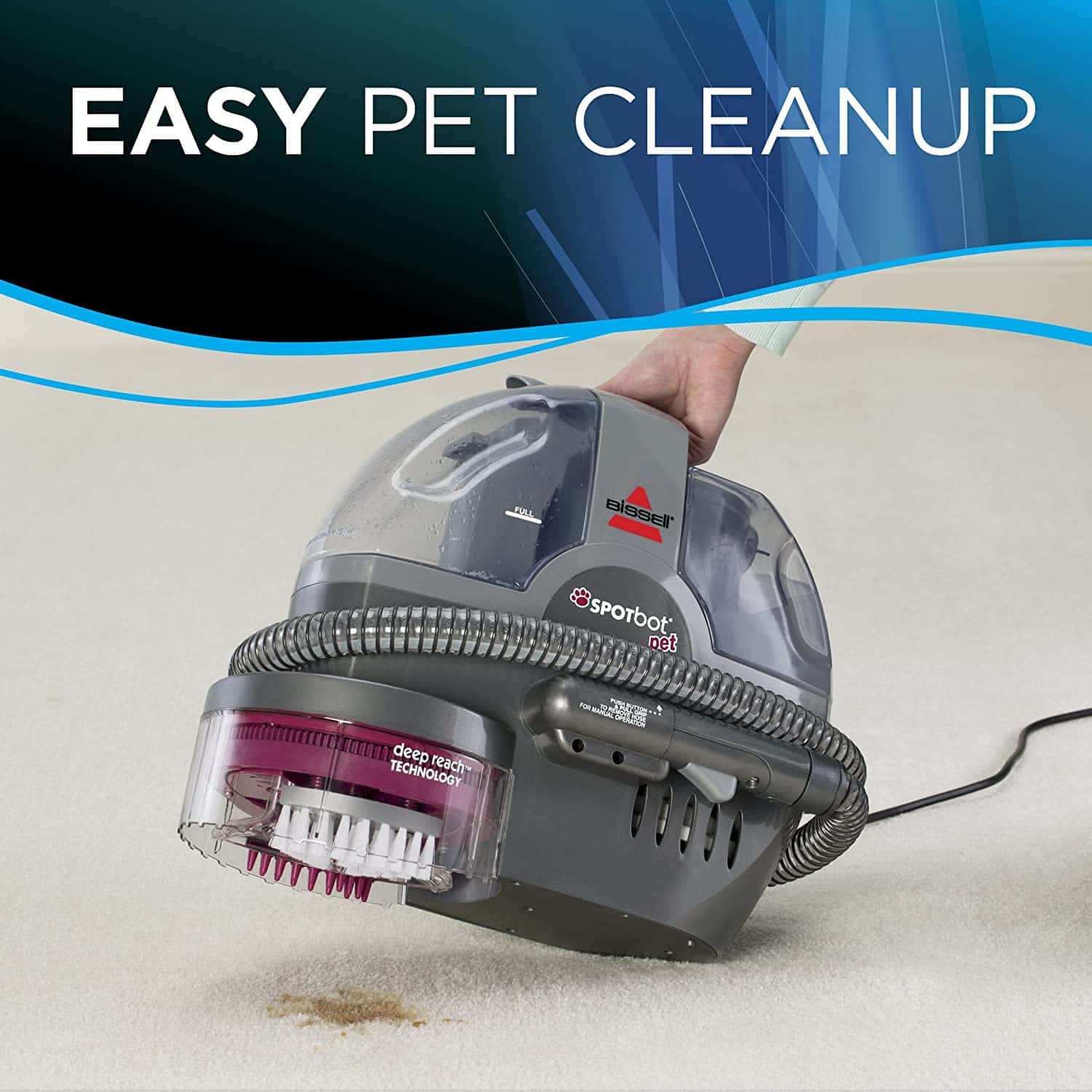 The Bissell 33N8A SpotBot Pet Handsfree Cleaner is a fine choice of cleaning option when you are too busy to do the cleaning yourself. This works around the place, tearing through all of the cleaning needs that you have with relative impunity. However, it's not for everyone – let's take a look at the best, and the worst, of the BISSELL SpotBot Pet.
FEATURES
Totally hands-free cleaning – set it up with a single button push and set off to enjoy the rest of your day.
Pre-sets choose whether or not it sprays, uses the brushes or pulls the dirt in with suction.
Tough Stain equipment and onboard hosing ensure that you can use this time and time again to keep your carpets spotless even in the worst areas.
Digs deep into the carpet fibers to life out all of the muck and mess that you could need to be removed.
High-quality cleaning agent provided to help lift out all of your pet hairs, mess, and muck with ease.
SUPPORT & WARRANTY
The SpotBot Pet 33N8A is quite generous with its warranty. It gives you a 2-year limited warranty that covers personal use only. This limited warranty does not apply to parts including fans, filters, belts, and/or brushes. Also, at the same time, excessive negligent use, abuse, unauthorized repairs, and any other use won't be covered. To claim, you need to visit BISSELL Consumer Care at bissell.com.
PROS
Very easy to watch and move around the place when needed – can be used manually if you would prefer, too.
Autostarts means that you can put it on and let it choose how much detergent to be used for a spot of cleaning.
Combats smaller areas with absolute precision, getting rid of even the most annoying of stains and spills.
Powerful hardware, powerful equipment, and high-level suction ensure that this gets rid of even the most annoying of spills and stains.
A fine choice for auto cleaning or for letting you get involved, making it easy to work with for just about any purpose.
CONS
Automatic cleaning, though, can go in circles and can miss small spots that you would have gotten manually.
Needs to be put in manual to handle any kind of larger space or spot.
VERDICT
Yes, Bissell 33N8A Spotbot Pet Handsfree Cleaner is a fine piece of hardware and yes you will get great use out of it if you allow yourself to. It's a very fine choice for those who are looking to deal with pet messes especially; it's more or less designed just for dealing with pets. Here's Jared looking at this cleaner for his pets at home:
FINAL WORDS
Add in the fact it's very effective at cleaning up dirt in general, and pet owners can find it combats pet problems without being too harsh or damaging to other spots. Just don't expect to do the whole room when using this hardware.
Top-quality Best rated portable carpet cleaner: Bissell 1400B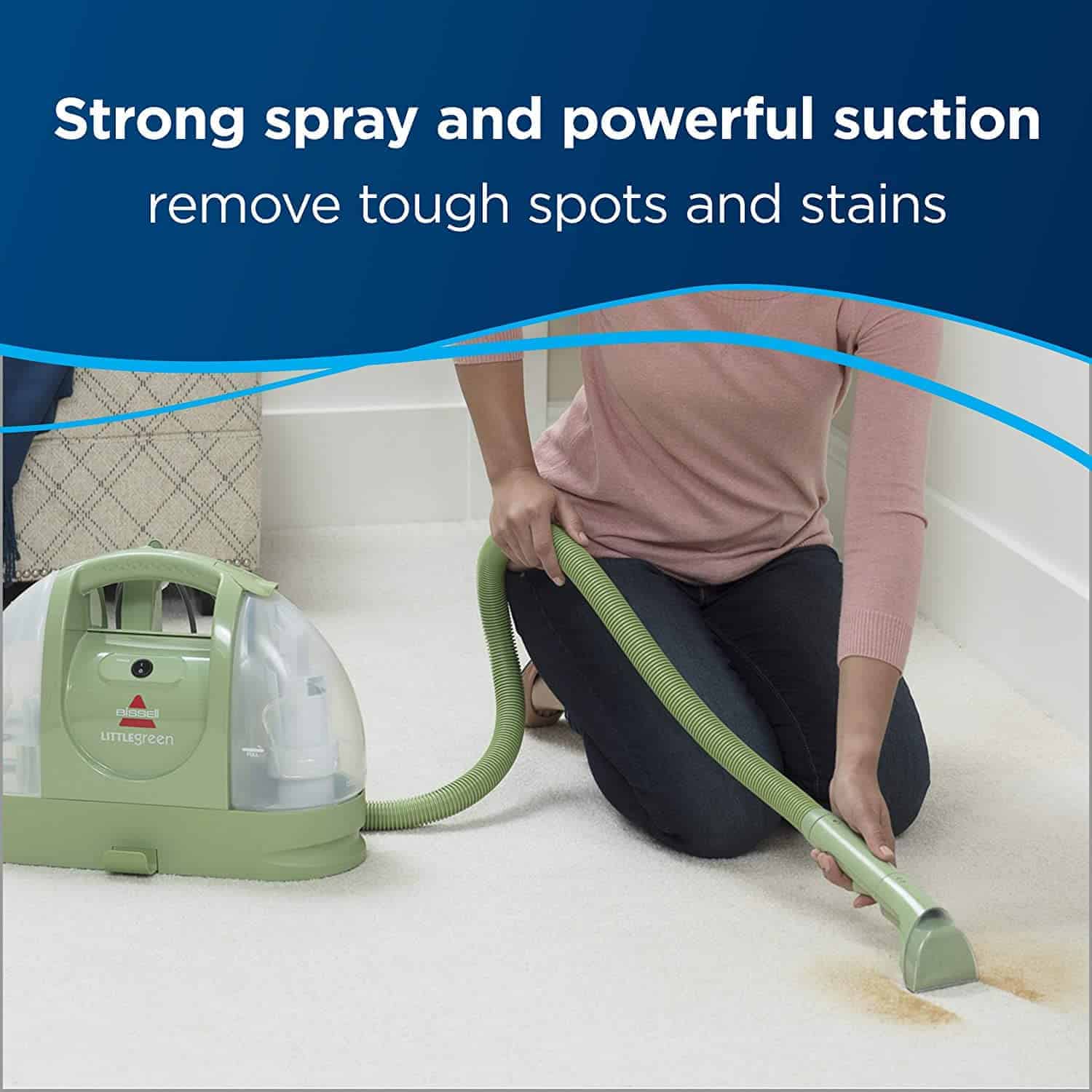 When it comes to getting a good portable carpet cleaner, the BISSELL 1400B Portable Carpet Cleaner has worked itself into contention for many reasons. Effective, strong, reliable, and easy to work with, in most situations it has become a real versatile favorite. Let's take a look at why it has done such a good job of rising to the top of the pile in terms of high-end, multi-purpose portable carpet cleaning.
FEATURES
Very compact and effective cleaner that does the job you need without taking up anything like the space of competitors.
Use very tough brushes to help make sure that even stains who have been at home for some time can be lifted with the minimum of fuss.
Very reliable option for those who want to make sure they can get the carpet nice and clean quickly via its effective spray and suction combination for dealing with even the toughest of stains.
High-quality strong spray that cleans and dries at once to make sure you aren't waiting around all day.
PVC-free tanks and hosing ensure that it's a safer, more durable, and environmentally sound piece of hardware.
SUPPORT & WARRANTY
Like all BISSELL hardware, the warranty is pretty decent. It gives you a 1-year limited warranty selection. This limited warranty does not apply to parts including fans, filters, belts, and/or brushes. This does NOT cover excessive negligent use, abuse, unauthorized repairs and any other use won't be covered. To make the most of your warranty, you need to visit BISSELL Consumer Care at bissell.com.
PROS
Handles even the most significant of pet messes like a charm, removing the stain and the odor without issue.
Great for everything from stairs and carpets to upholstery and similar equipment.
48oz gives you a much larger tank than many of the options out there of this compact size.
Excellent suction power, pulling out the mess of even the worst spots and sections. Deep clean that is easier to manage and effective when combined with a good detergent.
15ft power cord makes sure you can handle most medium-sized rooms without too much pulling on the cable.
CONS
The water trigger can leak after time; make sure you consult BISSELL if this happens. The same can happen with the hose.
The nozzle cannot come off, which can be a bit of an issue.
The sprayer becomes easily clogged up so make sure you clean it after every use to avoid any problems with suction or efficiency.
VERDICT
In general, the BISSELL 1400B Multi-Purpose Portable Carpet Cleaner is a good choice for those who are looking for something with control, authority, and simplicity of use. Out of all the selections on the market today, the Little Green offers one for the environmentally conscious – if you are willing to accept that some of the problems it can have are a by-product of it packing so much into one compact machine. Vacuum Wars also takes a look at this little green Bissell model:
FINAL WORDS
If you want a product that is good for both your home and the environment at affordable cost and positive performance, then this is definitely one to consider.
Best small portable carpet cleaner for stairs steps: Rug Doctor
The Rug Doctor is a well-known, famous brand of cleaning solution that has been around for some time. Seen by many as the 'big dog' in the industry, Rug Doctor portable spot cleaner
is one of the most popular tools they give you. It's a very strong and effective cleaning solution; one that can give you all the help that you need to help give a carpet a bit of life again.
How good, though, is it? is it worth roughly $100 that you'll need to pay for it?
FEATURES
Provides an effective deep-down stain removal solution that gets into the carpet and removes the problem via oscillating motorized brushes.
Extracts and removes all kinds of stains from pet urine to coffee spills and even wine!
Ensures that the cleaned areas blend into areas that do not need to be cleaned; avoids leaving your carpet looking inconsistent.
Cleans up without leaving any kind of noticeable damage or weakness to the fibers in the carpet.
Gets rid of odors and other features from the carpet while leaving it closer to its just-bought condition.
SUPPORT & WARRANTY
With this, you get a two-year limited consumer warranty that gives you access to treatment for defective hardware and workmanship issues within a two-year period of purchase. However, this does not apply to any commercial use. To get your warranty you will need to contact the Rug Doctor team. You should contact the Rug Doctor team via rugdoctor.com.
PROS
The high power motorized brushing can lift the gloom from even the most stained of carpets.
5" cleaning path ensures that it gets deep, helping to remove as much dirt and grime from the carpet and leaving it looking fantastic.
Very small size but large 33 ½" handle height ensures you have easy access on narrow spots like stairs.
Two-tank system ensures that it can easily be used for longer periods of time, with a 64oz water tank and 38oz dirty liquid tank for easy usage.
Excellent 15ft power cord and 5ft hose ensure that you have the easiest possible way to control your cleaning despite the portable nature of the hardware.
CONS
Not great for cleaning whole rooms, but spots in rooms.
The dirty water tank has a side opening – make sure you don't hit it by mistake.
Keep an eye on the water tanks; while durable they can break in the wrong circumstance.
VERDICT
Without a doubt, the solid and stable nature of the Portable Rug Doctor Cleaner makes it a welcome choice for those looking for easy compatibility and control. If you are in need of a portable solution that can help you get spots and spills to avoid having to get a larger piece of kit out, this is a good choice for you. Here's the explainer video from Rugdoctor showing you how to get the most out of their portable model:
FINAL WORDS
A very useful selection for anyone who is looking for a more creative choice of cleaner, so long as you remember its limitations. Other than that, it's a fine choice for a portable, lightweight cleaner that you can easily rely upon to do the job.
Best Cheap Cordless Small Handheld carpet vacuum: Bissell 20037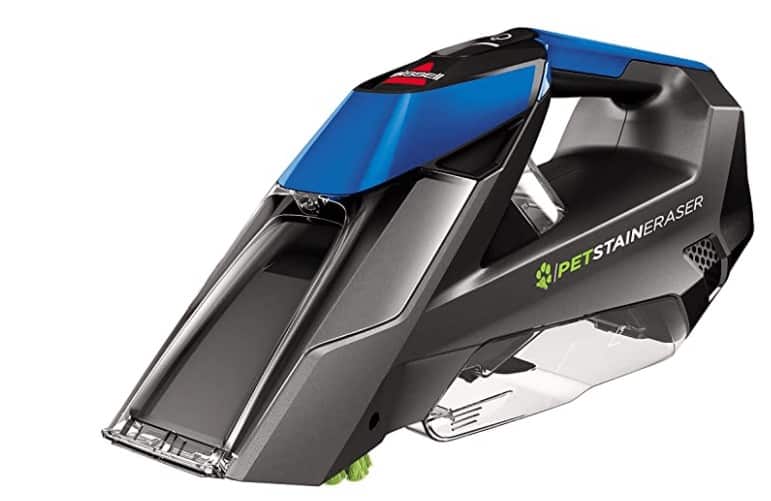 If you want a multi-use handheld carpet cleaner, this is an excellent option because it works well on everyday stains as well as pet stains. Best of all, this is a cordless product, so it's much easier to move around and maneuver. Therefore, you can take it out to clean the car in an instant, with no cords and plugs.
It costs less than $80, so there's no going wrong with this great carpet, stain, and upholstery cleaner. You get many of the features of those expensive cleaners at a fraction of the price.
FEATURES
The cleaner is multi-functional because it sprays, rubs, scrubs, and suctions a variety of surfaces, including carpets, upholstery, area rugs, stairs, and interiors.
Lithium-powered battery: this cordless cleaner is great because you can clean the spots in your home with one charge since it has a powerful lithium battery.
It has a removable suction nozzle and brush, which makes it easy to clean the device with water.
The cleaner features a stationary brush that efficiently cleans spots and stains by deep cleaning.
The product comes with ready-to-use cleaning formula, so there is no need to mix any chemicals.
The new version has an increased tank capacity.
Support and Warranty
Bissell gives you a 2-year warranty that covers personal use in your home. But, this warranty does not apply to parts like the fans, filters, belts, and brushes. Likewise, excessive negligent use, abuse, unauthorized repairs, and any other use won't be covered. To claim, you can quickly contact BISSELL Consumer Care at bissell.com
To see the warranty and support information on Amazon, you need to request it from Customer Care.
Pros
The cleaning formula for this device is stored inside the cleaner and doesn't require you to mix it with water, so it's easy to get started.
It is ideal for pet messes, including urine stains, food stains, hair, mud, and dander. So, you can have a clean home even with pets indoors.
It has powerful suction, and when combined with water and stain formula, it removes absolutely all of the dirt and spots.
Since it is a cordless and handheld cleaner, you don't need to pull on the cords and deal with tangled wires.
The pieces, including the nozzle and cleaning brush, are removable and easy to clean.
It is a lightweight product (4.9lbs), so carrying it around doesn't feel exhausting.
Cons
In some cases, the cleaning solution leaks out of the tank.
The design of the charger-port is not the best or ideal.
VERDICT
The final verdict on the product is that it's a great value buy. At such a low price, it does what most other cordless cleaners do, but it has the upper hand because it is ideal for cleaning stubborn pet messes. As well, it has a no-mix formula, so you just add solution and water, and you are ready to start clearing up the mess. Here you can see the bit HSNtv did on it:
FINAL WORDS
If you are on a budget, this is probably your best option as far as cordless cleaners go. Since it is lightweight and weighs 4.9 lbs, you can easily move it around the room, so we highly recommend it. It does a thorough cleaning job, and it is easy to use. Check it out here on Amazon
Best Portable Steam carpet Cleaner for Cars: Dupray Neat Steam Cleaner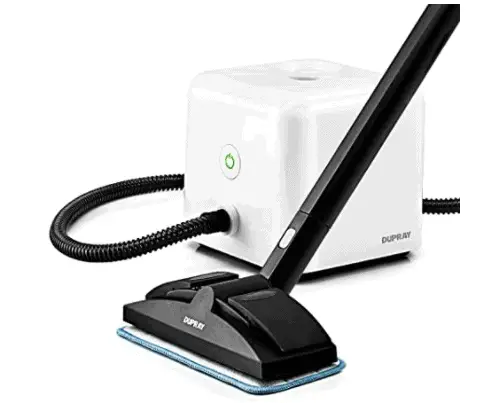 When you clean the interior of a car, we recommend you use a steam cleaner because it's more effective at removing stains, grime, and bacteria than a classic suction vacuum cleaner. This is an easy portable cleaning device that helps deep clean all of the car's interior surfaces.
The reason why this product is efficient is that it heats up the steam to a high temperature and destroys bacteria as it removes it. You can clean for about an hour with just one tank of tap water. So, when you finally decide that it's time to clean up your vehicle, you can use this one device, which makes cleaning much easier.
FEATURES
This steam cleaner gives you a deep clean without the use of formulas and cleaning chemicals as it only needs tap water to run.
It has a large tank capacity, which lets you clean for approximately 50 to 60 minutes nonstop.
This cleaner disinfects, cleans, removes spots and stains, and sanitizes the upholstery and car fabric.
It heats up the steam to 135 degrees Celsius or 275 F.
There is a built-in funnel which makes filling up the tank easy.
This product comes with 18 accessories, so it is a great value.
It has a retractable handle so you can make it shorter.
Kills 99.9% of bacteria and viruses.
Support and Warranty
This product comes with a 2-year warranty and lifetime warranty of the steam clean boiler. When you purchase this item on Amazon, it comes with a 3-year warranty on parts and a lifetime warranty on the boiler.
For support, you need to contact Dupray Customer Service.
Pros
It is compatible with any type of cloth but works well with microfiber pads.
This is a sanitary way to clean your car and make sure it is safe for kids because the steam from this device kills 99.9% of viruses and bacteria.
There is no need to use special cleaning solutions, and only tap water is necessary.
It has a small size, and it is compact: the measurements are: 9.5" x 10.5".
It heats up quite quickly to high temperatures. In about 7 minutes, you get to max temp.
This device has smooth-rolling wheels so you can use it all over the house, not just the car.
It has a steam-lock function, which means you're getting continuous steam.
Cons
There is no temperature display or thermometer, so you can't know the temperature of the steam.
It is a heavier portable cleaner that weighs around 10 lbs.
VERDICT
This product is not only for cleaning your car. A steam cleaner is useful around the house to clean pesky stains and spots. Consider this a worthy investment if you want a germ free home and car because it is very effective at killing germs. As well, if you're a sucker for details, you can use the steam cleaner to disinfect engines, door jams, and consoles. Here's the training video from Dupray showing you how to properly use their Neat:
FINAL WORDS
At over $200, this is not a cheap car cleaner, but since it uses hot steam, it is safer than using harsh chemicals. The benefit of using this cleaner is that it's not limited to car use, but perfect for cleaning jobs around the house. It is portable and has a large tank so you can use it continuously for an hour-long cleaning task. Check prices and availability here
Best Portable Carpet Cleaner with Heater: Housmile Anti-Dust Mites UV Vacuum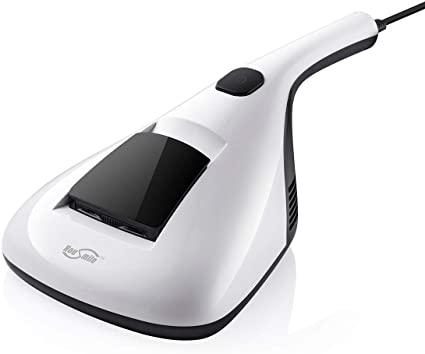 Every household should own a cleaning device that works to eliminate bacteria, viruses, and mites, including bedbugs. This multifunctional cleaner can be used on your carpets, upholstery, mattresses, and other soft surfaces in your home. It offers a deep clean, powered by heat. As well, it also sterilizes the surfaces it touches because it reaches a temperature of 55 degrees Celcius.
The cleaner can pick up the smallest mites and bedbugs to make sure your bed stays clean, day after day. This is an excellent product if you or a family member suffer from allergies because it eliminates most allergens. You can even use it to spot clean your carpets. So, if you want to get rid of house mites, this is the go-to product.
FEATURES
A high-temperature mode that reaches 55 degrees C to eliminate mites.
It has a dehumidification effect because it has an independent hot air system.
Intelligent Induction UV Light Switch: there is a sensor that senses when it comes into contact with skin, so it shuts off automatically.
The HEPA filter ensures a double filtration process; therefore, the filter removes all types of pollution and allergens.
This cleaner has super suction of 3800 times/min high-frequency vibration.
The dust collection box and HEPA filter are washable with water.
It has a lightweight, compact grip for easy maneuvering.
Support and Warranty
This product comes with a 30-day worry-free money-back guarantee. As well, it has a one-year limited warranty. Unfortunately, this is not an excellent warranty policy considering the other cleaners on the list have at least 2-years of warranty.
Pros
It has a 118-inch power cord so you can pull it around to fit into those tight spaces around the home.
This product is a great option for those looking for a spotlessly clean home and want to eliminate mites and allergens with UV Light and hot air.
It can destroy 99.7% of all microorganisms, mites, and bacteria, so it is great for cleaning your beds.
The HEPA filter is easy to wash and clean, and it ensures cleaner air in your home because it attracts all the dust and particles.
This small device is extremely efficient and compact, so it doesn't take up lots of space in your home.
Cons
It doesn't work too well on very dusty surfaces because it is not made to suck up all the dust.
Weak suction power compared to other similar cleaners.
VERDICT
If you are on the market for a small handheld cleaner that disinfects and eliminates bacteria, this is an affordable option. While it's not the best at picking up dust, it works very well to sterilize your surfaces with the UV light. As well, it is small and easy to hold so you can deep clean and spot clean carpets and mattresses.
FINAL WORDS
We recommend this carpet cleaner for those of you who are worried about bed bugs, allergens, bacteria, and viruses. Hot air and UV Lights are highly effective at cleaning your surfaces. Most customers are very impressed at how well this device removes the allergens and pollens and claim they are suffering less due to allergies since using this cleaner. Check the latest prices here
Best Self-Cleaning Carpet Cleaner: Hoover Spotless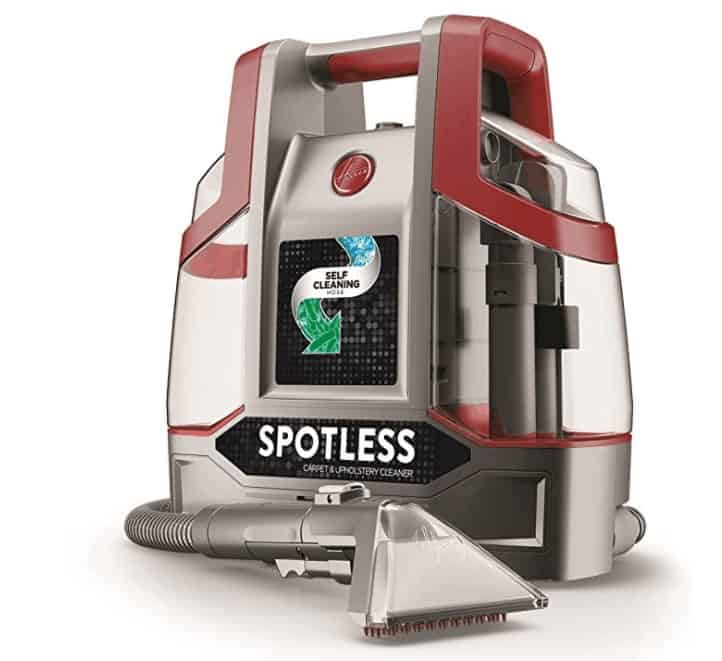 What's better than a self-cleaning carpet cleaner? It makes cleaning much easier and it works very well. Hoover has truly revolutionized the portable cleaner with this product. Usually, one of the hardest things is keeping the hoses, tanks, and brushes clean. You need to wash them out frequently to avoid bacteria build-up.
Well, this hose flushes itself out, so you can cut down on cleaning time and get back to doing what you love.
FEATURES
Self-Clean Technology: this technology allows the hose to flush itself, thus removing the buildup and gunk. It removes dirt and bacteria, so it stays clean inside.
Contains an antimicrobial multipurpose tool: a nubs tool made of antimicrobial materials to help you sanitize and clean your house. The tool doesn't allow bacteria, mold, and mildew to accumulate on it, thus making it more hygienic.
Powerful suction ensures an efficient and deep clean. The suction is so powerful, it can loosen and dirt, dust, and grime and removes it completely.
It has a dual-tank technology which means one tank is for the clean water and the dirty water is collected in the second tank.
This device has a 5 ft hose which makes it easy to reach small tight spaces.
Support and Warranty
Hoover offers a 2-year warranty on its small appliances. For other larger products, they offer a 10-year warranty. Their vacuum cleaners and carpet cleaners fall under the small appliance category. You can return your product for a full refund if you are not satisfied.
Pros
This carpet cleaner is lightweight and easy to move around the home. It weighs a total of 9 lbs.
It is a great cleaner to use on the stairs and very small corners because it has an extendable 5 ft hose.
Since the hose flushes and cleans itself, you don't need to worry about those nasty odors that build-up in cleaners.
The cleaner is only 15 inches tall so it is compact and small to fit anywhere, even in your cleaning supply cabinet.
It removes pet stains and messes efficiently because it works on both fresh spills and stains and old stain and removes them with its deep cleaning brushes.
If you use Hoover's recommended detergents, you can remove any stubborn stain.
Cons
Some customers complain that the plastic material of the hose is easily breakable if you drop it on the floor.
The brush may leave marks on your mattress or upholstery.
VERDICT
This is an excellent value purchase because the quality of the Hoover carpet cleaner is great. It removes all types of stains just like a steam cleaner but it also has the benefits of a regular vacuum cleaner. With its self-cleaning technology, it makes cleaning your house easy breezy. Plus, you can also use it to remove pet messes which is always handy. Here's Just a Dad looking at his Hoover Spotless he got for his home:
Final Words
Customers really enjoy using this product and they are surprised at how powerful this tiny machine is. When you first see the tank and hose, you don't expect much power but it delivers and effectively removes dirt and stains, just as well as any Bissell. It's available here on Amazon
Portable Carpet Cleaner with Best Suction: BISSELL SpotClean Pet Pro 2458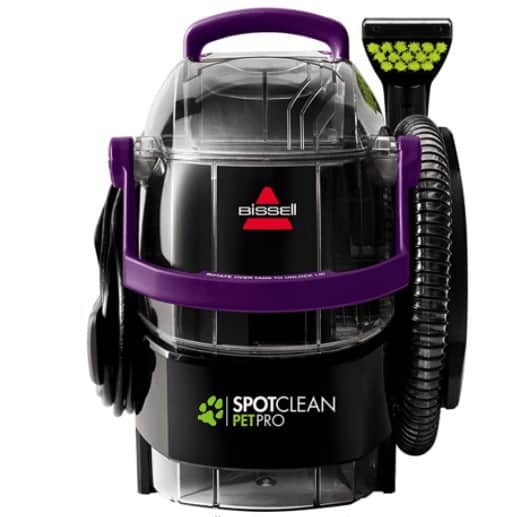 We left this last on our list because this is the ultimate cleaning device for those looking for powerful suction. It outshines the competition when it comes to suction power and scrubbing action. While it's advertised as a product for pet stains, it is designed to be used all over your home.
It can efficiently pick up and scrub though all kinds of dirty messes and leaves carpets and upholstery clean and fresh.
FEATURES
Superior Suction: This carpet cleaner has the most powerful suction power in the Bissell range.
96 oz tank capacity which means there's enough in one load to clean a large area.
3 " stain trapper tool which means that when you scrub and suction pet messes, they remain in the trapper tool and don't go into the device causing a smelly mess.
3 " tough stain tool which is powerful enough to remove almost any type of mess.
The product comes with a stain solution sample which removes urine stains but also eliminates odors.
Even though the cleaner has powerful suction, it is gentle enough to use on any type of soft surface.
Support and Warranty
This product comes with a limited two-year warranty like most other Bissell carpet cleaners. The warranty applies to purchases made in the USA.
Pros
This carpet cleaner is great at removing the stains and dirt caused by day to day foot traffic.
The powerful suction tool is more efficient and picking up dirt than other similar cleaners.
It has a 20ft cord length so you can clean every area of the house.
Works very well on couches and sofas, and can even remove very old spots and stains.
It has a huge tank capacity so you don't have to stop cleaning to fill up the tank.
Cons
This carpet cleaner is portable but heavy, as it weighs about 13 lbs, which is more than other similar devices.
VERDICT
This portable cleaner does more than remove pet stains. It's great even if you don't own any pets because it removes stubborn spots. The one thing to note is that since the suction is so powerful it does a better job with removing stains, especially soil and mud. If you don't have a problem carrying around a relatively heavy cleaner, this is an excellent option. Just look at this proud dog owner trying it out for the first time:
FINAL WORDS
We recommend this product if you have heavy-duty cleaning tasks to perform at home. If you live in a big house and have pets, especially dogs, you'll find this carpet cleaner a lifesaver. It costs less than $200, so it is a great buy. Check it out here on Amazon
Frequently asked questions around portable carpet cleaners
Why should I buy a portable spot cleaner?
First of all, everyone has to deal with pesky spots and stains. Accidents happen and if you happen to spill a glass of wine on your carpet, it takes a lot of work to remove the stain. It's hard to get it done with sprays because you need to do some intense scrubbing.
A portable spot cleaner is more effective and works to remove all the embedded stains. It is more effective than any type of foam or spray product. Also the suction head and steam penetrate deep into fibers to remove the stains for good.
What kind of stains can a carpet remover get rid of?
Just keep in mind that a portable carpet cleaner cannot remove ALL types of stains, but it does get rid of most stains, even if they're old. Here is a list of the most common stains a carpet cleaner can remove:
dirt
mud
pet stains including pee and poo
dust
mold
soil
chocolate
wine
oil
food stains
pet vomit
The Bottom Line
Since there are many options for carpet cleaning devices on Amazon, it's up to you, the consumer, to make a smart decision. It's best to invest in a portable carpet cleaner with many cleaning features and extra attachments because it means you can do more with it. Just imagine trying to reach the corners with a regular upright vacuum cleaner, it's pretty challenging. But with a portable device, you can remove dirt from tight corners and get rid of liquid stains as well.
Also read: these are the best 2 in 1 stick handheld cleaners out there at the moment
I'm Joost Nusselder, the founder of Tools Doctor, content marketer, and dad. I love trying out new equipment, and together with my team I've been creating in-depth blog articles since 2016 to help loyal readers with tools & crafting tips.