I love creating free content full of tips for my readers, you. I don't accept paid sponsorships, my opinion is my own, but if you find my recommendations helpful and you end up buying something you like through one of my links, I could earn a commission at no extra cost to you.
Learn more
If you want to reduce your cost it is a good idea to invest in the best chainsaw chain sharpener. It will not only save your money but also your time.
It is a very common phenomenon for a chainsaw chain that its cutter or tooth will get dull after use for a long time or many days. You cannot use the same chainsaw chain for a lifetime without sharpening it or without changing it.  It is cost-saving and better to sharpen the tool rather replacing it with a new one.
If you are decided to invest in chainsaw chain sharpener we will suggest you take a look into our list of the best chainsaw chain sharpener of the present time.
Chainsaw Chain Sharpener buying guide
We have made our guide to buying the best chainsaw sharpener for customers of all levels from the beginner to expert or from occasional to professional customers. If you are an expert in this field you can skip some of the points but it will not be wise to skip the whole buying guide to choose the best chainsaw sharpener.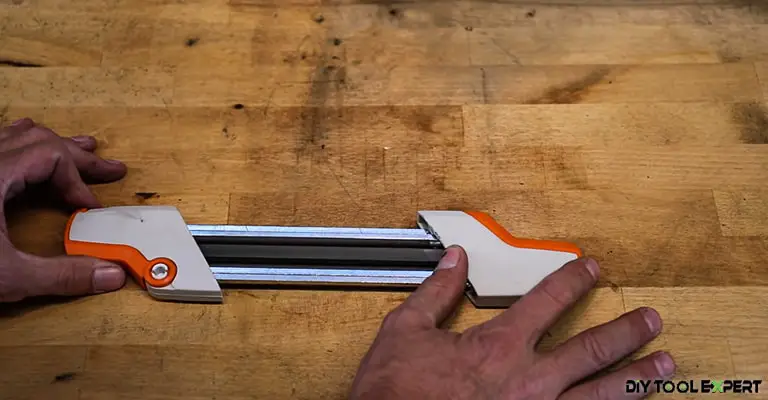 7 Tips to Pick up the Right Chainsaw Chain Sharpener
Know about the Type of Chainsaw Sharpener
Chainsaw sharpener has different types. To do shopping in an organized way firstly you have to know which type of chainsaw sharpener you need, otherwise, your shopping will be messy and time-consuming.
Well, here is a brief discussion about the common type of chainsaw sharpener:
Electric Chainsaw Sharpener
This kind of chainsaw sharpener works by the power of electricity. They are the fastest, efficient, and the easiest chainsaw sharpener. They require no muscle power to operate.
To maintain the precise angle and depth the chain is clamped between a guide bar. If you are a beginner you may find the setup process of electric chainsaw sharpener confusing for the first time. The price of an electric chainsaw sharpener is generally higher than other types.
Electric chainsaw sharpeners are so the perfect choice for professional users.
Handheld File Chainsaw Sharpener
They are the basic type of chainsaw sharpener. They require muscle power to do the sharpening job. They require more time compared to electric chainsaw sharpener.
They are small in size and so they are portable. You need some skill and experience to sharpen your chain with files at a perfect depth and angle.
If you are an occasional user you can search for your chain sharpener in the niche of handheld file.
Bar Mounted Chain Sharpener
To sharpen your chain with bar-mounted chainsaw sharpener you need to mount it on a flat, strong and stable platform such as a table or a bench.
Fastening it in the proper place you have to set the various knobs as per the specification of the saw. This helps to fix the sharpener's depth and filing angle.
You have to reset the chain several times to complete the sharpening process. So it adds downtime.
Check the Construction Material
You must not want a chainsaw that will break down after a few uses. The durability and longevity largely depend on the quality of the construction material.
All the chainsaw sharpeners are made of metal and mostly steel. Steel has so many types. It is wise to know the exact type and if you do not have any idea about the property of that type I will suggest you to Google it.
Check the Power Requirement
If you are looking for an electric chain sharpener check the power requirement of it and the power supplied to your store or home. If both of these do not match all of your money will be wasted.
Check the Cutter Type of Your Chain
A sharpener may not be able to sharpen the chain of any type of tooth or cutter. Generally, chains have 3 types of cutter. They are a round cutter, chisel, and semi-chisel cutter.
So when you are looking for a sharpener do not forget to check that whether it is compatible with the type of cutter your chain has.
Check the Compatibility of Your Chain with The Sharpener
A single sharpener is not suitable to sharpen the chain of any size or model. So do not forget to check whether your chosen sharpener will be able to sharpen the model of chain you have.
If you have more than one chain you do not have to buy a separate sharpener for those because a single sharpener is able to sharpen multiple chains of different size and model but obviously not simultaneously, one by one.
The sharpener that is able to sharpen all of your chains, choose that one.
Check the Frequency of Sharpening the Sharpener can Endure
The durability of a chainsaw chain sharpener largely depends on the frequency of its use. If you buy a chainsaw chain sharpener that is for occasional use and you use it frequently on a professional basis you will end up with a broken heart.
Check the Ease of Portability
If you have to take your chainsaw sharpener from one place to another you have to check the ease of portability. Small size and lightweight chainsaw sharpener are best to take from one place to another.
You can choose the file type chainsaw sharpener for the ease of portability. They are small in size and comes with a pouch that will help you to take these tools from one place to another.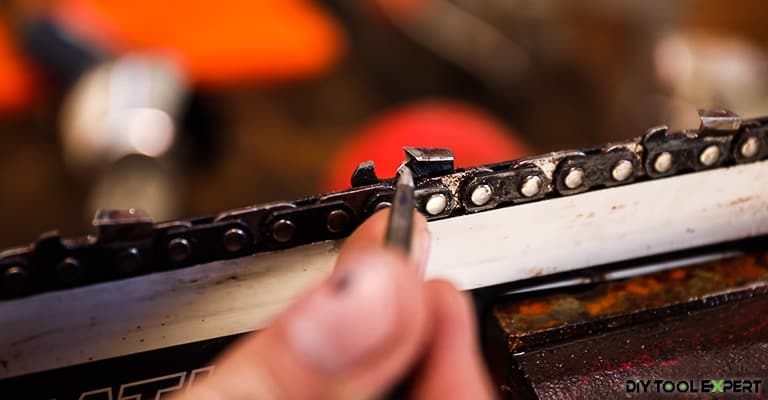 Best Chainsaw Chain Sharpeners reviewed
We know the worth of your time and we also know that most probably you are going to buy one item not several items at a time. So we have concise our list of the best chainsaw chain sharpener instead of making a long list of 15 or 20 best chainsaw chain sharpener.
1. Buffalo Tools ECSS
Buffalo Tools ECSS run by electricity and suitable for effective and quick sharpening. It will save your time, money and effort to go tool store every time your chainsaw becomes dull.
You can use it mounted on vise, bench or wall. It is designed to fit with the most common models of chains. And I hope you do not use a chain of the exceptional model that will not fit into Buffalo Tools ECSS.
It has a grinding wheel of 4-1/4-Inch x 1/8-Inch dimension and the size of the arbor is 7/8 inch. The wheel rotates at 4200 RPM speed. So you can understand that it will not take much time to sharpen your chainsaw.
Another important factor is the requirement of power. Well, a standard 120-volt wall outlet is suitable to operate it.
You can sharpen chain of different size with this single tool and you do not have to change the grinding wheels for sharpening chain of varying size.
If you take a little bit time to understand its working procedure it will not make you disheartened. For your convenience, I am describing it in brief here.
The first step is setting the appropriate cutting angle. Then to prevent any kind of accident and secure the chain properly you have to set the gripper of the chain and then place the chain in the gripper.
Then place the first link in the position, start sharpening operation and continue it for all the link one by one. Yes, do not forget to set both the chain-link stop and the grinding wheel depth stop.
The manual provided by Buffalo Tools for their Electric chain sharpener is written in very small font size. If you are not accustomed to reading such a small font you may face difficulty to read the instruction form the manual.
2. Katzco Chainsaw Sharpener File Kit
From the headline, I think you have understood that unlike other chainsaw sharpener Katzco provides several chainsaw sharpening kit in their package. To get all the essential sharpening tools in a single package you can choose this model of Katzco.
Are you curious to know about those tools? Of course, you are. Let's see what Katzco provides in their package of chainsaw sharpening tools.
You are getting not 1, 2 or 3 kits in this package. You will be surprised to know that there are a total of 8 objects available in the Katzco Chainsaw Sharpener File Kit.
You will get flat and round files of the fine tooth. The round files come in 3 different sizes. Filing guide and depth gauge tool are also provided.
For the convenience of gripping wood-handle has been provided. The handle is made of hardwood and so it can endure high pressure and therefore durable.
Since the handle is made of wood there is a very low possibility of slipping during sharpening operation and therefore less possibility of injury. The beautiful color of the handle is really attracting.
And yes to store all of these tools easily Katzco provides a beautiful pouch. It is not very heavy rather lightweight. You can carry these tools anywhere in this pouch.
To keep the weight comparatively less for the convenience of portability it is made quite flimsy. It does not come with any clear instruction guide so it is normal to face problems to use it if you are a beginner or using this toolkit for the first time.
3. STIHL Chainsaw Chain Sharpener
For the beginner, STIHL Chainsaw Chain Sharpener is a good choice to learn how to sharpen the chainsaw chain. It is easy to operate and engineered in such a way that you do not have to worry a lot to maintain accuracy. So, as a beginner, this tool will help you to achieve confidence in your competence for the first time.
It is called a 2 in 1 Filing Guide since it completes two jobs at once and those two jobs are sharpening the chain and lowering the depth gauges.
STIHL provides a total of 5 sharpening tool in this package. These tools include two round files, one flat file, and a unique file holder and filing guide.
It sharpens the chain within a short time. So you will get more time to engage your chain into the cutting job. You can use it for sharpening chains of any renowned brand.
The sharpening tools are rust resistance and not so heavy in weight. You can take it anywhere in your bag and store it after everyone uses it comes with a beautiful holder of exceptional design.
If you use it occasionally and after every use maintain it properly (cleaning from dirt and dust and storing in dry condition) hopefully you will not be disheartened. I am saying this because STIHL Chainsaw Chain Sharpener is not designed for professional users; it is designed for occasional users.
But if you use it frequently and then find it damaged within a short time then it will not be fair to put a negative review on amazon. So, if you are looking for a chain sharpening tool for professional use, I will better not recommend this tool for you.
4. Cataumet Chainsaw Sharpener File Kit
The Cataumet Chainsaw Sharpener File Kit is suitable for both professional and occasional or homeowner users. All the sharpening tools including the carrier bag is of premium quality and is suitable to sharpen most of the chains of famous brands.
All the sharpening tools of this chain sharpener file kit is made by heat-treated double-cut carbon steel. One of the common problems that occurs during using metal outdoor is its reaction with the environment or moisture.
Each sharpening tool is coated with rust resisting coating. So you can use it in any weather condition for years.
It comes with multiple round files of different sizes, 1 flat file, multiple double handle file guides, depth gauge, felling wedge, stump vice, chainsaw wrench – screwdriver, field bag with carrying handles.
The flat file does not have any handle.  The stump vice is made from cast iron and able to carry the heavy load.
The falling wedge is made from high impact ABS plastic. So you cannot use this felling wedge for splitting wood. The built-in sharpening guide of Cataumet helps the users to maintain the right angle every time. It takes on an average of 10 minutes to sharpen a chain of 18-20 inches.
The field bag is made from nylon and it has multiple exterior chambers. The bag is big enough to give you a lot of flexibility to organize your tools. But it is not a long-lasting bag.
5. Timberline Chainsaw Sharpener
Timberline Chainsaw Sharpener is a professional tool but it is neither giant in size nor it is a toolkit consisting of multiple tools. It is a newly patented chain sharpener of small size.
It is a newly patented chainsaw sharpener which design differs from most of the common sharpener. It is easy to use and yes you do not have to be an expert to maintain accuracy. Timberline Chainsaw Sharpener is smartly engineered that it has been taken precision and accuracy to a new level.
Tungsten carbide has been used in its cutter. You have to turn this cutter by hand to sharpen the chain. An important advantage of this tool is that it is able to sharpen every tooth at an equal angle and length. You do not have to be a sharpening expert to maintain this accuracy level. Timberline Chainsaw Sharpener will do this by itself.
Guide of this sharpening tool is also made of carbide One guide is fixed at a universal angle of 30 degrees and on the other hand, there are two more guides of 25 and 35 degrees provided separately.
It sharpens the tooth of your chain very fast. So it is a time-saving tool. Since it is smaller in size and able to do heavy-duty work this deserves the first position of choice to the professional. If you are not a professional user still you can choose this long-lasting strong and smart sharpening tool.
Compared to an electric grinder it takes much more time to sharpen a dull chain. If you need to change one cutter side to the other you must make the proper adjustment again. Compared to other chain sharpeners Timberline Chainsaw Sharpener is much more expensive.
6. Granberg Bar-Mount Chain Saw Sharpener
Granberg Bar-Mount Chain Saw Sharpener is an industry-grade chain sharpener. It is designed by Elof Granberg. This sharpener is more than 35 years old and is still among the top-ranked chain sharpening tools.
The file-n-joint helps to maintain accuracy and durability. You can use it to sharpen any standard chain. It is able to hold a file of any size for standard chain pitches and lowering depth gauges.
It is made of cast aluminum and zinc-plated steel. To set and hold correct sharpening angle calibrated swivel guide markings have been used. You can set file height and tooth length by using its integrated features.
The USA is the manufacturer country of this mechanical sharpener. It works very fine for milling purposes. It does not have a posh appearance but is a durable item.
It does not come with a file. You have to purchase your file separately. If you mount it correctly you do not have to reposition it every time you need to sharpen new teeth. If you mount it properly it will move on the rivet freely, no tension about having a rivet nut tool.
If you are overly aggressive with filing you can end up with breaking the sliding rod and handle within a few days. Maintenance is another important issue to get a good service from a product for a long time.
It is recommended to use grease after finishing sharpening. It will lessen the friction and increase the longevity of the sharpener.
Finally, I will say that this reasonably priced tool is a big improvement over hand filing.
Frequently Asked Questions
Which Chainsaw Sharpener is Best? Let's find out! Stihl …
Is it worth sharpening a chainsaw chain?
The correct file to sharpen any given chain is worth less than five bucks. It will touch up a chain and keep it sharper than new literally a hundred times (assuming there is no physical damage to the chain). You can sharpen a chain until the little slash mark at the back of the tooth. It is, however, a learned skill.
What size file do I use to sharpen my chainsaw?
When sharpening your chain using a file, it is important that the correct size file is used to maintain the correct hook angle and gullet shape on the tooth. The recommended size files are: 3/8LP and . 325 pitch chains is a 5/32 (4mm) chainsaw chain file.
How many times can you sharpen chainsaw chain?
More Sharpening Tips
Cutters can be sharpened up to 10 times or more before the chain needs replacing. If your cutters are worn unevenly after a few sharpenings, a professional can regrind them to uniform shape.
Why does my chainsaw blade get dull so fast?
You may be putting to steep of an angle on the cutters, which will dull quickly. You're rakers may be too far down, which will contribute to a quick dulling chain. You may be cutting dirty wood. You may be slightly touching the ground with the tip of the bar.
How much does it cost to sharpen a chain saw?
A 16″ chain costs anywhere from $13-20. Pay $4-7 per chain to sharpen, and that's up to 50% of the cost of a new chain!
What angle should I sharpen my Stihl chainsaw chain?
30°
STIHL saw chains are generally filed to an angle of 30° – parallel to the service mark for the filing angle. Hold the file so that one quarter of its diameter projects above the top plate.
How do you sharpen a chainsaw like a pro?
Can you sharpen a chainsaw with a flat file?
You can file freehand, straight across, with a flat file, or purchase a depth gauge guide that fits between the cutters and features an opening that lets you file the top of the depth gauges. The top of the depth gauges should be just a hair—0.025-inches—below the top of the cutter's cutting corner.
Why does chainsaw cut in a curve?
Uneven top plates can cause a chain to cut crooked. It's important to keep all top plates equal length. Dull cutters damaged by rocks can cause a chain to cut crooked. … If you sharpen your chain at a 25º setting on your left hand, your right hand cutters should match.
Q; At which angle I have to set the sharpener to sharpen my Stihl chainsaw?
Ans: Accuracy is very important for Stihl chainsaw blade. To sharpen a Stihl chainsaw chain you have to set it at an angle of 90 degrees and the file should be guided at an angle of 30 degrees.
Q: How tightly I have to set my chainsaw chain for sharpening?
Ans: It is very common for a chainsaw to get loosen after working for hours after hours. Though it is a normal phenomenon you have to be conscious of this fact since it determines the tension and may result in a dangerous situation.
To check whether your chain is at safe condition simply pull the chain and if you notice that the chain is loose enough to be pulled up but tight enough that the drive links remain engaged in the bar nose it is in perfect condition. You do not have to tighten or loosen it.
But, if you notice that the chain is too tight to move or the chain is disengaging the drive links that means your chain is not in the proper tension; you have to readjust it to ensure safety during operation.
Q: How can I take care of my chainsaw chain sharpener?
Ans: It is very easy to take care of your chainsaw chain sharpener. Keep it clean from dirt and dust, ensure the dryness before storing it in a pouch or tool bag or in the storeroom and use grease on the blade to reduce the friction during sharpening.
Q: What safety measurements should I take to use a sharpener safely?
Ans: To ensure safety you can follow the 3 tips written below:
Firstly, inspect the condition of your sharpener.
Secondly, tighten the chain and secure the blade and the sharpener
Wear protective equipment to prevent injury
Conclusion
If you are a professional user and looking for a chainsaw chain sharpener that will last long even after a high frequency of using I will recommend the Timberline model or Buffalo for you.
The proper maintenance and not exiting the limit of frequency of use increases the longevity of your chainsaw sharpener and makes it the best chainsaw sharpener for you especially if you choose a product of good quality.
On the other hand, a good quality chainsaw chain sharpener can give you the worst experience if you cannot set up or maintain it properly.
I'm Joost Nusselder, the founder of Tools Doctor, content marketer, and dad. I love trying out new equipment, and together with my team I've been creating in-depth blog articles since 2016 to help loyal readers with tools & crafting tips.