I love creating free content full of tips for my readers, you. I don't accept paid sponsorships, my opinion is my own, but if you find my recommendations helpful and you end up buying something you like through one of my links, I could earn a commission at no extra cost to you.
Learn more
Are you an aspiring carpenter and looking for the best power tools to purchase? If carpentry is your newly acquired hobby and you have no idea what defines the best chop saw, then this article is for you.
Within the next few minutes, your mind will be enriched with all the information you seek on this matter. It can be a daunting task to determine the one power tool you can rely on.
The vast range of options doesn't make it any easier.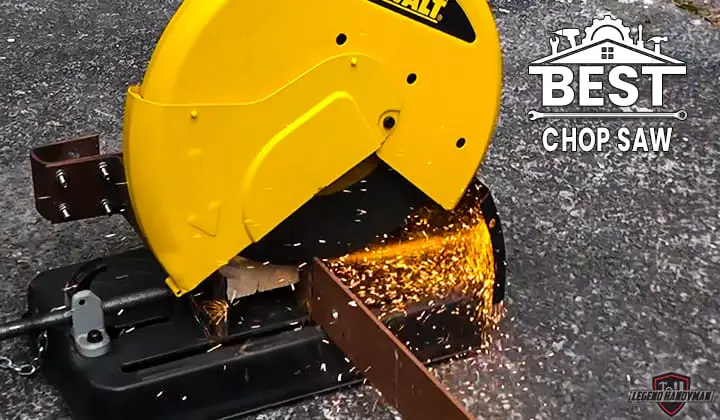 Fret no more, as we have handpicked the seven best chop saws with intricate details and distinctive features that will help make up your mind. Whether it's durability, stability, or sheer power, each of these miter saws excels in one or every aspect.
What is a Chop Saw?
Chop saw is an electronic tool specially built for making precise cuts on wood. Even though it might resemble a circular saw, its function and characteristics are different. Unlike circular saws, a chop saw remains stationary once switched on. They are equipped with a sharp blade rotating in a circular motion.
All you need to do is push the piece of wood towards the rotating blades, and the saw will give you a perfect cut of wood.
Many carpenters use this to make accurate square cuts (usually for cabinet doors). Based on the blade you choose, the chop saw is capable of effortlessly cutting through several thicknesses of the wood. A different type of chop saw, called a miter saw or compound miter saw, can also be used to get perfectly angled cuts.
Best Chop Saw Reviews
Nowadays, there are various chop saws, each specialized for specific purposes. Before you buy one of your own, you need to acquire proper knowledge of their features and dynamic uses. To make your job easier, we have handpicked 7 of the best chop saws available in the market, along with their specifications.
Evolution Power Tools EVOSAW380
| | |
| --- | --- |
| Weight | 55 pounds |
| Dimensions | 21 x 13.5 x 26 inches |
| Power Source | Corded electric |
| Voltage | 120 volts |
| Color | Blue |
| Material | Steel |
| Warranty | 3 year limited warranty |
EVOSAW380 is a sensible choice if you want to make fast cuts with zero burrs. It's one of the best chop saw for metal. The 14-inch razor-sharp blades on this tool are perfect for cutting through metal surfaces. Moreover, this model is capable of running a 15-inch blade as well.
This chop saw is equipped with a powerful 1800-watt motor with an added gearbox. The gearbox generates high torque and helps the motor run longer. And the powerful motor, accompanied by the intensified blade, makes it effortlessly cut through several inches of metal.
The motor can efficiently deliver up to 14 horsepower without heating up. And the cuts are smooth and accurate; you don't need to use abrasives to even out the edges. This chop saw produces minimal amounts of heat during operation. Thus, you don't need to wait for the metal to cool and can start welding instantly.
Furthermore, this will significantly reduce time consumption and boost productivity. The mild steel blades are specially modified to last longer. The depth of cut remains consistent over the entire duration of use. Unlike other chop saws, these blades don't deteriorate over time either and give you the same accuracy as day one.
A 0-45 degree adjustable vice is also included with this rugged power tool. The swivel vice allows you to get precise cuts at an angle of up to 45 degrees with ease. The chip blocker also ensures that the user isn't harmed by spraying debris.
Additionally, this chop saw was also designed for maximum durability. The aluminum base makes it suitable for heavy-duty usage for more extended periods.
Pros
Improved accuracy with 14-inch mild steel blades
Durable, heavy-duty usage
Runs on an 1800-watt motor
Minimizes heat
Cons
PORTER-CABLE PCE700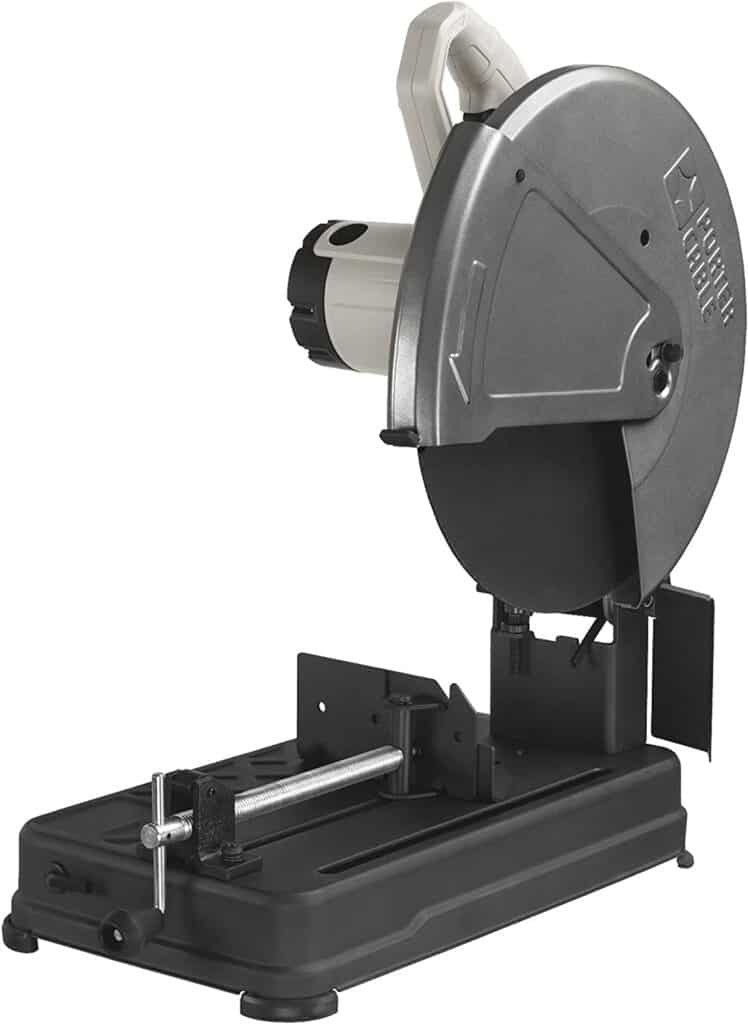 | | |
| --- | --- |
| Weight | 32 Pounds |
| Dimensions | 22.69 x 14 x 17.06 inches |
| Power Source | Corded Electric |
| Voltage | 120 volts |
| Warranty | 3 year limited warranty |
This next model of chop saw promotes a high level of stability. Its heavy-duty steel base design makes it perfect for long term usage. And it's equipped with one of the best chop saw blades for steel to date. The 14-inch mild steel blade can relentlessly cut through metal, giving you a perfect finish.
Moreover, the PCE700 is meant for long term usage and makes metal cutting a breeze. The base is also laced with rubber, which helps the saw to stay in place during use. Also, this power tool is specifically manufactured to reduce vibrations while operating.
It keeps the machine stable no matter how many metal sheets you feed into it. The robust 3800 rpm motor keeps the blades running at an enormous speed. This boosts the blade's capabilities of cutting through several pieces of metal at a stretch. The motor also comes with replaceable brushes, and therefore, extends its lifespan.
Now you don't have to worry about the motor seizing in the middle of work. If you think changing wheel blades is costing you precious time, the PCE700 has taken care of that too. The chop saw is fitted with a spindle lock system, which makes replacing the wheel a piece of cake.
Furthermore, the cutting fence is adjustable to 45 degrees and lets you get different but equally accurate cuts. Porter-Cable doesn't shy away from taking safety precautions, either.
As we know, sparks created during cutting metal can blur your vision and also act as a safety hazard. Thankfully, the spark deflectors in this chop saw not only gives you a clear line of sight but also protect your eyes from damage.
Pros
Stable steel base
Rubber bottom reduces vibrations
Runs on a 3500 rpm motor
Spark deflectors produce clear vision and ensure safety
Cons
The cord can reduce maneuverability
DEWALT D28730 Chop Saw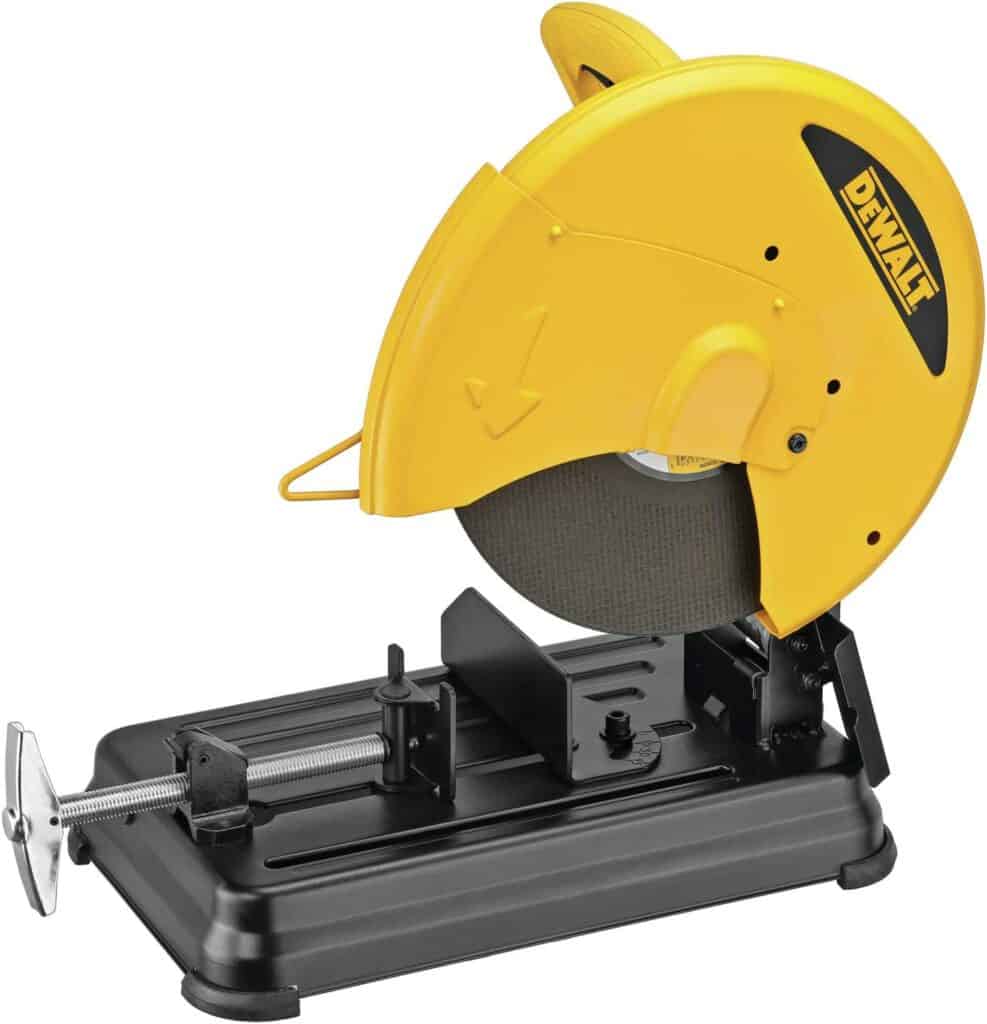 | | |
| --- | --- |
| Weight | 1 pounds |
| Dimensions | 21.9 x 14.6 x 17 inches |
| Power Source | Corded Electric |
| Color | Yellow |
| Warranty | 3 Year Limited Warranty |
If you want a chop saw that promotes extreme maneuverability, then look no further. The DeWalt D28710 has an ergonomic design, which lets you operate it with ease. Its horizontal D-handle surely makes operating the chop saw effortless and less exhausting. You can steer it around as you please to get that perfect cut.
Also, a carry handle is included for you to transport this power tool easily. Apart from the ease of use, this tool is also equipped with one of the best chop saw blades for steel. The wheel is made of oxide grain, which makes it more durable than any other. This gives you fast, cold cuts without wearing out the blade.
It also comes with a quick-lock vise that attaches to any material you want to cut. The material is safely held in place while the blade cuts through it.
Furthermore, the blades in the saw are also exchangeable. But unlike other chop saws, the wheel blade in this tool needs to be replaced using a wrench. In case you don't lose it, you can easily store it on the chop saw itself! Moreover, the spark deflector in this chop saw is manually adjustable.
This means you can cut the metal sheet at any angle and still won't be grazed by emanating sparks.
Another engaging feature is its 15-amp powerful motor. It keeps the machine running at about four horsepower, which is the maximum amount for any motor. As a result, the blades spin relentlessly without a pause, giving you smoother and more uniform cuts.
Pros
The ergonomic design makes it easy to use
The wheel is made of oxide grain
Spark reflectors are adjustable
The motor generates up to 4 horsepower (maximum for any motor)
Cons
Alignment might need some adjustment
Makita LC1230 Metal Cutting Saw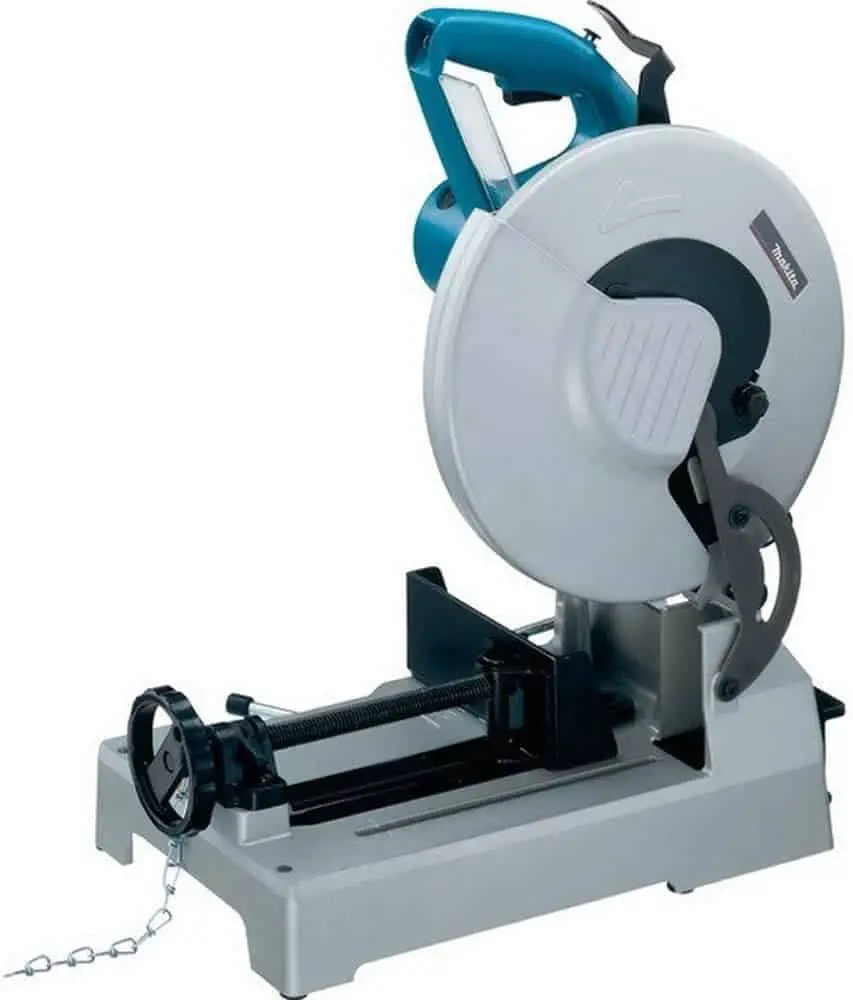 | | |
| --- | --- |
| Weight | 42.5 pounds |
| Dimensions | 13.78 x 22.56 x 17.32 inches |
| Power Source | Corded Electric |
| Voltage | 120 volts |
| Color | Blue |
| Material | Carbide |
This versatile power tool is the best chop saw for metal. It can effectively cut through angle iron, light pipe, tubing, conduit, and various other materials. Not only does it give you excellent cuts, but it also does it four times faster than any other abrasive saw.
Its 15-amp motor generously contributes to its steady performance and increases the durability significantly. This chop saw is easy to use due to its quick-release vise, which keeps the material in place. Results include even cuts and minimal vibrations during heavy duty.
An additional socket wrench is complimentary, which can be used to replace the razor-sharp blades. The blade is made up of carbide material that can cut through metal faster without producing any excess burr. This carbide-tipped blade can also withstand repeated usage for a long time.
The LC1230 runs on a potent 15-amp motor specially engineered by Makita to generate up to 1700 rpm. This feeds the wheels with enough power to cut through almost any impermeable material. It's also environmentally friendly due to the collection tray that stores the debris.
However, what distinguishes this metal cutting saw from others is the safety control system. Most chop saws come with the risk of starting abruptly, which may cause major accidents. Fortunately, the risk can be contained with the click of a lock-off button when you are not using it.
And this will keep the blades fixed in its place and prohibit any unfortunate events. The chop saw can also be manually started by pressing the convenient two-finger start button placed on the D-shaped handle.
Pros
Runs four times faster
Carbide tipped blade lasts longer
Environment-friendly
Lock-off button
Cons
The chip collector can't collect most of the debris
Slugger by FEIN MCCS14 Metal Cutting Saw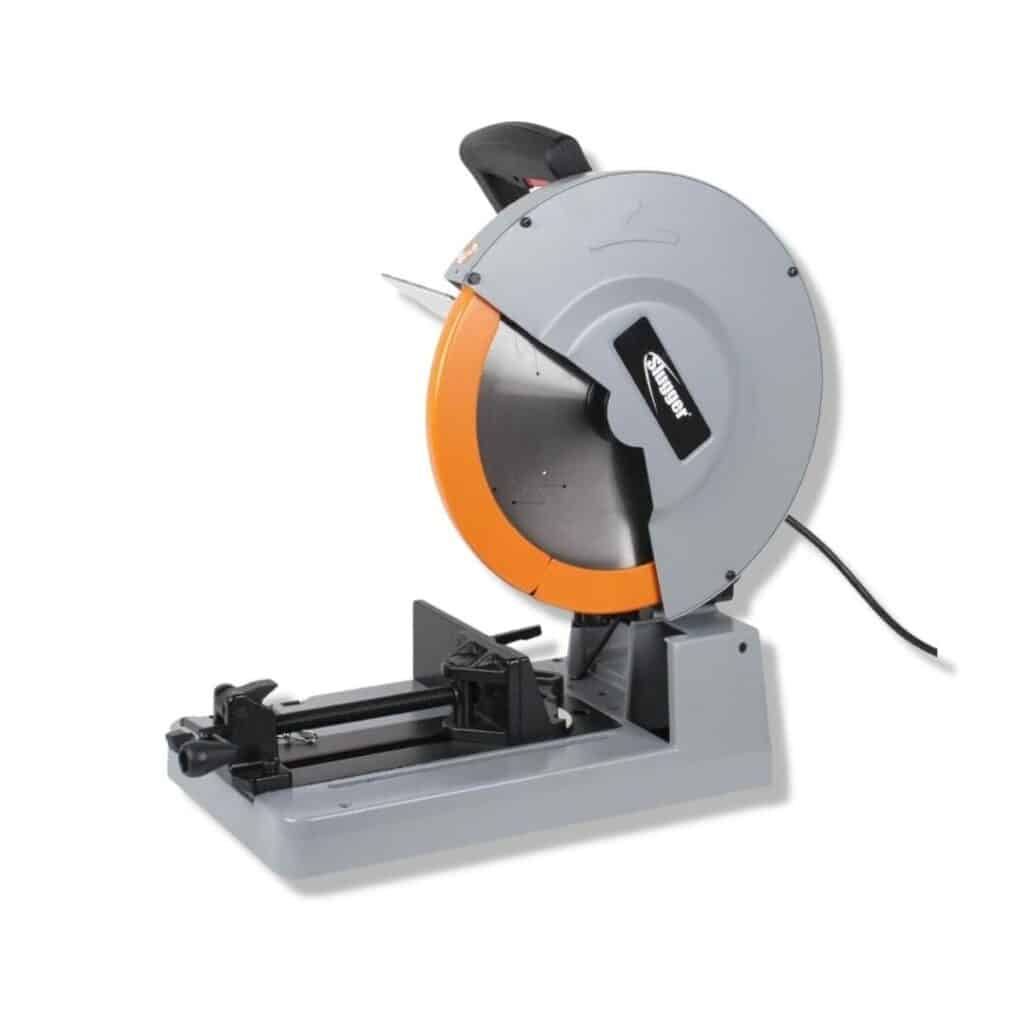 | | |
| --- | --- |
| Weight | 54 Pounds |
| Power Source | Corded Electric |
| Voltage | 120 volts |
| Color | Gray/orange |
| Material | Metal |
Looking for a chop saw that stays cool even after heavy-duty operations? Then the Slugger MCCS14 is the best pick for you. Most metal saws are equipped with excessively fast motors, which might heat up if used continuously. It also results in increased sparks and heat production.
The FEIN MCCS14 has a motor that runs at a low speed of 1300 rpm but with higher torque. This lets you cut through any type of metal or wood fast and also keeps the chop saw cool. The reduction of sparks will also protect your eyes and help you see clearly while working.
Moreover, the MCCS14 chop saw is built of an aluminum-based material, which makes it last longer even after several uses. It's specifically built to withstand extreme conditions and still give you optimum performance. It is undoubtedly one of the best chop saw on the market for heavy-duty usage.
Furthermore, the specially modified wheel blades were built to cut through a wide range of metals effortlessly. It can easily slice through aluminum, stainless steel, wood, and many other materials. The exchangeable blades will present you with accurate cuts even at an angle of 45 degrees.
It can cut at any angle between 0 to 45 degrees and still maintain the same amount of precision. The blades can cut 5-1/8 inch of metal at 90 degrees. It can also cut a 4-1/8 inch round material at an angle of 45 degrees. Also, it has a safety guard fitted below it, which automatically retracts to prevent any unfortunate accidents.
Pros
Creates less heat and debris
The aluminum base can withstand harsh conditions
Can cut through a wide range of metals
Equipped with automatically retractable safety guard
Cons
The blade is prone to damage
MK Morse CSM14MB Chop Saw
| | |
| --- | --- |
| Weight | 53 pounds |
| Dimensions | 1 x 1 x 1 inches |
| Power Source | Corded Electric |
| Voltage | 120 volts |
| Color | Multi |
| Material | Blend |
Next, up is the chop saw they call the Metal Devil! Frankly, the name says it all. It cuts through various types of metal with ease and grace. And it lets you carry out heavy-duty operations in silence. So, no more worries about the chaotic noise pollution of metal grazing against each other.
This chop saw is developed by low speed, high torque motor technology, which gives you impressive results within half the time. Due to the advanced technology of the motor, the razor-sharp blade is delivered a constant 1300 rpm. It might seem lower than what most chop saws generate, but it surely has its benefits.
Because of the low-speed motor, the blades induce less friction against any given material, which results in fewer sparks. Moreover, the minimal amount of sparks that do fly towards you can be restricted using the safety goggles included amongst the package.
It lets you see with full clarity while protecting your eyes from long-term damage. Another crucial advantage of the low-speed motor is heat reduction. Heat production is significantly reduced and contributes to low burrs as well. This helps you get smoother cuts of metal, in almost any shape you wish for.
The blades are carefully engineered to make smooth contact with the material. It slices through like a kitchen knife on butter. Additional features include a beveling vice, which helps retain the material and keep it from swerving.
Furthermore, the firm grasp leaves no room for mistakes until you get that perfect finish. A pair of noise-canceling earplugs is also added as an extra precaution.
Pros
Sparks are significantly reduced
Minimized heat production
Cuts are smooth and accurate
Added safety goggles and earplugs
Cons
Changing wheel blades takes longer
SKILSAW SPT78MMC-01 Metal Cutting Saw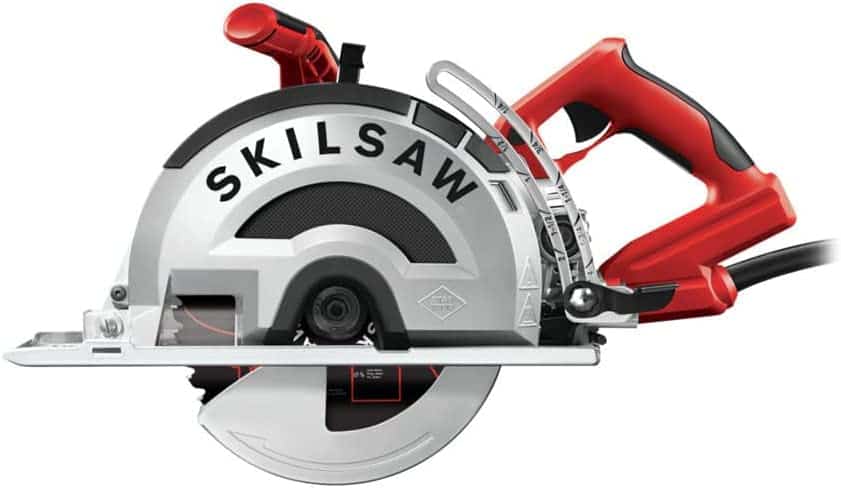 | | |
| --- | --- |
| Weight | 38.2 Pounds |
| Dimensions | 20 x 12.5 x 16.5 inches |
| Voltage | 120 volts |
| Color | Silver |
Dedicated to the trade since 1942, SKILSAW brings you the best chop saw for the money. The SPT62MTC-01 is an elusive model due to its specially modified blade. This 12-inch blade can easily outwork any regular 14 inches saw blade in every aspect.
It has an outstanding 4-1/2 inch cutting capacity with a smoother finish than a 14-inch blade. Also, it can cut a 4.5-inch round pipe as well as 3.9-inch square stock with utmost precision. It can do anything a regular metal cutting saw can but better. And, it is powered by a robust 15 amp motor with a no-load 1500 rpm.
This ensures maximum amounts of efficiency due to its speed and heat retention. Cutting metal is virtually spark-free and burr-free and saving you the hassle of manually deburring the cut afterward. Furthermore, the motor, as powerful as it is, doesn't start abruptly after switching on.
Furthermore, it maintains a steady acceleration, which makes it run longer, even in extreme conditions. Regardless of its potency, this metal cutting saw is lighter than most. Weighing at 39 lbs, it can be conveniently carried to your workplace. A little locking pin is also added to keep it from accidentally starting up while in storage.
To minimize vibrations, a quick-adjust locking vise can quickly latch on to any material you want to work on. It also has a miter fence, which lets you cut in angles up to 45 degrees.
An additional chip tray also comes with the chop saw, which accumulates all the needless debris. All in all, SPT62MTC-01 is a versatile power tool.
Pros
12-inch blade with an impressive cutting capacity
Spark and burr-free
Lightweight and efficient
Doesn't contaminate the environment
Cons
The blade needs to be changed frequently
Features to Consider Before Buying
Buying the perfect chop saw to fit your needs can prove to be more challenging than it seems. You need to carefully sum up all the available options and assess them based on specific features. To help you further, we have listed some significant specifications you need to keep in mind when buying a metal cutting saw.
Type of Blades
The key to getting a perfect cut from your chop saw is choosing the proper blade. There are several models out there, each equipped with different types of blades. Each of these blades is specialized in cutting particular types of materials. The chop saw you choose must be based on the kind of material you wish to work on.
Most of the chop saws consist of blades ranging from 10 inches to 14 inches. It is recommended to use a 14 inch saw blade to get precise cold cuts, either round or square. However, there are some power tools with 12-inch blades that are more efficient than regular 14-inch abrasive blades. The smoothness of the cuts also depends on the number of teeth it consists of. Make sure you also check what the blades are made of, as each one is dedicated to cutting a certain type of material.
Type of Motor
Motors are the components that deliver your equipment with the power to slice through materials effectively. Knowing the motor's capabilities will tell how fast the wheel blades would be spinning and how fluid the entire operation would be. The highest amount of horsepower a motor can generate is four hp.
Regular motors can generate up to 1500 rpm, which will be enough to saw through any tough material with ease. The fastest motor isn't necessarily the best one to pick. Some low-speed motors run on high torque. This will help the chop saw to run more efficiently for a longer duration.
It's usually ideal for heavy-duty operations as the saw generates less heat, and the cuts are burr-free. Some metal cutting saws are virtually spark-free and won't be harsh on your eyes. A proper motor will also make cutting metal considerably silent.
Adjustable Bevel
If you want to cut the given material at an angle, you must pick a model that comes with an adjustable bevel. The bevel lets you set the angle at which the blades will be sawing, in case you don't want to get more complex cuts. It allows the machine to slide the material according to the angle you choose.
Moreover, it doesn't require you to exert any manual force. Many chop saws are capable of cutting at an angle of up to 45 degrees.
Type of Body
The durability of the chop saw is directly linked to the material it's made of. Most of them have a strong aluminum base, which gives it a sturdy outlook. The rigidness of the cast will also determine its life span, so choose wisely!
Also, keep in mind that a strong material might increase its weight. It can be harder to carry it around. A metal saw with an ergonomic design is much more convenient to handle.
Additional Features
Chop saws that offer additional perks can make your job less tedious. For example, some power tools have features that let you replace blades much faster. Others come with easily concealable wrenches (need to equip blades). Chip collectors will store unwanted debris, and keep you from creating a mess. A spark deflector might come in handy too. It can shield your eyes from sparks creating from cutting metal. You should look for extra safety functions which can prevent sudden accidents.
Frequently Asked Questions
Here we have some of the most commonly asked queries regarding the best chop saws:
Q: Can you fit a dust bag with a chop saw?
Ans: No, most chop saws don't support this feature. You cannot fit a dust bag for collecting debris if it's not included within the package. However, some chop saws have chip collectors for this purpose. You should consider buying one of those.
Q: Can you fit an abrasive disc?
Ans: No, you cannot fit an abrasive disc to any chop saw. The power generated by these motors is not suitable for an abrasive disc. And the blade itself has abrasive capabilities enough to slice too metal or wood.
Q: Can you fit a diamond blade?
Ans: Yes, some diamond blades are compatible with chop saws. Keep in mind that it should be around 355 mm in diameter. It will let you cut metal with even more precision.
Q: Can it cut stainless steel or iron casts?
Ans: Yes, certain models are specifically made for this purpose. Pick the one with blades that are suitable for these materials.
Q: Can it withstand extreme conditions?
Ans: This will depend on the type of material the cast is made of. If the body is sturdy, you can use it for hours on end without stoppage. You should also consider the quality of the blade it consists of. There are a few models that offer a perfect combination of both.
You know the circular saw has different types, the chop used to chop metal but there is another saw used to cut the concrete named the mighty concrete saw.
Conclusion
Meddling with power tools, even with proper knowledge, can sometimes lead to accidents. No matter how much of an expert you are, you should always take all the necessary safety precautions.
The topics above should prepare you enough for buying the best chop saw for yourself. Compare and contrast the different models presented above and choose the one that tends to your needs.
I'm Joost Nusselder, the founder of Tools Doctor, content marketer, and dad. I love trying out new equipment, and together with my team I've been creating in-depth blog articles since 2016 to help loyal readers with tools & crafting tips.