I love creating free content full of tips for my readers, you. I don't accept paid sponsorships, my opinion is my own, but if you find my recommendations helpful and you end up buying something you like through one of my links, I could earn a commission at no extra cost to you.
Learn more
An artifact of woodwork isn't just born from your creativity, your artistic taste. It's also born from the precision and ergonomic advantages that your tools offer. Corner clamps are one of those tools that play an ineluctable role in the precision of your woodwork.
Hence carpenter goes through all these details with grave attention while buying the best corner clamps for themselves. To save your energy and endless hours of research, this buying guide and reviews are the optimum solutions.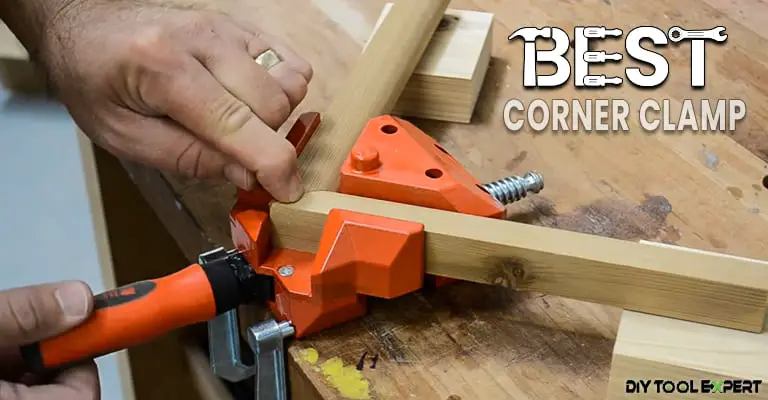 Corner Clamp buying guide
Let's put an end to the skepticism you're having with a corner clamp in your hand. I'll be breaking down aspect by aspect so that you'll be able to tabulate a list of pros and cons up in your mind and decide on whether it's the one for you.
Accuracy
First up is accuracy. It's next to impossible to be assured about this. But the rule of thumb is to slide the clamping block to the outer walls of the clamp and see if it properly aligns. If it doesn't align perfectly, it's definitely not giving a 90O corner. But what if it does align properly, does it guarantee a perfect 90O corner. No, it doesn't.
So, you're only left with the reviews here.
Capacity
Capacity is quite a crucial factor, perhaps the decisive aspect of a corner clamp. Only you know the magnitude of the project that you're going to handle. Capacities are clearly specified by the manufacturer. To be clearer it's the maximum inside distance between the clamping block and the outer wall of the clamp.
Usually, the capacity's in around 2.5 inches or so. Choose wisely, otherwise, your whole investment will be for nothing.
Spindle
The spindle is the limiting factor for the durability of the corner clamps. This portion is the most prone to damage. So, to understand if it's good or not there are a few things to look at. Material, cast iron might be the optimum choice for some corner clamps like the sliding one but it's not one for the spindle. Steel is the best choice for the spindle.
The black oxide coating is also an additional requirement for longevity. Black oxide is like kryptonite for corrosion. And last but not least is the thickness of the threading, the thicker the better. But too much thickness will cause an issue for tightening.
Material of Choice
Steel is always the best from the point of view of sturdiness and the cost. There's other far stronger than steel but they're super expensive. But even if the steel is cheap taking its tensile strength into consideration but it'll make you clamp a lot more expensive.
Apart from the price, steel is completely unnecessary for a sliding corner. Here, cast iron is the optimum choice.
Setup Process
Some corner clamps come with holes for screwing it to the table. But there's few which come with oblong holes. Those with oblong holes make it more convenient for fixtures.
Handle
There are a lot of variants of handle for corner clamps. Rubber handle, plastic handle …… these are just normal handles like a screwdriver. But the sliding T- handle is one of a kind and is the most popular> It makes working in all elevations a lot easier.
Padding
It's only normal that the clamp will create dents on your wooden workpieces. So there's some that come with soft padding on the clamping surface. This protects your workpieces significantly.
Well, if you're wondering, how you'll know, it'll be specified by the manufacturer.
Best Corner Clamps reviewed
These here are the five of the most sought after and consumer satisfactory corner clamps in the market at the moment. I've gone all over the internet and talked to some pros in regards to these. So, here's my research findings in as understandable a fashion as possible from the perspective of a DIYer and pros.
1. Can-Do Clamp
Conventional
All that's good about it
An awful lot of people seem to have bought it, mostly because of its simplicity. Simplicity interprets to longevity. Speaking of longevity, the Can-Do clamp has been constructed out of aluminum and has also been painted all over.
It has two swivel points giving it more versatility than you could imagine. Besides, there are holes, oblong mounting holes so that you could fix 'em to your workbench real sturdy. This makes your joints more precise and easier to do so especially when you're drilling holes in the workpieces.
You can clamp quite thick workpieces with this, um talking 2¾ inches. There's sliding T handle, offering more holding positions ergonomic benefits over designs as screwdriver handles. The handle and the screw for the movable jaw have been zinc plated to prevent corrosion and rust. Besides the threading of the screw is quite thick too.
Downsides
I personally prefer the closing mechanism (vise-grips are always better though) but there are folks who have to work on flat surfaces. It puts them in an awkward position since they have to slide the T-handle every time. A cabinet claw would come in handy instead.
2. Housolution Right Angle Clamp
Great Grip
All that's good about it
This one is a lot similar to the previous one that I talked about except for the handle that some people just didn't seem to like. The handle is made out of thermoplastic rubber (TPR), the specialty about this is that the handle won't slip off even when you have a wet hand. This makes an awful lot of difference for folks with sweaty hands.
But if you want one with a T-handle, you can get the exact same one from Housolution with a T-handle. Yeah, there're quite a few variants of this. You'll find it in four different colors, silver, black, orange and blue. And yes, four different colors for each type of handle.
Just like the last one this too has two swivel points offering more versatility. One where the screw meets the nut and the other at the movable jaw. You can fit a workpiece of 2.68 inches width since that's how far the jaw opens up in this clamp. And it'll hold up to 3.74 inches of the workpiece, enough to offer sturdy stability to the project. And yes, another number regarding the jaws is that the jaw depth is 1.38 inches.
Downsides
The only issue that I and a lot of people find in it is the price. It seems to be a tad bit expensive.
3. Bessey Tools WS-3+2K 90 Degree Angle Clamp
Innovative
All that's good about it
Bessey has been around for more than a hundred years and held its place as one of the manufacturers of the top tool worldwide. So, there's very little doubt about the durability of their products. A zinc alloy die-cast body such as has very low chances of being damaged anytime soon
As for preventing corrosion and rust, Bessey seems to have gone overboard and had this plastic coated. A point to be noted in this regard is that almost all clamps have powder coating for this purpose. Which is a more economical solution. The protection that plastic coating offers is nowhere near a non-plastic coating.
The plastic coating has another secondary purpose, it somewhat acts as a pad for your workpieces. It prevents marring, scarring or dents on your workpieces.
Speaking of coatings, the screw has also got a chrome plating to prevent itself from becoming a rust bomb. The threading is quite thick too for durability and to prevent the chances of the edges breaking off.
As for fixtures this Bessey clamp has ditched the oblong mounting holes and went with a pair of TK6 clamps. These are so that you can fix this to the sides of your workbench. So, the clamp becomes somewhat more versatile, since you can get a steady and rigid clamp all-around your workbench.
As for the jaw width, you can fit a 55 mm wood on each corner. And yes you can even be doing T-joints with these.
Downsides
There have been several complaints that the jaws aren't parallel completely.
4. DR. Machinist 3.3 Inch 90 Degree Right Angle Corner Holder Clamp
Lightweight
All that's good about it
As I've just mentioned, this clamp is lightweight compared to its size. So, it won't be a menace to carry around. It became so due to the aluminum alloy construction. Speaking of materials used for construction the screws too are high-end ones considering they've been made out of steel and all.
You can fit workpieces of width 8.5 cm that translates to 3.3 inches or so. That's a hefty amount of space for a clamp of this design. To provide ergonomic benefits the screws have t-handles. This makes rotating the screws a lot easier than you could imagine.
As for fixtures, you might not get oblong holes but still, you get two holes on each clamp to fix 'em to your workbench. This accounts for a sturdy and stable clamping solution for your projects.
And yes, with this you can be doing T-joints too.
Downsides
The clamp as a whole doesn't give off much of a sturdy vibe. They seem like they could break off anytime.
5. BETOOLL Cast Iron Welders Angle Clamp
Heavy Duty
All that's good about it
Weighing just 8 lbs. and having a pair of oblong holes this tenacious piece of equipment has proven to be efficient and worth the investment. And for those who are a bit hesitant about cast iron, think about it, it's the optimum choice.
Cast iron has always been slammed for being a little soft over the edges. But you'll be using it as a clamp for woodworking, not as an anvil. So it'll hold on for a life-time of woodworking. Most portion of the body has been painted blue to battle corrosion and rust.
The spindle has pretty thick threading having an inter-threading gap of 0.54 inches, making it less prone to breaking off. And it has a plating of black oxide. Has a sliding T handle, making it great for working in all elevations end enormously ergonomic. And even the mobility of the clamping block has proven to be even more helpful than what meets the eye. You can be using workpieces of different sizes spontaneously.
Speaking of sizes, there's definitely a limit to how thick you can be using. Max thickness is specified to be 2.5 inches. The pressure is nicely evenly distributed over the workpiece over a length of 2.36 inches. Overall the size of the corner clamp is just about what it should be. It's 2.17 inches high and 7 inches wide, makes it quite portable. As for the spindle, it's 6 inches long.
Downsides
The sliding T-handle seems to be getting stuck at times. It gets quite irritating and does more bad by having it.
Frequently Asked Questions
How Do You Clamp a Corner?
Do I Need a Corner Clamp?
You don't necessarily have to have corner clamps per-se, but they help. If the parts fit and mate, screws or nails will bring them together. If you don't have a clamp long enough to go corner to corner to square the box, use a strip of wood…can be anything, even like a 1×2.
Why Are Bessey Clamps So Expensive?
Wood Clamps are expensive simply because it's made of metal. Also, manufacturers of high-quality wood clamps make sure to give every woodworker the toughest wood clamp possible. In addition to that, woodworkers use wood clamps longer without the need for replacement. So, supply and demand also affect the price.
How Do You Clamp a 45 Degree Corner?
How Do You Clamp Without a Clamp?
Clamping without Clamps
Weights. Let gravity do the work! …
Cams. Cams are a circle with a pivot point that is slightly off center. …
Elastic Ropes. Anything rope-like with elasticity works great for clamping: surgical tube, bungee cords, rubber bands, and yes, even those elastic workout bands. …
Go-Bar-Deck. …
Wedges. …
Tape.
What Does a Corner Clamp Do?
Corner clamps, as the name suggests, are clamps designed to clamp objects in a corner, I.e at 90° and 45°. The device is used to hold two items at a 90° or 45° angle before they are attached. Corner clamps are sometimes referred to as miter clamps because they are regularly used to form miter joints.
Are Parallel Clamps Worth the Money?
They're expensive, but worth every penny when you are trying to get good square fit-ups in glue joints. I gave up on pipe clamps and switched to the original Bessey clamps about 12 years ago. The switch was very expensive as I have at least 4 of each size up to 60″ and even more of some of the heavily used sizes.
Q: How can I understand the maximum opening of a corner clamp?
Ans: Well, the specs list given by the manufacturer will most certainly contain a segment as "Capacity", this is exactly what you're looking for. It's the maximum opening.
Q. Does corner clamps help in welding joints?
Ans: Instead corner clamps its wise to use welding magnets. It's not only held tight the workpieces but also it has different angles to hold workpieces at required angles
Q: Can corner clamps provide joining angles other than 90O?
Ans: Nope, they can't. But you can accomplish 450 miter joint and even butt joint. That's the limit of creativity with a corner clamp.
Q: Can I be welding with these woodworking clamps?
Ans: You'll have to be sure that the debris and slag don't remain stuck with the clamp. If it doesn't you're all good to go.
Conclusion
A woodworker is only as good as his tools are. If you want to hammer down a couple of nails and create a hideous piece of junk then you don't have to worry a bit. But if you're looking forward to making a piece of art, you should be cautious about choosing your tools, especially the corner clamp.
Housolution Right Angle Clamp shines of premium quality. With its rubberized handle and premium aluminum alloy die-casting material, this one definitely stands out in a crowd of corner clamp. And the finishing touches on this one is one of a kind.
Bessey Tools WS-3+2K has to be mentioned if you're talking about the best corner clamp in the market. Its plastic coating is what makes it here, on the top of the list. It significantly diminishes the probabilities of scarring or marring, almost nullifies it.
Corner clamps will be accompanying you for a large portion of your tinkering life. You definitely don't want to pay the cost of choosing the wrong companion. So, these reviews and buying guides are a great way to bypass such an occurrence.