I love creating free content full of tips for my readers, you. I don't accept paid sponsorships, my opinion is my own, but if you find my recommendations helpful and you end up buying something you like through one of my links, I could earn a commission at no extra cost to you.
Learn more
Let's face it- even the most skilled woodworkers find cutting decorative crown moldings intimidating. And I've been there too. When you're working on a project that needs to impress visually, the pressure to deliver perfect results is on. After I learned how to use compound saws, I realized how easy it was.
Are you still confused? Well, you can count on this article to give you some pointers about the best miter saw for crown molding. From the reviews of the best products to tips and tricks on how to execute, I've made sure to cover it all. Just read through to find out.
Let's get started.
5 Best Miter Saw for Crown Molding
It's easy to get sidetracked and make the wrong choice when getting materials for crown cuts. Out of the many popular products in the market, I can personally vouch for the following best 5:
1. DEWALT Miter Saw Crown Stops (DW7084)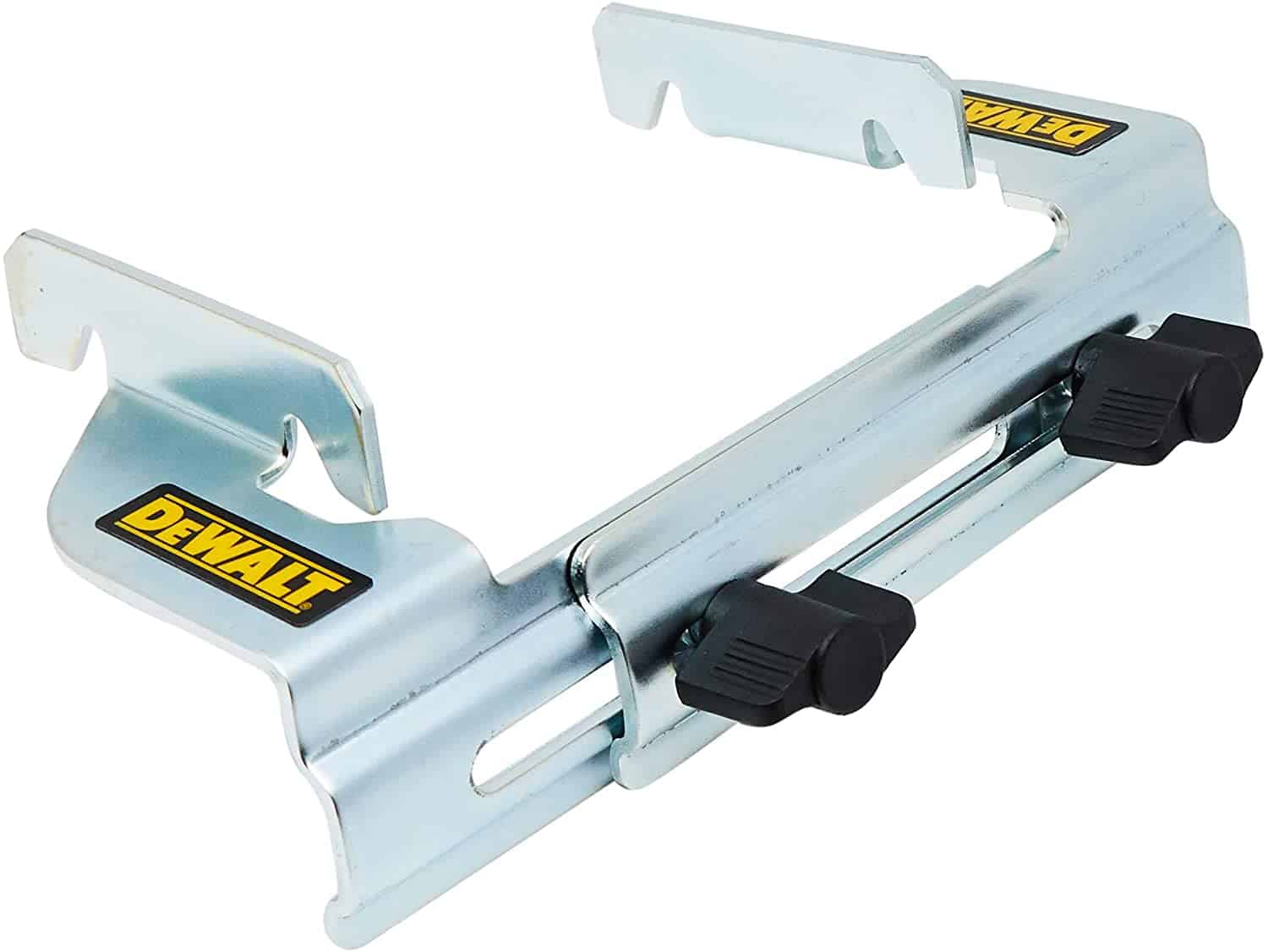 If you're an avid Dewalt user and have to work using different models of their saws, then go for this product. It's the first one on this list and quite reasonably so. The low price point and sturdiness of the build set this apart.
It has a convenient design meant to fit such models as DW703, DW706, DW708, or DW718 with ease.
This crown cut stopper comes in two variations of sizes- large and full size. And the silver and black color combination makes it fit right in with its saw counterparts. The wattage required for this is 2200. Its dimensions are 8″ x 6″ x 3.19″.
When I first got it, I expected something that stopped the blade on one side. I was even tempted to get a second one (not knowing better) because it just made more sense.
But I was pleasantly surprised to see this package include two stops- one for each side of my blade. And that's another good thing about it- you get two for the price of one.
Pros 
The price is reasonable and comes in a pack of two
Compatible with many Dewalt models
Made of very thick metal that's sturdy
It lets you position the molding accurately and vertically against the fence.
Allows proper adjustability
Cons
It doesn't allow cutting large crowns as they open up about 4″
The updated safety mechanism didn't work for some users
Verdict
It is an excellent choice for people who already own a Dewalt and need some stops for a project. If you're more into small crown cutting, it will come in handy often. Check prices here
2. Kreg KMA2800 Crown-Pro Crown Molding Tool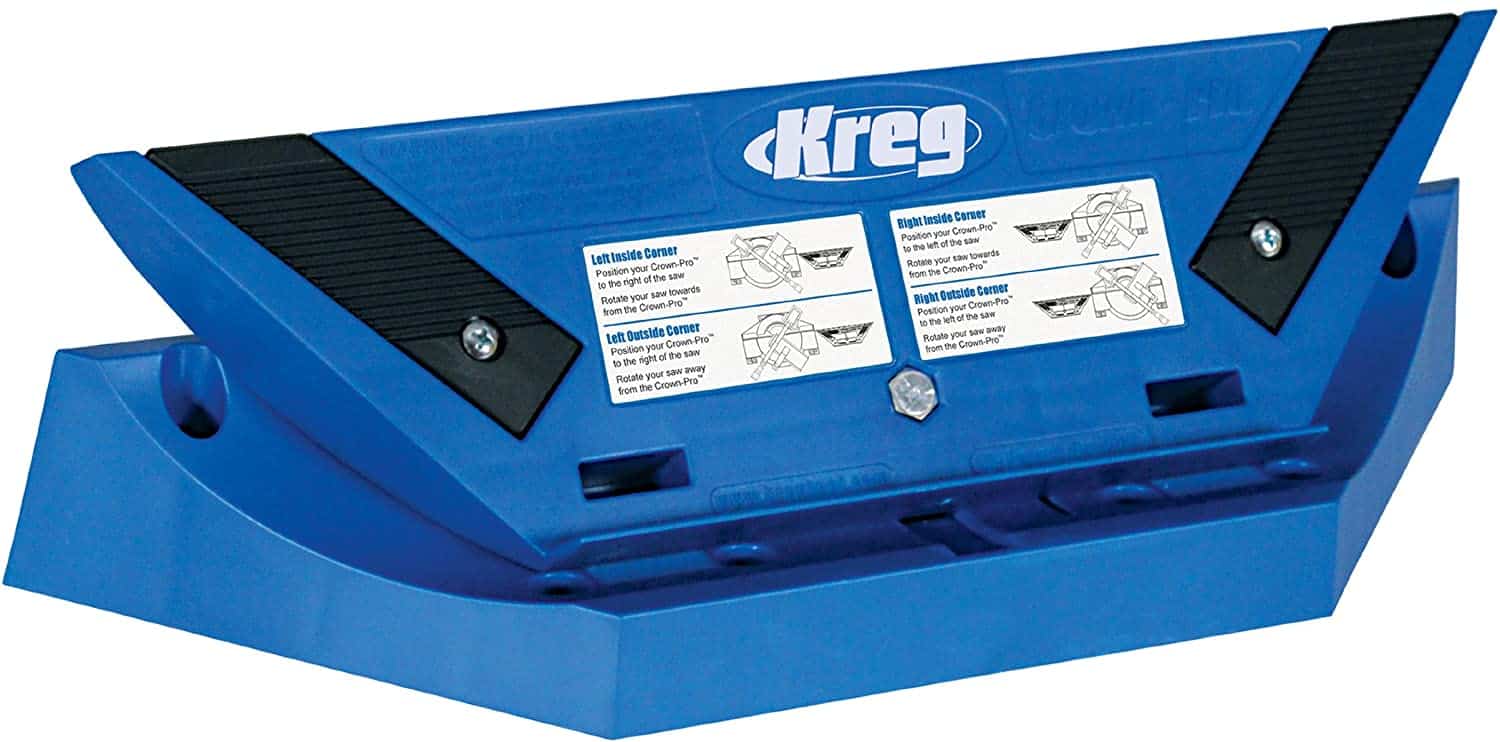 Now let's discuss this crown cut jig from the brand Kreg. With this, you won't have to worry about making compound cuts, angular cuts, or something complicated of the sort. It's super easy and straightforward to use. I usually use this when working on molding that's a bit larger than the average.
Using this tool, you can easily cut molds up to 138 mm or 5 ½ inches in width. And the great thing about getting this little blue tool is that it comes with really organized instructions.
They help a lot if you're a newbie to the crown molding scenario. It also includes an angle finder that helps ensure you get the perfect measurement each time.
Since placement and positioning are crucial for crown cutting, you're bound to mess up if your stopper or jig doesn't have a solid foundation.
You'll be pleased to know that this one has 8 non-slip rubber feet that ensure the base is strong. In addition to this, you get to lock the base at any angle between 30-60°, which makes it even better.
Pros
The curved design is suitable for a variety of molding spring angles
Has extension arms that allow cutting up to 5 ½ inches
It comes with an adjustable angle finder that lets you check angles of both inside and outside corners and spring
You won't need to do advanced miter cuts with a compound saw
Price is budget-friendly
Cons 
The protractor is made of plastic which may break easily
No added safety measures like clamping are included
Verdict
Although some of my friends have complained that using this makes them nervous since the finger placement is so close, it didn't bother me much. You can use clamps that come with regular saws to clamp the base down and be safer if you want. Check prices here
3. BOSCH MS1233 Crown Stop Kit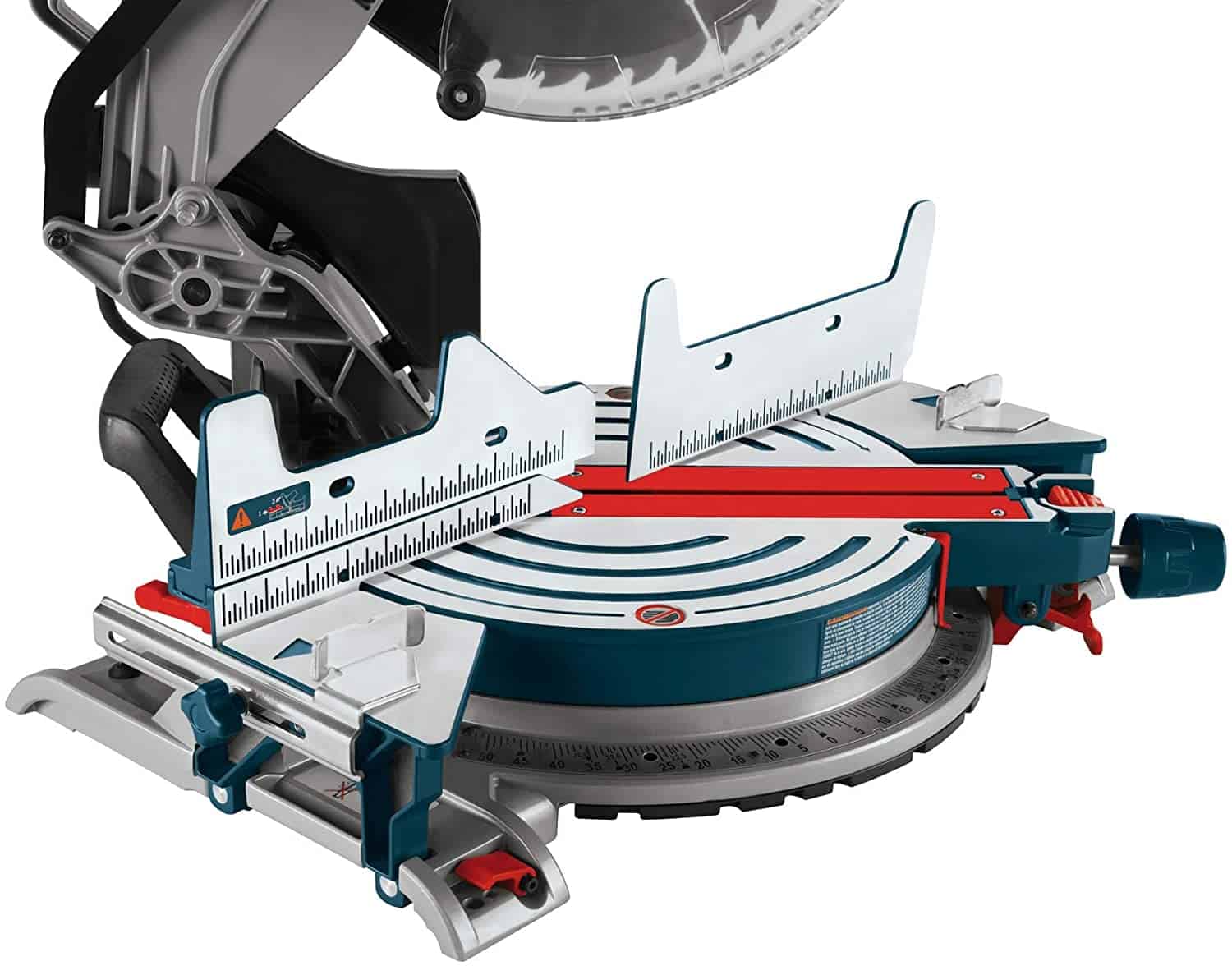 Next up, it's the Bosch MS1233 crown stop kit that comes at an unbelievably reasonable price. For just under 20 bucks, you'll be getting a premium quality jigsaw that allows more accuracy and faster efficiency in crown molding.
Similar to the number one product on our list, this one works best with the designated brand. So, if you already own any of the 10 models listed by the company Bosch, getting this will be a terrific deal.
Coming to what I love about this tool, I'd like to point out its adjustable stops that can be flipped out of the way when not in use.
As someone who's lost stoppers more than once, being able to store them on the tool even while using it for other purposes was life-changing. Even better is that this little power tool allows variable speed control. The motor is sturdy and can produce as many as 3,100 strokes per minute.
If you want to regulate the operating speed, there's the accelerator trigger. And the speed dial allows you to control the maximum speed being used.
Since this has been designed with a low-vibration plunging, it ensures smooth operation even at higher speeds. As for the footplate, it's made of heavy-gauge steel and is exceptionally sturdy.
Pros
It comes at an extremely budget-friendly price
Tool-less T-shank mechanism for blade changing
Sturdy footplate
Includes a dust blower that increases the visibility of the cut-line while working
Low-vibration plunging design allows smooth and precise action
Cons
Viewing the blade against the miter square is limited due to the saw frame
Adjustments need to be made as it's not very accurate out of the box
Verdict
Although it's meant for Bosch saws, this still works well with others when appropriately installed. It is an incredible add-on to increase accuracy and make crown cuts simpler. Check prices here
4. Milescraft 1405 Crown45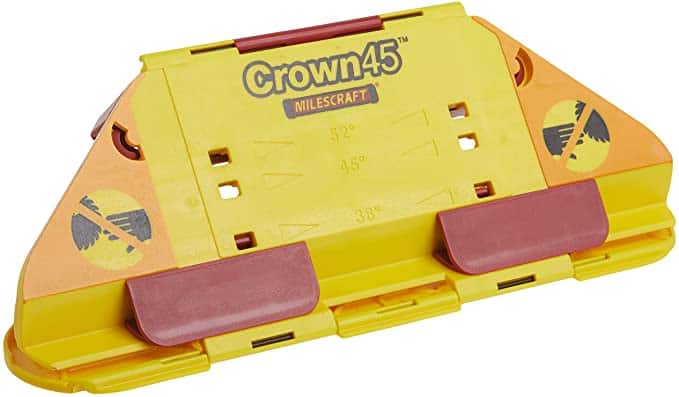 Are you tired of cutting crown moldings with the upside-down method? I know I am. Sometimes you want to cut things simply without calculating in reverse and wiring your brain to think of up as down and left as right. So, when I was writing this list of reviews, I knew I had to include this particular product somewhere.
The Milescraft 1405 Crown45 is revolutionary because it allows you to make cuts frontside up. That means you'll be shaping the mold the same way it's going to be seen and installed when put on the wall.
This cutting chip has a wide enough surface with dimensions of 14 x 6 x 2.5 inches. And since the blade enters the material from the front, any tears or mistakes you make won't show on the finished surface.
You'll get this yellow and red tool in a small package in a collapsed position. Just flip it over and unlock the molding inserts from the assembly. Reinstalling and locking them to the undersurface is all you need to do to use it. With this, you'll be able to cut moldings between 2 to 5 ½ inches easily.
Pros 
Allows cutting the front side mold up
Can cut really small moldings like 2 inches
Since the blade cuts the material from the front, any mistakes and tears can be hidden from view
Budget-friendly price
Super easy to install and store
Cons 
It can only be placed sloping toward the saw fence
The board depresses due to inadequate support when making right-end inside cuts
Verdict
Overall, this is a product worth buying, given how easy it does the entire job. I know for a fact that newbies will love using this one. Check prices here
5. NXPOXS Replacement DW7084 Crown Moulding Stop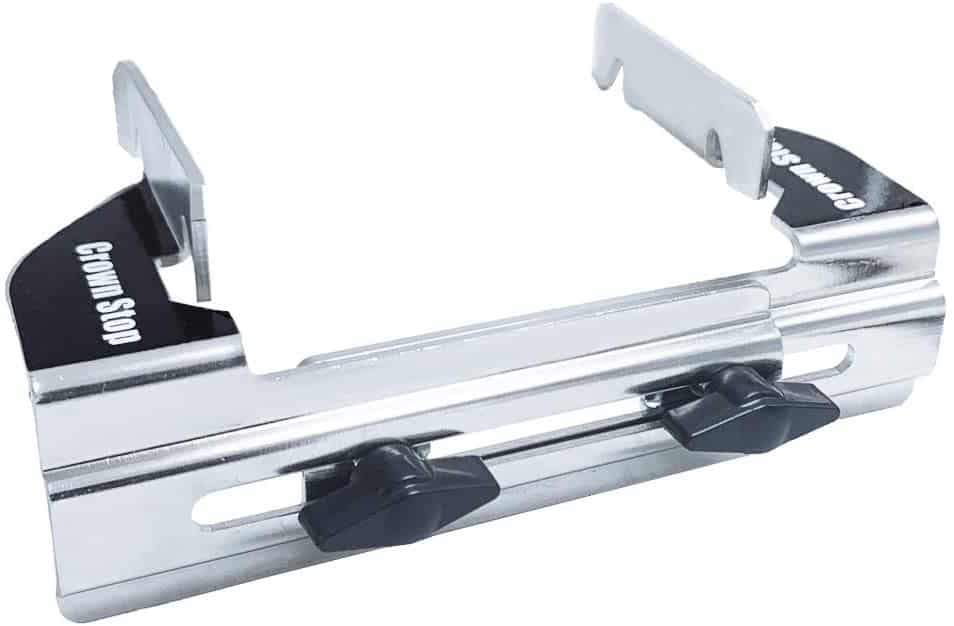 Now for the last and final product in this list, I'd like to draw your attention to this super sleek and straightforward little tool from NXPOXS. In my opinion, you can never have enough replacement stops in your woodshop.
And if you're looking to get your first ones, these will be a great value buy. The package includes 2 stoppers, 2 screw knobs, and 2 nut clips- everything you need to get to work.
When I saw the minimal design and budget-friendly price point for this pack, admittedly, I wasn't expecting much. But as skeptical as I was, these proved to come in handy more than just a few times when I couldn't find a fitting stopper for my projects.
The dimensions of the stoppers are 7.3 x 5.5 x 2.1 inches. As long as you're using a 12-inch miter saw and not the 10-inch ones, you'll be able to use them without trouble.
However, the only issue I'd like to point out beforehand is that some brand saws don't have built-in nuts to allow screwing these in place. In that case, I'd suggest going under the saw with a hand and holding them in position to tighten the bolts. If you do this each time cutting the crown, it won't be an issue anymore.
Pros
It comes in a pack of two for a low price
Works well with 12-inch miter saws
Made of iron and very solid and sturdy
When set in place with the screws and nuts, it doesn't budge
Very easy to install
Cons
It can't be used with 10-inch miter saws
You'll have a hard time keeping them in a precise position without screwing them down
Verdict
As I said, it's always good to have a spare set of stoppers. And if you're starting out with making regular-sized crown cuts, then these will be a bang for the buck. Check prices here
How to Cut Crown Molding with a Miter Saw
To cut a perfect crown molding for your home walls, you'll need to be precise and careful in the mold placement. But what if your saw fence isn't tall enough to hold the molding as it'd be against the wall?
You can either go and get yourself a crown cut jig or use that fancy compound saw you've got. Assuming that your walls join at perfect 90° angles (which is pretty rare), here's how you need to get it done.
First, tilt the saw bevel to the left, set it at 33°, and swing the table to a 31.6° angle.
Place the bottom edge of the molding against the fence, and cut it.
Next, leave the bevel at 33.9° and swing the table to a 31.6° angle to the right.
Place the top edge against the fence and cut. You can repeat the process keeping the bevel the same to make inside corners. Just reverse the other parts, and it'll be fine.
Frequently Asked Questions
Can a 10 miter saw cut crown molding?
Your saw size needs to be double the crown molding's width. So, if your molding is 5 inches, a 10-inch saw will do the trick with no problem.
Which power miter saw is used to cut large crown moldings?
For extensive moldings that are more than 6 inches, it's best to use 12-inch miter saws. Get one with a sliding saw blade for extra help.
What is the best saw for cutting crown molding?
Since power miter saws can be adjusted to cut at any angle required, they're the best type to use for crown moldings. For a standard 90° corner, you can set it to cut at 45° angles.
Which way does crown molding go?
If you've ever installed base molding, then you'll find that crown moldings get installed reverse to those. The convex side stays up while its concave side goes downward. That means you need to keep the shallow grooves on the top.
Can you do crown molding with single bevel miter saws?
Yes, you most definitely can. Most of those saws have preset angles, but you can adjust the rotation and degrees as needed if they're manual. I've even included the stepwise guide in this article using a single bevel saw.
How do you cut a 45-degree corner on crown molding?
Hold the molding tightly in place with perfect orientation and set your saw at a 45° angle. And cut one in each direction. You can do this by pushing the blade down at the set angle.
Final Words
With every kind of craft, there's a learning curve and a unique trick. So is the case for wood crafting. And if you're up for the challenge, these are just some of the best miter saw for crown molding to help you make the perfect cut.
Also read: these are the best miter saws you can buy right now
I'm Joost Nusselder, the founder of Tools Doctor, content marketer, and dad. I love trying out new equipment, and together with my team I've been creating in-depth blog articles since 2016 to help loyal readers with tools & crafting tips.