I love creating free content full of tips for my readers, you. I don't accept paid sponsorships, my opinion is my own, but if you find my recommendations helpful and you end up buying something you like through one of my links, I could earn a commission at no extra cost to you.
Learn more
Dewalt has made a name for itself in the construction market. And not without reason either. They make the most efficient and sturdy tools in the field, and they know it well.
The engineers of this company work actively in the field, researching the best ways to improve their tools. However, there are numerous tools that this company has made since its inception in 1923.
Today we talk about their impact drivers (more models reviewed here). We will tell you all you need to know about them so that you can find the best Dewalt impact driver among the endless options.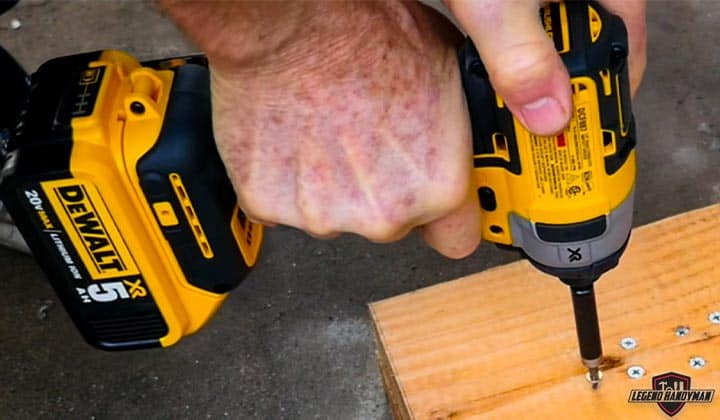 What Is Dewalt Impact Driver?
An impact driver is a tool that does the task of a standard drill driver, but with much more efficiency. Their specialty is that they have a hammer setting built into the system. This setting automatically gets to work on screws that are stuck so as to release them and continue with the penetration of the material.
These are power tools that are specialized to do tasks that require a lot of repetitive driving. They are ideal for big projects and construction. If you change the driver bit for a socket, then the impact driver can also become a tool for tightening nuts and bolts.
Our Recommended Best Dewalt Impact Drivers
The Dewalt impact driver set has all the attachments that are required for impact driving. They come with many parts and attachments, and thus, they have a versatile function. Many are sold individually as well. Here, our Dewalt impact driver reviews will help you choose the one that's right for you.
DEWALT DCK240C2 20v Lithium Drill Driver/Impact Combo Kit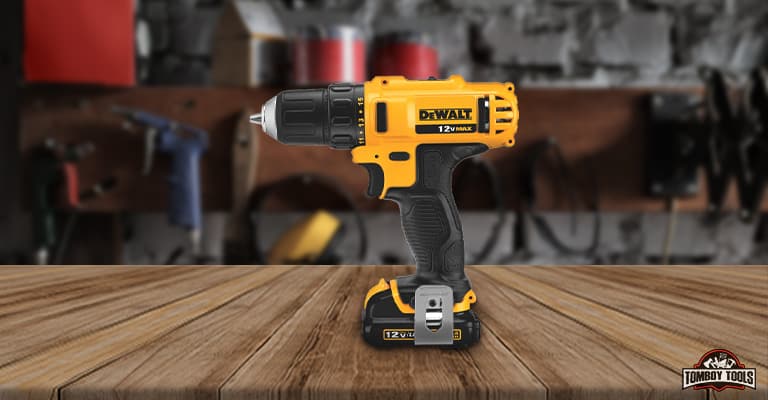 You will get two tools in one cordless combo kit. The power tools in this kit are a cordless drill and a driver kit, both of which are pretty hardcore at their job. These tools are powered by lithium-ion batteries of 20 volts. The batteries are very efficient, and they can juice out 300 watts of power from this device.
With such incredible strength, it will be easy for you to tackle big industrial building projects with these tools. The versatility you will get at the price of this tool is unrivaled. Anything from hanging drywall to building decks can be handled by these heavy-duty tools. You can also use them to work on machinery and vehicles.
Basically, you will be able to use these tools on any kind of task that requires bold strength and a supreme amount of power. Inside the kit, you will also find spare lithium-ion batteries, one charger, and one contractor bag for keeping everything in one place.
One more useful feature of this tool is that it comes with an LED display that lags for about 20 seconds to release the shot after the trigger has been released. This will give you time to adjust your hold on the target and let you be prepared when the shot pulls through – this helps improve the precision to a great degree.
Pros
This is a complete kit that comes at a very affordable price. The kit contains two very able tools and everything you need to manage these tools to come in the package. Due to the great versatility of this tool, you will be able to use this for a multitude of different tasks.
Cons
The batteries are powerful, but they cannot retain their charge for too long. One of the biggest setbacks of having this tool is that the impact driver does not have a hammer setting.
DEWALT DCF885C1 20V Max 1/4″ Impact Driver Kit
Whether fixing something in your car or making shelves from scratch at home, this device will serve you loyally. The visibility of the functions of this device makes it extra easy to work with.
The readings of this device are displayed on a LED screen on the tool, which will be very convenient for you while you work on your project.
Another helpful little component is the trigger timer of the machine, which can be set to go off at a delay of twenty secs. This will help you to prepare and stabilize your hold on the target before starting to drill.
Most drill machines in the market, at least the ones that offer such a variety of functions are on the bulkier side. But Dewalt makes machines that are really good with maintaining that weight to usability ratio. This one here weighs just about 2.8lbs, which is a pretty comfortable weight for machines of such caliber.
Another aspect of this machine that gives you the ease of use is that this machine is pretty compact. As a result, you will be able to get this machine into all the tight corners and get your work done without any additional hassle.
Pros
With the one-handed bit loading, using this machine is very easy. If for some defect in the system you can't avail the total use of this machine as promised, then you can ask for compensation.
You will get a full kit that will help you to accomplish all kinds of drilling jobs with this machine. Also, you will be able to save battery expenses by using this electrically operated machine. 
Cons               
This cordless Dewalt impact driver is not ideal for heavy work. It cannot drill 3-inch drill bits or other types fully into walls. So, functions are a bit limited. Mostly good for light work. The battery loses power after working about 60 screws. 
DEWALT DCF887B 20V MAX XR Li-Ion Brushless 0.25″ 3-Speed Impact Driver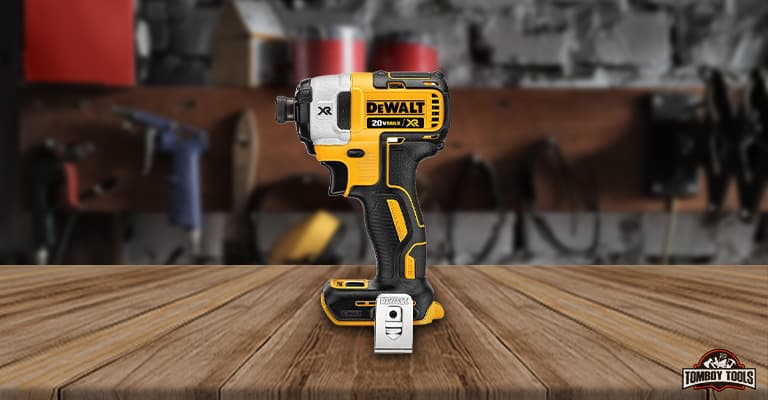 This impact driver can do the work with the least amount of effort. You do not need any prior preparation to get right into the heart of any kind of hardcore project that you might have lying around. This impact gun can drive screws into the toughest of walls without getting slowed down or needing any extra help.
The tremendous power of this machine comes from its brushless motor, which is very efficient and easy to work with. However, the price of this machine is a bit high due to the incorporation of the brush-less motor. That said, you should know that these motors are just expensive, to begin with.
Once you get past the initial cost, you will be able to save a lot of money and time on the rest of the tiny details that usually bog down brushed motors. The tool is very easy to maneuver due to the lightweight body that holds it up.
Now, the dimensions of this impact driver make this machine very corner-friendly as well, thus adding further comfort to the user. Moreover, its trigger will allow you to adjust to different speeds and go to a maximum of 3250 RPMs as well!  
Pros
The machine is very versatile – the different speed settings can be used to do different tasks while maintaining the right kind of precision. It has a 20-second delay trigger timer which makes work much more convenient. Also, this thing is the ideal option for working with corners.
Cons
You will need to get the charger and the battery separately. This impact driver does not run as smoothly as devices from the rest of the Dewalt family. The machine turns off sporadically and does not automatically go back to the previous settings as it restarts.
DEWALT DCF899HB 20v 1/2 Inch Impact Driver MAX XR Brush-less Impact Wrench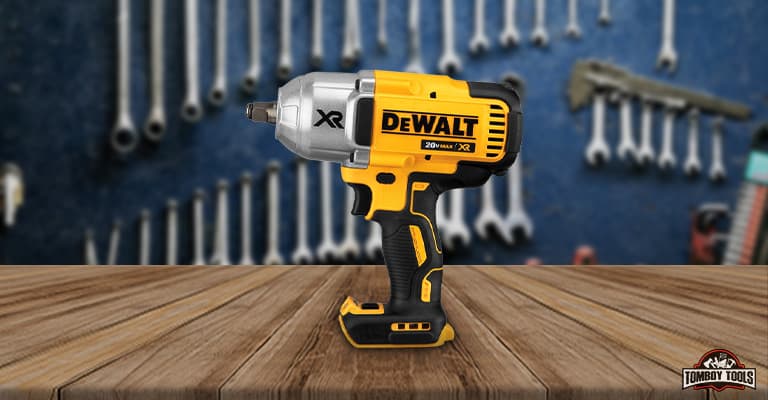 Congratulations, you have stumbled upon one of the Dewalt gems. This impact wrench is causing quite a lot of hype in the world of drilling and wrenching nowadays. This celebrated model comes in two different variations- one is the hog ring type, and the other is the detent anvil type.
They work differently, so choose which function you prefer before you buy this tool. The hog ring does not require a tool to hold the socket. It uses a split washer to keep the socket tightly in place. On the other hand, the detent anvil uses a tool to hold the socket tightly into place.
Whichever one you choose to use, know that they have both been revered by users equally. The build and quality of these tools are mind-blowing. Coming to the torque power, this tool has a maximum torque of 700 feet for every pound of weight. And the breakaway torque is 1200 feet for every pound.
With accordance to these torque settings, besides regular wrenching tasks, you will also be able to use this tool to change the tires of your car pretty easily.
Pros
The 1/2 inch impact driver device runs on the regular 20V batteries that all Dewalt tools use. It has 3 different speed settings, which makes it usable for a variety of different functions.
This tool is cordless; therefore, you will be able to carry it with you to wherever the task site is, without a hassle. Since the device is cordless, the company has also made it resistant to breakage for falls that measure up to feet in height.
Cons
You will have to purchase the battery and the charger separately.
DEWALT DCF887D2 Brushless Impact Driver Kit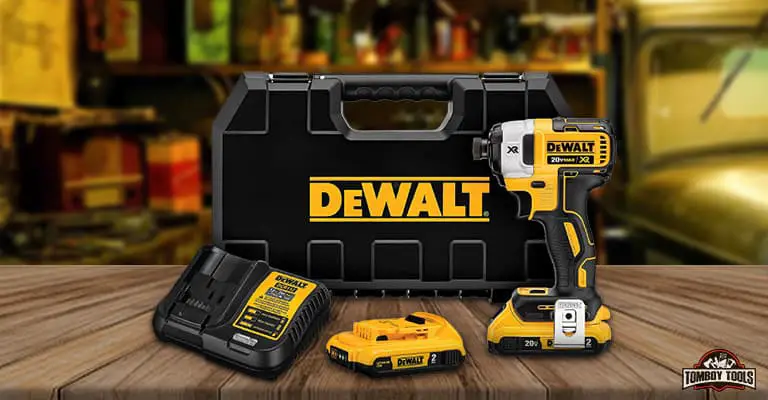 This one is a very able machine that can run for a longer time than most machines in the market while also delivering an undeterred amount of power with every task. It is very lightweight, which makes it ideal to be used for projects that require very extensive working hours.
You won't have to carry the charger around. If charged fully, then this tool will run straight for 4 hours without any lag. The 3-speed variation of this tool makes it viable to work a wide range of tasks.
The first setting for the speed uses a built-in precision drive which provides impeccable guidance in tasks that require you to keep your hands steady and go into the tiny details. Here the lightweight and compact design come in handy again.
You will be able to reach into all the difficult corners as well. Also, you will notice that the batteries have a charge indicator on them. This is really helpful because you will be able to yank it out before the charge level reaches the full hit of 100% and save your batteries from getting overcharged. It increases battery life and makes them last longer.
Moreover, your grip on the tools will be better due to the amazing hex chuck. It supports 1-inch tips. This will make task management even smoother and simpler for you. 
Pros
This is a complete kit that includes everything you need for impact driving. Batteries also come with it, as well as a charger and a belt clip. It has 3 LED light displays. The motor is brushless and thus, very powerful and efficient.
Cons
Tools show inconsistency with use. Some of these tools have been reported to arrive defective. Check yours carefully before paying.
Best Dewalt Impact Driver Buying Guide
Dewalt is the most trusted brand when it comes to heavy-duty construction tools. They have been in the business for many years and have served customers with loyalty.
However, not all machines are perfect, and so, instead of trusting the brand blindly, you should know the basic features about your machine so that you manage to buy the right tool at the very first go.
Battery
Since perfecting the cordless design, Dewalt has abandoned the wires altogether.
Therefore, you have to know how to choose the device based on the battery. Voltage defines performance. There are 12-, 18- and 20-volt batteries. The standard voltage that gives the most efficiency is 18V. Higher voltages give a quicker start-up, but then it stabilizes to a voltage of 18 for the rest of the operation.
Then comes the Amp-hours (Ah), which tells you how many hours your device will operate for. 12V batteries are of 1.1 Ah, whereas, 18V and 20V batteries are of 2 Ah. If you work for long hours, choose tools that have the highest Ah power.
Motor
There are two different types – brushed and brushless motors.
Brush-less motors are much more efficient than brushed motors. The 18V models have brushed motors, whereas the 20V models have brushless motors. If you are looking for mid-level performance, then going with the 18V is fine.
However, for more quality and endurance, opt for the 20V brushless motors. They are a little more expensive than the 18V models, but that difference is compensated by the difference in performance.
Speed
These machines come in two different speed settings – 1 and 3. With 1 speed setting, you will get variable speed too, but that will depend on the trigger pressure. You will not be in complete control of the speed per se.
However, with the 3-speed setting models, Dewalt has also incorporated a built-in precision drive, which will adjust to the whatever speed you choose to work with. You have more control here.   
IPMs
To elaborate, the impacts per minute. This is a better measure of the efficiency of the motor than the speed or the torque. In terms of impact drivers, this is what tells you how fast the motor rotates.
To know the IPM, divide the in-lbs (inch-pound) value they use for torque by 12.
Milwaukee vs. Dewalt Impact Driver
Both of these drivers have brush-less motors. Milwaukee impact drivers have very efficient motors that have the capacity to deliver a torque power of up to 1800 lb/inch at 3700 impacts per minute.
You will be able to switch between 4 modes of drive control. Mode 3 is particularly interesting. Not because it goes up to 0-3000 RPM, but because it is an admixture of all the other drive settings. And the result is an operation as smooth as it can be delivered by no other device in the market.
This tool can work up a huge amount of power to tackle almost all sorts of tasks, both heavy and light.
The Dewalt impact driver, on the other hand, goes up to 1825 lb./in. in terms of torque power. Its speed is variable to about 3250 RPM at 3600 impacts per minute.
Due to the higher torque power, you will be able to have more utility out of the Milwaukee impact driver and pump it up to give you a massive amount of power if necessary.
Despite the small differences in power, these are two of the most powerful heavy-duty tools in the market. Dewalt is more expensive than Milwaukee, but that's because it has an advantage of the weight and size over the Milwaukee. So, choose wisely according to your preference.
How to Use Dewalt Impact Driver
Dewalt impact drivers are among the most efficient tools in the market. They have a high torque power, and they do not cause sound pollution. Using them is truly very comfortable. But how to use them, you ask? Well, just follow the steps below!
Step 1: Prepare all the right bits, rub them clean, and keep it all together. 
Step 2: Insert the battery into the tool.
Step 3: Attach the bits to the right nooks in the tool.
Step 4: Set target and start the operation.
Step 5: Disassemble the attached parts.
Step 6: Clean them with a dry soft cloth and then store them all together in a cool, dry place.
Frequently Asked Questions
Q: Which battery should I go for between 20V and 18V?
Ans: For these drivers, 18V is the same as 20V. The company has mentioned that all batteries have a higher voltage when they are new. But with time, the battery performance naturally deteriorates and eventually hits a plateau at 18 volts.
Q: Can I drill holes with my impact driver?
Ans: Yes, with 1/4-inch hex shanks. The holes will be pretty big in size. These tools don't have the precision that is normally required to drill holes. But you can still use them for the task if you want big holes.
Q: Is an impact driver the same as an impact wrench?
Ans: No. Ignore the word "impact." Now think about it. A driver and a wrench are opposites. A driver drives screws into things. Whereas, the wrench is used for unscrewing nuts and bolts.
Q: Can I use an impact driver for my DIY projects?
Ans: Nope. Impact drivers are industrial power tools that are used exclusively to work bulky screws and other such heavy materials. They can't be used for DIYs or any other small project. 
Q: What is the difference between a hammer drill driver and an impact driver?
Ans: Impact drivers drill bits into walls. Their specialty is that they have a built-in hammer function that automatically tugs and smacks the drill bits when they get stuck in the holes.
On the other hand, drill drivers only have a chuck that to work the drill bits into walls. They have no hammer function. When the drill bits get stuck, you will need to use a hammer on them manually. 
Final Words
In order to choose the best Dewalt impact driver, you will have to look at all the features individually and then decide if they are in line with the kind of need you have for them.
Now, you know all there is to know about the DeWalt impact drivers. So, what are you waiting for? Go and get one for you. Best of luck with the purchase!
I'm Joost Nusselder, the founder of Tools Doctor, content marketer, and dad. I love trying out new equipment, and together with my team I've been creating in-depth blog articles since 2016 to help loyal readers with tools & crafting tips.