I love creating free content full of tips for my readers, you. I don't accept paid sponsorships, my opinion is my own, but if you find my recommendations helpful and you end up buying something you like through one of my links, I could earn a commission at no extra cost to you.
Learn more
Have you ever started working on a project only to realize that you are missing an essential tool? This problem is one of the most annoying that you can run into as it destroys your entire workflow.
Nothing is more frustrating than running around the store in search of the right tool when you could be working. A cordless combo kit saves you from this trouble since all the tools you need come wrapped in a neat little package.
You get all the necessary tool collection you need to get started on almost any project with these power tool sets. On top of that, the entire kit usually costs a lot less than what you would pay for the individual items.
This review of the best cordless combo kit will help you determine which bundle will give you the most value and utility for your next big assignment.
Why Choose A Cordless Combo Kit?
A cordless combo kit is an indispensable tool at the hand of any professional or amateur worker. If you are someone who occasionally messes around with tools and minor/major household repairs, these bundles are a lifesaver.
For one thing, these power tool sets offer more value. When you get a combo kit instead of individual items, you get a lower cost per product.
Although the entire bundle may cost quite a significant sum, in the end, you would end up saving a lot. This reason alone should be enough to push you towards a cordless combo kit.
On top of the value, it also is highly convenient. You get everything you need to get started on your project straight out of the box. It would save a lot of time and effort on your part if you were to go rummaging around the store looking for every single item individually.
If you are loyal to a particular brand and live by their products, a cordless combo kit should always be your first choice. For example, the Dewalt combo kit will give you all of their high-grade products in a bundle.
So, if you already know your brand, you do not have to order the products individually.
The Best Cordless Combo Kit Reviews
Choosing power tool sets can be a difficult task. You have to consider a lot of little things like the total tool amount, battery type, quality of each product, etc. To make this daunting process a little easier, check out our best cordless tool combo kit set review that includes all the essential power tools.
PORTER-CABLE PCCK604L2 20V MAX Cordless Drill Combo Kit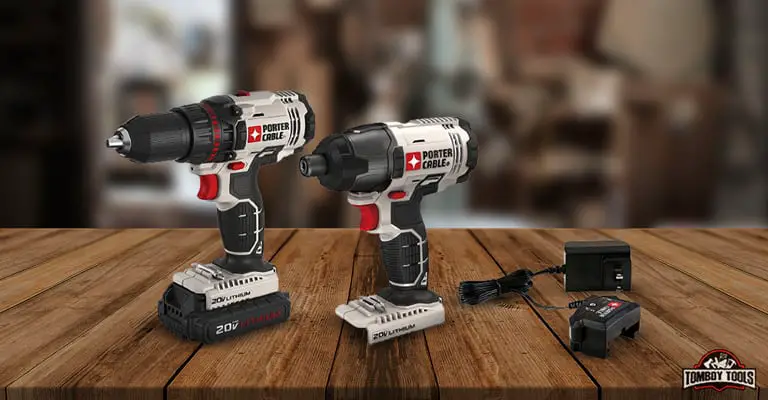 Starting off our list; this power tool kit features only two tools of the highest quality. Firstly, you get PCC641 ¼" Hex Impact Driver and secondly, PCC601 1/2" Compact Drill/Driver.
Furthermore, two PCC681L 20V MAX Batteries are included with this MAX cordless drill combo kit that is interchangeable between the two devices. This power tool set also comes with a battery charger. These batteries have amazing battery life. 
Let us first take a look at the drill. This compact drill/driver is only 8.25 inches long and weighs a measly 3.5 pounds. Because of its small size and compact design, it is effortless to work in tight spaces.
Even if the work is long and tedious, you will not feel any strain because of its lightweight and ergonomic design. It features a variable speed control that can alternate between 1500 RPM and 350 RPM.
The impact driver/hammer drill also maintains a lightweight design of 3.3 pounds and 6.9 inches of length. Its high-performance motor can alternate between an RPM range of 0-2800 and 0-3100 for quick fastening.
It has a high torque motor of 1450 inches per pound. Its ¼ inch hex head has a quick release feature which allows you to change the bit one-handed.
Both the tools come with LED lights to help you work in dark spaces. The ergonomic handle with grip allows for long work sessions. The 20v lithium-ion batteries give you longer runtime and do not add any weight to the product.
Both devices feature a magnetic spot to store your bits so that you do not lose them. This bundle by Porter-Cable is one of the best cordless combo kits for the money for a wide range of applications. You can also find oscillating tool set from this brand. Make sure to check out the PORTER-CABLE oscillating tool kit.
Pros
Compact and lightweight power tool sets to reduce user fatigue
20V lithium-ion batteries ensure long uptime
This max combo kit comes with extra battery that provides longer runtime
LED work light to work in dark environments
Both products come with a bit storage area
Cons
Makita CT226 12V Max CXT Lithium-Ion Cordless Combo Kit Power Tool Sets
These high-grade power tool sets from Makita features two cordless tools in an ultra-compact size. Featuring their FD05 drill driver and DT03 impact driver the Makita cordless brushless combo kit comes as a convenient and lightweight bundle. Two 12V max batteries and a standard rapid charger are also included in the package.
The tool bag that comes with the power tool set is a welcome addition. In addition, the compact drill you get with this bundle has; 2 variable speed that you can switch between; 0-450 RPM and 0-1700 RPM. It allows you to cover any drilling applications.
The drill has a maximum torque of 250 inches per pound. Also, the button located at the side above the grip allows you to switch between the two-speed modes. This lightweight hammer drill weighs only 2.4 pounds and provides excellent performance. 
The small 6-inch impact driver that you get in the bundle weighs only 2.2 pounds. Similar to the drill, this tool also features a variable speed of 0-2600 RPM and 0-3500 revolutions per minute. You 970 pounds of torque. 
You can switch between the two modes of speed depending on the type of work you are doing. Both the tools included in the kit feature ergonomically designed handles with soft grips. Doesn't come with any type of drill bit. They are comfortable even when working for an extended period. This low-profile bundle is suitable for working even in the dark due to the addition of the best led work lights. With the lithium batteries, you do not need to worry about this device, failing you for a long time.
Pros
Lightweight and compact 18V tools
Two variable speed modes
High torque
Ergonomic grips and lightweight
Cons
BLACK+DECKER BDCDMT1206KITC Matrix 6 Tool Combo Kit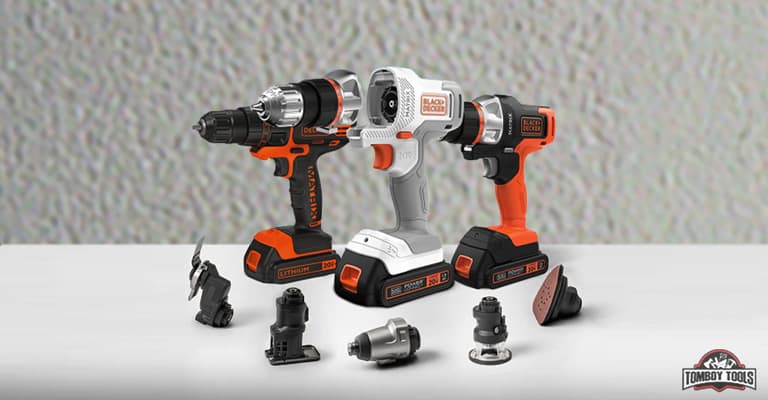 This power tool combo kit from Black & Decker is a six-piece combo kit that contains some highly useful tools in good value. The included devices are a jigsaw, sander, oscillating tool, drill, and other impact driver attachments. As you can see, this kit contains different types of tools. 
You also get a battery pack, a battery charger, and a case to carry all the equipment with this Black & Decker tool kit. If that was not enough; you also get several accessories like a double-ended bit, jigsaw blade, sanding platen, etc., with these power tool combo kits. 
The Black & Decker combo kit comes with a lot of unique and exciting features. Some additional tools and attachments included in the box are hard to find in other similar priced power tool combo kits. The quick-connect system allows you to change up the add-ons in a matter of seconds and jump into anything.
The best thing about this power tool set is that you will be ready for anything. Both the drill driver and the impact driver deliver high performance with a variable speed setting without any relative kickback. You can get decorative woodworking and trim with the router attachment.
With the sander, you can apply an excellent polish and finish to your product. The oscillating attachment is a useful addition for your home improvement tasks. And finally, the jigsaw attachment allows you to cut through wood or metal with high precision.
Thanks to the long-lasting battery you get with the power tool set, these tools are expected to perform well in every situation. The lithium-ion batteries are also very efficient at expanding the uptime of the power tool sets. 
Due to the compact size and lightweight of the products, you can take your work anywhere. The performance and portability make it one of the best cordless combo kits in the market.
Pros
Extremely versatile power tool combo kits 
Compact and lightweight design
Matrix quick-change system
Convenient storage case
Cons
DEWALT DCK590L2 20-Volt MAX Li-Ion Power Tool Combo Kit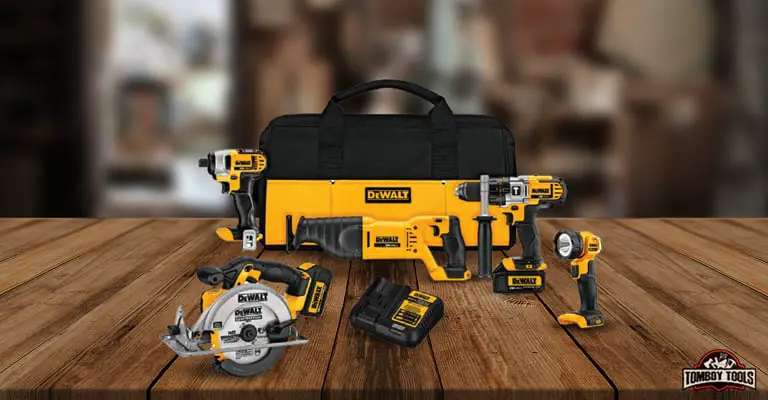 This top-of-the-line power tool combo kit by DeWalt is a complete toolset. When it comes to working gear, this company has it all figured out. These powerful tools are considered by many as the best because of the trust they have gathered from their customers.
They provide superior power tool combo kits without much cost, and this power tool set is no different from the DeWalt standard. This tool kit comes with five separate items along with the required accessories.
You get the DCD780 impact drill driver, hammer drill, the DCF885 impact driver, the DCS381 reciprocating saw, the six-inch DCS393 circular saw and the DCL040 flashlight. You also get two 20V Max 2.0 Ah lithium-ion batteries and a DCB112 battery charger for the circular saw. 
To make it even more convenient, you also get a contractor bag to carry all the products including the circular saw. Let's start with the hammer drill. The high-efficiency motor of this unit delivers 535-unit watts out and gives high-performance in light and medium applications.
The ½ inch chuck provides superior gripping strength even in high-torque situations. It comes with three-speed settings; 0-600 RPM, 0-1250 RPM, 0-2000 RPM, making it suitable for a wide range of applications. Speaking of the impact driver, you get a high-power motor that delivers up to 2800 RPM.
The ¼ inch hex chuck can hold 1-inch bit tips that let you load up bits single-handed. Due to the small stature and lack of any kickback, you can use this impact driver even in the tightest of spaces. The reciprocating saw is small, lightweight, and easy to operate. It can deliver 0-3000 SPM for precise and fast cutting.
Furthermore, a variable speed trigger in the unit gives you increased control. If you are looking for a compact circular saw then this tool kit is a right choice for you. You can do any kind of framing job with the compact circular saw. 
Delivering 3700 RPM; this power tool set is capable of anything you throw at it. The flashlight included in the package helps you work even in darkness. The circular saw is also top notch. 
Pros
Reasonable priced power tool sets. 
Durable products
Included carrying bag
Addition of a flashlight
Cons
No adjustment on the reciprocating saw guard
Ryobi P883 One+ 18V Lithium-Ion Cordless Contractor's Kit Power Tool Set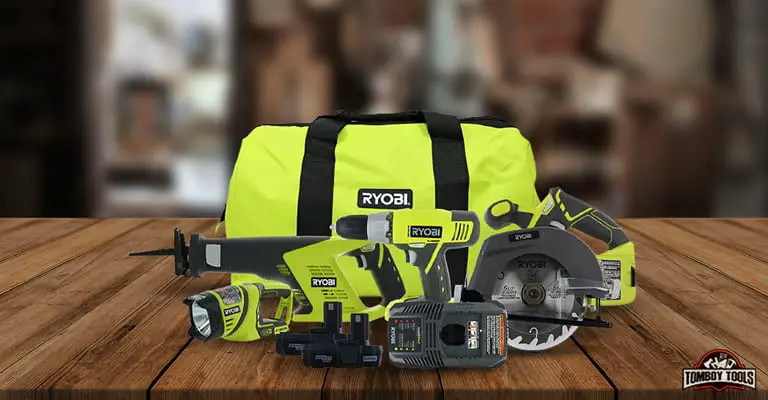 In these handy power tool combo kits, you get a circular saw, a reciprocating saw, a drill driver and a flashlight. Additionally, you also get the renowned One+ Li-Ion batteries capable of giving all the provided tools an extended period of use. 
To top it all off, you get a Ryobi tool bag for carrying the equipment easily with this power tool set. The reciprocating saw that comes with the combo has a variable-speed trigger. With a 7/8-inch stroke length blade, it can deliver up to 3100 SPM. To make switching easier; this saw has a blade camp. There is an electronic blade in the unit allowing sudden stops if you need it.
In addition, the circular saw has a carbide-tipped edge that can saw through thick materials effortlessly. The circular saw has a maximum RPM is 4700, which is enough for any applications. The angle of the unit is adjustable easily, and the lightweight of this 45.5-inch circular saw makes it highly portable.
Furthermore, the drill driver in the kit also comes with a variable speed trigger and a compact, lightweight format. Due to the ½ inch single sleeve, the keyless chuck and an auto spindle lock, switching bits are fast and effortless.
Powered by the two-speed gearbox, this drill driver can deliver 440 RPM and 1600 RPM of speeds. The high torque of 340 inches per pounds is sufficient for any drilling application you might need.
Pros
Ergonomic grip
Easy to use
Versatile bundle including a circular saw. 
Affordable
Cons
Reports of the reciprocating saw draining the battery fast.
Milwaukee 2696-24 M18 FUEL Cordless Compact Combo Tool Kit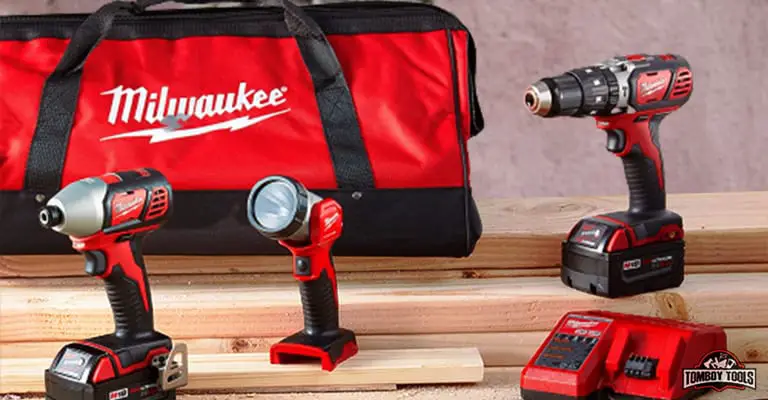 Finishing off our list, this 18V cordless power tool combo kit by Milwaukee tool comes in a compact format. This four-piece bundle features a drill driver, an impact driver, a reciprocating saw, and a work light.
Additionally, this multi – tool kit comes with two red lithium XC high-capacity batteries and a powerful charger. The included contractor bag allows you to carry the products without any hassle.
The ½ inch hammer drill driver comes in a compact and ergonomic design. It comes with a 4-pole frameless motor that is capable of providing a maximum torque of 550 inches per pound with high-capacity battery. This is only 8½ inches long and weighs only 1 pound. It has two-speed modes of 0-550 RPM and 0-1700 RPM.
The ¼ inch hex impact driver also comes in a lightweight structure following the unique 4-pole motor design. It is capable of delivering 1400 lbs of torque and high impacts per minute to give you the maximum amount of runtime. The variable speed of the unit ranges from 0-2200 RPM and 0-3300 RPM.
The Sawzall reciprocating saw comes with gear protecting clutch that guards the vital areas of the saw from wearing. With the Quik-Lok blade clamp, you can easily replace the blades without any tools.
With a 1-inch stroke length, this unit delivers an SPM of 0-3200. The addition of a fuel gauge allows you to see the remaining runtime, so you do not have to worry about suddenly running out of charge.
Pros
High capacity Red batteries
Addition of a Fuel gauge
High amount of torque
M12 multi-voltage charger
Cons
The work light comes with an incandescent bulb instead of LED
How To Choose The Best Cordless Power Tool Combo Kits?
When it comes to choosing the best cordless combo kit for yourself, you need to take things slow. Several tools from the same manufacturer are included in these cordless combo kits, all of which use the same power system. 
Batteries and chargers are often included in the kits, allowing the machines to operate more or less constantly, depending on how fast the batteries recharge. All of these tools use Lithium-Ion batteries so you can use a partially recharged battery without having to worry about it being damaged.
If you buy these types of kits instead of individual tools, you will have a couple of advantages. It first provides several tools for a fraction of the cost of purchasing them individually, saving you money in the long run. 
Another reason you save is because you have to buy only one battery system for all of your tools. Batteries and chargers thus become less expensive, especially when compared with dealing with different brands of tools.
As soon as you see kits like this, you can easily become carried away and decide you need it all. Take the time to determine the types of tools needed for the projects you do before you buy. 
On the other hand, you might find you end up using some of the add-ons the most. Cordless tool manufacturers now manufacture smaller impact drivers, which are excellent for screwing into decks or other tasks that require more torque than a normal drill/driver. The kits also come with working lights, something no tool kit can ever have enough of.
Number of Tools
The first thing that you must consider is how many tools you are getting with your bundle. Compare that number with the amount that you need for your work. There should be a minimum balance between your requirements and investment.
Getting a toolset that gives you six tools when you need only two does not sound very wise. You also need to keep in mind about your future needs.
If you want your investment to be future proof, spend some time considering what other projects you might be working on in the near future. This thought process will immediately help you narrow down the number of options you have available to you.
Batteries
A cordless combo tool works with a battery. The type of battery determines how long it will work without needing a recharge. Lithium-Ion batteries have the most extended lifespans and are also compact. They can sustain top power for the most prolonged period.
Since power source will be a major feature here, you would want to pay close attention to it, especially the battery platform. All the multi – tool set featured here are cordless. 
There are also Nickel-Cadmium batteries, but they do not last as long as the other one. If you have to choose between Nickel-Cadmium battery and Lithium-Ion, go with Lithium-Ion.
Brushless Motors
Brushless motors are efficient and give you almost double the run time of brushed motors. Power tools with brushed motors are generally a bit more expensive, but if you can afford to spend the extra bucks, you should go for it.
These engines prevent the physical connection between the inner parts of the tools. This feature prevents friction and wastage of energy. Keep in mind though, brushed motors only come with drivers, drills or impact wrenches.
Smart Chargers
If you do not want to change your batteries every few months and inc
rease their lifespan, a good quality charger is essential. Many cordless combo tools provide low-quality chargers that drastically reduce the lifetime of your battery. It can cause the batteries to overheat and not charge properly.
With a smart charger, all of these problems go away instantly. They come with electronic sensors that make sure that your device is charging correctly. You also get features like voltage controls to ensure a steady flow of power.
Working Light
IIf your workshop does not have a well-lit environment, then this is a must for you. Even if you work in a bright area, having this extra visibility at your disposal is always a plus. There are combo kits on the market that comes with LED work lights. These can eliminate the need for you to carry an additional flashlight.
Additional Accessories
Some combo kits come with useful accessories like carrying bags, screwdrivers, or maybe just a few extra drill bits.
They can often add excellent value to your purchase by reducing the need to buy something extra. Even if the entire kit is a bit expensive, the added convenience is definitely worth some consideration.
Brand Loyalty
The best thing about a cordless combo kit is that you get the products of the brand that you love. So, if you already know which brand is right for you, choosing the correct equipment becomes all the easier.
Additionally, the battery you get from the brand of your choice usually works in all their power tools without any issues.
Frequently Asked Questions
Q: Are brushless drills worth the extra money?
Ans: Yes, they are worth the money if you want a better torque value in a smaller design.
Q: Is cordless better than corded?
Ans: If you are looking for convenience and portability, cordless is better. But corded drills are more consistent when it comes to torque.
Q: What is the best type of battery for cordless tools?
Ans: Lithium-ion is by far the superior type of battery for any cordless tools. They have longer uptime, low weight, and durable lifespan.
Q: Are cordless drill batteries interchangeable?
Ans: As long as the voltage and other specifications match up, you can change the batteries between different units. However, it is not recommended to do this.
Q: How to maintain Lithium-ion cordless tool batteries?
Ans: To maintain lithium-ion batteries follow some necessary maintenance steps –
Keep the batteries charged
Use regularly
Charge completely
Store in a cool and dry place
Always keep a backup
Be gentle when handling them
Q. Are these combo kits provide right angle drills?Ans: We didn't review here any right angle drill but you will find some useful review on here best right angle drills
Final Thoughts
Combo kits are a smart way to get some high-quality power tools at a reasonable price and convenient bundle. But you do need some proper knowledge about the tools before you commit to a purchase.
Our best cordless combo kits are chosen carefully to satisfy the needs of a large number of users. We hope this guide was informative and helpful to you in finding the best one for yourself.
Each kit comes with a soft-sided case that you can use to store and carry your tools. When a workshop is limited, or just to carry tools around the working area, this is ideal. A rugged canvas case can support multiple tools without tearing and can withstand a lot of weight.
Several manufacturers offer multiple combo kits. Those kits are listed in my listing of the best cordless tool combo kits. Perhaps you should look on their websites to see if smaller kits are available.
I'm Joost Nusselder, the founder of Tools Doctor, content marketer, and dad. I love trying out new equipment, and together with my team I've been creating in-depth blog articles since 2016 to help loyal readers with tools & crafting tips.