I love creating free content full of tips for my readers, you. I don't accept paid sponsorships, my opinion is my own, but if you find my recommendations helpful and you end up buying something you like through one of my links, I could earn a commission at no extra cost to you.
Learn more
Nothing can be more satisfying for a woodworker to smoothen a rough surface with a stroke of the hand. But even a slight wrong movement, the whole work can go in vain. For the best level of precision & time management, you need the best disc sanders for doing your work.
Sanding with the hand can get tiresome & even in some cases while working on bigger projects, it takes up a lot of time. Disc sanders are used mainly in carpentry & play a vital role in crafting wood. You can use this tool in a lot of works such as polishing, grinding smoothing & finishing too. In some disc sanders it also takes care of the dust it produces using its dust collecting port.
We know it can become so much baffling to select the right product. No matter your knowledge of the topic, our buying guide will help you choose among the best products. That is why we have come up with some of the finest disc sanders that can serve your purpose.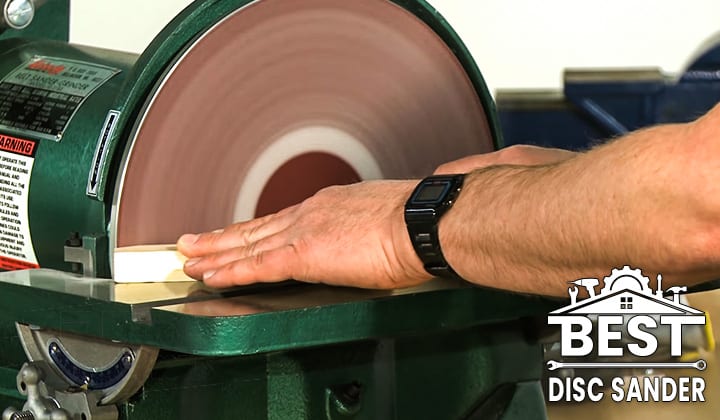 Why Is It Called a Disc Sander?
The disc sander is a multi-purpose power tool used for sanding purposes. The name suggests that the machine has sandpaper coated abrasive disk positioned in a 90-degree position with an adjustable work table. This is why it is called "disk" sander.
Disc sanders are used mostly in carpeting jobs for better finishing & smoothening. It is a very user-friendly tool that saves a lot of time & also delivers perfection to the job. After coating the right sandpaper for your task you have to just apply the surface to the disc to smoothen the area. 
5 Best Disc Sander Review
With so much competition around the market, manufacturers are constantly upgrading their products. So we have clarified all the features in an orderly fashion with the drawbacks too. Let dive right to them.
WEN 6502T Belt and Disc Sander with Cast Iron Base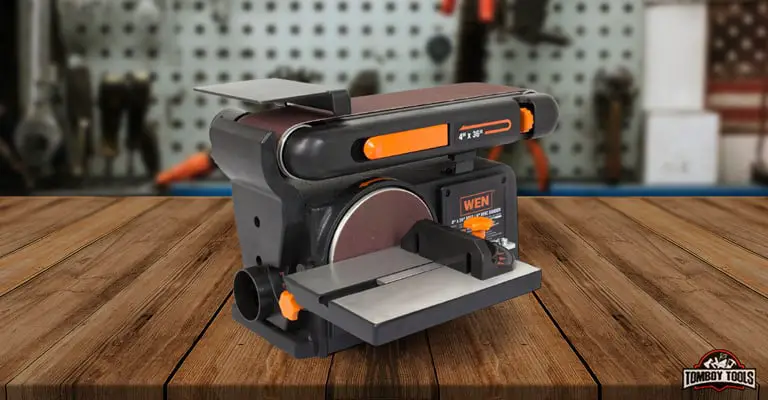 Why this tool?
The Wen 6502T is sure to draw your attention with its 2 in 1 sanding capability. The package of the product includes both 4-by-36-inch belt sander and 6-by-6-inch disc sander. If you have the need to work in a vertical position with the belt, then you can just tilt it 90 degrees.
The base of the Sander is made from heavy-duty Cast iron making it a sturdy machine with almost no such wobbling or shaking. The machine comes with a 4.3 amp, ½ HP motor delivering you with a speed of up to 3600 RPM. 2.5-inch dust collector port minimizes all the dust, keeping your workspace debris or dust-free.
You can easily change between sandpaper and grit, with the tension release lever of the machine. The support table of the sanding disc is equipped with 0 to 45-degree beveling & a metered gauge. A 6-inch sanding disc of Wen takes sanding a whole new level for you.
Drawbacks
The Meter gauge of the machine is almost useless as it can't be used without some modifications. There is a metal cover over the belt blocking the dust collection port. It also reduces the working area by a few inches. Not so great in sanding thick wood.
Rockwell Belt/Disc Combo Sander
Why this tool?
The 41 pound Rockwell is a well-constructed & rigid machine made from steel. With the two in one feature, you will have both a disc sander & a belt sander in one machine. The machine is operated with a 4.3-amp powerful motor featuring a disc speed to 3450 RPM. 
You can work in both vertical & horizontal positions adjusting the platform from 0 to 90 degrees. Working with beveled positions is tough, that's why Rockwell introduced a sanding table adjustable from 0 to 45 degrees. The disc table is constructed from cast aluminum.
There is a quick-release belt tension lever allowing the users to easily & quickly change belts according to different grit sizes. The platform of the sander is ideal for those who may work with longer & wider boards. Packaging also includes a 45-degree miter gauge & an Allen key for professional purposes.
Drawbacks
The belt of the machine wears out too quickly & in most cases gets a little loose during belt sanding. As the platform of the sander is large it will take a lot of your space. Noisiness can get annoyed while working with Rockwell.
Makita GV5010 Disc Sander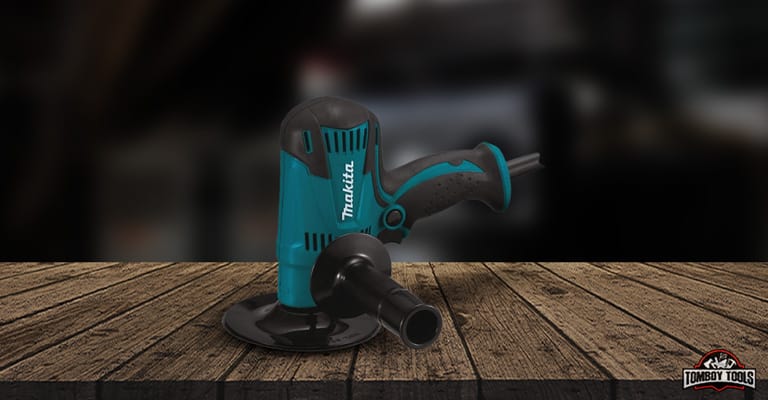 Why this tool?
The Makita lightweight disc sander is ideal for carpentry as it is only 2.6 lbs. in weights. The sander is powered by a 3.9 Amp electrical motor running on the AC power supply. The motor is capable of producing 5,000 RPM maximum speed. Ball and needle bearings ensure that the motor has an expanded lifespan.
Safety & comfort are the two main concerns that Makita has worked on this tool. There is Rubberized mold over the motor housing giving you better accuracy. It also has a rubberized grip for the comfort of operation & control. The side handle is also adjustable to your needs in two positions.
The Spiral Bevel gears are designed in such a way that it will improve the efficiency of energy transfer. Trigger lock-on button is a neat feature on the sander. The package comes with abrasive disc, wrench, side handle and backing pad along with a 1-year limited warranty for any sort of problems on the sander.
Drawbacks
The trigger lock system in the on button is not appreciated by all as you have to hold it down. The bearing of the sander will eventually get a bit noisy to use & the brushes will wear out.
Rikon 50-112 Belt & Disc Sander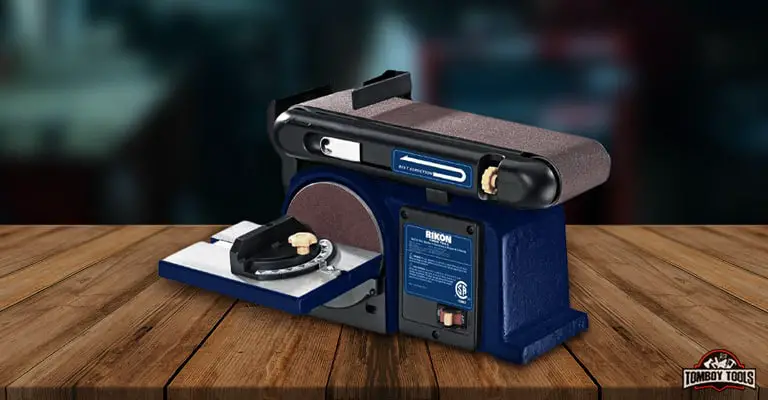 Why this tool?
With a Cast iron base & steel constructed belt bed, the Rikon 50-112 is one of the most durable tools in the market. Both disc sander & belt sander can be used by it. The sander has a powerful ½ horsepower motor with a 4.3 Amp & 120-volt rating. It achieves a belt speed of 1900 SFPM & the 6" Disc has a speed of 3450 RPM.
The 4-Inch x 36-Inch belt sander can easily be tilted 0 to 90 degrees. The cast aluminum constructed disc table can also be rotated 0 to 45 degrees. The construction of the sander ensures that you don't have to face any wobbling or vibrations of any sort while working.
The quick-release belt tension handle allows you to quickly change belts. The sander has a direct drive that ensures the increase in torque & reliability.  With a 2.5″ and an inside diameter of 2.25″, the dust port comes in handy to get rid of the debris. The package includes one 80 grit disc and an 80 grit belt with also a 5-year company warranty.
Drawbacks
While working with larger loads excessively on the table the motor speed of the sander seemed to slow down a lot. It also makes quite a noise at times. The inclined table of the rotating sander does not have a position locking system.
BUCKTOOL BD4603 Belt Disc Sander in. Belt and Disc Sander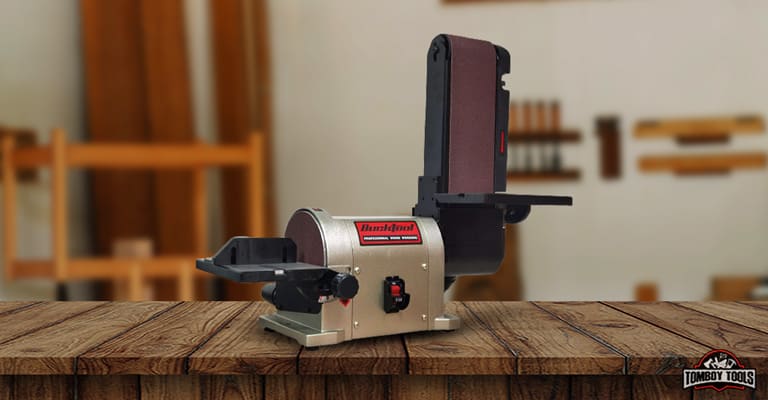 Why this tool?
BUCKTOOL BD4603 is a great option if you are considering heavy-duty work. Constructed from iron, this sander will act as both belt sander & a disc sander. The motor of the Bucktool has a power of ¾ horsepower which is more than enough to do large sanding operations. The motor has a current rating of 0.5 Amp. 
The 6" sanding Disc will run at a 3450 RPM speed allowing you to move materials more quickly. The 4 in. x 36 in. The belt of the sander can rotate in between vertical to horizontal with a speed of 2165 RPM. The independent dust collecting port will give you a debris-free workspace.
There is very little vibration to the sander because of the cast aluminum base. The worktable is also constructed of cast aluminum along with a miter gauge to work with. The direct drive will increase 25% of the efficiency allowing you to work with bigger sanding tasks.
Drawbacks
The table of sander has no locked positions, so it tends to move or wobble while squaring. The direct-drive motor of the sander has placed the disc & belt sander on opposite sides.
Essential Facts in Choosing the Best Disc Sander
It is never wise to go for a product without seeing what kind of ideal features disc sanders come with. These important factors will give you a fine aspect of what you are looking for. If you are an amateur, this section is a must for you.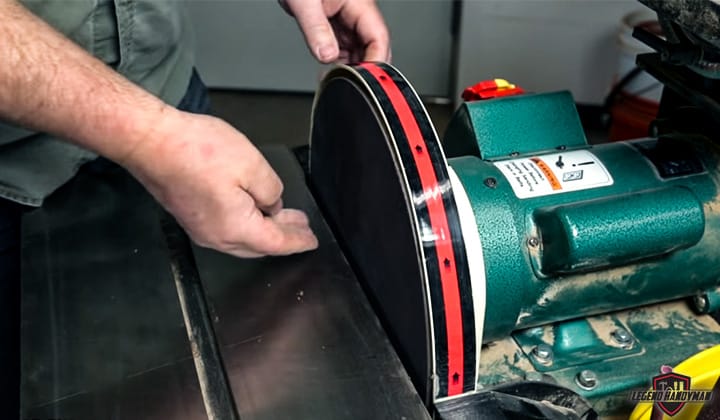 Availability of Both Disc & Belt Sanders
We are discussing the best disc sanders here, but often these days' disc sanders include a 2 in 1 feature of having both disc sanders & belt sanders. You can save a lot of workspaces as you can work with both the tools than buying them separately. Having this feature will benefit you a lot.
Disc Size
The disc size of a sander usually ranges between 5 to 8 inches. The numbers can go up to 10 or even 12 inches too. This size depends solely on the type of project you are working on. If you are working on large projects, then you will need a larger disc.
Because the more surface area of the disc means the lesser time you will need sand.
Power
The performance of the sander depends on the power the motor provides. The more powerful the motor is; the more work you can get done by it. The power rating is measured by the Amps & the horsepower of the motor. If you are working with a large amount of sanding tasks, then go for a powerful motor.
Speed
Disc speed & belt speed is an important factor to keep in mind. These are measured in RPM. The usual range of disc speed is 1200-4000 RPM. Speed is important because you will need various speed ranges for different types of wood.
Hardwoods require lower speed while softwoods can work with higher speeds. The same goes for belt speed too.
Rotating Angle
The flexibility & rotation of the belt sanders is adjustable. The adjustable disc tables will give you a tilt angle of 0 to 45 degrees & 0 to 90 degrees. This way you can work both horizontally & vertically & perform all your custom sanding actions with ease.
Dust Collecting Port
Disc Sander produces a lot of dust making your workspace a mess. A few minutes of work & you will see the whole place covered with dust. That's why the top valued disc sander has one or more dust collecting ports.
These ports vacuum out the dust as the sander runs, keeping your workspace debris free. Having dust collection ports on your disc sander comes in very handy.
FAQ
Q: Can I sand Glass using a Disc Sander?
Ans: Technically it is not advised to sand glass with a disc sander. Glass is a very delicate piece of material. With little movement going wrong, the whole glass would be wasted. There are a lot of other tools such as Dremel, drills to sand glass. Even the sandpaper used to sand glass needs a lot of modifications.
Q: What direction should I use the belt sander?
Ans: Belt sanders are used to level a surface neatly. So you need to keep the belt of the sandpaper in level with the surface you are working on. You have to be careful while working with edges as if you tilt the belt even a bit, it will ruin the edge.
Q: Are there any safety measures while using a disc sander?
Ans: Yes, working with a disc sander can become dangerous, if you have not taken any safety measures. There is a lot of scattering of small parts while sanding, so you have to have safety goggles for the protection of your eyes.
Your hands must also be kept as far away as possible from the rotating disk. Even with a minimum amount of contact, it can peel your upper skin. So be careful while working with them.
Q: Can the vibration of the belt sander be reduced?
Ans: If you are working with delicate woodwork, then the vibrations of sanders can become annoying. You can mount a rubber pad underneath the sander. This will tackle some of the vibrations for you. But you will still have some vibrations as it works on a motor. 
Q: What type of grit should I use?
Ans: The grit of the sandpapers depends on the work you are doing. If you are looking to do heavy sanding jobs, then a lower grit of around 60 is recommended. But for polishing work, it is ideal to use a grit between 100 to 200. This grit is recommended for wood only.
Conclusion
You might have already gotten confused over the choice you should make. Manufacturers these days provide the best features in their product as the competition in the market is so intense. That's why we're here with our suggestions to help you narrow down the best disc sander according to your needs.
The WEN 6515T 2 in 1 Disc & Belt Sander is one of the most well-rounded tools we have studied. With a staggering ½ HP motor, 4600 RPM sanding & dust collecting port, the tools stand out from others on every aspect. But if you are looking to do heavy-duty sanding tasks then the ¾ HP BUCKTOOL BD4603 would be an ideal choice.
Some prefer only a disc sanding tool, then the Makita GV5010 5" Disc sander would be perfect.
Studying every disc sander closely & identifying your main concerns is the key to work with here. You have to look into every option, but you cannot compromise with the quality of the tool. 
I'm Joost Nusselder, the founder of Tools Doctor, content marketer, and dad. I love trying out new equipment, and together with my team I've been creating in-depth blog articles since 2016 to help loyal readers with tools & crafting tips.