I love creating free content full of tips for my readers, you. I don't accept paid sponsorships, my opinion is my own, but if you find my recommendations helpful and you end up buying something you like through one of my links, I could earn a commission at no extra cost to you.
Learn more
"I am a carpenter, an architect, a home applier, I am a home guy. In need of managing some shapes in my door or wall or plyboard." What's the query? We are here with the collection of best drywall saws and you're ready to roll.
Tools are always the assistants that are not the most necessary stuff yet their presence and a little push give your work a touch of perfection. You are often in need of remodeling your wood pieces or glass stuff or synthetic boards. Of course, they are strong material to be cut. And so you need some tools that are sturdy enough to deal with these.
The more day we are passing the advanced tools are also being added up in the stores. Some are just a waste to even look at. So helping you to be more precise about what you are looking for and what you need, we are inviting you to go through the below segment.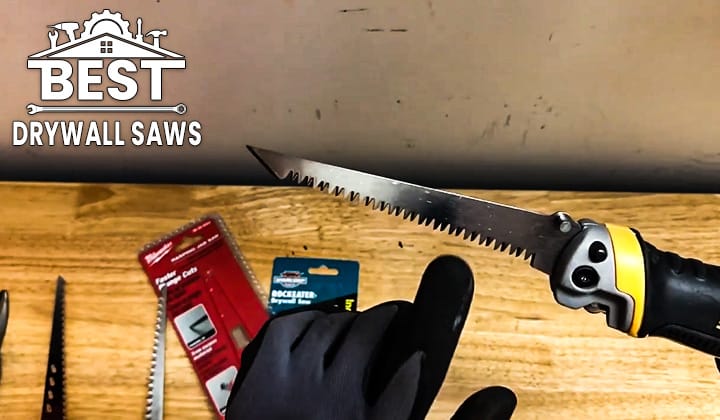 Some Best Drywall Saws for Your Assistance
Plenty of options out there and definitely you'll be in a distress choosing the most commons and best products. Here's what we are doing is summing up some best selection for you. Check your choice.
DEWALT (DW660) Rotary Saw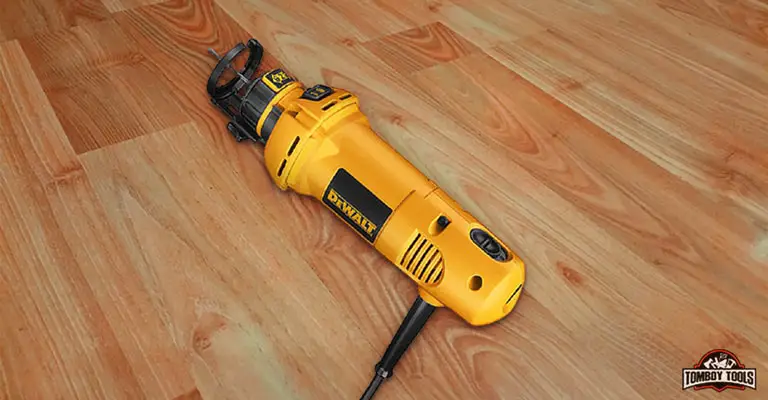 Choice-worth?
The DEWALT presents you with one of the most versatile designs of a rotary saw with multiple drill bit adjustment facilities. If we segment the configuration of it, we see the whole compact body where the functional stuff is stuffed in. And the front part where the drill is mounted.
The drill bit is compacted with a lockdown switch system that just needs to be rotated to 180 degrees. There is this depth controlling part just adjacent to the lockdown system. The standard collet that holds the drill bit is the 1/8" one but the additional ¼" is also a good handy. There is this bump off and on the switch that easily gives you instant working capability.
The voltage required for the operational job is about 120 volt and the required amperage is 5 A. And the most significant feature to be notified is that the RPM rate is a high numbered about 30,000. You can easily make it work in your wall jobs, carpentry designs, glass cuts, without any problem.
The manufacturers allow one year's warranty. The plug-in wire is a very high coated plastic material. Besides if you don't want the depth controlling part to bother you, you can easily remove that from the top.
Dissatisfactory 
The bit grip and alignment is poor a bit and if you're thinking of switching or changing the drill bit, you might be disappointed regarding the stubborn adjustments.
Klein Tools 31737 Drywall Saw, Folding Jab Saw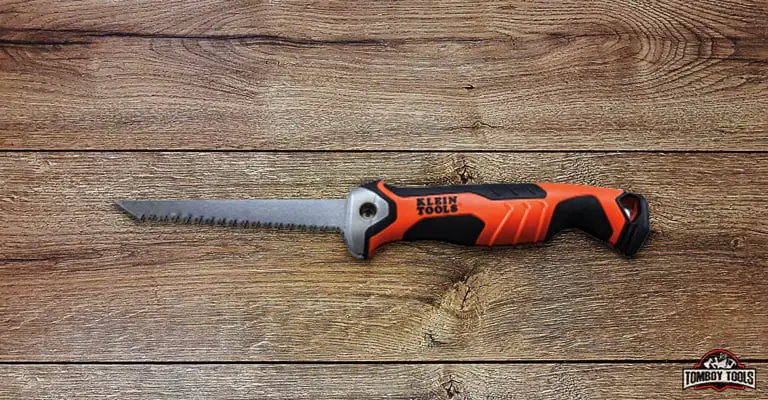 Choice-worth?
The Klein tools allowing us to consume a very sturdy blade saw that is fully made up of carbon steel. This has an ultimate folding capability that reduces the pain of having a hole in your bag. The blade is not a rectangle rather is wide in the bottom and a little less wide in the upfront. This is for enabling the most pressure on the wall.
The sawtooth is calculatedly made having triple ground teeth mechanism. The blade can open fully up to 125 degrees when the lockdown system is running. When you open the jaw or lockup system then you can open the saw up to 180 degrees.
The overall tool has a very small weight that is almost 8.6 ounces and being light-weighted it does well penetrating cuts and makes great holes. The overall length is 11.9" and the blade length 5.2". The handle is a plastic material with rubber folds for a better grip.
The TPI is 8 and you really need not distress about a precision cut. As it is a manual tool so there is no bounding warranty. It all depends on how you apply it and how it wears.
Dissatisfactory 
There is basically no noticing demerits. The blades are for strong cuts so don't allow you to have a smooth-edged cut. Some say the blades are dull, well that also depends on your working surface.
Shark 10-2206 Rockeater Drywall Saw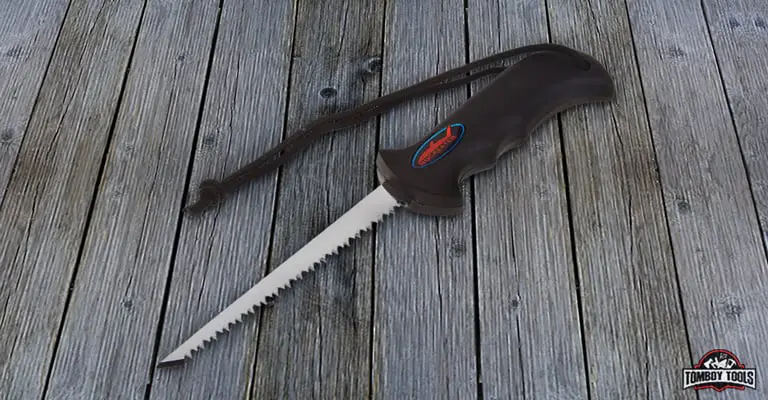 Choice-worth?
Digging to the core constitutional arrangements we see that the Shark's drywall saw has a TPI (threads per inch) of 7. The sawtooth is shaped as the diamond ground and the material is of Japanese carbon steel. So basically the heavy-duty is something promising.
The 6-inch blade is a basic carbon steel configuration and has no additional color added. The teeth have two cutting edges to push and pull and coming and going. The blade is quite sharp and creates a puncturing hole very quickly. The saw is not stamped.
The shark blade gives you a push-to-cut mechanism and as consequences, you don't get a torn drywall. Moreover, you can get your wanted cuts in the cement board and the saw is this penetrable. The holder or grip is high-quality ABS plastic material and it's quite a friendly set up for you to work finely.
The warranty is assumed to be for a year. But it's a manual tool and can do jobs on a hardened surface. So your usage gets priority and the warranty is based on that precisely.
Dissatisfactory 
The shark has a fast cut capacity but the afterward outlines are not as smooth as expected. Besides the grip is plastic, a little bit rubber addition could've made it more efficient.
Goldblatt Jab Saw – 6-inch Drywall Wallboard Saw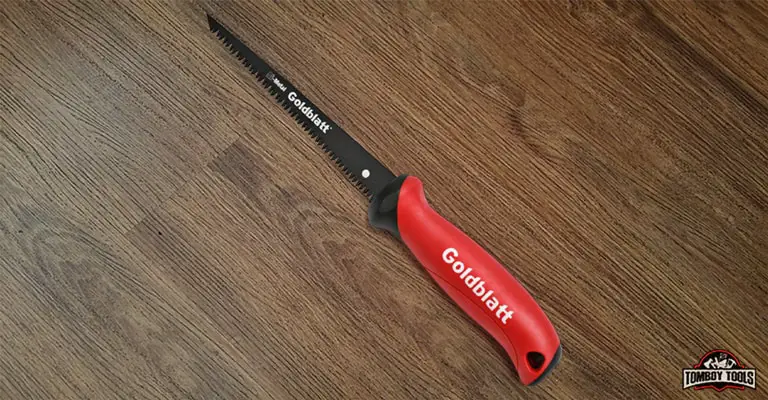 Choice-worth?
The Goldblatt jab saw is designed with precision cross ground teeth for having faster and smoother cuts in no time. The TPI for this specification is 8 and that simply denotes it's an efficient job tool. The 6 inches blade is made up of carbon steel treated by black Teflon and the overall size is 12.20 inches.
The light-weighted (0.33 lb) saw has inverted teeth on both sides for having an increasing pulling force. The inclusive 3 cutting surfaces lead you to have a 50% faster cut experience than any other saw feature. Also, deep gullets between saw teeth keep the cutwork fresh and uninterrupted.
The handle of the jaw has a soft-grip handle so the tool doesn't slip from your hand and you have continuous workability. For reducing user fatigue and ensuring maximum output from the tool the Goldblatt was made ergonomically. The blade and the handle are proportional in size.
The applicable places where the Goldblatt shows its expertise are drywall, wallboard, plywood, cement board, thin paneling, and PVC items. You can also make it work in glasses. The blade is basically manufactured for professional usage.
Dissatisfactory 
This specification has minimal complaints from the costumers for being one of the great tools available. Yet the blade is a little sturdier would have made it more remarkable.
WilFiks Razor Sharp 6.5" Pro Jab Saw, Drywall Hand Saw
Choice-worth?
The teeth of the WilFiks is induction-hardened and allows you to have sharper cut. The hand saw is designed for precise cutting including dovetails, Tenon's, and miters. The saw cuts through plastic pipes, plywood, wood, wallboard, drywall, etc. The front part is sharpened enough so that you can penetrate through the wall in one go.
The saw length without the handle is 6.5" and is constructed with high carbon steel with having TPI of 7. There are 3 available cutting surfaces that cut with 50% more accuracy than most other tools. The push and pull mechanism ensures the precision cut and enough gullets appearance also ensures that there are no excessive parts stuck while sawing.
The handle that is provided is anti-slip and so you get a great grip. For being a sturdy workpiece, the WilFiks can be adjusted to cut from multiple angles. Shows its superiority by ensuring a longtime friendship with you.
The main course of the working area is in your daily home needs and in professional work. Whether you are a framer or general constructor, woodworker it is a nice choice to assist you.
Dissatisfactory 
The blade has a loosen grip from the handle in most cases and that is really a grave problem when all you need is a strong grip to be able to do the precision work in one chance.
Things You Need to Be Aware of While Buying the Best Drywall Saws
When you are buying your forte tool or gadget you don't want to regret it afterward. So before you face this occurrence we suggest you take some idea before buying one. Thus you'll end up getting the perfect one for you without being displeased.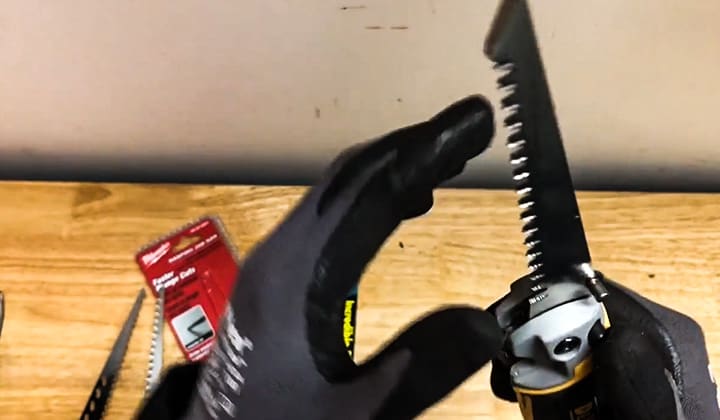 Blade Material
The drywall saws are all about the blade and its sturdiness. If your blade is a strong component to deal with then you have less fear of having disturbing work experience. Usually, the blade is made of carbon steel and some of them are constructed with high durable Japanese steel.
Some blades being made of carbon steel, has an extra coating of some alloys or synthetic elements, for assuring a less wearing blade and high longevity.
Raw cuts
The cuts in the wall are not easy. You need to check if the saw has sharpened the front edge. If yes, then you just need to stab on the marked position.
You need to enforce the blade when functioning. The pull and push operation is the primitive way to cut kinds of stuff and the blade being manual also follows a similar process.
Ground tooth
The saw teeth are of different shape for having increasing accuracy. Diamond cut, precision ground, and many more. The TPI (threads per inch) is also a great feature to be featured. The more the TPI the better cut can be expected.
RPM
The normal saws don't have an rpm rate, they are just manually forced applicable work-piece. And the electrical drill ones have RPM rate and that is high enough to be able to penetrate the doors or walls. 30,000 or more in most cases.
Handling handle!
The handle is a vital part. If you cannot hold a strong grip on the saw end then you can't do the pull-push work fine. And you get a disturbance. Some have folding saw and holder system, some have rubber grips, etc. The handle needs to be anti-slip material.
FAQs 
Q: Does the saw create sawdust?
Ans: Well, there is less dust but more visible chips. This basically doesn't gives a smoothen look but maintains the shapes as you want.
Q: Is there any possibility for the blade to be broken?
Ans: We can't say no. But they are made of high-quality carbon steel, some from Japanese products. Other than you are buying from the original manufacturer or a quality portal, you can be dissatisfied.
Q: Is the electrical drill a better option or the usual saws?
Ans: It totally depends on you. The electrical ones maintain an RPM rate and that is really a modern choice and fast worker. However, the saw styles are also a great choice. You need to set your work first then you can calculate the best one for you.
Conclusion
If you're looking for a precision cut or a strong companion or a fast saw, you are not guaranteed to get all at once in one piece. Some manufacturers are better making sturdy tools, some focus on the after-work smooths. So we are trying to sum up the most demanding ones.
The best drywall saws are meant to best by work basically. So firstly we would like to recommend the Goldblatt's saw system and this is really a tough competitor. The diverse design is the DEWALTs one and this also gives you an ample range of shape cuts. The Goldblatt and the similar designed ones are manual and the DEWALTs work on the supply voltage.
However, sometimes we need fast work experience more than precision cuts. So you can never be fully satisfied with one material. But even though the Goldblatt is a remarkable one, if you're thinking of a fast work you can switch to the DEWALTs driller.
I'm Joost Nusselder, the founder of Tools Doctor, content marketer, and dad. I love trying out new equipment, and together with my team I've been creating in-depth blog articles since 2016 to help loyal readers with tools & crafting tips.