I love creating free content full of tips for my readers, you. I don't accept paid sponsorships, my opinion is my own, but if you find my recommendations helpful and you end up buying something you like through one of my links, I could earn a commission at no extra cost to you.
Learn more
Drywall inner sidewalls always need a small yet strong and sturdy tool to cut or carve features out. For this, there are no alternatives to a jab saw.
But also for quick cutting, trimming, or pruning jobs both indoors and outside the house a jab saw will come in handy. It's a simple but versatile tool that should have a place in any DIYer's toolbox.
If you're looking to purchase a jab saw, you will find there are tons of options on the market. Which one is the best for your purposes?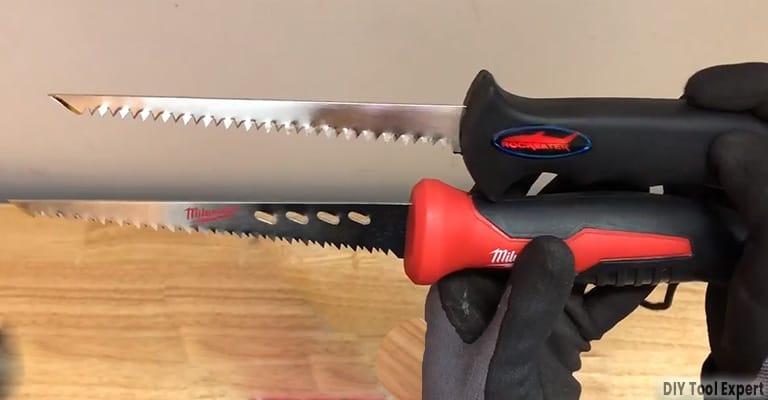 In this post, I will tell you what to look for in a good jab saw, show you some of my favorite choices, and provide a detailed review of each.
My top-rated jab saw choice is the Stanley 20-556 6-Inch FatMax Jab Saw. Its combination of an ergonomically designed, slip-resistant handle, and its sharp tip will allow it to penetrate almost any material, and cut with ease. It has a slightly higher TPI than most jab saws in its class, and the teeth on its blade are also up to 5x more durable than a standard-tooth blade, which means you will be able to use it for many years to come.
But perhaps you are looking for a more portable jab saw, or a slightly more heavy-duty one for professional jobs. I'll show you my top 5 best jab saws so you can make the best choice.
How to use a jab saw and why buy one?
A jab saw is a saw used for making small cuts and cutting precise features in building materials. It is usually long and narrow in structure and is also known as a drywall saw, hand saw, keyhole saw, alligator saw or pad saw.
The jab saw has a pointed nose to push or jab through the soft building materials. This will get rid of the drilling in drywall or plasterboard and that's the reason why it is also called jab saw.
It's not just a great saw for drywall and plaster though, but can also be used as a hand saw for trimming, pruning, and cutting through wood, for example, a pegboard.
The sharp tooth technology on a jab saw allows for cuts to be made on both the push and pull strokes. This makes the saw cut up to 50% faster than traditional tooth designs.
The tool is very sharp. You need to make sure you handle it properly and safely. It requires storing in a safe place; out of reach of children or sticking out anywhere where someone could be hurt.
Once you have a jab saw in your toolbox, you'll find yourself using it more and more often. It's simply a must-have tool!
Features to consider before buying a jab saw
Among hundreds of jab saw available in the market with effective features embedded, it is much difficult to pick up the best one or at least the most effective one.
To find the best jab saw, one needs to focus on its blades, the tip of the blade, TPI or teeth per inch in the blade, handle type, handle composition materials, handle structure, etc.
These are the key features to get the best one out of many commercials products in the market.
Here is a list of things to keep your eyes on while choosing a jab saw.
Blade type
There are two types of jab saws:
fixed blade
foldable blade
If you are planning to buy a jab saw with less money spent, the fixed blade types are preferable.
However, a foldable jab saw will help to keep the saw itself safe in the pocket and makes it more easily portable.
Handle
Comfort in using anything is often at the utmost priority. The blades get a lesser priority than the handle type when this fact is considered.
Wooden handles are the cheapest and most common types of handles on jab saw. They are not as ergonomic as other saw handles though.
When choosing rubber handles, look for a hardened one that will give you extra comfort. Plastics may seem better if designed more work-friendly.
The most important thing about a jab saw handle is that it won't slip from your hand. An ergonomic and solid grip makes it safer to use and prevents the tool from sliding away when you apply pressure.
Blade teeth pattern
Most jab saws have similar alligator teeth. Even the lengths and patterns of the teeth are identical in many aspects. Hard teeth are more durable and therefore preferred.
Blade tip
If you are mostly using the jab saw for drywall projects, select the saw with the most sharpened tip. It will be easier to penetrate right through the material.
On the other hand, if you are mostly looking to make small trimming or pruning cuts, then a blunt tip might actually be safer.
Blade structure
An important characteristic of gypsum used in sheetrock or drywall is that the more it is rubbed or dismantled, the more it heats up. For this reason, there will be holes in certain jab saws.
Select a jab saw with well-placed holes to minimize any heat created when working.
Safety
One last thing to mention about jab saws: the tool is very sharp.
One needs to handle it properly and safely. It requires storing in a safe place and out of reach of children.
The best jab saws reviewed
Now let's see what makes the jab saws in my top 5 so good.
Best jabsaw overall: Stanley 20-556 6-Inch FatMax

This Stanley 6-inch long jab saw has a tip sharp enough to penetrate any piece of drywall, other types of gypsum boards, or similar materials without much effort.
It has 8 sharp teeth per inch (TPI), to help make your cuts as smooth as possible.
The handle is slip-resistant and you may cut or curve either sheetrock, plastic, or wood with power and strength as well as precision and control.
Sharpened teeth allow to gain a speed up to 50% faster and the durability of the induction-hardened teeth is at least five times longer than that of usual teeth.
These sharp teeth make the pushing and pulling strokes comfortable while cutting.
The tool is marvelously and ergonomically designed. The handle is bi-material, solid, and resistant to slipping which increases its lifespan and strength. Even smaller hands can get a good grip on the tool.
The blade is 6 and a quarter inches in length, and the handle is made of plastic/rubber bi-material. An inch of the blade plate encompasses 8 teeth and 9 points.
Most customers have expressed themselves to be satisfied using it. Though it is a little bit tricky to get started, suggestions are made to drill the pivot or just hammer at the back of the jab saw to get enough insertion.
Some disadvantages of this tool are that it does not have a blade folding option, so you'd have to carefully store it away when not using it to avoid dulling the teeth and hurting yourself.
Best portable & multipurpose jab saw: Tarvol Folding Hand Saw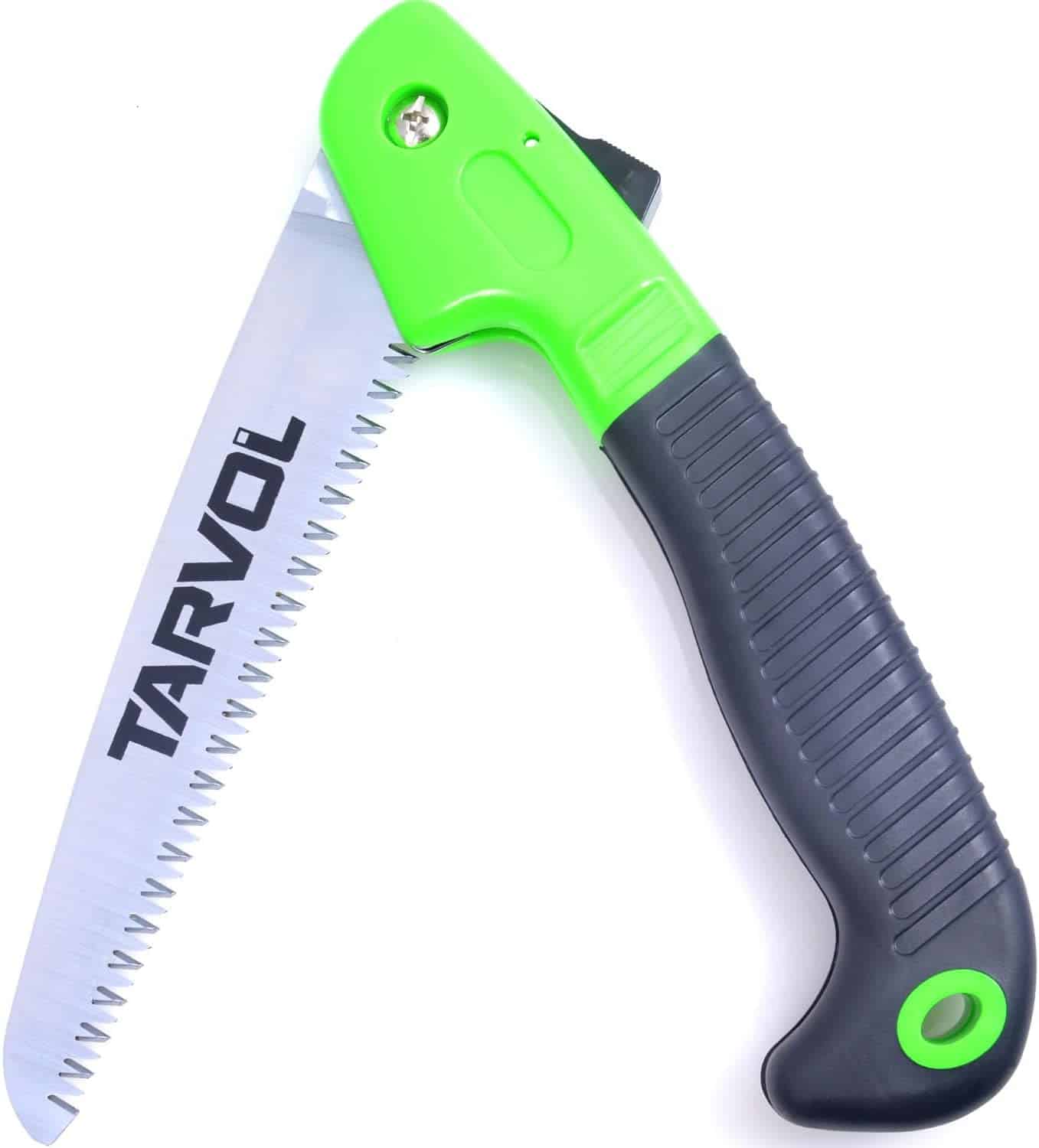 The Tarvol jab saw is a handy multifunctional tool that could save the day.
Besides cutting sheetrock, it is also equally helpful in cutting wood, drywall, bone, pruning, sawing, hiking, camping, trimming, and hunting. Whatever you need it to cut, it will.
This folding jab saw contains a 7-inch long blade with razor-sharp teeth, at a 7 TPI, for a great cutting experience.
The jab saw is 1.2 mm thick and contains seven teeth in just an inch of the blade. The blade is straight enough and is also corrosion-resistant.
This Tarvol jab saw has an ergonomically designed handle. The black portion of the handle is made of rubber and the green portion is made of plastic.
The style resembles the handle of a pistol so the grip is comfortable enough for a professional cutting or sawing. It can also be conveniently stowed by hanging it.
The saw can be folded down to 8.5 inches and just 2 inches in width.
Combining all the features it offers, including the ability to use it for multiple purposes like gardening, cutting trees, plants and stubborn roots, fishing, hunting, it offers much more than just cutting walls.
The Tarvol saw is a little bit bigger than the traditional drywall saws, which may not be suited to all users.
Besides the saw blade is flimsy to have the possibility to bend away when heavily used. Some customers have issues with the backward movement of the saw while cutting.
Best ergonomic jab saw: WilFiks Razor Sharp 6.5" Pro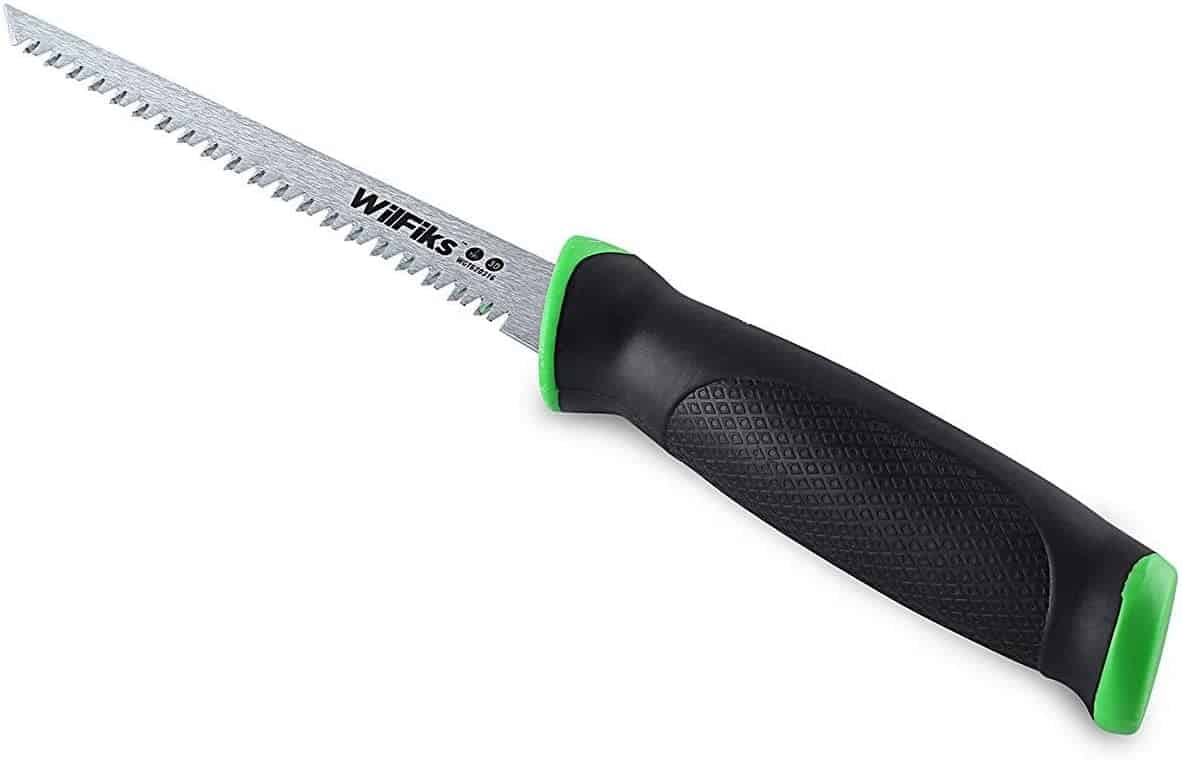 This jab saw can give a decent cut to drywalls, wallboards, woods, etc. The ergonomically designed handle won't let the saw slip off the hand.
This razor blade saw is easy to use. It can cut miters, tenons, and dovetails quite precisely.
For a home-centered saw craftsman, farmer, woodworker, or even a general contractor, it is an ideal instrument as it cuts smoothly through a plastic pipe, sheetrock, wood, plywood, and other similar materials.
It has a handy design, with 7 TPI, so you will be able to use it easily, and get good results. The handle is comfortable enough to hold as the design kept every hand size in mind.
This eventually lessens fatigue during cutting. The cutting angle is also superior.
The teeth are perfect enough for a sharp and smooth cut as the blades are induction hardened. The sharp tip feature included is used to start the beginning of the cut.
It perforates drywall easily and is handy for a quick cut. So, the construction is durable.
The blade of the body is 6.5 inches long and the TPI rate is 7. The blade material is carbon steel so that the control and rigidity remain up to the mark, and for durability.
There are some complaints about not being able to cut plywood easily and comfortably though.
Best jab saw for demolition and renovation: Milwaukee's 6 In. Fixed Jab Saw

The 6-inch Milwaukee jab saw is recommended to cut through plasters and drywall for demolition and renovation.
The handle of this drywall saw contains a rubber overgrip which helps you to keep absolute control for the duration of the cutting process.
The back ends, or the pommel of the saw handle is flat so that the user can easily puncture the drywall by putting the tip on the desired spot and tapping on the flat pommel.
The tool is endowed with some rasping holes which increase perforation holes and cutting to some extent greater than traditional saws.
These can also be used for masonry purposes. For example, you can smoothen out metal and rock surfaces.
It has a dual teeth pattern in the blade, as well as 7 TPI, which allow for fast sawing optimization through thin materials.
It has dual teeth pattern in the blade which allows fast sawing optimization through materials that are comparatively thin.
Best heavy-duty jab saw: Dewalt DWHT20540 Standard Jab Saw

The DeWALT jab saw has aggressive teeth that can cut drywall or similar materials twice as fast as the traditional ones. The teeth are of the induction-hardened type and stay sharp for a long time.
And they are not made to cut drywall only. Plastic and other building materials are also in its domain as well.
The blade has a length of 6 inches providing eleven and a half inches of overall length. The rest of the length of the saw is its plastic and rubber dual material handle.
The jab saw of DeWALT offers 8 teeth per inch and 9 inches of interval among the points. The aggressive saw blade is pointy at the tip helping one to penetrate sheetrock.
The handle is sturdy and the blade is sharp and strong enough. Overall it's a tool rigid enough to handle walls made of sheetrock.
Best double-edged jab saw: HAUTMEC 6-Inch HT0028-SA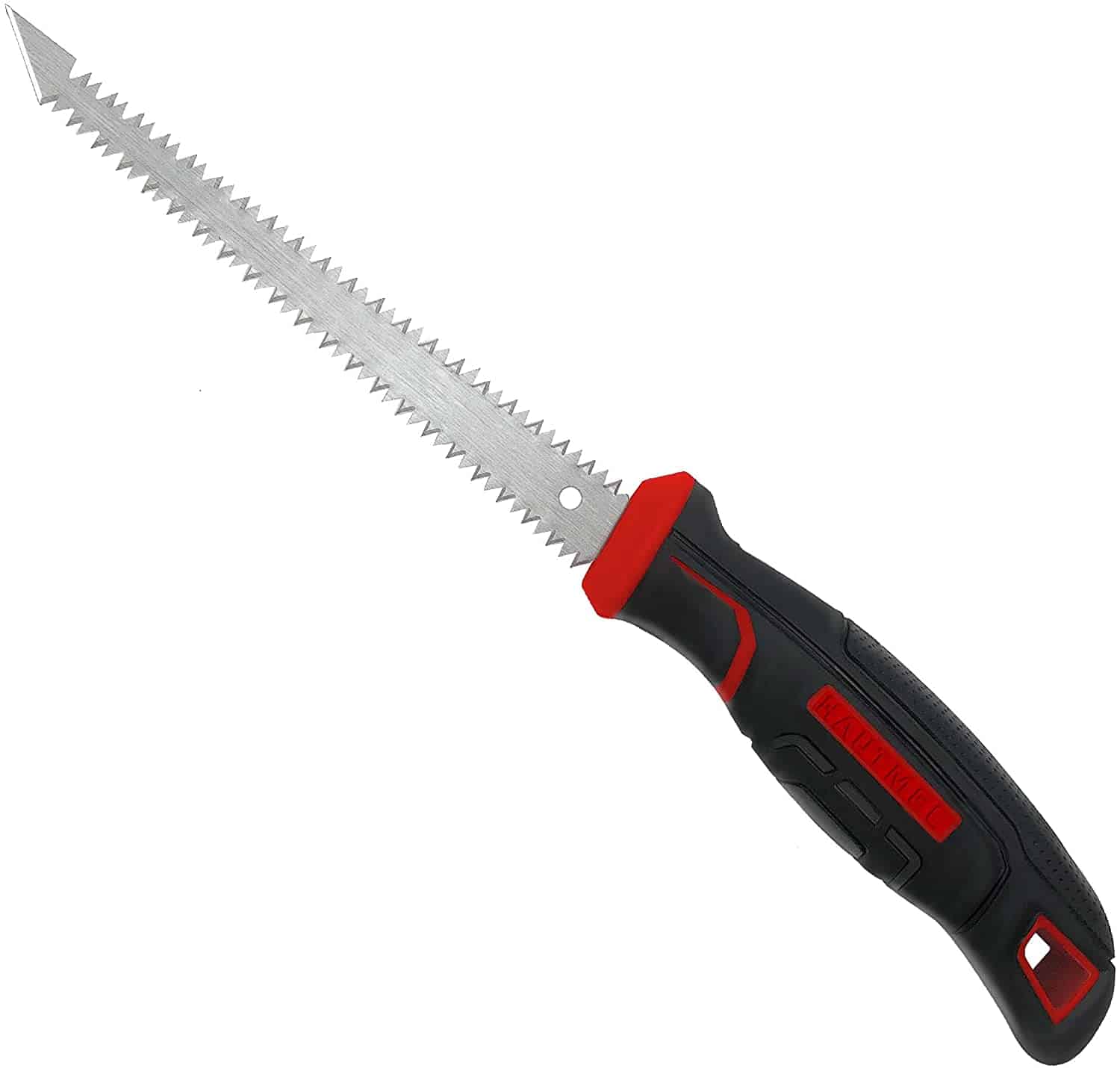 This HAUTMEC Jab Saw has a double-edged blade for fast and efficient cutting. You will love the speed you can get with this saw, so you can get the job done quickly, but done well.
The second side will allow you to go in either direction while you are sawing, without having to remove your tool, and re-insert the blade going the opposite way.
With a pointed tip, this saw easily penetrates drywall, wallboard, plywood, plastic, and any other material you could want.
Its 7 TPI blade is also made of hardened carbon steel, so not only will you be able to use this tool on every job, but you will also be able to use this tool for a long time.
The handle, made of comfortable rubber, has a handle guard, to keep your hands and fingers safe and protected.
The material of the handle will also ensure comfort when you are using the tool, to allow you to use it for a longer period of time.
Best folding jab saw: Klein Tools 31737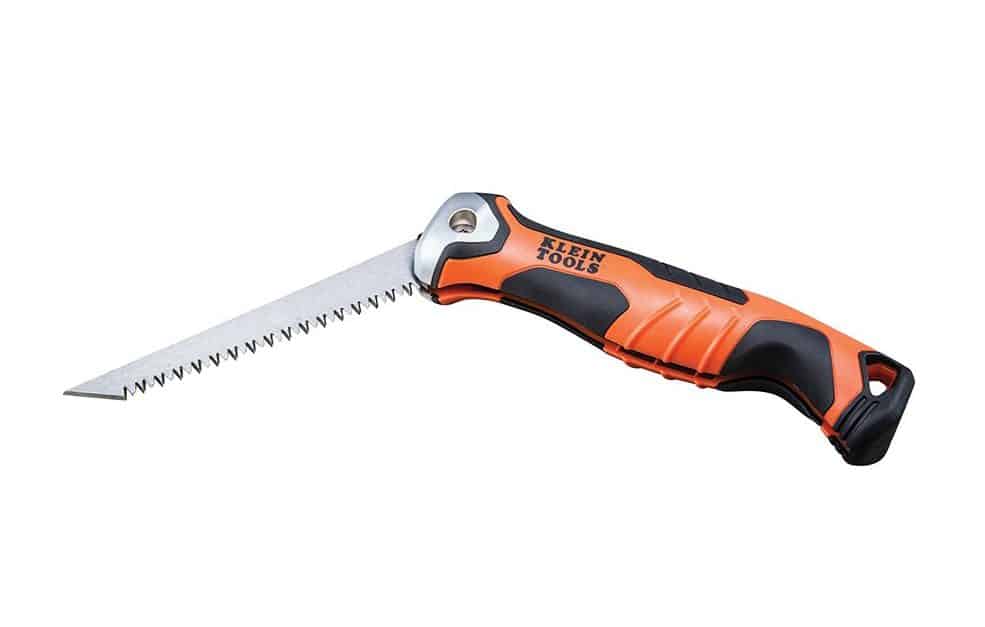 This Klein Tools jab saw is a must for those looking for a folding saw with a pointed tip.
A perfect tool to keep in your pocket while you work, without having to worry about the blade. It is also great for storage, as it won't pierce your bag.
The tool's ability to fold is also beneficial to your project, as it doesn't need to be straight out of the handle to make a cut. It can cut at an impressive 125 degrees, to help you access those hard-to-reach areas.
The blade is made of carbon steel for durability and has a TPI of 8. So you know you will be able to use this tool for a long time.
The butt of the handle is also cushioned, to provide extra support when inserting into a wall, or for easier palming. The handle is also non-slip, so you don't have to worry about dropping it while you are working.
Jab saw FAQ
Here are some frequently asked questions about jab saw and their answers.
Can I use a jab saw to cut wood?
Definitely. Besides drywall, jab saws are great for cutting through wood, plywood, gypsum, plastic, and other construction materials.
Can a jab saw cut metal?
No, for cutting through metal you'd better use a hack saw.
Conclusion
If you weren't familiar with jab saws before, you should be now. These powerful tools are essential for builders or home DIYers; really, anyone who is going to be completing drywall projects should have one in their tool belt.
With its pointed nose and high TPI, you will find you are easily able to puncture drywall, plasterboard, and many other materials, sawing out holes and creating any incision you may need.
There are many good options out there when it comes to choosing a jab saw. As an expert in the field, I've provided my top 7, but before you buy, make sure you do your own research.
Be sure to focus on the blade and its tip, the TPI, the handle type and composition, and look for any other features you think could be useful to your project.
Read next: These are the best 6 table top saws handpicked and reviewed
I'm Joost Nusselder, the founder of Tools Doctor, content marketer, and dad. I love trying out new equipment, and together with my team I've been creating in-depth blog articles since 2016 to help loyal readers with tools & crafting tips.
Product prices and availability are accurate as of the date/time indicated and are subject to change. Any price and availability information displayed on Amazon.com at the time of purchase will apply to the purchase of this product.