I love creating free content full of tips for my readers, you. I don't accept paid sponsorships, my opinion is my own, but if you find my recommendations helpful and you end up buying something you like through one of my links, I could earn a commission at no extra cost to you.
Learn more
Why are robot cleaners all the rage? They are intelligent devices capable of detecting where the dirt is and they go around a pre-programmed area, where they pick up dust and messes. This makes life easier because people can spend less time on chores.
What is the best robot vacuum for the money? If you have hardwood floors and don't have a high carpet, this Eufy Robovac 11S is the one we recommend. It's quiet, smart, and doesn't leave marks on your beautiful floors. We have a few more in this review, for carpets for example, or really budget-friendly ones you should check out as well. Here is a list of our top picks of the best robot vacuums you can buy online.
| Robot vacuum | Images |
| --- | --- |
| Best robot cleaner for hardwood floors: Eufy RoboVac 11S | (view more images) |
| Robot vacuum with best mapping: iRobot Roomba 675 | (view more images) |
| Best robot vacuum under $200: ECOVACS DEEBOT N79 Wifi | (view more images) |
| [Newer Model] ECOVACS DEEBOT N79S Wifi + Amazon Alexa Connected | (view more images) |
| Best robot vacuum that empties itself: iRobot Roomba i7+ with zone cleaning | (view more images) |
| Best robot vacuum for medium to high-pile carpets: iRobot Roomba 960 | (view more images) |
| The Best robot vacuum for stairs: Shark ION RV750 | (view more images) |
| Best cheap robot vacuum: ILIFE A4s | (view more images) |
| Best robot vacuum for pet hair (dogs, cats): Neato Botvac D5 | (view more images) |
| Cool Star Wars Droid vacuum: Samsung POWERbot Limited Edition | (view more images) |
| Best cheap robot mop: iRobot Braava Jet 240 | (view more images) |
| Overall best robot mop: iRobot Braava 380T | (view more images) |
| Best Robot Vacuum and Mop Combo: Roborock S6 | |
| Best Robotic Pool Cleaner: Dolphin Nautilus Plus | |
| Vacuum robot with best HEPA FIlter: Neato Robotics D7 | |
How to know a robot vacuum is for you
Looking around the world of domestic cleaning, many people see automation beginning to creep in – and they don't like it. Many see it as being lazy, others see it as creating technology to do jobs that we can do on our own and is just gratuitous, technological ego gone mad. The answer, as ever, is somewhere in-between. Although not a necessity, and many fear that the robot vacuum could put those in cleaning positions at risk long-term, it's a very worthwhile technological advancement.
Here are just some of the reasons that we think investing in a robot vacuum cleaner might not be as ridiculous as it sounds.
For one, you'll spend less time around dust, debris and allergens. Instead of having to be the one tidying up and cleaning up – and getting all of that mess in your face as you clean – you can allow your robot vacuum cleaner to 'take the hit' and clean up on your behalf, which naturally can have a hugely positive consequence. This is one of the main reasons why so many love the idea of the robot vacuum cleaner; your health will improve long-term.
Also, you might find it hard or strenuous to bend down and deal with tight, rough spaces. If you would like to avoid having to try and get into those tight areas to clean up, a robot vacuum can do so without any of the same stress or irritation. They are able to get into those tight spots without feeling claustrophobic or uncomfortable from all the bending up and down, saving you time and stress!
Speaking of time, these robot vacuum cleaners will 100% save you a lot of time. If you are looking for an easy way to look after your household, then this is one of the easiest ways to do just that without having to spend any time cleaning it up on your own. This will give you more time to do things that you want in life rather than spending time on household chores. It gives you more time to do things that you enjoy – or even just relax.
The robot vacuum cleaner is a surprisingly low-maintenance solution, too. Many see these as rather pointless and overly pricey solutions. That is not the case here, though; these are very easy to look after and are made from high-quality materials to ensure they can easily withstand bumps and bangs without issue. This means that so long as you empty it out on a semi-regular basis that you should find it works with full efficiency for years to come.
So, with that in mind, would you be interested in buying a vacuum cleaner like this? it's very easy to do so. You shouldn't see it as a pinnacle of laziness or anything of the sort: when used right, this kind of technology is going to make our lives easier, safer and simpler. It might be futuristic, but that is not necessarily a bad thing!
Check out our reviews below:
Best robot vacuums reviewed
The Best robot cleaner for hardwood floors: Eufy RoboVac 11S
PROS
The Eufy RoboVac 11S Max is simply the best affordable robotic vacuum that is easy to use and clean. This vacuum can completely clean the house with just one push of the button.
Power Boost Tech feature allows the robot vacuum to automatically activate and deactivate the power suction as required and to conserve battery life.
Quiet and slim.
Unibody filter for pet hair and allergens. This is also great especially for people with asthma or dust allergy.
CONS
Pet hair is statically drawn to the chassis
VERDICT
As technology continues to advance, our homes get even more accessible because of the device and appliances that add to it. The Eufy RoboVac 11s MAX is one of the home additions that help in cleaning homes even easier. This robot vacuum best performs on a carpet and even on hard surfaces.
With just one click of the button, this helps in cleaning the house. It provides a versatile cleaning feature that facilitates cleaning chairs and under tables. RoboVac 11s MAX has a high suction and is a self-charging robot cleaner and is best designed for carpets and hard floors. Here is Vacuum Wars looking at this very model:
FEATURES
High Suction, Drop Sensing Technology, and Self-Charging
The Eufy RoboVac 11s MAX has a glass cover protection that evades obstacles and even recharges automatically. It also has a sensor to avoid falls. This robot automatically approaches the perimeter of every room.
Why is this product great?
This RoboVac 11s MAX cleans well on hard surfaces and most effectively on low to medium carpets. Every test being put in Eufy are mostly successful. It does clean well and sucks up all the mess on the floor. There is no match for this robot vacuum cleaner.
One of the major hard messes to clean is cat litter. No worries though, the Eufy 11s MAX still managed to fix and clean all the dust and dirt on the tile and thin carpet.
The battery of this amazing robot vacuum is a high capacity Li-ion Battery that delivers for 100 minutes of constant suction dirt and dust. This also comes with a remote control, a guide, and side brushes upon purchasing the product. The amazing robot vacuum ensures a thorough cleaning with its rolling brush and suction.
Is it convenient to use?
Convenience
Setting up Eufy RoboVac 11s MAX vacuum cleaner is an easy one. It needs to be charged first before it gets started after removing the film from the bot. To fully charge the robot, switch on the power button and have the robot fully charged. Upon charging, pressing the start button to get started and manipulate through the remote control.
There are also buttons such as Auto Button and the Dock button. Additional six buttons are to program the cleaning schedule.
The Eufy RoboVac 11s MAX sucks all the dirt and dust even from the most hidden part of the table and chairs. 2000Pa of suction power ensures your home is clear of dirt, dust, and crumbs . This provides a high-level of cleaning performance.
Is it better than other robots?
Compared to other robot vacuums, the RoboVac still better when it comes to picking up dust, hairs, furs of pets, and other leftover strays of food. The Eufy also finds it easier to go under the table and bed because of its height. Unlike other bots, they cannot go to the TV stand and even the tables. But the RoboVac was able to go under the cabinet and incredibly cleans more than what to expect.
RoboVac uses triple filters, one of them a Unibody-style filter, to ensure it traps microscopic allergy triggers such as dust mites, mold spores and pet dander.
SUPPORT AND WARRANTY
The Eufy RoboVac 11s MAX Robotic Vacuum Cleaner comes with a 1-year warranty period.
FINAL WORDS
Using the remote, it is also a lot easier to maneuver the robot in any specific area where it wants to clean. One of its best features is the ability to clean without making noise, unlike others. Some cannot even notice that the Eufy RoboVac is cleaning because of its whisper-like cleaning ability. That's what makes the RoboVac 11s MAX as one of the best and trusted robots in vacuum cleaning. It is also the most popular model among our readers.
Robot vacuum with best mapping: iRobot Roomba 675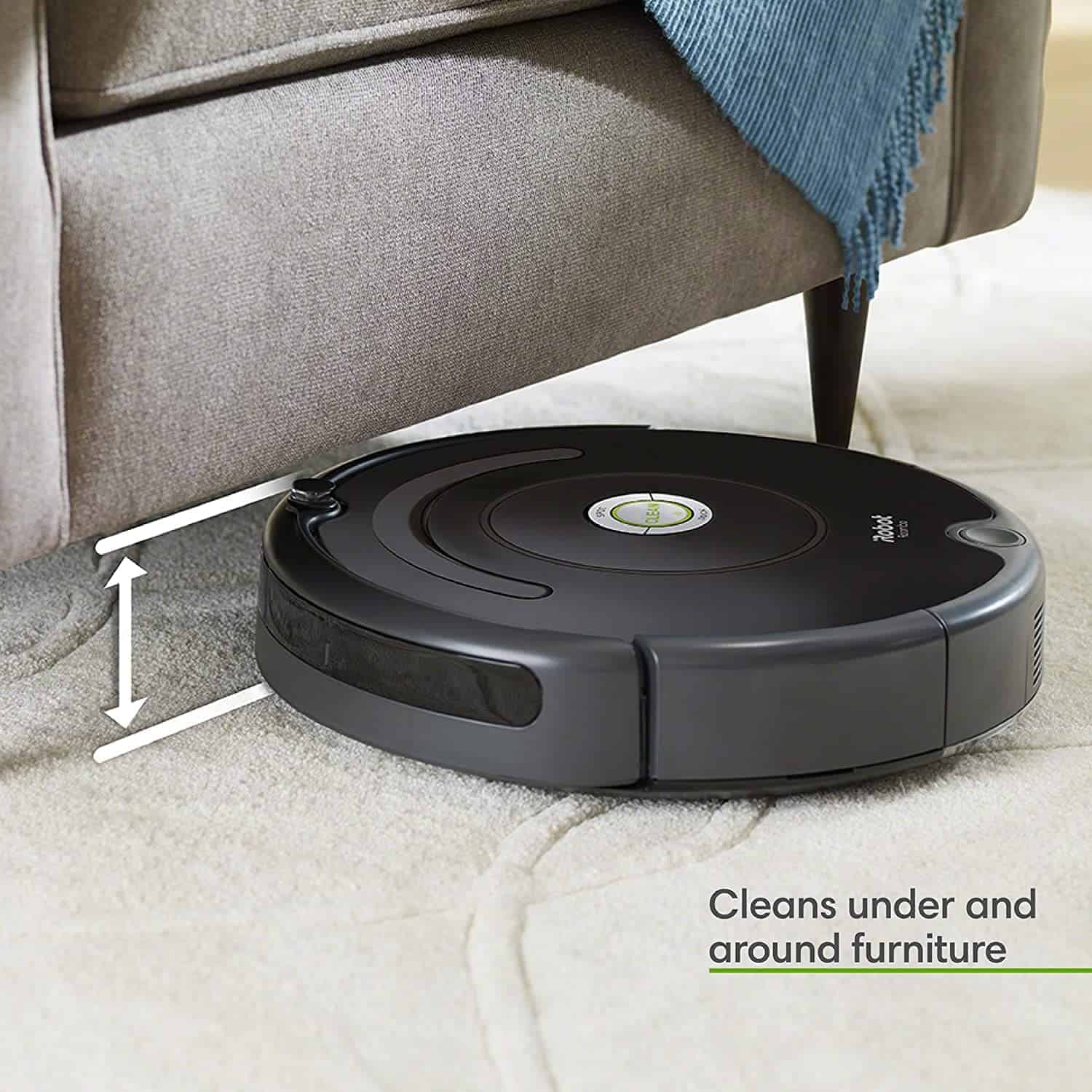 PROS
All in all, we love the designs and we think this is something every home and office should have. Cleaning my home is made easy using this product. It is built with powerful suction and works on all floor types. It is controllable via a phone app. Compatible with Amazon Alexa and Google Assistant voice commands.
When we bought this, we don't have to worry about its setup, as well as with the application control. Getting the iRobot Roomba 675 ready is just like a piece of cake. After the dock is plugged in, we flip over the vacuum and then pull the yellow plastic tab out, which sticks to the battery. Then after that, we stick the robot to the dock. we let it charge there until its battery is full. The battery lasted up to 90 mins.
CONS
All users need to have a Wi-Fi connection and download the app for them to make the most of the product features and performance. It also has a navigation issue on a dark floor.
VERDICT
When we come to think of robot vacuum, the first thing to cross our mind is iRobot's Roomba lines. The company had created a very impressive product line in which is iRobot Roomba 675 Wi-Fi Connected Robotic Vacuum is the one. This product features a Wi-Fi connection and is controlled by an application. Also, it supports the voice command through Google Assistant and Amazon Alexa. Here's Juan with an honest take on the Roomba:
FEATURES
The iRobot Roomba 675
is circular in shape and has a black and silver-colored body, which measures 13.4-inch wide and 3.5-inch tall.
At the top of the vacuum, there is a button in silver that can work to start, end, or pause the session. At the bottom, there is a home icon, which will send the robot back to the dock. On top of it was the icon for spot cleaning, and then above that was the backlit panel that shows the errors, usage of battery, and Wi-Fi connectivity. There is also a removable dustbin, bot, bumper, and RCON sensor.
It has a charging dock and dual-mode virtual wall beacon. If I slid up the virtual wall, it effectively emits the 10 feet digital barrier in order to keep this vacuum out of the spaces and rooms that we don't want the cleaner to enter.
How about the app? You have to download the iRobot app from Apple App Store. The app is also available on Google Play. Just follow its on-screen prompts so you can create an account and then pair the iRobot Roomba 675 in your Wi-Fi network. Not to mention – it only supports 2.4GHz band. After downloading the app and pairing the iRobot Roomba 675, you can now use the robot for cleaning.
WARRANTY AND SUPPORT
iRobot Roomba 675 is backed with 1-year manufacturer's warranty.
FINAL WORDS
Based on our experience of using iRobot Roomba 675, it seamlessly changes the game in vacuuming. Cleaning the house is made seamless and easy with iRobot Roomba 675. The benefit of using this robot vacuum is that you can schedule the cleaning from anywhere using the app. If you want something that effectively navigates under your furniture or around your clutter, then this iRobot Roomba 675 is what you need. This also works for all floor types.
Best robot vacuum under $200: ECOVACS DEEBOT N79 Wifi
Cleaning is made faster and easier using this product. We love the style, the quality, the performance and the competitive price offered by the product. We enjoyed and were satisfied with the cleaning process. This vacuum is truly one of the best. Combined with excellence and perfection, the ECOVACS DEEBOT N79 Robotic Vacuum Cleaner is fit to ensure you have an excellent and reliable way of cleaning your home.
Get ready to switch on the controls because you would surely enjoy the power of the V-shaped brush of the ECOVACS DEEBOT N79 Robotic Vacuum Cleaner. Effective in removing allergens, debris, and dust, we are amazed as we used it to cleaning or living room. The vacuum cleaner made the cleaning process as effective as possible.
PROS
A high-rate would be given to the function and performance of the brushes together with the power of the controls.
Safely climbing the inclines and door sills could be a hard task. Not anymore. Using the ECOVACS DEEBOT N79 Robotic Vacuum Cleaner makes the process easy. We find it an amazing feature of a vacuum cleaner. The way we see it, the sensors help in making each function of the vacuum run to a systematic order.
It was impressive to watch as the sensors do make things easy. We find it a great relief in using the effectiveness of the vacuum. Another great thing about this is the automatic recharging made by the sensors. Therefore, we are sure that this vacuum could beat the other vacuums in terms of performance.
CONS
Due to small driving wheels, Deebot N79 is not able to handle medium and/or high-pile carpets.
VERDICT
Cleaning your house could be made easier. If you want a fast way of cleaning your house, the ECOVACS DEEBOT N79 Robotic Vacuum Cleaner is the best vacuum cleaner to purchase with Strong Suction for Low-pile Carpet and Hard floor. We have used it and we were really satisfied with the results. Here is RManni with a video review of this affordable robot vacuum:
FEATURES
Using the function of the ECOVACS DEEBOT N79 Robotic Vacuum Cleaner is made easier with the app installed in it. Having the best cleaning result is achieved if the function of a vacuum cleaner would be fast. Hence, you would not be disappointed with the capacity of this vacuum cleaner. We are fully amazed at what the app can do. It made cleaning more easy, fast, and secure.
A long hour of cleaning could affect the performance of a vacuum cleaner. But this one. Having 1.7 hours long battery power, you would have a great way of cleaning large portions of the house. With the long hour cleaning capacity, we have proved the battery is truly excellent. Combined with quality material and power, the battery could surely deliver you the satisfaction you need.
Aside from this, the brushless motor gave an easy approach to making the work excellent at all times. Hence, if we love it, you are sure to love it too.
WARRANTY AND SUPPORT
DEEBOT N79 Robotic Vacuum Cleaner is backed by 1-year warranty.
FINAL WORDS
We give it a 4 out of 5 stars rating due to the successful performance. Despite the lack of other functions, the ECOVACS DEEBOT N79 Robotic Vacuum Cleaner works perfectly fine as you have expected from a robot vacuum. It is a piece of awesome cleaning equipment to have for your home with $200 to $250 price range budget.
[Newer Model] ECOVACS DEEBOT N79S Wifi + Amazon Alexa Connected
The DEEBOT N79S is an upgraded version of the DEEBOT N79. Here is Redskull with his take on this newer model:
The DEEBOT N79S features a Max Mode Suction Option which allows you to Increase its Suction Power by 50% based on your cleaning needs. In addition to the ECOVACS app, the DEEBOT N79S is compatible with Amazon Alexa.
Best robot vacuum that empties itself: iRobot Roomba i7+ with zone cleaning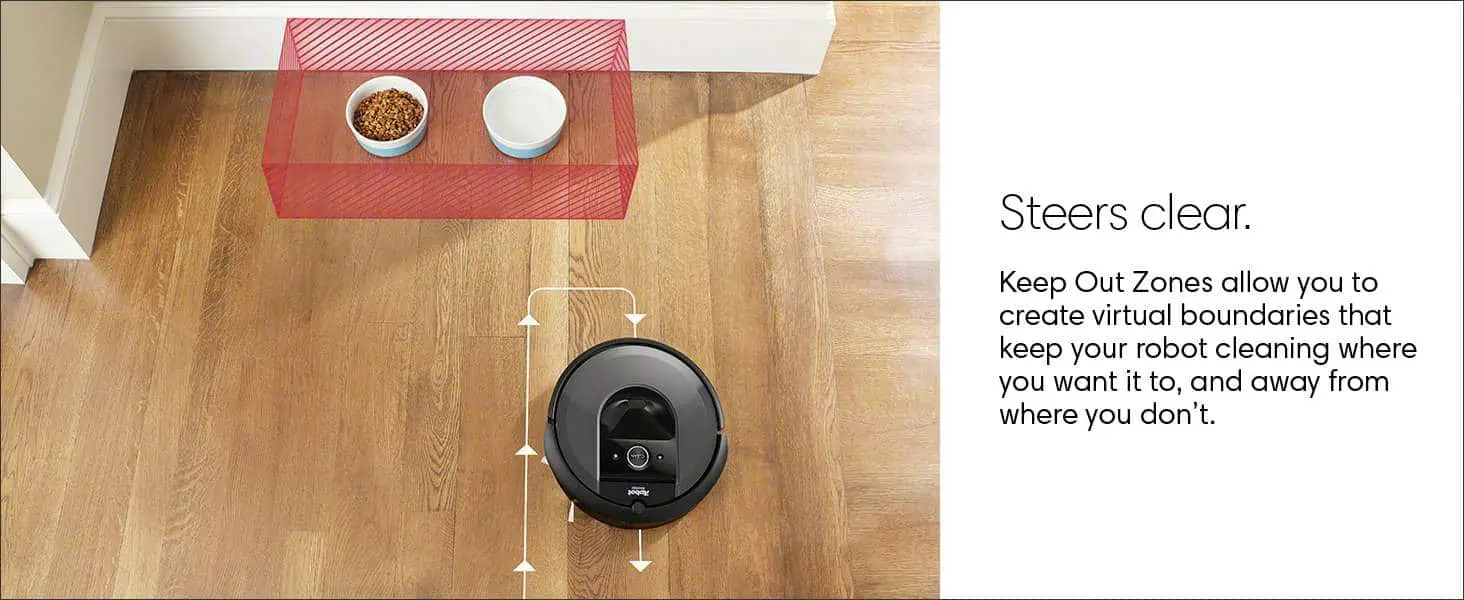 The iRobot self-emptying robot vacuum is among the best robot vacuum cleaner options on the market. While nothing is perfect, this is about as close to perfection as you are likely to get from the iRobot brand at this moment in time. However, as good as this model is, what' the major reasons why you should be looking to use the 980 over, say, the 960?
KEY FEATURES
The use of the iRobot HOME app makes sure you can easily set up cleaning plans, preferences, and controls to help get the cleaning done for you coming home from work without having to work around your iRobot Roomba.
Top-quality navigation is the standard for the i7+, as this model can easily use Visual Localization to get around the floor with the absolute minimum of fuss time and time again. A fine choice of model for anyone who is serious about using a model that can move around the floor regardless of the terrain.
120 minutes running time keeps this easy to use, with automated recharging and cleaning to help complete the previous job is part of the experience.
AeroForce cleaning makes sure you can see up to 10x of the suction power that is normally provided on carpets and rugs. This helps to get them super smooth, comfortable, and free of even the most rugged and stuck-in materials.
Extractors help to make sure that the system never becomes increasingly jammed or filled with garbage as time goes on.
9 x 13.9 x 3.6" size makes it easy to get around the place without having to worry about it getting stuck.
Warranty
Like all iRobot products, you must buy from an affiliated and accepted vendor. The iRobot Roomba i7+ Vacuum comes with a 1-year, limited warranty for parts only, including the battery.
Warranty, so long as you buy from the right location, provides comprehensive coverage, and makes sure you never need to worry about your system breaking down. A fine choice for anyone who would like a warranty that is comprehensive.
Pros
A very convenient and powerful model, this delivers a very efficient vacuuming performance that can get even the stodgiest of floors clean again.
Great for manual vacuuming to help make sure you can avoid having to do it yourself daily.
Very powerful and easy to navigate, this gets into tough areas and cleans them out without any issues.
Easy to maintain and keep in good shape as the years go by.
Cons
Sometimes can get a bit thrown by black carpets and dark flooring, which can cause the poor robot to repeat itself.
Also, the Roomba 980 can find it hard to get back to 'base' after prolonged usage.
Here's Six Months Later with their video of the iRobot in use:
Verdict
A top quality vacuum that's more than worth your time, you should find that this offers you a very reliable model to go for over alternatives. With 10x power compared to the near-priced 960s 5x suction power, you can get double the power for less than a quarter of the price extra.
Add in that you can get 5x suction with the Roomba i7+ and it's easy to see why if you truly want more power it makes sense to turn to the i7+.
Best robot vacuum for medium to high-pile carpets: iRobot Roomba 960
The iRobot Roomba 960 Vacuum gets a lot of positive mentions when it comes to the world of robot vacuum cleaners. Developed by a team of specialists in the cleaning industry, the 960 gets a lot of feedback thanks to its universally easy management and simplistic control style making it very easy to get to grips with.
How good is it, though, when compared to some of the other models on the market presently?
KEY FEATURES
Simple to control, the Roomba 960 comes with an app-controlled cleaning environment that allows you to control the vacuum without really having to do anything yourself.
Easy scheduling for cleaning to make sure that the job is done long before you come home from work thanks to compatibility with Amazon Alexa and Google Assistance making control simple.
3-stage cleaning system helps to move dirt, lit it from the ground and get rid of any visibility of the dirt thanks to the 5x air power.
Deals with a whopping 99% of the allergens, pollen and pollutants in the air making sure that you can make use of the HEPA filter inside to keep your home free from dirt, mess and germs.
Intelligent iAdapt 2.0 sensory technology help to make sure this can skirt around the house without getting in the way of anything or anyone, making it great for those who are at home while it works.
Warranty
Like any iRobot product, the iRobot Roomba 960 Vacuum comes with a 1-year, limited warranty for parts only, including the battery. You absolutely need to make sure that you buy from an authorized iRobot seller, especially if buying online. Buying from a source that cannot be verified will see your warranty voided immediately.
The warranty covers all domestic usage, making sure that it can work just as you would have expected along the way. Just don't expect it to cover commercial use!
Pros
The Roomba 960 immediately impressed thanks to the great price cost. It's very affordable considering its awesome features.
Simple app control makes it easy to move around the house without worrying about smashing, damaging or breaking anyway while you work.
Smart rubber brushes avoid tangles and problems with performance, ensuring it's easier to maintain and keep perfect control of.
Great for handling problems beard hair and pet hair; lift it right from the floor, even from the most miniscule of locations.
Cons
With 90 minutes of running time means it's a bit limited in terms of cleaning performance even at full charge.
The 5x suction power is easily defeated by some models on the market that don't even cost too much more in terms of the price.
Here you can see it moving over carpet with ease:
Verdict
The Roomba 960 Robotic Vacuum is a fine starting place for anyone who is looking for a top quality model that does what you would expect. While connectivity could be improved and it's a bit limited in terms of features, it's more than good enough for day-to-day cleaning assistance.
Best for stairs: Shark ION RV750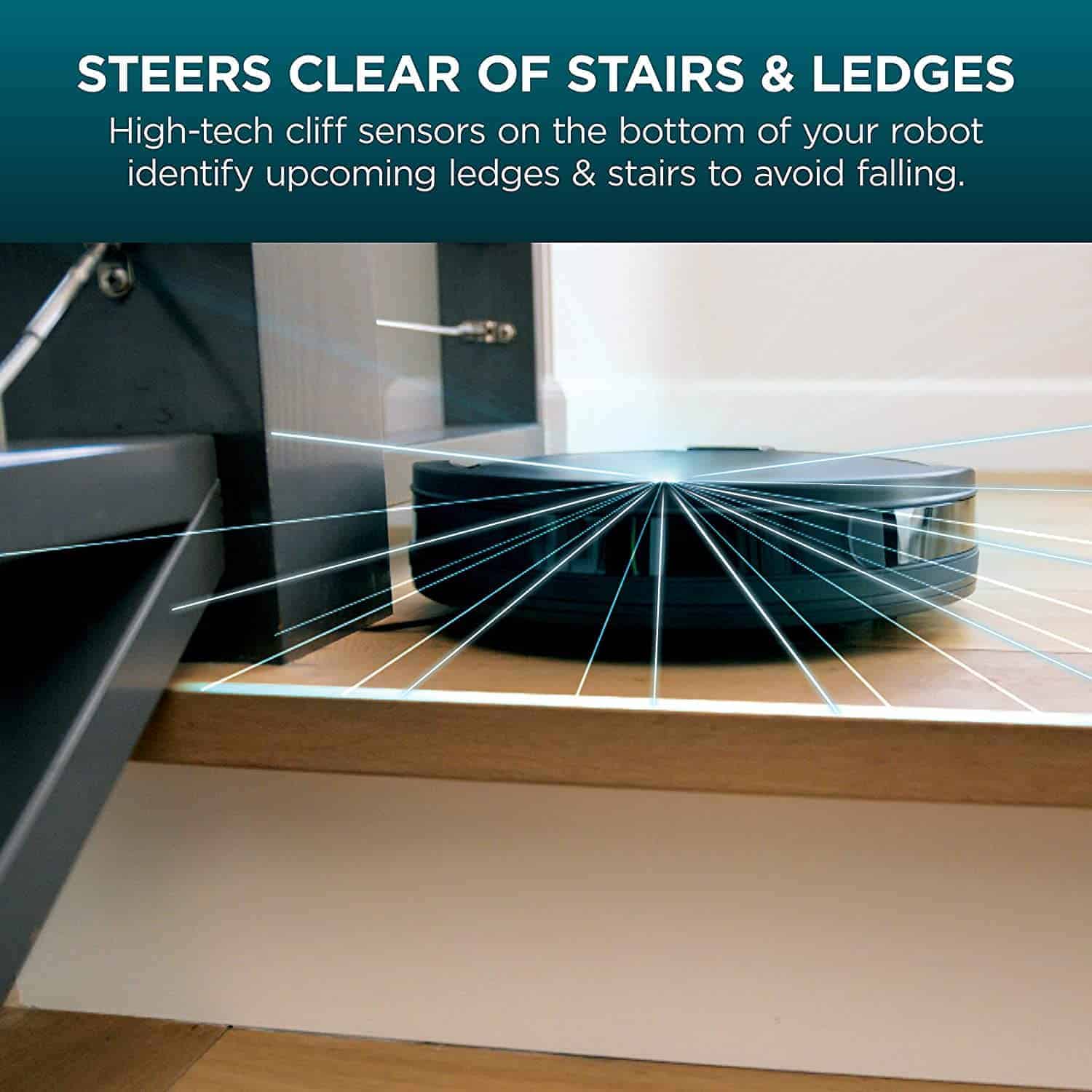 The Shark ION ROBOT RV750 has been on the market for some time now and has gained a lot of attention as one of the most supposedly effective robot vacuum cleaners. How, though, does this stand up to scrutiny? Is it as good as it sounds? [metaslider id=2790]
FEATURES
Makes use of some very impressive dual-brush edge cleaning that can give you all the help that you need to really get around those corners and edges, making sure they are brushed up with customary ease.
Simple control of the tool via the mobile app, making sure you can get it dancing around the spots that you need cleaned and helping to have a little cleaning companion that can work when you are too busy.
Smart sensor systems and low profile design allows it to easily fit underneath items like cabinets, tables, chairs, sofas and beds to get in there and clean up without too much challenge. Smart navigation of the floors makes it great for getting in and around rooms that you cannot find the time/energy to clean up all the time.
While not a solution for cleaning up the home all on its own, the Shark ION ROBOT 750 makes a fine companion for cleaning up the house making each upright cleaning session a whole lot quicker. Intelligent brushrolls and emptying ensures this is faster and simpler than most robot tools out there on the market.
SUPPORT & WARRANTY
Shark ION Robot RV750 comes with a very good 1-year warranty that covers all domestic usage. If you are looking for a solution that is very reliable and gives you more than enough protection and support, then be sure to start here. You should speak with customer service, though, to find out what is and is not covered in warranty before you make any decisions.
PROS
A good piece of kit and makes a fine complement to an upright vacuum.
Great for handling all hardwood and tile flooring, and can usually make it very easy to maintain high floor quality over a long period of time.
Easy scheduling and planning with the cleaning app to help manage the robot from far, and is compatible with key smart tech like Amazon Alexa and/or Google Home.
CONS
Rather awkward pathfinding at times thanks to the sensors means that your robot may struggle at times to get around as you might have expected.
Struggles with high-pile carpets, meaning you need to use the BotBoundary strips to block off carpets it might struggle with.
Takes multiple uses at times to clean up a whole floor.
VERDICT
Overall? This is a worthwhile addition to any cleaners collection. Very strong and sturdy, it provides you with ample space to work with and has a large enough capacity to make general cleaning a whole lot easier than it might seem right now Let's look at what Vacuum Advisor has to say about it:
FINAL WORDS
A very impressive piece of kit, the Shark ION ROBOT RV750 is definitely one to keep an eye on if you are looking for a new product for faster, more efficient cleaning.
Best cheap robot vacuum: ILIFE A4s
The ILIFE A4s Robot Vacuum Cleaner is a rather interesting addition to the robot vacuum cleaner community; introducing a wide range of features and functions that you don't quite see every day. How, though, does it live up to the expectation of the industry? Is it quite up there with the other top robot vacuum cleaner systems?
FEATURES
Gets around just about any room tangle-free; keep it away from wires and toys and this can work without any issue whatsoever.
Comes with various modes to ensure it can give you the level of clean that you need, with a long-lasting battery life providing up to 140 minutes of working time before a recharge is needed.
Smart design ensures it can get into nooks and crannies that other cleaning devices would have no chance of being able to get underneath.
Easily programmed schedule allows for it to clean even when you are not there, with re-docking automatically when it runs out of power.
SUPPORT & WARRANTY
Support and warranty for the ILIFE A4s Robot Vacuum Cleaner
is a little awkward; your best bet is to contact the company or ask the location where you purchase from. Most of the time, the company will provide direct instructions as to what you are entitled to depending on when and where you have bought your ILIFE A4s Robot Vacuum Cleaner from.
Most of the time, you will get a 1-year warranty, though.
PROS
Versatile and works well on carpet as much as it does on wooden flooring. Great at transition, which is a nice touch.
Relatively well-programmed that means it can work its way around a room without too much issue. Can even run back to the re-charge station itself when on low battery!
Easy and affordable to manage and maintain, with a well-working interface and attentive remote that the ILIFE A4s Robot Vacuum Cleaner responds to.
CONS
Struggles a little with heavy cleaning jobs – it's not great for handling heavy periods of soiling, excessive volumes or hair or huge groupings of dust. However, that's a critique of the industry of robot vacuum cleaners rather than just the ILIFE A4s Robot Vacuum Cleaner.
The sensors are OK but you do have the risk of the robot going AWOL and getting lost, stuck or damaged from collision. Also need to ensure everything you want to keep in one place is kept off the floor; these robot vacuums can fair help themselves!
VERDICT
The ILIFE A4s Robot Vacuum Cleaner is a good cleaner and one that makes a fine mid-priced addition to any cleaners closet. It's a good piece of kit that can work as a secondary cleaning companion while you deal with the more manual parts. Here's Vacuum Wars again with their take:
FINAL WORDS
While it's not quite a lean, mean cleaning machine on its own, the ILIFE A4s Robot Vacuum Cleaner does provide a fine support function for any cleaners who want to help make their job and their life a little easier in general.
Best robot vacuum for pet hair (dogs, cats): Neato Botvac D5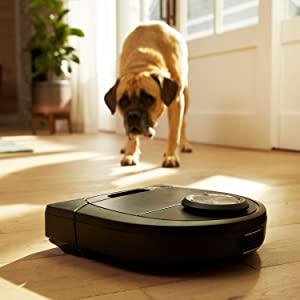 For many people, the Neato Botvac D5 is a very impressive, easy to use robot vacuum that does much of what you would expect it to. A very easy to use and efficient model, this gives you all the help that you could require to start cleaning up the house without anything like the challenges faced today. How good, though, is the Botvac D5 now it's been out for a little while?
KEY FEATURES
Easy to control and efficient management smartphone. You can set schedules, receive push notifications, and manage the cleaning process even when you are far outside of your house!
Simple location finder to make sure that you know where your robot is at all times when he's cleaning the place.
Smart navigation keeps this well on point, with a very smart technological add-on making sure it can easily navigate and manage even the most specific of room layouts, helping it clean up your home without any issues.
Works on all styles of flooring, making it great for everything from stone kitchen floors to hardwood, laminate and carpets.
Gets into the crevices and edges of a room to help catch the parts of the room where dust truly builds up and develops an extensive amount of coverage.
High-quality performance delivers a clean, finely brushed and impressive finish. A top quality solution for handling lingering allergens and other typical problems that linger around in the air, particularly for pet owners.
Warranty
Like all good Neato products, Neato Botvac D5 comes with a simple and accessible 1 -year warranty solution. You can make use of this warranty by simply contacting Neato after purchase and filling in the details of your purchase, making management of the model much easier. Please note that the warranty only covers domestic usage, excluding batteries.
Pros
Neato Botvac D5 is very good when it comes to handling carpet surfaces. Versatile and easy to handle on all flooring types, but handles carpets without any real issues.
Simple and smart movement helps it to dodge objects and avoid you coming home to a property that looks like it has been invaded.
A gentle touch that avoids it from banging into objects and causing items to be moved, bruised or smashed in any way, shape or form.
2 hour cleaning time makes this a very reliable option for anyone who would like a model that looks after itself.
Cons
Wi-Fi issues can mean that the system can be hard to connect to via app at times, which can be an irritant.
Lack of display makes it hard to control and look after the model without watching it carefully all the time.
Syncing issues due to passwords not being recognized is increasingly common, too.
Here you can see it in use:
Verdict
This easy to use vacuum cleaning, Neato Botvac D5, is one of the better models on the market. Versatile and capable of handling itself in most circumstances, you should find this pretty easy to work with for the most part. A good, reliable option that does not too much to try and reinvent the wheel, but keeps that wheel turning at a good speed.
Check prices and availability here
Best Star Wars Droid vacuum: Samsung POWERbot Limited Edition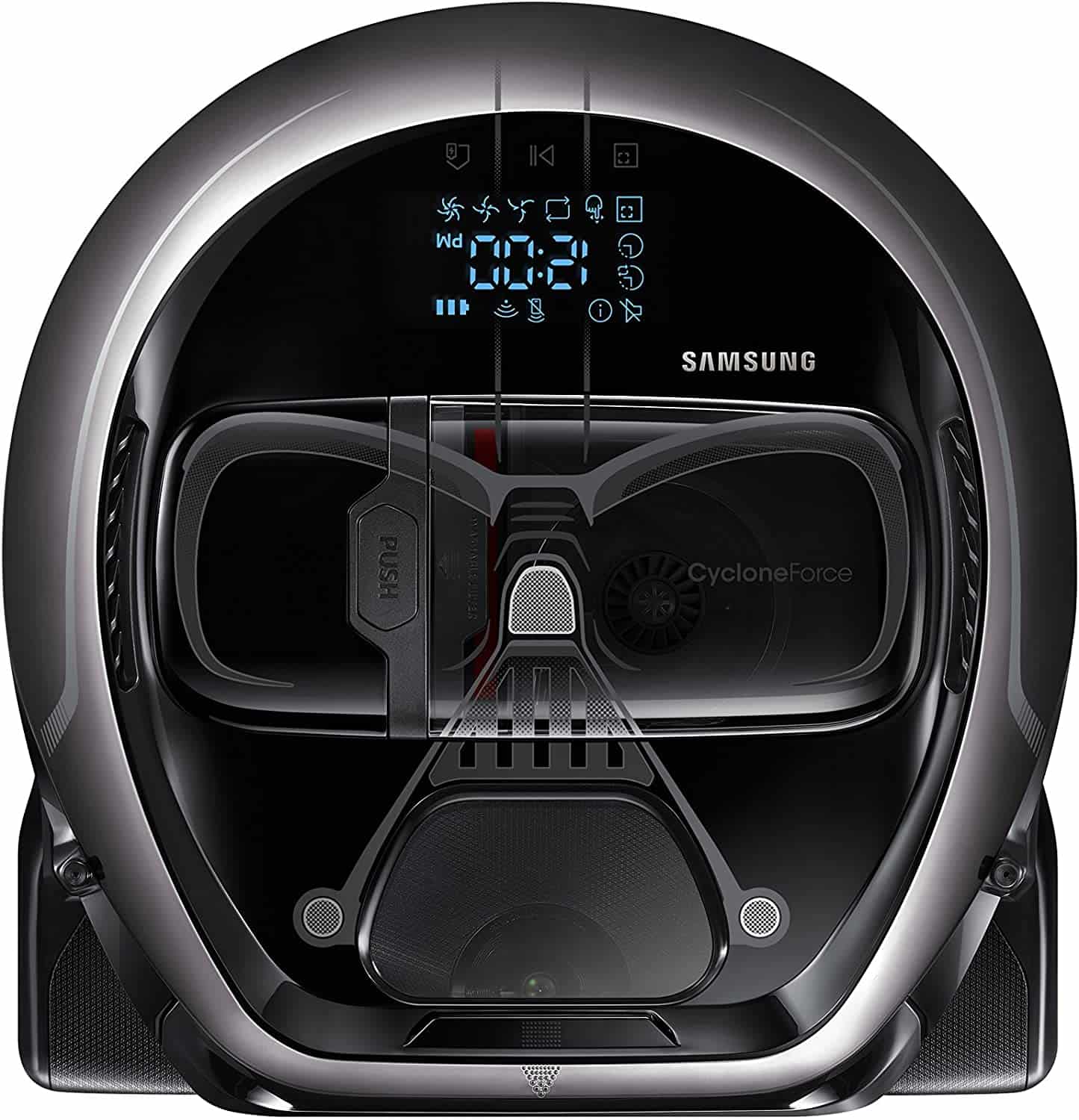 The new Samsung POWERbot Star Wars Limited Edition model cashes in on the growing love of the Star Wars universe once again. With the new movies and an army of tie-ins across the board, too, it's easy to see why this device has been designed. Is it really any good, though? Or is it just another gimmicky design for Star Wars fans to buy into?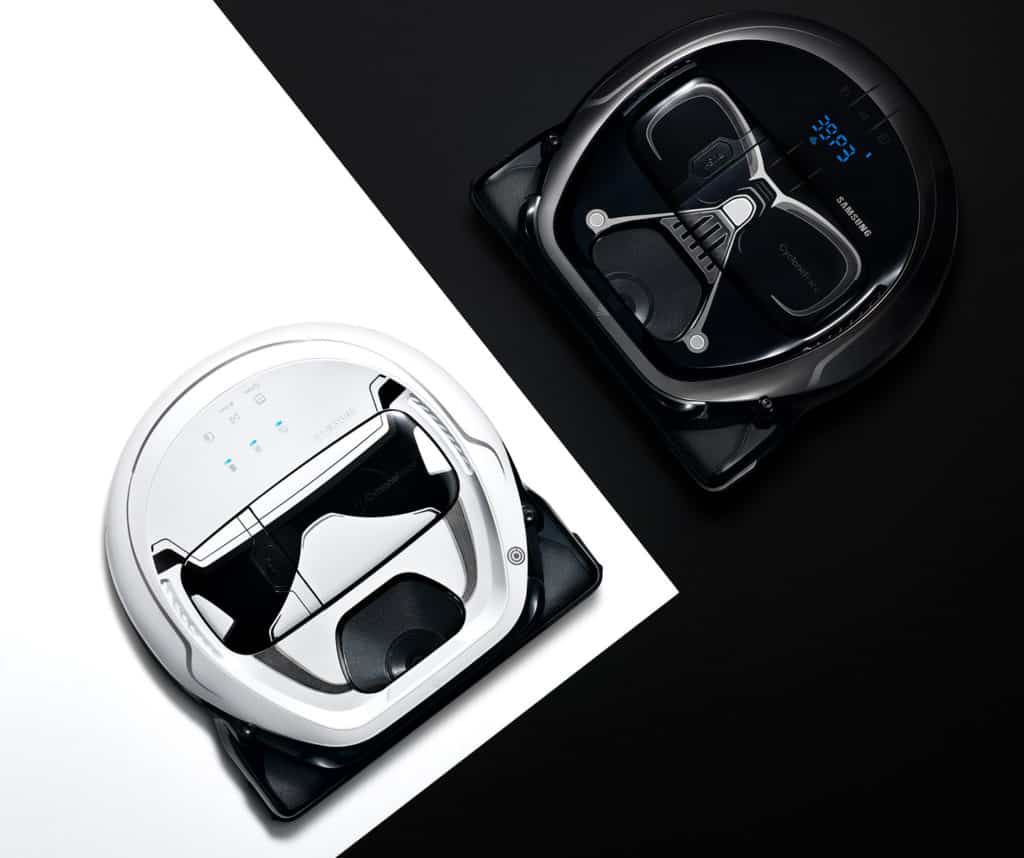 FEATURES
Incredibly powerful suction strength ensures that this more than lives up its end of the bargain. With a whopping 20x extra suction power, this delivers a very impressive cleaning solution that can get even the most challenging of upholstery and carpets cleaned without issue.
It also makes use of the Visionary Mapping Plus feature as well as Full View 2.0 sensors. This allows your Samsung POWERbot Star Wars Limited Edition model to glide around obstacles and make cleaning a piece of cake.
The Edge Clean Master also helps to make sure it does not leave corners and wall edges dirty. This helps you to change tact and really improve how you clean the house up, making sure those corners and crevices aren't troubled.
Thanks to the automatic detection of surfaces, this allows the suction power to be optimized to be the right level for the job that you need to carry out. The result is that it makes cleaning so much simpler than it might appear at first.
Makes awesome Star Wars style sound effects. Overall, the robot is far more accurate than the shooting power of the Stormtroopers it is based on, the sound effects are designed to perfectly portray the sound that the real troops would create for added effect. This feature is the reason people love this cleaner. It looks pretty cool zipping through your house:
SUPPORT & WARRANTY
You should look to contact Samsung support if you are looking to get the warranty sorted out for your Star Wars Limited Edition POWERbot.
Most of the time, though, Samsung Vacuums come with 1 Year Parts & Labor on manufacturing defects (including motor).
PROS
Strong and very powerful vacuum cleaner that offers plenty of capacity for easy use.
Advanced, modernized automated technology keeps it accurate and consistent when in-use.
Makes use of a cliff sensor to stop it rolling downstairs or falling down gaps, avoiding expensive damage and destruction.
Strong and effective suction power makes sure that it can get into even the roughest of stains.
Voice control with Amazon Alexa or the Google Assistant
CONS
An expensive novelty that might be no less effective than your average Samsung POWERbot. The look and the limited edition nature is what you are paying for when it comes to this gadget.
VERDICT
What are our final thoughts? In summary, the Samsung POWERbot Star Wars Limited Edition is a very impressive robotic cleaner.
Although it could be more affordably priced, it's a limited edition product for a reason – people love all things Star Wars. Would make a great collector's item with the difference being it delivers performance.
FINAL WORDS
We'd recommend that if you love Star Wars and have extra cash to burn that you take a look at the Samsung POWERbot Star Wars Limited Edition just released.
When it comes to buying top quality cleaning equipment, you can quickly find that the sheer variety on the market makes it tough to find the right product every time. To help you get around that issue, we recommend that you read this simple guide.
We'll be comparing two top quality solutions; the iRobot Braava Jet 240, and the Jet 380t. Both are top quality robot mop models.
But let us consider which one offers the most value for your buck?
Best cheap robot mop: iRobot Braava Jet 240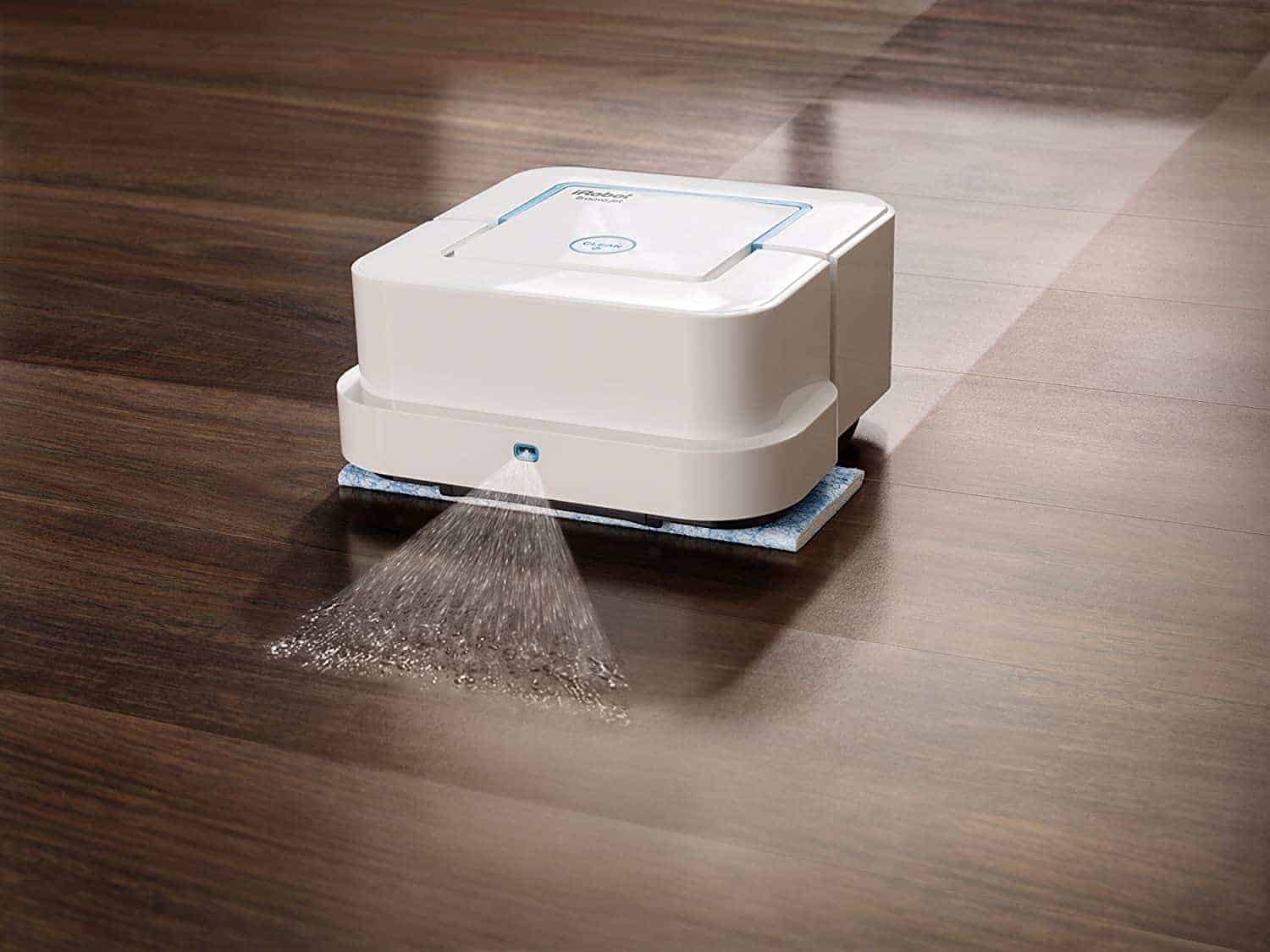 KEY FEATURES
Very strong mopping solution that can deal with tiles, hardwood flooring and stone flooring without any issues.
Agile and capable of getting into tough nooks and crannies that you could even struggle to reach yourself. Good for all-around cleaning comfort.
Jet spray and vibrating cleaning heads help to dig into dried-in dirt stains and mess that has built up.
20-minute lifespan with 25g capacity makes it a reliable cleaning companion
Damp and dry sweeping, as well as wet mopping, make it perfect for your personal usage.
Warranty
Like all iRobot products, the iRobot Braava Jet 240 is covered by their warranty policy. This particular product comes with a full 1-year warranty but only provided that you buy from the right source.
If you buy from a trusted reseller, then you can get the help that you need right away without much waiting around at all.
So long as your product is only used for domestic purposes instead of commercial cleaning, which cannot be covered, you will be left with an all-inclusive warranty.
Pros
Very thorough when cleaning; the iRobot Braava Jet 240 does a good job of keeping the place nice and clean, getting into locations that others cannot.
Agility is impressive and helps this to get into even the most particular of locations, helping to make cleaning comprehensive and thorough.
Great for cleaning up and handling dried in mess on the floor.
Good battery life compared to alternatives.
Cons
Limited to around 350-square feet in a room, while other models (the 380t in particular) can do around 1000.
Machine washable pads that you can use to accelerate the cleaning process are needlessly expensive and often will put people off investing in this, at around $20 for just two.
Here's how to easily set it up:
Verdict
A very good model, the iRobot Braava Jet 240 does much of what you would expect without being too challenging to work with or load. The limited special management is a frustration, though.
Overall best robot mop: iRobot Braava 380T
KEY FEATURES
Capable of being used with just about any water substance that you can think of. you can use this with a mild solution, too; just avoid excessively hard or tough cleaning solutions for the ideal finish.
This works with a simple GPS navigation solution that works to help make sure that cleaning is carried out until the job is well and truly done. From damp mopping to dry sweeping, you can easily get the cleaning finish that you want.
Easy to use alongside microfiber cloths underneath to help make sure that dirt, debris and hair is all picked up as your little mop goes around cleaning the place up, delivering the most impressive cleaning solution you can think of.
Comes with the cloths needed to help get your cleaning solution up and running in a matter of minutes, avoiding wasting any of your precious time.
Warranty
So long as you make your purchase from a licensed iRobot reseller, you can make sure that you can get access to a top-quality 1-year warranty. While buying from an unauthorized reseller, you simply won't be able to get the same access to assistance with the warranty as you would buying from a trusted, proven source.
The remedy is extensive with this product, offering you a full and comprehensive domestic coverage policy.
While this won't cover you for use in a commercial environment, it covers you for domestic purposes and is it good for use at home.
Pros
iRobot Braava 380T is a really easy self-cleaning solution that you can trust to get the job done while you are away at work, out shopping or simply living your life.
Gets under just about anything in your home. This is an agile little tool that loves to fit into tough spots and get right into full cleaning mode.
Very consistent cleaning; you can find that this easily does a good job of being thorough, solving what is often a frustrating problem for cleaning tools.
Easy to refill with cloths if you find that your present microfiber has lost some of that original verve and charm. Takes very little time at all to change.
Picks up hair and just about any other usually awkward debris and dirt without much issue whatsoever.
Does a fine job of cleaning without making too much noise.
Cons
Don't expect this to do a good job of cleaning up a major spill, dried-in debris or things like spilled food; it does have limitations.
Navigation is good, but finding it stuck in comical locations isn't too uncommon unfortunately. The beeping noise will help alert you to this, but not great if you are out of the house.
Very expensive for what it does.
Here's how it mops the floor with ease:
Verdict
In summary, the iRobot Braava 380t Robot Mop is a very good cleaning device. It more than lives up to the price tag because of its efficiency while cleaning. If you have some money to spare, then it's an investment that you can feel pretty good about making. However, don't expect a miracle in comparison to other similar models on the market. The reason is that it does a fine job, but it's not a total revolution like some expect.
What robot mop is best for you?
In the end, it all comes down to personal preference. For those with mostly larger rooms and for those who deal with drying in stains like liquid spills fast, the 380t does a fine job. For those with smaller rooms and a habit of spilling liquids, the 240 might be the best choice.
With similar efficiency in cleaning quality, it comes down to both the size of the room(s) in need of cleaning as well as your budget. Both are fine models; it just depends on what your own personal needs would be to help determine what the right option is for you starting from today!
Best Robot Vacuum and Mop Combo: Roborock S6
This innovative 2-in-1 product is both a vacuum cleaner and a mop. It picks up dirt, dust, liquids, and even pet hair. While this device is more expensive than some of the others, it is a good option for those who want a multi-use vacuum cleaner. Rather than investing in two separate cleaners, you can do it all with this smart robot.
Features
Excellent Navigational Skills
If you want a robot that can navigate through your home without getting stuck, this is a great one. It has an advanced laser mapping system that scans all your room. Then, it transmits the information to the S5 which ensures the vacuum cleans all the areas efficiently.
It has several cleaning modes, depending on your needs. Choose between carpet, quiet, balanced, mopping, turbo, and max mode for those days when you need a deep clean. The robot automatically detects the type of suction power it needs to apply.
Install the Mi Home app on your smartphone and control the vacuum cleaner from anywhere. The app allows you to do the following things:
schedule cleaning
view the robot's cleaning progress
send for self-recharge
select areas to clean
select cleaning modes
view accessories
turn on/off
The app is available on iOS, Android, and even Alexa.
The cleaner has a built-in water tank to use with the mopping feature. Therefore, this device is excellent for cleaning up wet messes and it leaves the floor spotless. It works to vacuum and mop simultaneously.
It has a batter capacity of 5200mAh, which means it can run continuously for about 150 minutes, that's more than enough time to clean your entire home. For that reason, we recommend this robot for large homes and mult-room cleaning.
The design of the water tank is unique and ensures that the tank doesn't drip or leave residue behind. There is no water staining when the device is at rest because the edge of the mop is tightly stuck to the robot.
PROS
This device is intelligent and very high-tech, therefore it does an excellent cleaning job by itself. This is all thanks to the LDS Smart Navigation System.
It has a climbing capability of up to 2 meters, which means it can even get those hard to reach spots.
The brushes are self-adjustable and don't require manual adjustments, so that means the device adapts brushes to the surface type as it cleans.
It comes with an E11 filter that is easy to wash. This filter also captures more than 99% of dust and dirt particles.
Great battery life which allows the robot to run for almost 3 hours with just a single charge.
CONS
This device has trouble picking up messes on dark or black surfaces, especially carpets.
If you want to use barrier tapes with this robot, you need to purchase them separately because they are not included.
The mop is not as powerful as using a real mop.
Here's Smart Home Solver with a look at this combo robot:
Warranty
The product comes with a 1 year manufacturers warranty.
FINAL VERDICT
Choose this robot vacuum if you want to do some mopping besides regular vacuuming. Although the mop is not as great as manual scrubbing and mopping, it picks up messes efficiently and quickly. Therefore, you can program the device from your smartphone and forget about pushing a heavy vacuum cleaner around the home.
We recommend this product if you have a large home and want to spend extra money on a smart robot that has an excellent mapping system. You can buy it here on Amazon
Best Robotic Pool Cleaner: Dolphin Nautilus Plus
Cleaning the pool is no easy task. It requires precision, lots of moving around, and honestly, it's best done by a robot. So, you don't need to break your back scrubbing. This pool cleaner robot is not cheap, but it is worth the price because it works well. It can scrub the floor and the wall of your pool of up to 50 ft.
It doesn't use up a lot of energy and you won't be annoyed by tangled cables. So, keep reading to find out why you need this robot for your pool.
FEATURES
This robot is about eight times more energy-efficient than other cleaning devices such as pressure washers and suction devices. It cleans your entire pool in approximately 2.5 hours. This includes scrubbing and vacuuming as well as filter cleaning.
What you'll love about this cleaner is that it can climb the pool walls and scrub them. Usually, cleaning the walls is the hardest task because it's hard to reach them.
This cartridge is easy to clean and comes with a spring clean option. It is a twin cartridge which means that it has a strong filtration capacity, so it won't leave dirt behind.
This device has great traction and it doesn't get stuck, thanks to the swivel cable which is tangle-free. As well, it covers the surface of the pool well and identifies messes. You can schedule the robot to clean every day or every two or three days, depending on your preference.
PROS
This pool cleaner robot is very efficient in a short time period. It only takes about 2 hours for a deep clean. The robot captures all the dirt and you don't need to watch over it, thus it saves you time.
It has twice the scrubbing power of other similar robots which means it is capable of a deep clean that leaves your pool spotless and ready for swimming.
The robot has two top-load filters that pick up larger debris such as leaves or other kinds of things that fall into the pool. This means you won't see anything floating in the water.
It is the most energy-efficient and effective pool cleaner in this price range, so it's a great value product.
CONS
The robot is expensive and costs over $2000. So, it's up to you to decide if it is worth it.
It only covers up to 50 ft and if your pool is larger than that, it won't clean the whole surface.
The robot does suffer from salt damage over time.
WARRANTY
You can buy a 2 Year Home Improvement Extended Protection Plan for about $100 extra. Here's Test of Time with their in-depth video review:
FINAL VERDICT
As far as robot pool cleaners go, this Dolphin model is the best value for your buck. It can clean every inch of the pool in less than 3 hours and you can set it up to do a clean every day. If you know you need to clean the pool often, this energy-efficient robot is an excellent choice.
It is so easy to use because it has smart navigation and wall climbing capabilities. Also, the cables don't get tangled underwater so you don't need to get your hands wet. We highly recommend this pool cleaner. Check it out here on Amazon
Vacuum robot with best HEPA FIlter: Neato Robotics D7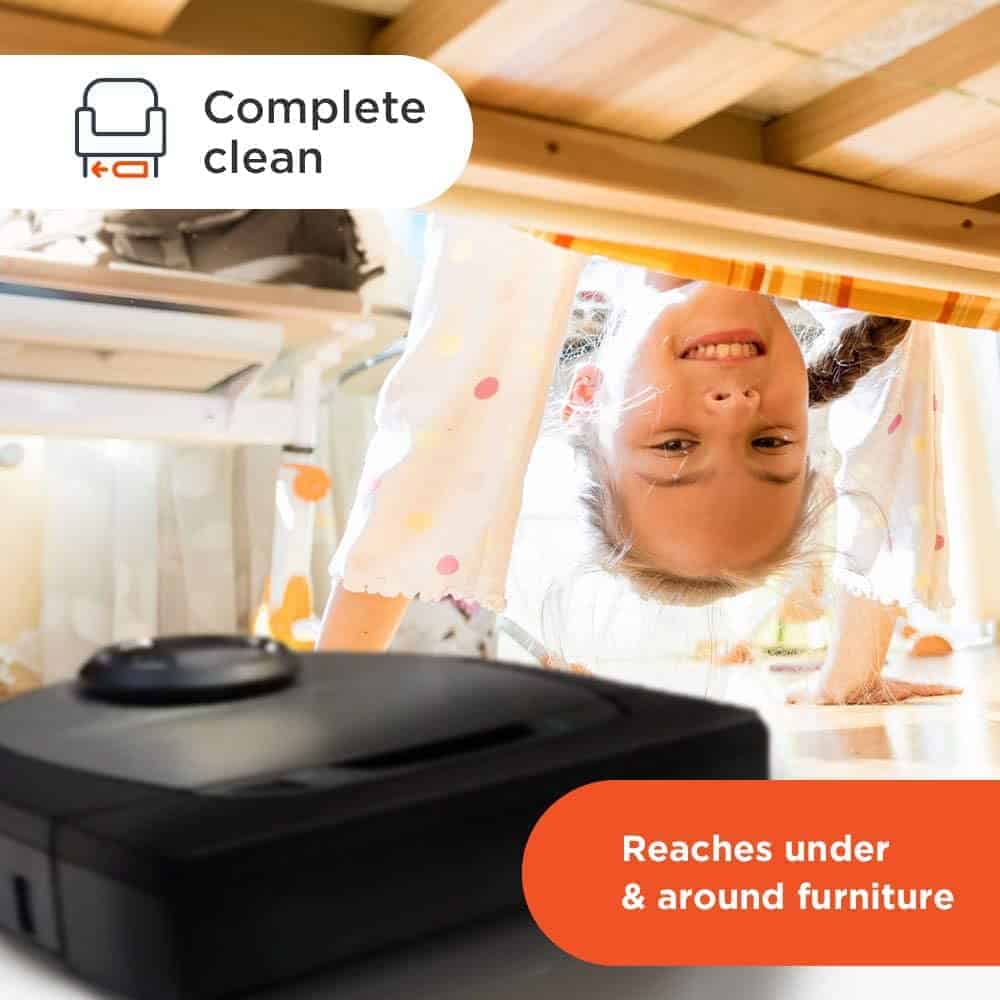 If you suffer from allergies, you need to choose a robot vacuum with a HEPA filter. These types of filters eliminate 99% of dust mites and all kinds of allergens, even as small as 0.3 microns. This means you can have an allergen-free home after every clean. You'll be impressed with this 8-pound robot's cleaning capacity. It can find all the dirt and navigate through any home easily, even multi-story houses.
FEATURES
This robot has a D-shaped design which is better than a classic round shape. It can fit into places that other robots can't. For that reason, it's better at attracting pet hair and dander.
Most robot vacuums get stuck or bump into things. This one has lasers that work to identify obstacles and therefore the robot avoids them. It makes a map of your house and works around the items. The navigation system on the D7 is smarter than most other brands and models.
The filter is made from HEPA materials and thus it traps 99% of all dust particles and pet hairs. It is excellent at removing allergens in your home, which means you'll be sneezing and coughing less. It picks up the tiniest of particles, even at 0.3 microns.
This device runs non-stop for approximately 120 minutes, which is enough time to clean a large home. When the robot senses it is low on power, it goes to recharge automatically.
If you want the robot to stay clear of certain areas, you can program it to do so. It has a no-go line feature and you can set up different cleaning zones on each level of your home. The vacuum cleaner can store up to 3 different floor plans.
PROS
The D7 has spiral combo brushes that are very efficient at removing dirt and dust, but especially pet hair. Therefore this is a great product for pet owners and people with allergies.
You can control the robot via smartphone or Alexa so it's easy to use even when you're not home.
Control the robot and create no-go lines straight from the app for several floors.
Works very well on carpets and hard floors, and removes up to 99% of the dirt.
Thanks to its laser features, this robot can see in the dark.
CONS
Some customers claim that this robot has trouble communicating with iOS due to software issues.
There are some flaws in the system and it can stop working suddenly.
WARRANTY
The robot comes with a 1 year warranty and repair. Here you can see how the Neato D7 stacks up against the Roomba i7+:
FINAL VERDICT
This robot cleaner is great if you are looking for an intelligent device with smart home integration. It runs for over 2 hours with one charge. Therefore, you can rest assured it cleans the entire house. Consider this device a lifesaver if you have pets or suffer from allergies as it removes almost all allergens from your home.
Customers love this robot because it keeps their home spotless and clean and at the same time, it doesn't break the bank. Check the latest prices here
The Cleaner of the Future: Where Will We Be in 30 Years?
If you were to go back 30 years and ask someone from the late 1980s what they thought vacuum cleaners would become, you'd probably get an odd answer. Many would have predicted nothing like what we have today; while many might have presumed we would be even further along in the domestic cleaning world. Either way, we've seen a huge amount of changes in the recent past, with the rise of the robot vacuum cleaner slowly but surely arriving.
This, though, is just the start. Where do we believe we'll be in another 30 years?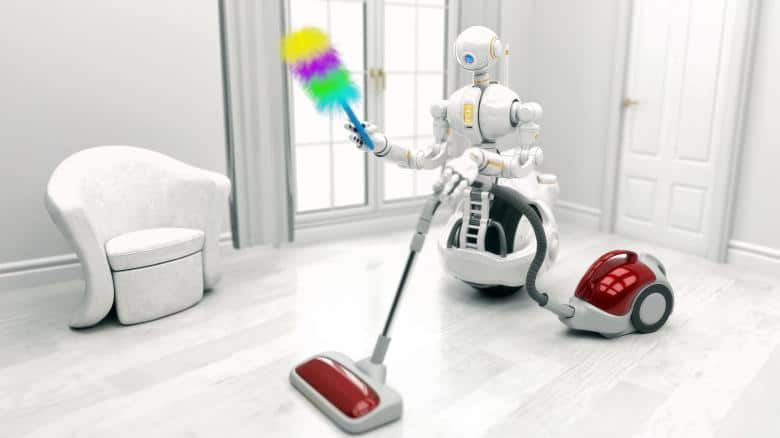 Cleaner Solutions
With the way that tech is going at the moment, the development of more modern and efficient models was always likely. However, we fully expect that alternative energy sources will become a mainstay. From water-powered solutions to solar-driven vacuum cleaners, there is little doubt that we'll see a wholesale change in how we operate our hardware.
Energy efficiency is a major topic of the day. If, by 2050, we still haven't gotten the majority of our appliances running using self-sufficient energy platforms, then we might have other problems to worry about instead of cleaning!
Multiple Usage
Another extra feature that is sure to become commonplace in the near future is vacuum cleaners and robot vacuums that can work on more than one function. For example, you will likely find a solution that clean up the brickwork outside of your home with the same efficiency as it can your rugs and floors. Over time, we expect that the versatility of these kinds of models is going to grow quite rapidly and leave us with a very impressive style of hardware.
The more functional one smart device can be, the better. This is a mantra that we expect to shine through in some style when it comes to the multiple usage of this kind of hardware. Today, our hardware lacks the physical strength to do more than one job with any real efficiency; by 2050, a single-task solution is likely to be seen as archaic!
Processing and Schedules
We also expect that by 2050 we will all be using vacuum cleaners that will be able to bet set up with a certain task. For example, you could have it scurrying from the lawn to the garage, from the garage to the basement. You are likely to find that in time that our hardware will become more likely to move around independently and to be able to take in schedules and instructions to take on tasks that we once believed only a person could carry out.
These changes are likely to come faster than we all think, though. People within the tech industry would likely see these calls and these shouts as lacking in ambition. By 2050, it's likely that we will have made even more jumps than we have in the 30 or so years that got us to this point.
Where do you think vacuum cleaning tech will be by 2050?
Why is Dyson Investing So Heavily in Artificial Intelligence?
For some time now, the popular Dyson brand has been making a lot of moves into new enterprises. One of their most surprising features, though, has been their investment into AI-based technology. As the cleaning and domestic appliance world becomes more and more AI-oriented, this makes sense on many levels. On another level, though, this move is seen by many as yet another step by Dyson into micro-managing the efficiency of their hardware.
For example, Dyson spent over $70m researching and developing their new Supersonic hairdryer. This tool was found to be only mildly more powerful than far cheaper equivalents, meaning that Dyson is a company that is not afraid to spend big to show even a mild, incremental improvement over the competition.
However, while it might sound Dyson throws a lot of money around, it's due to the fact that sales have nearly doubled since 2011. Their expansion has seen their ambitions reach even higher, as the company now aims to be more involved with AI – with their new 360 Eye vacuum cleaner really showing the market that they mean business.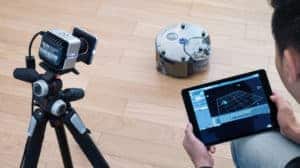 While some have queried the wisdom in getting involved in AI and automated cleaning robotics, Dyson as a company is very willing. They aim to get more investment by producing top of the range AI-powered cleaners. While they are typically a very secretive company, we've seen enough in the mid-term to know that AI and robotics is now a primary focus for Dyson.
With a new UK campus opening up to increase their workforce to around the 7,000 mark, and a £330m research facility being produced across in Singapore, Dyson is setting forward. Many robotic cleaners and AI-driven tools are becoming very popular in the domestic cleaning market, and it appears Dyson are keen to capitalize on this thriving opportunity. An interesting interview with Mike Aldred with The Verge is worth reading if you would like to see a bit more about where Dyson intends to go.
Aldred is the Head of Robotics with Dyson, and opened up quite a bit about what is expected to come. While he is clear that there is "a long way to go with vacuum cleaning" when it comes to robotics, these new forays show a complete willingness within the company to push further into this deeply important sector.
He also says that they have the aim of helping people "not know" what their robot cleaner looks like. That it should be efficient enough that they can come home from work, and the cleaning is already done. This shows, though, that Dyson as a company is very committed to the idea of making AI and robotics a mainstay within the industry.
While we are yet to see why Dyson is so keen to make this the case, we presume it's partly to do with getting ahead of the game. Robotics and AI-driven tech is massive within the industry; it is of little surprise that Dyson, as ever, is keen to be market leaders in a new and innovative part of the market.
FAQ about robot vacuums
What if my robot runs over dog poo?
If you let your robot clean areas of your yard, make sure to clean up any dog poop beforehand. If your robot accidentally runs over dog poop, it spreads it all over the yard and home.
In the event your robot vacuum cleaner hits dog poo, stop it immediately and turn it off. Clean the device immediately, making sure to remove all poop from brushes.
Robot Vacuum Vs Regular Vacuum Cleaner: Which is better?
Both of these types of vacuum cleaners have some advantages and disadvantages. The best feature of the robot cleaner is its small compact size and smart navigation system.
It basically does all the cleaning work for you and picks up dirt well. However, it is not as efficient as a traditional canister or upright vacuum model because it is not as large. As a result, it does not have such powerful suction.
As well, we recommend you consider that a small robot vacuum cleaner is small and doesn't take up precious space in your home.
To sum up, it is up to you to decide if you want a high tech device to clean your home or your prefer to deep clean yourself.
How often should I run my robot vacuum cleaner?
It all depends on how clean your home is. Since many people only vacuum about once a week, a robot is a good way to do this chore more often. If you have pets, for example, you need to pick up hair and dander more often.
Moreover, it's recommended that you automate your robot's cleaning cycles. You can set it up to vacuum daily or every 2 or 3 days, depending on your needs.
Just remember that you do need to pick up leftover stray bits manually. These robots can miss some things.
Can I use a robot vacuum cleaner in the yard?
It is not recommended that you use a vacuum cleaner outdoors in the yard. Your robot can run over dog poo or other unpleasant surfaces. Grass and gravel causes your cleaner to break down and it will stop working. For that reason, DO NOT use your robot vacuum cleaner outside.
The Bottom Line
Finally, we want to remind you that while these small vacuum cleaners are great high tech cleaners, you still need to check for any leftover dirt or bits of dander. The efficacy of the robot depends on the brand and price. With a device like a Roomba, you know you can depend on it to do a great cleaning job. The cheaper models can lack features and get stuck.
Let us say that, in conclusion, we recommend you always choose a cleaner that does its job well so you can save time and stop worrying about messes.
Also read: the best dustbusters for your car or a quick vacuum at home
I'm Joost Nusselder, the founder of Tools Doctor, content marketer, and dad. I love trying out new equipment, and together with my team I've been creating in-depth blog articles since 2016 to help loyal readers with tools & crafting tips.