I love creating free content full of tips for my readers, you. I don't accept paid sponsorships, my opinion is my own, but if you find my recommendations helpful and you end up buying something you like through one of my links, I could earn a commission at no extra cost to you.
Learn more
Struggling to move logs indoors from the log pile? A log carrier is the perfect solution!
Not only can you transport a number of logs at a time from your log pile to the, but a log carrier helps you to keep your floor, hands, and clothes clean in the process.
Log carriers are not only suitable for carrying logs from log piles or firewood racks to the fireplace, but these big bags can also be used to carry groceries or other necessary materials.
There is a multitude of log carriers available on the market which may leave you overwhelmed as to the best carrier for your specific needs.
To assist you with your decision, we have identified the best products on the market for you to choose from.
My top pick would definitely be the Amagabeli Sturdy Wood Carrying Bag. This carrier is both sturdy and waterproof which makes it very durable. The padded handles protect your hands and the carrier is easy to store.
How to choose the best log carrier?
If you think a log carrier is simply a large bag and anything will suffice, I can assure you that you are going to buy a replacement bag after only a few days.
In order to buy the best log carrier, you have to have a clear knowledge about the factors that determine the quality of the log carrier and also consider your individual needs.
The guide below highlights the most important factors to consider when purchasing the best log carrier and will assist you in making the best decision.
Material
Material is the first factor to consider when buying a log carrier. Strong canvas is generally used to make the body of the log carrier.
We need log carriers most in winter, so check whether the material is waterproof, because you may need to carry logs in rainy or snowy weather.
Also, determine whether the handle is a rod, or made of reinforced fabric or leather. If a rod has been used as a handle, it should be padded for comfort and to prevent injury to your fingers.
Size
Log carriers are available in different sizes: small, medium, or large. The correct choice of size is dependent on your specific log carrying needs.
Also, remember to take the log splitter you have into account.
Design
Some log carriers are enclosed and some are open-ended. Both designs have particular advantages and disadvantages.
If you choose an enclosed log carrier, it will provide you with the benefit of keeping your floor clean when carrying logs from outdoor log piles to your fireplace.
You can also carry groceries in an enclosed log carrier.
On the other hand, if the log carrier is open-ended, you can carry a log of any length.
Load-bearing capacity
You will find the load-bearing capacity either in the specification section or the question and answer section. However, not all companies specify the load-bearing capacity of their product.
If the load-bearing capacity is not provided, the material of the carrier is also a good indicator.
Color
Most people prefer black log carriers, but dirt and dust can be easily noticed on black. Colors that are similar to wood look cleaner longer.
Warranty or guarantee
Some log carriers come with a limited warranty period and a few log carriers come with a guarantee. It is safer to choose a log carrier with a warranty or guarantee period.
Now that you know all the factors to consider when purchasing a log carrier, think about your specific requirements and find a balance between your demands and the best value for your budget.
Also read: Best Chopping Axe | Cleave Wood like a Pro!
Top 5 best log carriers reviewed
We know the worth of your time and that is why we have made a shortlist taking the top 5 best log carriers of the market instead of making a long list of the top 10 or 20 best log carriers.
Best log carrier overall: Amagabeli Sturdy Wood Carrying Bag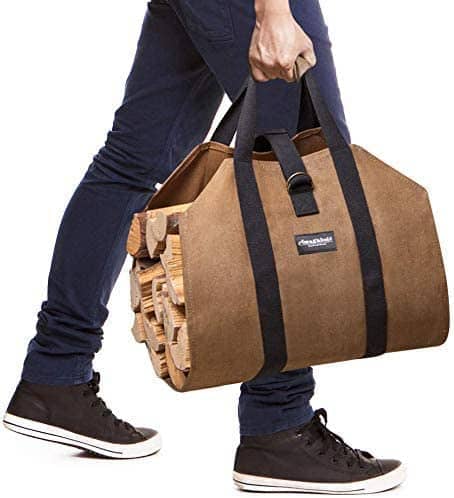 Amagabeli has designed a premium quality log carrier that allows you to carry logs, firewood, kindlings, and twigs of any length.
It is strong enough to carry a heavy load, so you can transport big chunks of oak, maple, etc. from the log pile to the fireplace.
To make it waterproof, the body of the bag is made of a strong waxed canvas. You can comfortably use it in snowy or wet conditions.
The padded handles are comfortable and protect your fingers from getting hurt while carrying logs. To tighten the load inside the carrier, there is an adjustable strap in the middle of the carrier.
This handy and lightweight log carrier is easy to store. You can either fold it up or hang it up by the straps when not in use.
A common problem with a log carrier is that it easily seems dirty after carrying logs in it. To solve this problem, Amagabeli has selected a dirt-proof color for this product.
This well-built log carrier lasts for years without tearing even in the harshest weather. Moreover, Amagabeli provides a warranty for a certain period of time.
If you are not satisfied with their product you can exchange it with a new one with no questions asked.
Material: canvas
Size: 39 x 18 x 22 inches
Design: open-ended with padded handles
Load-bearing capacity: large
Color: dark brown
Warranty or guarantee: 1-year warranty
Best budget log carrier: Panacea 15251 Log Tote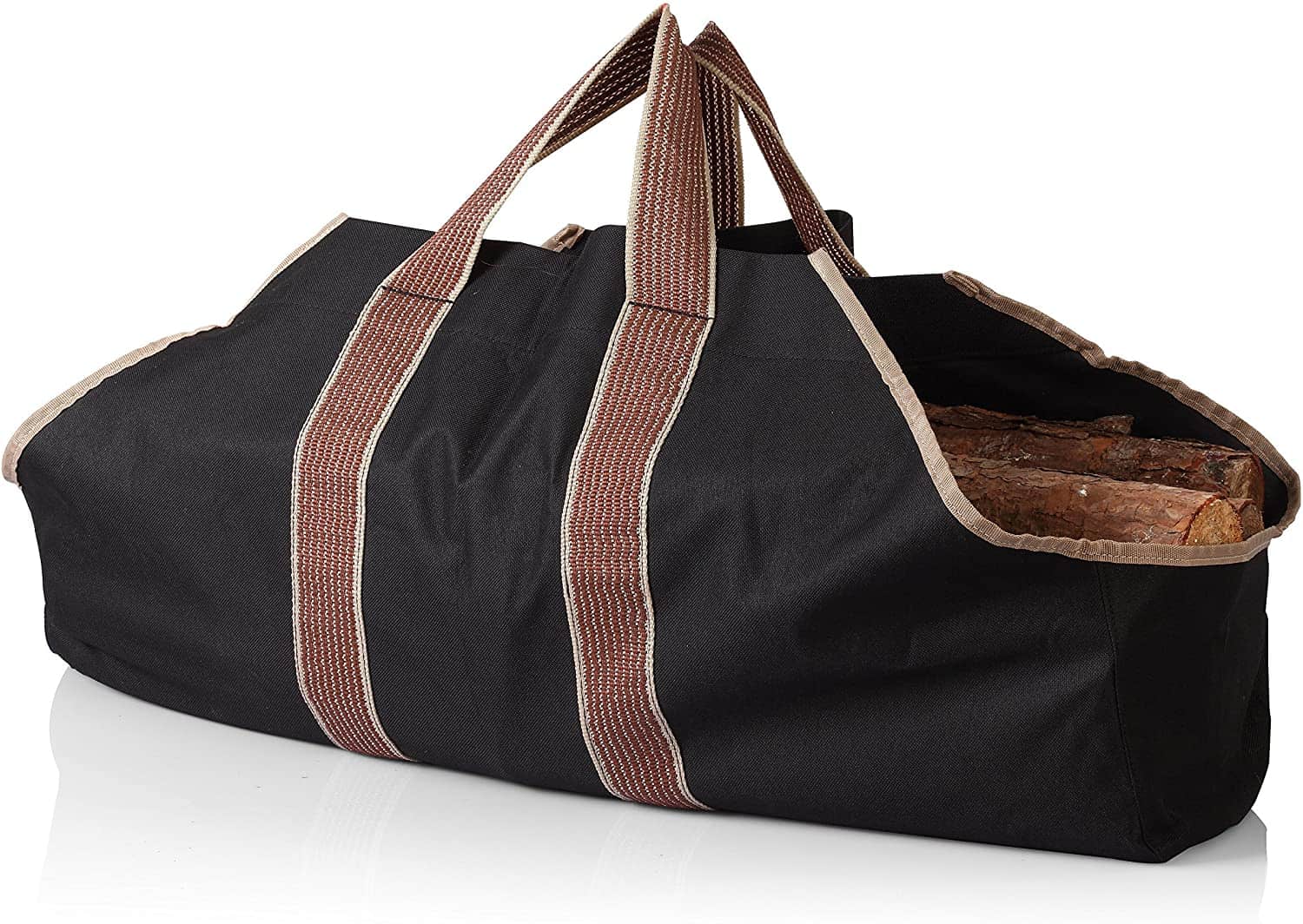 If you are looking for a budget-friendly log carrier, the Panacea 15251 Log Tote is the best choice. The body is made of strong and sturdy canvas-like material.
Unlike some log carriers, its handle is reinforced fabric rather than a rod. This makes it more comfortable to carry.
Since it is an enclosed bag, you do not have to have to rush for the vacuum cleaner to clean your floor after bringing wood into your home. You can carry a large number of logs in this beautiful and shiny log carrier.
It is not only easy to use but also easy to store because it is a foldable log carrier. You can also carry groceries in this bag.
It is available in black and the trim is cream in color. The beautiful color along with the design makes this carrier particularly appealing in terms of appearance. You can gift this log carrier to family or friends on any special occasion.
This log carrier is produced in China and the manufacturing company, Panacea, aims to provide a good quality product at a comparatively low price. This is why this bag is available at a comparatively low price.
If you often carry heavy loads with this bag, it tends to tear easily. It is important to bear this in mind to increase the longevity of your tote bag.
Material: canvas-like textile
Size: 2.28 x 5.79 x 10.08 inches
Design: enclosed with reinforced fabric handle
Load-bearing capacity: large
Color: black
Warranty or guarantee: None
Best lightweight log carrier: CLC Canvas C390 Log Carrier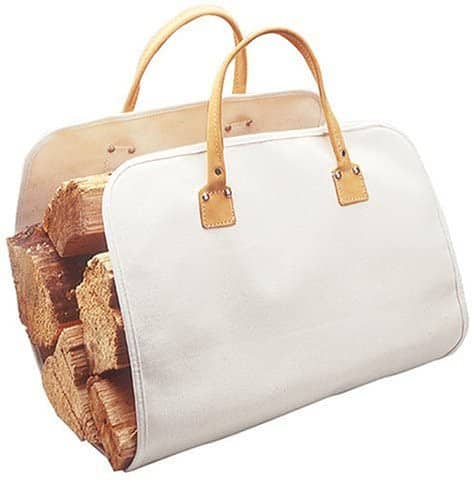 The CLC Canvas C390 model is made by Custom LeatherCraft and is designed to carry logs conveniently. This heavy-duty canvas carrier is strong and sturdy and can carry up to 6 average size logs at a time.
The reinforced leather handles are made of suede for added comfort. To make the handle durable and strong, the handles are riveted to the canvas body and trimmed with heavy stitching.
Take care not to exceed the recommended load-bearing capacity of the CLC C390 Canvas Log Carrier as it will cause the leather handle to tear.
If you prefer to carry larger and heavier loads, we recommend that you choose a log carrier with a larger capacity. However, this carrier is ideal for women who prefer to carry 6 average size firewood logs once at a time.
Custom LeatherCraft provides a warranty for this product. I almost forgot to mention its beautiful color. The bag is white and the handles are brown.
This color combination is appealing and a contrast to the normal black or brown log carriers.
Material: Canvas
Size: 17 x 36 x 1 inches
Design: open-ended with suede handles
Load-bearing capacity: medium
Color: white and tan
Warranty or guarantee: limited lifetime warranty against defects in material and workmanship
Best multipurpose log carrier: SC Lifestyle Premium Firewood Carrier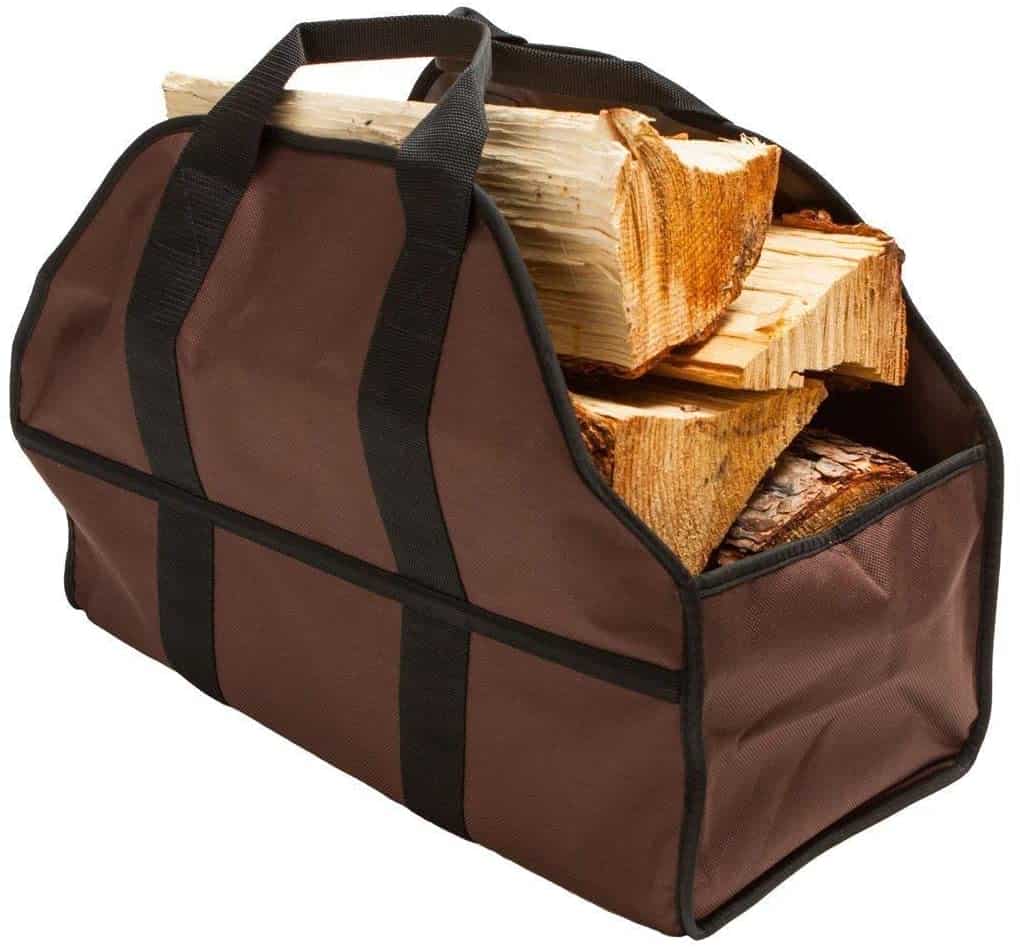 The Premium Firewood Log Carrier manufactured by SC Lifestyle is a two-in-one product. The SC Lifestyle Premium Firewood Log Carrier functions as both a firewood and a log carrier.
This carrier is made from heavy-duty material with strong stitching. It is very durable and you do not need a prop to keep it open while loading logs into it.
The bag is big enough to carry a large number of logs at once.
It is designed to ensure cleanliness. Since it is made of waterproof material, you can carry wet and snow-covered logs in this bag without getting your floor dirty. The enclosed design of this bag will prevent debris and dirt from escaping.
The brown color of the log carrier looks beautiful beside your fireplace, you won't have to purchase an extra rack to store firewood.
This log carrier comes with a limited warranty.
Material: canvas
Size: 14.3 x 11.9 x 0.9 inches
Design: enclosed with nylon handle
Load-bearing capacity: large
Color: brown or dark brown
Warranty or guarantee: 1-year warranty
Best heavy-duty log carrier: BONTHEE Extra Large Waterproof Firewood Carrier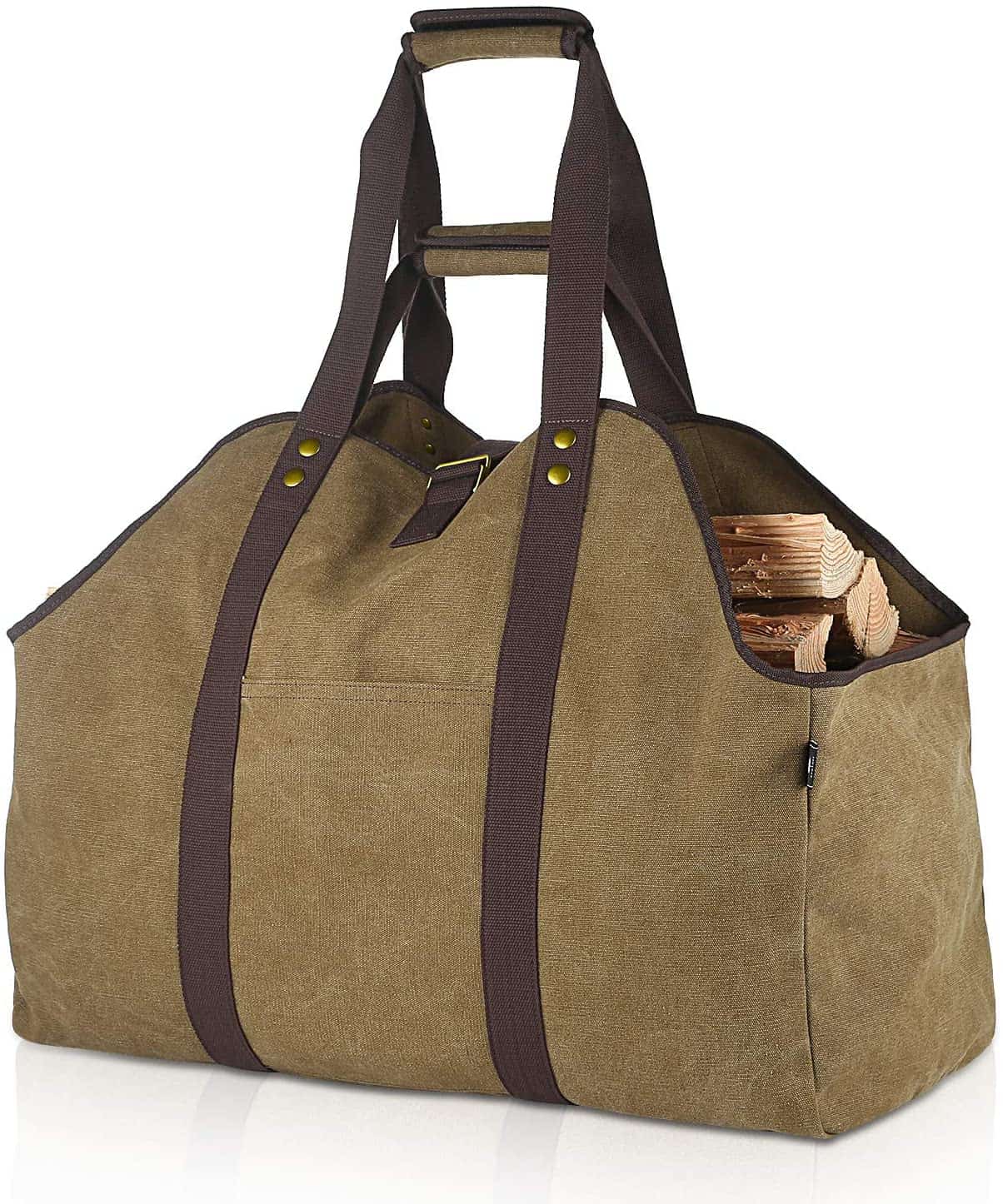 The BONTHEE Extra Large Waterproof Firewood Log Carrier is strong and sturdy. It is made of wear-resistant, waterproof canvas. The large size of this carrier makes it ideal for carrying big loads in one trip.
An added feature of this carrier is the shoulder strap and it can also be carried by two people when using the handles. The colour of the carrier is ideal as dirt and dust are not easily noticed.
It is a completely enclosed log carrier, so your floor will not get dirtied by dirt and debris. When you are not using the bag you can fold it flat and store it easily.
This is also a versatile carrier, because it can be used to carry household items such as groceries or to store household contents.
Material: Canvas
Size: 23.62 x 11.81 x 19.69 inches
Design: enclosed with shoulder strap and handles
Load-bearing capacity: extra large
Color: brown
Warranty or guarantee: none
Log carrier FAQ
Can log carriers be folded up?
Most carriers can be folded flat for easy storage.
Can firewood be stored in log carriers?
Firewood should not be stored enclosed for an extended period of time as insects can emerge and it can also provide a nest for rodents or other pests.
How to make your own log carrier?
Check out this video for a how-to on making your own canvas log carrier:
Conclusion
Still needing to get some firewood chopping done? Read about the difference between a Felling Axe vs a Chopping Axe here
I'm Joost Nusselder, the founder of Tools Doctor, content marketer, and dad. I love trying out new equipment, and together with my team I've been creating in-depth blog articles since 2016 to help loyal readers with tools & crafting tips.