I love creating free content full of tips for my readers, you. I don't accept paid sponsorships, my opinion is my own, but if you find my recommendations helpful and you end up buying something you like through one of my links, I could earn a commission at no extra cost to you.
Learn more
A log jack, also known as a timberjack, is the ideal tool for lifting felled trees off the ground in order to cut them up into desired length logs easily.
Without a log jock, it is quite difficult and dangerous to lift large logs and trees in order to buck. You will also risk digging the chainsaw chain into the ground and if it happens the saw needs to be resharpened repeatedly.
With a log jack at your disposal, you will never run these risks or be inconvenienced again.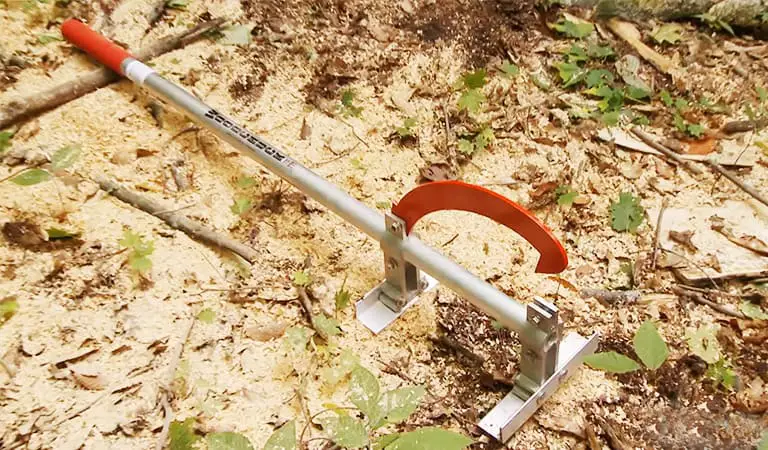 There are many types of log jacks with different features on the market. It can be quite difficult to find the best log jack for your work. Here are some reviews of the best log jacks and a buying guide for easy shopping.
My top recommendation is the Woodchuck Tools-Timberjack. It provides great elevation from the ground for easy cutting. It is light enough to be easily portable but extremely sturdy and the length of the handle provides good leverage. You definitely can't go wrong with this choice.
How to pick a good log jack
Before buying a log jack, it's important to focus on what makes it useful for better lifting and moving of logs.
Log jacks come in many different weights and lengths, but you have to choose the right one according to your specific needs.
Here's a helpful guide to help you identify the key features you should consider.
Material
Many users prefer wooden log jacks to metallic jacks. Harwood-handled jacks are great for DIY use or smaller cutting jobs. They also feel nice, look great, and are not so cold to the touch when the outside temperatures drop.
However, for heavy-duty cutting and large logs, a log jack with a metal handle is a better choice. The metallic structure makes sure that the tool is strong enough to withstand the weight of the lumber.
A powder-coat finish on the metal is ideal because it will make it rust-resistant and protect the handle against wear and tear.
Diameter
You need to make sure that the diameter of the log jack you choose is large enough to fit around the logs you will be cutting. For professional work, consider one with a larger diameter opening, between 18″ and 20″.
For cutting firewood for the house, a jack with a smaller diameter, between 5″ to 18″ inches is perfect.
Weight and length
A heavy and more sturdy jack is the best choice for professionals because it will stand up to the demands of heavy-duty use. A longer handle (48″ and up) will also give you more leverage in jacking logs.
For household firewood cutting or for small jobs, you don't need to buy a heavy jack. A shorter and more lightweight option will be ideal for easy usage and storage.
Also read: How to Sharpen a Chainsaw with A Grinder
Best log jacks on the market
There are a lot of good log jack manufacturing brands like Woodchuck and LogOX. These aren't the only trusted names on the market though.
So, to make shopping easier, I've found the top 5 log jacks and reviewed them to make shopping easier.
Best overall log jack: Woodchuck Tools-Timberjack

The Woodchuck Timberjack is definitely the best choice to make lifting rolling logs easier and much quicker. It provides a nice elevation to keep the chainsaw clear of the ground and allows the saw to run through the log freely.
The sturdy handle is made of lightweight aluminum and the stainless steel handle has a powder-coat finish for added durability. The dual foot design keeps the log off the ground and prevents the handle from sinking into the ground.
The aluminum structure makes it lightweight and ensures strength, making it ideal for lifting and moving heavy logs. It's lightweight also makes it easily portable and it can easily be carried for long distances without any problem.
The 48" handle is the pretty standard length for jacks and gives great leverage when lifting logs. The most noteworthy feature of this tool is that it has a 20 inch (50.8 cm) diameter log capacity which means it can easily cope with large logs.
It can also grip logs that are as small as 6 inches in diameter, so if you are looking for great versatility then look no further!
This log jack is on the expensive side but you are getting incredible value for money with this efficient and durable jack.
See it demonstrated here by another fan of this tool:
Features
Material: Aluminum handle and powder-coated steel hook
Diameter: Suitable for logs from 6 to 20 inches
Weight: 10 pounds
Length: 48" handle
Best multi-purpose log jack: LogOX 3-in-1 Forestry Multitool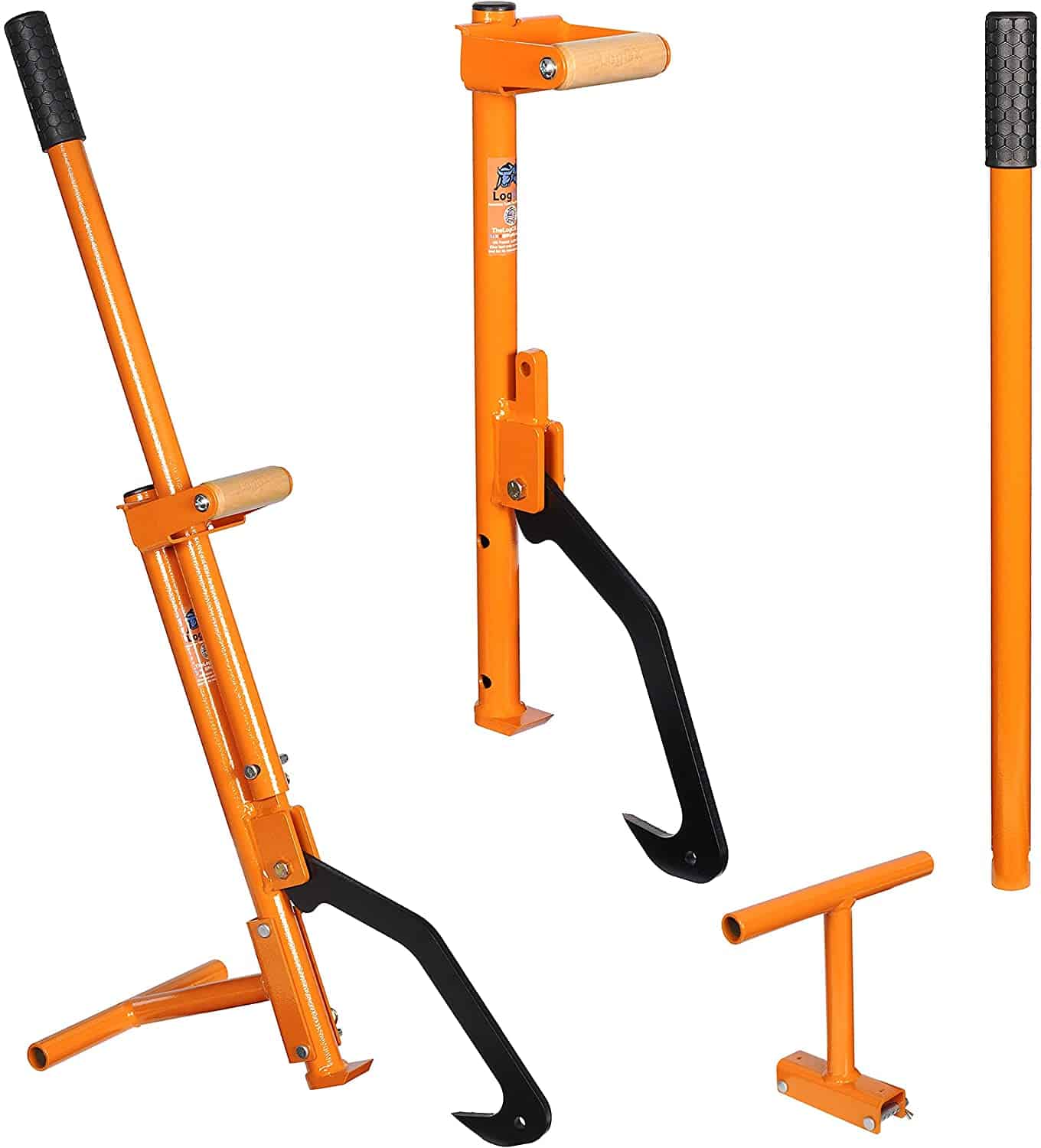 If you are a fan of multi-tools, then the LogOX 3-in-1 Forestry option is a great choice for you. This tool allows you to process logs faster, safely, and far more easily while avoiding back strain.
This log jack is useful for harvesting firewood, removing fallen trees, and clearing land. It allows you to quickly lift and move log rounds or split pieces without continually bending over or having to swing a pulp hook or pickaroon.
The special ergonomic design of this tool is proven to reduce back strain by up to 93%.
A cant handle extension can be attached to the for extra leverage. The sharp precision ground hook tip and beveled toe design help to securely grip and roll logs of 7"- 32″ diameter.
The clevis pin attachments enable a rapid and easy transition between tool attachments. T-Bar attachment transforms the hauler into a timberjack for lifting smaller logs of up to 12″ diameter off the ground easily.
It creates a solid elevated cutting platform in order to prevent chain damage from ground strikes, bar pinch, and also dangerous kickbacks.
Here's how to use the timberjack part of this tool:
Whereas the Woodchuck log jack is made from lightweight aluminum, the LogOX is made from sturdy steel and has a bright orange weather-resistant finish which protects against rust and makes it easy to spot it in the woodlot.
This log jack is ideal for smaller logs and easily portable as the 38" handle is shorter than other options on the list, but not suitable for larger and heavier logs.
Features
Material: Steel handle and powder-coated steel hook
Diameter: Suitable for logs up to inches
Weight: 11.88 pounds
Length: 38" handle
Best wooden-handled log jack: Ironton Wooden Handle Timberjack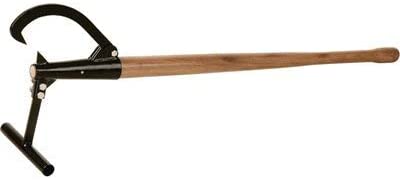 The Ironton 48 inch Timberjack is one of the best log jacks on the market and a great choice if you are a fan of wooden-handled tools, especially for use in cold weather.
This log jack is a great tool for turning logs and lifting them off the ground for safe cutting.
Whereas the other tools on this list have a metal handle, this option comes with an ergonomically shaped lacquered hardwood handle and a high carbon steel hook.
The log opening is large enough for logs with a diameter of around 8-10 inches. A little smaller or even larger logs than defined can be lifted with the help of this log jack.
While this tool is not ideal for larger logs, it is versatile and has the added benefit of being converted into a cant hook by removing the bolts of the stand.
The downside with this log jack is that it is on the heavy side so not ideal for jobs that require great portability.
Features
Material: ergonomic wooden handle with lacquer finish
Diameter: Suitable for logs from 8 to 10 inches
Weight: 10 pounds
Length: 36" handle
Another great woodworking tool (here are more examples) is a pickaroon (or hookaroon). Find the best ones listed here
Best log jack for larger logs: Timber Tuff TMB-75ATJ Deluxe Timberjack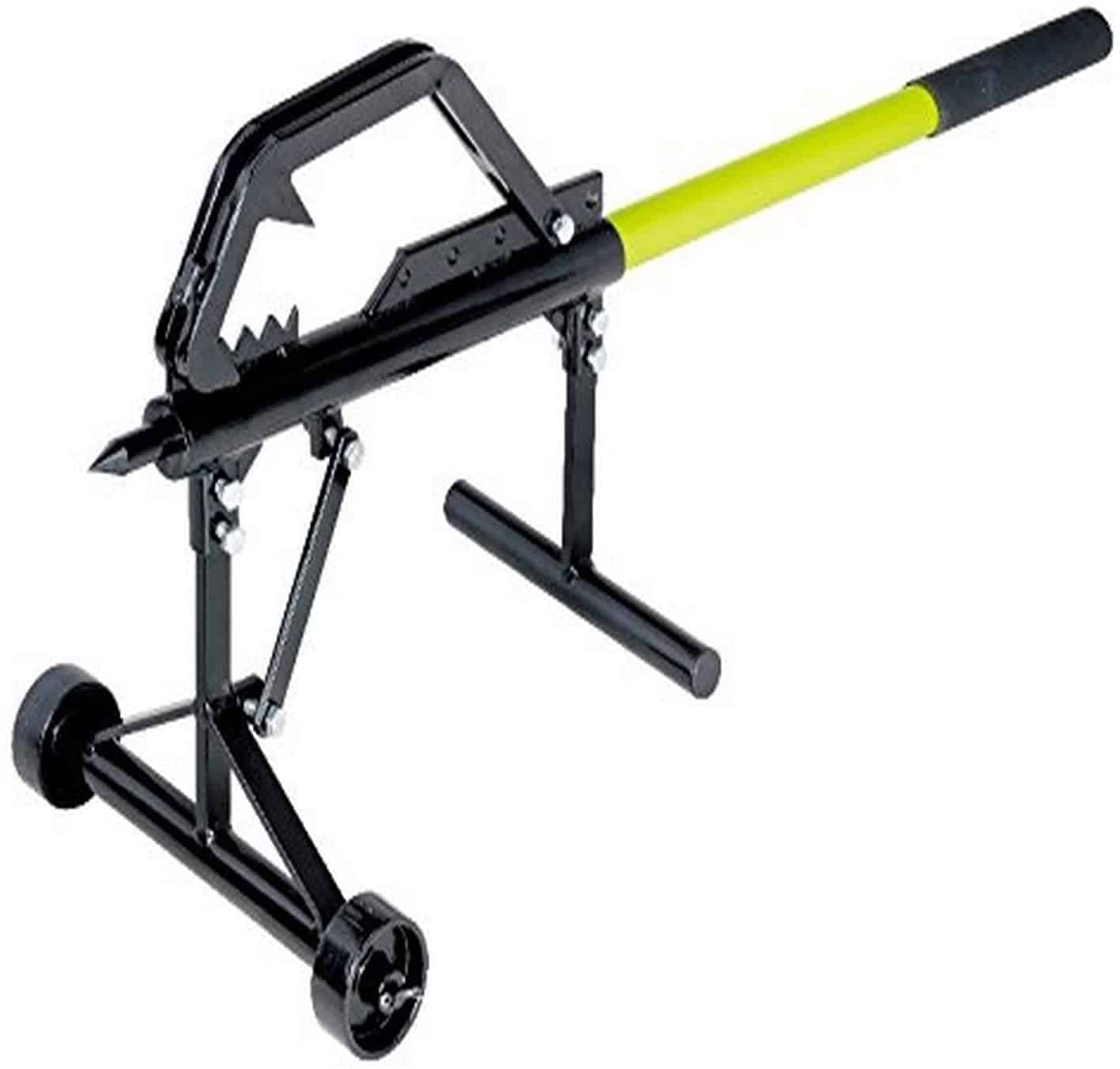 The Timber Tuff TMB-75ATJ deluxe timberjack is a must-have tool for your logging needs.
This all-in-one tool functions as a peavey, timberjack, log lifter, and cant hook for an extremely versatile product that can perform a wide variety of tasks.
Adjust the hook easily with the quick-pin at 5 different positions for logs up to 18″ – 20″.
Another nifty feature that the other jacks on the list don't have, wheels on the base. These wheels help to roll under logs for easier lifting and pulling purposes.
This log jack is 48″ long with a fiberglass handle and high-carbon steel for a durable and reliable product. This tool is designed with a double hook to handle larger logs and trees.
The T-frame stand with its two-bolt design gives extra strength and support and is also removable for cant hook work as well. The textured rubber grip gives a comfortable and secure grip and prevents slipping and accidents.
This log jack is on the heavy side, but its sturdy build and double hook handle make this tool a great option for larger logs.
Features
Material: fiberglass handle and high-carbon steel
Diameter: Suitable for logs from 18 to 20 inches
Weight: 23 pounds
Length: 48" handle
Rather have a separate cant hook around? I've reviewed the best cant hooks available here
Best budget-friendly log jack:1942 Earth Worth Timberjack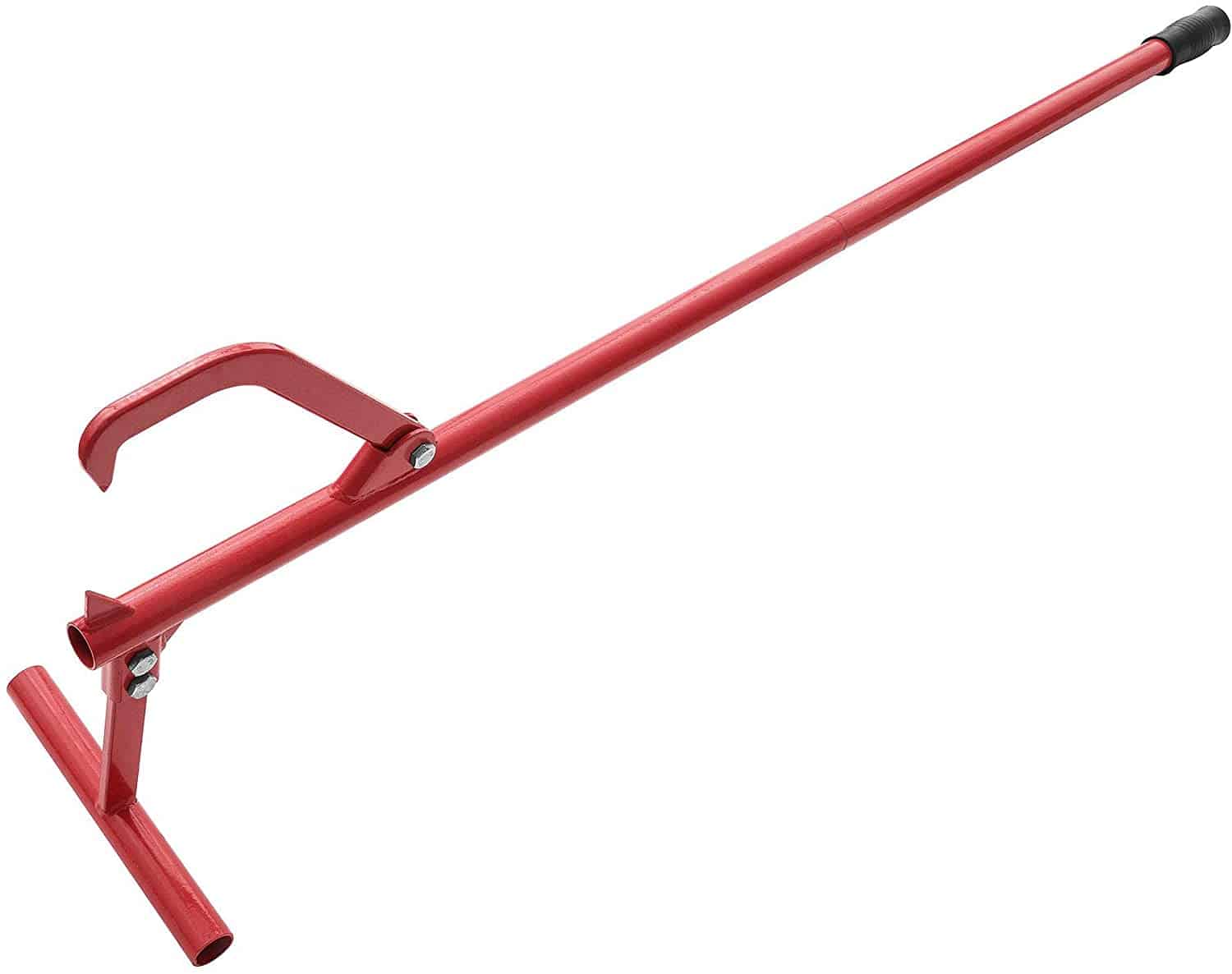 If you are looking for a log jack that will make less of a dent in your wallet than the other options on the list but still provides great value for money, then look no further.
The 1942 Earth Worth Timberjack is the best budget-friendly jack for your logging needs.
The Timberjack is made from high-quality steel and the handle is hollow which makes it a nice lighter choice. The powder coating ensures that it is resistant to rust and wear and tear.
This tool is 45" in length and suitable for logs with a diameter of up to 15". It lifts logs easily from the ground to prevent the chain of your best chainsaw from cutting into the ground when cutting.
This budget-friendly option is a great choice if you are looking for something for home use.
Features
Material: powder-coated steel
Diameter: Suitable for logs from 15 inches
Weight: 9 pounds
Length: 45" handle
Conclusion
Log jacks are like a helping hand for cutting trees into logs and also for moving logs.
Every tool has its own merits and demerits and nothing is flawless. So it's important to choose the tool that best suits your specific needs.
The perfect log jack will make your work more comfortable and you won't have to put in as much effort while cutting wood if you have a sturdy jack.
So, remember to consider all the features in the buying guide and also the reviews to find the best log jack for your log lifting and cutting purposes.
Once all the wood is cut, it's time to stack it. Find the Best Firewood Racks to Store Firewood here
I'm Joost Nusselder, the founder of Tools Doctor, content marketer, and dad. I love trying out new equipment, and together with my team I've been creating in-depth blog articles since 2016 to help loyal readers with tools & crafting tips.