I love creating free content full of tips for my readers, you. I don't accept paid sponsorships, my opinion is my own, but if you find my recommendations helpful and you end up buying something you like through one of my links, I could earn a commission at no extra cost to you.
Learn more
Felling trees and splitting wood for your log pile requires a lot of effort. So why still add to your burden by having to bend over to move or stack the wood?
The pickaroon is a smart solution to this problem. This handy tool will reduce the strain on your back and arms when moving around heavy lumber.
The pickaroon is essentially a specialized extension of your arm. It consists of a handle with a protruding spike and allows you to grab wood without bending or straining your back.
They are especially handy if you have to move large logs or stack split wood.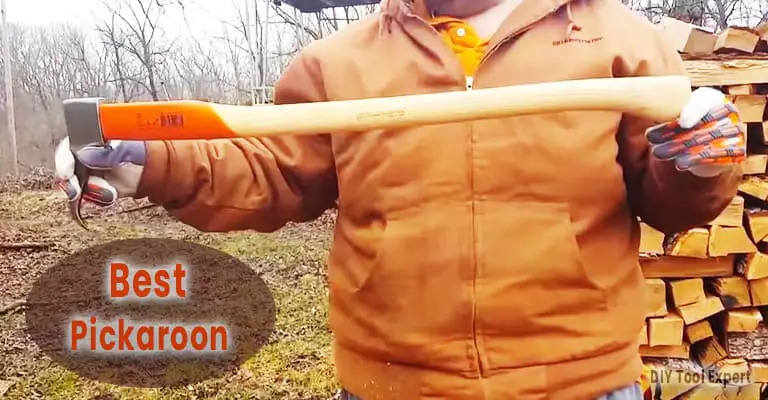 It's quite difficult to find the best pickaroon as there are many on the market. Here are reviews of the best pickaroons and a guide with features to consider to make shopping a breeze.
The Fiskars Hookaroon is definitely my top pick. Backed by a lifetime warranty, you can be sure of its durability and longevity. This hookaroon is lightweight thanks to the FibreComp handle and durable enough for extensive use with the boron steel head.
But before we go into more detail on this one, let me show you some other great options as well.
Hookaroon vs pickaroon – why different names?
A pickaroon may also be known as a hookaroon. This might sound like a tongue twister, but don't let it confuse you.
A hookaroon is simply a pickaroon with a more sharply curved head.
The curved blade of the hookaroon gives it more grip so it is ideal for moving wood over longer distances, whereas a pickaroon's straighter head makes it easier to remove for wood and the better choice for stacking wood.
Now we know what it's called, let's have a look at all the uses this handy tool has:
How to choose the best pickaroon/hookaroon
Pickaroons come in a variety of sizes, shapes, lengths, etc. Here are some major features to consider to find the best pickaroon.
Weight
The ideal weight is determined by its intended purpose. A heavier tool is more powerful and will sink more solidly into the wood, preventing it from slipping off.
However, the heavier it is, the more strain it will place on your body. This will tire you out faster.
So, for lighter and more repetitive work, opt for a pickaroon that does not weigh that much.
Length
The length of the pickaroon is very important as the purpose of a pickaroon is to act as an extension of your arm and to prevent you from having to bend down and pick up the wood.
So if you want to give your back a break, a longer handle is ideal.
However, if you are working with wood that is not low down on the ground, then a short-handled pickaroon is useful and if you're ambitious you can even use two at a time – one in each hand.
Grip
If the pickaroon doesn't have a good grip, it will be uncomfortable to work with and end up being counterproductive.
A quality grip such as a rubber grip will make the handle comfortable to hold and will prevent it from slipping out of your hand.
Handle
A wooden handle of oak, cedar, hickory, and ash will be strong enough to withstand the force that will be inflicted on it. Wooden handles have the advantage of being replaceable.
However, steel and aluminum handles are growing in popularity and are stronger than wood, but they can't be replaced if they get damaged.
An ergonomic handle with a slight curve will enhance your grip and allow you to have more control when swinging the tool.
Head
The pike part of the head is the most important. It should be sharp enough to penetrate the wood easily.
The tip should be thin enough to hook into the wood, but thick and strong enough to prevent it from chipping and breaking.
Also check out my review of the Best Wood Splitting Axes for easy Chopping
Best pickaroons/ hookaroons reviewed – my top 5
I have selected the top 5 pickaroons on the market and reviewed them to make it easier for you to find the best option for you.
Best overall pickaroon: Fiskars 28 inch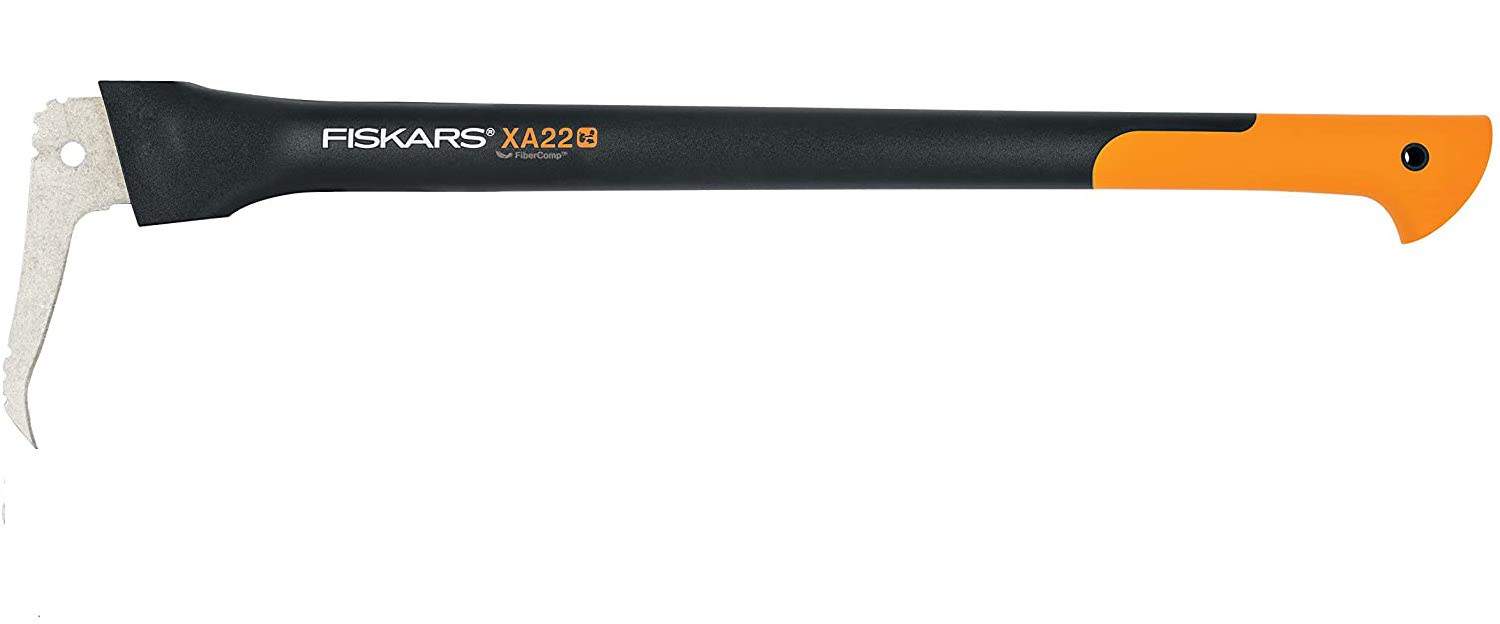 When it comes to pickaroons or hookaroons, the 28 inch Fiskars hookaroon is definitely my top choice. Fiskars is a trusted name in the business with an excellent reputation for quality workmanship.
This hookaroon is ideal for dragging, rotating, and stacking logs. The head is made from hardened boron steel, which ensures the longevity of the head even after continuous use.
The steel won't rust and the edges will retain their sharpness for longer. The head has a curved point with a toothed edge for better grip on the wood and easy lifting.
This makes moving logs easier and will put less strain on your back than using a log carrier.
The 28-inch handle is long enough to avoid bending but still short enough to use with only one hand.
The handle is made of FibreComp, which is a blend of polymer, milled carbon fiber, & graphite. This makes it extremely strong but super light. The handle is flared with a non-slip for better control.
An added bonus is the protective sheath that comes with this pickaroon. This protects the blade and makes it easier to store and transport.
The only downside with this hookaroon is that it's not ideal for very tall people, because of the length.
Features
Weight: 1.76 pounds
Length: 28 inches
Grip: non-slip grip
Handle: flared FibreComp handle
Head: boron steel hookaroon head with a toothed edge
If you are taller and need a premium tool with a longer handle then the Council Tool 150 1-1/2lb Hookaroon is the best option for you.
The handle is a full 8 inches longer than the Fiskars hookaroon, which provides more leverage and makes it ideal for dragging wood without straining your back.
The aesthetically pleasing hickory handle is curved for good balance and a comfortable grip. The handle also has a flared grip to prevent it from slipping out of your hands.
The head is hydraulically seated onto the handle and secured with a serrated aluminum wedge so you can be sure that it will definitely stay put!
The hookaroon head is made of forged steel for strength and coated with red enamel to deter rust. Unlike the Fiskars hookaroon, this hookaroon does not have a sharpened edge, but you can file it according to the user instructions.
This hookaroon is sufficiently heavier than the Fiskars hookaroon, which might tire you out more easily, but the added weight helps to lodge the head more firmly into the wood.
Features
Weight: 3 pounds
Length: 36 inches
Grip: non-slip grip
Handle: flared hickory handle
Head: forged steel with enamel coating
Check on the latest prices here
Best short-handled pickaroon: Genuine Husqvarna 579692801 Short 15″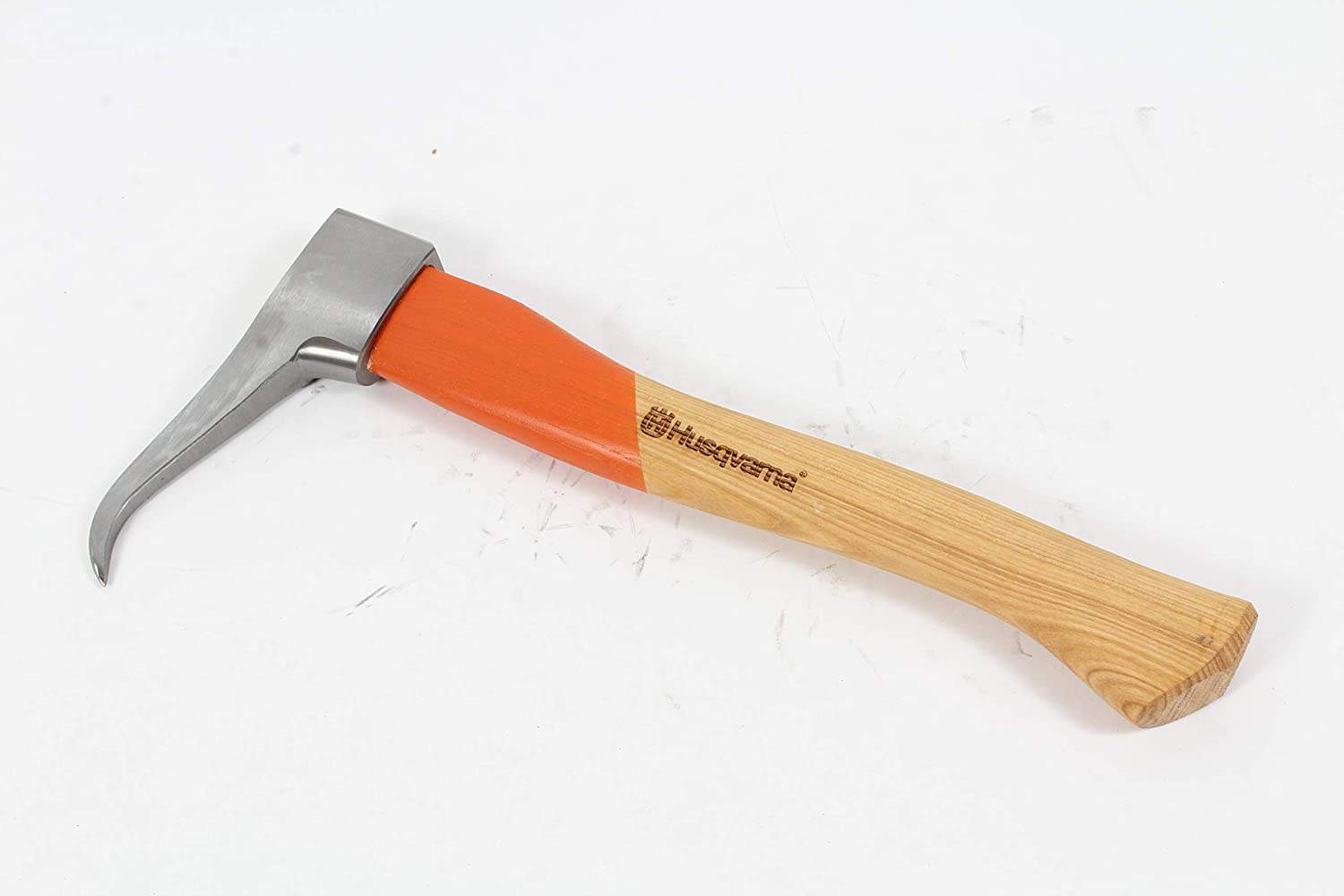 While long-handled pickaroons might provide more leverage and prevent you from having to stoop down to pick up lumber, there is also a definite need for a short-handled pickaroon.
If you need to move wood from a higher surface such as the back of a truck, then this short-handled Huqvarna hookaroon is perfect for you.
The 15-inch curved handle is made from durable hickory with a flared base for better grip and comfort. The orange strip on the handle also makes it very easy to spot amongst other timber.
The polished steel head is great for light to medium woodworking jobs and the sharply pointed tip allows for better grip into the wood.
This pickaroon might be smaller than the others on this list, but still packs quite a punch and is ideal for campers or anyone who needs an easily portable pickaroon.
The only downside is that this tool is not durable enough for heavy-duty work.
Features
Weight: 1.95 pounds
Length: 15 inches
Grip: non-slip grip
Handle: flared hickory handle
Head: polished steel hookaroon head
Have a lot of wood to carry to the house? Make it easy for yourself and get a handy log carrier
Best lightweight and budget pickaroon: Felled Hookaroon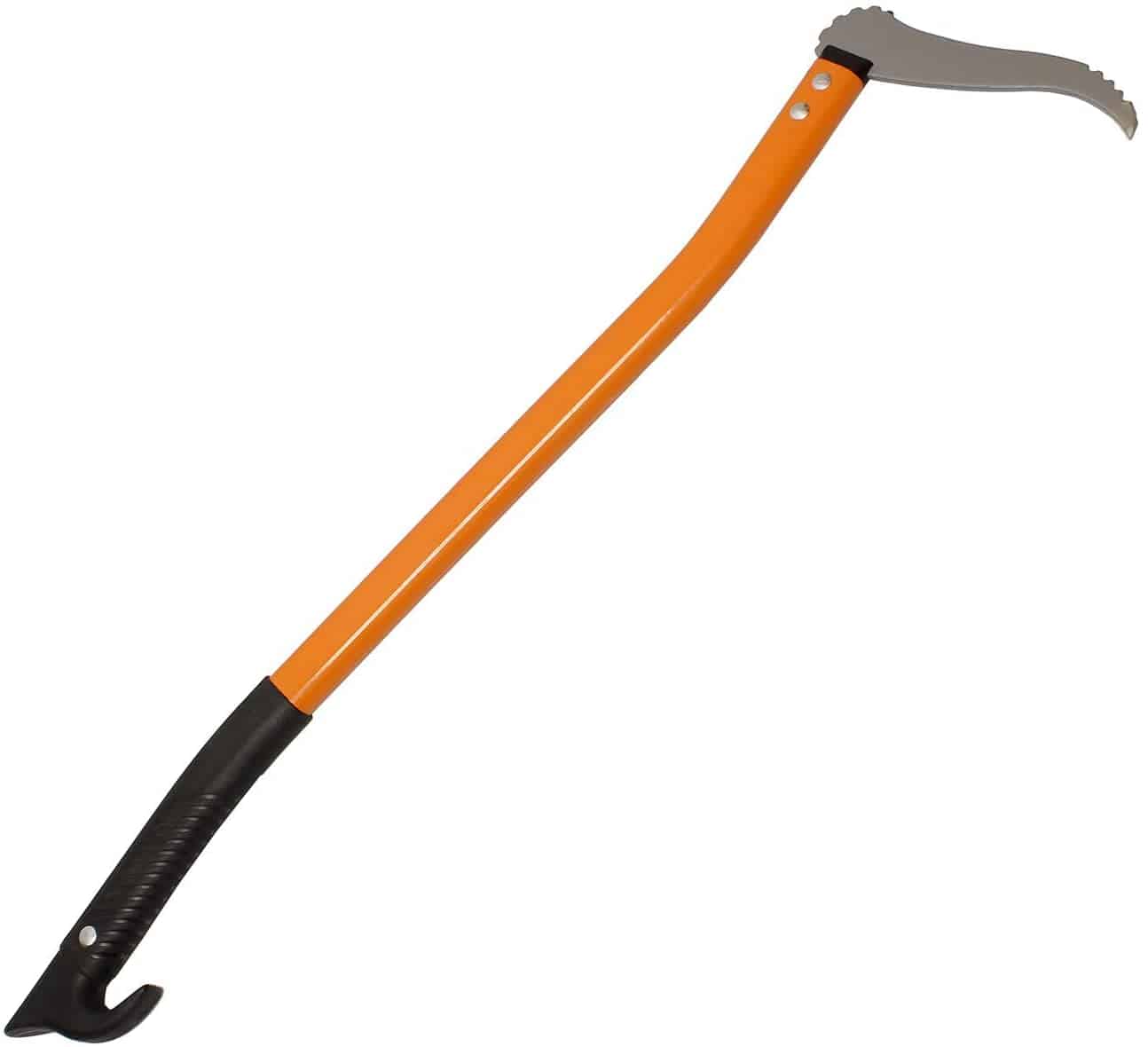 The Felled Hookaroon Pickaroon has a longer handle like the Council Tool hookaroon and is lightweight like the Fiskars hookaroon but is kinder to your wallet.
The heavy-duty metal construction of this pickaroon ensures durability and the plastic coating on the handle will prevent rust for increased longevity. This tool has an excellent balance between durability and weight, as it weighs in at only 1.5 pounds.
The 28-inch handle is long enough to enable you to drag or move wood without having to bend continuously and strain your back.
The handle has an ergonomic design for comfort and a plastic non-slip grip with an added hook to make double sure it won't fall or slip out of your hand.
The angled head with toothed edges allows for a better grip on the wood and allows you to drag or lift logs without them falling off easily.
Unfortunately, the head is not pre-sharpened so it will have to be a DIY job.
Features
Weight: 1.5 pounds
Length: 28 inches
Grip: plastic grip with added hook
Handle: ergonomic handle
Head: heavy-duty metal with toothed edges
Best pickaroon with cutting edge (axeroon): Ochsenkopf OX 172 SCH-0500 Aluminium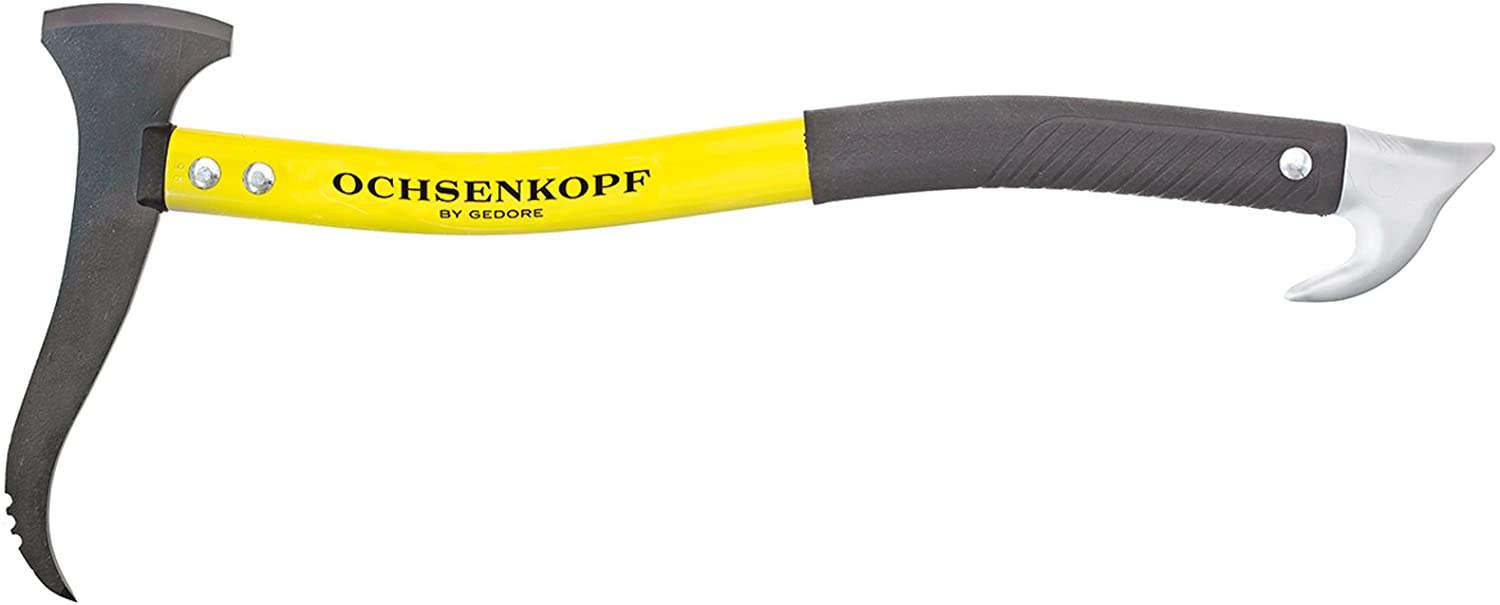 To round out my list, I have a pickaroon with an added feature that the other pickaroons on the list don't have – an additional cutting edge.
The axeroon from Oschenkopf is an axe and a pickaroon combined into one handy tool.
The aluminum construction of this tool makes it both lightweight and durable.
The handle is on the shorter side at 19.7 inches, but it has an ergonomic design and a comfortable non-slip grip, and an added hook to slide the side of your hand into for more secure control.
The most exciting part of this hookaroon is the head. The point on the one end with the toothed edge will ensure a good grip on the wood, while the sharpened edge on the other side will enable you to clean up ragged edges on cut lumber.
This tool is on the high end of the price scale, but you are ensured excellent workmanship from a trusted brand.
Features
Weight: 1.23 pounds
Length: 19.7 inches
Grip: plastic non-slip grip with added hook
Handle: ergonomic handle
Head: aluminum head with added sharpened edge
Pickaroon / hookeroon FAQ
How to sharpen a pickaroon?
Sharpening a pickaroon is quite easy. Simply use an angle grinder or hand file and make sure you secure the pickeroon properly in a sturdy bench vise.
Here's how it's done:
How to make your own pickaroon?
This is definitely an option for the handy ones out there.
You'd carve the handle out of wood, or use an existing one from a defunct axe.
For the head, you can either get out your blacksmith gear and forge a completely new pickaroon head, or go for this simple solution shown:
Conclusion
With the best pickaroon, you can lift, roll, and turn logs easily without straining your back.
The Fiskars pickaroon is definitely the best choice for a durable and efficient pickaroon. If you are looking for a tool with a longer handle then opt for the Council Tool pickaroon.
The short-handled Husqvarna hookaroon is a great choice for a portable pickaroon, the Felled pickaroon is budget-friendly and lightweight. The Ochsenkopf axeroon is a smart buy if you want a pickaroon with an added cutting edge.
Before buying a pickaroons, have a look at the features to consider and consult the reviews to find the best one for your specific needs.
Still need a good solution to store all your newly chopped and transported firewood? These are the Best Firewood Racks to Store Firewood
I'm Joost Nusselder, the founder of Tools Doctor, content marketer, and dad. I love trying out new equipment, and together with my team I've been creating in-depth blog articles since 2016 to help loyal readers with tools & crafting tips.