I love creating free content full of tips for my readers, you. I don't accept paid sponsorships, my opinion is my own, but if you find my recommendations helpful and you end up buying something you like through one of my links, I could earn a commission at no extra cost to you.
Learn more
Finding the right hammer for oneself isn't much of a task but that's not the case when you're trying to get yourself a pink hammer. There's only a few of these in the market, so finding a quality pink hammer might take some time and patience. Lots of manufacturer (definitely not a brand) manufactures pink hammer which they end up selling quite a lot of. But these are ……. quite frankly …. are up to no good.
So, let me give you a brief buying guide and reviews of some of the best in the market to make everything easier for you.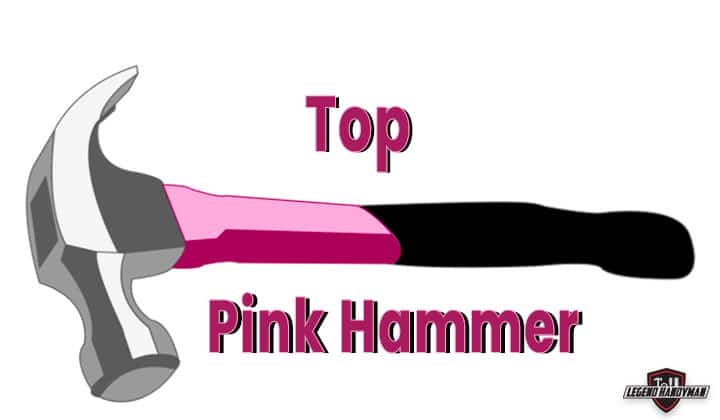 Best Pink Hammers reviewed
Here's a brief review of selected few pink hammers (here are more types) on the market. These have been selected based on the experience of the users, quality, and design.
The Original Pink Box Claw Hammer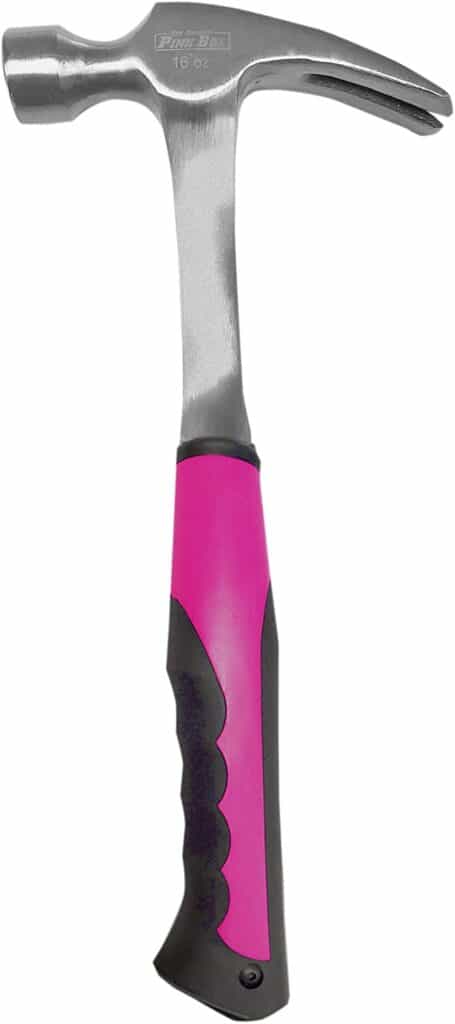 Just what you'd expect
Everything That's Great About It
This 12 oz claw hammer has everything that you'd expect in a claw hammer. The resin coating almost nullifies the odds o corrosion and rusting. Then there's the fiberglass core, gives it that heck of a strength. Even the face is perfectly smooth.
Just every other metallic hammer on the market this to has grip, it's an easy grip rubber handle. On top of all these, you'll also be getting a limited lifetime warranty!! 
Things That you Might Just Not Like
Some folks have complained that the rubber grip gives off a pretty horrible odor.
IIT Ladies Claw Hammer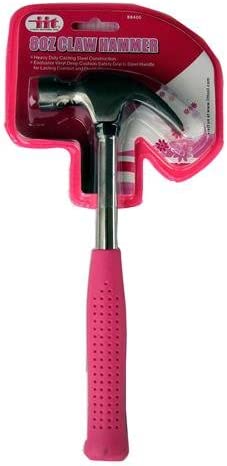 Light Duty
Everything That's Great About It
It's an 8 oz hammer, so you know you can't be using these for things like construction. The chrome coating is a great feature of it's enhancing durability & looks. You're less likely to ever get rusts on this.
The vinyl cushion safety grip is also really great to have. It significantly and noticeably reduces the tension on your arms and muscles. 
Things That you Might Just Not Like
The balance is a bit off. And just like the last one this too gives off a nauseous smell.
Workpro Fiberglass Claw Hammer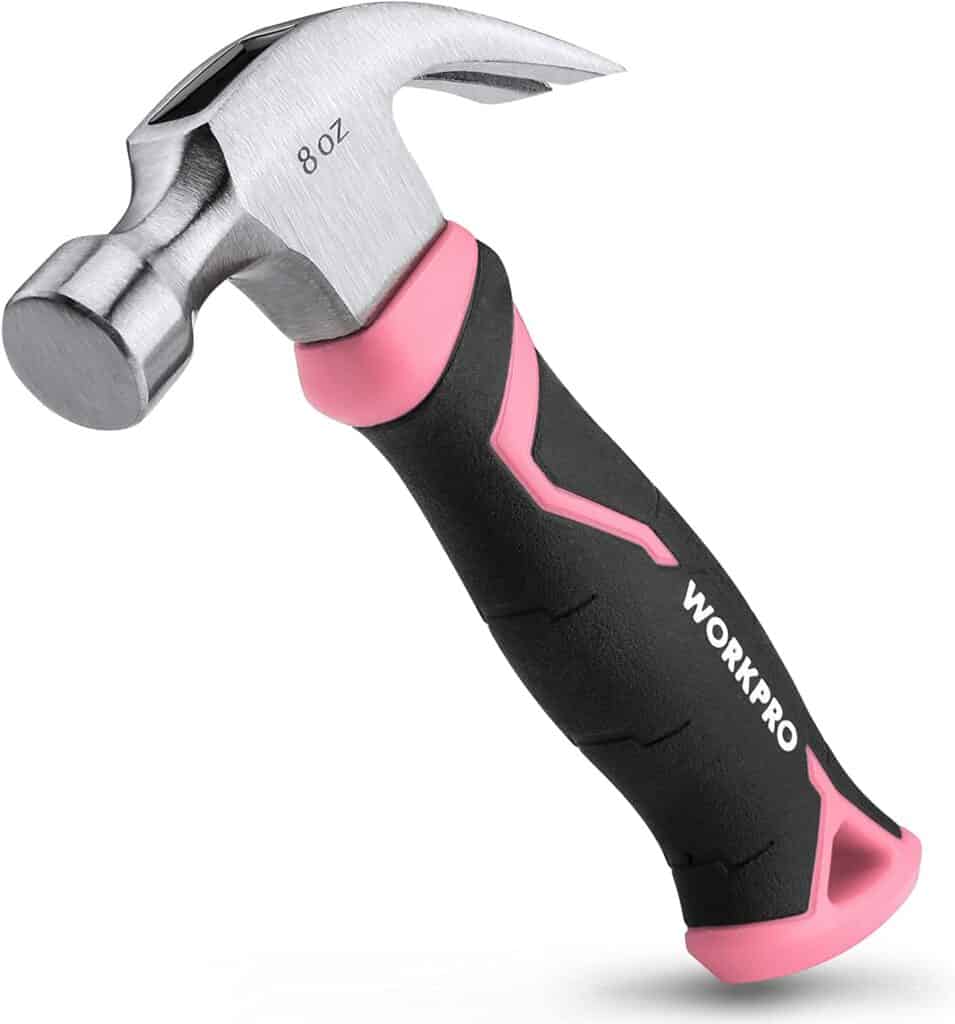 Ideal
Everything That's Great About It
This 12 oz hammer is perfect for your everyday work and even for a bit of heavy-duty work. Head of the hammer's been made out of high carbon steel, it's what gives the hammer that strength. The handle, on the other hand, is made out of some high-end rugged fiberglass.
The handle of the hammer is a great issue to be judged, in this case, the grip is made out of rubber, TPR to be precise, and it's quite comfy. A claw hammer with a comfy grip, like this one makes it a lot easier when you're working with nails.
And yeah, it's not one of those miniature hammers, this one's 12 inches long. So, you can work with this one without any ergonomic issue.
Things That you Might Just Not Like
It would be better is it had one of those magnetic slots to hold nails.
IIT 33500 6 In 1 Floral Brass Hammer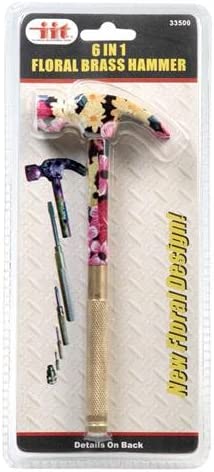 Not just a hammer
Everything That's Great About It
This set of tools offers four different kinds of screwdriver along with the hammer. The different kind of tools on the list are 3/16 inch and 1/8-inch screwdriver, eyeglass screwdriver, Philips screwdriver, tack puller and last but not least the claw hammer.
As for the handle i.e. the constant part of the tool, it's made out of brass. The handle's been well grooved up to make the handle rough enough to let it not slide off. And then there's the obvious pinkish floral design to make it look really cute for you ladies.
Things That you Might Just Not Like
The durability of the screwdrivers are quite questionable; they seem to break into pieces. That's what many users have complained.
Buying Guide
Here are a few heads up for you when you're out shopping for a hammer.
Head Weight
It's the very first and most vital issue that's to be checked when you're buying a hammer. The head usually weighs in the range 8 oz to 20 oz. Any more than is required in heavy duty construction works.
The 16 oz ones are perfect for your regular day to day use like picking off nails, nailing sown wood pieces. But if you're running a workshop, I'd say you should be going with a 20 oz one.
Smooth Vs Milled Face
The usual choice for hammers is to smooth faces. The only time you'd be needing a hammer with the milled face is when you're into some serious nailing like if you're working on making frames. Nails have a hard time slipping off of you're using a hammer with a milled face. Otherwise, it'd be wise to go with the smooth face all the time.
Handle
The steel and fiberglass handles have proven to be far superior to other material for a handle like wood. Wood breaks and gets extremely slippery over time. Whatever be the case always try to go with the ones that have a rubber grip on the handle.
Anti-Vibration Design
If you're using a hammer for hours, you'll find that your elbow starts to ache a bit. Some brands are offering hammers that have lesser vibration than usual. If you're thinking it's just a hoax, it's not.
You may also like to read hammer hero power horse framing hammer
Conclusion
Ladies are fond of pink and they are the target customer of pink hammers. To fulfill the "pink" demand of ladies different companies have brought pink glue guns, pink measuring tape, pink safety glass, and pink tool sets. By this time, you've probably fixed your mind on which pink hammer you're going to buy. After all, there isn't so much choice on your hand either.
But if you're going to use the hammer for your day to day in home use like hanging pictures, taking out the nail from the wall, The Original Pink Box Claw Hammer would be a great choice. And for a bit of heavy duty use, you should be going with the one by Stalwart.
I'm Joost Nusselder, the founder of Tools Doctor, content marketer, and dad. I love trying out new equipment, and together with my team I've been creating in-depth blog articles since 2016 to help loyal readers with tools & crafting tips.