I love creating free content full of tips for my readers, you. I don't accept paid sponsorships, my opinion is my own, but if you find my recommendations helpful and you end up buying something you like through one of my links, I could earn a commission at no extra cost to you.
Learn more
Measuring tapes are a very familiar term for sewers, quilters, crafters and everyone for their frequent applications in day-to-day life. When it comes to a pink measuring tape, everyone wants them as they are easily separable and readable.
If you want to purchase a measuring tape, a little bit of research will ensure the great value of the product for the optimized price. So, in this article, I will give you a complete buying guide and honest reviews of the top 5 pink measuring tapes worth to buy.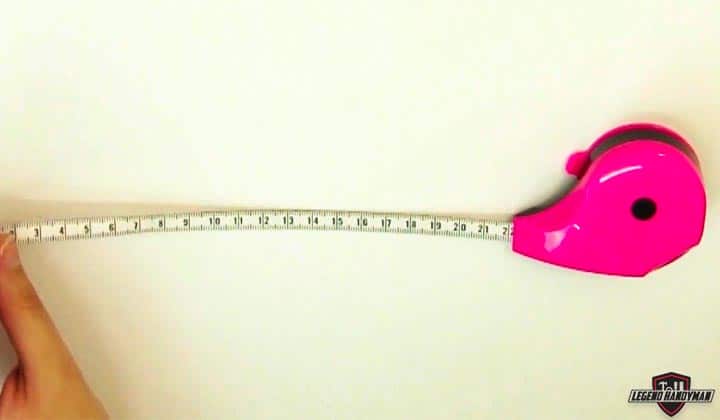 What is a Measuring Tape?
Now question is, what is exactly a measuring tape? A measuring tape is an essential flexible kit of measurement which is used for measuring length. They are generally made of cloth, fiberglass, linen, steel, plastic or metal strips. The markings are normally in units of inches, a fraction of inches, centimeters, etc.
Top 5 pink measuring tapes
Here I have tried to help you out in purchasing measuring tape with our selected 5 pink measuring tapes by describing their benefits, features, pros, and cons.
Apollo Tools Tape Measure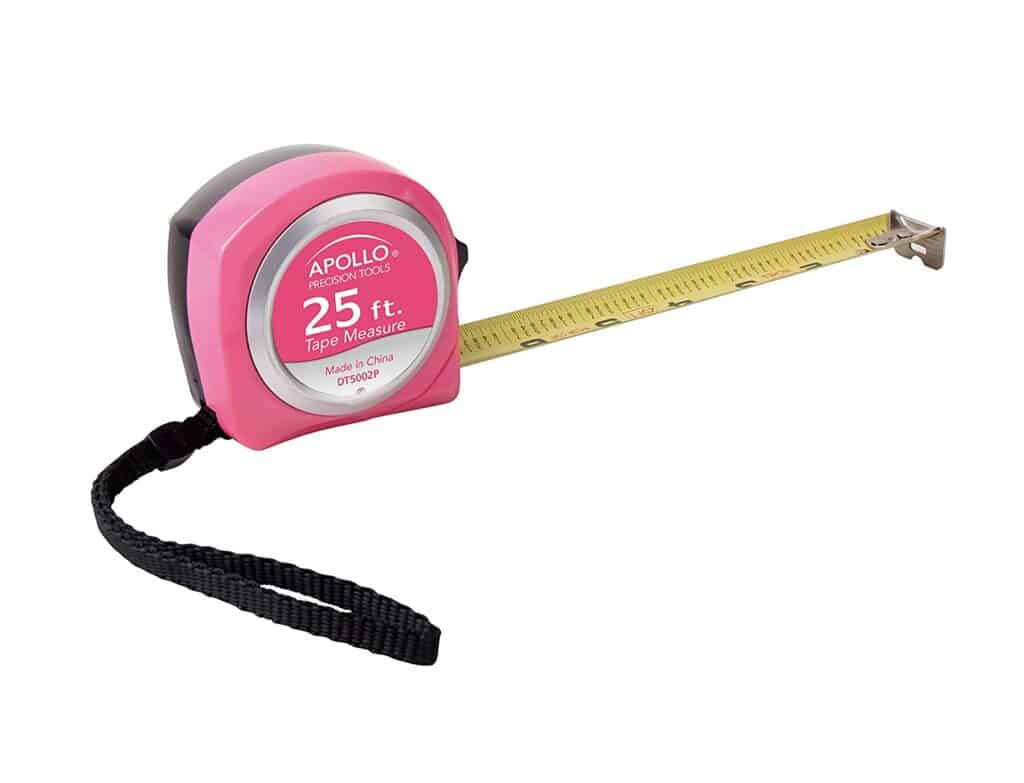 Apollo tools Tape Measure is an attractive pink, 25 feet tape measure to help you measure precisely your room, furniture, entryways or in any DIY projects. The fraction marks are made simple for you to take measurement accurately.
There is a lock button to keep the blade in place and a belt clip to keep it close to your hand. This is a very great gift idea to complete their toolbox.
There are two blades and each one-inch blade is manufactured with nylon-coating to ensure durability and strength. Also, this is chrome plated to make it corrosion-proof, and the non-slip comfort grip handles give extra torque.
You can be a part of donation through buying this! Cause Apollo tools donate a portion of the purchase directly to the Breast Cancer Research Foundation (BCRF).
 Problem is it may be a little bulky for you and may not fit in your pocket when you are planning on working for a long time. The holder may break after a few uses if you put too much force.
SINGER 00218 Tape Measure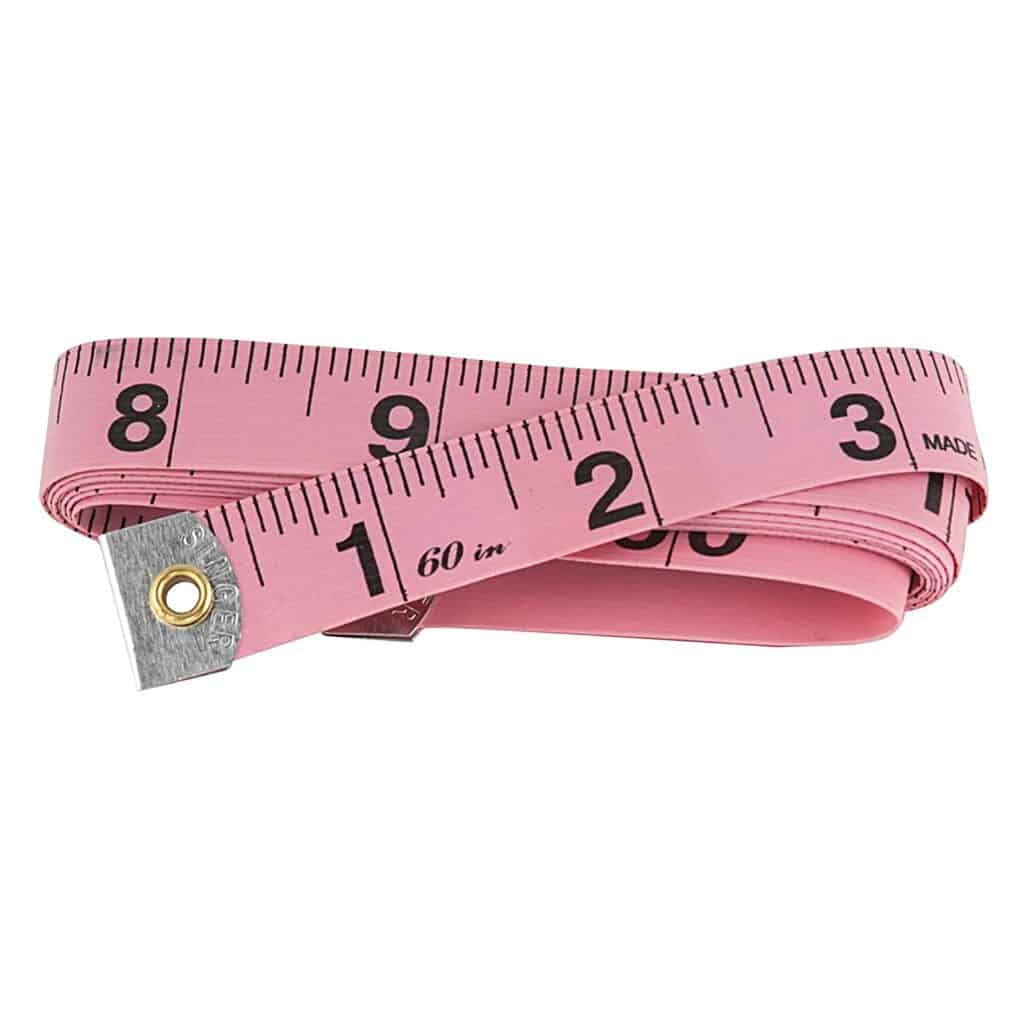 Singer 00218 Tape Measure is a 5-foot (60 inches, 150 cm) soft vinyl type tape which is very durable and allows for multiple measurements. This tape shows inches and centimeters as well to make simple conversions easy for seamstresses or tailors.
The black print on soft pink tape makes measurements easy to take by allowing easy sights from any angle. And in order to avoid the fray, the edges are tabbed.
This tape is made of fiberglass and so it is flexible to fit and measure forms while staying true to its measurements. The softness of the tape allows resting this seamlessly along curved and flat surfaces.
It has markings on both sides (in inches in one side and in cm on the other side) and if you flip around, it starts at 1" for both sides. The width is 1.5 cm which makes it easy to read.
There are a few complaints. If you pull this tape, it may extend for its flexibility and ruin the accuracy of the measurement. The side in inches is not totally accurate, especially the first inch. The product may take time to ship.
Tape Measure Sewing Pink Leather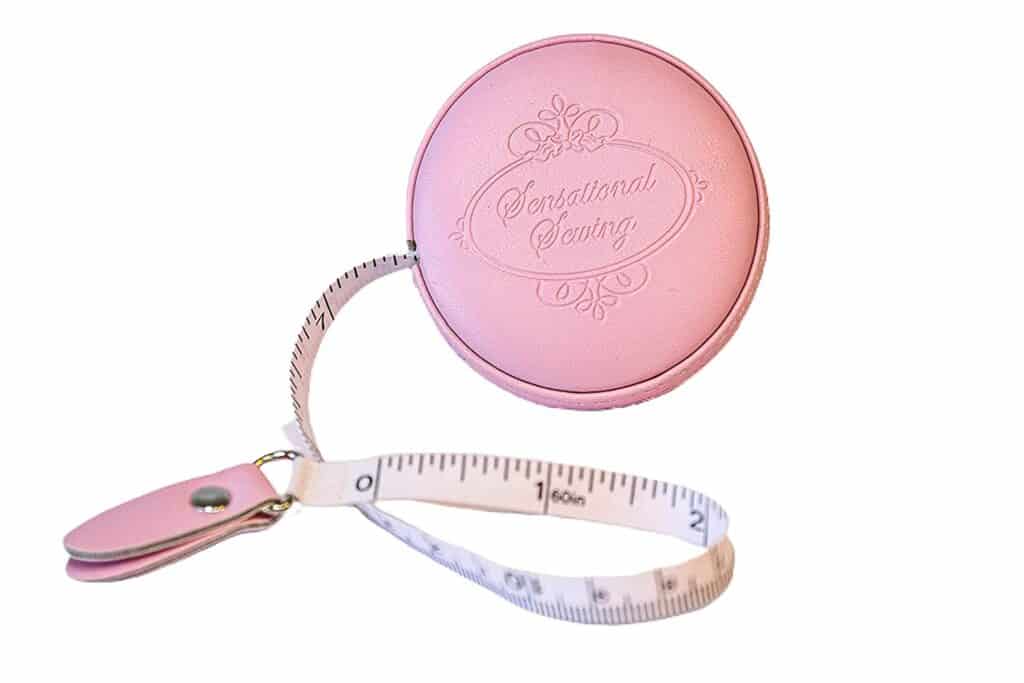 This Tape Measure Sewing Pink Leather comes with a spring return system which is retractable and can be returned to the case automatically and smoothly by a hidden button on the side. This tape is perfect for dressmakers, tailors, sewers, quilters and so on.
This is a portable type tape cause, you can carry it in your pocket and toolkit application. The pale pink color makes it attractive and easily findable in other sewing kits.
You can measure up to 60 inches (150cm) using this tape measure. It includes both imperial and metric measurements, one on each side which makes easy measuring fabrics.
The blade of the tape is made of fiberglass. This is the reason behind its flexibility. But this does not tear or stretch easily. The premium leatherette stylish case is designed not only to absorb impact also to fit comfortably in your hand.  
Problem is the tape is not marked in both edges of aside. Also, the spring return system may fail after using this long time.
IIT 88430 Ladies Pink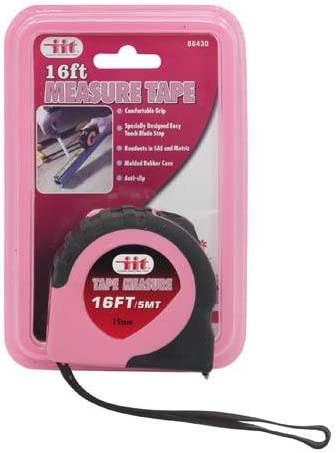 IIT 88430 Ladies Pink has a pause button to hold the tape on a particular position for quickly marking on your one touch. Also, this one retracts when you want it to. The lightweight feature makes the tape portable in your pocket or in your mini tool bag.
For accurate inside and outside measurements inside and outside, there is a triple-riveted sliding end hook. You can clip this to your waist and carry it around using the attached handle.
The length of this measuring tape is 16 feet and the width ¾ of an inch.  There is also Centimeter graduation. The bottom half refers metric top half and the other half is in unmarked fraction.
The tape is in yellow color but the case is pink. This is best for household use in your projects.
But it rolls up so you may get hurt for the snapping. The lock mechanism may get stuck sometimes. The end may bend for its flimsiness and thinness if you pull out the tape with too much force. There is a harmful chemical used.
Konohan 2 Pack Tape Measure Measuring Tape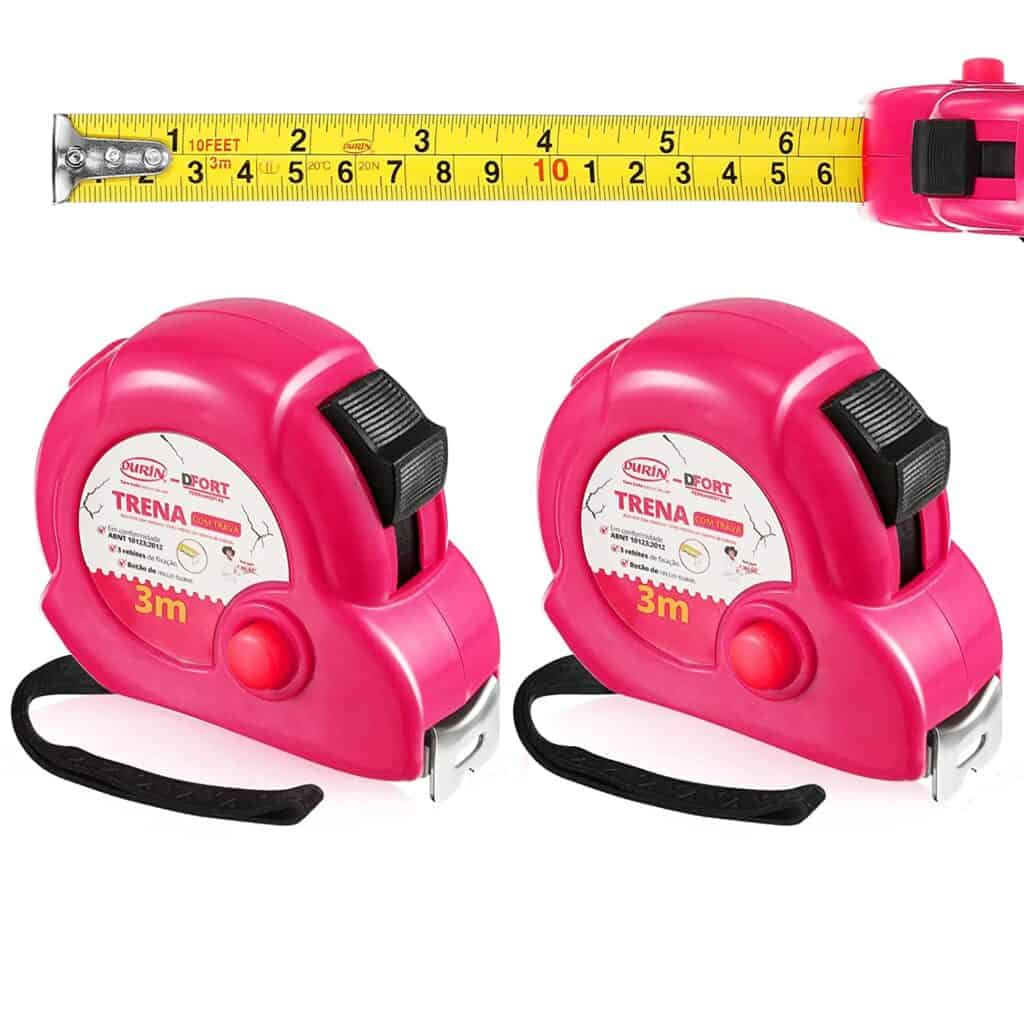 2 Pack Tape Measure Measuring Tape is a package of two type tape measures, a pink and a retractable black measuring tape. So, you can use them for multipurpose. The pink vinyl tape is perfect for body measuring and the black one is perfect for flat surfaces.
Both of the tapes are double-sided, 60" (150 cm), portable, durable, handy and flexible. Also, the large and clear markings make measurements easy and accurate for you. These two tapes are marked in both inches on one side and centimeters on the other side.
The retractable black tape measure contains a retract button in the center. When you want to measure something, just push the button for pulling out the tape and when you are finished again push the button to retract the tape without any complications.
But for the retractable one, the pale white writings may be a bit confusing to read. Also, this one is small in size. Otherwise, everything is fine.
Things You should look for in a Tape Measure
As tape measures are small tools, they have less of our attention. But, if you consider some factors before buying them, they will serve you year after year in exchange for your small investment. I have tried to pull together those factors below.
Accuracy of Markings
If your tape measure is not accurate it can ruin your projects. So, look for a tape measure by going through the reviews that are accurate and reliable for you.
Also read: these are the best tape measures & when to use them
Unit of markings
Look for a measuring tape that has the markings in your desired units like, inches, centimeters or both.
Length and Width of the Tape
These depend on your task. Most of the measuring tapes are 60" long and 1" wide. Wider tapes are easy to read.  There are also longer and wider tapes out there.
Readability
Not every measuring tapes are easily readable. So, find out something that has the color of markings that is easily visible on pink.
Case
When you are using retractable tapes, look for a tape which has the case which is comfortable to hold and durable.
Retracting Mechanism
If the tape is retractable then sometimes it's annoying if the tape gets stuck while pushing or pulling out. The mechanism should be effective and long-lasting.
FAQs
Here are the answers to some frequently asked questions about measuring tapes.
Q: What does the diamond shapes on measuring tapes mean?
Ans: They indicates the spacing. They are also called black truss.
Q: What the long thin lines refer on a tape measure?
Ans: They are one-inch markings and normally are the most prominent marks.
Q: What do the red numbers represent in a measuring tape?
Ans: They represent 16-inch-on-center spacing.
Ending
It is difficult to sort out an effective pink measuring tape from so many products out in the market. If you want a normal flexible measuring tape then pick up the measuring tape of Singer. The tape measure of Apollo has the feature of the belt clip.
Moreover, Tape Measure Sewing Pink Leather or IIT 88430 Ladies Pink tape measure is a good choice if you want a tape measure that is retractable.  If you want both then nothing can compete the 2 Pack Tape Measure.
other pink tools you may like – pink glue guns and pink Tomboy Tool sets
I'm Joost Nusselder, the founder of Tools Doctor, content marketer, and dad. I love trying out new equipment, and together with my team I've been creating in-depth blog articles since 2016 to help loyal readers with tools & crafting tips.