I love creating free content full of tips for my readers, you. I don't accept paid sponsorships, my opinion is my own, but if you find my recommendations helpful and you end up buying something you like through one of my links, I could earn a commission at no extra cost to you.
Learn more
A portable workbench provides you with a large working surface area to complete your project. It is an essential tool for every artisan, craftsman, woodworker, or DIY hobbyist.
Recently the multifunctional portable workbenches are gaining popularity for their portable nature and flexibility.
However, there are simply too many options on the market, and very few are worth the money they cost.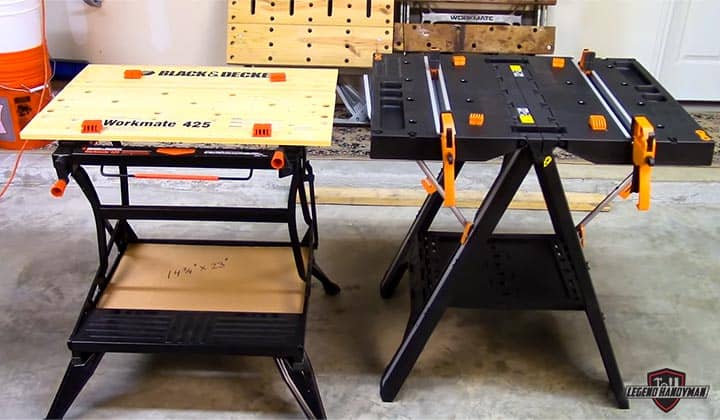 So, keeping that in mind, we would like to review the best portable workbenches on the marketplace today. Each of these ultra-modern models has some unique qualities that can enhance your workspace.
Best Portable Workbench Reviews
To help you navigate through the saturated market, we have compiled a list of top portable mobile workbenches on the market. Let's get to know them.
Keter Folding Compact Adjustable Workbench Sawhorse
Keter is a global manufacturer of mobile workbenches famous for maintaining superior quality and bringing modernism to their stuff. They are popular for their reasonable price and swift product delivery system. The company also makes a wide variety of hand equipment, specialty tools and also, outdoor tools.
Their portable folding workbenches are built with Polypropylene Resin. It requires low maintenance because of the weather-resistant polypropylene construction. Undoubtedly, it is strong and will last for many years. Also, it has a clear finish that gave the tool an eye-catching look.
Most importantly, I liked the aluminum legs, which extend from 30.3″ H to 34.2″ H providing you four extra inches. They make this portable workbench more stable. Furthermore, these extendable legs provide a different height and ensure a perfect angle on your project.
What's more, it has two built-in 12-inch holding clamps that keep wood stable and guarantee precise operation every time. Moreover, the workbench is approximately 3 feet long and 2 feet wide. It is an ideal range, neither too big nor too small. This table weighs around 29 lbs., which makes it very easy to carry.
Apart from that, the worktable has a compact size; surprisingly, the folding workbench can hold up to 700lbs of tools, accessories, and material. Yes, of course, you can employ it as a sawhorse for sawing by hand or as a miter saw stand for larger projects.
Astonishingly, this highly portable work table folds down to less than four and a half inches. You can carry it from place to place, site to site, or put it in even the narrowest spaces of a house when it's not in use. You won't find any cheap materials here.
The beauty of these mobile workbenches is the simplicity of setup and takedown. It is literally done in seconds. Like 5-10 seconds, no joke. It just pops open under its own mass.
Plus, folding it up is just as easy and takes only 8 or 10 seconds. Surely, you are going to fall in love with this portable workbench. However, you must read the instructions attentively and assemble the tool carefully.
Pros
It has an integrated carry handle for quick transportation and is easy to clean.
Convenient, secure storage and can be set up in 30 seconds.
This one has a maximum weight capacity of 700 lbs.
Heavy-duty resin with aluminum legs.
Cons
No lower shelf for storing tools and has low-quality swivel handle.
Worx WX051 Pegasus Folding Work Table & Sawhorse
Do you have a large workspace? Are you facing problems working with all the necessary accessories altogether? Don't Worry! The good news is that Worx has made a portable multifunctional workbench to solve your problems.
You can certainly use this foldable table when you have a small space to place a permanent worktable. Obviously, the WORX WX051 portable workbench has got the strength to take on weighty things on it. This foldable worktable is very sturdy. Surprisingly, this robust and well-built unit is very light in weight.
Moreover, this bench can also be employed as a sawhorse. So, you can easily use this workmate for several tasks. Additionally, WORX has fashioned this worktable such a compact size that one can easily carry it to work. Moreover, the WORX WX051 table takes an area of 31ʺ x 25ʺ.
If you need extra space, you can also add another WORX Pegasus multi-function work table to it. Thankfully, the flexible design of this portable workbench allows you to attach it to another Worx table. The ABS plastic is solid and durable. The stand is made with aluminum, which makes the Pegasus table stronger.
The table surface has little holes where you can put small items like screws or a pencil while working, so that's really handy. There are four clamp dogs and a couple of quick clamp chucks which will assist you in getting going precisely.
You might find it difficult working with third-party clamps, so you should stick with Pegasus accessories. In addition to that, you can slot the clamp dogs into eight different positions. Without a doubt, this is the best portable folding workbench out there.
You can employ it anywhere, but it is best for a flat surface. Apart from that, the Pegasus portable folding table also got a built-in bottom shelf for secure storage of your equipment. You can easily store tools like power drivers, tools, screws, toolbox, grease, etc., thanks to its convenient tool storage.
The Worx table can tolerate almost nine times its own weight! 300 lbs. But while acting as a sawhorse, it holds 1000 pounds! If you want a portable work table that can handle heavy loads, this is the one. Believe it. And it takes very little time to set up and fold. It also allows for easy storage.
Pros
It has a lower shelf for storing tools and comes with locking legs.
This thing is compact and highly portable.
It has a special room for a power outlet but doesn't have a built-in power strip.
The sawhorse supports up to 1,000 lbs. of weight capacity.
Cons
The table could be a bit taller, and the lower folding shelf is not that sturdy.
BLACK & DECKER WM125 Workmate Capacity Portable Work Bench
Long-lasting, flexible, and portable. These are three important features you will experience if you purchase Black & Decker WM125 Portable Workbench. It is the lightest and one of the cheapest portable workbenches in our reviews. Its robust structure and its larger work surface can hold up to 350 lbs.
It has a durable steel construction with a heavy-duty frame made of steel along with wooden vise jaws. The lightweight design makes the bench super comfortable to work on. Moreover, WM 125 from Black & Decker also has adjustable swivel pegs, which can easily hold objects tightly that are uneven in shape and size.
Thankfully, woodworkers also can work with materials that are formed uniquely; credit goes to its dynamic jaws that can be adjusted and resist warping. Another innovative addition to this sturdy workbench features non-skid feet, which is a must in portable folding workbenches.
Regardless of the fact that the workmate is inexpensive, this table is one of the top-class workbenches in the marketplace. Fortunately, you can promptly fold the bench and shift it from one place to the other with ease. Moreover, to ensure storage and portability, it folds flat.
In addition to that, the strong and durable steel frame enhances the strength of the workbench, which is compulsory to support weighty tools. As a result, it has a load capacity of 350 lbs. What is more, the adjustable swivel pegs increase the versatility of the bench.
The most brilliant thing about this marvelous tool is that it is very convenient to work on things vertically as well. Even though the company branded it as a heavy-duty portable folding bench, some users have opposed this claim and only advised it to light the average weighty job.
This worktable from Black & Decker might not be appropriate for working on a large project. Nevertheless, it is still helpful for individuals with specific hobbies, wants, and small assignments. So far, it is recommended as being appropriate for beginners. Its weight is only 17.2 lbs., which makes it very convenient to use. It also has a sturdy carrying handle.
On the other hand, you will discover some shortcomings; for instance – there is no one-handed clamp system and additional storage with the workbench. Additionally, it is not that easy to assemble; in fact, the installation instruction that comes with the tool is horrible.
Pros
It comes with non-skid feet and has a reasonable price tag.
This guy has a sturdy and durable steel frame.
It folds easily for compact storage & transportation thanks to its compact design.
Adjustable swivel pegs and integrated clamping system
Cons
Inadequately written instructions in the manual and has low-quality plastic material.
It's also not easy to assemble
Rockwell RK9002 Jaw Horse Sheet master Portable Work Station
The RK9002 Portable Workstation comes with a tripod; that means you can easily employ it on uneven and unlevel spaces. And exactly for this unique characteristic, it is ideal for the basement as well as outdoor jobs. It can certainly offer you a weight limit of up to 600 lbs. and almost One metric ton of clamping force!
This one is a heavy-duty workbench with a heavy gauge steel frame. As a result, you can clamp and hold heavy objects without any difficulties. To activate the jaws or clamps, you just need to kick the foot pedal underneath the worktable gently, and that's enough. And you should do the same thing when you wish to loosen the clamps. Simple!!
Moreover, the extremely versatile design and wide range of work at your workplace means you won't have to be anxious about purchasing other supporting gears that may narrow your working area. Additionally, this portable workbench features easy storage and shrinks from 39 x 39 x 34 inches to 29 x 14 x 13-inch units.
Additionally, all clamps are properly padded to keep protected from scratch. Furthermore, you can position the clamping force in almost any direction you want! I really like the Sheet master Portable table because it can broaden its workspace to provide room for plywood sheets up to 8 ft. long and 4 ft. wide!
The huge bulk of this table is made from solid steel, so its weight is around 50 lbs. because of the robust steel frame. Opposing to the Rockwell advertisement, which declares that no plastic was included in the moving parts, But sorry to say that the end cap, roller, latch, and brace assembly are all formed from plastic.
However, on the whole, the build quality is as firm as the manufacturer promised. Plus, the whole thing locks together smartly for secure, safe transportation. For straightening metal or bending, you will get premium pressing power with a machine press.
Pros
It comes with an innovative foot pedal and is extremely flexible.
This workbench is ideal for a large project. It has a maximum load capacity of 600 pounds.
Bamboo work surface & heavy-gauge steel frame
Excellent weight capacity for its price
Cons
It comes with incomplete instructions manual, and plastic is used in 4 key moving parts. Check prices here
Kreg KWS1000 Mobile Project Center
The Kreg Mobile Project Center is a genuine all-rounder as it can be used for four different types of jobs; garage workbench, assembly table, bench tool stand, sawhorse, and clamping station. Yes! Believe it or not! This is the reality. Moreover, this all-in-one versatile table is super easy to set up because of its folding design and special features.
In one mode, it's a powerful sawhorse that's perfect for supporting long board cutting. Flip the extension tables up into their original position, and it turns into a huge working surface with a grid of dog holes for clamping objects.
Additionally, the Kreg project center offers some outstanding features that you'd be expecting to get in a high-end multifunctional stationary workbench. The auto-adjusting technology provided in the clamp offers you various ways to clutch workpieces.
Thankfully, the mobile table comes with built-in storage trays, holsters for drilling, and more. The workbench can tolerate up to 350 lbs weight load, which should be good enough for most of the projects. Moreover, a shelf beneath the table holds up to 11.3kg of tools and supplies out of the workbench surface.
Whether you're clamping frames together, making pocket holes, or preparing your project for a final touch, the Mobile Project table makes the job even easier. When you have finished your work, you can fold the table by simply pulling the tabs on the braces and closing the aluminum legs.
At any rate, this thing is awesome. You can do numerous projects on it, and it never budges. 400lb slabs of hardwoods sit like a rock and don't flex at all. All this is possible because of its high load capacity. Yes, it is expensive, but you will surely be satisfied with its high-class performance.
Pros
It can be used as a multi-purpose table and has auto-adjusting technology.
This one is very simple and easy to assemble.
It comes with bonus clamping accessories and can be used as a bench tool stand.
A solid foundation thanks to the heavy-gauge steel legs and durable material.
Cons
It is expensive, and the top of the workbench does not lie flat.
Performance Tool W54025 Portable Multipurpose Workbench and Vise, 200 lb.
This one is a brand that I admire immensely when it comes to portable folding workbenches. Now you may ask, what's the reason behind my admiration? Well, it's simple. They have been producing some really good quality folding workbenches at a really low price for a long time.
Now, you need to keep your expectation in check. There's no way it's going to be one of the finest portable folding workbenches out there. You have to keep in mind that this is a budget product that is going to do its job fine but won't offer something special.
Now, regarding the frame, it's stable enough to let you do your tasks comfortably. Could it have been better? Yes, but again, you have to consider the price. A lot of plastics have been used in the build, but they are durable plastic materials. If properly maintained, most portable workbenches should last many years.
I'm not very impressed with the actual work surface. It should have been a bit bigger. So, you are not going to be able to do large projects on this one. What I love most about this thing is that it's remarkably lightweight. So, you can easily move this thing around. In addition, it has a compact design meaning it won't eat up much of your workspace.
According to the manufacturers, it has a load capacity of 200 pounds of weight. And I believe them. A good number of consumers who have used the product relayed that the bench could handle 200 lbs.
When it comes to installation, it's one of the easiest. The instruction manual is quite easy to follow. If you carefully follow all the steps, then you should have this thing working within an hour. It also features a one-hand clamping system. You can also this thing as a sawhorse enabling you to take on a variety of tasks.
Pros
It comes at a reasonable price and can hold up to 200 lbs.
It's also lightweight and easily foldable.
Quick clamping system.
Storage trays.
Cons
The work surface could have been a bit bigger.
BLACK & DECKER WM225-A Portable Project Center and Vise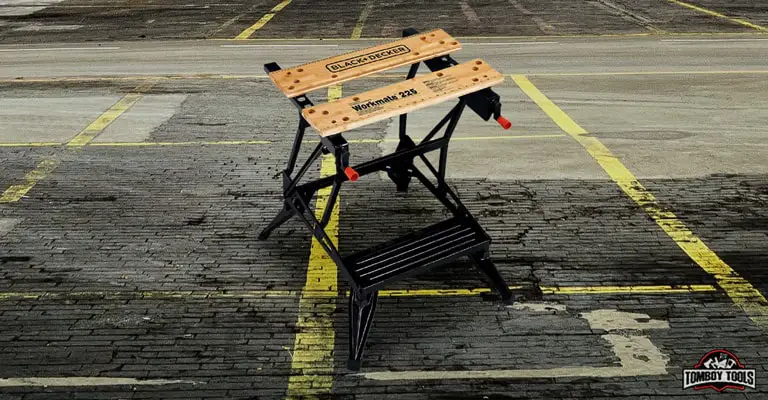 If you are someone who is not very tall, then this foldable worktable can be a really good choice for you. Its height is perfect for people that are 5-5.5 inches. Also, it's very light, and the built-in handle makes it easier to carry around. This thing can hold up to no less than 450 pounds. That's really amazing.
So, you should be easily able to do medium projects on this. The clamps are good and should hold on to the workpiece tightly. Plastic parts that have been used in this are of good quality and leave no room for complaint. Overall, I'm satisfied with the build quality of these plastic workbenches.
Now, the price tag isn't too high. Yes, it isn't cheap either, but it's certainly not expensive. And if you consider all the features it comes with, you'd see this deal as a bargain. Yes, lately, B+D hasn't been performing very well, but this product is an exception and deserves a shot.
It will get full marks from me when it comes to versatility. You can employ this bench as a sawhorse. Thus, you'll be able to carry out various woodworking projects without a hitch. Moreover, it's very portable as it weighs only 28 pounds.
I hate wobbly workbenches. Well, everybody does. Fortunately, this one isn't a wobbly bench. Though I won't call it the sturdiest bench in the world, it certainly provides enough stability to continue your work uninterruptedly.
The makers have included a detailed manual guide with clear diagrams to show you how to install the bench in the easiest manner. I must say, their efforts are successful since it's a very simple job to set up the bench. You shouldn't take longer than an hour to assemble this thing.
The work surface of this guy is sufficiently big. Unless you are doing some really big project, you shouldn't encounter any problems regarding the size of the actual work surface. The unit comes with four vice attachments, which is a great plus.
Pros
It is ideal for medium-sized projects and has an affordable price tag.
The work surface is big enough and offers sufficient stability.
Cons
The wood parts are not very durable.
WEN WB2322 24-Inch Height Adjustable Portable Work Bench and Vise
This one is another brand that has my respect. That's because they have managed to earn the trust of the woodworking community in a very short phase. Alongside portable workbenches, they also make some other high-quality tools. So, yeah, you can trust them with their money.
I appreciate the fact that it comes with an adjustable height mechanism. That way, people of different heights can use this thing. As a result, you won't have to buy separate workbenches for every single member of the workforce. You can adjust the height between 29-41 inches.
You'll get eight clamps. They can contain workpieces as long as 8 inches. In addition, you will be getting four non-skid rubber feats. Thus, you can fully concentrate on the project without worrying about the bench slipping.
When it comes to providing stability, this one excels. No matter how heavy the workpiece is, you won't see this thing wobble. No cheap plastic has been used to make this thing.
However, despite being well-made, it's light enough to be portable. You can carry this thing anywhere you want without tiring your arms.
Installation shouldn't cause you much trouble. A small booklet containing detailed instructions will be provided to help you with the setup. Moreover, some parts come pre-assembled, making the task a lot easier for you.
I like how well-packaged this thing arrives. The makers take every precaution to ensure that the product doesn't come dented or damaged to you.
The price tag of the item is remarkably low when you take all the aspects into account. I don't believe it's possible to find another workbench of similar build quality and feature in the market in this price range. Therefore, I would certainly ask you to give this one a try.
Pros
It offers sturdy construction, great stability and is made really well.
Also, this is a foldable workbench that has a large work surface.
You can adjust the height thanks to its dual height adjustment feature.
Cons
Non-skid beats could have been of better quality.
Buying Guide For Choosing The Portable Workbenches
Here, we'll be talking about the features you need to consider before purchasing a good portable workbench.
Work Surface
What's the point of buying a portable workbench if you can't work on all of your projects on that? So, before you buy your workbench, you need to decide what type of projects you are going to be taking on.
If you are going to work on large workpieces, you need a big work surface. On the other hand, if you're going to take on only small tasks, a small work surface should do the trick for you.
Stability
Portable workbenches are there to make your work easier and comfortable.
But if it keeps wobbling during the task, then it fails to fulfill its purpose. So, you need a workbench that will remain rock-solid while you work. Only then, you'll be able to give your best.
Versatility
It's important that the bench allows you to do different types of jobs on it. Otherwise, you'll need to buy a separate bench for other tasks.
For example, if you can use your bench as a sawhorse, it will help you do the woodworking tasks easily. Thus, get a bench that's versatile.
Weight Capacity
Is a heavy workbench good or bad? The answer isn't very simple. In fact, the answer depends on your preference.
That's because portable workbenches that provide great stability are usually heavy, and lightweight benches are the best for portability. So, it's up to you to decide between portability and stability.
Installation
As you will need to put the workbench together by yourself, you need to get something that's easy to assemble.
Otherwise, you'll have a really hard time setting up the bench. Look for a product that has an easy-to-follow instruction guide. It would be best if some come parts come pre-assembled.
What Is Portable Workbench Used For?
In this section, we'll talk about the uses of a portable workbench.
As A Support for Power Tools
You can use portable folding workbenches to support power tools. That way, you won't have to fear those tools slipping suddenly, which can cause serious injuries. All you have to do is clamp the tool to the table.
Fixing
Suppose a device breaks down suddenly. Would you fix it on your floor and make it messy or take the help of the workbench and keep it clean. The answer is pretty clear here, I guess.
Great Help for People with Back Problems
Individuals that suffer from back pains often find it hard to bend down and work. With the help of a workbench, you won't have to put a strain on your back.
Sanding
If you wanna give a smooth finish to your workpiece, then you'll need to sand it. For sanding, a workbench is a must as that will help you do things more comfortably.
Making the Working Space Bigger
If you have a workbench, it automatically expands the workspace. Also, it helps you to do stuff in an organized way. So, it's important that you get a workbench if you want to keep your workspace clutter-free.
Frequently Asked Questions
Q: Which one is the best portable workbench?
Ans: That depends on your requirements. Everyone has their own idea of their ideal option that might not match with others. However, the Keter workbench can be a really good choice overall.
Q: What are the top brands for a portable workbench?
Ans: Keter, B+D, are very well-known and reliable brands. However, apart from them, there are also other great brands on the market.
Q: What is the average height of a portable workbench?
Ans: The average height of a good portable workbench is something between 33-36 inches.
Q: Should I get an adjustable workbench?
Ans: Yes, that would allow other members of your family to use it. Also, make sure it comes with built-in storage trays.
Q: Is there any problem if the portable workbench has plastic parts?
Ans: No, it's not an issue if the plastic parts are of fine quality as long as it is durable, heavy-duty and has all the necessary workbench features.
Conclusion
After reading this entire article, I'm sure all your doubts have been cleared up. Now, it's time for you to choose the one that fits your requirements.
I'm sure my best portable workbench reviews and the buying guide will help you to make the right decision.
Nevertheless, let me know in the comments section which one you have to decide to go with.
Also read: these are all the best workbenches if you might want one for a place in your house
I'm Joost Nusselder, the founder of Tools Doctor, content marketer, and dad. I love trying out new equipment, and together with my team I've been creating in-depth blog articles since 2016 to help loyal readers with tools & crafting tips.