I love creating free content full of tips for my readers, you. I don't accept paid sponsorships, my opinion is my own, but if you find my recommendations helpful and you end up buying something you like through one of my links, I could earn a commission at no extra cost to you.
Learn more
The Pulaski axe was originally designed to assist firefighters in fighting wildfires, you can perform a variety of tasks with this tool. It is perfect for landscaping, forestry, and many other uses.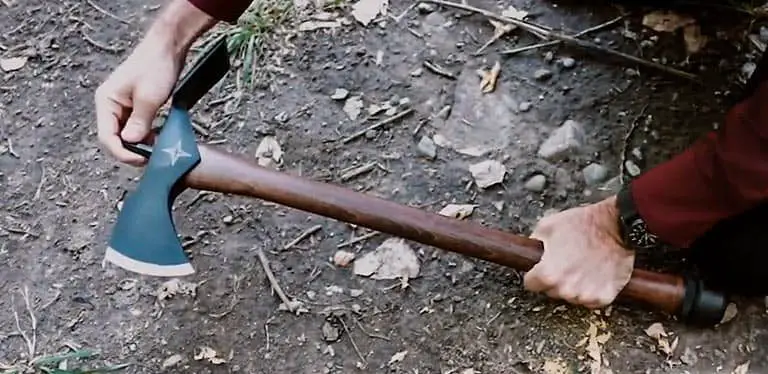 Which Pulaski axe is right for you? There are a number of features to consider. In this post I'll tell you what to look out for and help you make the best pick.
My recommendation for the best Pulaski axe on the market is the Barebones Living Pulaski Axe. This axe is ideal for a number of different jobs. It is great for forestry, but also useful for landscaping and gardening. As an added benefit, the hand-sharpened blade remains sharper for longer.
What is a Pulaski axe?
A Pulaski axe is the perfect package, multipurpose tool for tasks like digging, cutting through vegetation, chopping trees, or removing branches from logs.
It is a powerful tool with sharp blades that can cleanly cut through almost anything in your way.
The amazing thing about this tool is that it takes requires less effort to do these jobs than other manual cutting tools.
It has a long handle made of wood or fiberglass and a metal head that is connected to the handle. The head has two sharp cutting edges on either side.
What to use a Pulaski axe for
A Pulaski axe is a multipurpose tool that can be used for a variety of tasks. The tool was originally designed for firefighters. It enables firefighters to clear foliage and dig up soil during wildfires.
This tool isn't limited to chopping down trees. It can also be used for tasks such as trail construction or gardening.
This tool has two different sharp edges on the blade that helps you to easily and efficiently dig up the ground. It penetrates the soil and breaks it into pieces.
Another great feature of this tool is its portability as it is easy to carry.
The Pulaksi axe's versatility makes it a must-have addition to your tool collection.
Best Pulaski axe buyer's guide
Let's have a look at the features to keep in mind to recognize the best Pulaski axe on the market.
Head
The head is the most important part of the tool. It should be sharp enough on both sides and the cutting edge shouldn't be too narrow.
It's essential that the head is firmly attached to the handle.
Handle
A longer handle makes the axe easier to hold and wield. A rubber grip will ensure that it won't slip and make it more comfortable to use.
Fiberglass handles are gaining popularity as they are lighter but still super strong.
Material
The material of the tool needs to be very strong and durable to withstand the force exerted on it. Hardened steel alloy is the best choice for the conditions that the axe is exposed to.
Weight and dimensions
The weight of the tool is very important. It should never be so heavy that you can't lift it easily. The dimensions should be up to standard so that you can easily work with the tool.
Best Pulaski axes reviewed
Here are our top suggestions for the best Pulaski axes from different manufacturers that will satisfy your expectations and provide great performance.
Best overall Pulaski axe: Barebones Living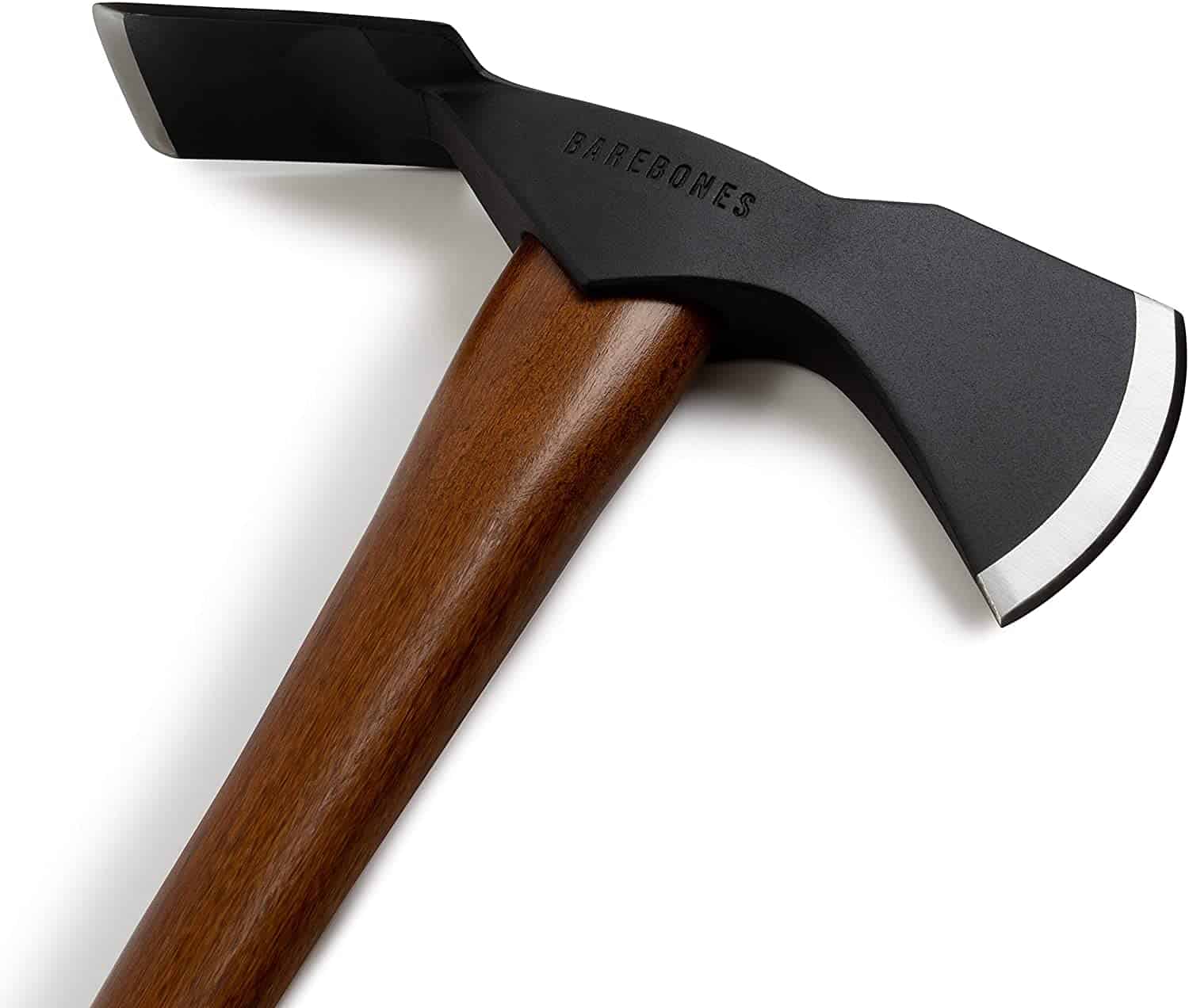 Sharp, effective and well designed? That's what you expect from a good Pulaski axe, isn't it? This Pulaski axe from Barebones Living ticks all the boxes.
Secondly, the head of the axe is made of hardened carbon steel that ensures maximum durability. It is sharpened by hand which keeps the blades sharper for longer.
The handle of the tool is made of high-quality beech wood so it is light but hard. The finish on the handle is impressive and the shape of the handle will give you great flexibility and comfort.
Here's is Tim giving you an extensive review of this amazing tool:
Features
Head: rounded horizontal blade
Handle: beech wood with steel pommel
Material: high carbon steel
Weight: 6.34 pounds
Dimensions: 24″ x 12″ x 1″
Most durable Pulaski axe: Council Tool 3.75 Inch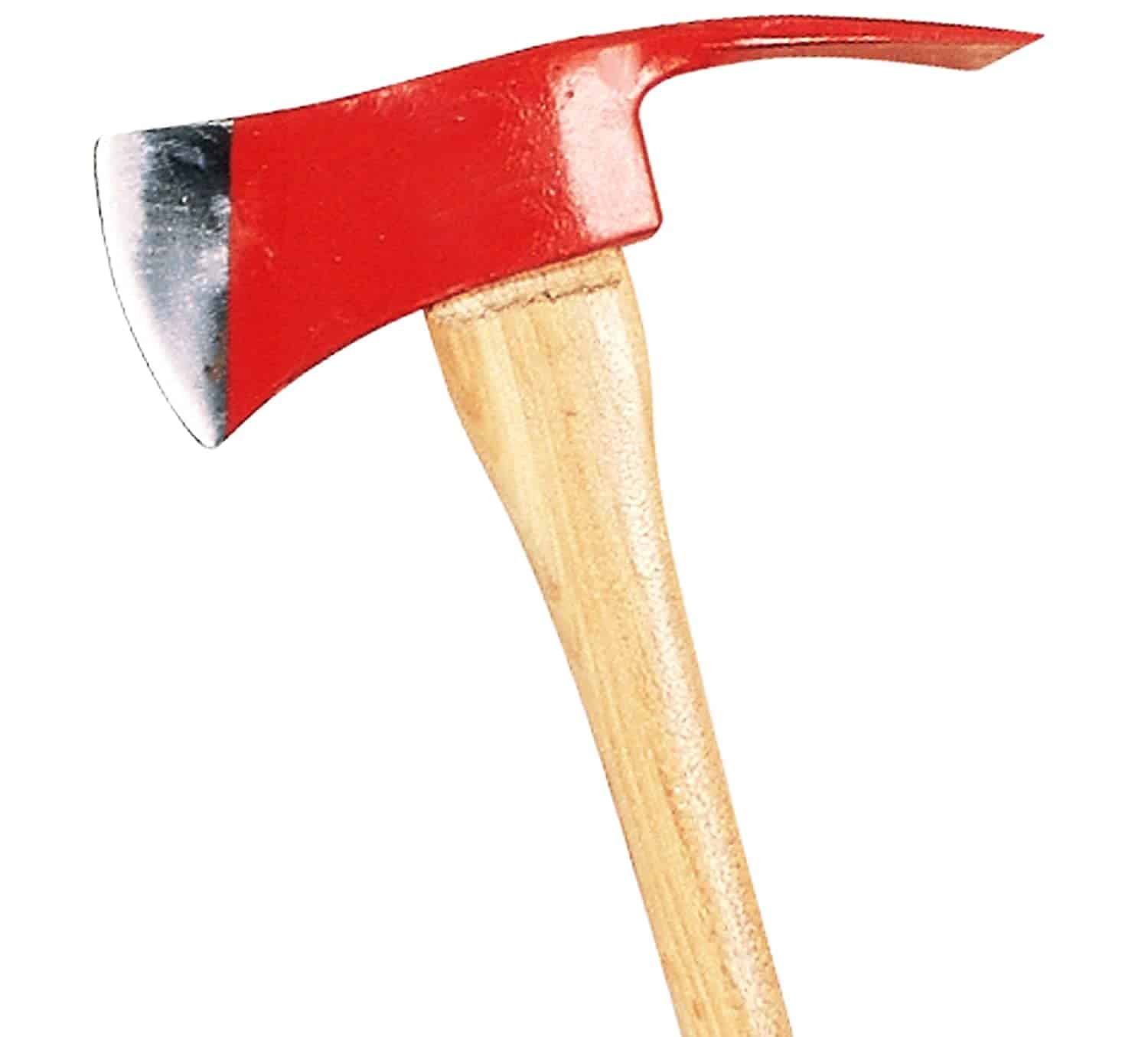 This Pulaski axe from Council Tool is a strong and powerful tool that is very sharp and durable. This tool allows for a precise swing but is also perfect for small jobs at home.
The steel head has two sharp edges – one vertical and another horizontal.
Both edges are sharp enough and can be used for different tasks like cutting trees or digging. The bright red head makes it easily visible.
The wood handle is strong and comfortable to hold. The handle has a good grip so it won't slip out of your hand and is durable to absorb the pressure exerted on it.
This Pulaski axe is lightweight which means that it can be easily carried in any bag or by hand. The dimension of the product is also at the standard.
Unfortunately, the blade on this axe is too wide to dig precisely.
Features
Head: rounded horizontal blade
Handle: beech wood with steel pommel
Material: high carbon steel
Weight: 6.34 pounds
Dimensions: 36″ x 8.5″ x 1″
Best lightweight Pulaski axe: Truper 30529 35-Inch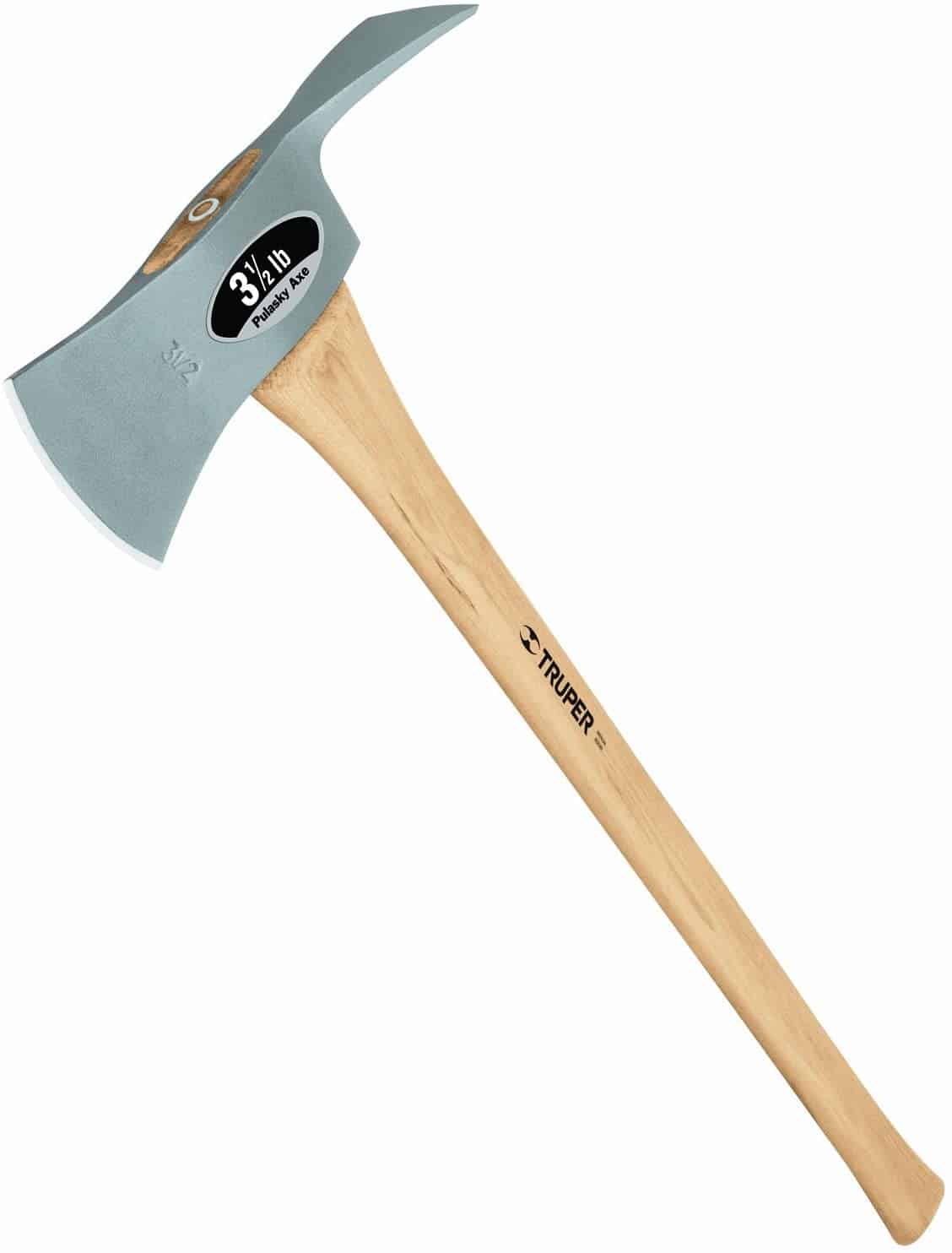 If you are looking for an affordable and lightweight Pulaski axe, then the Truper 30529 is the right choice for you. It is perfect for low-impact work on the farm, in the garden, or at home.
The head is made from heat-treated steel and is securely fastened to the handle. The hickory handle is ideal for comfort and durability.
At only 3.5 pounds, this is a good lightweight option. The softer steel that the head is manufactured from will require more frequent sharpening though.
Here is a very peaceful video explaining how to sharpen a Pulaski axe:
Features
Head: standard Pulaski design
Handle: hickory
Material: heat-treated steel
Weight: 3.5 pounds
Dimensions: 3" x 11.41" x 34.64"
Best fiberglass handle Pulaski axe: Nupla 31676 PA375-LESG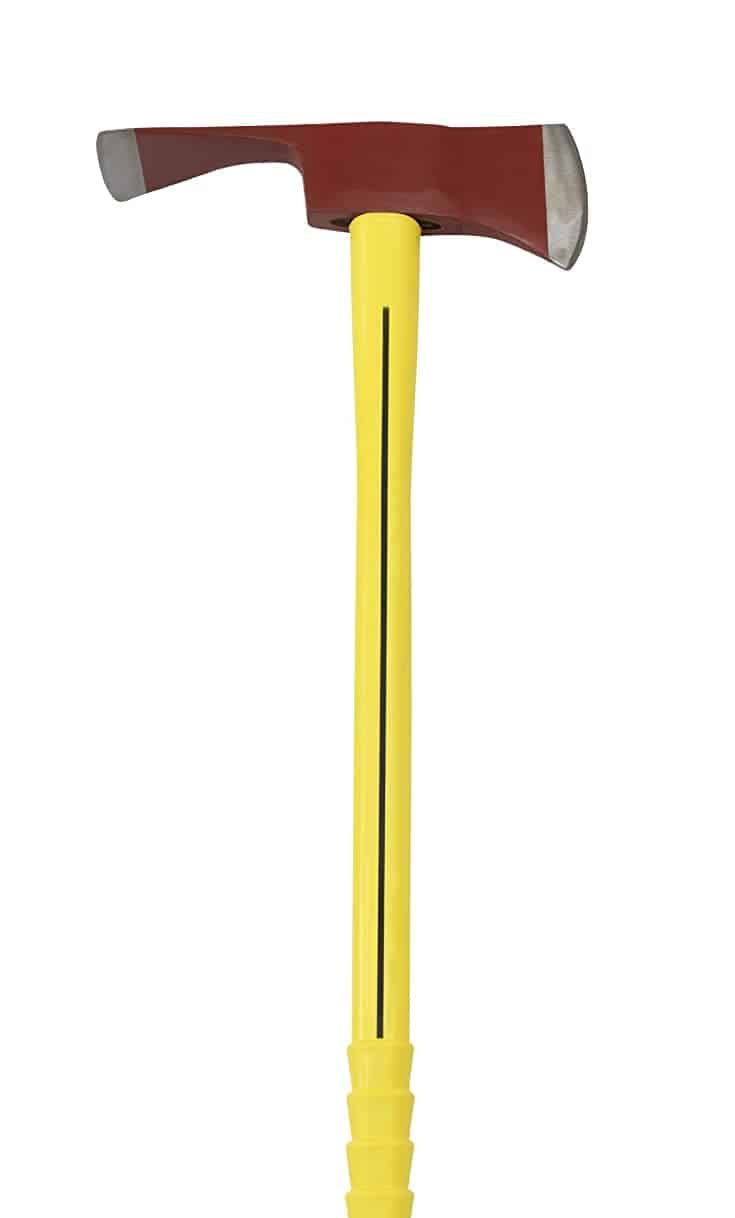 The best choice for a Pulaski axe with a fiberglass handle is the Nupla PA375-36 Pulaski axe.
Nupla's Nuplaglas® is super strong and safe fiberglass that doesn't disappoint on the durability front. The fiberglass also ensures that is protected against weather, insects, and chemicals
There is a rubber grip on the handle, which makes it ideal for work in wet weather as it won't slip out of your hands.
The head is made of hardened steel with epoxy to prevent rust. It is securely attached.
Unfortunately, the blade is difficult to sharpen.
Features
Head: epoxy covered head
Handle: fiberglass
Material: hardened steel
Weight: 7 pounds
Dimensions: 36" x 13" x 3.5"
Check on the latest prices here
Pulaski axe FAQ
There may be a lot of questions on your mind about the best Pulaski axe. Here are some answers to help you.
Who invented the Pulaski axe?
The invention of the pulaski is credited to Ed Pulaski, an assistant ranger with the United States Forest Service, in 1911 .
However, a similar tool was first introduced in 1876 by the Collins Tool Company.
How heavy should an axe be?
Heavier doesn't always mean better. In fact, it's probably best to start with a three-pound full-size axe.
If you are going to be splitting a lot of wood, you can go for a heavier hammer. The main thing is that it's comfortable for your needs.
How do you use a Pulaski axe?
Pulaskis are great for building and re-treading trails. You can dig and move dirt with the adze, and when you encounter a root, clean the dirt and rock away and then flip the head over and chop it out.
You can also use it for kindling wood:
SAFETY TIP: Make sure you bend your knees, stand with your legs apart and bend over when working with a Pulaski.
What is a grubbing mattock?
A grubbing mattock with a sturdy tool with forged steel head. One side is horizontal like an adze and the other is vertical with a chisel end.
It is suitable for grubbing out tree roots and breaking up heavy earth and clay.
Can I carry a Pulaski axe in my bag?
A Pulaski axe does not weigh that much, so you can carry the tool easily. Keep in mind that the blade is sharp so take great care while doing this.
My favorite Pulaski axe, the Barebones Living mentioned above, comes with handy protective sheaths to facilitate transport.
Can I re-sharpen the edges of the Pulaski axe head?
Yes, you can easily re-sharpen the cutting edges of the tool.
Summing up
With all the large number of Pulaski axes available on the market, it can be difficult to decide which one to buy.
If you are looking for a powerful tool then you should consider the product from Barebones. For a smaller one with durability go for the axe from Council Tools.
As fiberglass handles are becoming more popular, you could try the Nupla Pulaski axe with its great non-slip grip. Fond of a lightweight tool? Then opt for the Truper axe.
You may also like to read Best Firewood Racks to Store Firewood
I'm Joost Nusselder, the founder of Tools Doctor, content marketer, and dad. I love trying out new equipment, and together with my team I've been creating in-depth blog articles since 2016 to help loyal readers with tools & crafting tips.