I love creating free content full of tips for my readers, you. I don't accept paid sponsorships, my opinion is my own, but if you find my recommendations helpful and you end up buying something you like through one of my links, I could earn a commission at no extra cost to you.
Learn more
When you pick up a few radial arm saw blades, there doesn't seem to be much difference between one and the other. This can make it extremely hard to choose the one that meets your needs.
The radial arm saw blade is more than just a finely cut sheet of metal. The contribution that a saw blade provides to wood power tools is almost always taken for granted.
But trust me, choosing the right blade matters. A LOT. The truth is that the type of blade plays a huge part in achieving a fine cut.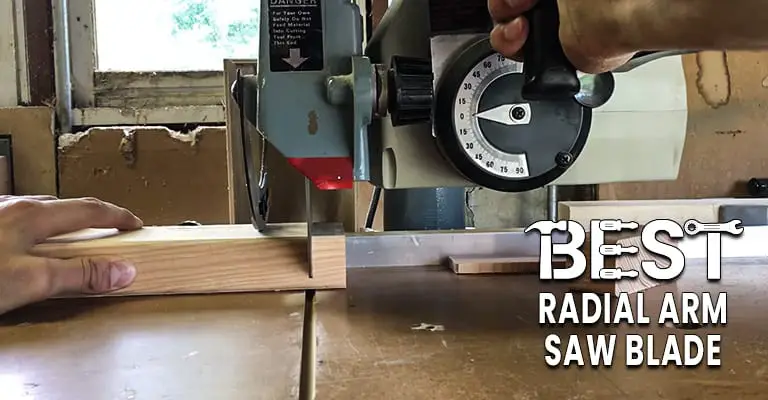 When choosing a blade for your radial arm saw, things to take into consideration include the kerf and hook angle. Another consideration is of course your budget.
In this post, I'll introduce you to the best radial arm saw blades out there and give you a full buyer's guide on how to select the best one out there.
Topping the list is this Concord Blades ACB1400T100HP Non-Ferrous Metal Saw Blade. It is made from premium titanium which makes for a top-performing blade. It is also perfect for cutting a range of materials so really is the only blade you need in your toolbox.
You deserve perfect results from your power tools, so I have rounded up more quality radial arm saw blades available right now.
Let's take a look at my top choices, before diving into the reviews of which blades are best for which purpose.
Best radial arm saw blade buyer's guide
With all the experience I have gathered in these years of woodworking, I can now understand some important terms that are related to saw blades.
Gosh, if only I had somebody to properly explain those techy terms at the beginning!
But when it comes down to you, I can confidently assure you that you're in the right place as I have taken the time to explain all the blade jargon you will ever need to know.
For your convenience, I have listed below some important features that must be checked if you're in search of the best radial arm saw blade.
Kerf
Okay, if you're an expert, you won't need much of an explanation! In simple terms, this term denotes how deep the blade will cut.
In other words, it describes the thickness of any cut. Sometimes it can also refer to the thickness of the blade.
But which factors do you need to look out for?
Firstly, you need to understand the importance of the kerf of the blade.
Let's say you need a fine cut that has the regulation of maintaining a desired and critical tolerance level. Even a .098 inch can matter, then you need to carefully choose the kerf of the blade.
Otherwise, you may end up cutting bigger or smaller cuts.
Set
As you know the blade determines its kerf. Another term that is very crucial is the 'set' of the teeth.
The set is determined by the angle which is away from the vertical and by which those teeth are attached with the blade. These may be of different types, but each type has its own defined applications.
Thicker or thinner?
Blades that feature crude construction are specified for framing works. Generally, these have heavy carbide teeth which are welded with the disc.
If you need quick cutting and have no problem with rough cutting, these types of blades will suffice.
But when it comes down to fine woodworking, you should not make these big boys your choice.
All you need is thinner blades but with more teeth. These thinner blades will increase the frequency of cutting but don't waste much wood.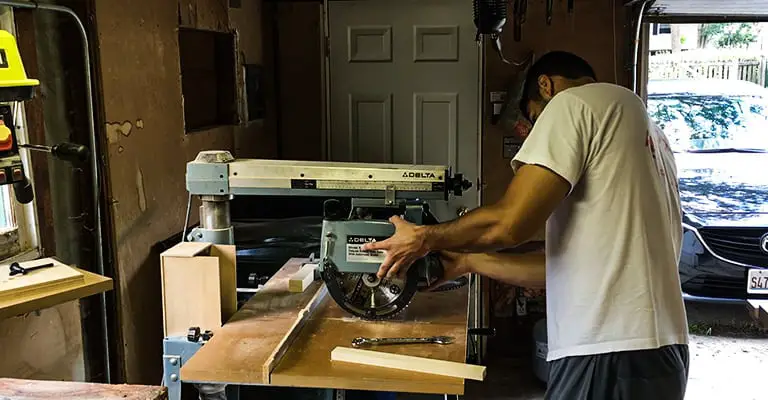 No-wobble
Another thing you should make sure of is that your blade doesn't wobble during the operation.
For that, you should switch to heavier blades. That's how you can ensure no accidental jumping occurs while you're dealing with sophisticated workpieces.
Hook angle
Choosing the right kerf brings us down to the task of choosing the right blade with an accurate hook angle.
Hook angle refers to the amount of lean (forward or backward) each tooth has. In other words, a hook angle is a specific angle at which the tip of any blade enters.
Positive hook angle
Here come two separate terms: positive and negative hook angle.
Suppose you encounter a blade that has a 20-degree positive hook angle, what does that mean? It's simple! In this case, the blade will enter into any material at a 20-degree angle.
The teeth are arranged in such a way that they create a positive angle with the vertical.
In most cases, 5 to 15-degree hook angles are considered as standard where the stripper ones can range up to 18 to 22 degrees.
Softer metals can be easily cut or ripped using these types. But usually, hard metals require a swallow 6 degrees.
Positive hook angles will cut more aggressively than the negative ones and so there'll always be a chance of wobbling of the blade or even an accidental jumping off the blade.
Negative hook angle
Hopefully, now you understand where a positive hook angle is recommended. But what about the negative hook angle? Yeah, you got it right!
A negative hook angle is required where you want a gentle cut. In most cases, a -5-degree hook angle is used to reduce the risk.
That's why the change of self-feeding of materials is mitigated. This also ensures overall control over the tool.
Number of teeth
For the tooth, there's a simple rule: the more the teeth, the finer the cut.
If you deal with cuts that require precision and extra care, you should go with blades that simply have more teeth. An element of such blades is that they tend to cut slowly.
Of course, for this reason, it can't be utilized where you need rough and fast cuts. But for this, you can have better control over your tool.
Material to be cut
It's obvious that you need to consider why you're buying this blade. If on a daily basis you cut heavy materials that don't need precise cutting, you can go with blades that have a positive hook angle.
In addition, blades with fewer teeth can be a good option for a bulkier cut.
Nevertheless, as you can guess from the earlier discussion, you need blades that have more teeth and of course, a negative hook angle can be a good option for precise cutting.
Saw tip configuration
The term 'grind' stands for referring to the overall shape of the saw tip. The arrangement can be of different types.
You can extract some extra benefits from the blades if you know their saw tip arrangements. Let's have a quick overview!
Flat top grind
As the name suggests, these blades have a flat 'n square top.
Why is this configuration important? Simply because you can use these blades for general purposes. This grind also ensures durability.
Alternate top bevel (ATB)
Okay, what are the specs? You can notice that the tops of alternating teeth are beveled. It can be approximately 15 degrees.
This combination rewards you by giving sharper edges. You can enjoy a better cut quality and of course no chipping or splinters.
ATB with raker (ATBR)
Another arrangement for cutting with much precision and for adding safety.
Alternate top bevel with alternate face bevels (ATAF)
An added benefit with the first one is available with this type! You can grind the face and can do it with an angle.
That's why you can have a sharper cutting along with a more pointed edge.
Combination tooth
The term 'combination tooth' stands for an arrangement of teeth that is obtained by placing several of one kind of teeth and then another type. A better example can be an arrangement of 4 ATB then 1 raker.
Here, the raker tooth is inserted to ensure that the V-shaped piece of material which is left in the center is removed. This provides you with a smoother cut. Plus, the raker helps the blade to run straight.
Build material
As you know, the blades tend to heat up during operation. That's why manufacturers try to introduce materials that can resist heat.
The best way to decide the right material of the blade is to learn about the carbide used to build the blade.
You can find whether professional-grade carbide is used or not in the blade from the specs provided by the manufacturers.
Best radial saw blades reviewed in depth
Now we have the jargon down, let's see how it all applies to my top picks. Why did these make it to the list?
Best overall radial saw blade: Concord Blades ACB1400T100HP Non-Ferrous Metal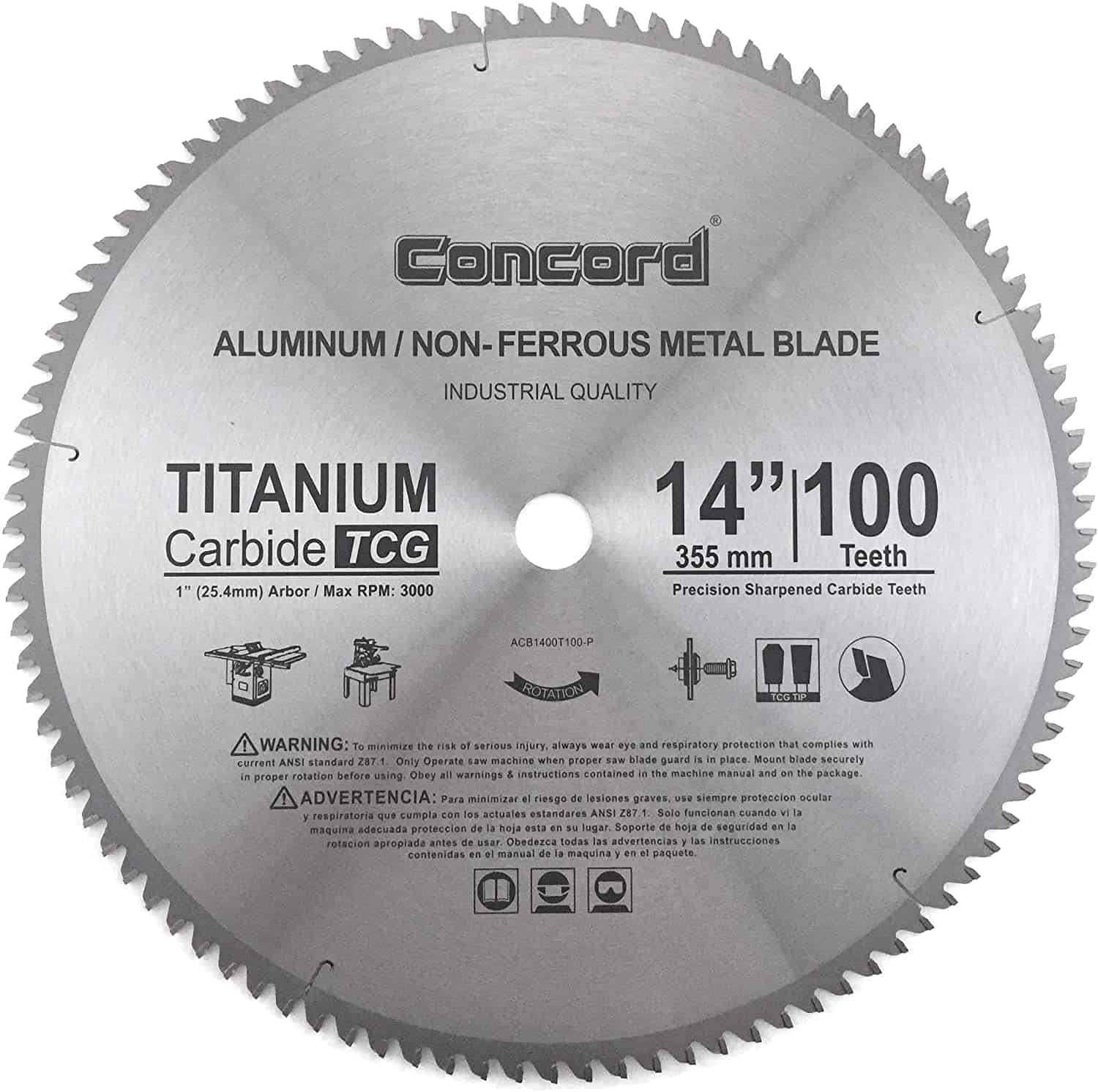 Concord Blades offers a wide range of various blades to enable you to choose the best fit for your beloved radial arm saw. These blades not only deliver precise cutting but also promise durability.
First, let's discuss the materials this blade is made from. It is manufactured using a sturdy and hard titanium carbide which provides the blade's superb performance and durability.
This blade contains a lower amount of iron, making it perfect for cutting non-ferrous items such as plastic, plexiglass, fiberglass, PVC, and acrylic.
This blade is built to last and will prolong the life of your favorite radial arm saw. Its versatility also means that it can also be used for other types of saw so this is the only blade you will ever need.
When using this blade you will get better chip flow and experience low drag, thanks to the tool's TCG (Triple Chip Grind). This feature also ensures long-term use and gives a fine cut every time.
What's more, the blade has a 3.4 mm kerf design. This ensures an even finer cut and prevents the damage of wood. A 5-degree hook is added for further safety.
A few downsides to mention are that some users have complained that this blade tends to get slightly imbalanced, and another reported issue is that it loses its edges quickly compared to other blades.
Check prices and availability here
Best multi-purpose radial saw blade: Freud 10″ x 60T Miter Saw Blade (LU91R010)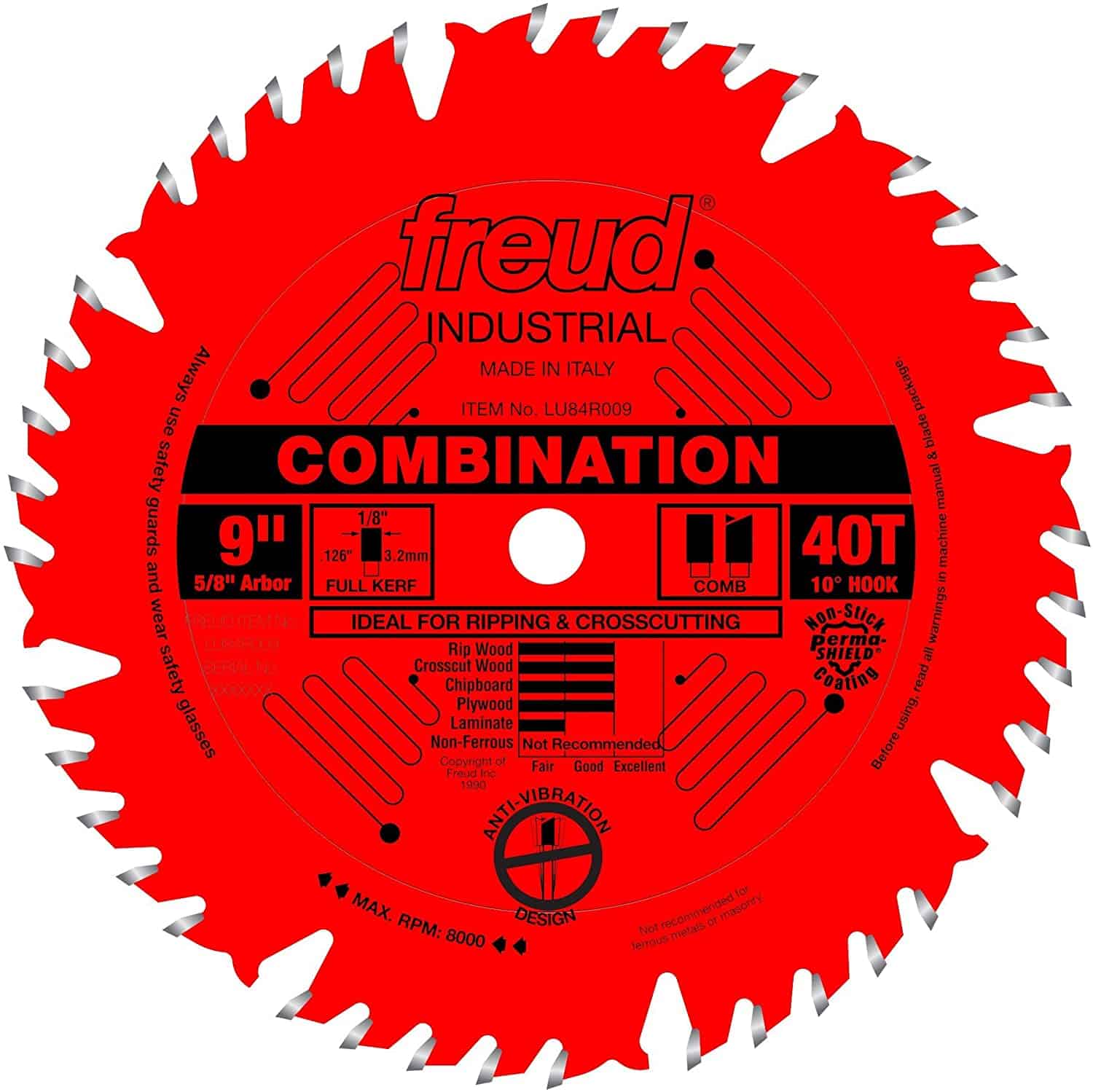 With lots of extraordinary features, this blade by Freud is a great choice.
Its improved design is even more ergonomic for easy use. It can fit with any saw and can render amazing performance for a long time.
Let's take a look at its features!
Each saw blade serves a different purpose with a range of 8-1/2 inch to 1-inch. Teeth variants include 48, 60 and 72 and a thin kerf variant is also available.
With so many options, you are bound to find the perfect blade for your saw.
This blade has ATB (Alternate Top Bevel) Grind. This allows for easy removal of chips and also reduces tear-out. Furthermore, this type of blade has a sharper edge and ensures a fine cut which results in less wood waste.
What is that I hear you ask, what about the performance? Don't worry!
The manufacturer has equipped the blade with a crosscutting blend containing premium high-density carbide. This feature enables the blade to render a better cutting experience.
Do you ever notice a climb of the blade during cutting? This occurs because of the hook angle. In this case, Freud's negative hook angle prevents risks and also increases control over the operation.
The tool's thin kerf also requires less power and runs more efficiently.
The tool's non-sticky Perma-Shield coating reduces blade drag. It also lengthens the service life of this blade by providing protection against rust. Plus, this coating ensures less pitch-up during the operation.
A negative to mention is that the blade gradually loses its sharp edge and some users have noticed this change after a relatively short period.
Best radial saw blade for different types of wood: Oshlun SBW-100060N ATB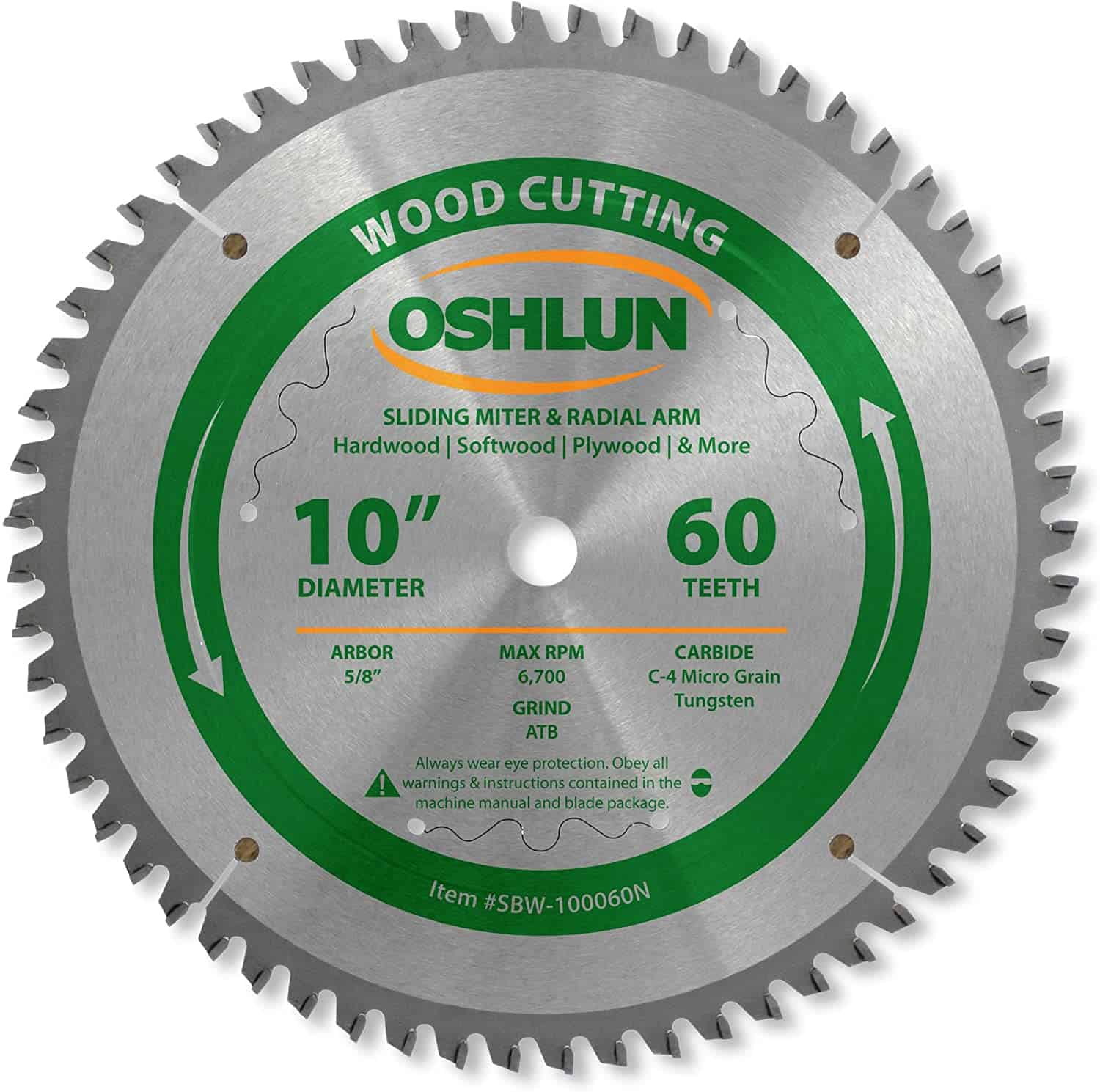 If you work with different types of wood pieces and need precise cutting, this blade can meet your needs.
With its extraordinary features, this radial arm saw blade can ensure proper cutting. Amazingly, these features come at an astonishingly low price.
This blade has a slim kerf to ensure a proper cut. This will help you if you are hankering after fine cutting. The slim kerf reduces wood waste to give you the cut you require.
Thanks to the blade's design, the chance of breaking during the operation is very low.
Of course, like any other blades, you can choose from different options for different purposes. The most common form of the blade is a variant having teeth.
You can use it for general purposes. But if you want accurate cutting you can go with a 24, 50, 80 teeth variant with lots of precise options.
Additional options offer you ripping teeth, chip guard, and fine finishing. What is more, a negative sliding miter option is also available.
Are you looking for safety precautions for the blade? Well, we have those too! The blade has been designed with a negative hook angle to ensure safety.
You have learned from us the function of a negative hook angle, right? So you need not worry about accidental jumping or bumping of the workpiece. What a relief!
C-4 Carbide is used in the blade and the top-notch material has made it fit for professional-grade. This means you can practice heavy-duty woodworking without tension.
The materials used are durable to ensure a long life. Another brilliant feature of the tool is the anti-vibration mechanism which has slots that will absorb vibration and give you smooth cutting.
Please know that you need to exercise great care while you are using this tool as some users have faced overheating issues during use.
Check prices and availability here
Best budget radial saw blade: IRWIN Classic Series Carbide Table (15070)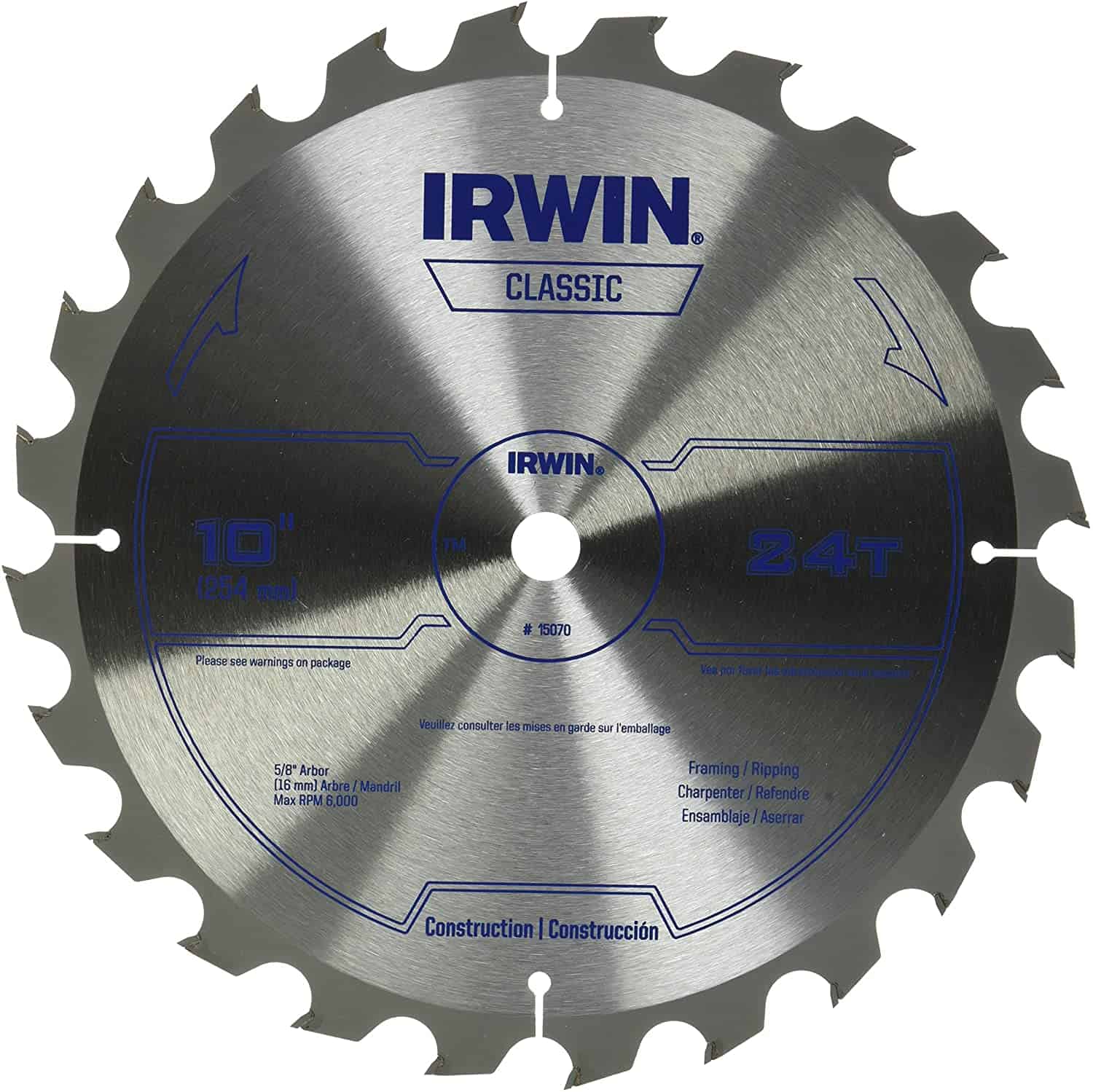 Your search for a blade in your budget ends here! This blade can offer you some extraordinary features at a competitively low price.
The most spectacular feature is seen when it comes down to the teeth. The manufacturer did a really good job by installing a set of teeth that are precisely accurate in size and shape as they provide a smooth, accurate cut.
Durability is ensured by the hardened plate. The blade can prove itself under any tough circumstances thanks to its sturdy teeth.
You can even use the blade to cut through hard materials. In addition, the enriched, high-gauge carbon steel ensures further durability.
A world-class Arbor is installed in the blade. The size of the part is 5/8-inch, perfect for cutting purposes. This excellent design creates better ergonomics to result in a perfect cut.
You can have smooth top-notch finishing with this blade as it has a 24 teeth configuration. Now trimming and finishing jobs are an easy shot!
Some of the users opine that the cutting performance it provides is only average though. If you want premium cutting, you may need to increase your budget.
Best heavy-duty radial saw blade: CMT 219.080.10 Industrial Sliding Compound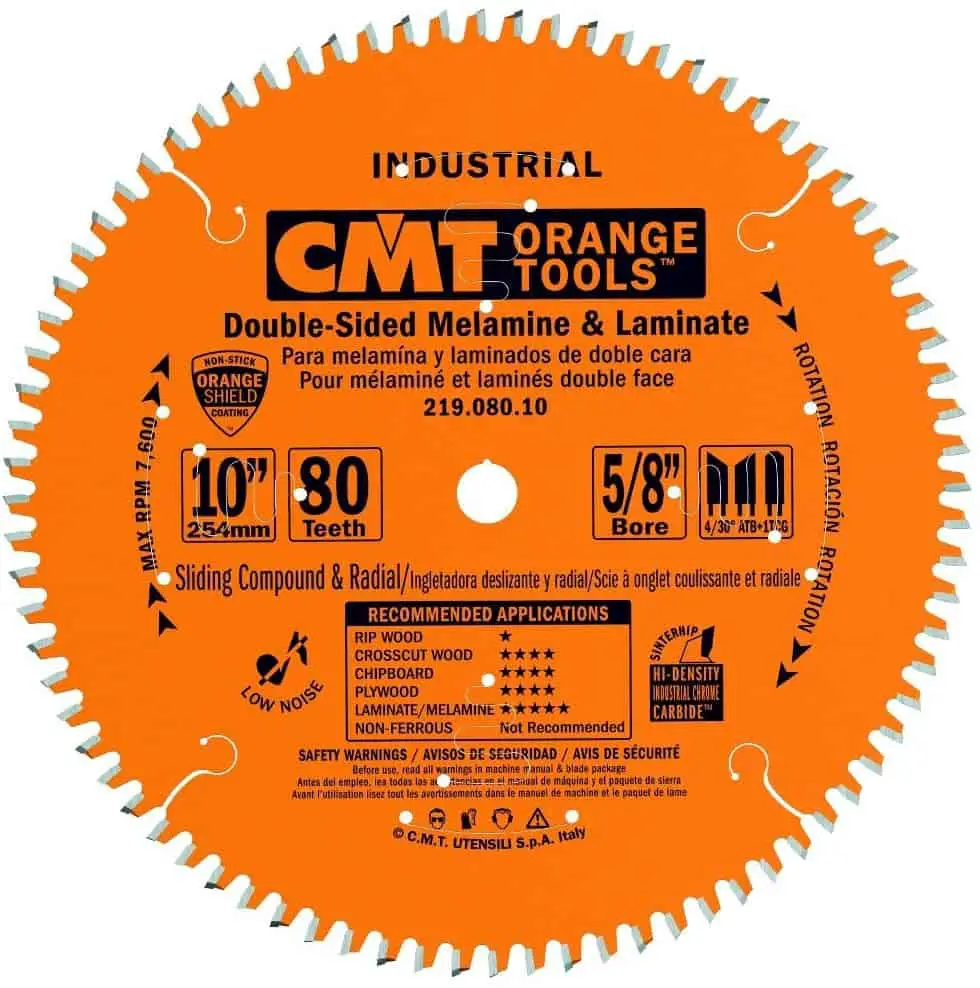 This is a blade from a trusted manufacturer with plenty of experience in this field. With all of the features the blade offers, it can serve your cutting and finishing requirements with ease.
What design secrets have made this blade one of the industry's top players?
CMT has manufactured a range of blades in which quality is always guaranteed. Their wide selection means you can find the perfect one for your radial arm saw.
They offer you blades of different sizes and strengths. That's why if you own two or more radial arm saws, you can easily ensure the same quality blades for different types.
A negative hook angle is ensured to reduce the chance of any accidental climbing. The purpose of this is to mitigate the chance of wobbling, and it can even provide better ergonomics.
You can cut soft, hard, or ply any type of wood along with laminates. Now you have an opportunity to work with different types of wood!
This blade has micro-grain carbide teeth to provide you effective cutting for many years to come. As well as this huge benefit, this feature ensures smooth cutting and maximizes ergonomics.
The chance of overheating is reduced by the PTFE coating on the blade. This coating also prevents rust and pitch buildup.
You may face some difficulties while dealing with hardwood. The blades may only be effectively sharpened once.
Check prices and availability here
FAQ radial arm saw blades
Here are some frequently asked questions and their answers!
Which saw blade makes the smoothest cut?
Blades with densely packed teeth make the smoothest cuts. Typically, these blades are limited to cutting hardwoods of 1-1/2 inches thick or less.
With so many teeth engaged in a cut, there is a lot of friction. In addition, the small gullets of such closely-spaced teeth eject sawdust slowly.
Are radial arm saws obsolete?
They're not obsolete, it's just that a lot of the things they do are done by other more common tools. It's hard to justify the space that this extra tool uses if you already have a table saw.
Does anyone still make a radial arm saw?
There is but a single U.S. company still making the radial arm saw: the Original Saw Co. of Britt, Iowa.
Two Italian-made models, manufactured by Maggi and Omga, are imported by U.S. distributors, but annual sales are measured in the hundreds, not the thousands.
What are the advantages of a radial arm saw?
They feature a simple design that allows carpenters to quickly and efficiently cut wooden workpieces.
At the time, power tools for cutting wood were limited at best. The radial arm saw solved this problem by offering an easy-to-use solution.
Why is a radial arm saw dangerous?
Radial-arm saws tended to bite people because the rotation of the blade could hog the saw into the work and toward the operator.
It's safer because you plunge the saw into the work and push against the rotation. If it jams it tends to get thrown out of the work, not into it.
Are radial arm saws accurate?
The radial-arm saw is a versatile saw that can do a lot of things in your workshop. … It's unsurpassed at accurate, easy cutoff work (no doubt that's the reason it's sometimes referred to as a cutoff saw).
They say it can sand and plane and, as the table saw, rip long wooden boards at a single pass.
Which is better: radial arm saw or table saw?
Radial saws are easier to maintain because the overhead blade can be aligned very quickly.
If space is limited, a radial saw can be positioned against the wall, whereas a table saw must be located away from the wall to allow space for larger workpieces to be moved across the blade.
What advantages does the table saw have over the radial arm saw?
The design and function of both types of saws are to cut wood, but a table saw's design makes it ideal for ripping, or cutting a piece of wood lengthwise along the grain, while a radial arm saw is better suited for crosscutting, or cutting across the width of the wood.
What is the difference between a radial arm saw and miter saw?
Radial arm saws have a higher cutting depth allowing it to cut through thicker lumber, whereas miter saws are not made for cutting thicker wood.
Radial arm saws cannot be shifted around and needs a station for operating, whereas miter saws are portable and you can lob it around wherever you want.
Is more teeth on a saw blade better?
The number of teeth on the blade helps determine the speed, type, and finish of the cut.
Blades with fewer teeth cut faster, but those with more teeth create a finer finish. Gullets between the teeth remove chips from the workpieces.
Do you push or pull a radial arm saw?
When making crosscuts, it is always advisable to pull the radial arm saw towards you.
It is possible to pull the saw towards you and then push the saw blade across the stock when making crosscuts, but the preferred technique is always to pull.
How much is a radial arm saw worth?
Not much market for them here. could use them for an overarm router as well. Around here they go anywhere from $50 to $150 depending on condition.
Can you use a dado blade on a radial arm saw?
No, don't try dado cuts on a radial arm saw.
Because the blade rotates with the direction of the pull cut instead of against it, there is the potential danger of the blade climbing up over the workpiece toward the operator if you pull the saw carriage through the cut too quickly.
How can I maintain the sharpness of the blade?
You need to ensure that your radial arm saw blade is properly cleaned after every use. Besides, try best not to expose the blade to salty water because by doing so you're making the blade vulnerable to catch rust.
How can I prevent accidental jumping off the blade?
If all other conditions are matched, try to pick up a blade that has a negative hook angle. These teeth will provide a gentle cut but will reduce the risk of accidental jumping.
Can I claim a refund if I don't like the blade I've selected earlier?
This depends on the manufacturer of the blade and their returns policy. But in most cases, you can.
Wrapping up
I've tried hard to present to you some of the best radial arms saw blades currently available in the market.
Hopefully, you can decide the best fit for your radial arm saw by taking the essence from the enriched buying guide. But some of you may still be in a dilemma. Okay, let us step in and help!
Now I'm citing some of the products that personally attracted me. These two products are specialized in two different fields.
If you are looking for heavy-duty cutting, you can go with CMT 219.080.10 Industrial Sliding Compound Miter & Radial Saw Blade.
But if you need fine cutting, you can check out Oshlun SBW-100060N ATB Saw Blade as it gives you numerous options.
For more fine woodworking tools, check out these best 23 gauge pin nailer | Top picks of 2021 reviewed
I'm Joost Nusselder, the founder of Tools Doctor, content marketer, and dad. I love trying out new equipment, and together with my team I've been creating in-depth blog articles since 2016 to help loyal readers with tools & crafting tips.