I love creating free content full of tips for my readers, you. I don't accept paid sponsorships, my opinion is my own, but if you find my recommendations helpful and you end up buying something you like through one of my links, I could earn a commission at no extra cost to you.
Learn more
Do you work with delicate pieces of wood pieces all the time? Want something that will let you drive thin pins or stickpins into moldings without leaving any mark? Are you looking for something that you can use for attaching the glass retainers to the cabinet doors?
Then what you are most likely searching for is a pin nailer. And, it is quite hard to get the best 23 gauge pin nailer out of all the options that are available in the market.
Now, if you were looking for a source that will provide you with extra information regarding the best ones, then you came to the right place.
Hopefully, by the end of this review, you will get the one that suitable for your type of workload.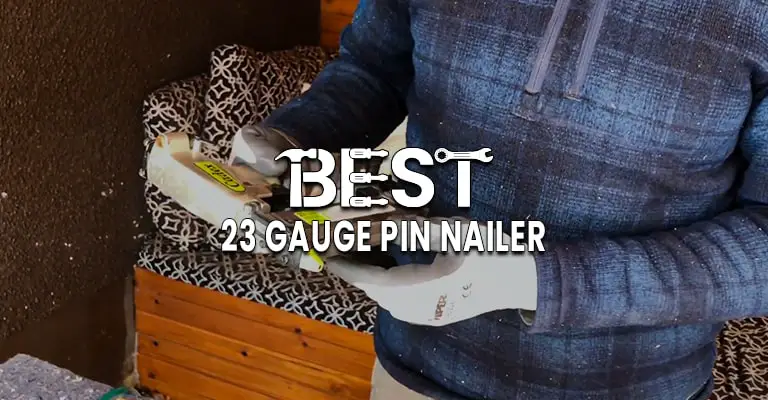 As I mentioned, the market is overflowing with 23 gauge pin machines, and it is a little challenging to get a grasp of a decent unit out of all of them.
To make things much easier for you, I have huddled a list of the very best ones that your money can buy right now.
To start off, I think this Metabo HPT Pin Nailer Kit is an exceptional choice. It has a huge capacity for fasteners, it is strong enough to drive pins all the way, but gentle enough to leave no hole whatsoever. It's suitable for a great variety of projects, from the big professional jobs to the craft or household tasks. It's simply a great buy. 
However, as you might like to see a few more options, I've made a top list for you, including a buyers guide for finding the best 23 gauge pin nailer out there for you.
Let's dive in!
What to look for when buying a 23 gauge pin nailer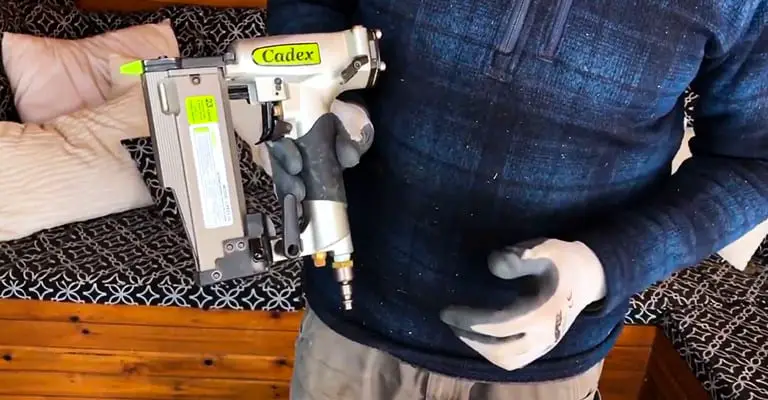 After going through all the advantages that a nail pinner has to offer, you are probably more interested in getting one for yourself.
But, before you go out in the market and spend your valuable money on underperforming devices, there are some factors that you should keep in mind. These are:
Size and weight
As you are mostly going to carry the unit with one hand while working on your projects, you should keep this factor into consideration first.
The ones that are not compact and are heavy will be harder to work with and will be harder to maneuver. That is why you should go with the light and compact ones.
Pin compatibility
One of the reasons why people pick up pin nailers instead of other power nail tools is because it supports a wide array of pinheads. But not all the devices can accept all the 23 gauge pinheads.
Usually, the size of the pin that is required depends on your project. Many units can hold pins that are within the range of 3/8 inches to 2 inches, while some only accept a few.
But you will not need every one of them, will you? That is why you should consider checking whether the pinner can work with the pin length or not beforehand.
Magazine size
The magazine size is one of the vital factors that you should consider before investing your money in a pinner.
Because in most of the cases, devices will ship with a considerably lower capacity magazine. This can disrupt your overall workflow.
That is why you consider units that have a larger magazine size. By getting those, you will not have to worry about reloading in the middle of the session. Your workflow will be smooth and continuous.
Safety
The trigger of the units is relatively easy to actuate.
Without proper safety mechanisms on the trigger, you are at risk of accidental fires and dry fires. These unintentional fires will not only waste pins but also can injure you.
For that reason, you should consider only the units that come with adequate safety measures.
Many come with two-step triggers and dual locks. With those, you first have to press the safety button and then fire pins using the triggers.
Depth adjustments
With depth adjustments, you will be able to hide the pins in your workpieces efficiently. It will allow you to make your project look aesthetically clean and flawless.
On the other hand, one of the reasons for getting a pin nailer is to hide the pins, so why should you go for the ones that give you less versatility? That is why you should look for depth adjustments in the units.
Exhaust port
Having an exhaust port on the rear of the device will make sure that your face does not get covered with debris and dust while pinning nails on your workpiece.
Other than that, it will also help clean the specs of wood out of the surface.
Carrying options
Units that feature convenient carrying options will let you easily carry the tool.
In that case, we would suggest you opt for the ones that have reversible belt hooks on the back. Those are the ones that are relatively easy to carry around.
Full reviews of the best 23 gauge pin nailers
Let's dive into more detail now with each of the options on my favorites list.
Metabo HPT Pin Nailer Kit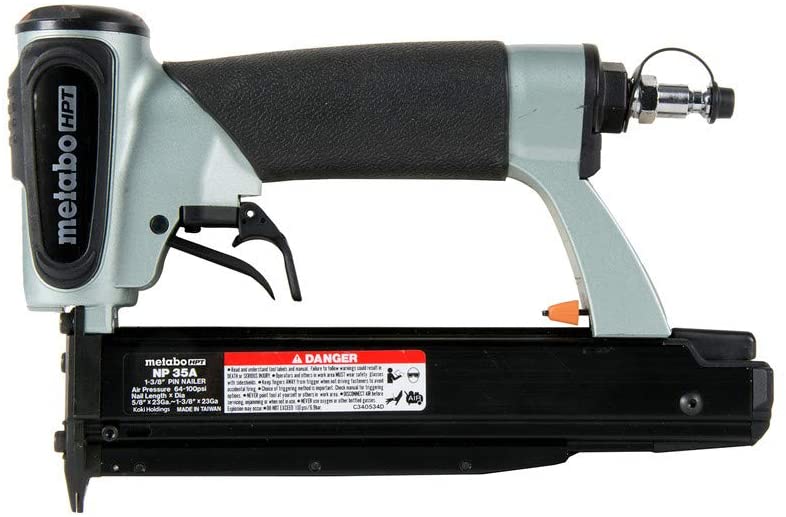 As mentioned before, going for a well-named brand is important to make sure that you have the right warranties and customer care, the kinds of things that are important when you're making a big decision like this one.
Hitachi has recently renamed their tools to Metabo HPT, don't be deterred, the quality is still exceptional and we think that this unit is the very best on this list.
This unit can take a superbly high capacity of fasteners, giving you the convenience to get on with the job.
Fewer reloads means quicker work and the magazine can switch between 1 inch, ⅝ inches, ¾ inches, 3/16 inches and ⅜ inches fastening lengths depending on the workload.
The unit comes with two triggers on the body to ensure accuracy and safety, and it is equipped with an exhaust to clear debris and oils from the surface.
Two no-mar tips make it far simpler to use this nailer protecting you from scratching or denting your work and drive nails flush on any surface with the depth adjustment system.
Pros
Large capacity
Automatic magazine
Features dual trigger on the body
Depth adjustments
Reload indicator
Cons
The O-rings on the handle are prone to stripping
The carrying case feels a little bit cheap
Check prices and availability here
NuMax SP123 Pneumatic 23 Gauge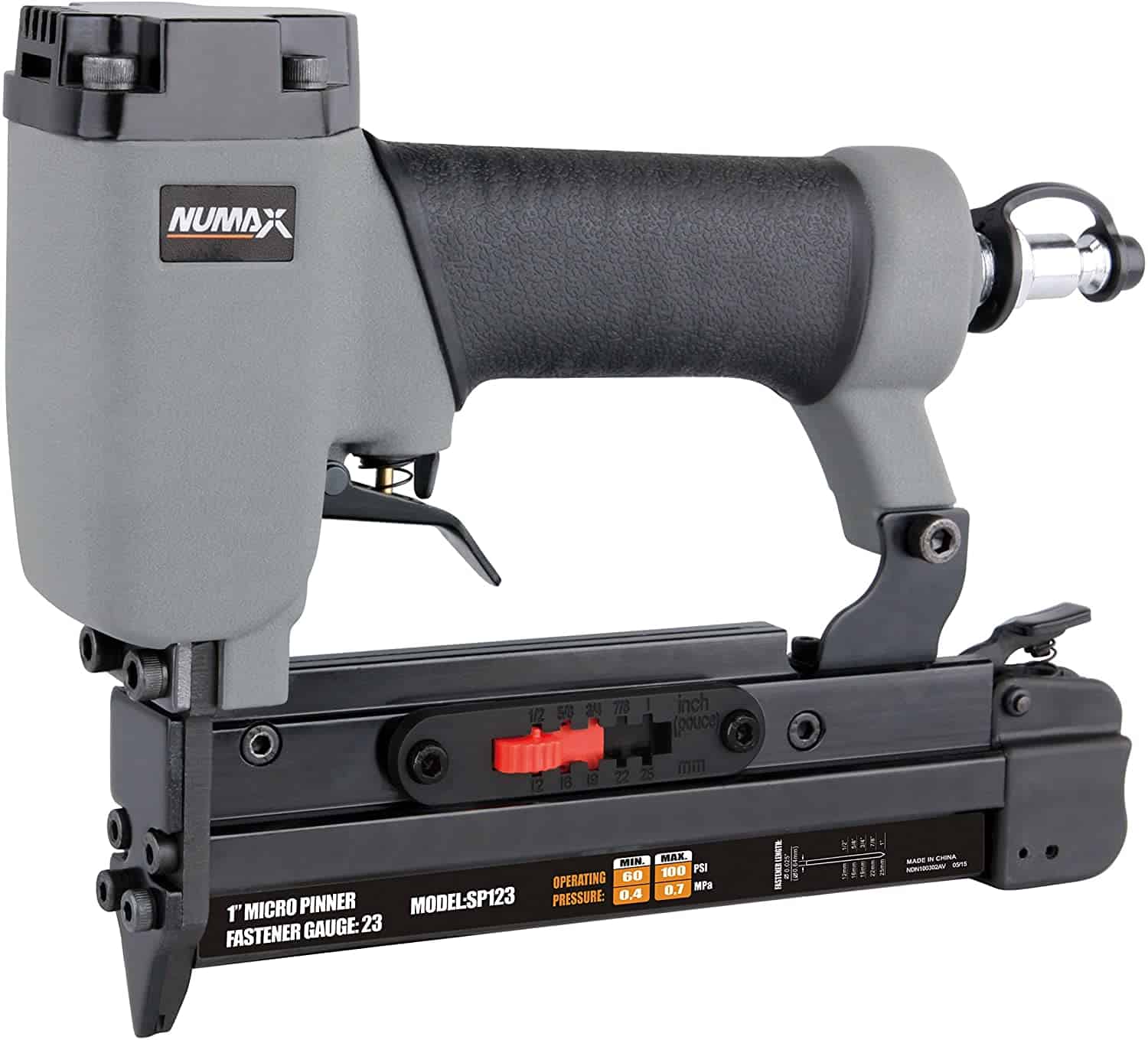 The Numax SP123 Pneumatic 23 Gauge is a formidable piece of engineering and its sublime combination of ergonomics and functionality might be very attractive to the serious DIYer.
The lightweight aluminium body is solid and sturdy and will take some beating in terms of durability.
If it's accuracy you're after, and let's face it, of course you are, the ergonomic grip and handle ensure that, with great comfort from a device that only weighs 2.42 pounds.
Boasting the ability to nail headless pins within a range of half an inch to 1 inch, this device gives you the comfort of knowing that you're getting exceptional work done.
The reversible belt has a hook to ensure that fastening tasks are completed easily without any fuss and with the pin selector, you're able to change the size of the pin at a whim.
Have the peace of mind in knowing that the safety mechanism on the trigger prevents any danger to you or those around you and the anti-dust cap diverts dust and debris from the work surface. The magazine is easy to reload.
This is an excellent choice for whatever your nailing needs might be.
Pros
Durable and lightweight body
Comfortable handle
Has a safety mechanism on the trigger
Easy to reload
Comes with an anti-dust cap
Cons
Prone to jamming
Does not feature any depth adjustment mechanism
PORTER-CABLE Pin Nailer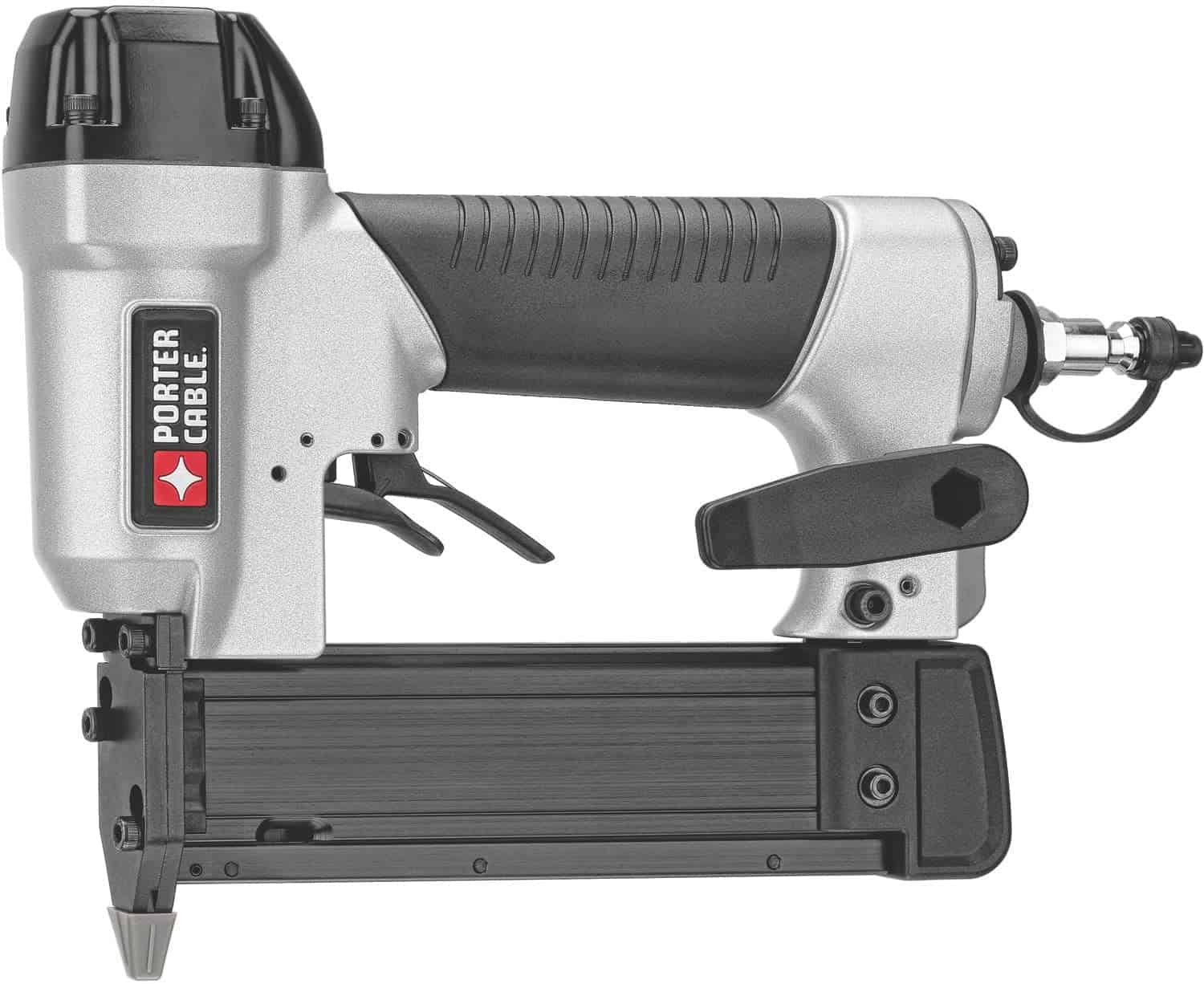 Reliable and excellent performance is exactly what you're looking for from your nailer, and the PORTER-CABLE Pin Nailer is synonymous with those two words.
It's no wonder that PORTER is known as one of the most reliable brands on the market.
This versatile tool can use both a slight head and 23 gauge headless pin that is within the range of ⅝ inches and ⅓ inches in length. It features a reversible clip that is attached to the belt, making you look like the ultimate professional.
The aluminum body is lightweight, weighing in at a measly 2.2 pounds and the performance is ideal for handling clamping, molding, mantling, joining, and fastening tasks.
The machine's advanced motor ensures that you can secure all kinds of materials that other tools on the market would have real trouble with.
The dual-stack ring mechanism eliminates tricky internal friction giving you a seamless experience and this tool requires little maintenance, so you will only have to oil it every now and then.
The constant power delivery allows you to sink in a one-third eight-inch nail into oak, flush, adjusting to the length automatically making loading that much simpler.
When you purchase the tool it comes with a set of pins, a wrench, and a case.
Pros
Exceptionally versatile
Hassle-free operation
Low maintenance motor
Lightweight and durable body
Constant power delivery
Cons
The unit jams frequently
Does not feature any trigger safety mechanism
Check prices and availability here
BOSTITCH Pin Nailer 23 Gauge
Do you want quick depth control? Then the BOSTITCH is perfect for you and your next project. The adjustable power switch ensures that you are accurate and are creating an excellent project.
Don't waste your time fiddling with compressor settings, because with this tool, you can set the depth of the pins with the high and low power settings giving you precision and efficiency.
It delivers up to 60 inches per pound of driving power ensuring each pin is flush to the surface of your project.
The durable aluminum housing weighs only 4.2 pounds making it easy to maneuver through those difficult fastening tasks and it accepts a wide variety of headless pins.
This unit will handle 23-gauge headless pins within the range of ½ inches to 1-3/16 inches. Making this the perfect tool for most fastening applications.
The magazine has a large capacity of R200 pins to create excellent efficiency and less time reloading. The overall experience is excellent and this is a great tool for the avid crafter.
Pros
Quick and easy depth control
Easy to maneuver
Excellent driving power
Large magazine capacity
Accepts a wide array of 23 gauge pins
Cons
Does not feature any safety mechanism
No countersinking mechanism
Freeman PP123 Pneumatic 23-Gauge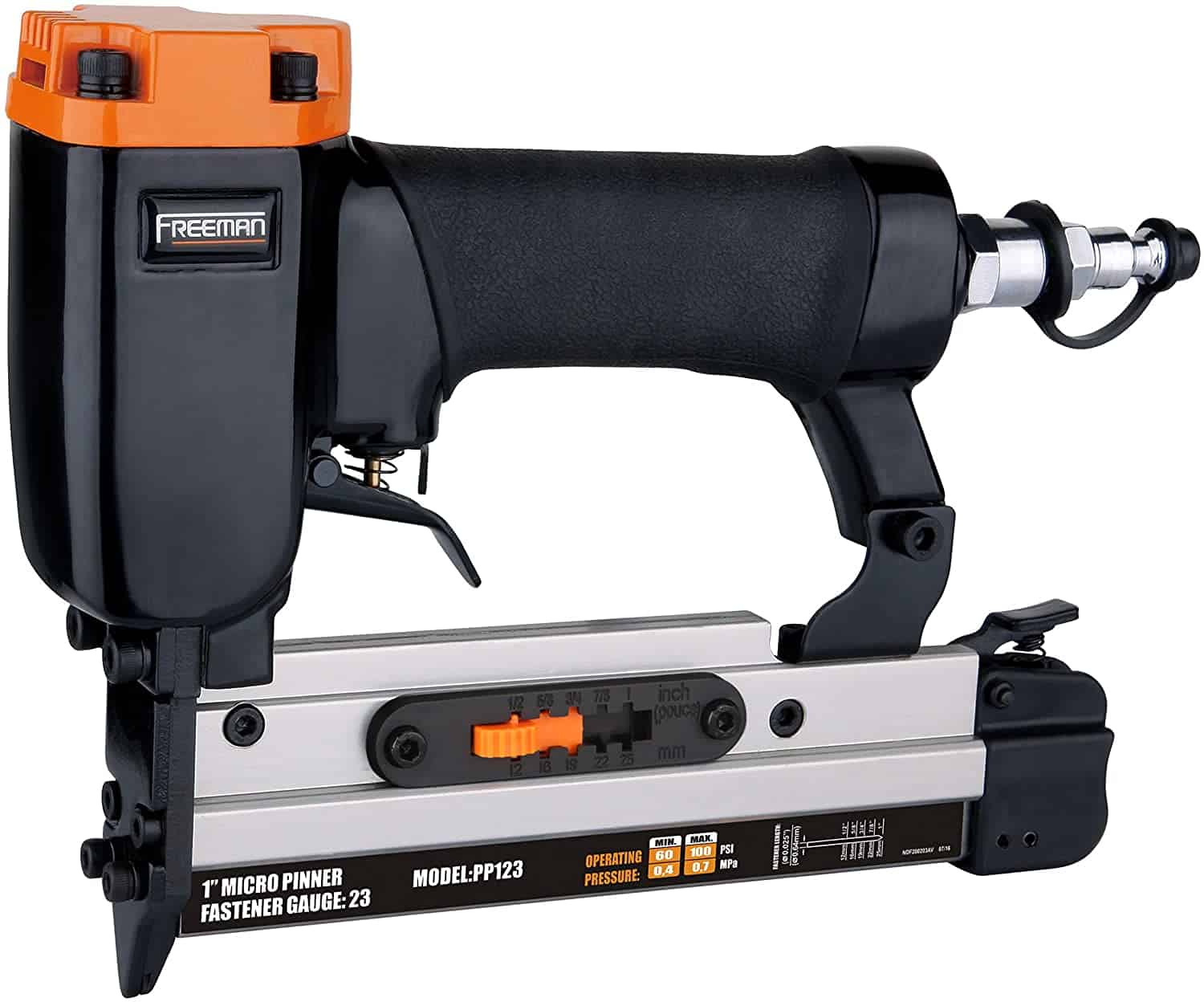 Okay, so you want a tool for small DIY jobs? Then the one-inch pinner is the perfect tool for you.
Whether you're tacking a small frame or creating a beautiful decorative trim, the Freeman PP123 Pneumatic 23-Gauge is going to make sure you're creating something stunning. It's value for performance.
This tool works with several different 23 gauge headless pins fitting any pin with the range of half an inch to an inch.
The pin size selector will allow you to change between the different size pins on the job. If you like to get the work done, this is the tool for you.
The heat-treated black exterior coats the lightweight aluminum tool, at 3 pounds, this is one of the lightest tools on the market today.
Giving you access to some of the trickier projects. The grip handle is comfortable making long jobs synch.
The reversible hook at the end of the unit allows for it to be easy to carry and access on your belt. Crucially, it features a safety mechanism that protects against any chance of accidental fires.
You will receive a pair of safety goggles, an air oil tool, and an adjustment tool in the package.
Pros
Ideal for most of the fastening tasks
Features a lightweight yet durable body
Has a trigger safety mechanism
Reversible hook
Features a pin size selector
Cons
Does not include a carrying case
No depth adjustment mechanism
Check prices and availability here
Makita AF353 23 Gauge

Makita is a great brand if you're looking for a reliable tool that performs really well and will help you create a really great end product.
The Makita AF353 23 Gauge is no exception, it is compact and punches well above its weight, and is all about the user experience.
It boasts a very comfortable two-finger trigger, which ensures the kind of accuracy you need to pull off a professional execution.
With this machine, you can use most 23 gauge nails on the market now. Headless pins that are 11/16 inches, ¾ inches, 1 inch, 1-3/16 inches and 1-⅜ inches are also compatible with this unit.
The magazine is a side drop-in loader and there is an exhaust port, directing dust and debris away from the work surface. The removable two no-mar tips ensure accuracy on the job.
The unit is the lightest on the market weighing in at only 2 pounds. The easy-to-clear nose is narrow, giving you access to even the trickiest of spaces.
Lastly, the unit only weighs 2 pounds, which makes it extremely easy to maneuver and you will receive a pair of safety glasses, hex wrench, air fitters, nailer oil, and a tool case when you purchase the tool.
Pros
Two-finger trigger mechanism
Rear exhaust port
Includes two no-mar tips
Accepts a wide range of nails
Easy to clear the pin jams
Cons
The paint on the body chips away easily
Does not feature an adjustable depth mechanism
Advantages of using a pin nailer
Like all the other power tools, pin nailers are extremely popular among carpenters. Possessing one of them is as common as having a carpenters nail bag.
But, instead of getting something like a nail gun or a brad nailer, why should you opt for a pin nailer?
These are the main reasons why:
Hole-less operation
Unlike most of the power tools, pin nailers do not leave any spot after you drive pins in them. That means you will be able to keep your workpiece clean and free of holes.
Other than that, you can also use pin nailers to hold wood pieces together for a certain amount of time. After you decide to take the pins off, you will see that there will be no visible holes.
The aesthetics of your workpiece will not be hampered just because you drove some in it.
Boost the power of glue
You can drive the pins to attach parts of wood into your workpiece alongside glue. The pins do not really have that much of connecting power, but they will enhance the effectiveness of the adhesive.
Wide compatibility with pins
Compared to brad and nail pinners, most of the magazines of pin nailers can hold different sized pins in it at the same time.
Some even come featured with a size selector that will let you switch the pins on the go.
How to maintain a pin nailer for longer use
It is necessary to know how to take good care of the power tools that you use frequently.
With proper care, they will be able to serve you for an extended amount of time. Likewise, you should also know the maintenance process of a nailer before you buy one.
The key factors are:
Manual
Right after you pick a device up, you should go through the manual that came in the box thoroughly because there might be cases where the unit that you got requires a different type of maintenance process.
There might be some steps that you probably did not know or were not aware of in the first place. That is why you should go always go through the manuals of every power tool even though the task might seem a little tedious.
Lubrication
You should lubricate the unit with oil every now and then. It will reduce the chances of jamming and will ensure that the nailer works optimally.
The magazine
You should always load the magazine with the recommended number of pins.
Even if you are packing it up with smaller ones, you should not overfill it. Other than that, you should also check the capacity before you start working on any projects.
Storage
You should always store the device in a clean place because if specks of dirt get in the head, you might face frequent jams.
Frequently asked questions about 23 gauge pin nailers
How many types of pin nailers are available in the market?
There are two types of pin nailers. One of them is pneumatic, which means that they are air-powered. The other ones are electric or battery-powered, which require an external power source or a power outlet.
What are the advantages and disadvantages of pneumatic units?
Pneumatic pin nailers have a lot to offer. They usually provide more power compared to electric ones and are perfect for extended use. Other than that, they are also relatively easy to carry.
The main disadvantage of such air-powered units is that you will require an air compressor because the primary power source of the device compressed air.
What is the main disadvantage of having an electric powered nailer?
The main problem with electric units is the battery. They usually add heft to the device and require much more time for charging.
Do I need to take the unit apart for maintenance?
No. In the case of pin nailers, the maintenance part is relatively easy. You will not have to take apart anything.
For most of the units, all you need to do is just lubricate the motor, and that's it.
Can the pins pierce through my skin?
Yes, they can. That is why most of the devices come with some sort of safety mechanisms to prevent any accidental injuries. A few wounds also result while nail pullers are used.
Anyways, you should always wear gloves and goggles while working with any one of them.
Final words
To conclude, after going through the entire article, we hope that you have found the best 23 gauge pin nailer that goes along with your workflow and can tick all the factors that you were looking for in a nailer.
We wish you good luck and hope that all your workpieces turn out the way that you want them to.
Also read: Best 12V impact driver | How to choose the best tool for you