I love creating free content full of tips for my readers, you. I don't accept paid sponsorships, my opinion is my own, but if you find my recommendations helpful and you end up buying something you like through one of my links, I could earn a commission at no extra cost to you.
Learn more
Assume you're working on a home improvement project and you need to remove paint off some wood. What would be the best approach for you to take? If you think about it, the most difficult element of removing paint is making sure that you don't harm the wood while doing so.
Without the proper instruments, this is a nearly impossible undertaking. So let us take care of it for you right here and now.
We have prepared a list for the best sander for removing paint from wood. We've also discussed the various sanders available and addressed some common questions, all to help you select the ideal one for you.
5 Best Sander for Removing Paint from Wood
Finding a good sander can seem overwhelming, especially since there are so many great options out there. But that is why we are here to help! Below you will find a list of the finest sanders you can use to remove paint from wood.
1. DEWALT 20V MAX Orbital Sander DCW210B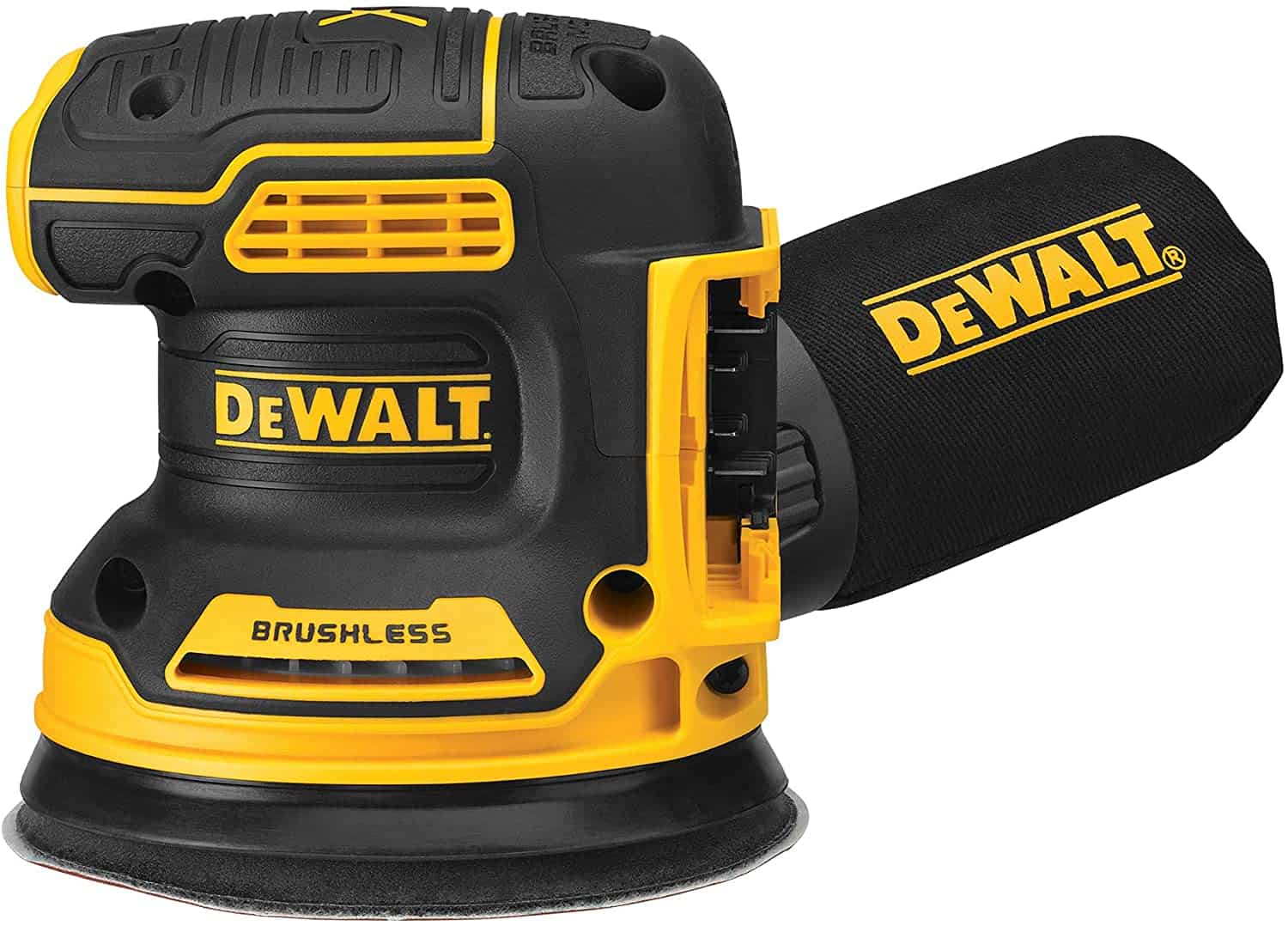 The first product on this list is top-rated amongst professionals and DIYers alike. DEWALT is known for its top-notch quality products, and this orbital sander is no different.
First, let us talk about the heavy-duty build of this tool. This thing has been constructed so that it can handle pretty much any job or project. It is a cordless power tool, and it uses a brushless motor that ensures good runtime and efficiency for whatever task you are working on.
Thanks to the adjustable speed control, from 8000 to 12000 OPM, you can easily set the sander to your preferred speed for the project.
Since the sander is relatively small and lightweight, it allows the user to get closer to the work surface to ensure precision and accuracy. A replaceable 8-hole hook and loop sanding pad make changing the sandpaper super quick and straightforward.
As this is a cordless power tool, you will have more freedom while working as nothing is limiting your movement.
This thing features a dust-sealed switch that promises protection from dust ingestion (which is bad for your health). It uses a 20V MAX battery which means you can work for hours without worrying about the power. The ergonomic texturized rubber handle ensures a comfortable grip so that you can sand without any discomfort.
Pros
Heavy-duty and extremely well-built
Features a variable speed control
Ergonomic handle for user comfort
The powerful brushless motor ensures efficiency
Cons
It goes through batteries pretty fast
Verdict
This sander ticks all the boxes for being the best sander for removing paint from wood. Since this thing is compact and portable, not to mention cordless, you will find it very convenient to use. It is ideal for touch-ups and removing paint from wood. Check prices here
2. Wagner Spraytech 0513040 PaintEater Electric Palm Grip Paint Remover Sanding Kit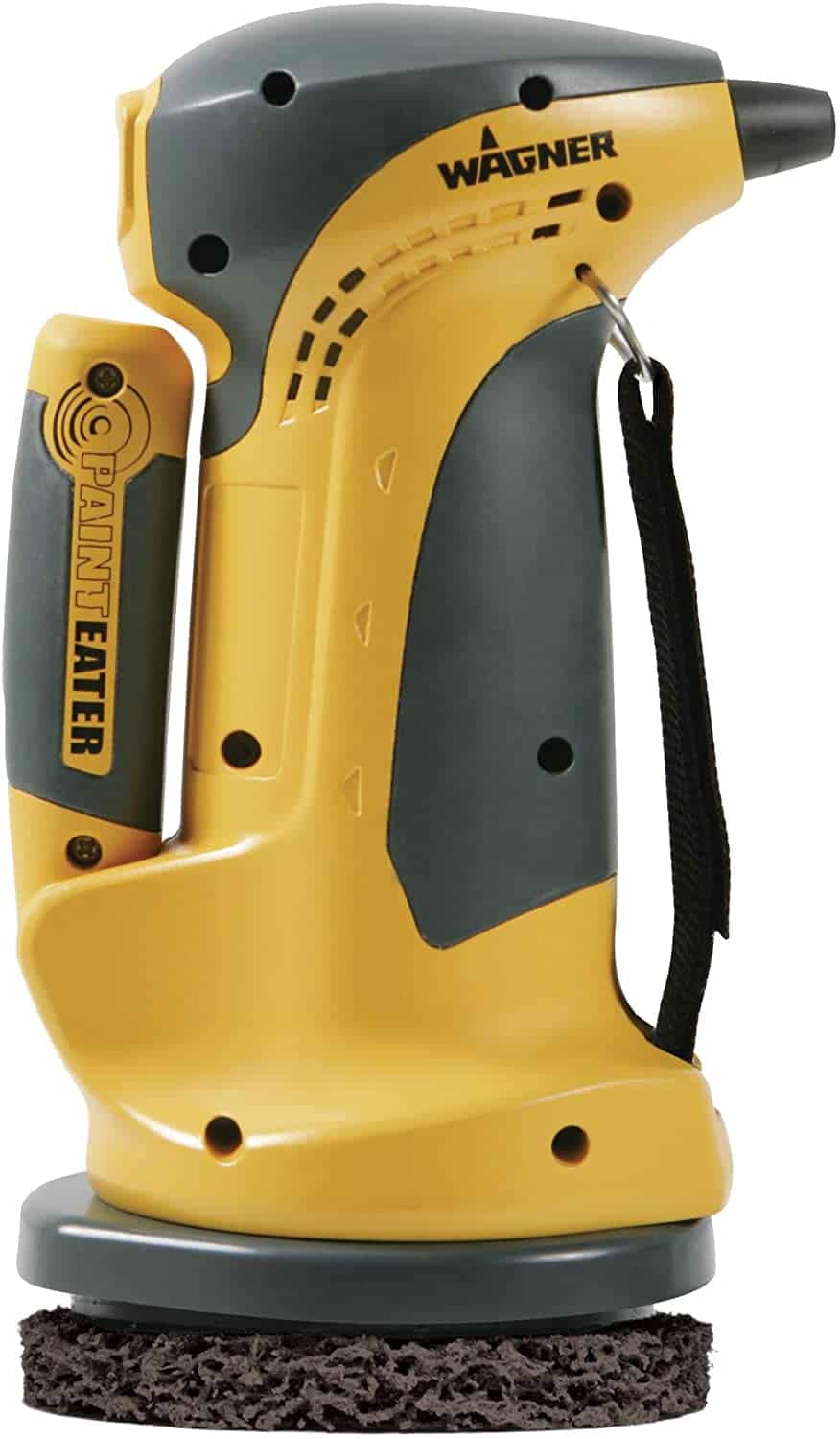 Whenever you are taking off paint from a surface, you need to make sure you do not damage that surface in the process. That is why the PaintEater by Wagner Spraytech sander promises that it will quickly get rid of the paint for you without causing any damage to the wood.
This product has a 3M spun-fiber disc that runs at 2600RPM, so you get reasonable control over the machine and outstanding performance and results.
It can be pretty difficult getting to paint in certain corners. That is where this sander comes in handy as you can use it at any angle; the disc runs on its edge to remove any paint residue without you breaking a sweat.
When you look at the product, the very first thing you notice is its design. This product has been built with performance and efficiency, and user comfort in mind. The PaintEater uses a 4-1/2" disc sander that does an excellent job sanding, but it does not cause any damage to the surface.
The sander uses a 3.2 Amp motor that ensures excellent power and top-notch performance. Thanks to its open-web disc design, you will not have to worry about the paint and dust gathering up efficiently. This device features the Flex-Disc system to tackle uneven surfaces.
Pros
Powerful and ensures excellent performance
Quite inexpensive
Gets rid of paint very fast
Very easy to use
Cons
Discs tend to wear out pretty quickly
Verdict
Overall, this is an excellent sander that will give you great results. It is the best sander for removing paint from wood when you want to smoothen the surface before repainting it. Check prices here
3. PORTER-CABLE Random Orbit Sander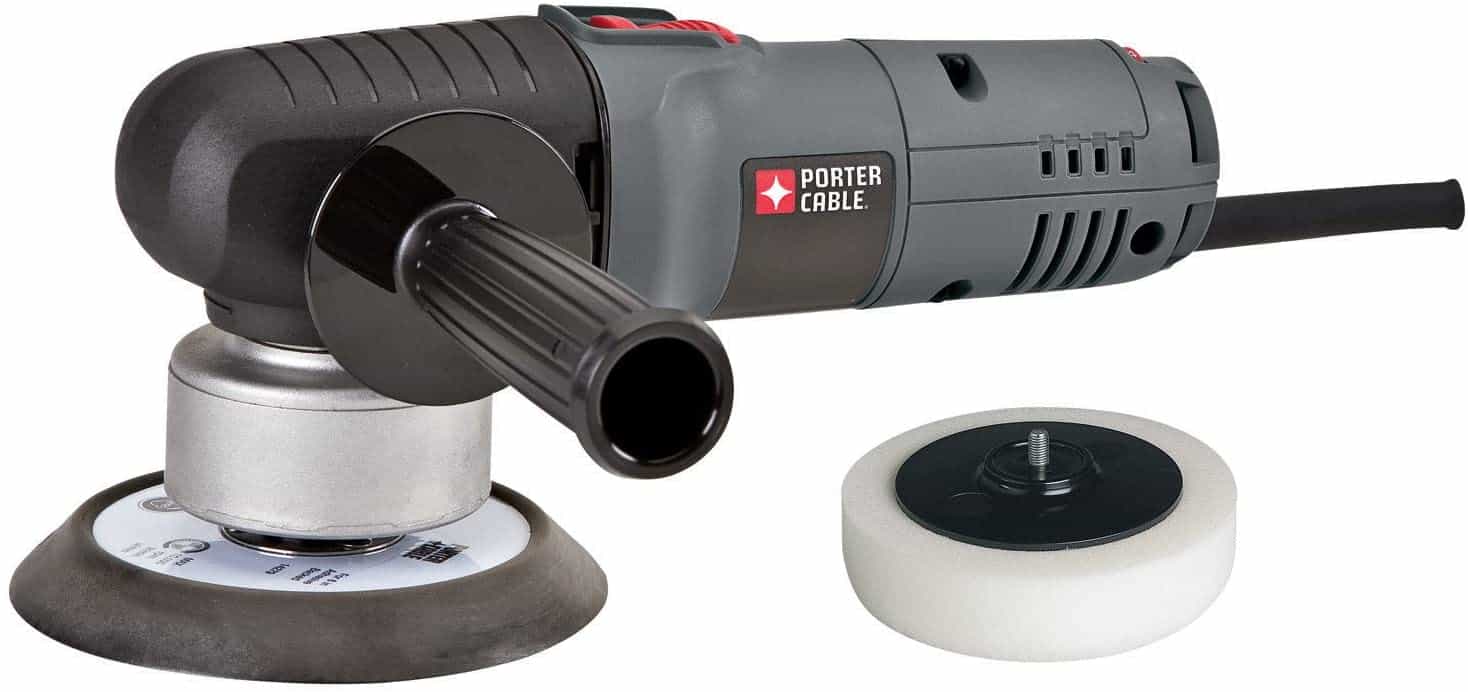 When it comes to sanding, one of the most important things is having control over the machine to effectively and efficiently do your task. That is why the PORTER-CABLE Random Orbit Sander is so fantastic; it allows the user great control and maintains its speed to ensure precise sanding.
With this thing, you can hope for the smoothest finishes as it provides maximum sanding speed and for you to easily maintain that speed. It uses a 1.9 amp motor that operates at a good 12000OPM.
As the name suggests, this random orbit sander has a random pattern, which means you will not have to worry about leaving marks on the surface of the material.
The sander has a sealed 100 percent ball-bearing construction, making it very sturdy and highly durable. When investing in a new sander, you would want it to last a long time, and this equipment promises precisely that. If you prefer silence when working on a project, you will be happy to know that it runs with little to no noise.
This tool also comes with a detachable dust bag, which helps reduce dust and allergens. So, you can detach the dust bag after it has collected the dust from sanding and remove them so that your working environment is dust-free and healthy.
The dust-sealed switch protects from dust ingestion and helps to prolong switch life.
Pros
Great build and highly durable
The dust-sealed switch ensures longer switch life
Features dual-plane counter-balanced fan to minimize user fatigue
Ensures longer switch life
Cons
May face some issues attaching the dust bag
Verdict
All in all, you can use it for a wide range of applications, from taking off paint to smoothening a surface. It is a great product to have for DIY and professional tasks. Check prices here
4. Makita 9903 3" x 21" Belt Sander
Makita is well-known for its reliable products that deliver the best performances, and the 9903 is no exception. This belt sander (like some of these) is very powerful and allows the user to sand with ease, resulting in smooth finishes.
The sander uses a very powerful 8.8 AMP motor, having an electronic velocity control ranging from 690 to 1440 ft. /min. So, you can adjust the speed as needed to match the application.
It comes with a dust bag as well, which does a great job of collecting all the dust and debris left from sanding and keeps your working environment healthy and dust-free.
It is one of the quietest belt sanders you can find on the market, running at only 84dB. Moreover, it makes little to no sound, making it easier to focus on the task. This sander also features an auto-tracking belt system which assists in tracking the belt without needing any adjustments.
To further add to users' comfort, the manufacturers of this sander gave it a large front grip design so that you can work on your project for longer hours without feeling discomfort.
It also has a 16.4-foot long power cord, allowing more freedom to move while working. This piece of equipment is effortless to use and works very fast and efficiently, making it the best sander for removing paint from wood.
Pros
Features a powerful 8.8 AMP motor
Variable speed dial ranging from 690 to 1440ft/min
It uses a comfortable front grip design
Efficient dust bag keeps working environment healthy
Cons
A bit on the heavier side
Verdict
Like most Makita products, this sander is very reliable and gets the job done without any issues. So, if you are looking for a good belt sander to remove paint, this is an excellent option for you. Check prices here
5. BOSCH Power Tools – GET75-6N – Electric Orbital Sander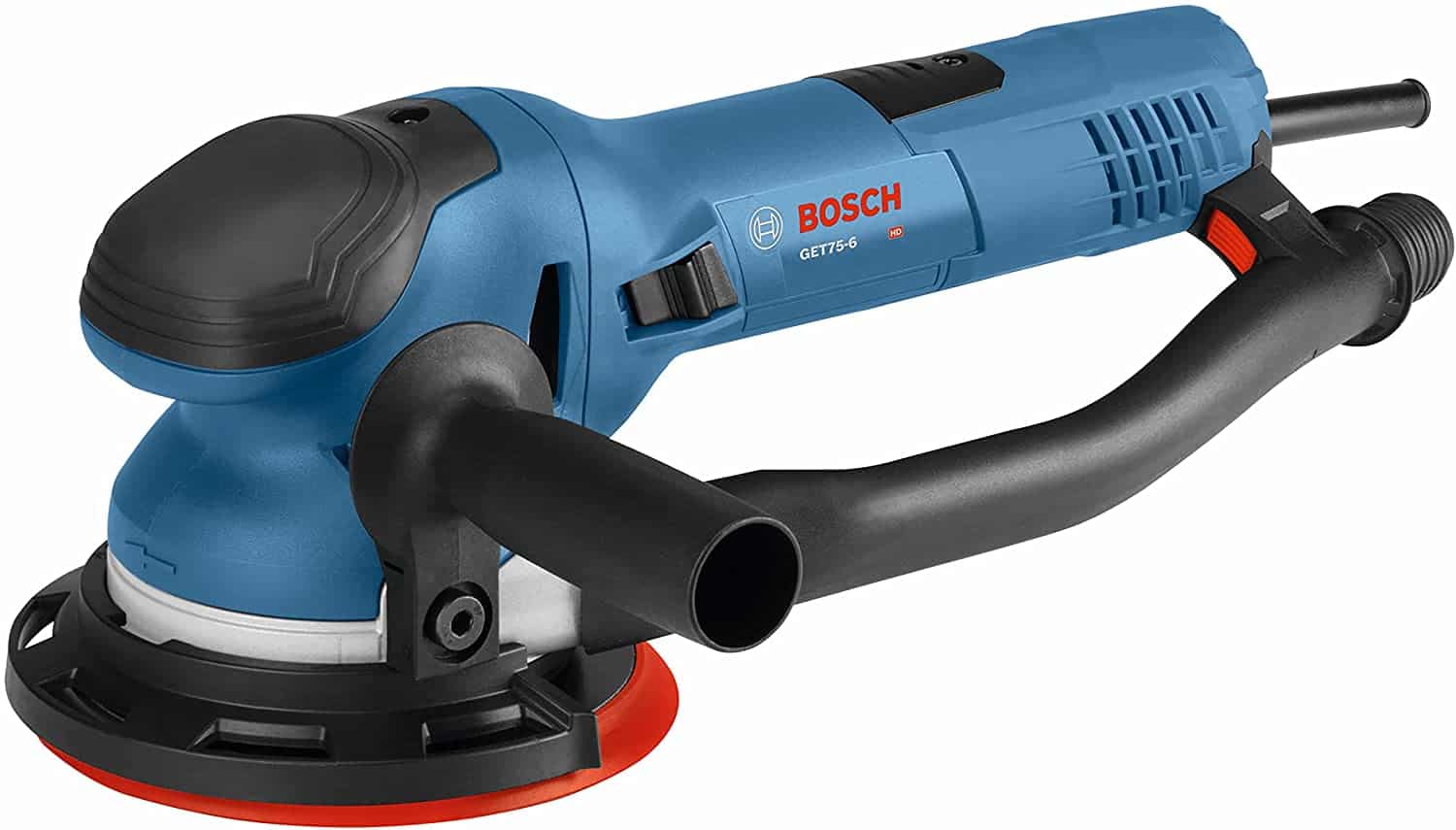 Finally, the last product on this list is an orbital sander by BOSCH. BOSCH is a very well-known brand known for making top-notch quality power tools, including the GET75-6N.
First of all, this is an electric orbital sander that uses a 7.5 AMP variable speed motor that features two sanding modes, random orbit mode and aggressive turbo mode.
Not just that, it is also super easy to switch between the two modes. All you have to do is flip the lever, and you can change the modes as needed while working on your project with total ease.
The sander was designed with your comfort in mind. This thing features a PowerGrip and ergonomic handle, making it comfortable to use. It features a multi-hole pad system that allows the machine to use a wide range of abrasive discs.
It is a very lightweight power tool and very easy to use. So, you will have an easier time working with it, and you will be able to use it for longer hours without feeling tired.
It also gets the task done quickly and efficiently, making it great to use on various surfaces for several different applications.
Pros
It runs on a powerful 7.5 amp motor
Very lightweight and fast and easy to use
Designed with users comfort in mind
Includes a dust collector to ensure a healthy working environment
Cons
Verdict
Overall, this orbital sander has everything it takes to be the best sander for removing paint from wood. It is an excellent choice for both professionals and DIYers due to its superb performance and ease of use. Check prices here
Types of Sanders for Paint Removal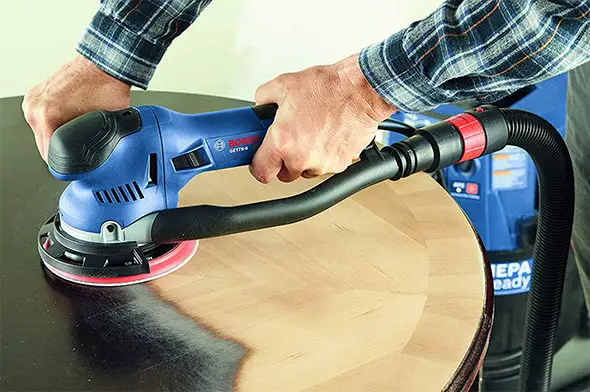 So now you know all about these 5 great products, but before you purchase, you should first figure out what type of sander you need.
But if you are not familiar with the different types of sanders, no need to worry because we are here to help you with that. We have listed some of the different kinds of sanders you should know about below:
Orbital Sanders
Orbital sanders are among the most common sanders and can be found relatively easily in hardware stores. They come with various features and are pretty easy to use, making them a popular choice among many.
These sanders are typically made with high OPMs, which means you can finish your sanding tasks very quickly.
They are designed for user comfort, and so they have an ergonomic handle so that you can continue sanding for longer hours without feeling any discomfort. That makes it great for working on wood and allows great precision on your part.
Belt Sanders
The sander that pretty much anyone who does sanding has probably used is the belt sander. Belt sanders are the most used type of sander because of their efficiency and versatility. You can use this sander to complete a wide range of tasks swiftly and with great results.
Although these are primarily used for shaping and finishing, they are also excellent for removing paint. For the highest efficiency, make sure the belt sander can be adjusted to suit your comfort and speed.
Arbitrary Sanders
Since we are talking about paint removal, there is no way we can skip talking about arbitrary sanders. It is the ideal tool to remove paint from wood or your furniture. If you have ever tried to take off paint from your wooden furniture, you know how tricky it can be. However, this sander can do the task quite easily and precisely.
You can also use this for finishes to smooth out paint coatings for a final touch. It even works much faster than other sanders, such as the vibrating sander, although it might not remove as much paint as the latter.
Shaft Sanders
Unlike the arbitrary sander, shaft sanders are known for taking out a large amount of paint. However, their real strength lies in sanding and smoothening bends and edges. Shaft sanders are sometimes combined with the belt sander to get the best results.
Frequently Asked Questions
Is an orbital sander good for removing paint?
An orbital sander can be an excellent choice for removing paint since they are pretty easy to use and get the job done well. However, since they tend to be on the smaller side, they are best used on smaller wooden furniture such as tables, wardrobes, and doors, among others.
What is the best grit paper for removing paint?
That mostly depends on the material you are working on. To remove paint from wood, you should go for 40 to 60 grit sandpaper. However, if you plan on detailing and need to get paint off edges, sandpaper with 80 to 120 grit will do great.
What are some features to look for in sanders?
Make sure the sander has a speed adjustment and is comfortable for you to use. If they come with a dust collector, that's always a plus.
Should I strip paint or sand it?
Although it depends on the situation, it is better to strip paint since it takes less time and effort.
Can you sand paint to make it smooth?
Yes, you can. While painting, you may notice tiny paint bubbles and unevenness over the coatings. That is why you should sand in between the layers to get a smooth and even surface.
Final Words
Finding the best sander for removing paint from wood is not a difficult task. You should find out what type of sander it is that you are looking for and what requirements it needs to meet.
From that, you can check out the products on this list to see which one suits your requirements.  We hope you found this article helpful and that it helps you get the right sander for yourself.
I'm Joost Nusselder, the founder of Tools Doctor, content marketer, and dad. I love trying out new equipment, and together with my team I've been creating in-depth blog articles since 2016 to help loyal readers with tools & crafting tips.