I love creating free content full of tips for my readers, you. I don't accept paid sponsorships, my opinion is my own, but if you find my recommendations helpful and you end up buying something you like through one of my links, I could earn a commission at no extra cost to you.
Learn more
If you are one of the people who work a lot with reclaimed wood, then a wood planer is a pretty standard tool for you. It is one of those devices that come in handy in your workshop and have a particular purpose.
Having the best wood planer (of any of these types) can save you a lot of trouble when shaping the thickness of the wood according to your requirements.
Without this product, working with wood would be extremely tough. It allows you to turn old, worn-out lumber ready to work with. It smooths out the rough edges and reduces the overall thickness of the wood, bringing both sides to an appropriate shape.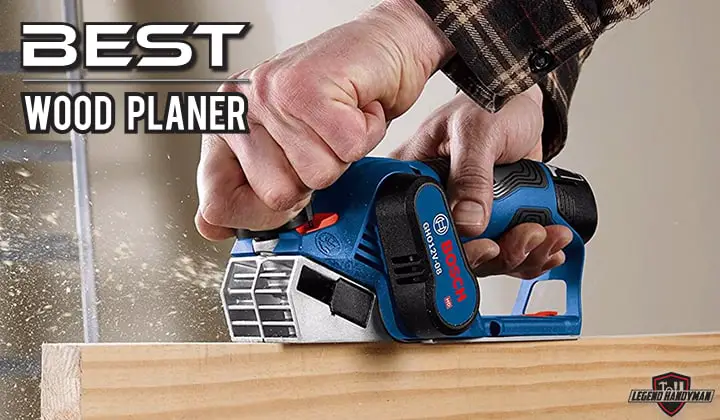 We have compiled a list of the best wood planer available in the market to save you the hassle of researching on your own. So, without any further delay, let us dive into it.
Best Wood Planer Reviews
Having a wood planer comes in very handy when you want to build furniture, smoothen the surface of a wooden plank, etc. It is a device that is used to trim the thickness of lumber by polishing the surface. Also, it can make both sides of the board parallel to each other.
As you already know, there are several kinds of wood planer models out there. In this guide, we will briefly examine the central features and elements of some of the best wood planers.
WEN 6530 6-Amp Electric Hand Planer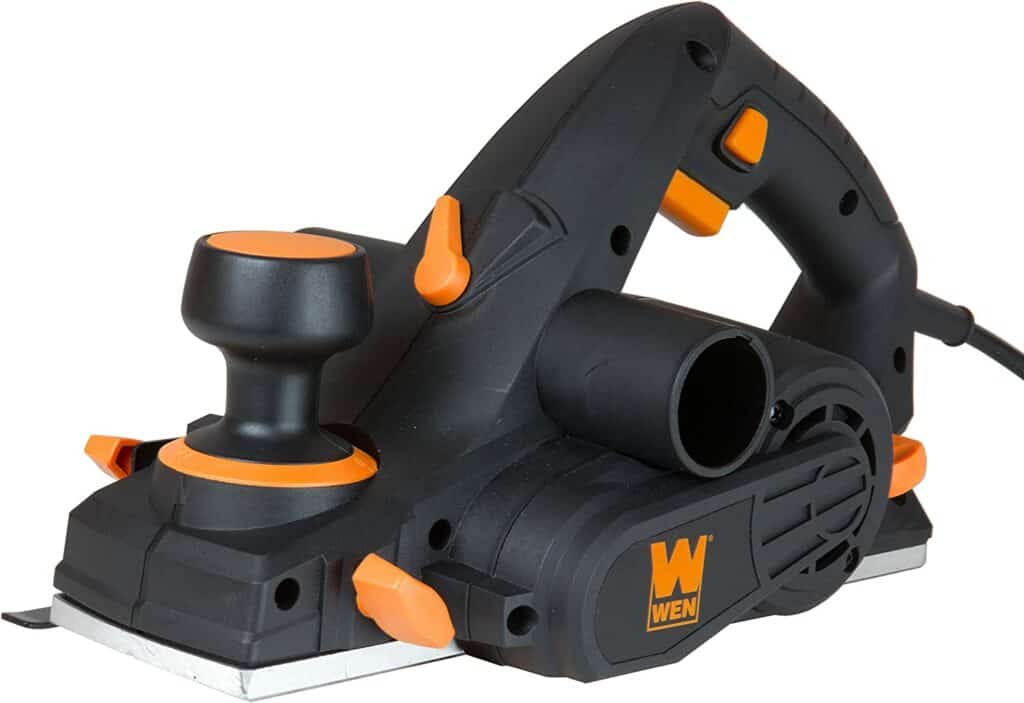 To become a skilled craftsman, you need to practice with proper tools. An authentic planer should be able to perform as expected. From fixing a jammed door to polishing the rough edges of a wooden shelf, the WEN 6530 Planer can do it all.
Since 1951, this company has been producing and designing highly qualified and budget-friendly power tools. Users acknowledge the product for its ability to manufacture gadgets with high power consistently. This planer can smooth out splinters, uneven edges, and chips. For fixing obstructed doors and other wooden pieces, this tool works like a charm.
This electric wood planer is very portable, weighing only 8 pounds. So, you can carry it to your work shed or sites with ease. It also comes with a dust bag, an electric hand planer, a kickstand as well as a parallel fence bracket. Its dimensions are 12 x 7 x 7 inches.
You don't need to worry about not achieving a perfect even wood piece because this tool runs on a 6-amp motor which can deliver 34,000 cuts per minute. This feature will give you perfectly aligned pieces of wood.
Its double-sided blade can launch a cutting speed up to 17,000 rpm to provide a precise and clean cut. The blades are also replaceable and reversible.
The planer has a cutting width of 3-1/4 inches and depth of 1/8 inch, which is excellent for trimming and fitting boards. Another versatile feature of the planer is that the cutting depth can be adapted easily, 16 positive stops adjust from 0 to 1/8 of an inch.
To change the direction of the sawdust, flip the switch from left to right. The V-shaped groove of the base plate shoe for chamfering purposes lets you straighten the corners of the sharp boards conveniently. You can also make rabbets and dados up to 1 inch deep as it consists of a rabbeting guide of 5/16 inch.
Pros
Budget-friendly tool
Operates in a very effective and effortless way
The dust bag collects wood shaving easily
Highly adaptable rabbeting guide
Cons
Difficult to maneuver kickstand
DEWALT DW735X Two-Speed Thickness Planer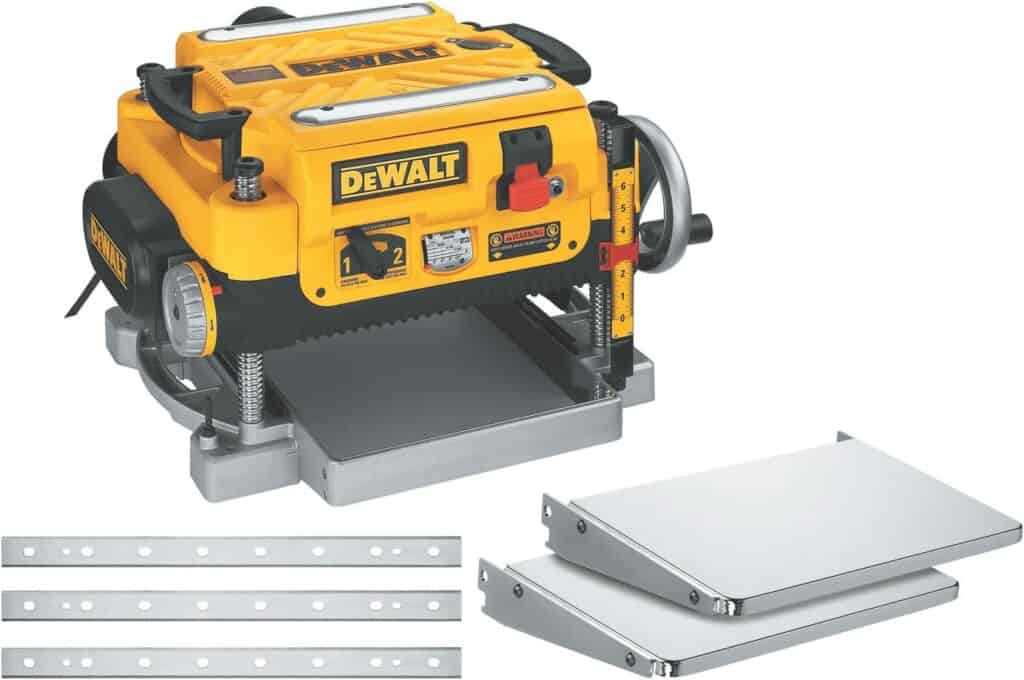 A wood planer is a perfect tool for decreasing the thickness of wooden planks or smoothing out the surface on one or both sides of the board. It's challenging to build a high-quality cabinet or furniture, so when you are searching for the best wood planer for the money, the DEWALT Thickness Planer is perfect for you.
This tool is a benchtop planer. Even though it weighs around 105 pounds, this might not be as lightweight as other planers. However, between two people it can be carted off easily to any place you want, be it a storage shed or a work site. Moreover, you can disassemble the outfeed and infeed tables to lessen its total volume and weight.
What's different than the rest of the planers with this one is the size of the blades. The 13-inch slicer includes a triple-knife structure which extends its life by 30% and also delivers a precise finishing. Furthermore, the blades are flexible and reversible but are expendable, and you cannot sharpen them.
This kit contains a 13-inch outfeed and infeed table, so it also gives you increased 36 inches of reinforcing to the 19-3/4-inch ground. These tables balance the boards and keep them even and level, reducing the chances of snipe. It also includes a gearbox which comes in 2 pre-setup speed options: 96 CPI and 179 CPI.
Both the speed serves different purposes. The higher gear delivers excellent finishes so you can use the board as much as you want while the lower gear decreases the density of the board with fewer passes. It comes with a 15-amp motor that can produce 20,000 rotations every minute.
Pros
Gives a very smooth finish
Includes an infeed and outfeed table
Comes with a gearbox with dual speed
A 15-amp motor which produces 20,000 rotation every minute
Cons
WEN PL1252 15 Amp 12.5 in. Corded Benchtop Thickness Planer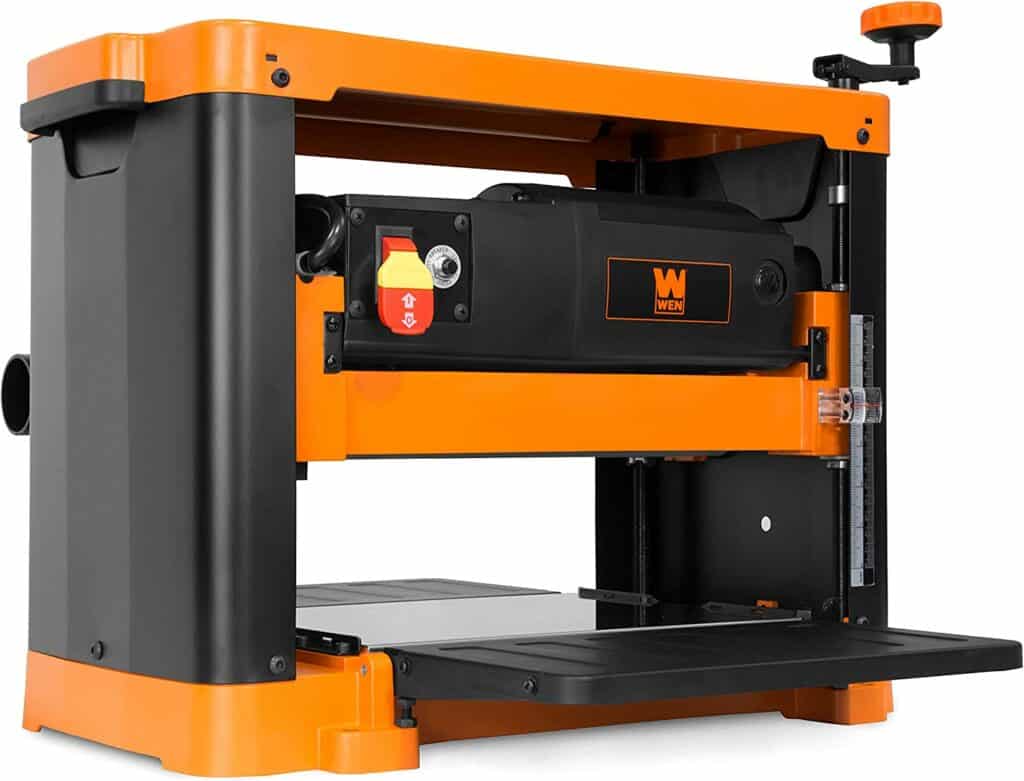 If you have a passion for becoming a woodworker or are looking for a new hobby, the WEN 655OT Planer is the best wood thickness planer. And if you're starting fresh, buying a benchtop thickness planer is the best option. It can create a smooth thickness on a piece of board.
This planer is the perfect tool for a household. It has a 15.0-amp motor, which is the standard range, and it can produce up to 18,000 cuts every minute. Since this is a basic benchtop planer specifically made for DIY fanatics, we can agree that the velocity is pretty brilliant.
You can also expect a consistent result because the motor works very efficiently when it moves the passing board at a speed of 26 feet per minute.
The table is made of granite which secures it from damage and also allows you to slide the boards smoothly across the surface. It also contains two blades for smoothing out the rough edges and gives it a clean, level surface. So, it does an incredible job of leveling surfaces.
It also supports up to 6 inches of board heights. Moreover, the blade can be adjusted to lower up to a maximum of 3/32-inch breaks which will not pressurize the machine. The sizes of the blades used are 12.5 inches, and you can also get replacements in sets of two.
Pros
15.0 amp with 18,000 cuts per minute
Strong and smooth granite tabletop
Has two replaceable blades
The perfect tool for beginners
Cons
Leaves undesirable streaks
PORTER-CABLE PC60THP 6-Amp Hand Planer
Restoring an old, cracked piece of furniture to its former glory can be a daunting task, especially if you want to reshape it by hand. In such a situation, a handheld designed planer comes in handy. The PORTER-CABLE Planer is one such innovative tool.
This planer is quite versatile, and it is made for applications such as smoothing planks, wooden doors, rafters, joists and also profiling or chamfering edges. It also contains a 6-amp motor with 16,500 rpm. It has the capacity and capability to carve 5/64" cut in one swift motion.
The highly portable device can be operated quite easily because of its simple to use controls. To make sure that you have no difficulties; the molded ergonomic hold is very convenient and also reduces vibration. Its lightweight feature will allow you to carry the planer anywhere you want, with ease.
Another flexible component of the planer is its dust bag. The mesh filtered bag can contain dust particles and wooden bits. More so, a lever which is attached to the double dust port lets you choose which side, left or right, you want to land the debris on.
This feature is a considerable headway and gives you a choice to move the planer at any angle and still enable you to gather the dust. Sometimes having just one dust port can lead to mishaps and being showered by the debris and sawdust.
It also has a cutter head with a depth adjuster, the knob handle at the front has visual markings for easy visibility. The 11 positive stops on the knob click into position from every 1/16" up to 5/64".
Pros
Comes at a very affordable price
Double-sided dust removal port
Highly portable
High capacity motor
Cons
Learn more on handheld electric planer reviews
WEN 6552T Benchtop Corded Thickness Planer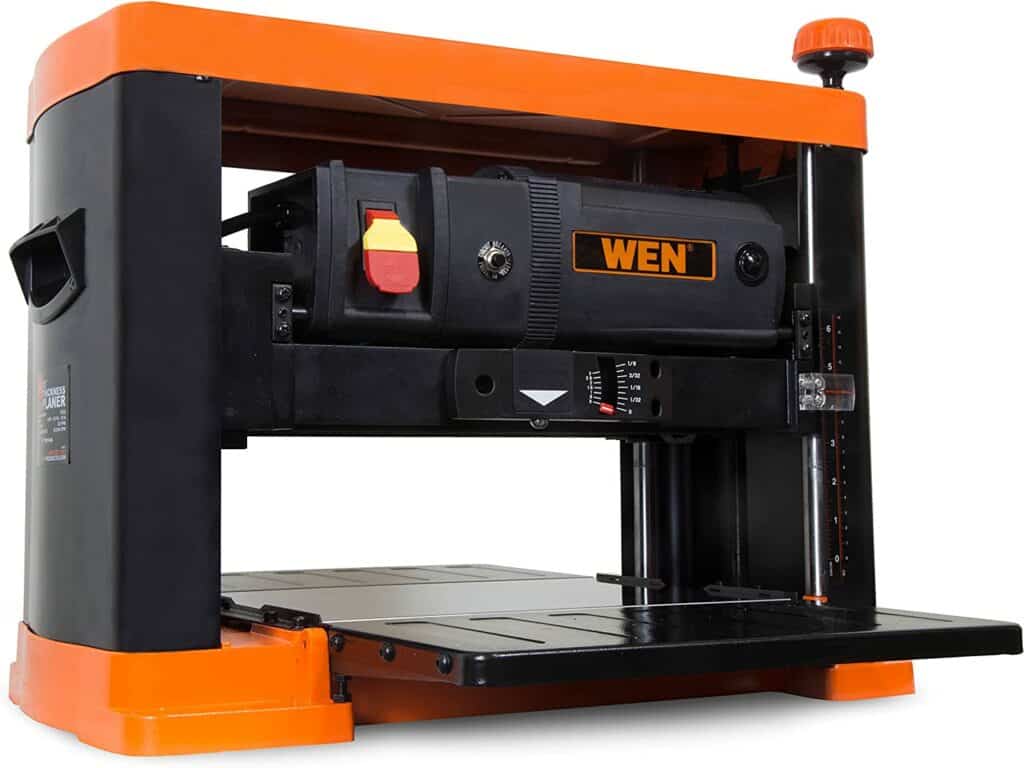 Leveling your own piece of timber can be quite rewarding when you have the right planer. As we are already aware, numerous products inundate the market, both good and bad. But we can assure you that the WEN 6552T Planer is one of the best out there.
This planer has the best of everything. It contains a 15.0-amp motor which might seem average, but the knives of the planer move quite fast and rotate up to 25,000 cuts per minute. Typically, the faster the blade moves, the smoother the finish, so you end up with a clean and even surface.
The brisk cutting speed also makes it quicker than other planers, as well as it can pass boards beneath the blade up to 26 feet per minute while delivering perfect results. Instead of a standard two-blade system, this device features a three-blade mechanism that enables the planer to level the wood more smoothly and efficiently.
The planer can handle planks up to 6 inches in height. Consequently, the cutting depth can be adjusted to cease at intervals of 3/32 inch. The 3-blade system makes it a very versatile tool, and it can even cut the toughest of boards. They're also replaceable in sets of 3.
Instead of granite, this gadget has a sleek metallic table with an incredibly glossy varnish. So, the wooden boards are very easy to push through, and the width of the table allows boards up to 13 inches.
Pros
A budget-friendly planer
Has a three-blade cutting system
High quality sleek metallic table
15-amp motor with 25,000 cuts per minute
Cons
Not suitable for limited space
Makita KP0800K 3-1/4-Inch Planer Kit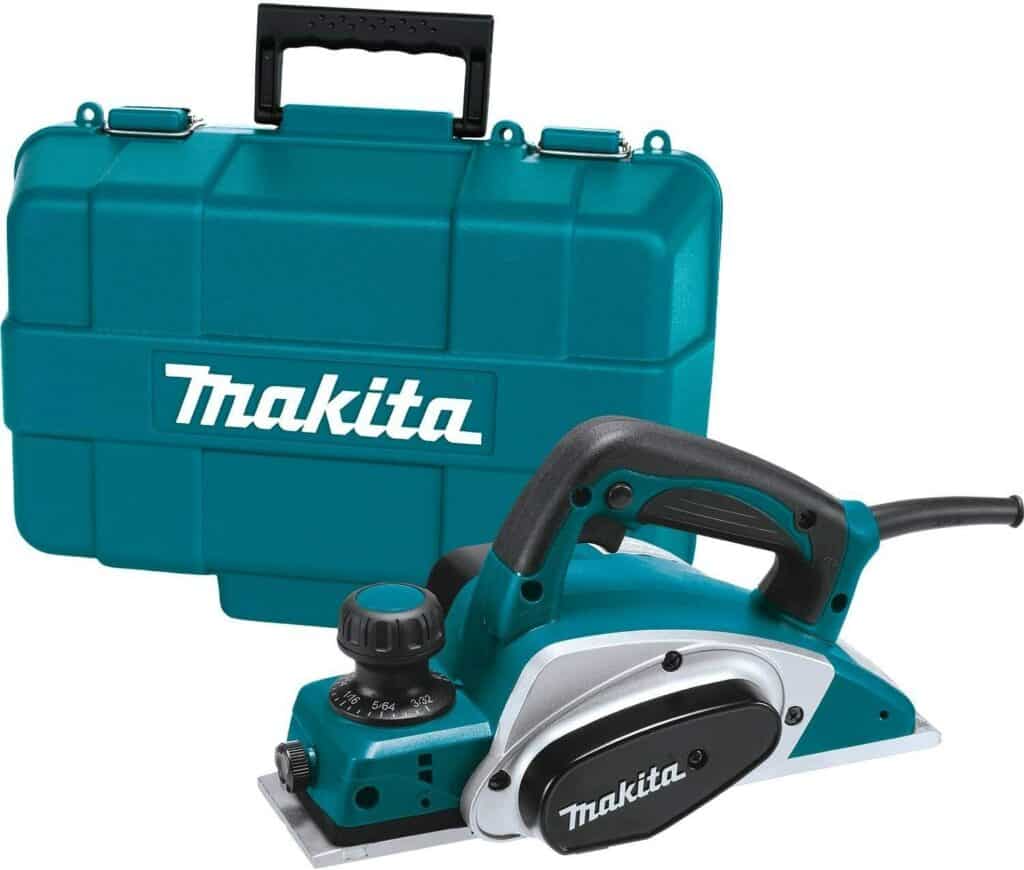 Both professional and amateur woodworkers can find merit in a good planer. They are the staple of every workshop that has wood as its primary material. The Makita Planer Kit features a unique design with top-notch materials for optimal performance.
This handheld planer is manufactured to sustain itself in a professional environment with zero effort. Unlike other regular planers, this has a 7.5-amp motor with a 16,000 rpm of speed. Compared to other large size planers in the market, this device contains more power than the other ones.
It's convenient not only due to its size and lightweight, but it also has a rubber handle. This feature ensures full protection of your hands while you use it. It can cut through heavy-duty tools smoothly and efficiently. The double-edged blades are built with the carbine for optimal performance and which can level up to 5/32" deep and 3-1/4 wide in a single steep motion.
The planer features an adjustable depth knob, which lets you choose a scale of your preference for more precise and accurate cutting. It also includes a spring stand that raises the base to secure the blade.
Furthermore, an effortless blade installation that will elevate the productivity, performance as well as bring you comfort and satisfaction.
Pros
Simple blade mechanism for easy installation
Includes built-in lock for non-stop use
Double-edged blades of carbine
Extremely lightweight
Cons
Ryobi HPL52K 6 Amp Corded Hand Planer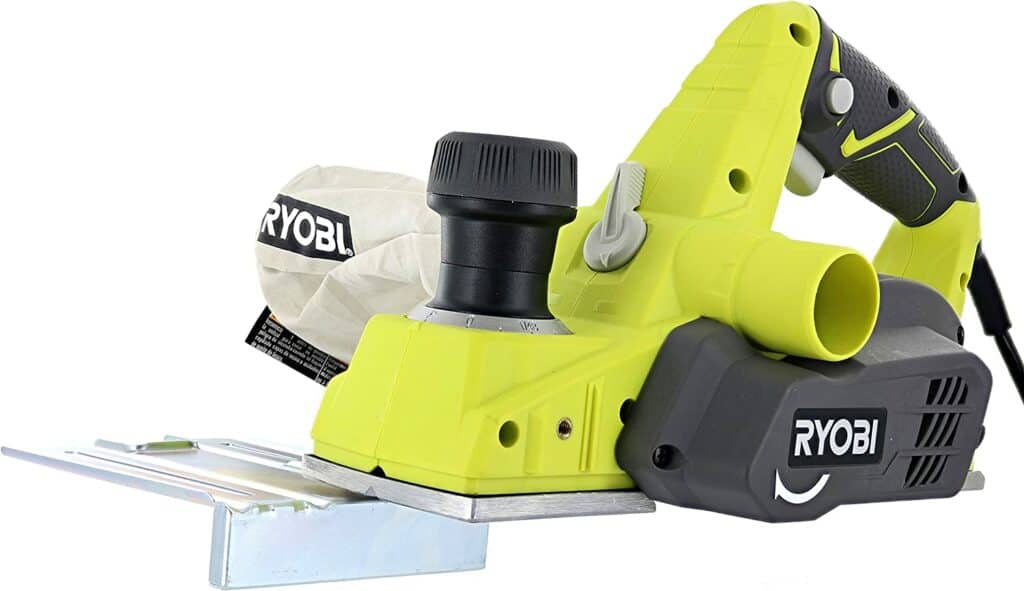 Plenty of people have been known to use a table sander or a hand sander to cut the thickness of wood boards. But it is a procedure which is entirely inaccurate and consumes a lot of time. Plan your boards through the Ryobi Hand Planer and observe as the blades polish the rough edges to a clean finish.
Made with the highest quality materials; this planer weighs only 3lbs which makes it one of the lightest tools available. In addition, you can also adjust it up to 1/8 inch to 1/96 inch. This feature can do most of the tasks where extreme precision isn't that much of a necessity.
The compact feature will allow you to operate this planer at home as a DIY enthusiast or as a professional in the workplace and the construction industry. It also includes a kickstand.
Which means if you worry about damaging either the handheld planer or the workpiece you're operating on, you don't need to be. You can place the kickstand on both table and workpiece without harming either of them.
It also has dust ports on both sides, so you can decide on which side you want to empty the dust particles and debris. The equipment has a 6-amp motor that runs about 16,500 rpm and also contains a 6 feet cord. The handle with the rubber mold gives you enough friction and decreases the chances of slipping.
Pros
Rubber molded handle
Very cost-effective planer
Quite lightweight at 3lbs
Double dust ports
Cons
The Best Wood Planer Buyer's Guide
Before you take out your wallet and invest in a wood planer, there are some key factors you must consider. Without understanding the fundamental features that make a good device, you cannot make an informed and wise decision.
To help you with this task, the following section of the guide will focus on what to look for when searching for a wood planer.
Size of the Planer
A thickness planer can come in a variety of different sizes. Some bulky models are made to sit in your workshop, and other smaller, portable models allow you to transport them to your work locations. The one you get depends on the type of work you are planning to do.
Stationary planers are very powerful when compared to the handheld models. But the handheld models make up for it by being very portable. If you are someone who needs to work in different places, a handheld version might be of use to you.
Blade Number and Changing System
The blade is an essential part of this product. Several models feature even multiple blades allowing you to make precise cuts suiting your specifications. If you are planning on doing heavy-duty works, getting one with two or three edges might be helpful. Single blades should suffice for any standard functions.
Another crucial feature to look out for is the replacement system of the blades. Naturally, the sharpness of the module will degrade over time. When that happens, you need to be able to switch them out quickly and effortlessly. For this reason, make sure that the changing system of the blade is not too complicated.
Power
The amp rating of the motor determines the power of the planer. In the case of heavy-duty commercial-grade models, it is measured using horsepower. As a rule of thumb, the more power the motor has, the more precisely and efficiently the planer can work.
Typically, you can get away with a 5-6-amp device for most indoor works. But for high-profile tasks, you might need a more powerful machine.
Cutting Depth and Bed Width
Cutting depth means the amount of wood that the blade can take away in a single pass. The quality of the module also contributes to the cutting depth of the device. Carbide blades are usually reliable and can tackle most tasks with relative ease.
Most models come in two depth maximum limits; either 1/16th of an inch or 3/32nd of an inch. Depending on your requirements, you need to decide which one to get.
The bed width of the planer translates to the size of the loading dock of the device. It determines the maximum size of the lumber you can use to work. Along with the width, the bed should be flat and smooth as well, since it is the prime requirement for precise work.
Cuts Per Inch
This value dictates how much of the material is removed by the machine blades per inch. A higher CPI value is usually better. To get a better understanding of this feature, you need to look at your planer's functions.
A wood planer makes a lot of small cuts with the blades instead of a single smooth one. If the device comes with a higher CPI, then each cut is smaller, resulting in a more seamless finish.
Feed Rate
Feed rate determines how fast the lumber will feed into the device. It is measured in feet per minute. A lower value means that the lumber goes in slower, and thus you get a higher number of cuts.
It results in getting a smoother finish. So, you should opt for a low fpm unit if you want to do precise tasks.
Ease of Use
You should not opt for a device that is too complex for you to handle. Instead, your choice should be based on efficiency in using and the flexibility of the planer so that you can use it in different situations.
What we mean by efficiency is that you want a product that can complete the task in a specific time frame, still maintaining the quality of the finish.
You do not want a product that requires you to sit through the manual or look up instruction video day after day.
The right device will be the one that you can pick up from the store and start using it as soon as you get it set up. Versatility and ease of use should be top considerations before making your final decision.
Budget
Your budget limitations are one of the prime limiting factors in any purchase. The price of the wood planer may vary depending on the manufacturer and the quality of the device. When you consider the price of the product, you should also consider the installation and maintenance cost that comes with it.
Benchtop Planer VS Hand Planer
There are a couple of different types of planers out there. Your intended purpose should be your guideline as to which kind you need at the end. If you are having a hard time deciding between a benchtop planer and a hand planer, then this section of the guide is for you.
If you are mostly working at home on different DIY projects, the bench planer trumps over hand planer. It comes with a wide bed size and gives you higher accuracy and precision.
If you are planning to do heavy tasks regularly, bench planer might be your best choice. Due to its motor size and power, you can use it for any heavy-duty tasks too. But it also costs a lot more than a hand planer.
On the other end, a hand planer gives you portability, allowing you to take your tool wherever you need. These tools are not as accurate as their bigger counterparts and are often used for maintenance projects rather than prep jobs. They are also more affordable than benchtop planers.
Frequently Asked Questions
Q: Do I need a planer for woodworking?
Ans: A planer is an essential tool if you want to get the best out of unfinished lumber.
Q: What is Snipe?
Ans: Snipe means when your planer cuts deeper than what you intended. To control it, you need to keep the stock on the bed firmly. This is especially important at the beginning and end of the process.
Q: Do I need a dust collector in my planer?
Ans: It is vital as planers eject a large number of wood chips. You need to make sure that they are safely collected or else they might hamper your workplace safety.
Q: Can I use a table saw as a planer?
Ans: You can, but it is not recommended.
Q: What is a jointer?
Ans: A jointer makes the face of a twisted or warped board flat. Additionally, it can straighten and square the edges.
Final Thoughts
There is a lot to understand before investing in such a massive product. You cannot judge the device simply on the look and feel of it and must be chosen depending on how you are going to use it.
Hopefully, this guide will help you to find the best wood planer out there. If you do not select the right product for your specific task, you will not be wholly satisfied with the outcome.
I'm Joost Nusselder, the founder of Tools Doctor, content marketer, and dad. I love trying out new equipment, and together with my team I've been creating in-depth blog articles since 2016 to help loyal readers with tools & crafting tips.