I love creating free content full of tips for my readers, you. I don't accept paid sponsorships, my opinion is my own, but if you find my recommendations helpful and you end up buying something you like through one of my links, I could earn a commission at no extra cost to you.
Learn more
Working with wood isn't easy. There are a lot of precise measurements involved. There are many points you need to keep track of, especially thickness. However, if you've worked with wood before, you know it's not easy to plane thickness.
So, what can you use? A thickness planer of course. However, these can be extremely expensive. It's a safe bet to buy the expensive ones, but usually, you don't need it. You just need one that matches your preferences.
So, we're going to help you find the best benchtop thickness planer based on your preferences and needs. We'll introduce you to some of the top models on the market with detailed features to help figure out which ones fit your needs the best.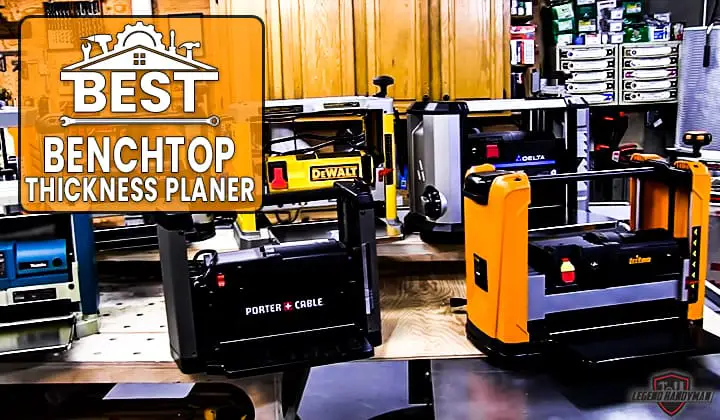 Furthermore, we will have a buying guide to help you further analyze each of your options. Moreover, there's a FAQ section that will preemptively answer the most common questions. So, let's start off with the reviews.
Top 7 Best Benchtop Thickness Planer
After extensive rigorous research, we've found 7 superb planers that blew our expectations. All of them were carefully selected to satisfy different needs. So, let's see what we've found.
DEWALT Thickness Planer, Two Speed, 13-Inch (DW735X)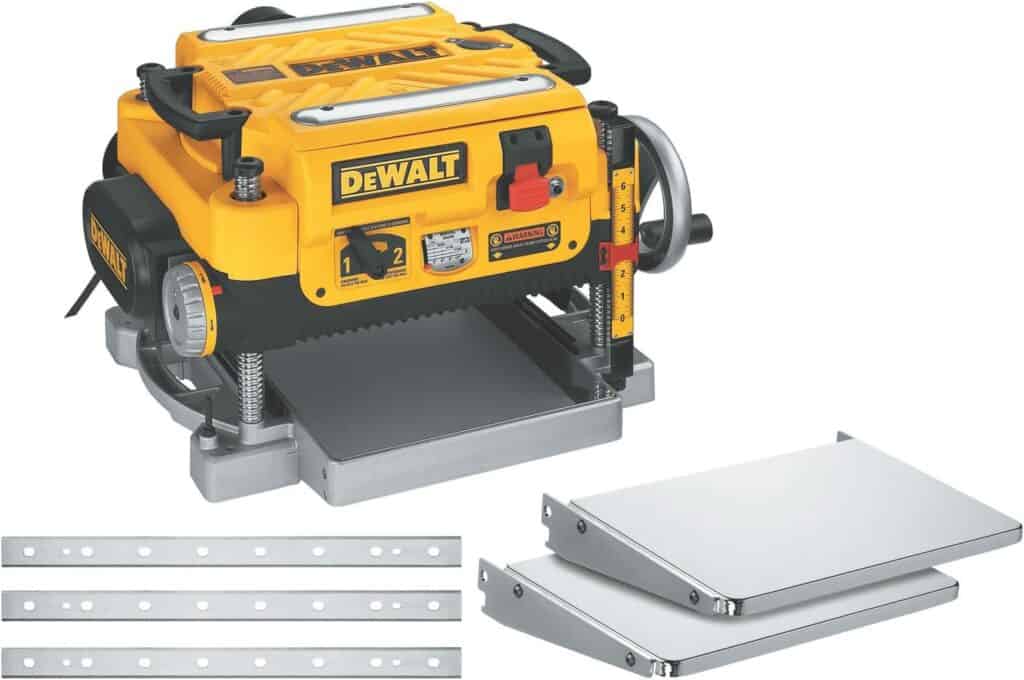 You'll hardly ever find a thickness planer list without Dewalt. They have a long legacy of fantastic power tools and types of machinery. That's because they don't spare any expense when it comes to proper hardware. They offer a full package of power.
For one, they have an extremely powerful 20,000 rotations per minute motor. As a result, it can eloquently plane any surface with little to no issues. It uses extremely high-grade knives to cut down all rough edges for something smooth and plane.
However, instead of sticking to just one set of knives, this Dewalt machine has 3. The added sets take the load off each individual one, meaning they don't go dull as soon. This increases their lifespan by 30% while also drastically increasing effectiveness.
Anyone who's ever been around a thickness planer knows how messy they can get. Rough wood going through blades rotating at tens of thousands RPM is bound to lead a decent amount of sawdust. Likewise, this unit does the same. However, it counters this eloquently with an intuitive vacuum.
It exhausts most of the dust away from you and the machine to prevent any kind of harm. You also get the option to choose between two speeds based on the kind of smoothness you want. Even now, we haven't even come close to listing out every single reason why this unit is nothing short of a masterpiece. We can confidently say it is one of the best planers we've ever worked with.
Highlighted Features
High-power 15 amps motor that can dish out 20,000 Rotations per minute
Cutter head moves at about 10,000 rotations per minute
Uses 3 knives to reduces the pressure on each individual one, increasing lifespan by 30%
Maximum cut depth of 1/8 inches
Depth and width capacity of 6 and 13 inches respectively
Includes infeed and outfeed tables, along with an extra set of knives for backup
Optimizes cuts at 96 CPI and 179 CPI
Drop feed rate stands at 14 feet per minute
Pros
Comes with an extra set of knives
The option between two speeds gives you more freedom
Extremely powerful 15 amps, 20,000 RPM motor generates smooth cuts
 Its 6 inches of depth capacity and 13 inches of width capacity is astonishing for a benchtop unit
The infeed and outfeed is the perfect design
Cons
As great as the knives are, they are expensive to replace
WEN PL1252 15 Amp 12.5 in. Corded Benchtop Thickness Planer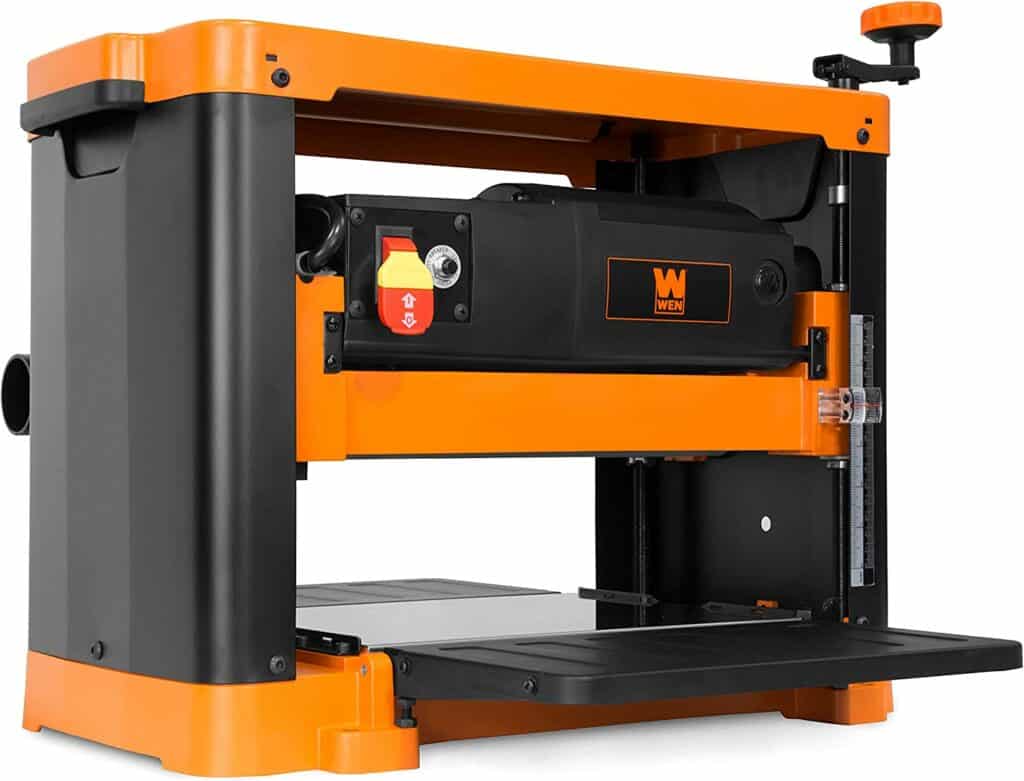 Much like Dewalt, WEN has made a name for themselves for the sheer level of quality they produce. Each unit is nothing short of an absolute masterpiece and this unit is no different. Starting from its superb 17,000 CPM motor to its mounting and portability options, the 6550T is undeniably something special.
Let's start off with the motor. It can make any surface plane with grace. A few rounds in the machine and all your materials will have just the right amount of smoothness and depth to it. That wouldn't be possible without its extraordinary 15 Amp motor.
While you turn the crank to adjust the depth, you need to be nothing short of precise. WEN acknowledges that and adds in a superb new feature that gives the machine unmatched precision.
It does so with its wide 0 to 3/32-inch depth to plane off adjustment range. On that note, it has a superb capacity when it comes to planning. It can handle anything up to 6 meters in depth and 12.5 meters in width.
Of course, we have to talk about its wonderful granite table. The superb material significantly boosts its integrity and lasts considerably longer than any other material you'll find. The machine also has a sturdy build that prevents any kind of shaking or rattling for 100% smooth cutting.
Highlighted Features
Long-lasting heavy-duty granite table
Easy-to-maneuver adjustment handle
Sturdy cast iron base for the most support and stability
Foundation has small holes for you to mount it onto your workspace
Side handles make it easy to carry
Board width capacity of 12.5 inches and depth capacity of 6 inches
Powerful 15 Amps motor that generates 17,000 Cuts per minute
Reliable dust port removes directs sawdust away from the workspace
Depth to plane off adjustment range is as wide as 0 to 3/32 inches
Weighs 70 pounds
Pros
Impressive motor runs at high cuts per minute
The excellent foundation keeps the machine still during operations
Granite table boosts longevity
It can handle boards as deep as 6 inches
Intuitive infrastructure makes it easy to carry
Cons
You'll need to retighten some screws every now and again.
Makita 2012NB 12-Inch Planer with Interna-Lok Automated Head Clamp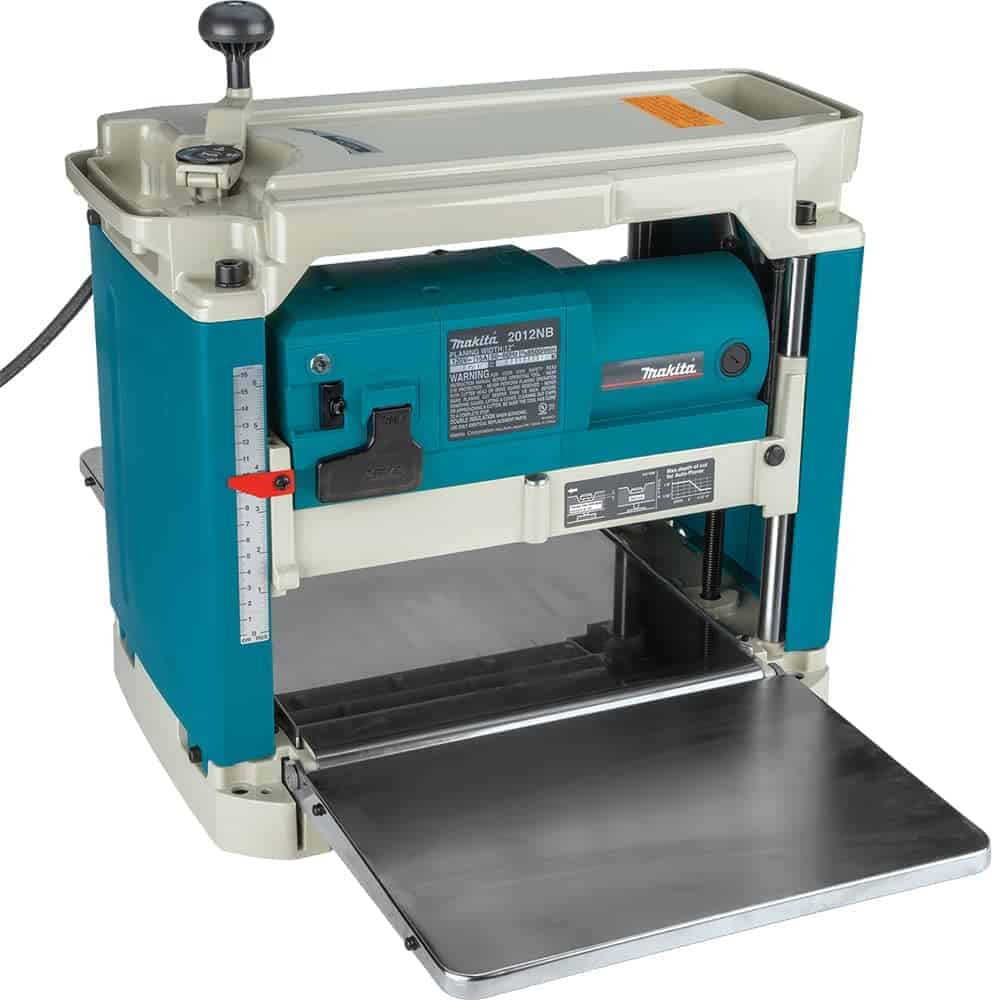 It's easy to look at the Makita 2012NB and dismiss it for being so small and light. However, that feature is exactly what makes this unit so special. No matter how compact it seems, it does not sacrifice any capacity; being able to plane boards that are 12 inches wide and 6-3/32 inches thick.
It does so with grace with its 15-amp motor with 8,500 RPM. If you've ever used a planer, you know that good noise-canceling headphones are a must. They are extremely noisy and unprotected use can seriously damage your ears.
Even while you're protected, your household will hear the loud noise of the motor even if they're far away. This Makita model decreases that concern. Their smartly engineered motor only reaches 83 decibels. Although you should still use ear protection (like these top earmuffs), the decreased noise keeps the workspace more peaceful.
One of our favorite features on this unit is its ability to eliminate sniping. If you aren't aware, sniping is when the start or end of the board is slightly deeper than the rest. It may not be noticeable much with the naked eye, but once you run your fingers down them, they become apparent.
Usually, you need to employ special maneuvers to eliminate the risk of snipes. However, that's simply not necessary for this Makita unit. It brings a whole new meaning to convenience.
Highlighted Features
Complex Intra-Lok automated head clamp system prevents planer snipes
Operates at 83 decibels: much quieter than most other models
15 Amp motor with a respectable 8,500 RPM no-load cutting speed
Weighs just 61.9 pounds
Small in size for compactness
Plane capacity stands at 12 inches wide, 1/8 inches deep and an impressive 6-3/32 inches thick
Large table extensions for longer boards
The depth stop is 100% adjustable if you're going for repeat cuts
Uses an LED light to indicate whether it's on or off
Easy to change blades due to smart infrastructure design
Comes with magnetic holders, and a toolbox with wrenches
Pros
Highly compact
Lightweight, but still powerful
Prevents planer snipes
Smart interface notifies when on and lets you easily change blades
Comes with a handy magnetic holder
Cons
Doesn't have a quality dust hood
POWERTEC PL1252 15 Amp 2-Blade Benchtop Thickness Planer For Woodworking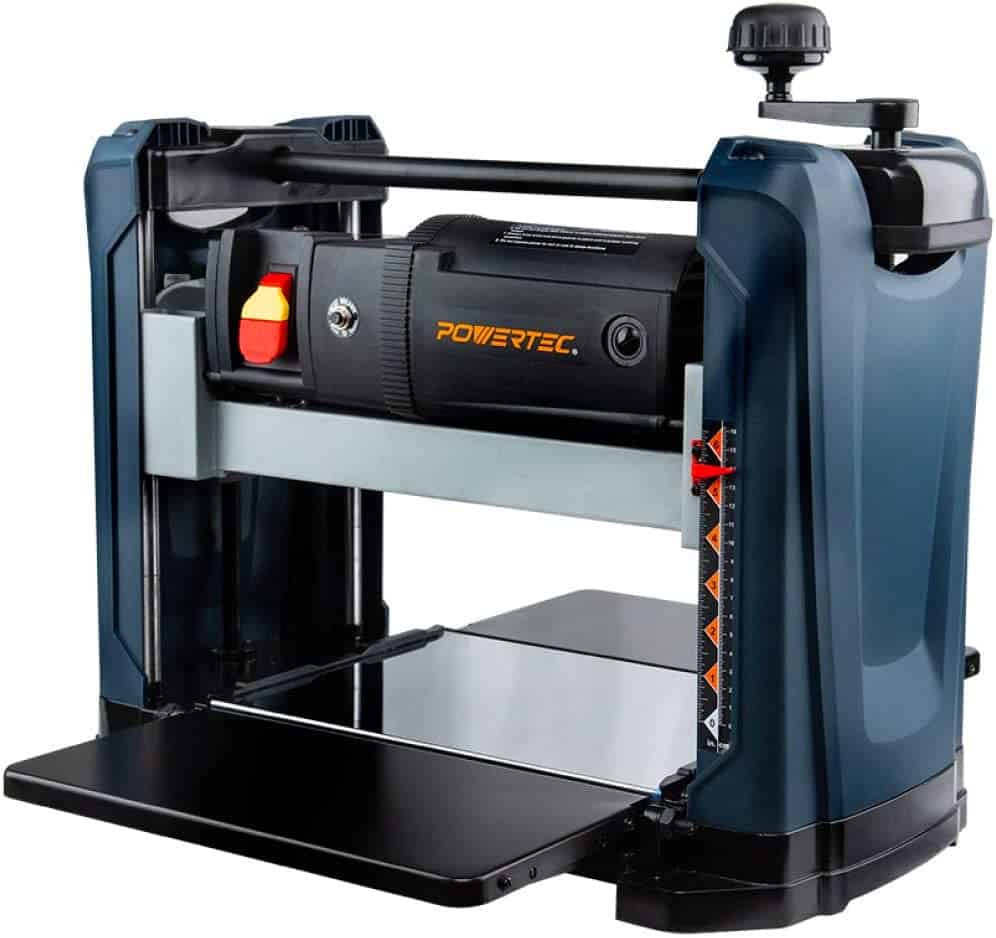 For our fifth entry, we've reached a planer that is both portable and capable. It dishes out pristine cuts you can't generally expect from units so small and light. Nevertheless, the Powertec PL1252 delivers in many regards.
Starting off, let's talk about their anti-wobble foundation. They've made sure that the device stays still at all times. This gives their devices 100% stability, offering nothing short of the best finishes you'll ever see.
That's right, this device offers one of the best finishes we've ever had the pleasure of witnessing. It does so with a speed and grace you wouldn't expect from a portable device. That's right, even though it's heavy-duty enough to handle anti-wobble mechanics.
What good is stability, if it can't cut? Thankfully, the PL1252 dishes out an impressive 18,800 cuts per minute due to its smart dual blade set up. As a result, you get rapid cuts at superb speeds.
All that for a device that just weights 63.4 pounds is nothing short of amazing. It even comes with handles that make it portable. The price is also much more reasonable when you consider the benefits as well.
Highlighted Features
Dual blade system for double the number of cuts per rotation
Runs at 9,400 rotations per minute speed with high power motor
Can cut at 18,800 cuts per minute
High-grade blades can cut into hardwoods
The strong foundation offers a sturdy build with anti-wobble properties
Supports 12.5 inches wide boards with up to 6 inches of thickness
Can repurpose wood and add a finish
Rubber-based comfortable crank handle
Side handles for portability
It utilizes a spindle lock system to safely change blades
4 column design reduces snipe
63.4-pound weight
Pros
Can deliver a whopping 18,800 cuts per minute
Heavy-duty build prevents wobbling
Manages to weigh just 63.4 pounds; making it portable
Offers smooth finishes; perfect for furniture
Gets the work done very fast
Cons
Needs a strong vacuum due to the dust it generates
Delta Power Tools 22-555 13 In Portable Thickness Planer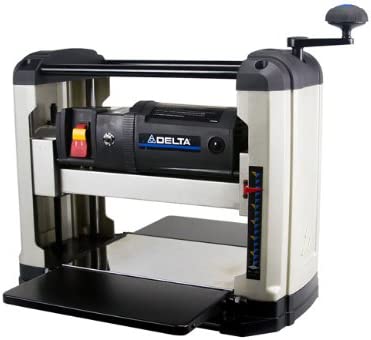 Nearly at the end, we arrive at a model designed with the express purpose of portability in mind. While the other models are indeed portable, all of them have a weight that goes over 60 pounds.
Not this though. That's right, this model weighs just 58 pounds; making it exceptionally easy to carry wherever you want to. So, you might be thinking, where does it lack?
Usually, lower weight means weaker hardware. However, it can also mean advanced more compact hardware. The latter is true for this unit. This becomes apparent the moment you examine its features and specifications.
It has an incredibly fast feed speed, going as fast as 28 feet per minute. The unit also generates cuts at a superb rate of 18,000 cuts per minute. This creates smooth finishes and high-quality cuts in just a matter of a few minutes.
The knives are also double-edged. This lets you simply take them out, reverse them and put them back in once one side gets dull. So essentially, each blade has double the lifespan of a regular one.
Highlighted Features
Uses unique Nitrile synthetic rubber for infeed and outfeed rollers
Feeds at a rate of 28 feet per minute
Maximum depth cut stands at 3/32 inches
Knives are double edges to double the lifespan
Uses a dual blade set up to double effectivity
Stock dimension support stands at 13 inches wide and 6 inches thick
Cuts at 18,000 cuts per minute
Reversible dust port lets you choose to collect dust either from the left or the right
Uses a quick knife-change system to quickly change knives
58-pound weight
Pros
The lightest weight you can ever ask for
Compact but also sturdy
Infeed and outfeed tables reduce snipe
Adjustable dust ports add convenience
You can quickly and easily change knives
Cons
Hard to repair if damaged
Mophorn Thickness Planer 12.5 inch Thickness Planer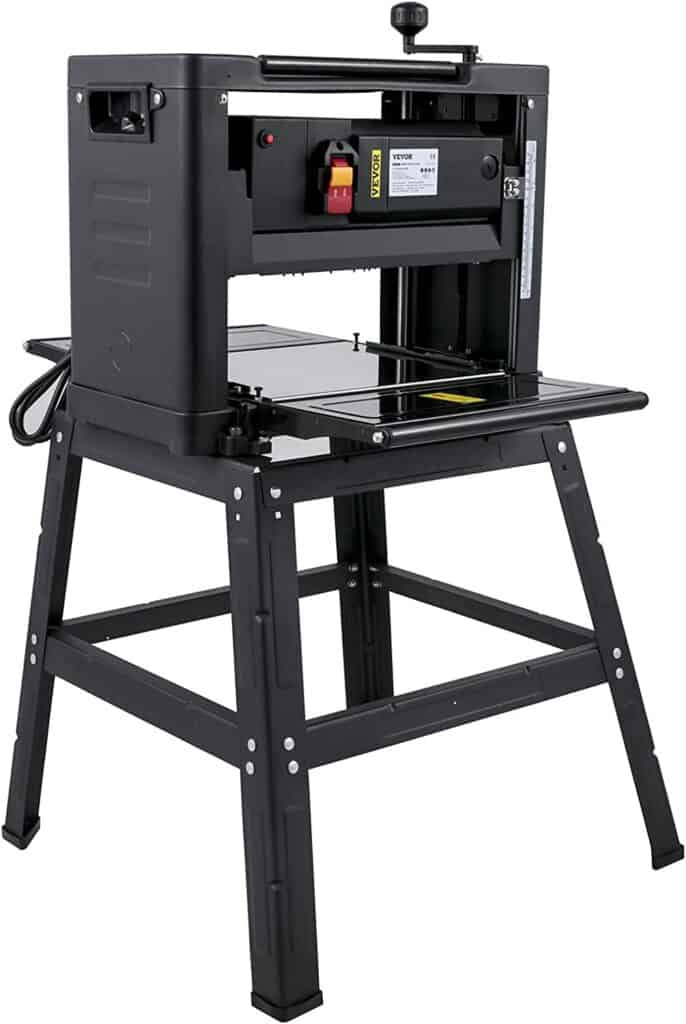 For our final entry, we have an excellent unit by Mophorn. It is a well-balanced unit with multiple additional features to make the entire process a lot smoother. Starting off, it has a superb auto feed system.
Instead of feeding yourself, with the constant risk of human error, let the machine take the reins. It will plane your stock with little to no issues and errors due to the smart automated feeding.
Of course, this is a list for benchtop planers, however, sometimes we just don't have the right bench for the job. For that, there is an excellent heavy-duty stand. It doesn't wobble in the slightest, keeping the whole machine steady even in the toughest times.
There are bound to be some cases when a unit overload. Those moments are naturally scary and dangerous. So, what can you do then? Thankfully this unit has an overload protection mechanic. You can trip the switch safely and it will calm the machine down and stock the overload.
On the side, you'll find a dust port. It's positioned in a convenient position and has a wide range of compatibility with vacuums. With a premium quality build and reliable safety precautions, this unit has earned a spot as our final entry.
Highlighted Features
Includes a compatible heavy-duty stand
9,000 rotations per minute blade speed
Effective side dust port
Mounting holes for stable mounting
Works with up to 13-inch-wide stock and 6-inch thick
Auto-feed system for added convenience
1,800W power
Carrying handle for fast portability
Overload protection
Pros
Safety features in case of an overload
Quality stand prevents wobbling
Convenient auto-feeding system
Well-positioned dust collector to promote a clean work environment
Premium grade aluminum build
Cons
No manual or instructions
What to Look For When Buying A Bench Top Planer
Now that we've taken a look at the many thickness planers, you might be overwhelmed by all the features. While it's true that all of these features add up to the value of a planer, there are certain essentials that you must always keep track of.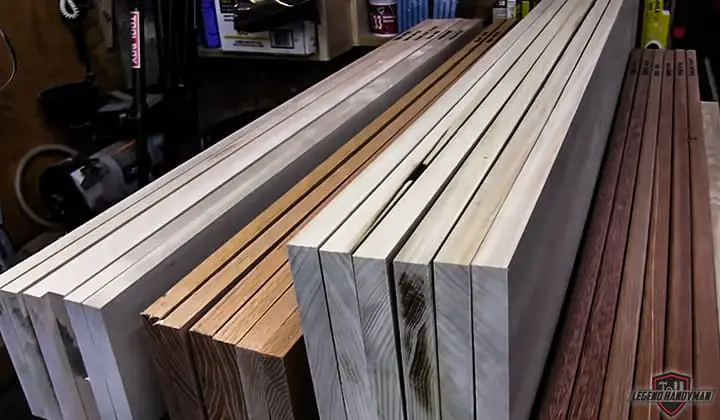 Motor and Speed
The motor and the speed it can provide are probably the most important aspect of any Planer. A high-powered motor is more likely to dish out faster speeds and create better finishes. The stronger they are, the more likely they can handle harder woods. So, the first things you have to consider is the Rotations per Minute and the power of the motor itself.
Blades and their Quality
Motors are vital; however, they are useless with weak blades. As such, you need to know exactly how well-made the blades are. The stronger they are, the better they can cut into the wood, giving the RPM some actual value.
Higher quality blades also tend to last much longer than regular ones. You can also look for double-edged blades as those can double the lifespan of a blade. This is because you can flip sides once one side gets dull.
Some units use multiple blades instead of sticking to just one. This means they cut twice as much when you actually use them. As such, RPM and cuts per minute can be drastically different. So, keep CPM in mind as well when you're making a purchase.
Capacity
Generally, a benchtop planer has a similar size capacity. Any less is simply unacceptable. So, you must check if the planer has at least a width capacity of 12 inches and a thickness capacity of 6 inches. If not, avoid those models. Of course, the more capable a unit is, the more viable it is. As such, it is an important factor to consider before you buy.
Build
These machines need to be extremely sturdy. The motors need to exert a lot of power to plane wood. However, that exertion of power generates vibrations. Without the right build, the vibrations can become rampant and ruin your entire stock. So, your planer needs to have a sturdy build to counteract the vibrations and allow smooth cutting.
Portability
When talking about a desktop, non-permanent units, you have to consider how portable it is. Of course, it's not 100% necessary, it's convenient to move around your tools in any way you want. So, if you want portability, keep a note of the weight of each machine. If they have handles, those add to their portability as well.
Planer Stand
Some models offer planer stands or benches along with the planer, charging few extra bucks. If you have workbenches or stands you could walk free, but the planer stand is also an extra feature to take care of.
Frequently Asked Questions (FAQs)
Q: What kind of Safety do I need?
Ans: Always use ear, eye and mouth protection when using a planer. You have to make sure no sawdust enters your mouth or eyes. You also need ear protection to protect yourself from the sound.
Q: Can I use a planer on hardwood?
Ans: You must make sure your planer can handle it. Or else, it might cause damage.
Q: Can I use the bar above the cutters to lift the machine?
Ans: No. That is not meant for lifting. Use handles or lifts from the bottom instead.
Q: Is RPM or CPM more important?
Ans: Usually, these two go hand in hand. You can't appreciate one without acknowledging the other. Nevertheless, CPM is what essentially determines the cutting, so it is slightly more notable.
Conclusion
That was naturally a lot of information to absorb. However, you are now ready to find the best benchtop thickness planer for your workshop. So, take your time, consider your options, and give your workshop the perfect planer!
I'm Joost Nusselder, the founder of Tools Doctor, content marketer, and dad. I love trying out new equipment, and together with my team I've been creating in-depth blog articles since 2016 to help loyal readers with tools & crafting tips.