I love creating free content full of tips for my readers, you. I don't accept paid sponsorships, my opinion is my own, but if you find my recommendations helpful and you end up buying something you like through one of my links, I could earn a commission at no extra cost to you.
Learn more
For good woodwork, you'll need efficient working with a smooth finish. One such way of maintaining this efficiency is to cut the wood into pieces of appropriate thickness.
Thickness Planers are tools that help achieve this, and the DeWalt DW735X Planer is a great product for this purpose.
In this DeWalt planer withstand review, we'll take a look at the features of this unit in order to decide whether it will be appropriate for your requirements!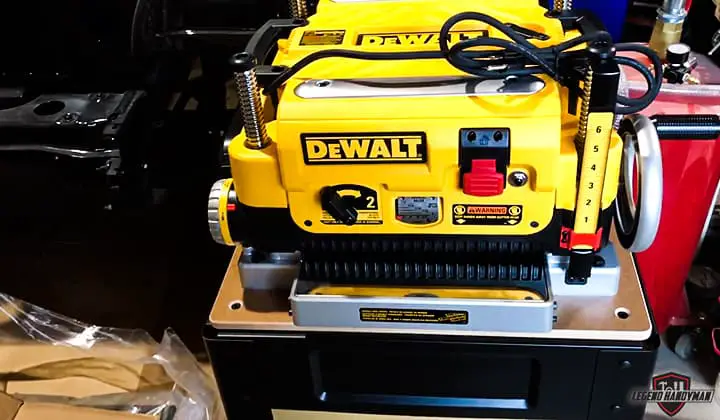 In this post we'll cover:
DEWALT Planer with Stand Review
Here, we'll talk about its key features to help you decide about the product.
Build
The DeWalt DW735X Planer has a very high-quality build, giving it a premium feel. This unit is on the heavy side, built for rough and tough working. The case is made up of plastic which is molded, and a base which is made up of aluminum. This makes it quite durable and provides a very satisfactory look like a power tool.
Power
The power provided by this tool is from a 15 AMP 20,000 RPM motor, which is enough to cut tough wood. Additionally, the cutter-head provides a power of 10,000 RPM. This makes sure that all types of wood are very easy to cut via this unit.
Price
This product comes at a price of around 650$, which is very affordable for the great service it provides.
Speed
The DeWalt Planer has two different speed options, speed 1 and speed 2. These two options are very convenient as they are suited to different types of work.
Speed 1 provides an increased number of times the blades cut the wood, 179 per square inch, to be exact. This is great for planing for thickness and leaves the piece looking very smooth. Speed 2 provides a lower number of cuts, 96 per inch. This is great for detailed work, as it allows you to work more slowly.
Blades
This product comes with a cutter head containing 3 blades or knives, which have great durability. It also comes with a free Allen wrench, which can be conveniently used for changing the blades quickly and with ease.
An infeed and outfeed table form parts of the tool, which also provide extra knives.
Accuracy
Accuracy is certainly not an issue when it comes to the DeWalt DW735X Planer! With its extra-large thickness scale and removable gauge, this product can provide great accuracy with every cut of wood.
Depth
A depth setting dial is provided in the DeWalt Planer, which makes it easy to size up different lengths of wood to the same thickness. This is very important as lumbar is often bought in varying sizes and thicknesses.
Dust Management
It is almost impossible to get any woodwork done without the collection of wood shavings or dust on top of the wood and around the workplace. In order to get rid of the dust, it is important to collect it in a dust collector and either blow the dust into it or brush it there.
The DeWalt Planer comes with a built-in dust blower, and when combined with a collector, it becomes perfect for easily cleaning the wood and workplace.
Customer Support
The support team for DeWalt products is also very helpful, which makes it a smooth and satisfactory experience for the user overall.
Convenience of Use
The relatively small size of the planer and the adjustable stand make it very convenient to use. Additionally, the blades are very easy to change, and it contains a technology called 'Automatic carriage lock', which helps to reduce movement during cutting.
This prevents sniping of the wood even without any manual input from the user. The product also comes with two separate speed settings for different types of work and a built-in depth dial for ease of reading the measurements. All this together makes it a very user-friendly tool for planing wood.
Pros
Affordable price
Sufficient power to cut tough materials
Two different speed options for different work
Blades are easy to replace
Great accuracy
Contains a depth dial for easy reading
Built-in dust blower
Prevents sniping without any manual input
Comes with a stand, so easy to place
Cons
On the heavy side
Does not come with a dust collector
Should You Buy It?
So now that we have taken a look at the features of the product, it is time to consider who should consider buying it. Simply put, the DeWalt DW735X Planer is a great planer for all types of woodwork, be it for carpentry or DIY projects.
Also, you could check other top 5 planer stands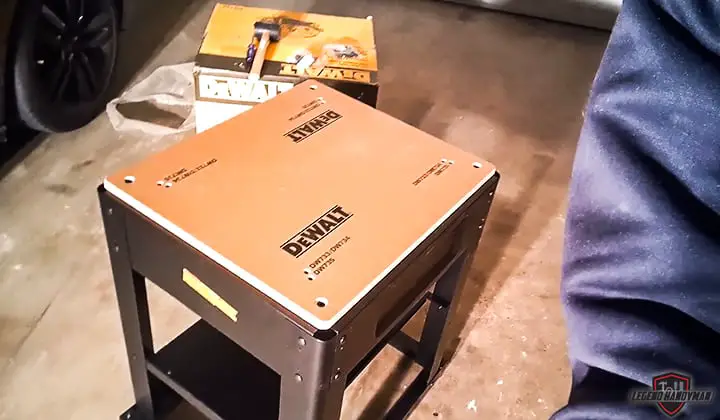 If you are looking for an easy and efficient way to manage the thickness of your wood pieces, then this is a great product for a worthy price.
Frequently Asked Questions
Below are some of the most commonly asked queries regarding DeWalt planer:
Q: Does it smoothen wooden boards?
Ans: Yes, it can be used to leave a very smooth finish.
Q: Are the blades reversible?
Ans: Yes, they are reversible since both edges are sharp and made for cutting.
Q: What is the height of the table from the base?
Ans: It is adjustable, so the height can be varied.
Q: Does it come with an extra set of blades?
Ans: Yes, it comes with an extra set of blades.
Q: How do you adjust the infeed rollers?
Ans: There is a wheel for adjusting the height on the side.
Q: Can it be used for cutting hardwood?
Ans: Yes, this product can cut through hardwood without any issues.
Q: Where can I find a manual for DW735X?
Ans: A manual can be found on the DeWalt website.
Q: What size is the dust port?
Ans: It is 4 inches.
Final Words
Whether you are an amateur or a professional, planers are crucial for working on wood. If you are in need of a tool for controlling the thickness of your wood pieces, then look no further!
DeWalt DW735X Planer is a great product at an affordable price for everyone, and it is easy to use on top of that!
Nevertheless, make sure you let us know in the comments how much you liked our DeWalt planer with stand review.
I'm Joost Nusselder, the founder of Tools Doctor, content marketer, and dad. I love trying out new equipment, and together with my team I've been creating in-depth blog articles since 2016 to help loyal readers with tools & crafting tips.