I love creating free content full of tips for my readers, you. I don't accept paid sponsorships, my opinion is my own, but if you find my recommendations helpful and you end up buying something you like through one of my links, I could earn a commission at no extra cost to you.
Learn more
Hardwood floors are known for being relatively low maintenance, but that doesn't mean they don't collect dust.
Dust can build up making for dangerous air conditions for sensitive groups. When coupled with debris, dust can also damage a floor's surface.
Fortunately, there are ways to eliminate dust build-up on hardwood floors. This article will take a look at a few of those methods.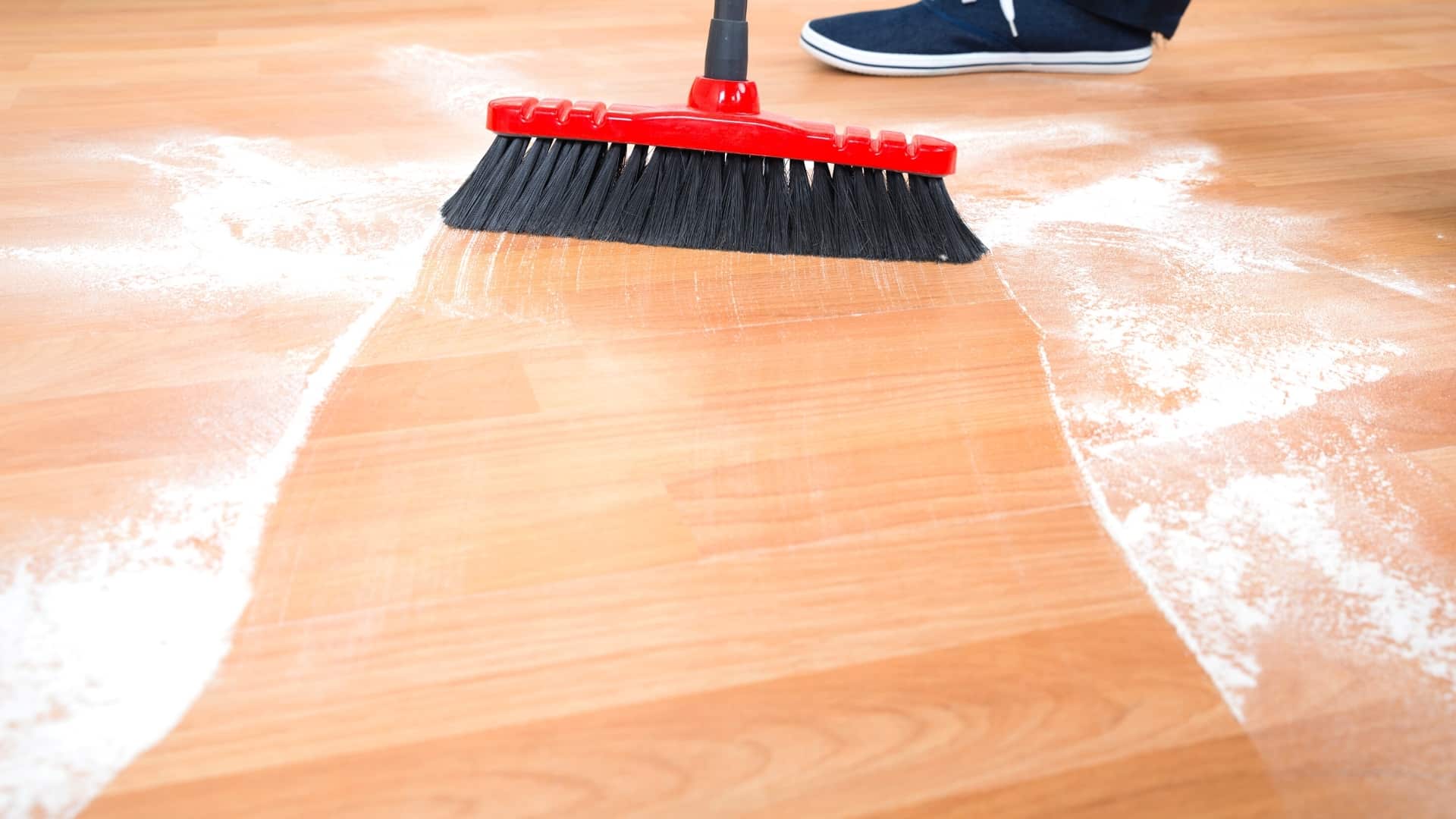 Ways to Dust Hardwood Floors
To properly clean your hardwood floors, you'll need some equipment.
Vacuums
You might think of vacuums as tools that are used to clean carpets, but they can be effective on hardwood floors as well.
To make sure your vacuum doesn't scratch your floor, go for one that is made for cleaning hardwood.
Models with padded wheels will also help. Make sure the wheels are clean when using them on your hardwood as some types of dirt can cause damage.
You want to take good care of your hardwood floor!
When vacuuming, adjust your vacuum to a setting so it is close to the floor. This will optimize dirt absorption.
Also, make sure your vacuum is empty and clean before using it on your floors. This will ensure that it's getting your floor cleaner, not dirtier.
In addition to cleaning floors, it's advisable to clean your cloth furnishings as well.
Adding a HEPA filter to your vacuum is also advisable, as it will keep the dust locked in so it doesn't permeate back into the air.
Brooms
Brooms are an oldie but a goodie when it comes to cleaning dust from wood floors.
There is a concern that they may push the dust around instead of cleaning it, but if you use a dust shovel, this shouldn't be much of an issue.
We like this Dust Pan and Broom Set from Sangfor, with an extendable pole.
Microfiber Mops and Dusters
Microfiber mops and dusters are made of synthetic materials that are designed to trap dirt and dust.
Mops are ideal because they won't put a strain on your body as you're cleaning.
This Microfiber Spin Mop is a complete cleaning system.
Many are lightweight and washable which makes them money saving options as well.
Keep Dust from Entering the Home
While these are all great ways to clean dust after it accumulates, you can also take steps to ensure that dust doesn't enter the home.
Here are some suggestions.
Remove your shoes at the door: This will ensure that any dust that tracks in on your shoes will stay at the door.
Use a floor mat: If having people take off their shoes when entering the home seems like too much to ask, have a floor mat by the door. This will encourage people to wipe their feet so they get rid of some of the dust before entering your home. This floormat is machine-washable, which makes it a winner for us.
Other Tips for Keeping Dust Away
Make sure your entire home is dust-free: Even if your floor is clean, if your furniture is full of dust, it will get on the floor making all your efforts to clean worthless. Therefore, it's best to start by cleaning dust from the furniture. Then clean the floor to ensure the entire home is dust-free.
Stick to a Schedule: It's always a good idea to stick to a cleaning schedule, no matter what area of the house you're cleaning. Aim for cleaning the floors once a week to prevent dust build-up.
Dust at Home FAQ
Here are some other commonly asked questions regarding dust build up in your home.
Does opening a window reduce dust?
No, unfortunately opening a window will not reduce dust. In fact, it may make it worse.
When you open a window, it brings in dust and allergens from the outside that increase the overall dust levels in your home.
Is it better to dust or vacuum first?
It is better to dust first.
When you dust, the particles will end up getting on the floor where the vacuum can suck them up.
If you vacuum first, you will only end up getting dust on your nice, clean floor and you will need to vacuum again.
What is the best thing to dust with?
A microfiber cloth is the best thing to dust with. We like this pack of 5 Extra Thick Microfiber Cleaning Cloths.
This is because microfibers work to trap dust particles, so you don't end up spreading them around your home as you clean.
If you don't have a microfiber cloth, spray your rag with a cleaning solution that will lock in particles. This Mrs. Meyer's Clean Day Multi-Surface Everyday Cleaner leaves a lovely lemon verbena scent.
How can I dust-proof my home?
Getting your home completely dust-free may be impossible, but here are some steps you can take to keep these particles from accumulating.
Replace Carpets with Wood Floors and Replace Tiles Drapes with Blinds: Fibrous materials that makeup carpets and drapes collect dust and hold them on their surfaces. Wood and plastic may collect some dust but it won't bind as easily. That's why these materials are ideal in keeping homes dust free.
Enclose Your Cushions in Zippered Covers: If you've ever gone to an older relative's house, you may notice that all their furniture cushions are enclosed in zippered covers. This is because they are trying to limit dust in their home. If you are reluctant to have your home look like grandma and grandpa's but want to keep dust out, think of investing in allergen-impermeable fabric covers.
Take Area Rugs and Cushions Outside and Shake Them Vigorously or Beat Them: This should be done weekly to help reduce dust build-up.
Wash Sheets in Hot Water Every Week: Coldwater leaves up to 10% of dust mites on sheets. Hot water is much more effective in eliminating most kinds of dust. Dry cleaning will also get rid of mites.
Purchase a HEPA Filtration Unit: Install a HEPA air filter on your furnace or purchase a central air filter for your home. These will help reduce dust in the air.
Change Mattresses Regularly: A typical used mattress can have up to 10 million dust mites inside. To avoid dust build-up, mattresses should be changed out every 7 to 10 years.



Hardwood floors may not get as much dust build-up as a carpet, but that doesn't mean they shouldn't be dusted regularly.
These tips will help you keep your floor clean of dust making for improved air quality and a cleaner appearance overall.
Do you also have carpet in your home? Find our recommendations for the Best Hypoallergenic Carpet Cleaners here.
I'm Joost Nusselder, the founder of Tools Doctor, content marketer, and dad. I love trying out new equipment, and together with my team I've been creating in-depth blog articles since 2016 to help loyal readers with tools & crafting tips.