I love creating free content full of tips for my readers, you. I don't accept paid sponsorships, my opinion is my own, but if you find my recommendations helpful and you end up buying something you like through one of my links, I could earn a commission at no extra cost to you.
Learn more
A beautiful coffee table could make a difference in your drawing room or garden area. However, a designer coffee table is worth a fortune. Even if you lack advanced tools and machine-like filling machines, you can always save yourself a fortune by the hand tools. And since a coffee table is an easy design, you can always start there as a beginner.
Just a few tools at your arm's length would do the trick. What better way to establish yourself as a handyman than showcasing your coffee table to your guest.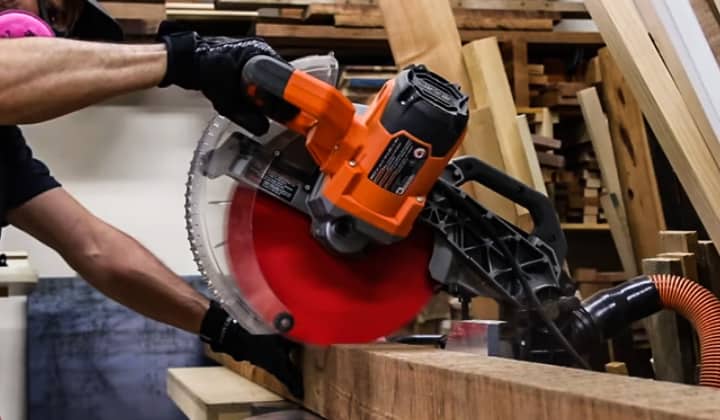 Required Materials
Walnut Lumbers is great. Using tree stumps to picket fences is also a wide range you choose from. Maybe choose plywood. A budget-friendly option is plywood.
Steps to Making a Coffee Table
Several steps should be followed to make a perfect coffee table with absolute precision.
There are tons of free coffee table ideas available online. If you don't like this one, find one which is suitable for you.
Required Tools
The coffee table does not require any advanced tools, only a few essential would do. A drilling machine is needed for the predrilling of holes. Clamps would be very useful since you need to attach various parts to make it a whole. A band saw (like these great ones!) or a hand saw is a fantastic idea. Make sure to have at least one clamp that is big enough for the legs to attach to the top.
For your safety wear gloves and wear a mask properly especially if you are
Cut the Top According to Your Space
Take the lumbers and measure carefully by the meter tape. If you desire a round shape the top must be cut from s single lumber. If it is a rectangular shape top, use the hand saw and the angle clamper to make a precision cut of the angles.  You can reshape your limber by a milling machine or even a band saw.
But in case you are not sure about what should be your shape or your measurement, it is always a good idea to cut four standard boards. The boards will be approximately two inches thick and eight inches wide. The 2×8s length may serve as the top of the coffee table.
Use the hand saw or a table saw like some of these to cut the length that serves your purpose. It is noteworthy that a tabletop even for coffee can be made from a single, wide slab of desired wood. But this usually uncommon since a single slab of wood that is wide enough is harder to find.
Milling at the Planar
After you have cut your pieces you need to smooth the rough surfaces to get a planar, smooth surface, especially if you cut from the lumber, you need to get rid of the dirty raggedy wooden surface. Lumber needs to be cut and dried properly for it to be excellently shaped. You can use belt sands to even it out.
Placing the Top Together
This step is needed when cutting your wood in standard pieces as mentioned in the above-mentioned point. Stick some wood glue on the two-inch width of a thick sized board stick to the other. You have to stick all of them together so that they form this smooth surface. The top is preferred to have a smooth flat surface, so, keep that in mind. It is a good idea to glue them over a flat surface to make that happen.
Only use glue on the sides that will be in contact with the other pieces. Be careful about it since it would deteriorate the look if you wrongfully put glue on an extra side that did not need it. The end of the planks should align perfectly for it to look symmetrical. After gluing the sides and then attaching them, use a clamper to tighten while the glue sticks.
Securing the Boards
Cut some small pieces of wood maybe 2 by 4 then secure them on the narrower side cut some small pieces of wood maybe 2 by 4 then secure them on the narrower side.
Build some slim wood screws. The wooden pieces should be attached by the long side of the tabletop. Lie the tabletop down on a flat surface and use the wood screws to attach the small pieces so they can secure the top for the long run.
Planning a Shelf
Depending on what height you would love for your coffee table to have, you could build a shelf for magazine keeping. It goes the same way as making a tabletop, the difference is that when you measure the shelf you should count the measure of the legs and at which distance the legs will stand and cut accordingly for it to fit. It would be easier for you if you could use wider boards to make it work.
Hard Long Lasting Top with Added Sides (optional)
Pressing wooden pieces to each side could secure the top perfectly. Cut the board according to the already made tabletop. Before cutting the width does measure well, lay the made top on the ground and carefully mark the width. Cut accordingly, preferably with a hand saw. Place on each side and then attach each to each side. To make it look more geometrically appealing you could cut the angles accurately to conjoint. This step, however, requires more work.
Measure the Legs
A coffee table should not be too high, instead, use a comfortable height according to the height of your chair or sofa. The legs should be derived from a short section of 4×4 approximately 43-45 cm or 17 inches is an average height for coffee table with shelf.
Cut four pieces of plywood. Then smoothen down to maybe one and a half-inch of thickness. After squaring them up, cut them to the expected length using a miter saw and use a stop block so you can repeat. Make your registration block by using three pieces of wood and gluing them around.
After you made a block and glued the block that you are going to mend to be the legs, you are set, the miter saw will just swoop into the cut.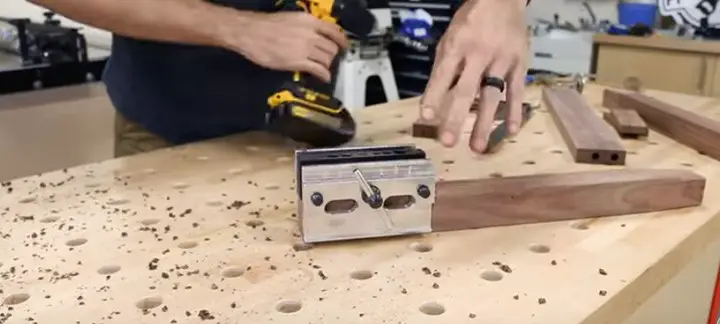 Fixing the Cracks and Defects
Using epoxy with acrylic paint, whichever color suits the tint of the wood will do the trick. Melt them, mix the acrylic, before pouring on the crack, tape the hole on the other side, then pour, top make sure it is going all the way down, break the surface tension by a toothpick, and let it dry
The Joinery of the Base
Take the cut plywood and attach to each leg, position each of the 2×4 pieces that were cut 4.5 inches from the bottom of the different leg, after predrilling the wholes screw them through the legs and into the joinery, repeat for the others.
Predrilling the Holes
Making a joint before attaching a leg will give you a long-lasting base, predrill two holes in each standard cut wood, use the wood screws to attach them.
12 Free Coffee Table Ideas
A beautiful coffee is an absolute joy for two reasons, the coffee you will have on it and the specific elegance and taste that it brings forth in the whole environment. The coffee table is designed in a style that is usually low in height and is usually placed beside a Sofa set or garden chairs for holding your beverage for you at your arm's length. In this article, many options are served for you along with the plans. These include, cozy, elegant, artistic. You choose while this article helps you decide.
Here are 12 free coffee table ideas –
1. Round Coffee Table
This small round coffee table has a vintage look to it. You can relocate this almost all over the house for your comfort. Here is the plan which is quite easy and comfortable if you have the right tools for it. You can learn more about this DIY project here.
2. Coffee Table With Hidden Storage
This coffee table looks like a usual and classic coffee table. After all, old is gold. But it has hidden storage space right under your cup. To some of us, it will surely be useful to keep a few books or just some extra creamer for a less dark coffee. Get to know more about these tables here.
3. The Rolling Coffee Table
This coffee table has wheels to make it comfortable to move it around as needed. The wheels can be locked also so it can seat securely while in use. It has another platform under the table where you can keep some books or showpieces that you like. It is quite an easy DIY project. To learn more click here.
4. Artistic Coffee Table
This coffee table looks vintage and has a nice geometrical design on it. It is made from wine crates. The project is so simple yet looks amazing. The table is small and the four wine crates will also serve as storage spaces to keep some things that go well with coffee. To learn more about this project click here.
5. Mobile Wire Spool Coffee Table
This coffee table looks so elegant. It can easily be moved anywhere indoor and outdoor because of its low height and large wheels. It is made from wire spool and can be made easily at home with a few tools. To learn more about this project click here.
6. The Shapeshifting Coffee Table
This coffee table hides a trick up its sleeve. In case if some friends come over or you just need some extra space slide another platform out of the table. The platform is stable and this design helps save space. The table looks so simple classic and looks like any other normal coffee table when the platforms are not extended. To learn more about this amazing idea click here.
7. The Circular Shape Shifter
This coffee table is circular but it also hides a feature. In case if you just need some extra space slide another smaller circular platform out of the table. This table with the platform extended the table looks beautiful and this design helps save space. The table has a classic look to it. To learn more about this amazing idea click here.
8. Coffee Table From a Wooden Barrel
This coffee table is made with half of a wooden barrel. The table will catch anybody's attention at first sight. This table can be made out of an old wooden barrel which is sitting in the basement or your garage and from one barrel you can build two coffee tables. It can be a beautiful addition to your living room or wherever you want. The cost of building a coffee table like this is really low and all you need is a few wood planks, some simple tools and some time. To learn more about this DIY project, click here.
9. Wooden Plank Coffee Table
Making a coffee table out of just a bunch of cut-to-size wooden boards will be a super easy project for any of us at home. After buying the necessary tools, the actual working portion will take only a couple of hours or less. The table has a very simple look to it. To learn more about this DIY project click here.
10. The Box Coffee Table
This coffee table is just a box on four legs. The table's main platform serves as the lid of the storage. The table is very easy to make at home. If you already have a wooden box of the proper size, you only have to attach four legs to it. To learn more about this DIY project click here.
11. The Simple Coffee Table
This coffee table is as simple as it gets. It will remind you of picnics when you'll see this smooth slat coffee table. Metal plated legs make the table more eye-catching and durable. With a table made of just wood, you won't have to worry about spilling coffee. To learn more about this coffee table click here.
12. A Glass Surface Coffee Table
A coffee table with the top made of glass is a brilliant idea since you can also show off some collection of your magazines. Since the top of the table is transparent, adding an extra shelf on the legs can provide a storage idea. A glass top is also very comfortable to use as it comes with an easy cleaning option. In addition to that, you do not need to worry about the wood top getting scratched or imprint of heat, since it is a glass top.
Conclusion
When you add a coffee table by your comfy couch or sofa, the living room or drawing room will not be an inconvenience anymore when compared to your dining room. Not only does it hold your coffee and tea, but also the light snacks, the magazines along with reading glass can be put on that coffee table. This is not only a classic addition to your furniture but a beautiful store option as well.
I'm Joost Nusselder, the founder of Tools Doctor, content marketer, and dad. I love trying out new equipment, and together with my team I've been creating in-depth blog articles since 2016 to help loyal readers with tools & crafting tips.