I love creating free content full of tips for my readers, you. I don't accept paid sponsorships, my opinion is my own, but if you find my recommendations helpful and you end up buying something you like through one of my links, I could earn a commission at no extra cost to you.
Learn more
Did you ever wonder how Batman had a knack for pulling the right bat-tool out of his utility belt every time? To keep his belt organized, he always matched the mission profile with the belt. Supposedly, your new tool belt will make you the fastest draw on the site, so be like the Bat and show everyone what you can do.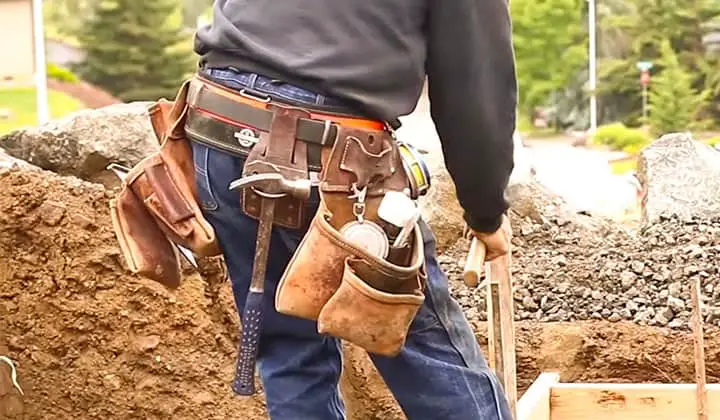 Some professionals adhere to a few general rules when setting up a tool belt, but not everybody agrees. No worries, today we are going to demonstrate everything on how to wear a tool belt like a pro.
Benefits of Wearing Tool Belts
For tool carriers, tool belts are incredibly useful. They help you organize your tools more efficiently and save time.
Organizing tools in one place is the most valuable benefit that tool belts provide. The tools are neatly arranged in their pockets and slots according to their sizes. As a result, you will be able to access them whenever you need them. "A tool belt serves as an additional hand," as the old saying goes.
You can carry a variety of tools inside tool belts, such as different types of hammers, chisels, screwdrivers, chainsaws, tape measure, markers, nails, etc. In the work pants or shirt pocket of your shirt, a sharp tool will poke you. Tool belts, however, can store these tools without having to poke you.
In addition to saving time, wearing a tool belt can also improve productivity.
Imagine climbing up and down to retrieve your tools while working at height, wouldn't that be enough to make you unproductive?
With tool belts, you won't have this problem and can work more efficiently and harmoniously. Therefore, tool belts come with numerous benefits.
How Do You Wear a Tool Belt with Suspenders?
You do not have to be an expert to install tool belts with suspenders. As you would if you were wearing an ordinary tool belt, you need to wear it as well.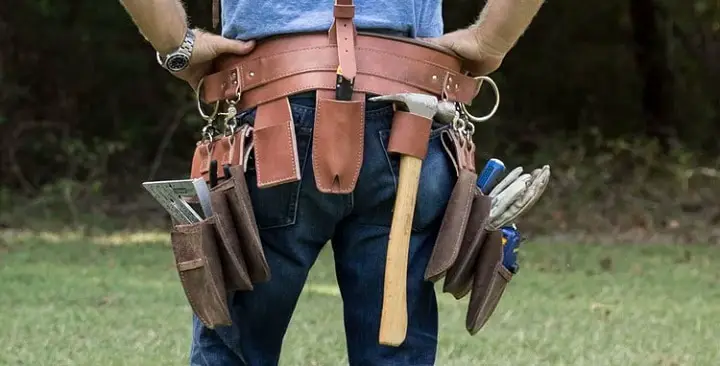 Simply, you'll need to tighten the buckle after closing the belt's loops on the trousers. Make sure it does not sit too tight on your waist.
To fasten the suspenders, it is necessary to pass them through the back and chest and then attach them to the front of the trousers. You must make sure that your suspenders and belt are not hanging from the rings. They should rather fit comfortably.
After loading the tool belt, make sure the pockets are uniformly filled. When hooking them up, ensure the auxiliary side has fewer tools. When there is constant inclination needed, turn the belt so the pockets would be at the back.
Finally, release the front portion of the body from contact with the tool by sliding the belt to the side.
Step By Step Guideline
Wearing a tool belt involves organizing the tools on the belt, orienting the belt, and wearing it. The following sections cover these topics in more detail.
Step 1: Buy A Tool Belt with Required Features
An ideal tool belt should include all the features you need. In addition to featuring comfortable back support, ample tool storage capacity, lightweight, and others, it should also be very durable. Some belts will give you the maximum amount of comfort, such as Gatorback belts.
To store a variety of tools, there must be plenty of pockets and tool holders. The tools you will need to complete a job include hand tools, power tools, fasteners, and many more. All these tools should be well placed in the belt, especially if you wish to use the belt for a specific job.
Leather tool belts are one of the best options because they are extremely durable. Additionally, you must consider the fastening style, the handles, the suspender rings, adjustment, as well as other factors of importance.
Step 2: Check The Tool Belt Before Each Use
Ensure that the tool belt is properly inspected before you put on clothes. After a few days of use, they become dirty. Since dirty belts will not provide you with comfort, it is advisable to clean them before wearing them. Damage can also occur to them sometimes. Hence, you should fix them.
For safety reasons, check the buckles to make sure they are working. Examine the pouches carefully as well. You should not use them if they contain any holes.
Step 3: Organizing The Tool Belt and Pouches
Primary pouches are essential, but in some cases, secondary pouches are even more crucial, since they contain all of your fasteners and small items. Therefore, secondary pouches typically have more pockets and some of those pockets can be closed.
Right-handed men will want their buckle on the left side while their main pouch should be on the right. If you are left-handed, then your orientation should be in the opposite direction.
Some models feature tool pouches that you can shift around. If you fall into this category, you should reposition your tool pouches as needed. When it comes to the three-pouches tool belt, the middle pouch needs to be placed in a good way so that it does not distract you.
Step 4: Put Main Tools for Leading Hand
You should keep your most important tools on the hand side so that you can pick them whenever you need them.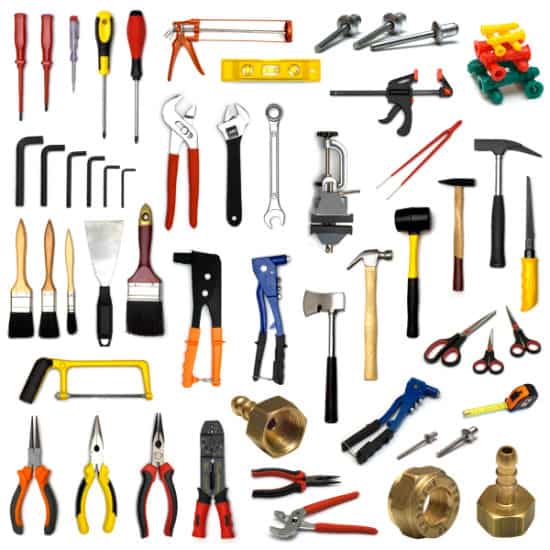 It is worthwhile to keep a hammer that has a maximum driving force. As well as carpenter's pencils, chalk liner, and pliers, you may place them in this area. In addition to these, you can think about a utility knife since it has extra blades, it can be used to make straight cuts or curves when cutting drywall and roofing.
Step 5: Keep Optional Tools for Assistant Hand
In your assistant hand, you should keep tools that are not regularly used. On the other side of the tool belt, you can store it. The nail sets and cold chisels can be kept along with the expenditures for staff. A secondary hand is also the best place for fasteners. Additionally, you can use pencils in tandem to draw saw cutting lines and other kinds of lumber layouts.
Step 6: Don't Carry Extra Tools
Our advice is to avoid taking a lot of tools that might cause back pain. Therefore, you must be selective in taking tools. Ensure that the weight you carry is not more than the manufacturer's approval.
Step 7: Wear the Suspenders
A heavier belt is an obvious result of having more tools. The work you do, however, requires constant movement such as bending, climbing, even jumping. So, what additional accessories would you recommend to carry your heavy tools? Suspenders, indeed.
Even if that thing doesn't hold your pants up, you don't wish for it to pull you down. Undoubtedly, it is a good idea to buy suspenders to hang the belt from. As a result, your hips and lower back are relieved of a good deal of weight, which then can be distributed to your shoulders.
The majority of tool belts can be attached with suspenders, and adding a vest to the belt can further lighten the load.
It is available for purchase separately if your existing tool belt lacks the accessory but is of the same brand.  
What to Consider Before Choosing a Tool Belt?
Having enough pockets on your tool belt should be the first thing you remember. That will let you keep a variety of tools. There are different kinds of tools you can put on your tool belt. With more options, you can put them together with nails and screws of various sizes.
It is always beneficial for you to be able to select from several pocket options, even if the weight of the tool belt is an issue. You don't need to carry the tools all at once. Instead, you should choose what you need. In addition, a well-fitting tool belt with suspenders can also provide a solution.
Frequently Asked Questions (FAQ)
Which Tools to Keep in Your Tool Belts?
The first thing you should do is to gather all the essentials. Though you're not going to carry all the tools for every single project, when fixing, repairing, or performing a particular action, you need to choose the right tools.  Different types of tool belts are available on the market. A tool belt for electrical workers can keep all the tools and equipment they need. As well, having a carpenter's tool belt will facilitate locating the tools required for carpentry.
Therefore, you should pick the tool belt that fits your needs so that you can organize your tools according to your needs.
Is Wearing a Tool Belt Bad for Your Back and Shoulder?
This depends entirely on how intensively you're using the tool belt. It is ideal for a worker to only carry tools when they need them, and the tools should not weigh more than 10% of their total weight.
The constant load on your shoulders creates an uncomfortable inclination in the back and shoulders when you wear a tool belt at all times. Now imagine what will happen if you wear the belt every day; it will undoubtedly not be good for your health.
Nevertheless, wearing the tool belt that comes with soft straps and suspenders wouldn't cause you any pain or back issues. As soon as you load the tools up on the belt, the soft straps and suspenders help generate the weight.
Final words
Tools belts play a crucial role in many jobs, such as framing, carpentry, electrical work, and so on. In addition to the professionals being able to get all the necessary equipment at their fingertips, it is very convenient for the households as well. Hence, work is completed on time and with precision.
It is a no-brainer that you will be able to carry only a few tools if you don't have a tool belt. As a result, you will need to climb up and down to get all the tools you need. Finally, wearing a tool belt is not difficult when you have the correct guideline. Once you practice wearing a tool belt a few times, you will get the hang of how it works. Good luck!
I'm Joost Nusselder, the founder of Tools Doctor, content marketer, and dad. I love trying out new equipment, and together with my team I've been creating in-depth blog articles since 2016 to help loyal readers with tools & crafting tips.