I love creating free content full of tips for my readers, you. I don't accept paid sponsorships, my opinion is my own, but if you find my recommendations helpful and you end up buying something you like through one of my links, I could earn a commission at no extra cost to you.
Learn more
Of the wide variety of measuring tools available, the combination square is perhaps one of the most versatile.
It not only measures length and depth but also checks square and 45-degree angles. Moreover, most combination squares include a simple bubble level.
The right combination square can replace several tools that are often considered essential for the woodworking / DIY enthusiast.
It has a valuable place in the toolkit of cabinet makers, carpenters, and contractors.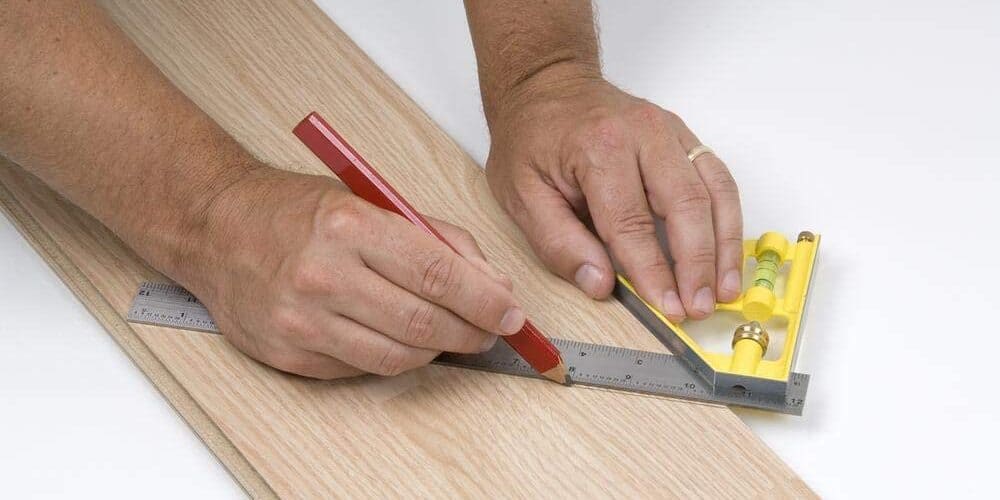 There are numerous different combination squares available, which can make choosing the single best combination square a challenge.
The following guide looks at their different features, strengths, and weaknesses and should help you to select the right tool for your purposes.
The Irwin Tools combination square is my top choice. The combination of quality and affordability that this square offers, makes it stand out from other options available. It will last you many years if you look after it and the price really can't be beaten.
There are other options for those looking for even more precision or even better value. So let's look at my top 6 best combination squares.
What is a combination square?
A combination square is a multi-purpose measuring instrument used mainly for ensuring the accuracy of a 90-degree angle.
However, it is much more than just a tool for checking "square". With its sliding ruler locked to the head, it can be used as a depth gauge, a marking gauge, a miter square, and a try square.
This simple tool consists of a blade attached to a handle. The handle is made up of two parts: a shoulder and an anvil.
The shoulder is placed at an angle of 45° between itself and the blade and is used for the measurement and layout of miters. The anvil is placed at a 90° angle between itself and the blade.
The handle contains an adjustable knob that allows it to move freely horizontally along the edge of the ruler so that it can be adjusted for different needs.
Additionally, contained within the head of the handle is often a scriber used for marking measurements and a vial that may be used for measuring plumb and level.
Find out which different types of squares there are for your woodworking and DIY projects
Combination square buyer's guide
Not all combination squares offer the same quality and ease of use. If you want precision in your work, you need an accurately made, quality tool.
There are 4 top features you should look for when considering purchasing a combination square.
Blade/ruler
The blade is the most important part of the combination square. It must be durable, solid, strong, and rust-resistant.
Stainless steel is the ideal material for the blade.
The best combination squares are made from forged or tempered steel or a combination of both.
A satin chrome finish is preferable to a shiny surface, as it reduces glare under bright light, making reading easier.
The ruler on a combination square is graduated differently on all four edges, so you will often need to reverse it in the head, depending on what you are measuring.
Look for a blade that slides out smoothly, and a locked post that rotates easily inside the head so you can flip the ruler over and then reinstall it with ease.
With the locknut tightened, the ruler should feel solid and never slip or creep in the head during use. A good tool will lock dead square and stay that way at any point along the ruler.
Head
The head or the handle is another important part to consider. Zinc bodies are ideal because the shape is perfectly square.
Gradations
The gradations must be sharp and clear. They must be deeply etched so that they do not wear off.
There may be two or more types of measurements. If they start from both ends, it makes it easier for a left-handed user.
Size
It is important to note the size of the square. You may need a compact square that you can keep in your tool belt, or you may need a large square if you plan to tackle bigger projects.
When cutting sheets of drywall to size, you're better off with a special drywall t-square to give you the right reach
Best combination squares reviewed
The following is a list of what I consider to be some of the top combination squares on the market, based on my experience in my own workshop.
Best overall combination square: IRWIN Tools 1794469 Metal-Body 12″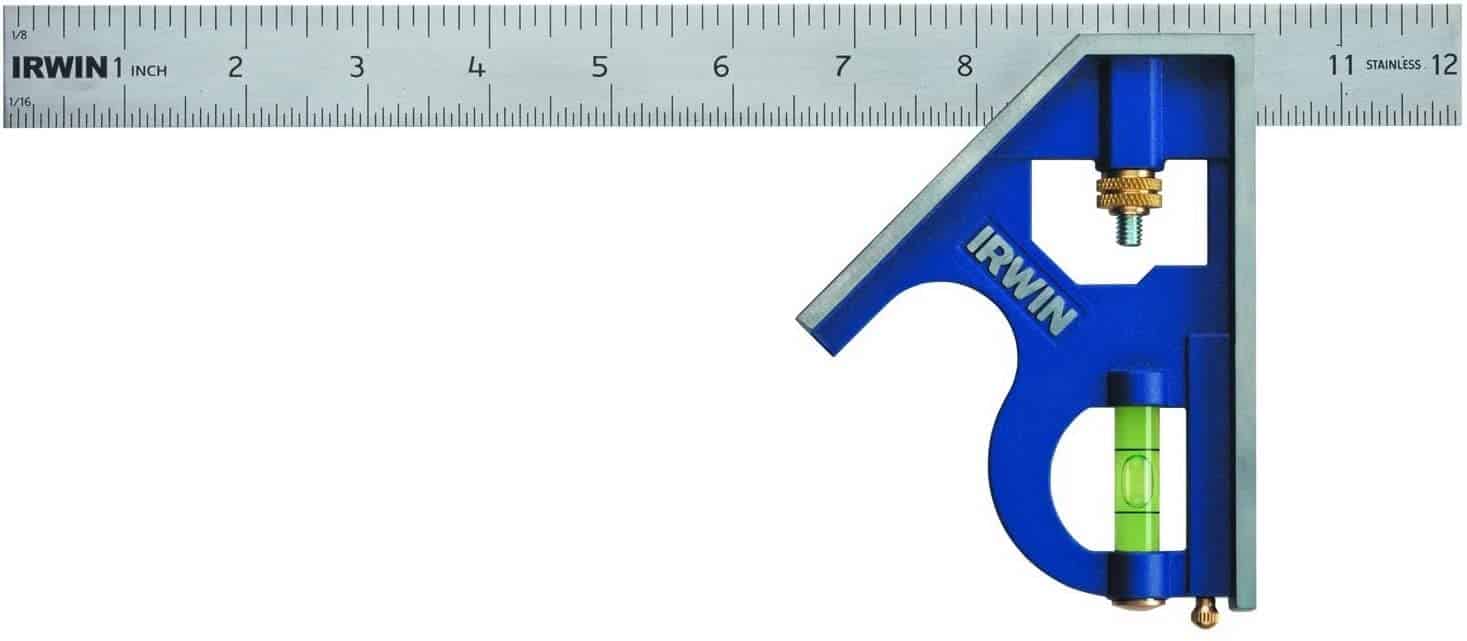 The combination of quality and affordability makes the Irwin Tools combination square my choice for the best overall square. It offers all the features that one would expect from a quality tool, at an affordable price.
The Irwin Tools combination square has a strong and solid stainless-steel blade. The head is made of cast zinc which makes it durable and rust-resistant.
The body slides easily over the scale and is locked by a screw. The bubble level allows you to check that surfaces are level.
The 12-inch length is adequate for larger measuring and marking tasks, and the precision etched numerals are easy to read and won't fade or rub off over time.
It features both metric and standard measurements, one on either side of the blade, which makes it more versatile.
It's sturdy and well-made but not accurate enough for jobs demanding extreme precision.
Features
Blade/ruler: Strong, stainless steel blade
Head: Cast zinc head
Gradations: Black, precision etched graduations, metric and standard measurements
Size: 12 inches in length
If you need your level to be ultra precise, look at getting a good torpedo level
Most precise combination square: Starrett 11H-12-4R Cast Iron Square Head 12"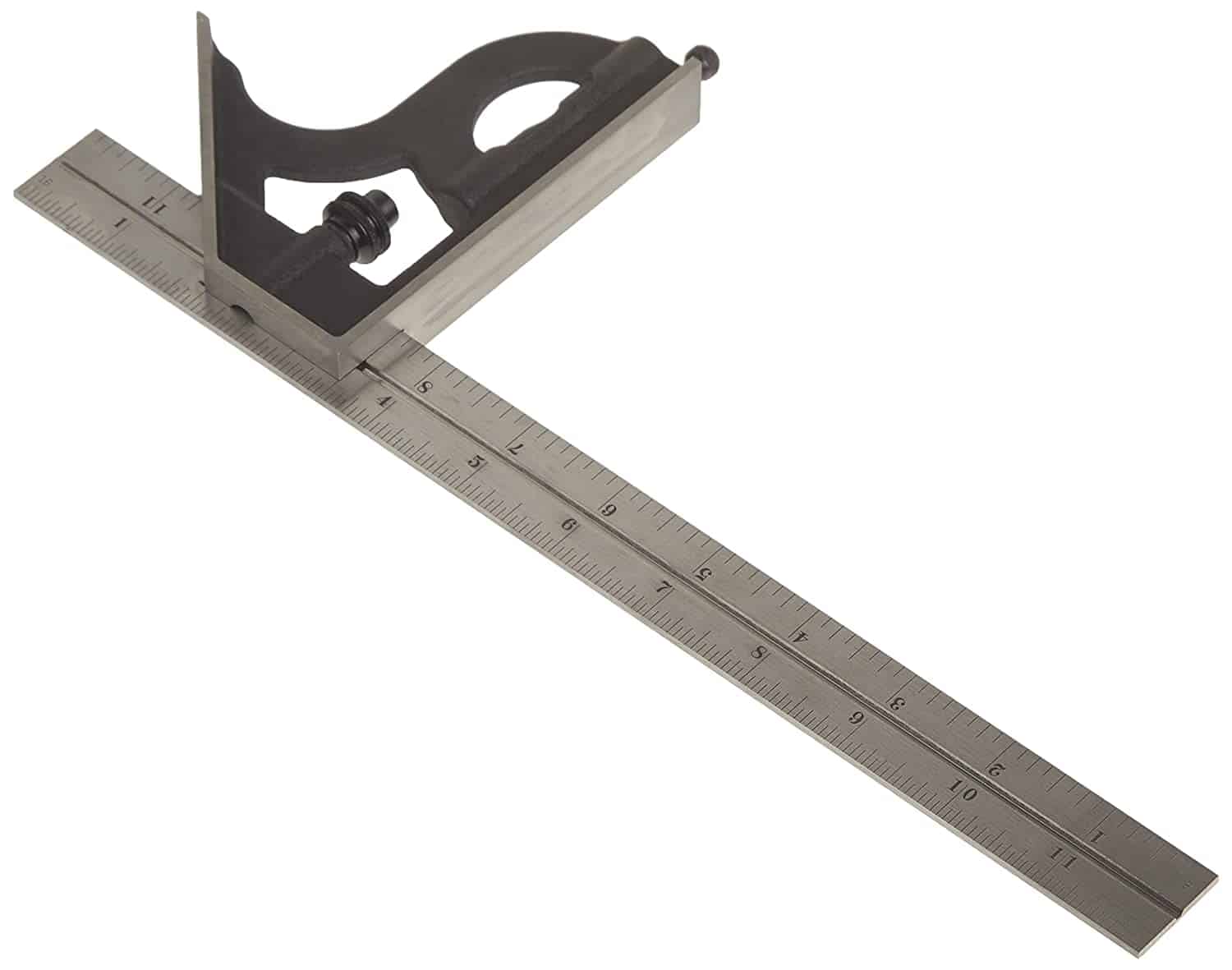 Every combination square needs to be square. But some are more precise than others.
If precision is your top priority and you are willing to pay a little more for high quality and extreme accuracy, then the Starrett combination square is the one to look at.
Its gradations, starting from both ends, show readings for 1/8″, 1/16″, 1/32″, and 1/64″. This allows for the most precise measurements.
The head is made of heavy-duty cast iron, and the wrinkled-finish gives it a comfortable and sturdy grip while you work.
Made from hardened steel, the machine-divided blade measures 12" in length. The satin chrome finish of the blade makes it easy to read the graduations and the integrated spirit level always comes in handy.
The reversible lock bolt allows you to lock the body in an exact position while in use and the surface is perfectly squared.
Features
Blade/ruler: Twelve-inch hardened steel blade with satin chrome finish, Reversible lock bolt to ensure a perfect square
Head: Heavy-duty cast-iron head with black wrinkle finish
Gradations: Gradations show readings for 1/8″, 1/16″, 1/32″, and 1/64″, allowing for precise measurements and extreme accuracy
Size: 12 inches in length
Best combination square for beginners: SWANSON Tool S0101CB Value Pack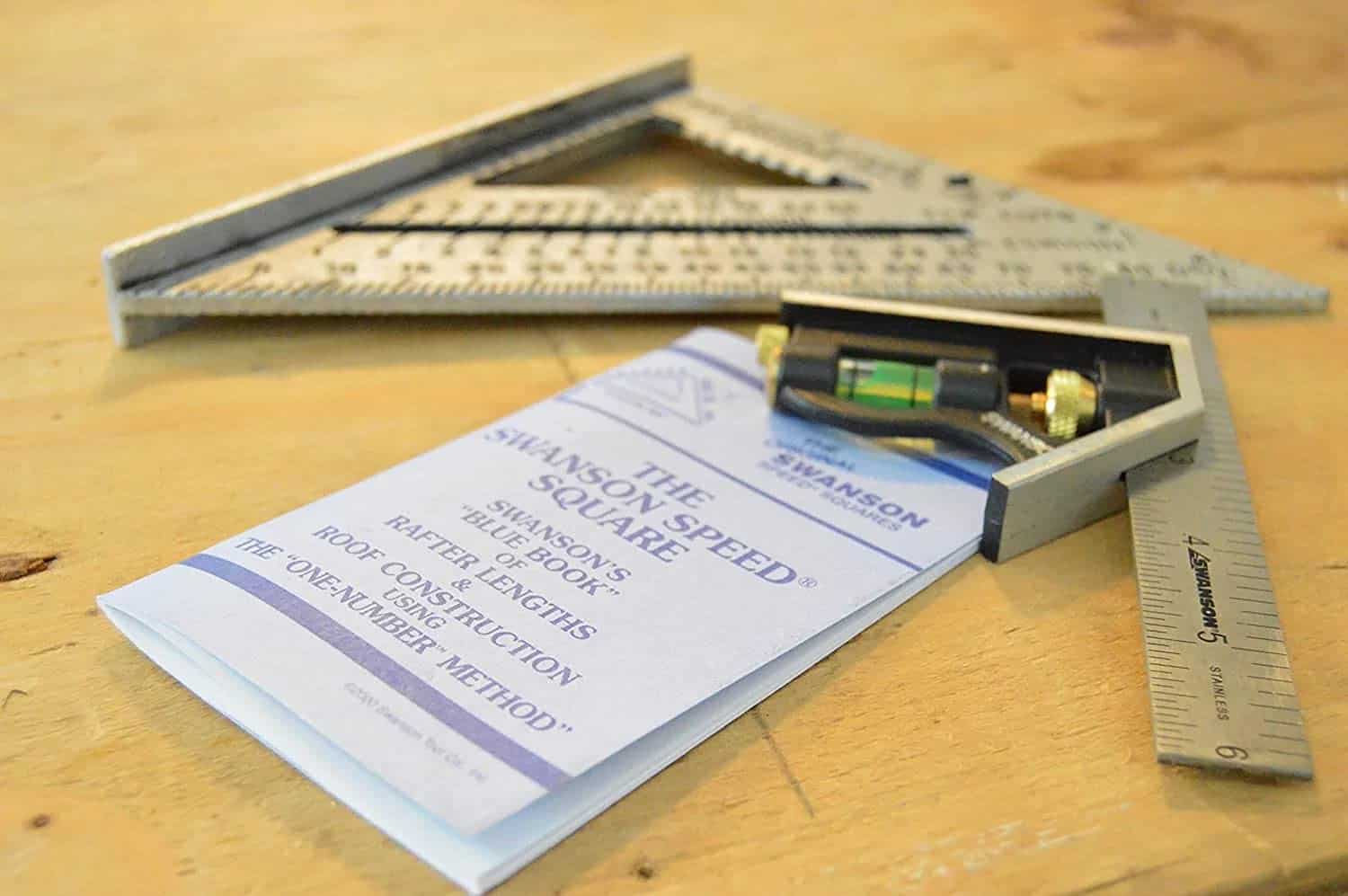 This Swanson Tool combination square pack offers a number of features that make it the ideal combination square for a beginner woodworker / DIYer.
This Swanson Tool combination square value pack includes the 7-inch combo square, two pencils with a flat design, and 8 black graphite tips, plus the pocket-sized Swanson Blue Book, a comprehensive manual to help users make correct angle cuts.
This 7-inch square is useful for a variety of small and medium-scale jobs.
The Swanson Speed Square (that I've also reviewed here) can be used as a try square, miter square, saw guide, line scriber, and protractor square.
The compact size of this combination square makes it ideal for carrying in your pocket or tool belt while on the job.
The head is made of cast zinc and the blade of stainless steel, ensuring the durability of this tool. The black graduations are clear, with increments of 1/8 Inch and 1/16 inch.
Features
Ideal for beginners, this set includes Blue Book manual. The pack also includes two pencils with replacement tips
Blade/ruler: Stainless steel blade
Head: Head is made of cast zinc, blade of stainless steel
Gradations: Clear black gradations
Size: Only seven inches in size – useful for small and medium scale jobs only
Most versatile combination square: iGaging Premium 4-Piece 12" 4R
The iGaging Premium combination square offers far more than the typical combination square.
If you need to check, measure, or create a range of angle measurements, this comprehensive set could be just what you're looking for, although you need to be willing to pay more for this versatility.
This premium square features a 12-inch blade, a cast-iron center finding head, a cast-iron 180-degree protractor head, and a cast iron square/miter head with 45- degree and 90-degree precision-ground faces.
The adjustable heads may be locked securely in any position along the blade. The square/miter head incorporates a spirit level and hardened scriber.
It features a tempered steel blade with a satin chrome finish which makes the gradations easy to read. The gradations are in 1/8 inch and 1/16 inch on one side and 1/32 inch and 1/64 inch on the other.
The components come packaged in a padded plastic storage case, ensuring they won't get damaged when not being used.
Features
Blade/ruler: Tempered steel blade with a satin chrome finish
Head: Includes a cast iron, 180-degree protractor head
Gradations: Easy to read. The gradations are in 1/8 inch and 1/16 inch on one side and 1/32 inch and 1/64 inch on the other
Size: 12 inches in length
Best combination square for on-the-job contractors: Stanley 46-131 16-Inch Contractor Grade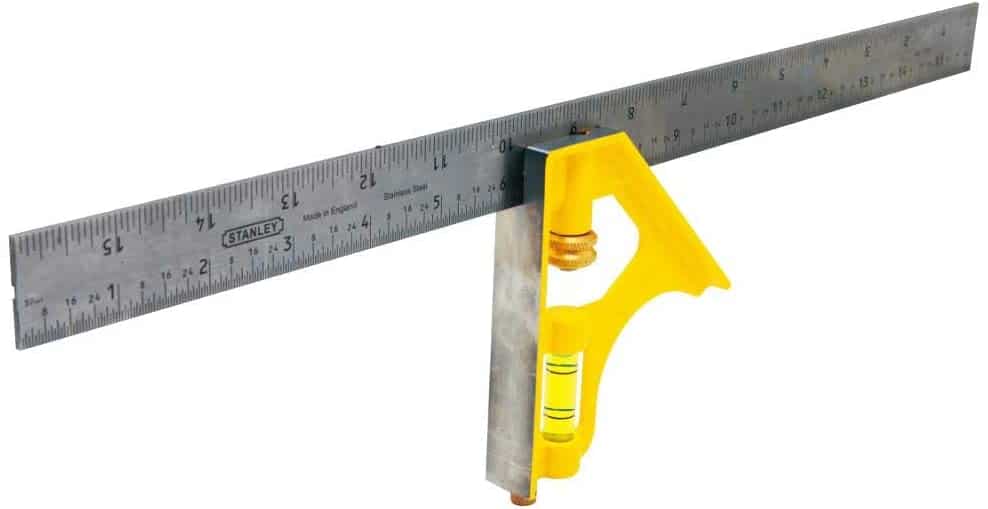 The Stanley name and the fact that this tool is backed by a lifetime limited guarantee, tells you that this Stanley 46-131 16-inch combination square is a quality tool that will last… but be prepared to pay for this quality and durability.
At 16 inches in length, this is the ideal combination square for contractors.
It does not offer the precision needed for machinists or cabinet makers but is an excellent measuring and depth tool and will more than meet the needs of most carpenters.
The hard chrome-plated blades are deeply etched and coated for rust resistance, durability, and for clarity.
The handle is made of die-cast metal in high-visibility yellow and features solid brass knobs which are textured for easy adjustments.
The easy-to-read level vial is individually regulated to ensure accuracy. The design features an inside and outside try square and a built-in scriber for convenient surface markings.
Features
Blade/ruler: Chrome plated stainless steel blade, Lifetime limited guarantee
Head: Contractor grade with a square for English measurements, a level vial, and a scratch awl
Gradations: deeply etched and coated for rust resistance, durability, and clarity.
Size: 16 inches in length
Best combination square with magnetic lock: Kapro 325M with Zinc Head 12-Inch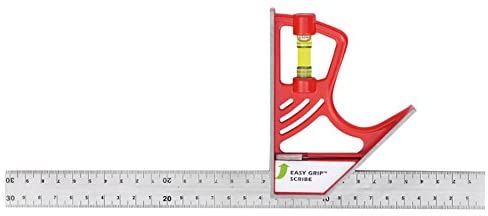 The standout feature of the Kapro 325M combination square is its magnetic lock which uses strong magnets that hold the ruler instead of common nut and bolt twist locks. This allows for quick and easy adjustments.
The 12-inch blade is milled on five sides for superior accuracy.
The permanently etched graduations in both inches and centimeters are staggered in height pattern for extra legibility.
A handy stainless-steel scriber is magnetically held in place and stored on the handle and the square comes with a handy belt holster.
Features
Blade / Ruler: Made of stainless steel and cast zinc for durability
Head: Magnetic lock instead of the usual nut and bolt twist lock
Gradations: Gradations are in inches and centimeters Milled on 5 sides for superior accuracy
Size: 12 inches in length
FAQs
How to use a combination square
Using a combination square is not difficult. Before you start working though, it's important to check the tool's accuracy to avoid incorrect measurements. To do this you need a pen and white paper.
First, draw a line with the scale. Mark at least two points 1/32 or 1/16 inches from the line and draw another line on that point.
If the two lines are parallel to each other, then your tool is accurate.
You can watch the following video for tips on how to get the most out of your combination square.
How accurate should a combination square be?
When you see a beautifully finished DIY job that perfectly integrates different pieces of wood (like these cool DIY wooden steps), chances are the builder used a combination square.
Combination squares are an easy-to-use tool and keep your 45-degree and 90-degree angles accurate.
But, if you change the head, they're capable of so much more.
What is the best size for a combination square?
While a 4-inch combination square is compact and easy to stow in a toolbox like these, a longer blade is better when checking for square or laying out.
A 12-inch combination square, probably the most practical size for general-purpose use, is the most popular.
How do you maintain a combination square?
Clean the tool with a lubricant and a non-abrasive scouring pad. Wipe the lubricant off completely.
Next, apply a coat of automotive paste wax, let it dry, and buff it off.
What is the removable blade of a combination square used for?
The blade is designed to allow the different heads to slide along the blade and be clamped at any desired location. By removing all the heads, the blade may be used alone as a rule or a straight edge.
How do you know if a square is accurate?
Draw a line along the edge of the long side of the square. Then flip the tool over, aligning the base of the mark with the same edge of the square; draw another line.
If the two marks don't align, your square is not accurate. When buying a square, it's a good idea to check its accuracy before committing to the purchase.
How many angles can I make with the square?
Usually, two angles can be made with the square, 45 and 90.
Conclusion
Armed with this information about the different combination squares available, their strengths, and limitations, you are in a position to purchase the best product for your needs.
Finish your woodworking project with a file, these are the best file sets reviewed
I'm Joost Nusselder, the founder of Tools Doctor, content marketer, and dad. I love trying out new equipment, and together with my team I've been creating in-depth blog articles since 2016 to help loyal readers with tools & crafting tips.