I love creating free content full of tips for my readers, you. I don't accept paid sponsorships, my opinion is my own, but if you find my recommendations helpful and you end up buying something you like through one of my links, I could earn a commission at no extra cost to you.
Learn more
Automation affected the field of construction a lot, these chipping hammers are a prized example of that. Back when our grandfathers were doing this they'd strain their shoulders. Now, we've got these electric chipping hammers. They're the bomb.
Yeah, those traditional hammers are still at large. They offer great precision that we can't get otherwise. But a lot of the times we need to go haywire with a chipping hammer. That's where those electric ones don't have any replacement. These still will tire you, those vibrations are no joke.
Here's our well-surveyed opinion on the best chipping hammers of today. Let's find the perfect one for the task at your hands.
Chipping Hammer buying guide
There are so many chipping hammers in the current market that it is not uncommon to go puzzled when you will go to buy. Different hammers provide you different functions. Since you use it for your household or professional work, you need to choose your item based on its functions.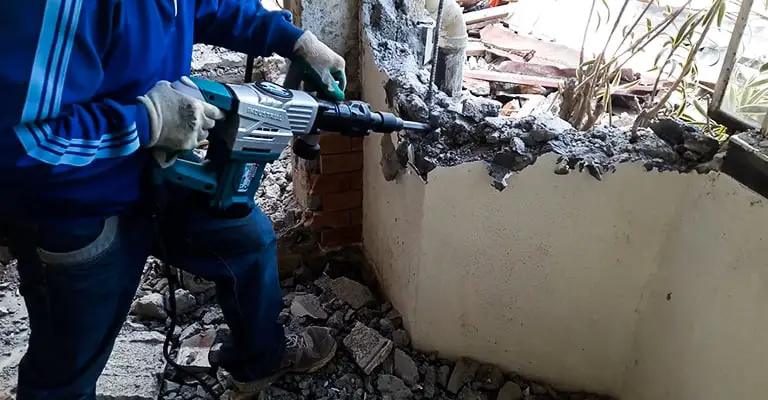 Hammer Strength
The higher the strength, the easier and less time-consuming it will be. Every energy hammer is available in the market but approximately 2200 watts, 1800 impact beats per minute hammer can go for breaking concrete holes, housing foundation removal, concrete slab all. But don't forget that if the strength is too high, then your concrete subfloor can be damaged.
Chisels/Bits Type
There are some of the essential chisels for your chipping hammer.
Point & Flat Chisel
Permits working at all angles. For any general chipping or making dents in concrete & destroying harder stones, this is a must.
Shovel Chisel
Heavy-duty chisel, perfect for digging large holes through tough concrete.
Scraping Chisel
Mainly used for a large number of materials to remove and light demolition.
Clay Spade Chisel
Makes plane finishes for dirty edges.
Flex Chisel
One kind of flexible blade made from metals, used for removal of tile.
Apart from these, there are many other types of chisels, chisel selection depends entirely on what you will do.
Adjustability and Shock reduction
Always keep in mind that the grip of the top chipping hammer that you buy should be 360 degrees adjustable. For that, you can get a huge range of extra control and it will ensure you work at different positions. Hammer should have the capability of shock reduction and comfort, so there is no need to worry more about safety.
Anti-slip and Anti-vibration
Also, it is very important for the chipping hammer handle to reduce the vibration and become long-lasting. This anti-vibration system of the anti-slip grip portion confirms the pleasure and efficiency of workers.
Hammers' Material
Ensure that the blades are made of the finest American steel. There should be a full metal body that can give you higher durability and efficiency.
It is important that the blades of the chipping hammer be sharp. The blades should be completely polished but not too light. If it's too lightweight, you can't use that to break down the hardest portions of welding slag or concrete floors.
Weight
And when it comes to weight, we have to say, it should be nearly 30 pounds. Weight can't be more than 50 pounds and it can't be very low too. If it has too much weight, it will be difficult to carry and your concrete subfloor can face fatal damages while working. And it will not create any force if it is too light.
Accessories
Protective gloves, goggles, hex wrenches and carrying cases are the much-needed accessories. Protecting gloves can save you from cuts and abrasions. They are good when made of polyester because it ensures drying quickly and better gripping.
There must be a comfortable fitting, green filter polycarbonate lens in protective goggles to save your eyes from harmful germs. Hammer hex wrenches should be easily transportable made from highly durable materials. And for the carrying case, we will have to keep in mind that it will not bear extra weight and can provide comfort to the labor of carrying.
Stability
Maximum products are from China so maybe there are no warranties. But they have the strong ability to last for more than two or three years. But your hammer may look worn out in parts after using it for nearly two years. The addition of a good metal conditioner would come in great help and the hammer will last for years.
Best Chipping Hammers reviewed
In general, the chipping hammer market is huge. You will find many types of hammers for different types of works. There are a lot of brands and they create hammers with different specifications. We here have tried to review the best hammers which will help you to make a proper decision.
1.XtremepowerUS Electric Demolition Jack Hammer
Reasons for recommendation
As this electric hammer of Xtremepower can run at 110 V/60 Hz, you can use it for all home and business decimation tasks. You can use it for making larger holes in tough concrete, foundation removal in houses and many others you can't imagine.
360 degrees foregrip has made it preferable which confirms your perfect positioning and more adjustable.
Its power is so high that it can deliver 1800 impacts per minute which ensures the breaking of hardest concrete. This hammer makes electric demolition consuming 2000 watts power and its no-load speed is 1900 RPM.
That much speed is way higher than any other chipping hammers and for that, it can produce a large amount of strength and gives you better demolition. A complete package of a pair of protective gloves, goggles, hex wrenches, 16" chisels are included with the hammer.
This XtremepowerUS 2200Watt Heavy Duty hammer is made of durable heavy metals and its anti-vibration system makes the hammer easy to use. For both vertical and horizontal applications, it ensures better weight distribution.
Lacking
It may look worn after using just two years and you are not recommended to use it in wet areas.
The heavyweight has made it not suitable in some of the daily applications.
2.Estwing BIG BLUE Welding/Chipping Hammer
Reasons for recommendation
If a list is made considering the longevity of the hammer, this Estwing BIG BLUE Welding/Chipping Hammer will be at the top of the list. As per the lasting of the manufacturers, it is more demanding than all the hammers on the market.
Estwing BIG BLUE Welding/Chipping Hammer has a fully polished metal head that is made from the finest long-lasting American steel.
Generally, pro workers use this hammer in factories and business applications and it is used for slag removals. Painted shock reduction grip makes that tool comfortable, durable to all of the users. The surprising thing is the handle grip can reduce vibration by 70%.
Full body is made of carbon steel, manufactured in the USA. Though the hammer bears a carbon steel body, its weight is only 1.35 pounds, that's a lot less than other hammers on the market. So, it is very easy to carry.
Lacking
This Hammer is not for geologists because it is too light and the hammer has no head to crack rock.
Both ends are chisel type which is not suitable to work on hard rocks.
3. Best Choice 22-Ounce All Steel Rock Pick Hammer
Reasons for recommendation
Best Choice 22-Ounce All Steel Rock Pick Hammer is that type of hammer that surprisingly bears 22-oz. head weight, 11-in. overall length and can give you proper power, perfect balance of worker, high swing speed.
That's why it is said to be an essential tool for all types of users on all platforms. At the time of breaking vehicle glasses, it is considered as an emergency tool.
For having a fully polished metallic finish, it supplies maximum strength on the hardest welding. According to the commentary of manufacturers, it is made from hardened alloy steel.
This structure ensures enough durability and for its anti-shock and anti-slip soft rubber grip, people can use it comfortably with full control. You can use it for versatile applications also for its sharp pointed tip.
Lacking
Users' comments have informed that the V-shaped surfaces of rocks can defend this hammer.
Besides, the rubber sleeve is not attached firmly. So, the rubber portion can come off while using it.
4.Neiko 02845A Electric Demolition Jack Hammer
Reasons for recommendation
Suppose, you are told of a chipping hammer which can create 1800 impact beats/minute as well as 45 joules force at the time of demolition then will you believe? While this is impossible and unimaginable, you will find all of these in the Neiko 02845A Electric Demolition Jack Hammer.
Not only that it also gives the service of 360 degrees auxiliary handle with a non-slip grip that can increase your control and machinery support. Besides, the manufacturing company provides a carrying case with rolling wheels. It confirms your easy and convenient transportation.
Moreover, 4 extra carbon brushes for longevity and higher efficiency of the metal portions. Neiko 02845A Electric Demolition Jack Hammer supports 16' point chisel, a perfect flat chisel on its sandblasted coating body which is highly durable and corrosion-resistant.
This hammer containing a set of demolition kits can demolish the hardest sections of concrete easily.
Lacking
It is considered as a heavy chipping hammer and so if you are not careful while working, your concrete floor may be damaged.
Besides, the consumers of this hammer face difficulties finding components and while working, oil leakage happens occasionally.
5.Bosch 11316EVS SDS-Max Demolition Hammer
Reasons for recommendation
The super powerful motor of this hammer consumes 14.0 amp at 120 volts AC or DC supply. It blows per minute 900 and for that, it gives a smooth and soft start. The maximum energy transfer rate for commercial use and mind-blowing performance.
It provides constant speed and better performance under overload and pressure and is capable of matching the impact force.
Bosch 11316EVS SDS-Max Demolition Hammer can position the chisels into 12 different positions and make sure that you can work at all angles. It has also dust protection and auxiliary handle providing comfort with a padded rear handle and as it weighs 23 pounds only, it is easy to bear.
Not only that, but it also has the ability to transfer maximum energy. It hits 10% harder and supports the SDS-max system which can make your bit changes fast, a variable speed dial ensuring you demolish all types of harder portions.
Lacking
If you want to use it at 220 volts, you just need a power converter, without this converter, the machine will be damaged.
As there is no rotation, it can't be used for drilling.
FAQ
Here are some frequently asked questions and their answers.
What are chipping hammers used for?
The chipping hammer is used for the removal of slag after arc welding. The hammer is of robust construction and well balanced. When working on stainless steel, a chipping hammer made of stainless steel must always be used.
Can a rotary hammer break concrete?
Rotary hammers use an electro-pneumatic hammer piston to generate high impact energy, which allows it to drill or demolish concrete.
What is a chipping tool?
Chipping is working on materials by a wedge-shaped tool (the chisel) in order to separate or chip material. The cutting effect of the chisel is achieved by hammering on the head end of the chisel, which is an energy and time consuming operation.
Why do chipping hammers have spring handles?
Used to remove welding slag. Strong, solid construction with spring handle to provide a good grip and reduce resonance. Head includes a chisel end and point.
What type of hammer does a welder use?
Pit Bull CHIH058 Chipping Hammer, Welding Cleasning Tool, Hand Tool is a welding and chipping hammer which finds its potential use in cleaning and removing slag from all welds. The Pit bull hammer appears like a cone shaped nose that is very sharp in their edges. It has a dual beveled tail.
How do I choose a rotary hammer?
Before selecting the best rotary hammer for drilling into concrete and/or masonry, determine the diameter of the holes you need to drill. The diameter of the holes will dictate the type of rotary hammer and the bit/tool interface system you will need to select. Every tool has its own optimal drilling range.
What is the difference between rotary hammer and hammer drill?
Both tools pound the bit while it spins, pulverizing concrete, but the two differ in the mechanisms that do the actual pounding. In a rotary hammer, a cylinder of air is compressed by a piston, which in turn beats the bit. In a hammer drill (top choices reviewed here), two ribbed metal discs click in and out against one another, causing impact.
What is the difference between a rotary hammer and a demolition hammer?
Rotary hammers also feature a hammer-only mode for chiseling applications. Many of these tools can be found with SDS-plus and SDS-max bit holding systems. … A demolition hammer can't drill because there is no rotation of the bit, which allows the tool to focus on breaking, chipping, and chiseling concrete.
How do you destroy a concrete slab?
Whether you're using a sledgehammer (like these top ones) or jackhammer, you'll likely need to pry apart the pieces of concrete as you break them apart. Concrete removal generally goes quickest if you have one person breaking apart the concrete and another following along and prying the pieces apart. Use a sledgehammer for thin slabs.
What pound sledge hammer breaks concrete?
Photo 1: 12-lb.
A sledge can be surprisingly effective in breaking up concrete up to about 4-in. thick.
What does Rotary Hammer size mean?
The difference sizes like the 1 9/16″, 1 3/4″ that means the maximum diameter you can drill into concrete with that specific hammer. The RH540M is rated for a max diameter hole of 1 9/16″ into concrete.
How do you break up a thick concrete slab?
Start to break the concrete, starting six inches from the edge and working your way in. For slabs less than four inches thick, use a sledgehammer. For more than four inches thick, use a demolition hammer.
Q: What are the differences between electric, pneumatic and hydraulic hammers?
Ans: Electric hammers convert electrical energy into force whereas a pneumatic hammer consists of an air operated piston to run the chisel and hydraulic hammer works on pressurized hydraulic oil.
Q: Is it necessary to oil the motor of an electric hammer?
Ans: It is a must to oil the motor part before any operation to increase lifetime, efficiency and BPM to get faster demolition.
Q: Can I use any type of chisel in my hammer?
Ans: It totally depends on the hammer model. Most of the bits can be used with most of the modern hammers.
Q: How to sharpen the hammer?
Ans: To sharpen, use a simple slow-speed grinder.
Conclusion
You will never be able to find an ideal, perfect chipping hammer, tailored to your needs. Every hammer has both advantages and disadvantages. Among them, Neiko 02845A Electric Demolition Jack Hammer is better because it can instantly create 45 joules and make an easy break. It has sandblasted coating on metal for longevity as well as the hammer bears heat-treated finest chisels.
Besides, Bosch 11316EVS SDS-Max Demolition Hammer can be a good choice for its better working energy, fixed speed for all time in any condition. Its unique design provides lightweight and advantageous working from different angles comfortably.
Finally, I will suggest you choose your chipping hammer according to your need, ability to buy, skills of each hammer highlighted above because the finest chipping hammer can ensure you efficiency, working speed, save your valuable time and concrete from unexpected damages. Hopefully, we have been able to do our best to find you the best chipping hammer.
I'm Joost Nusselder, the founder of Tools Doctor, content marketer, and dad. I love trying out new equipment, and together with my team I've been creating in-depth blog articles since 2016 to help loyal readers with tools & crafting tips.