I love creating free content full of tips for my readers, you. I don't accept paid sponsorships, my opinion is my own, but if you find my recommendations helpful and you end up buying something you like through one of my links, I could earn a commission at no extra cost to you.
Learn more
The name DeWalt screams years of American excellence. They are one of the leaders in the market for construction and woodwork with their hand and power tools. Their industry-leading drills are the choice of tools for millions of workers for their durability and affordability.
After countless years of research, DeWalt has given a plethora of drills and equipment to choose from. There are a lot of other brands in the market, but only a few have been able to match this company's level of quality and value. They offer more than 200 different kinds of power tools, along with other various accessories.
Have a look at some of the best DeWalt drills that are made of the finest grade materials and deliver top results. They are portable and have the most flexibility when compared to their competitors. If you want a fine tool that complements your craftsmanship, look no more.
Top 7 Best DeWalt Drills
In this section, we will review the Top 7 best DeWalt drills available in the market today.
DEWALT 20V MAX Cordless Drill / Driver Kit
| | |
| --- | --- |
| Weight | 3.64 pounds |
| Dimensions | 13.88 x 9.88 x 4.25 in |
| Size | Medium |
| Color | DEWALT Yellow |
| Voltage | 20V |
| Warranty | 3 Year |
When convenience is what you're looking for in a compact frame, this product should be a top pick for you. This cordless drill runs batteries and can be easily used for most drilling jobs. DeWalt is known for its sturdy design, and this product is no slouch. 
The drill comes packaged with a decent amount of torque and speed, given its affordable price. It is a two-speed variation that can be switched as per your need. Its compact design makes sure you can carry it around with you to serve your drilling needs anywhere.
This drill has a power output of 300-unit watts, which is enough for the battery pack to run for hours. It has a ½ inch single sleeve ratcheting chuck, which makes for a tight grip on the bits. It has the potential to drill up to 13mm in metals and 30mm in wood.
Supplying up to 450-1500 rpm of speed, the drill can easily perform almost all work around the house. Its lightweight design makes for a very portable design. It comes included with a carrying case, which adds to its mobility.
Highlighted Features
The ergonomic design makes for great portability
Two transmission styles (0-450 and 1500 rpm)
Maximum performance motor delivering 300-unit watts out
Included LED light to illuminate a working surface
Quick charging battery (full charge within 30 minutes)
Single sleeve ratcheting chuck for tight bit grip (1/2 inch)
Included in the package- two lithium-ion batteries and charger
Comes with a heavy-duty kit box
DEWALT 20V MAX Cordless Drill Combo Kit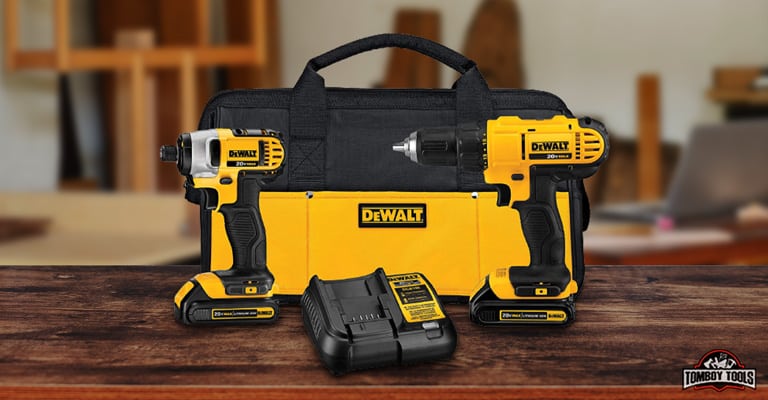 | | |
| --- | --- |
| Weight | 1 pound |
| Dimensions | 15.06 x 6.38 x 9.88 inches |
| Power Source | Battery-Powered |
| Style | 20V Combo Kit |
| Measurement | Metric |
| Warranty  | 3 year |
This combo kit includes two drills, an impact driver (DCF885), and a cordless drill. It packs a hefty power output in a small design. Not only will this kit be efficient in working on DIY projects but also on basic carpentry and repairs. It is a very practical kit to have lying around the house.
Both drills have an aerodynamic design and include a small LED light for your convenience when the situation gets tough. Their flexibility ensures that you can carry them around with you anywhere you go. The included carrying kit is a welcomed addition.
The motor installed in the DCF885 is quite outstanding, given its size. It packs decent power output to get most jobs done with finesse. The impact driver is recommended for anyone who works with tough materials like hardwood or steel.
Both drills have a max output of 300 watts coupled with a 20V battery pack. This makes sure you can drill hard and over a long period of time. It is rated to run at up to 1500 rpm, which makes any low-key drilling job a dream.
Highlighted Features
Durable lithium-ion battery ensures long-lasting performance
Two-speed option for fine craftsmanship
LED light makes for use in darker situations
Great rated power output for both drills
Drill combo is a must-have for most jobs
Easy bit loading for impact driver
300-unit watt power output
DEWALT 20V MAX Impact Driver Kit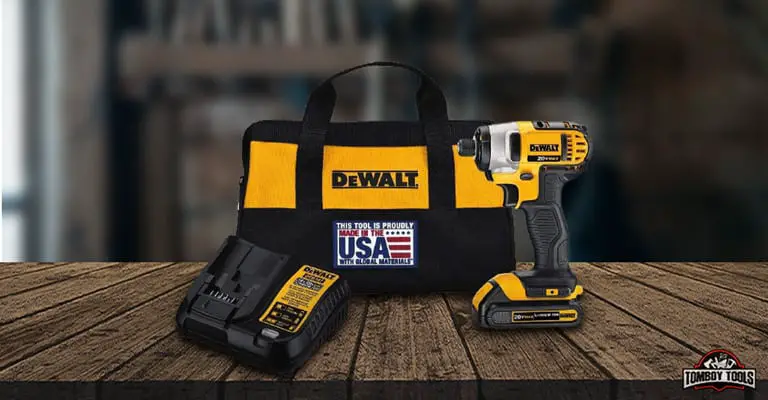 | | |
| --- | --- |
| Weight | 2.8 pounds |
| Dimensions | 5.55 x 9 x 3 inches |
| Power Source | Battery Powered |
| Voltage | 20 volts |
| Warranty | 3 year  |
The DCF885C1 driver is a very effective tool when you have you drill many screws in quickly. It is one of the tops picks for any home improvement DIY job. The driver is lightweight and compact, making it easy to store anywhere around the house.
The power output in the product is one of the best in its class and can be used for various tasks. It can be used on wood and metal or the occasional flat tire change for your car. The torque supplied by the motor can easily work on tightly stuck screws with a push of a button.
When it comes to practicality, the drill comes installed with an LED light for those tight, dimly lit situations. Speed is controlled according to the amount of pressure placed. Anyone with basic knowledge of drilling can use this product as its operation is as simple as it gets.
The battery pack included with the package is enough to ensure hours of use. The kit also includes a charger case and takes around 30 minutes to fully charge from zero percent. For better portability, a traveling case is also included making sure your new drill will stay protected in the long run.
Highlighted Features
Assisted visibility with included LED light
Lightweight, ergonomic design
Bit loading is made simpler with one-handed use
Kit includes an impact driver, a 20V battery and a fast charger
Maximum battery capacity is 20V with the nominal voltage at 18V
DEWALT 20V MAX Cordless Drill / Driver Kit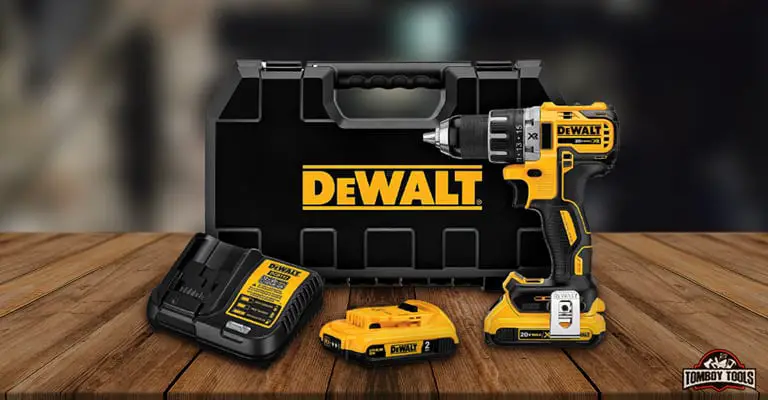 | | |
| --- | --- |
| Weight | 3.5 pounds |
| Dimensions | 16.22 x 4.5 x 10.1 inches |
| Material | Metal/plastic |
| Power Source | Battery Powered |
| Warranty  | 3 year |
Put simply; the DCD791D2 is an absolute beast of a drill. It has adequate power durable and lasts longer than its competitors. Such traits usually end up being priced higher. However, you will not go wrong with this drill.
The drill driver is modeled on brushless motor technology. It has been tested to run 57% longer than its counterparts. They have a lower malfunction rate as they usually do not wear out quickly. The drill is assured to run smoothly and requires less maintenance.
The lithium-ion batteries are rated to run for longer hours and are fitted with a battery gauge. This means you will not have to worry about your batteries dying in the middle of your job. Worst case scenario, you always have a fast charger included which you can fall back on.
The drill has a built-in LED light to assist you in low-light conditions. They are very light and brighter than the previous generations. The product has a high UWO of 460, enabling you to complete your tasks as fast as possible. It has two power settings ranging the RPM to go from 0-600 rpm and 0- 2000 rpm.
Highlighted Features
Has a brushless motor technology
Higher Battery capacity allowing more run time
Lightweight and compact design
Two high-speed transmission
LED light with three light settings
DEWALT 20V Max Cordless Drill Combo Kit, 5-Tool (DCK590L2)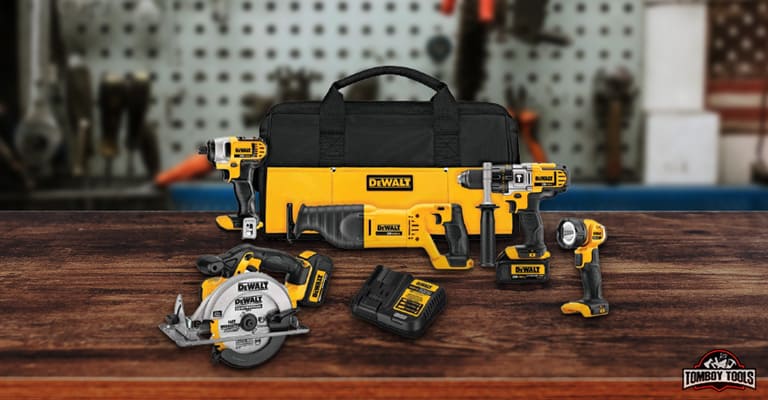 | | |
| --- | --- |
| Weight | 14 pounds |
| Size | Large |
| Color | Yellow |
| Voltage | 20 volts |
| Warranty | 3 Year |
The DCK590L2 comes packed in a combo with a hammer drill, an impact driver, a reciprocating saw, a circular saw, and a separate LED work light. The drill falls in the higher industrial grade product market. If you want a bang for your buck, this is a combo well worth your time and money.
The Hammer Drill that comes with this is the DCD985. It is no ordinary drill as it comes in an all-metal transmission and fits bits up to ½ inch in size. The motor has a 3-speed setting, and max power output is 535-unit watts. In short, be it metal or iron, it can drill through anything.
The impact driver, DCF885B, is one of the best in the market. It is lightweight and can operate in the tightest of spaces. It has a collet and can take bits up to 1 inch. The motor inside the drill is capable of putting out 3200 impacts per minute with 1400 inch-pounds of torque.
Lastly, this combo includes two saws, the DCS393 Circular Saw and the DCS381 Reciprocating Saw. The circular saw is great for stitching materials like wood and steel. The reciprocating saw can cut into depths up to 2.25 inches. The motor included in this is a 460 MWO motor supplying up to 5150 RPM.
Highlighted Features
Cordless drill with patented 3-speed transmission
Key-less reciprocating saw makes for quick blade change
Included light in ¼ inch impact driver
LED light delivers 110 lumens
Circular saw has 6 ½ inch carbide blade
DEWALT Electric Drill, Pistol-Grip, 1/2-Inch, 10-Amp (DWD210G)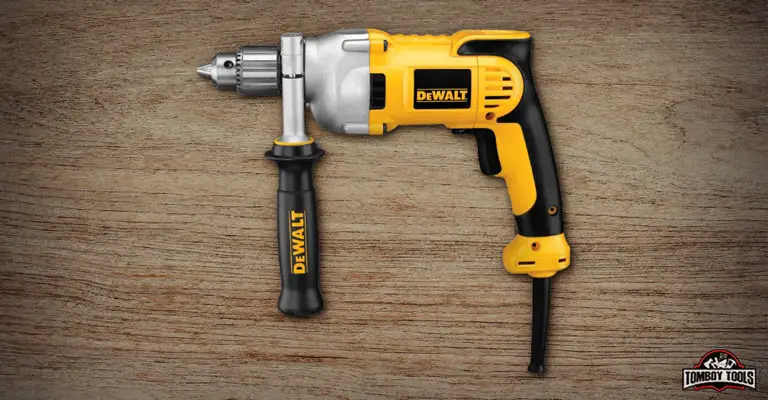 | | |
| --- | --- |
| Weight | 6.69 pounds |
| Dimensions | 10.2 x 13.1 x 3.2 inches |
| Color | Yellow |
| Style | Pistol-Grip Drill |
| Power Source | Corded Electric |
| Warranty | 3 Year  |
The DWD210G is made of a metal gear housing built to last long; it has an average 1200 rpm motor but is adequate for most household jobs. The drill has a motor of 10 amps. Higher APM means more power output and higher rotational force.
The drill has a variable speed reversing switch with a soft grip, 360-degree side locking handle. For wood and steel, it can drill up to ½ inches deep. It has a built-in overload protection feature that stops it from overheating on heavy usage. It will switch off for 20 minutes if pushed too hard.
It is small in size, making it a perfect fit for everyday carry. The materials used in its build are sturdy and durable. It is not cordless, however, which affects its portability a little. It has a motor that delivers quite a punch making drilling a walk in the park.
Highlighted Features
This product is an import unlike others in its class
Has overload protection mechanism for increased durability
Manufactured in Mexico
Meets most consumer requirements
Soft grip handle
360- degree locking mechanism
0-1250 rpm motor with reverse switch
DEWALT 20V MAX XR Brushless Drill/Driver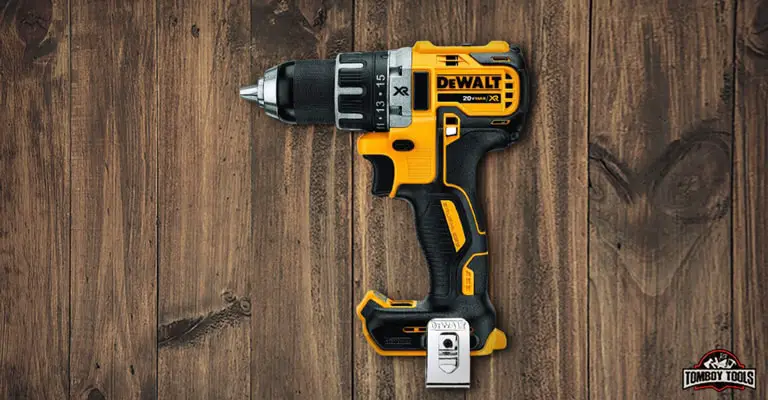 | | |
| --- | --- |
| Weight | 1 pound |
| Dimensions | 8.31 x 3 x 7.56 inches |
| Power Source | Battery Powered |
| Voltage | 20 volts |
| Speed | 2000 RPM |
| Warranty | 3 year |
The newer and improved DCD791B is a ½ inch drill with minor improvements over its last generations. It is still made of the same old sturdy materials as before. It is lightweight and pretty maneuverable. The drill is quite small at only 6.7 inches long.
A decent improvement is the new 3- led light addition for better surface illumination. It has a nifty battery-saving function, which allows it to automatically reduce its power when you are running out of juice. This also indicates that the drill has only two minutes of use left.
It uses a brushless motor meaning it will have a longer lifespan than most standard drills. This addition also increases its efficiency and maximizes the power output overall. The drill is also quieter now than its previous counterparts, making it's a strong contender for your purchase.
The motor has a 2-speed transmission running at 550 rpm for the lower gear and a high 2000 rpm. It is rated to put down 460-unit watts of power with a 15-clutch setting. The drill is capable of handling 2 inches of wood and 1-3/8 inches of metal when coupled with a hole saw.
Highlighted Features
Brushless motor offering 57% improvement in run time
Lightweight and compact design
2 settings transmission
Included three modeled light
Battery and charger are paid extras
Max power output of 460 UWO
Key Features in DeWalt's Drills/Buying Guide
When looking to buy your first drill, you must always keep a few things in mind. The following is a checklist that you must always keep to ensure you are buying the right product.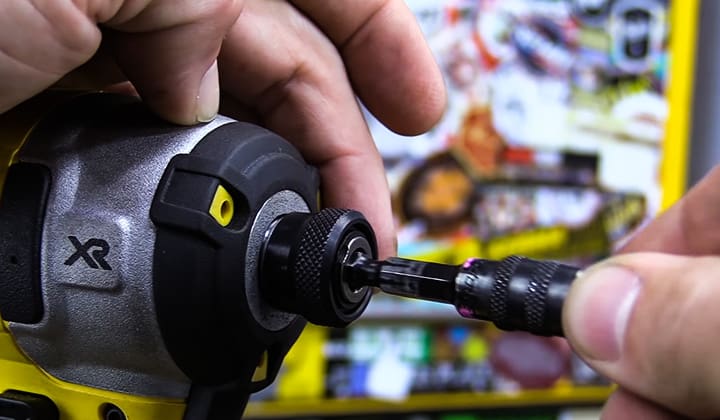 Type
There are various types of drills out in the market made for specific working scenarios. In most cases, you will do just fine with a basic cordless driver. These are used in almost all DIY projects and home improvement scenarios.
Compact drills will work on most wooden surfaces with ease. However, as the materials get tough, investing in a heavier tool is recommended. Otherwise, you may end up permanently damaging your drill and the project you are working on.
Battery Size and Capacity (Amp-hours)
The battery size accounts for how many hours of work can your drill performs. Always look into what type of work a drill is designed to do. Most compact drills will have a 20V battery included with them.
Standard batteries are sufficient enough to do lightweight and non-strenuous tasks. If you are looking to use a drill mainly for simple tasks around your home, getting a compact drill will suffice. However, professional work may need a drill that comes with a more industrial-grade battery pack.
Another point to check would be the chargers included with your drill kit. Most drills come with standard fast chargers. But these chargers are usually not the best in class and can permanently damage your batteries. Try to invest in a good charger from a reputable brand.
Dimensions
The size of a drill impacts its practicality to a great extent. When researching for a drill, many people overlook the size of the unit. If it's basic work, try to invest in a compact drill as it will not take up much space and will be easy to carry around.
Having said that, heavier powerful tools can be useful when working professional jobs. In this scenario, compact drills may not pack enough power to get the job done. A heavier drill will ensure longer hours of work.
Weight
Lastly, the weight of a drill has its own pros and cons to what type of work you seeking to do. You should not invest in a drill that is small and not enough to get the job done. Also, you do not want to buy something that will be too heavy to lug around.
Occasional light work can be easily done with most compact drills. These can range from work at home or a small shop. But heavier work requires a more rugged product. Smaller drills are easy to work with and store. These will be much cheaper to acquire.
Frequently Asked Questions
Q: How do I change a cordless drill bit?
Ans: Most drills nowadays come with a keyless chuck. The first thing to make sure of is to check if the bit is centered between the jaws. Second, tighten the collar until it is firmly set.
For older drills, a key is used to tighten or loosen the chuck. This is included in the whole package. Make sure your key is firmly placed on the gear. After that, simply twist it to open or close the chuck.
Q: How to drill a hole in metal?
Ans: A. Drilling metal can be quite challenging as it is a harder material to work on. You can use various types of equipment like a drill press or a spot drill. Before drilling, make sure you mark the spot of impact and press down with the drill. Correct your grip; otherwise, you may end up hurting yourself.
Q: Which cordless drill should I buy?
Ans: Most drills available now can be used for almost any standard job. Before you purchase a drill, assess what type of work you are planning to do. If it's basic work around the house, any of the aforementioned drills will be a good choice. For more professional jobs, investing in a heavier tool is recommended.
Final Thoughts
These are the top 7 drills that we have carefully researched and brought to you to give you a more comprehensive look at what to choose from. A personal recommendation would be to go for the combos as they give you the most value for your money and will give you an all-rounded experience.
DeWalt is known for its quality-controlled products, and the ones mentioned above are the best ones of their arsenal. So be it your stay-at-home DIY project or your professional work, you cannot go wrong with any of the seven products that we have reviewed.
I'm Joost Nusselder, the founder of Tools Doctor, content marketer, and dad. I love trying out new equipment, and together with my team I've been creating in-depth blog articles since 2016 to help loyal readers with tools & crafting tips.