I love creating free content full of tips for my readers, you. I don't accept paid sponsorships, my opinion is my own, but if you find my recommendations helpful and you end up buying something you like through one of my links, I could earn a commission at no extra cost to you.
Learn more
A framing nailer is a fantastic tool to have if you're tired of driving nails into boards and frames one by one. This tool is capable of shooting nails properly into frames at a very high speed.
When used correctly and safely, this can be an incredible tool for a lot of DIY and professional framing work.
Nowadays, there are different kinds of pneumatic nailers available in the market. To get the right results, you need the best pneumatic framing nailer in your toolbox.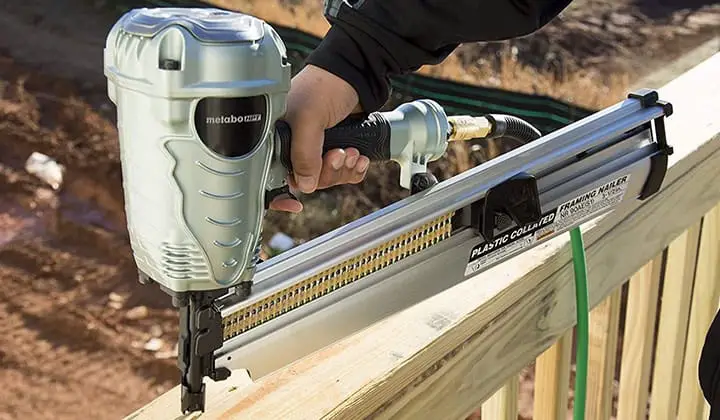 If your selection is correct, the tool can drive nails up to 3.5 inches deep into a solid wooden frame using compressed air, electricity, and combustion.
So, without any further ado, let's get to know some of the products that are worth your hard-earned money.
Benefits of Pneumatic Framing Nailer
If you want your wood framing work to be efficient and smooth, then a framing nailer is a must-have tool for you. Pneumatic framing nailers are the most valuable tools you can own for pinning nails into the hardest of surfaces.
Most professional carpenters or even construction workers own a nailer because of its countless benefits. Some of the benefits include:
Manual vs Auto
There is no doubt that manual labor is very hard. It takes a lot of time and effort to get the nails into wooden frames one by one.
Instead, you can get the job done in minutes if you simply use a tool or machine to do the same work. In the case of nailing, using a pneumatic framing nailer will get the job done way more efficiently and with less effort.
Easy Mobility
Carrying a hammer (imagine these heavy types!) and nails around can be a bit of a hassle. The hammer is very obviously heavy, and nails can easily be misplaced. On top of that, you need to place the nail and then hammer it into place manually. It can be a tedious task that is also risky.
But if you use a pneumatic framing nailer, you don't need to worry about that. The nailer has a magazine like a gun that carries the nails. You can place the nailer in position and put the nail in place with minimal effort.
Safety
Hammering a nail can often lead to accidents. You have to be very precise about hitting the hammer in the right place. If you get a bit reckless or distracted, then there is a high possibility that you might hit your hand or finger.
With a pneumatic nailer, that risk is eliminated as well.  Using an automatic nailer is way safer than a hammer.
7 Best Pneumatic Framing Nailer Reviews
Thanks to the advances in technology, there are different kinds of pneumatic nailers available in the market.
But, how will you know which one is best suited for you? That is where we jump in to help you. Here are some of the top pneumatic nailers that you should consider buying.
NuMax SFR2190 Pneumatic 21 Degree 3-1/2″ Full Round Head Framing Nailer
If the pneumatic nailer that you are going to buy will be used regularly, a lightweight one will be the better choice.
This pneumatic nailer from NuMax is one of the most lightweight tools on our list. Although the product is easy to carry, it is in no way weak.
A durable magnesium body ensures that the tool stays intact, dent, and scratch-free even with long hours of use. Professionals who are looking for a Pneumatic nailer for their job will love this tool for sure.
You won't need any extra tools to adjust the depth with this nailer. The 21-degree pneumatic framing nailer also comes with depth adjustment. This feature, along with the no-mar tip, makes the product quite versatile. You can use the NuMax nailer on different kinds of surfaces with no problems or barriers.
Because the product is so versatile, you can use it to install subfloors, framing, sheathing, and wood fencing as well. It is considered one of the best roofing nailers available in the market. The depth adjustment allows you to use this unit for roof decking.
Thanks to the 360-degree air exhaust, you won't be dealing with wood chips or any sort of dirt flying into your face. You can adjust this exhaust to blow all the dirt away from your work surface.
Pros
It comes with a depth adjuster
360-degree air exhaust keeps dirt away from your workspace
A versatile tool that can be used on a lot of surfaces
21-degree no-mar tool
A durable magnesium body keeps the unit dent free
Cons
It can be dangerous for beginners to use
This unit is a superb 21-degree pneumatic nailer for all the professional workers out there. With the inbuilt depth adjuster, you won't need extra tools to move from one surface to another. Check prices here
Freeman P4FRFNCB Pneumatic Framing & Finishing Combo Kit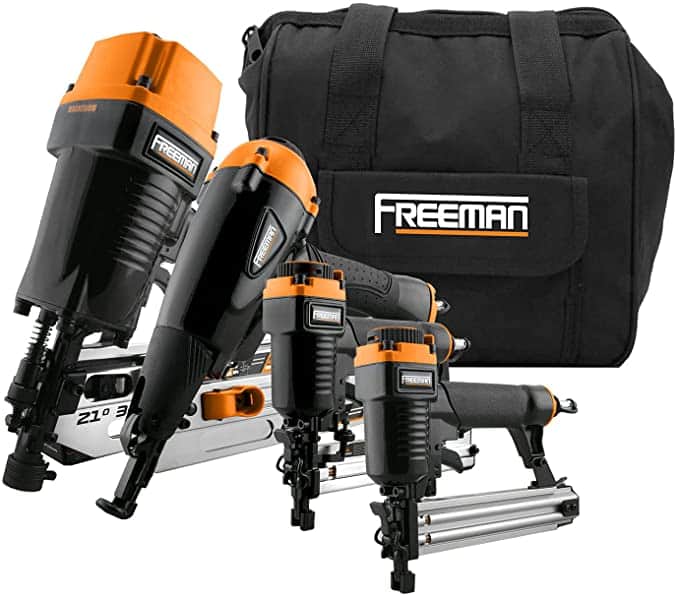 Construction workers or professionals often need more than one kind of pneumatic nailer for a job. Buying something with all the basic kinds of nailers you need is a much more cost-effective option than purchasing those tools separately.
If you are looking for the perfect combo kit for work, this set from freeman will be the right choice.  In the set, you get 4 Freeman's bestselling pneumatic nailers.
Everything is included in this combo, from a framing nailer, a straight Brad nailer, a narrow crown stapler, to a finish nailer. The narrow crown staples that have been added to the set are superb units that can reach all those hard-to-access areas.
You can achieve a professional quality nail job finish with the finishing nailer (here are some top options), even if you are a beginner.
Are you worried about where you will be storing all of these tools? Freeman has got your back. With your purchase, a rugged canvas carrying bag is included.
The storage bag has well-made compartments for all four of the nailers. Therefore, the tools don't clash with each other and don't get scratches or dents.
These well-constructed nailers can be used for all sorts of heavy-duty work. Users have gotten excellent results on stop floor work, roof decking, pallet building, and even fencing with the tool.
Pros
The pack comes with 4 best selling nailers at a reasonable price
Rugged storage helps keep the tools scratch-free
It can be used for roof decking to fencing
Narrow crown stapler gives you access to hard-to-reach areas
Well-constructed and durable tools
Cons
Finding the right degree of angle might be tough with the tool
If you are a professional construction worker, this unit is a must-have for you. The second group is all of the best sellers from the brand, so you can rely on the products to last you a long time. Check prices here
BOSTITCH Pneumatic (F21PL) Framing Nailer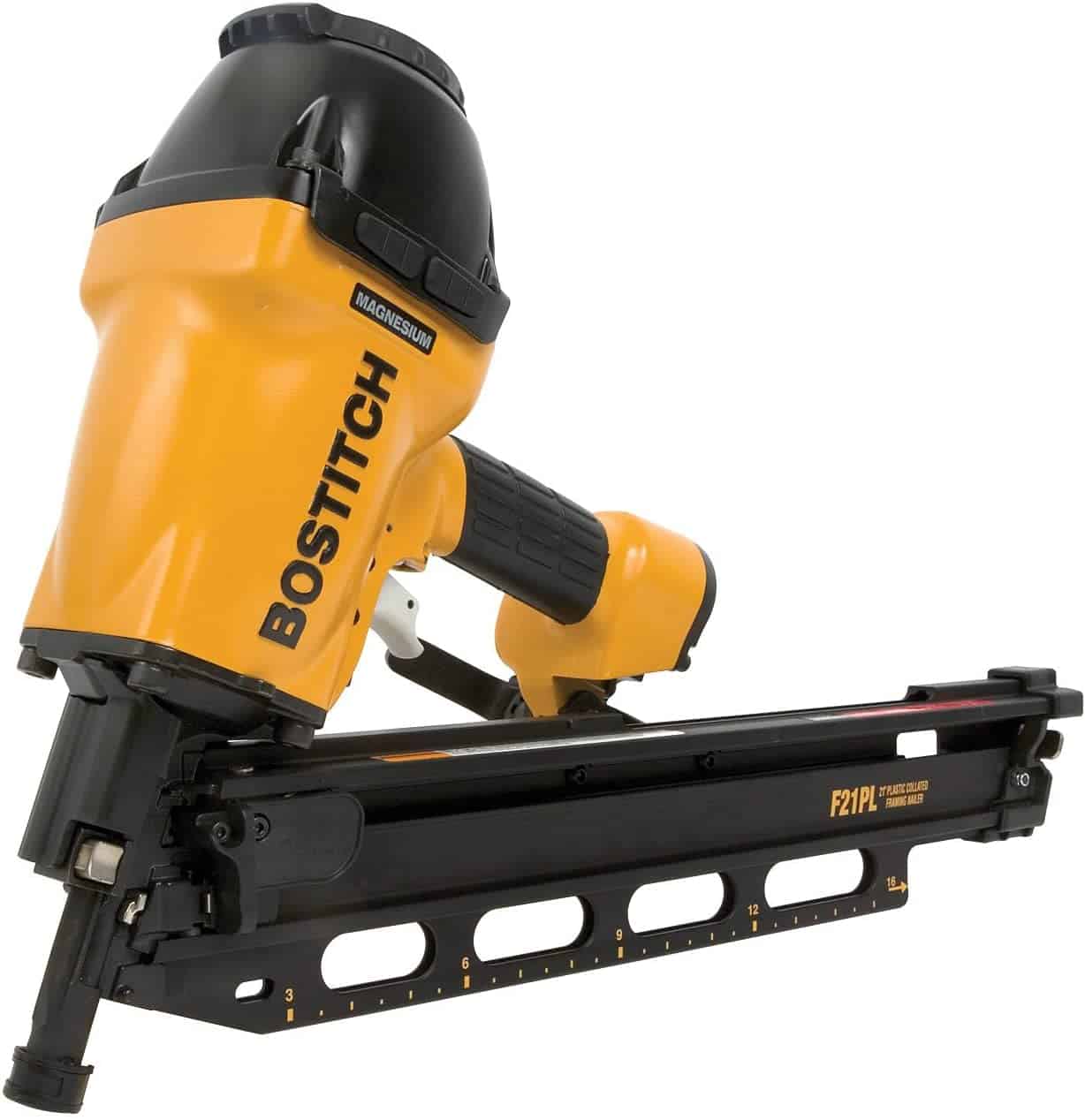 Adjusting the depth of a nailer can be quite a difficult task for beginner-level workers. It might also be an adjustment that is hard to make if you are an at-home DIY enthusiast.
So, for you people, Bostitch has made this user-friendly pneumatic nailer. With just a push of 1 button, you can now adjust the depth of the nail. When it comes to depth, you can shift between 1 ½ inch and 3 inches.
An interesting fact about this nailer is that it works as a two-in-one tool. You get 2 nosepieces that you can change to convert the unit to a metal connector or a framing nailer.
The magnesium build of the tool makes the nailer a lightweight one. Even with hours of use, you won't have to deal with any cramps in your hand when using this nailer.
Connector nails, both plastic, and metal types can be set in place with the Bostitch pneumatic nailer.
There's also a rafter hook built onto the surface of the device. Although this might not seem like a noteworthy feature, this helps with the tool storage while you are working. You can hang your tool on any sturdy place and keep your hands free for any other kind of work.
Pros
The magnesium body is both durable and lightweight
It can be used with both plastic and metal type nails
Easy one-button nail depth adjustment feature
Rafter hook helps you to hang the tool while working
Two in one metal connector and framing nailer
Cons
Large in size and not travel friendly
This product is excellent for people who have a hard time adjusting the depth of nails. The added rafter hooks make it easy to keep your hands free while working. Check prices here
Metabo NR90AES1 HPT Framing Nailer
Plastic collated framing nailers can be an amazing addition to any household. It gets the job done around your house and is an affordable option as well.
The Metabo HPT framing nailer is an excellent example of an ideal 21-degree plastic plated framing nailer. With this tool, you can get most things, including flooring, window buildup, roof decking, housing construction, two subflooring done with ease.
Although the tool is very durable, it only weighs 7.5 pounds. The equipment will also not take up too much space in your toolbox (although these here are quite large). Therefore, this dramatic nailer can be stored at home quite easily.
Because the product is lightweight and has a well-balanced design, you get less fatigued while working. This sort of design also allows for better maneuverability.
Change to a contact nailing system from a sequential nailing system within seconds. A slip of a switch is all you need to change the nailing type.
By adjusting the depth, you can use the tool on a variety of materials because you can use up to 3 1/2 inch plastic nails on the tool, the range of materials that the pneumatic nailer can be used on increases.
Pros
Beginner and at-home user-friendly 21-degree plastic collated framing nailer
Works with up to 3 ½ inch plastic nails
You can use it on a variety of materials
Well-balanced and lightweight design that reduces fatigue
It can be changed to a contact nailing system from a sequential nailing system with the flip of a switch
Cons
Some users have faced jamming on the tool
A great tool to invest in if you only use plastic nails. The easy shift from contact to sequential nailing systems makes the tool user-friendly. Check prices here
Freeman PFR2190 Pneumatic 21 Degree 3-1/2″ Full Round Head Framing Nailer
Any job that requires a pneumatic nailer can take up to a few hours to complete. Therefore, working with a tool that is easy to use and comfortable on the hands can be a huge advantage.
Keeping your comfort in mind, your freeman 21-degree full roundhead framing nailer comes with a secure ergonomic handle. This handle is shaped so that it can be held with.
Crevices in the handle give you better control of the device. Not only does this make the tool easier to move and direct, but it also makes your work a lot safer.
The finger depth adjustment feature installed in the Pneumatic nailer is a tool-free process. Within a few seconds, you can adjust the unit to work on different kinds of services. Siding installation, fencing, wood box assembly, subfloors, or pallet building can be a few examples of where this tool can be used.
An interchangeable trigger allows you to customize the tool according to the type and speed of nailing that your work requires. This function changes the unit from a single to a quick shot nailer.
Pros
Tool-free finger depth adjustment
Interchangeable trigger to shift from single to the quick shot nailer
Ergonomic handles that allow you to work comfortably
Grips in the handle give you better control of your work
Great for siding installation, fencing, and work on subfloors
Cons
Comfortable handles are a great advantage on any tool. The ergonomic easy-grip handles help you get better control of your work as well. Check prices here
Metabo NR83A5 HPT Pneumatic Framing Nailer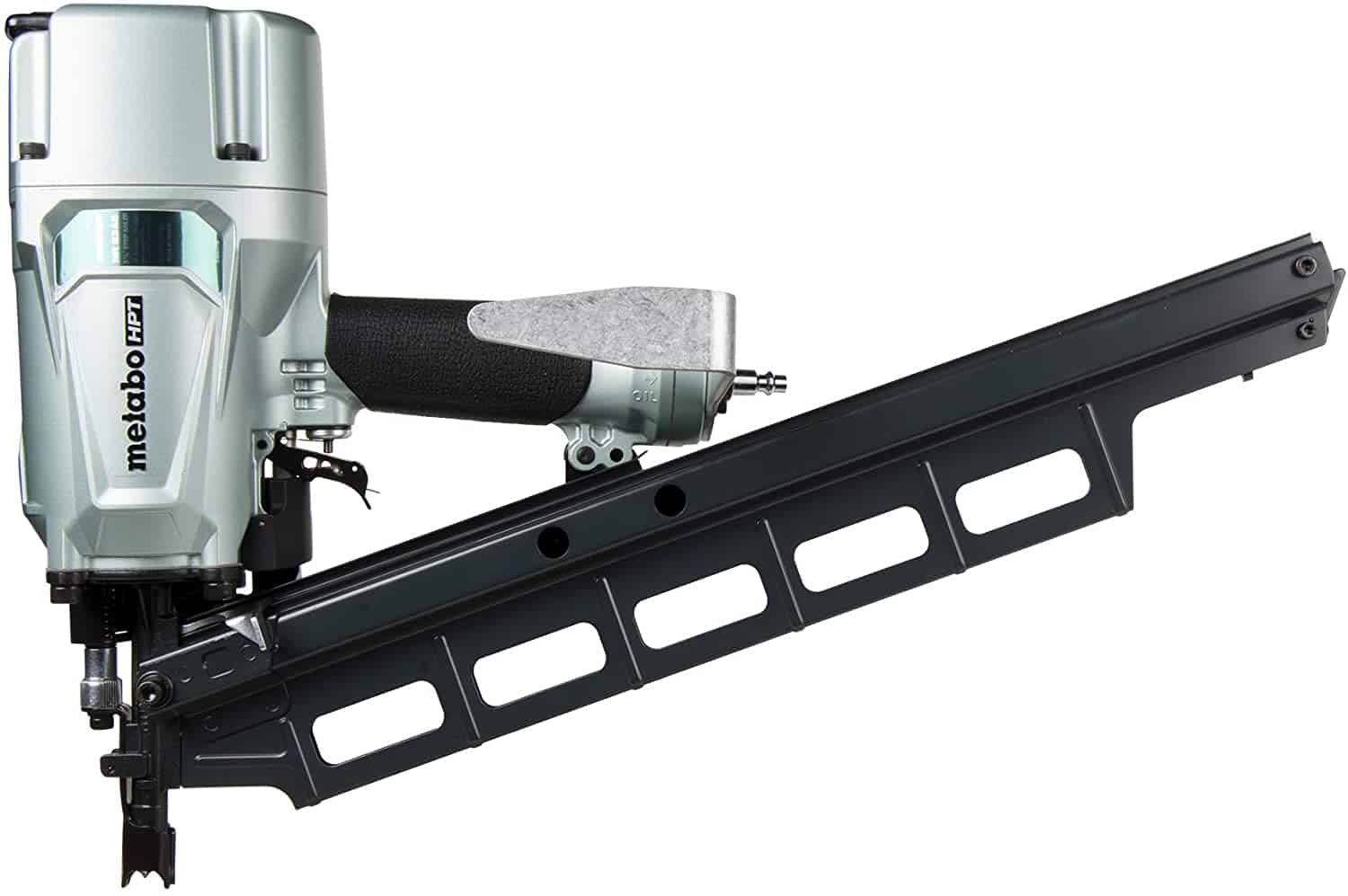 With the acceptance of 2 to 3 and 1/4 inch framing nails, the Metabo HPT is a great pneumatic nailer for a lot of tasks.
The machine can also work with any 21-degree plastic coated and roundhead nails. That is why many professionals recommend this tool for wall sheathing, roof decking, and framing.
For a rapid response, the unit has a cylinder valve system. It also helps with the durability of the product.
You can easily adjust this power tool to work in either a sequential or contact nailing system.
The depth at which the nails will be shot can be customized without any additional tools on this flexible pneumatic nailer. People have had great experiences using the tool on hard surfaces such as pine wood. Nails are pushed in with a lot of power, which prevents them from bending. You get a perfect shot every time.
One thing that must be mentioned is that the product is not lightweight. It weighs 8.8 pounds. While there are other light options available in the market, this one is still worth buying because of its durability.
Pros
Accepts 2 to 3 ¼ inch nails
Works with any 21-degree plastic round head nail
It has a cylindrical valve system for rapid response
Both sequential and contact nailing are available
Can drive into hard surfaces such as pine wood
Cons
Although the pneumatic nailer is quite a heavy one, it's exceptionally durable. So if you want to get your money's worth, there's nothing else that we'd suggest getting. Check prices here
Paslode 501000 PowerMaster Pneumatic Framing Nailer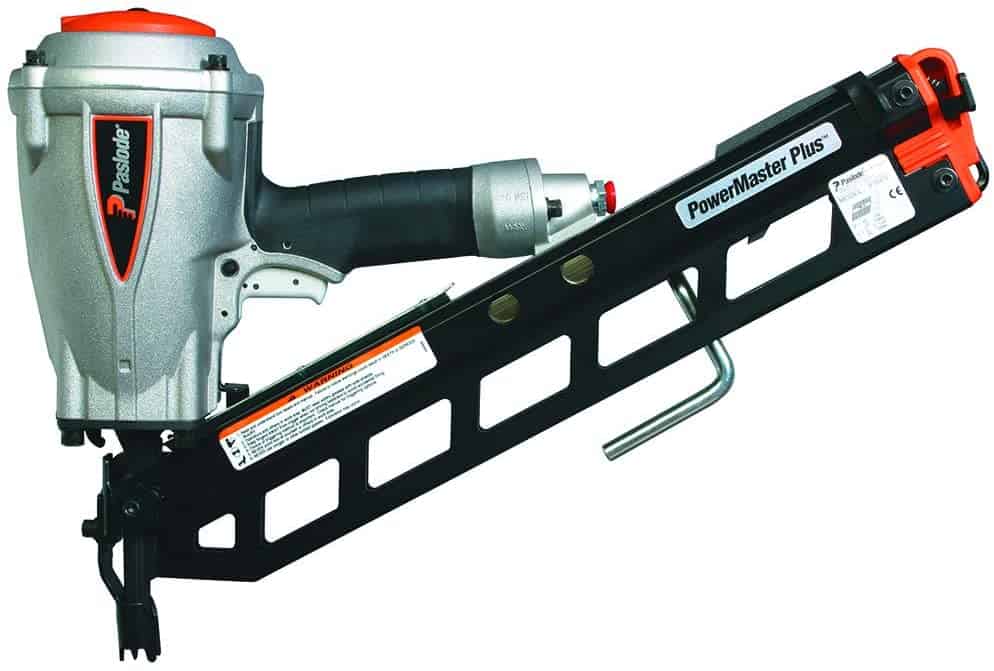 What's makes the Paslode 501000 different from others is the low recoil feature. This blesses the tool with a center of gravity that is closer to the trigger. The system then created an outstanding balance that resulted in ease of use.
Significant maneuvering helps with lower arm fatigue even with endless hours of use.
The heavy-duty tool can nail through walls quite fast. No matter how hard the material is, the nails will reach deep into the unit without bending.
Because the angle is accurate in every shot, you can use this machine on hard LVL and woods. There are fewer chances of misfires and jams.
Soft grip handles give you complete control of the device. No matter how lightweight the instrument is, you always have to grip the tool fully. The soft grip ensures both safety and comfort while working.
Using the rafter hook, you can store or hang the product anywhere when you're on a break.
Air compressor-powered tools might not be the most portable device. But, these products are usually the toughest. Yes, you will have to carry the air compressor with you, which might limit your movement during work, but no other unit can match the power of this tool.
Pros
Low recoil design that gives more balance in the product
Soft grip handles ensure safety and comfort at the same time
Faster and more efficient nailing speed
Can nail through hard LVL and wood easily
Lower rate of jams and misfires
Cons
Air compressor might restrict movement
It does not work well with smaller sheathing nails
It is a great tool to invest in if you're looking for a powerful pneumatic nailer. With a lower recoil design working with the equipment is much easier. A fast nailer like this one can be a great investment for any professional or at-home carpenter. Check prices here
Frequently Asked Questions
How do I choose a pneumatic framing nailer?
If you want the best framing nailer for yourself, then look for its build material, performance, and quality. These are the basic things, and apart from that look for one ar two additional features which will match according to your requirements.
What size nails to use for framing 2×4?
For framing 2×4, it is recommended to use 16d nails. These nails are also known as 16 penny nails. They have the ideal size, and they will be the perfect fit for the job.
Can I use 21-degree nails in a 22-degree nailer?
Of course, you can. Any nailer that has a tolerance of 3 degrees can be used for this task. Therefore, if you do 21-degree nails in a 22-degree nailer, it will not be a problem at all.
Can nail guns be used as weapons?
Nail guns are dangerous equipment. It is mostly used by professionals who have years of experience in the field. If it is not handled with caution, then you might get yourself or someone else injured. Therefore, it can be said that nail guns can be used as weapons.
Is it better to use nails or screws for framing?
That depends on what exactly you are using the tool for. It is generally more preferable to use nails for framing walls. This is because nails are stronger and more flexible. On the other hand, screws might snap if it is under pressure.
Final Words
Don't get confused when searching for the best pneumatic framing nailer in the market. With the proper guidance and a clear idea about the product, the searching process is not that hard.
Make sure you have a clear idea of what exactly you need. Additionally, look for features that will make your work easier. There are plenty of options out there now. So, finding one that will fulfill your needs should be easy.
I'm Joost Nusselder, the founder of Tools Doctor, content marketer, and dad. I love trying out new equipment, and together with my team I've been creating in-depth blog articles since 2016 to help loyal readers with tools & crafting tips.