I love creating free content full of tips for my readers, you. I don't accept paid sponsorships, my opinion is my own, but if you find my recommendations helpful and you end up buying something you like through one of my links, I could earn a commission at no extra cost to you.
Learn more
As a team of carpenters, we use a table saw extensively. However, the model that we have is pretty bulky and is pretty immobile. We would have to get help from three to four people to move it from one place to another. And we got pretty tired of that.
So, we wanted to get the best portable jobsite table saw. Sadly, the options that claim to be that were merely as good as the non-portable version we had. That is where we decided to do intensive testing and research.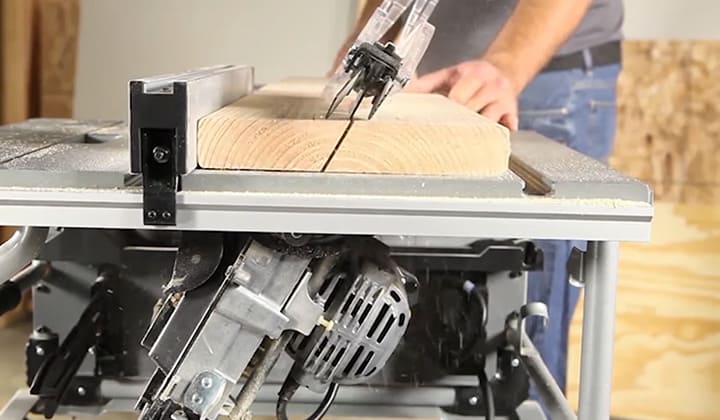 After investing days in comparing the available options head to head, we have finally secluded seven portable and well-performing offerings at the same time. And through this article, we will make the choosing process easier for you by talking about them.
Benefits of Portable Jobsite Table Saw
There are various types of table saws and portable jobsite table saws are very popular among them. First, let us talk about what you can expect to enjoy after getting one of the well-performing portable Jobsite table saws.
You should keep an eye out for a few features when making a purchase of this magnitude. A good miter gauge is first and foremost what you want in your saw. To make your cuts easier, most modern saws come with a miter gauge that lets you adjust the cut.
Some portable table saws weigh as little as 50 pounds, making them lighter than stationary table saws. Wheeled job site stands are available on some models, which makes moving them easy.
When it comes to size, jobsite table saws are similar to benchtop models. Table saws used on construction sites differ from benchtop ones in that they are mounted on a rolling stand, allowing them to be wheeled from room to room.
With a light frame and sturdy wheels, the table saw can be moved easily on rocky paths or muddy terrain. The frame is designed to make it easy to transport. In order to understand this very useful power tool, let's examine the different parts of a portable or Jobsite table saw.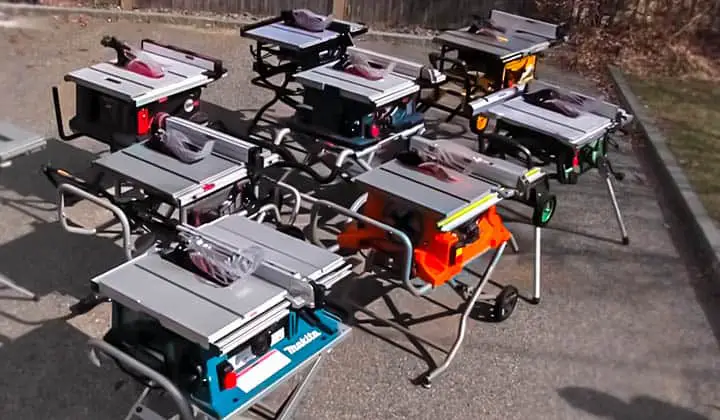 Portability
It goes without saying that moving the table saw around will be a breeze. These tables will come in a lightweight and compact form factor, making transportation seem like a piece of cake. Also, they will integrate wheels on the bottom. Those will make it easier to move the saw around the Jobsite.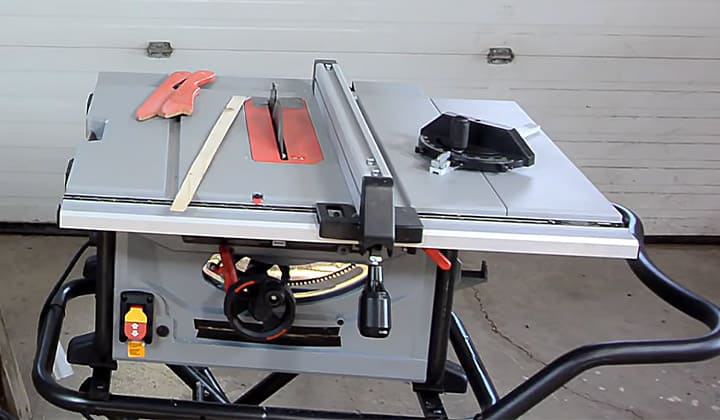 Affordable
Unlike the regular, non-portable versions, these will not break your wallet. Most of these models fall under the budget range. In fact, if you can source out a good deal, it is possible to acquire one of these at an insanely low price.
Performance
Just because these models are affordable, it does not mean that they are not that capable at all. Price does not translate to power in this case. These will usually boast a well-capable motor, which will let you work with demanding and large-scale projects without facing any issues at all.
Efficient
The portable versions will generally utilize an efficient motor. And when the efficiency level is high, the saw will consume considerably less power. Because of how energy-saving these are, operating one with a portable power source is totally possible.
Stability
As a result of the system's stability, the stand had to be considered as well. Our cutting tables were extended as far as they would go, and we worked around to see how much movement would be expected during the cutting process. Getting the extension locks right was part of the equation.
If the lockdown is tight, there shouldn't be much movement. You wouldn't need to worry about locking down the saw if you were using it on a benchtop.
A solid stand is essential for a mobile contractor since they will be using it for many years. Due to the fact that many stands collapse and roll, this can pose a conflict of interest. Several people got it right, however.
In addition to being lightweight and compact, this Skilsaw was also the most stable. The stand has no wheels, and the outward-angled legs give it a wider platform than it might appear compared to its competitors.
Also offering an expansive platform, DeWalt placed second but with a slightly less rigid stand than Skilsaw. Third place went to Bosch, followed by Ridgid.
No professional class table saw had any problems associated with stability due to its extension locking. The whole thing took place in the stand.
Accuracy
It's easy to hear the term accuracy thrown around, but we really need to narrow that down when looking for the best portable job site table saw.
Calibration should always be performed as soon as a saw is set up and should be the first step after that. It simply takes professional results to calibrate your new miter saw blade.
Fence
Table saws post-calibration are affected by two main factors: fence quality and overall stability. A fence clamps onto the edge of the table by grasping onto the edge. Three points of contact are what define the best fences, like Biesemeyer. You wouldn't expect to find them there.
It is impossible to find any on the back due to the arrangement on the front. The front is pulled flush and self-aligns with a wide cast metal clamping system.
The fence must be locked in place so that it does not move during the cutting, but it is possible.
SawStop has the best fence of all saws in the group, and it is the only saw using this fence style.
Second place goes to Ridgid for its traditional front clamping fence system with a backside point of contact. Designed with a cast-iron wide clamp front plate, it impressed us with its solid construction.
3rd place went to DeWalt for its innovative lock-in system that locks your items into several points depending on where you need them.
By using a rack and pinion system, it stays in place while moving into place. There are a few issues with accuracy, but it eliminates many issues associated with some systems' locks that are not square.
Portability
Portable table saws are essential for jobsite use and that means they are portable. There are a few important features that define portability.
In the beginning, weight is the most important factor when it comes to how easy it is to transport a saw, especially in the back of a truck instead of a trailer. The wheeled stand is the best companion for trailer owners. Both were examined.
Table Saw Blade
Since the stock blades for portable worksite table saws vary so greatly, it's difficult to be objective in choosing one. If you're looking to rip fast, a 24- to the 30-tooth blade will do the job. You will get cleaner results if you up your tooth count to 60 and higher for finish work.
Depending on how many blades you order, the total price will likely be as high as the saw itself. A blade investment, however, is an investment in safety and quality. Blades specifically designed for a single job will cut better and more safely than others.
The same blade cannot handle every type of lumber and every type of cut. If you want a chip-free edge on hardwood plywood, you use a different blade than one designed for rapid ripping in solid wood.
For the saw to reach its full potential, you must choose a variety of blades. Also, if you want to get the best jobsite table saw for fine woodworking, you will need to invest in blades.
The machine will likely come with a low-cost, all-purpose blade that will do rips and crosscuts, but neither extremely well. To ensure that you can easily cut hardwood, softwood, and plywood with and across the grain, you will need several more blades.
Blade Height And Bevel Adjustments
An amateur can also feel a difference in ease of adjustment between some saws and others when he or she looks around the table saw section at the home improvement store. The first approach tends to be easier, but the second approach tends to be more innovative.
Despite the value group's overall win, Porter-Cable came out on top with intuitive adjustments that are smooth. You can adjust both the blade height and the bevel angle with the dual-adjustment wheels.
Secondly, SawStop had features that no other saw possessed. One full turn of the wheel adjusts the blade height across the entire range. Micro-adjustments were discussed for dado and rabbet cuts, but in practice, we found they were easy to reach.
By combining the bevel lock lever with the height wheel, SawStop does away with the bevel lock lever. You can easily change the angle of the lock by pulling it toward you. Holding the steering wheel doesn't require a second hand to move the lever. Just let go and the wheel is locked back in place.
The Ridgid saw is the only one with an independent blade height lock, making it a third-place finisher. It uses multiple full turns to raise and lower, but it also has a lock in the center as opposed to most saws.
Tabletop Build Quality
Tables on budget table saws are not always perfectly flat, which is a common issue. This can happen as a result of warping over time, inadequate manufacturing processes, and shipping damage. Cast iron is usually the best material for tabletops.
Tabletops made of cast iron tend to be more durable, stable, and of higher quality. Tabletop flatness is rarely an issue with these. Aluminum tabletops are usually found on portable models.
Tables on compact table saws should be relatively flat, but don't expect perfection. Plastic parts should be avoided in models. Using poor-quality materials to make a crooked table will prevent you from getting good results on your woodworking projects.
Stands
It is one of those features where the ends justify the means when it comes to stands. A portable design by Bosch stood out from the rest. The large-diameter tubing of Bosch stood out from the rest of the stands despite the common principles.
As a result, durability and ease of setup/takedown are improved, and the larger pneumatic wheels increase traction on less-than-ideal surfaces. The second most impressive wheel was from SawStop, which had narrower rims. Ridgid was third.
Skilsaw was at the bottom of the list for stand portability with no wheels but warrants mention, nonetheless. This stand attaches to the saw with two clips, has a wide base and solid construction.
If you're going to transport it in the truck bed instead of on a trailer, this saw's simplicity and lightweight will make it really attractive.
Performance
In order to determine the best portable jobsite table saw, two important performance factors needed to be considered: cutting power and dust collection. There is no doubt that power is the best option.
Making straight, clean cuts the right way does not have to take up our entire day. In order to get professional results, a particular saw needs to be babied more than others.
Dust Collection
Some contractors don't necessarily care about dust collection. If you're a carpenter or remodeler working inside, this product is a necessity. There is no dust collector port on the Ryobi. Porter-Cable and Kobalt were almost identical and did an admirable job.
Safety Features
The U.S. consumer market generally provides table saws with a riving knife, anti-kickback pawls, and a split blade guard. These safety features are removable because some cuts can't be performed with them.
Despite their differences, they can all be mounted on the saw without being installed. I would be remiss if I did not warn you that the cuts for which you may be at risk are more dangerous.
The inherent safety issues surrounding the table saw have been the topic of controversy in recent years. Using a technology developed by SawStop, the blade is pulled subsurface three milliseconds after it touches the skin.
As of June 1st, Bosch's REAXX table saw becomes the first of its kind to compete. Both saws can perform the same tasks, but they deliver different results.
7 Best Portable Jobsite Table Saw Reviews
Now that you know all of the advantages these saws offer, let us get into the main thing you are here for. We considered all of the critical factors in the tests we conducted and compared the available models according to those. From our tests, these are the models that stood out the most:
DEWALT DWE7491RS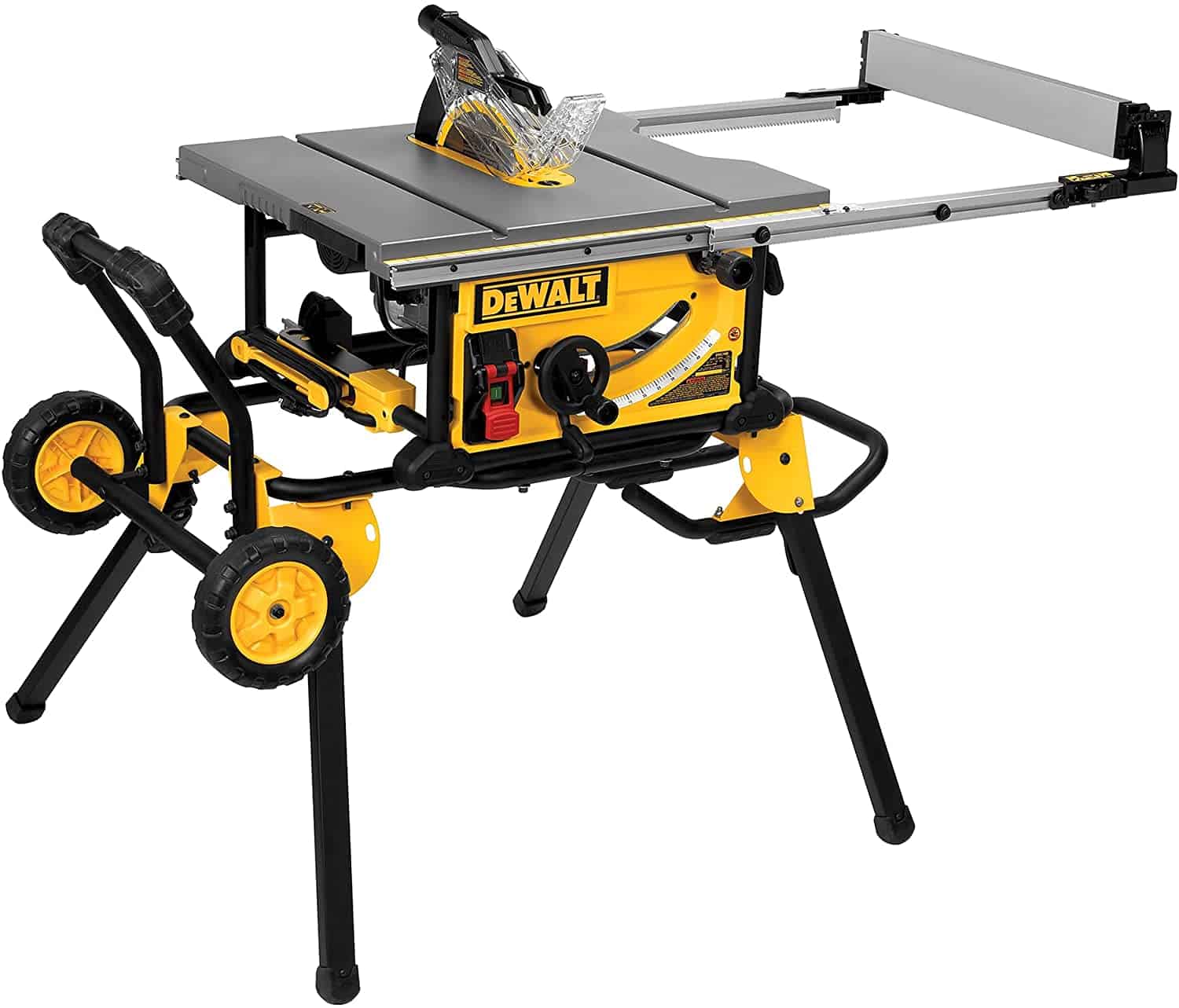 We are pretty sure that you have already heard about Dewalt. Yes, they are well-known for offering high-quality and well-performing power tools. And the case is the same for this offering as well.
The whole package includes a table saw that features a rolling stand. Due to an ergonomic design, the stand can be assembled and disassembled within a couple of minutes. That means you will not have to invest hours in setting this table up when you are on the job site.
It also bundles with a capable blade. The blade is 10 inches in size and has 24 teeth. As it has carbide teeth, it should go through most of the heavy-duty and demanding workpieces quickly. In other words, you will not even have to spend hours working on the projects either.
There is a miter gauge, which will offer guidance during operation. The rip fence will provide additional guidance. Because of these two, it will be possible to get exact cuts on the workpieces. The table also has a blade guard. That will protect you from small shooting objects.
Even the motor of the unit is competent. It has a power rating of 15 amps and can provide a high amount of torque. In fact, the power it gives can cut through hardwoods and treat lumbers pretty quickly.
Key Features:
10-inch 24-tooth carbide blade
Rack & Pinion telescoping fence system
A 15.0A high torque motor
32-1/2-inch rip capacity
A 2-inch dust collection port
Pros
Easy to set up and easy to disassemble
Utilizes a powerful blade
It has a miter gauge and built-in fence system
Sports a blade guard
Boasts a powerful motor
Cons
The locking mechanisms of rack and pinion is a bit hard to work with
It has a flimsy fence
This portable table saw is pretty easy to assemble and disassemble. It also comes with a capable blade and motor, allowing you to work with demanding and large-scale projects efficiently. Check prices here
DEWALT DWE7485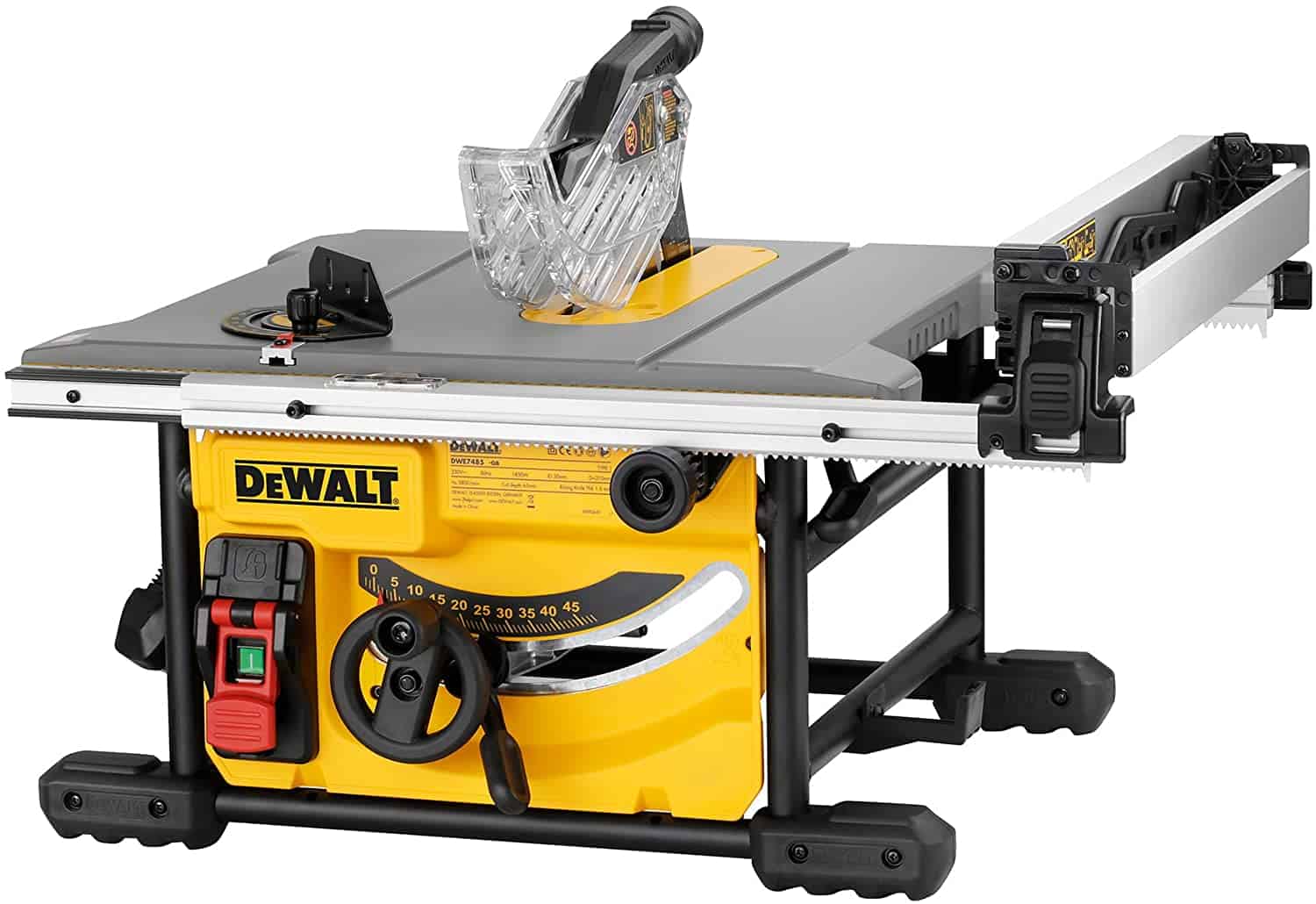 Another recommendation-worthy offering from Dewalt is this one. Like the previous table saw, it has a lot to offer. And to know about it all, you need to go through the review.
The thing that makes it stand out the most is the adjustment mechanisms. They are pretty easy to work with. It features pinion and racks telescoping rails, which have easy-to-access adjustment settings. You will be able to tune them and quickly modify the whole operation according to your preference.
It is highly versatile too. The blade is capable of making a variety of cuts. It can offer 24-1/2 inches rip cuts and a wide variety of larger cuts. And it holds the ability to trim a broad range of materials. Basically, you will not find yourself getting limited to something while operating with this table saw.
This one also features a top-notch build quality. The overall construction is of high-quality material. Such a construction will ensure that it can withstand the higher loads and intense projects of different job sites. Also, it will last for a prolonged amount of time without showing any issues.
There is onboard storage as well. You can keep the tools that require easy and quick access inside them. The motor of the unit is pretty potent too. It has a power rating of 15 amps and can make the blade rotate at 4800 RPM.
Pros
Has easy-to-adjust adjustable mechanisms
Exceptionally versatile
Sports a stellar build quality
Reasonably durable
Features onboard storage
Cons
Included blade is not that durable
The table coating scratches pretty easily
This table saw is yet another great product from Dewalt. It has a lot to offer and is highly portable. There is onboard storage too. That is something relatively uncommon for portable Jobsite table saws. Check prices here
Best worksite table saw with gravity rise stand: Bosch 4100XC-10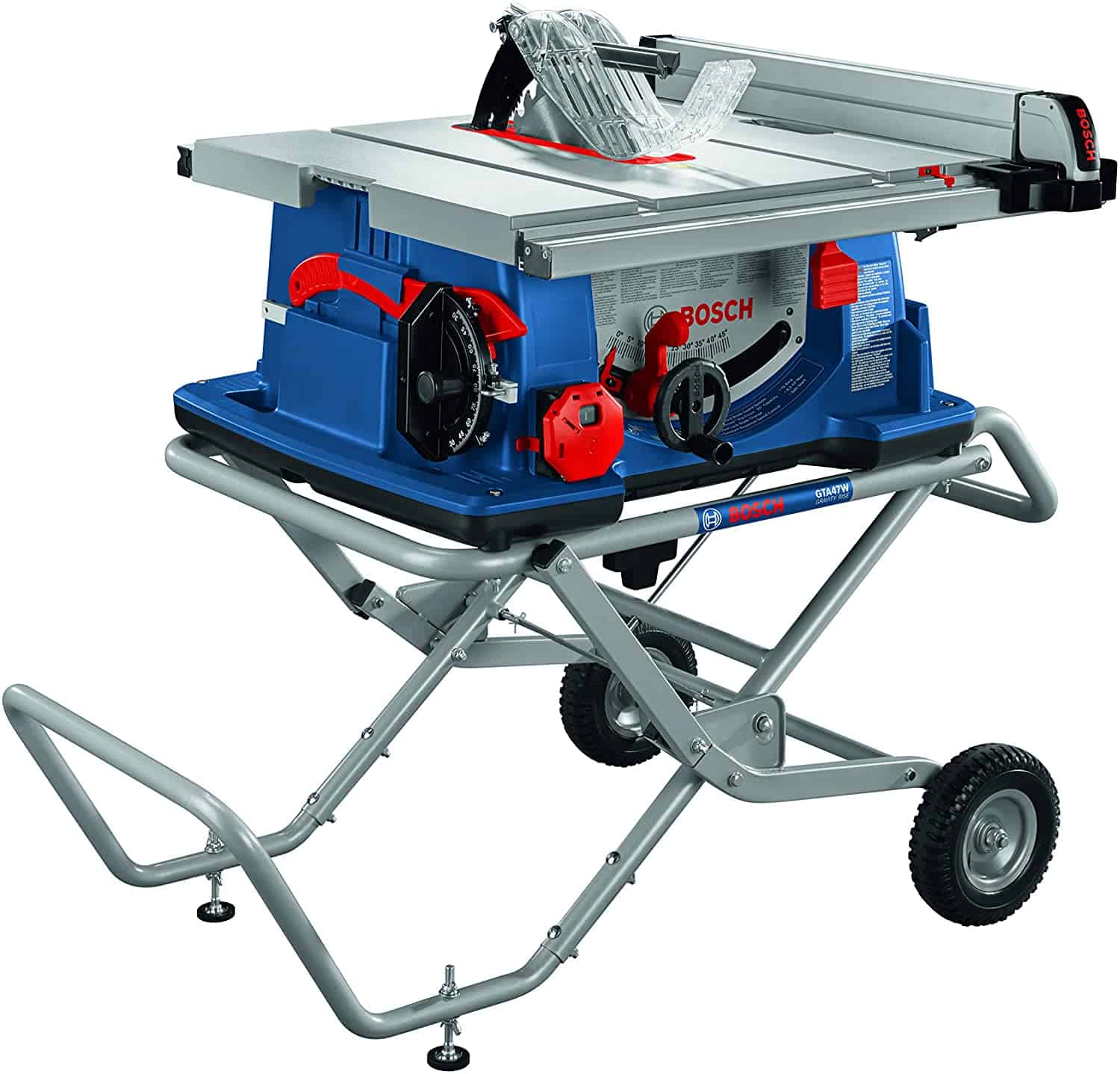 If you were on the hunt for something that has a large top surface but is portable and compact at the same time, you need to take a look at what Bosch is offering here.
This table saw for jobsite has a compact overall form factor. Thanks to the integrated wheels on the bottom, it will be possible to move it around from one place to another seamlessly. Also, the foldable nature will make transportation and storage easy.
Although it is highly portable and compact, it features a reasonably large top. The table can support large workpieces and has a ripping capacity of 30 inches. Now that is something that an average portable table saw cannot offer. The motor is pretty powerful too. It has a 4 HP rating and can make the blade spin at 3650 RPM.
There are proper safety mechanisms too. It has soft-start circuitry, which will manage and monitor the intensity and power of the motor throughout the entire operation. That would minimize the chances of the circuit breaker getting tripped and you losing control over the cuts.
Alongside that, it has a smart guard system. There are anti-kickback pawls and riving knife protection. It even has restart protection. All of them will ensure that the overall operation goes smoothly.
Pros
Compact and easy to transport
It has a large top
The motor has a 4 HP power rating
Sports soft-start circuitry
Boasts smart guard system
Cons
It does not have a proper blade raising mechanism
The accuracy of the miter gauge is not that praiseworthy
This table saw is an excellent pick as a portable option. It has a powerful motor, proper safety mechanisms, and a large table. All of them will ensure you can smoothly handle all of your important projects. Check prices here
Delta 36-6023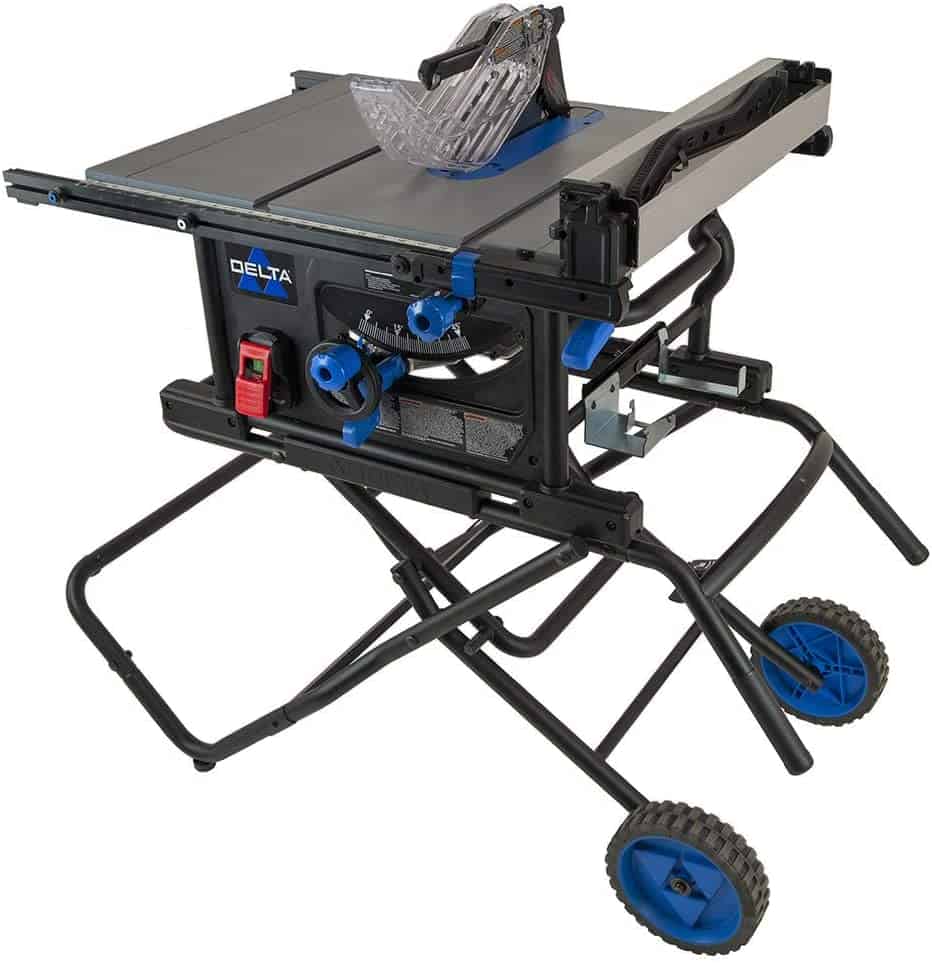 Want to opt for something that utilizes a powerful motor and is highly compact at the same time? Look no further because Delta is probably offering the thing that you have been looking for all this time!
The motor that it utilizes is highly powerful. It has a 15 amp rating and can easily handle demanding projects. You can quickly cut through hardwoods and treated lumbers. Also, it holds the ability to work with materials that fall under the hardwood and treated lumber criteria. Thanks to a 15-amp motor, it is highly precise, durable, and mobile. The rail and fence systems are made up of heavy-duty one-piece construction that makes precision cuts possible every time. You can cut narrow stock with the fence due to its special design.
Even the included blade holds a higher potential. It has a rip capacity of 32.5 inches and is capable of handling reasonably large stocks. Furthermore, it has a stacked dado capacity of 13/16 inches x 8 inches. In other words, you can work with demanding projects without that many limitations.
The overall construction is praiseworthy as well. The brand has utilized high-quality materials and ensured that the durability level is all times high. It also has sturdy pinion fence rails and racks. They will be able to handle demanding and heavy workloads easily.
On that note, the adjustment mechanisms are pretty simple to work with as well. You can make quick adjustments and tune the whole operation according to your requirement.
Key Features:
32.5 Inch Rip Capacity
Powerful 15 Amp Contractor Grade motor
It can easily cut treated lumber and hardwoods
Durable rack and pinion fence rails
Fast, smooth, and accurate
Pros
Boasts a powerful 15 amps motor
Handles hardwood and treated lumber like they are nothing
It has a rip capacity of 32.5 inches
Durable and long-lasting
Features quick adjustment mechanisms
Cons
Does not have indexed miter settings
It might ship in an open box condition
The motor of the table saw is highly powerful. It holds the capability to handle higher loads. Also, there is a good amount of adjustment mechanisms. It is highly durable too. Check prices here
SKIL TS6307-00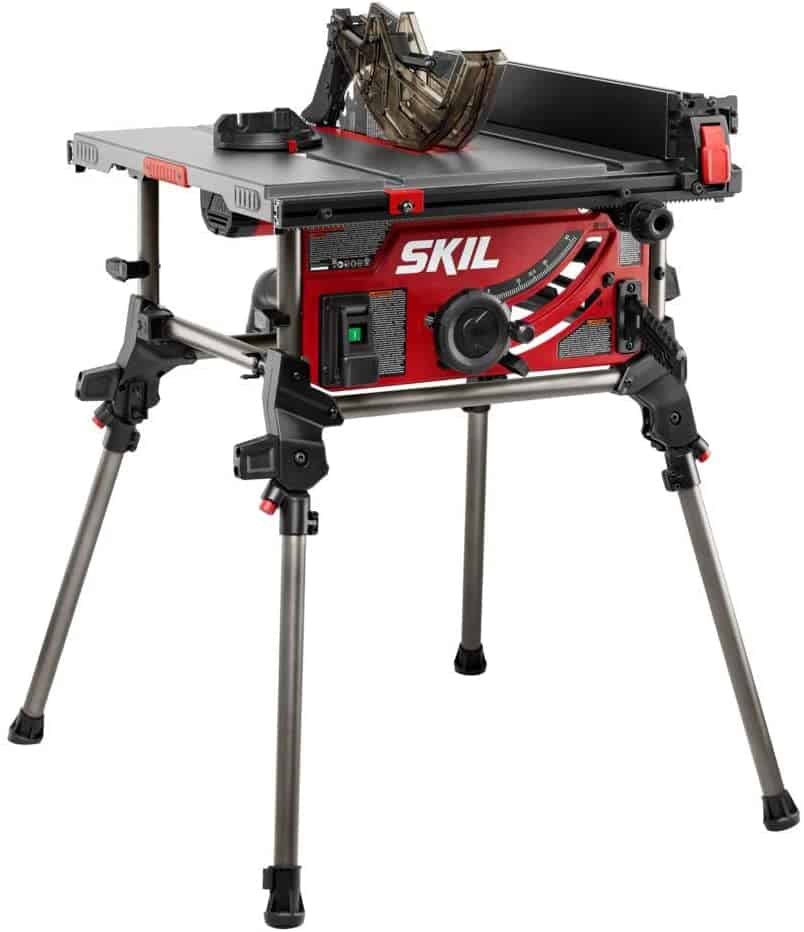 Another pretty famous manufacturer in the power tool industry is SKIL. And this product that we are going to review will describe exactly why they have so much fame and popularity.
One of the most highlighting things about this table saw is the folding stand. The stand collapses and retracts like butter. It will let you quickly fold the legs and convert the whole thing into something that is exceptionally compact. Carrying it around and storing it will be a breeze after that.
There are parallel blade alignment mechanisms present as well. It will allow you to make micro-adjustments to the blade. As the table has a rip fence, it will be easier to get exact cuts on the workpieces. There is a miter slot too. That will offer extra guidance during the cuts. For precise, accurate cuts, there is a miter slot. Get this portable table saw if you are looking for the best table saw for a small shop. This Table Saw can be used with Dado blades (like these sets), which is one of its best features. Diablo 40 tooth blades are recommended for fine woodworking. A hot knife will slice right through 3/4″ plywood, and the edges will be cleaner than the factory ones.
The table saw has a high cutting capacity as well. It can cut the materials and workpieces that are up to 4×4 square inches. Also, it offers the ability to make irregular cuts. You can make complete 90 degrees cuts or cuts that are from 2 to 47 degrees using the bevel mechanism.
It also flaunts a dust port. The port does a decent job of redirecting the dust into a container. That will keep the working area clean and make the cleanup process feel like taking a walk in the park.
Key Features:
Rack & Pinion fence rails
Micro-adjustment of blade
Cuts between 2 positive stops
Integrated folding stand
Dust port elbow
Pros
Features a folding stand
Has parallel blade alignment mechanisms
Sports a miter slot and rip fence
The cutting capacity is pretty praiseworthy
Boasts a dust port
Cons
Includes a sub-par blade
It has a couple of flimsy plastic parts
The main highlight of the product is the foldable legs. It will make the task of carrying and storing easier. Also, the saw is highly precise and has a higher cutting capacity. Check prices here
SKILSAW SPT99-11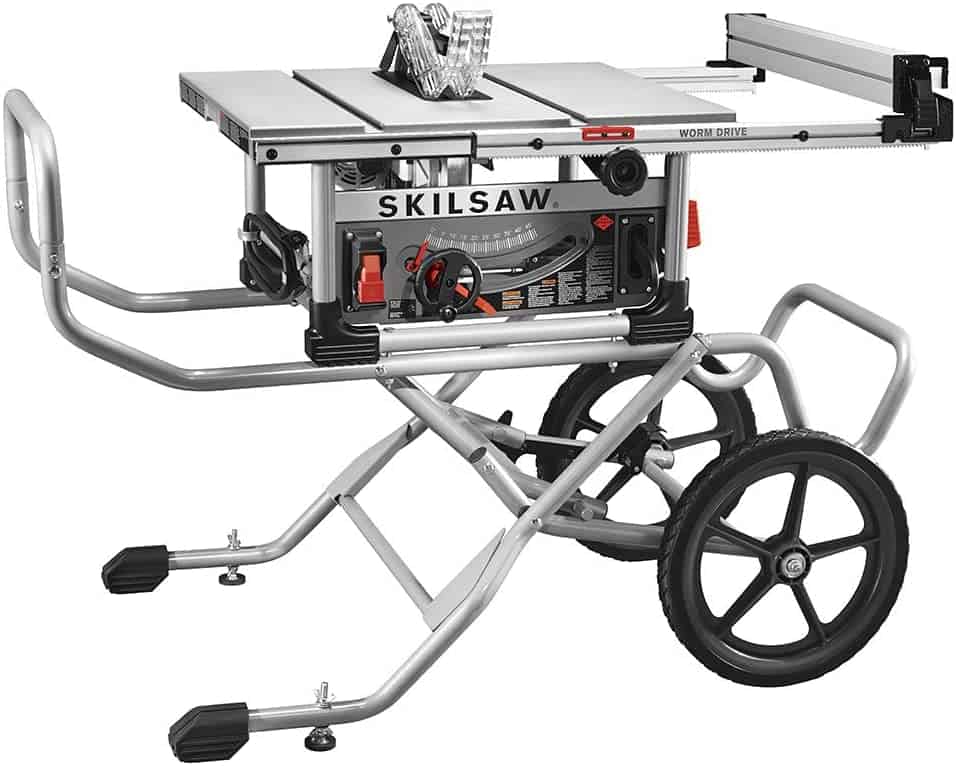 On the hunt for something that packs a tremendous amount of power? Well, what you might be looking for is this offering that is yet again from Skil.
It is probably one of the few table saws that have brass-geared worm drive. This unique trait allows it to offer an insane amount of power and torque. The motor of the unit has a 15 amp rating. And as it is a dual-field motor, it will provide a higher amount of cutting speed. The lifespan will be reasonably high too.
This table saw has a reasonably high rip capacity too. It is 25 inches, and the depth of cut it can offer is 3-1/2 inches. The blade can also handle a wide variety of materials. That means you will not find yourself being limited to working with one material on this table.
There is on-tool storage space. You can keep the essential tools that you require quick access to there. Also, you will find a rip fence. As the fence aligns itself, it will offer extra guidance and make getting accurate cuts on the workpieces easier. It will also be possible to install a broad range of different types of blades on this.
Furthermore, it is highly compact in size. That makes the table effortless to store. It is also considerably light in weight, weighing just 49 pounds, making it highly portable. And the package includes an anti-kickback and guard system too.
Pros
Utilizes brass-geared system
The motor has a higher power rating
Long-lasting and can withstand higher loads
The rip capacity is 25 inches
Capable of handling a broad range of materials
Cons
It might ship without being properly tuned
The Camlock is a bit small
This one features a highly powerful and durable motor. It can handle a wide range of different types of materials, and it bundles a guard system and anti-kickback device. Check prices here
Best Portable Table Saw For Small Shops: SAWSTOP 10-Inch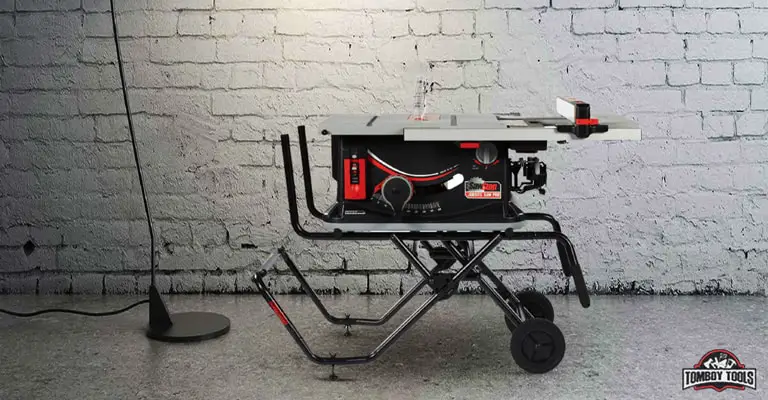 Key Features:
A patented safety system that protects your  fingers
Safer cutting of larger workpieces
Active Dust Collection Guard
The updated Jobsite Saw T-Style Fence
Onboard storage
With design built for the jobsite, the SawStop Jobsite Saw Pro is durable, innovative and precise. New features have been added to the Pro model to keep up with the most demanding professionals.
Besides Active Dust Collection Blade Guard and versatile high-low fence, a deeper table is enhanced with other tools that make it easier and safer to work on the jobsite. An Active Dust Collection Guard is included to protect against the above-table dust particles that can cause health problems.
Kickback can also be prevented with the splitter and anti-kickback pawls attached. A single touch of the Ergolock will lock the Jobsite Saw Fence in place smoothly and securely.
Under the table, the under-the-table storage drawer serves as a container to house and protect accessories. The On-Demand shelf can be extended to provide additional support, and the fence face can be extended to provide a safer cutting surface when cutting thin materials.
With a simple, intuitive foot pedal, the mobile cart can be extended when in use and collapsed when not in use. Those who work on construction sites often have to deal with varying surface conditions. Check prices here
Best Portable Table Saw For Fine Woodworking: Metabo HPT
Key Features:
10-Inch 40-Tooth Carbide Tipped Blade
Powerful 15 Amp motor with 4,500 RPM
Featuring soft star and electric brake
35″ of ripping capacity
Designed at knee level for immediate shutdown
A 15-Amp motor powers this 10″ job site table saw, which is designed to cut ripsaw, crosscut, and rip hardwood, plywood, and composite wood materials. All materials can be cut using this saw.
This fold and roll stand provides stability while in use and is designed with sturdy legs that make it easy to assemble and disassemble. Additionally, the stand is equipped with wheels so that the user can easily move across difficult terrain.
It has a telescoping extension table that can support a 35″ rip capacity to the right and can cut up to 3-1/8″ at 90 degrees and two-and-a-half inches at 45 degrees.
Any workshop or Jobsite will benefit from this user-friendly table saw. The rugged, stable fold-and-roll stand helps ensure accuracy and transportability while reducing wobble.
Advantages Of Compact Job Site Table Saws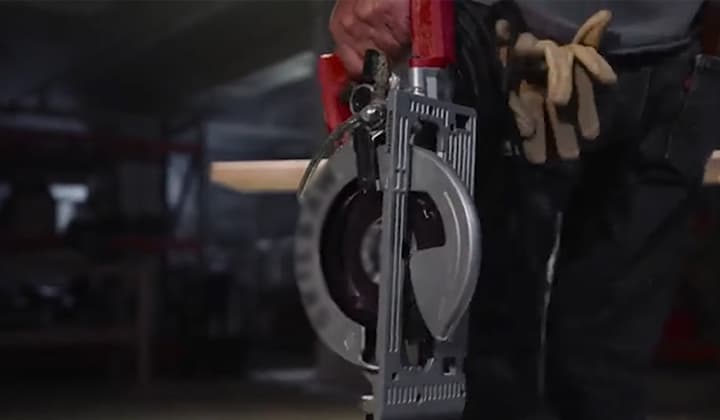 Easy mobility is arguably one of the most recognized advantages of portable table saws. Mobile, easy-to-maneuver equipment, these saws are perfect for transferring between different job sites.
Portable table saws take up less space than stationary table saws. For small woodshops, this is perfect.
Small woodworking shops typically find these saws to be affordable and offer lots of options. Stationary saws are much more expensive than portable saws. Low-cost portable models are easy to find.
It is more energy-efficient to operate portable table saws. Powerful motors of up to 15 amps drive most models. An outlet that operates at 110 volts will be necessary.
Disadvantages
It is usually the rip area for the saw that is the biggest drawback. The vast majority of people will not face this challenge unless they need to cut large pieces of wood.
You are likely to encounter this limitation on even the best table saws for the jobsite. Aftermarket fences can increase rip capacity.
In addition, you can complain about power. In spite of their powerful performance, portable table saws cannot compete with stationary models.
Frequently Asked Questions
How heavy are portable jobsite table saws?
That will depend on the overall constructions. But most will be around the range of 40 and 50 pounds.
Are portable jobsite table saws compact?
Yes, they are exceptionally compact. Some will even have a foldable design, which will allow you to convert them into something extremely compact.
Can I change the blade of a portable jobsite table saw?
You can change the blade of a portable table saw. But do make sure that the replacement blade is compatible with the table saw.
Do portable table saws offer a good amount of power?
Absolutely! Most of them pack 15 amps motors that are highly capable. They can make the blade run at an insanely high RPM.
Are portable table saws adjustable?
Most of the units will have some adjustable features. But there are a few that offers little to no adjustment mechanisms.
Final Words
We know how hard it can seem to get the best portable jobsite table saw. But we do hope that we made the whole choosing process a bit easier for you. And we assure you that each of the models we have reviewed is all worthy of the money. They offer stellar performance and are easier to move around at the same time.
I'm Joost Nusselder, the founder of Tools Doctor, content marketer, and dad. I love trying out new equipment, and together with my team I've been creating in-depth blog articles since 2016 to help loyal readers with tools & crafting tips.