I love creating free content full of tips for my readers, you. I don't accept paid sponsorships, my opinion is my own, but if you find my recommendations helpful and you end up buying something you like through one of my links, I could earn a commission at no extra cost to you.
Learn more
Ownership of a house needs a lot of DIY and upkeep work. For those interested, sanding is one of the most labor-intensive and arduous tasks, particularly when applying a fresh topcoat of paint on furniture for refurbishing purposes.
Therefore, in order to speed things up, you will need the perfect tool in your arsenal. We have put together this guide of the best sander for furniture refinishing to assist you in choosing the product that will make the job a lot easier.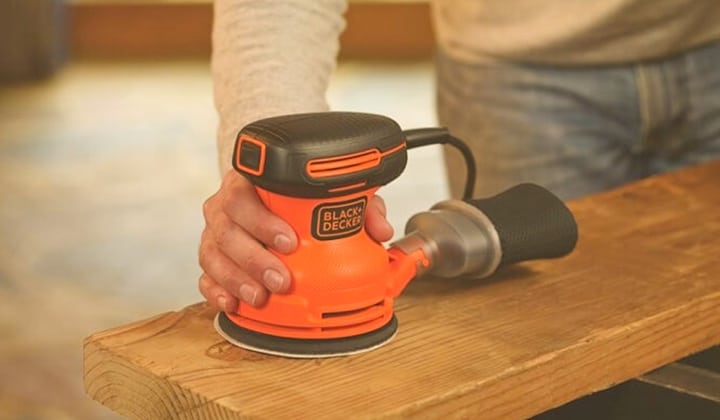 Below are the best palm sander models and varieties for furniture restoration, depending on the work at hand. Let's get started!
Top 7 Best Sanders for Furniture Refinishing
An overwhelming number of products and brands make picking the finest furniture sander complex. For that reason, we bring to you some of the best choices in our opinion.
1. BLACK+DECKER Mouse Detail Sander, Compact Detail (BDEMS600)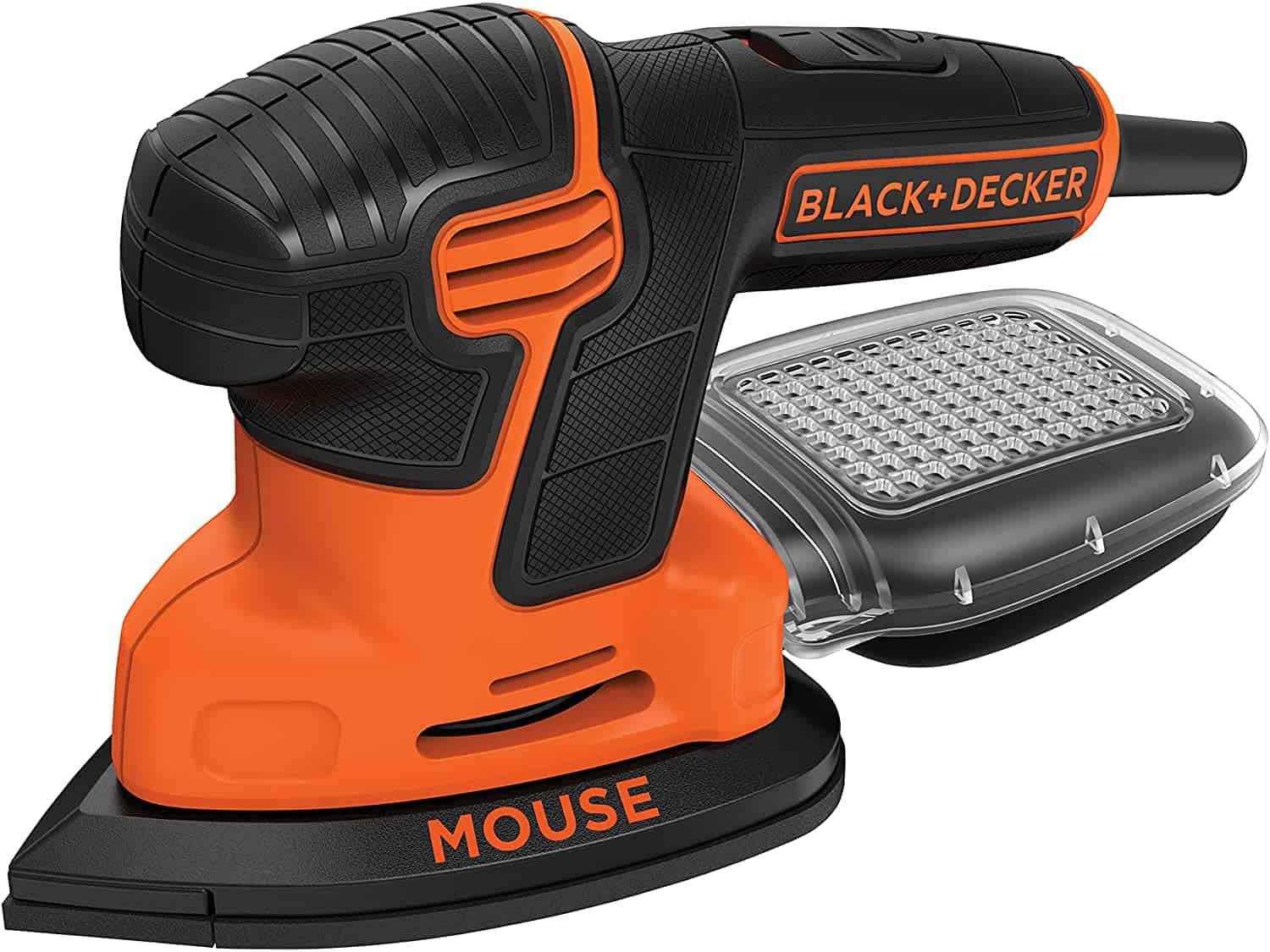 Let's be honest; even individuals who have never used a power tool in their lives are familiar with this company's name. With this sander, there is no doubt that you will attain high-quality results. Predominantly, with its pointed tip, this detail sander stands out the most.
As far as the finest furniture polisher is concerned, this is an excellent choice for working on curved and intricate regions. In small settings, this option's lightweight and compact size makes it a perfect choice.
Designed for furniture refinishing, it has three separate grips a precision grip for moving, a handle grip for confined areas, and a palm grip for surface sanding. Similarly, the product comes with a finger attachment great for getting into the nooks and crannies.
Surprisingly, 14,000 orbits per minute are possible even with the comparatively low-power engine of 1.2 amps. In addition, there's a micro-filter dust collector (really important for your health!) with a clear canister so you can see when it needs to be emptied.
There is no need to spend a fortune on equipment even if you often restore furniture. If anything, this deal represents a huge boon. This sander's flexibility and efficiency make it an excellent choice for fine-grained work that has to be completed quickly yet with a high-quality result.
Pros
Pointy-shaped plate for accessing tight areas
Comfortable grips are available in three different positions
An easy-to-use dust collector with a transparent canister
Lightweight design and a compact frame
An excellent price-to-quality ratio
Cons
Mouse tip is not very long-lasting
Open areas will need more sanding time than smaller ones
Verdict
Honestly, this product is a breeze to use! There is no mess or sawdust to deal with while using this sander, and the dust filter does an admirable job of reducing it. This detail sander gives you the value for money. Check the latest prices here
2. DEWALT Palm Sander, 1/4 Sheet (DWE6411K)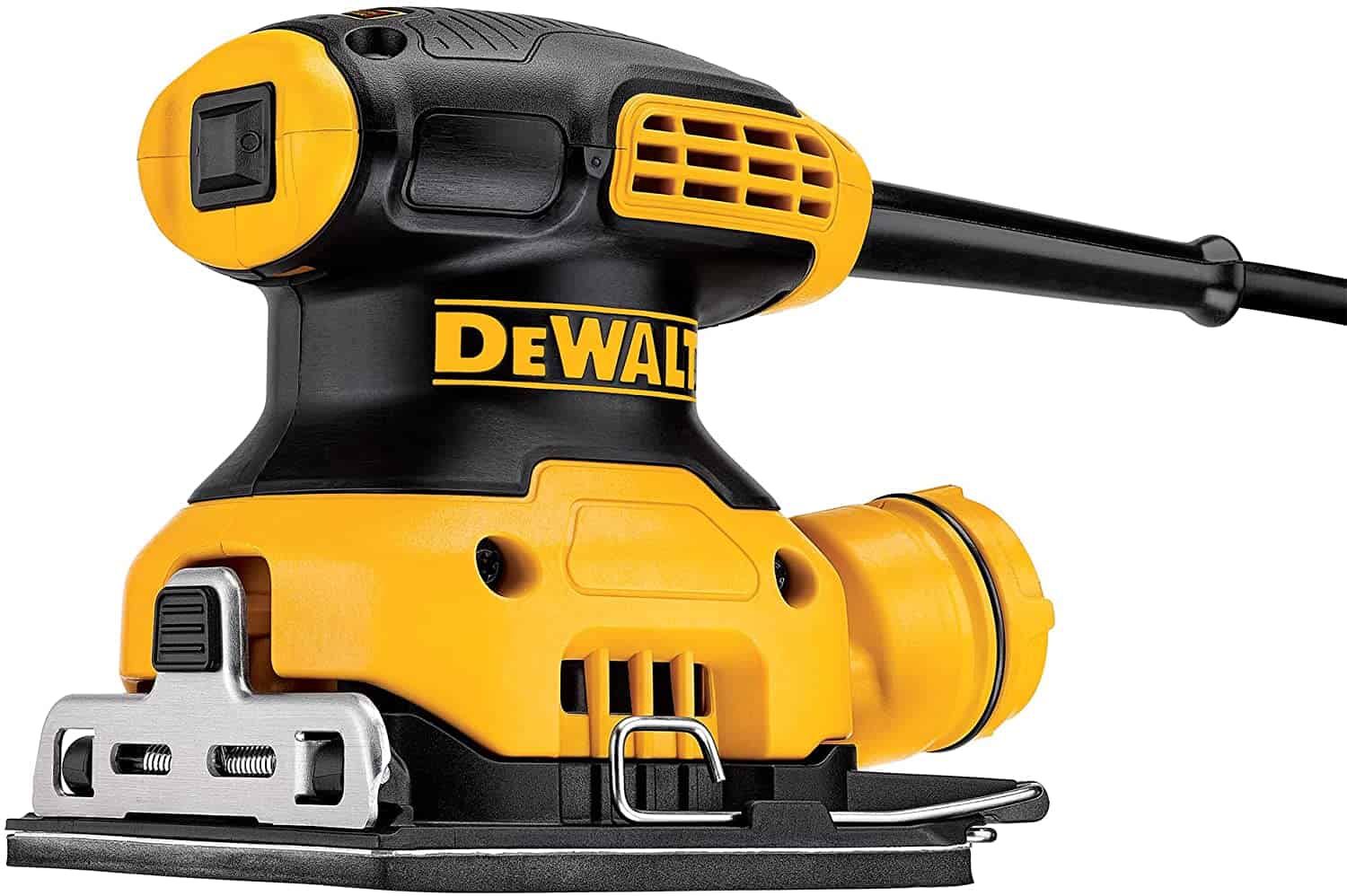 For a long time, this manufacturer provided professionals and consumers with premium-quality, dependable tools. With a strong 3.0 amp motor, this random orbit sander has a variable speed range of 8,000 to 12,000 OPM.
The speed dial allows you to fine-tune the speed to match the pace at which you'd want to operate for furniture refinishing at any given time. Even while it's powerful enough to tackle any finishing job, it's quieter and easier to use, mainly when using coarser paper.
Additionally, the rubber-padded handle of this sander lowers vibration and provides enhanced convenience and resilience. Along with its short altitude, this product's layout has a lower center of gravity, allowing you to operate more efficiently and with more precision.
And to keep the palm sander clean, a dust collection system has been installed. Hooking the product up to a shop vac with the included vacuum adaptor is also an option. Superior paper clamping capabilities of the 1/4 sheet model contribute to improved paper retention.
The incorporated dust-sealed switch may seem nice, but it may be challenging to work within most circumstances. Moreover, controlling the random orbit sander becomes more complicated when using coarser paper. Nevertheless, the slip-resistant surface and body grip improve comfort.
Pros
It vibrates less because of the rubber-padded grip
Strong palm sander spins at a rate of 14 000RPM
Reduced sander height for user convenience
Paper clamp has a lot of holding power
Unit's sturdy construction withstands vibration without breaking
Cons
Dust port is prone to leak
A little pricey
Verdict
By virtue of the random orbit sander comfort, efficiency, and simplicity, it emerged as our top pick. The smart design is also a big plus for us. And withstanding severe usage, this product is also pleasant enough to be utilized for extended periods. Check prices here
3. Enertwist Mouse Detail Sander
One of the most incredible detail sanders on the market, this option sets its own pace as a powerful but quiet sander. With a quiet motor, you can get the job done without disturbing the calm of those around you. Even if this mouse detail sander is inexpensive, it does not skimp on quality or quantity.
Given the small size, the motor only draws 0.8 amps and works on DC to reduce noise. Powerful and versatile, the sander has a customizable speed of up to 13,000 OPM and can handle any sanding task, including furniture refurbishing.
Additionally, it has a see-through canister, which allows you to determine when to empty it. In light of the low-vibration nature, you should be able to deal with dust more quickly than with other selections on our shortlist.
To be expected, given its nose extension and its role as a mouse detail sander, it is capable of handling microscopic gaps and cracks in your furniture with ease. In fact, one of the main reasons to consider a detail sander is its capacity to access hard-to-reach spots.
Make use of new brass rivet nuts that may successfully prevent finger attachments from loosening, screws from sliding or melting with detail sanders when refinishing furniture. Also, make the most of the added accessories in the package!
Pros
A transparent container for easy dust dumping
A quiet and vibration-free motor
Ideal for angles and other difficult-to-reach areas
Easy and comfortable to handle
A little over two pounds, this tool is a breeze to carry about
Cons
Overheating is a possibility
A little flimsy
Verdict
Above all, the sander is praised by its users for its strength and durability and its cost-effectiveness. You won't have to worry about user weariness since this instrument weighs less than two pounds. In our opinion, it's a bang for your buck!
4. SKIL Corded Detail Sander
This sander is a versatile instrument that you can rely on whether sanding a difficult-to-reach area or an uncomfortable edge. Sanding tools from this company are robust, efficient, and compact. Most of all, this option is also easy to use.
There are eight different detail-sanding attachments to choose from, and the tool-less attachment swapping mechanism makes it a breeze to switch between them. Not to mention, the 1 amp motor generates 12,000 OPM of speed.
The micro-filtration captures all of the tiny particles of sawdust, making it simpler to manage dust in the workspace. With the see-through canister, you never have to wonder whether it is full again. Amongst other things, the use of a hook and loop mechanism makes sanding sheet swaps a cinch.
Ergonomic features like the sander's rubberized handle and counterbalance keep your hands comfy while reducing vibration-induced hand discomfort — all for the sake of being able to work extended periods for furniture refinishing.
So this sander is built to endure, with switches and controls protected from dust damage. In addition to its strength and power, this agile sander is loaded with elements that ensure hands remain safe and dust-free, as well as user-friendly sheet change.
Pros
Quick and easy replacements of sand sheets
Transparent dust-collecting canister with micro-filter maintains cleanliness
Counterweight balancing lowers vibration for convenience
Suitable for wide areas and hard-to-reach places
Ergonomic handle provides comfort and fatigue-free operation
Cons
Standard mouse sandpaper doesn't work with this product
A large portion of the dust is dispersed across the environment
Verdict
Using this sander was a piece of cake since the counterbalance reduced hand strain significantly. Also, the mouse-tip design helped us reach tight spaces without any difficulty. The tool's on and off switch is also sealed to keep it dust-free to avoid further interference. Check prices here
5. BOSCH ROS20VSC-RT Random Orbit Sander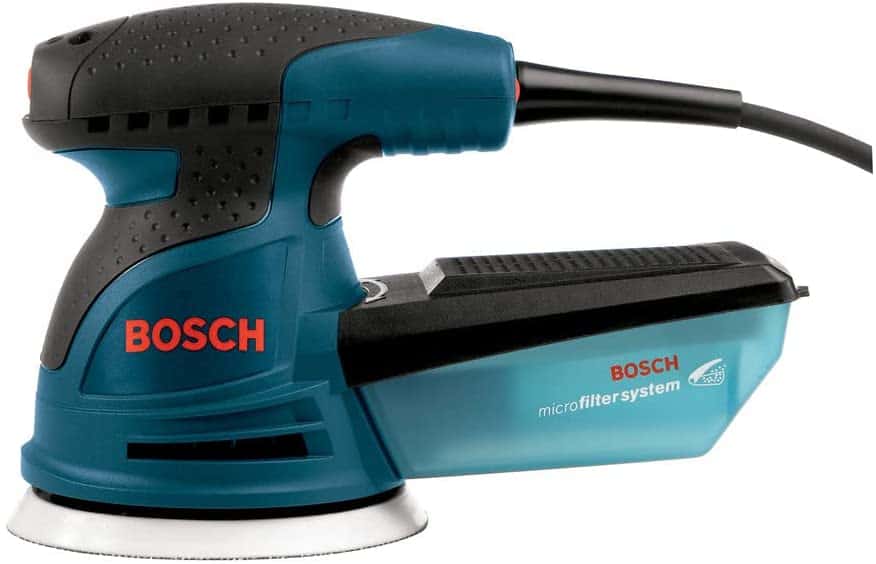 This sander is well-made, with high-quality materials and an excellent design. We understand the importance of saving money, and that's why we include a cost-effective product. Additionally, the sander's overall design ensures that it may be used easily by anybody, regardless of their degree of physical ability.
The dust filter on this random orbit sander is capable of collecting tiny particles of dust that accumulate when sanding furniture surfaces. When dumping unwanted dust into the trash can, the simple twist of the dust canister is enough.
Using a mix of pad orbits and circular movements, this option will provide a finish that is properly blended and has a polished texture. Subsequently, you can expect the machine to run at 12,000 OPM thanks to the 2.5 AMP power supply.
You won't need to acquire any further equipment to avoid swirl marks using this product due to its dampening braking system. Smoother finishing on furniture restoration is now on a whole new level! The sander includes a textured handgrip for improved comfort and control when using it.
In fact, the company's hook-and-loop mechanism merits recognition. For that reason, you can concentrate on your task instead of the sander. The microcellular-backing pad ensures a clean finish on any surface, horizontal or curved.
Pros
High-speed rotation results in a superior finish
Removes strange swirl traces for a seamless appearance
Suitable for usage in narrow or confined spaces
Doesn't cause the furniture to have an inconsistent texture
Dust collecting system will make your workplace cleaner
Cons
Speed is not variable
A small aperture for dust collecting
Verdict
Carpenters, are you on the lookout for a sander that's affordable but nonetheless of high quality? This option is a good choice for you, too! The sander is well-built and strong, and the ergonomic design completes the package. Check prices here
6. ENERTWIST Orbital Sander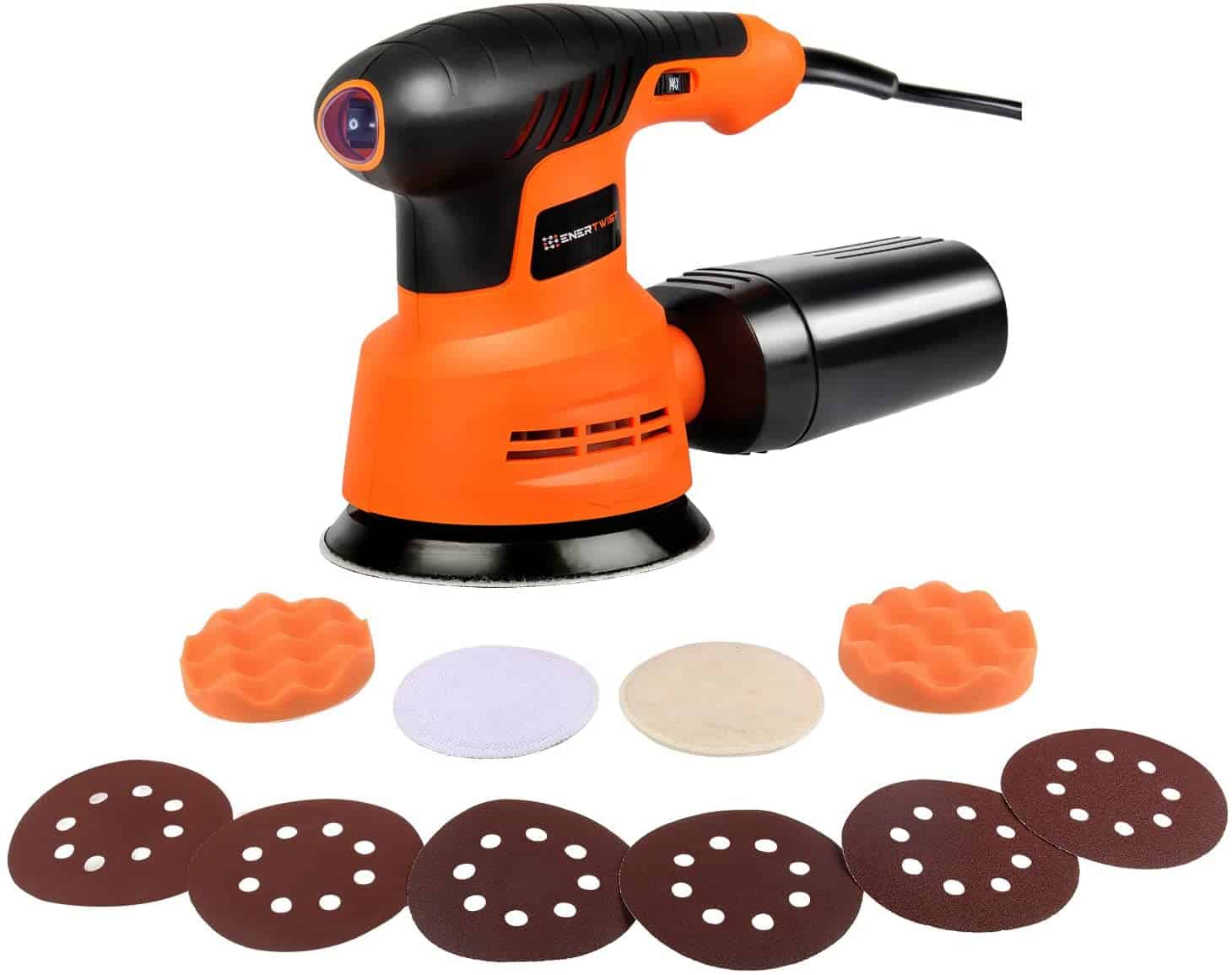 There is nothing fancy about this random orbital sander, and that's exactly what makes this equipment so effective at making even the most demanding chores a cinch. In terms of value for money, this is an excellent option.
In addition to this product's 6-speed adjustment mechanism, the robust 2.4 amp motor powers this tool adequately. Users may choose between 5000 and 12000 OPM on the sander using the variable speed control, making it suitable for furniture refinishing.
This product also maintains a flawless finish while providing a random orbital motion for maximum removal rates. Furthermore, the hook and loop arrangement found in the sander allows for quick and straightforward paper swaps. Also, the designers made it tiny and lightweight for the users.
Meanwhile, the innovative 3-position rubber-reinforced palm grip on this tool enhances both user comfort and convenience. Consequently, this sander comes with a set of buffing and sanding pads, as well as a set of spares.
On top of that, a clear dust-sealed lid makes switch action dust-proof and keeps dust away, extending service life. With the help of this dust collector, you can work in a clean atmosphere. In order to go closer to the work area and pay greater attention to detail, this option stresses a lower height.
Pros
Contains powerful motor and variable speed control
An easy-to-use system of hooks and loops
Rubberized grip for added convenience and comfort
Dust collection mechanism ensures a clean working environment
Compact and lightweight design for easy handling
Cons
It's difficult to activate the power switch single handedly
Because it is stiff and not agile, the rubber protection is not ideal
Verdict
As it happens, using a hand sander can help restore the furniture to its former glory, and this variable-speed sander is one of the most well regarded options for more than just one reason. Check the latest prices here
7. Random Orbital Sander, WESCO 3.0A Orbital Sander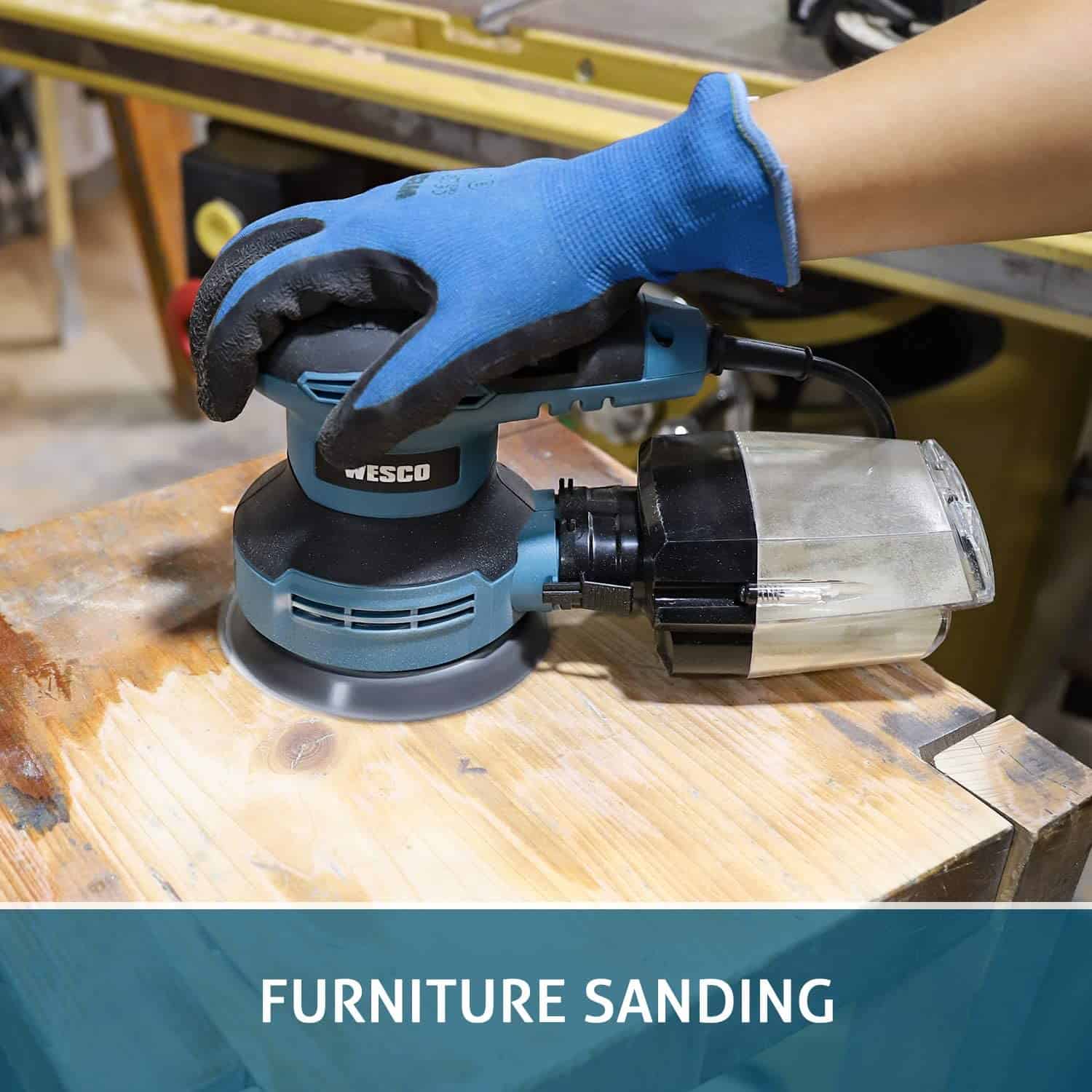 If you're looking to tackle some heavy-duty furniture refinishing chores, consider this random orbital sander. This option is the best orbital product for the money, in our opinion. Honestly, sanding some family heirlooms has been a breeze with this sander.
At 13000 RPM, the 3.0-amp offers powerful and cost-effective performance. Over and above that, the sander's six selectable settings enable you to control the pace precisely. Although cordless is in style, with a 6.6-inch cord length, we had no complaints!
The makers provided consumers with a 5-inch sanding disc and 12 pieces of velcro sanding paper in a variety of grits to suit users' various uses. Moreover, the attachment of the sandpaper using the hook-and-loop system ensures a secure hold.
Predominantly, There are three types of sandpaper to choose from: coarse (for rough surfaces), medium (for smoother surfaces), and fine (for furniture surfaces). Besides that, an integrated dust collecting system includes a micro-filter dust canister and is built into the sander itself.
What's more, this option provides a dust-free workstation by collecting dust via eight suction holes. Additionally, the random orbit sander has a rubber over-mold grip design and a small housing that reduces stress and fatigue on hands.
Pros
Powerful 3.0-amp motor generates high-speed
There are six speeds on the orbital sander that guarantees adjustment
Easy to replace sanding paper with hook and loop pad layout
Varying grits are suitable for furniture, wood, and metal
Dust collecting system with micro-filtration
Cons
On/off switch is a little flimsy
Makes a lot of noise
Verdict
As it happens, this particular sander permits you to cover a lot of ground rapidly with a 5-inch diameter. Variable speed control, on the other hand, balances this sander's speed with power and precision. As a result, smooth furniture refinishing is carried out. Check the latest prices here
Types of Sanders for Refinishing Furniture Projects
With so many various sanders on the market, it's easy to get a bit lost. Therefore, here are some of the most often-used sanders for furniture restoration and their attributes and ideal uses.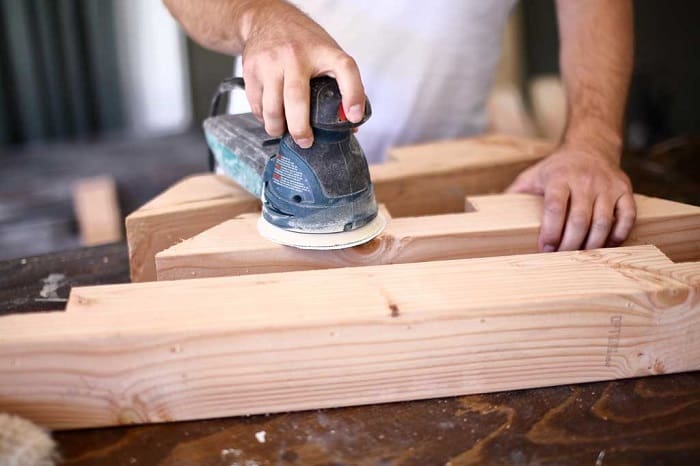 Random Orbit Sander
With the right sort of sandpaper pad, it is possible to prepare wood and polish a furniture surface to the highest standards using this type of sander.
In order to reduce the appearance of scratches, an orbital finishing sander moves in an ever-changing pattern of circular motions. If you're working with huge pieces of wood, random orbital sanders are the way to go. They let you sand any wooden furniture, floors, and walls.
Detail Sander
Detail sanders are the best option for precise sanding because of their pointy appearance and compact form. This kind excels at getting into the nooks and crannies of intricately carved surfaces.
Palm Sander
Although this sander can't remove much material, it is suitable for polishing a surface. With the small size, low cost, and ease of use, palm sanders are an excellent choice for those just starting out.
Belt Sander
Instead of completing a piece of furniture, belt sanders are used to prepare the wood and remove thick surface layers. With the help of a belt that runs on wheels, a belt sander grinds away at the material's surface in a continuous loop.
Frequently Asked Questions
Is a sander going to leave swirl marks?
How you utilize the sander machine has an impact on the outcome. An orbital sander, for example, has the potential to generate circular markings.
How effective is a random orbital sander when it comes to polishing a surface?
As an alternative, you may use a random orbit sander as long as you properly verify the pace, which should be between 1,500 and 4,000 opm for polishing.
Do random orbital sanders vary from dual-action sanders?
Yes, they do vary. For a dual-action to work, it must be more aggressive and assertive than a random orbit sander.
Are sanders a threat to health and safety?
Yes, a significant amount. In other words, they might cause a fire or an explosion if not handled with care and attention.
What is the greatest sanding machine for furniture?
Random orbital sanders are the finest for sanding furniture to a smooth finish.
Final Word
With this information, you can make an educated decision about which option is the best sander for furniture refinishing. There is no one-size-fits-all solution; keeping that in mind; we hope that you make a perfect purchase.
I'm Joost Nusselder, the founder of Tools Doctor, content marketer, and dad. I love trying out new equipment, and together with my team I've been creating in-depth blog articles since 2016 to help loyal readers with tools & crafting tips.