I love creating free content full of tips for my readers, you. I don't accept paid sponsorships, my opinion is my own, but if you find my recommendations helpful and you end up buying something you like through one of my links, I could earn a commission at no extra cost to you.
Learn more
Are you worried about all those wooden workpieces you have left unfinished in your garage just because you cannot find something that will give it the proper finishing? Then you are in dire need of a sander that will give you your desired finishing, or specifically, you need a detail sander.
A detail sander works better than other sanders, such as the belt sander, in intricate details. So, if you need to give your projects the best finishing, you need one of these. Keep reading to know all about the best detail sanders we have chosen for you!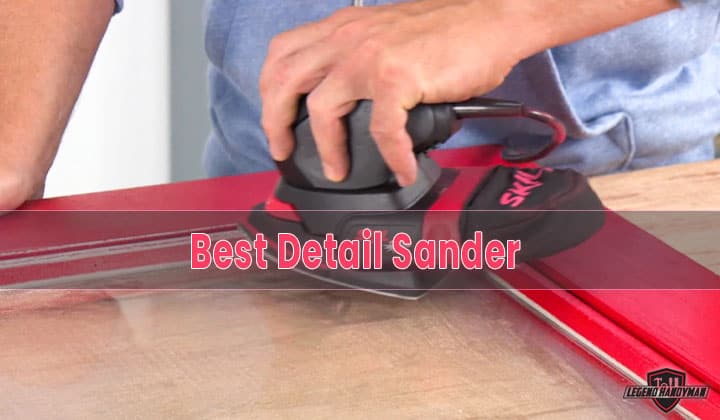 What Is A Detail Sander?
A detail sander is a small sander that you can control with your hand and use for intricate details in projects. Also known as thumb sanders or mouse sanders, these tools are quite smaller than the other sanders out there.
Due to their small size and additional characteristics, these devices can reach all the nooks and corners of a workpiece and give a detailed finish.
Detail sanders mostly are of a triangular shape, and they usually work at the speed required to give the desired surface a smooth finishing without the risk of ruining the material.
This is a great tool for detailed sanding tasks where you need to pay more attention to detail. For purposes such as scraping the paint of large cardboard, other sanders are more suited.
Best Detail Sander Reviews
After knowing about detail sanders, I'm sure you want to buy one now. To help you find the best mouse sander, here, I'm going to review the top detail sanders on the market.
BLACK+DECKER Mouse Detail Sander, Compact Detail (BDEMS600)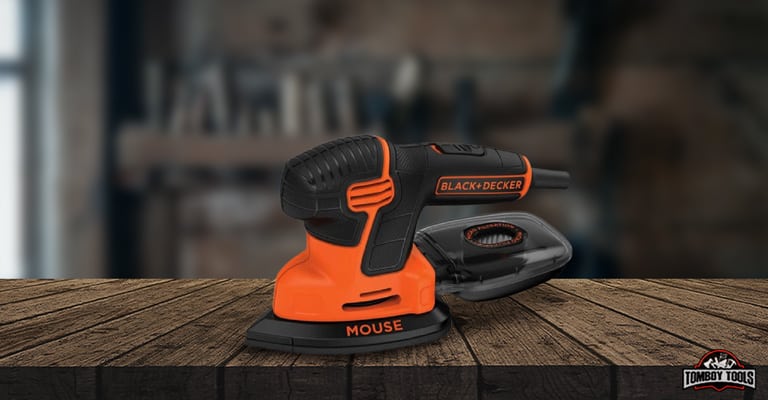 The BLACK+DECKER BDEMS600 is a compact yet powerful detail sander that is designed for fine detail work. The small mouse sander allows you to get into those tight places and around corners with high precision. It works really well on the edges and corners of the furniture as well as kitchen cabinets.
If you are looking for the best detail sander for furniture work, this is the one. This mouse sander is easy to use, easy to maneuver, and also easy to hold. Its 1.2-amp motor can produce 14,000 orbits per minute of material removal speed. For ease of use and control, this electric sander has a 3-position grip.
There are two excellent features of this machine: the incredible micro-filtration system and the very useful detail finger attachment which allows you to sand those tight spaces and tight corners with ease. 
This sander uses random orbiting motions that help it reach every awkward angle, something you cannot do with sanding pads or when you maneuver a sander using your hands. The random orbiting motions also prevent any marks on the workpiece.
The only downside is that it does not have variable speed control, so it might seem too slow to some. The aggressiveness can also be compromised due to the motion.
But it has a hook and loop system, which is a very easy system to replace existing sanding sheets. Therefore, you can simply add bigger and grittier sanding pads to get the desired finishing. The device also is quite lightweight, making it easy to be moved around.
Pros
Cons
It doesn't come with any extra sanding sheets.
Vastar Classic Mouse Detail Sander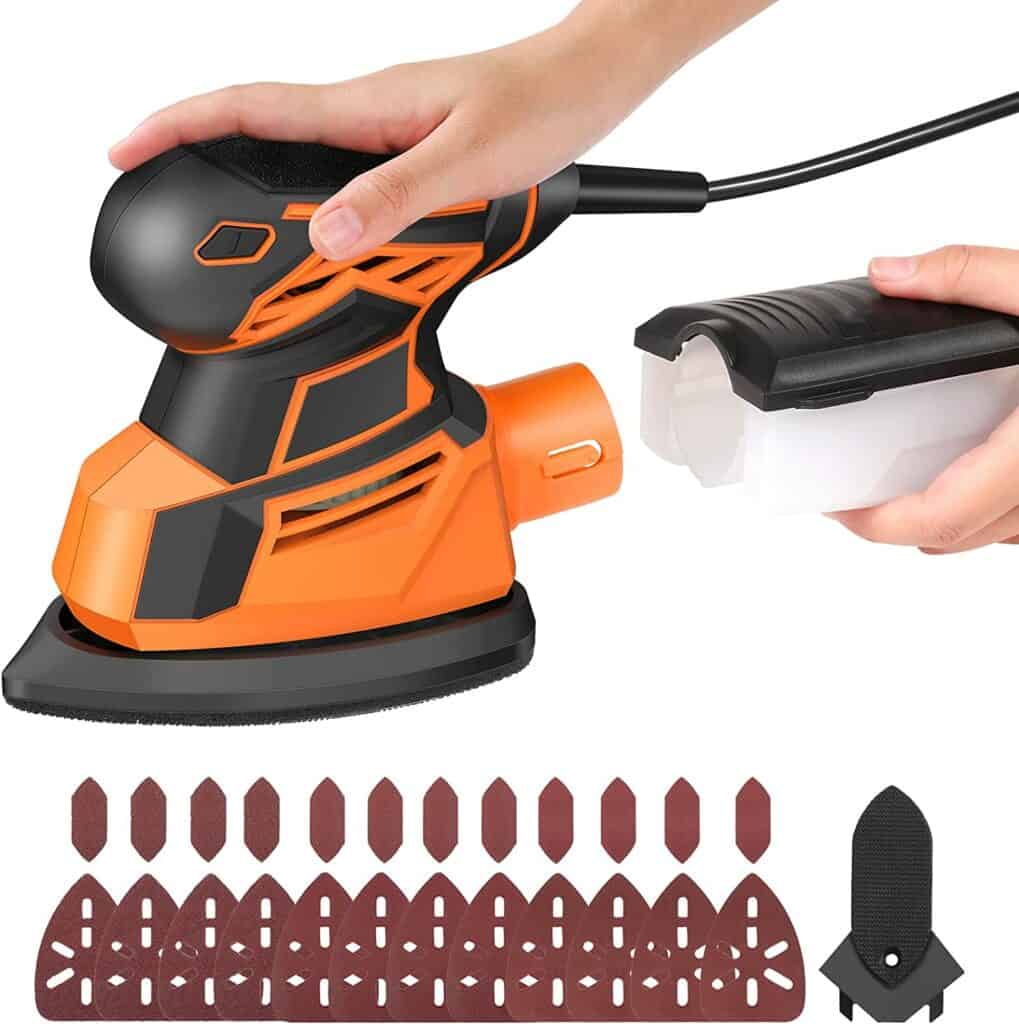 Tacklife classic mouse detail sander is one of the most comfortable detail sanders in terms of unrestricted usage. This device has a long cord measuring 3 meters. Therefore, it can be used without restricting your movements.
It is also covered with a rubber-like material that makes it quite comfortable to grip onto. The rubber coating minimizes most of the noise and vibration and ensures a steady work environment.
One of the downsides of this device is that although it has a dust collector, it is fairly small and can sometimes fall off if the work results in too much vibration.
The Tacklife detail sander is quite small and not too heavy, making this an ideal sander to carry around in your bag for your projects. Its grip also ensures that the users have maximum control over it, which helps them get into every corner.
This corner sander can be used to sand almost all surfaces and ensures a smooth finishing to even the grittiest surface of them all. The device comes with 12 pieces of sandpapers, 6 of which are grittier than the other 6. This helps it to meet the various needs of different surfaces.
Pros
It comes with 12 pieces of sandpaper 
It can be used for a variety of surfaces. 
This thing has a comfortable rubber-like material coating and minimizes noise. 
It can also be controlled easily.
Cons
Might not be available most of the time.
WEN 6301 Electric Detailing Palm Sander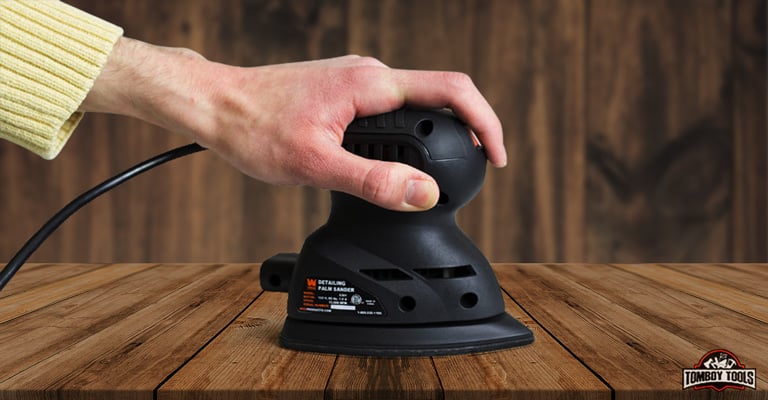 The Wen 6301 electric detailing palm sander is a very compact sander that weighs only two pounds. It is also quite inexpensive but has all the values that a typical detail sander should. Therefore, it is quite popular among a lot of people.
This device comes with Velcro pads, which make it quite easy to remove and replace sandpapers. The only problem is that this device comes with only one piece of sandpaper. Therefore, you need to buy more sandpaper with it to complete your work.
This palm sander is something most customers will not mind having. This product is often said to resemble an iron due to its angled tip. This tip helps it reach all the nooks and corners of any surface and get the desired finish.
It's one of the best mouse sanders on the market that will give you good value for money. However, it might not be ideal for sanding a very rough surface from start to finish due to its low speed. But it is a great tool to do any kind of detailing work.
Pros
It is a lightweight device and weighs only two pounds. 
One of the best dust collection systems on any power tool. 
It comes with a Velcro pad to remove the sandpaper.
It has an angled tip that helps to reach all corners.
Cons
You need to order extra sandpaper, and the speed cannot be varied.
SKIL Corded Multi-Function Detail Sander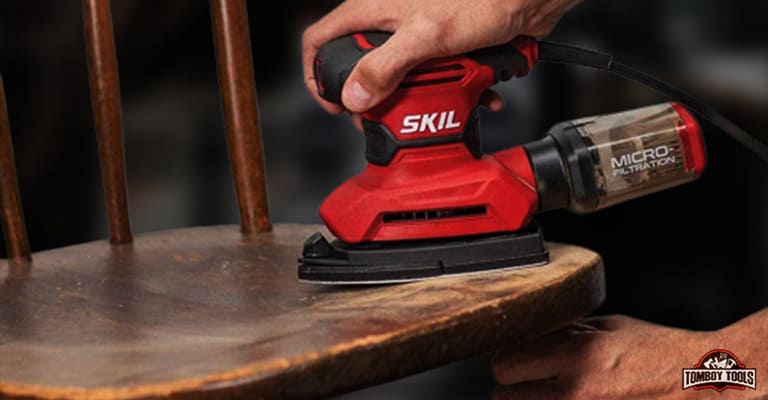 The Skil corded multifunction detail sander is one of the most popular sanders out there, mainly for its many different options. You can use any one of the eight sanding profile options that this tool has, depending on the kind of finishing you want. Therefore, this tool can be used for a lot of different kinds of projects.
Also, this tool is not heavy at all, so you will not have any problem carrying it around. The 2.5-pound detail sander comes with three detail sanding attachments and a triangular sanding pad. The sandpapers can be replaced on this device through a hook and loop system, which is a fairly easy one.
Many customers have raved about the ergonomic grip of this tool and how it helps to decrease vibration and noise, so that is an additional plus point.
Moreover, the most amazing feature of this particular sander is that it is equipped with an LED light indicator that turns on and off in relation to the pressure. If you apply too much pressure on a workpiece, the indicator will light up and serve as a sign for you to reduce pressure.
This is the ideal tool that will help you to get an even smooth finishing through visual aid. The tool's nose can be changed into different directions, therefore making it a very easy task to reach all the difficult spots.
Furthermore, the device also has a clear dust box, a very good plus point as you can see how much it is filled and replace it when needed. The whole tool is also made to stay protected from dust, so you do not have to worry about it getting all dirty.
Pros
It's a versatile device and has a led indicator of pressure. 
It comes with different detail sanding attachments. 
This thing comes with a transparent dust collection port.
The whole tool is dustproof. 
It also has a hook and loop system and gives very little vibration.
Cons
It's a little bit hard to control.
Enertwist Mouse Detail Sander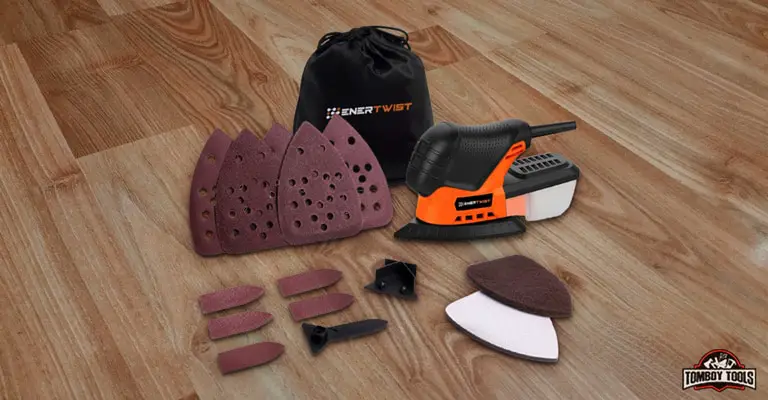 The Entertwist Mouse Detail Sander is a favorite choice of those who love the extra smooth finish on their projects but hate the noise that comes with it.
This sander is one of the quietest ones out there, meaning it will minimize the amount of noise it makes to such a level that even the most noise-sensitive people will not have much problem with it.
Additionally, this tool is very lightweight and compact, and at a mere 1 lb, can easily fit in your tool bag. It replaces its sandpapers through Velcro-based pads. This tool comes with ten pieces of sandpaper, so you do not have to order any extra as soon as you buy this tool.
It also has a nose extension which helps it to reach all the difficult corners that you could not reach with your hand. The best part of this sander comes with many attachments, such as a scrubbing pad, a nose extension, and a manual. It is usually not very common for sanders to come with these many handy tools.
Furthermore, the sander also comes with a transparent dust collection chamber, so you do not have to check to see if it is full. Although it might seem like a little detail, it actually saves a lot of time. The device's grip is also very user-friendly and can be very easily used by people with small hands.
Pros
This guy makes very little noise and weighs only 1 lb. 
It uses Velcro-based pads for easy replacement of the sandpaper. 
The unit comes with different forms of attachment.
It has a clear dust canister.
Cons
The attachments might not be as tight as you want.
PORTER-CABLE 20V MAX Sheet Sander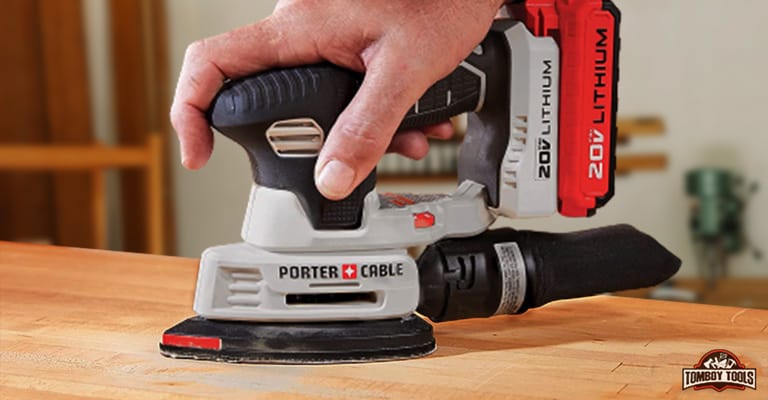 The Porter-Cable 20V max sheet sander is a tool that gained popularity due to not being too expensive but bringing some of the best features of a typical sander in it. This sander is cordless and has a rubber grip on it, making it very comfortable and convenient to use, even for those who are not experienced in this line of work.
This device comes with a dust collection system and gives you the option to choose from one of its two options. You can either use the dust bag to remove all of the dirt out of your way or you can plug in a vacuum to the device's adapter to get more efficient dust removal.
One of the best features of this product is its variable speed trigger that you can use to control its speed. For example, you will need more speed when sanding a particularly rough wooden surface than trying to fix a little detail on a workpiece.
Having the variable speed trigger really makes a world of difference, as the same speed does not work on all things. Although this product comes with great features, it is very simplistic in design. The simple design actually helps users have better control than some models that are way too complex. 
Pros
It has a large dust bag and is able to use hoses. 
Moreover, the speed can be varied. 
It is user-friendly and easy to control and
It utilizes a rubber grip. 
It offers good value for money. 
Cons
The variable speed trigger backfires for some people.
Mouse Detail Sander, TECCPO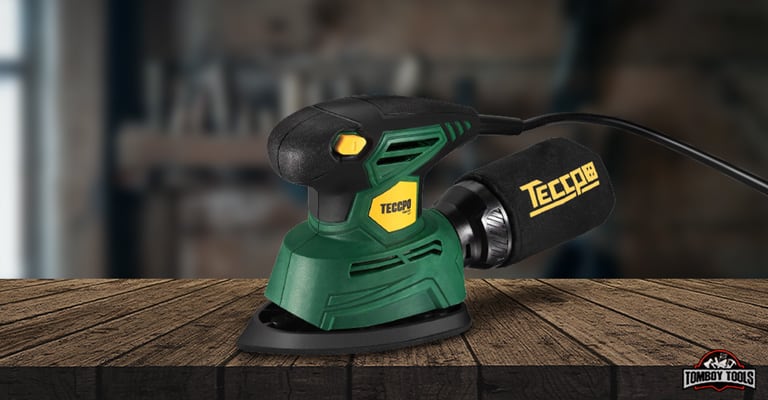 This mouse detail sander can easily cover tight spaces with each orbit and makes the whole work efficient and easy to finish. The speed of this device is also at a consistent point between high and low, making it an ideal choice for those who are uncomfortable with varying speeds.
The device is quite lightweight and small in size. So, it is very easy to carry around in your toolbox. It also has a very comfortable grip to hold onto while maneuvering the tool around. 
Also, the best part of the product is that it comes with additional components, so you do not need to waste any money on those. The components come in handy in various jobs and provide good value for use.
Moreover, the dust collection system of this device is quite efficient. The whole tool is sealed so that no dust can enter and decrease its lifespan, and the dust collection bag that comes with the tool is made of pure cotton and makes sure that it filters all the dust. Therefore, you can have a clean working area without worrying about where to put it all.
Pros
It covers a large area and is easy to carry around.
It has a very efficient dust collection system 
It can be controlled very easily. 
It also has additional components for you. 
Cons
There's no variable speed.
What Are The Differences Between Detail Sanders And Other Sanding Tools?
Abrasive paper is used by all average detail sander in order to get a smooth surface. An electric motor powers hand-held sanders for wood, which have a piece of sandpaper attached to the bottom of their heads. Sandpaper is moved across the wood surface at high speeds when the motor vibrates the head.
With the vibration, the material can be removed and surfaces are smoothed out quickly and with much less effort than manually sanding them. Using the best orbital sanders helps prevent sanding grooves from forming on the surface of the material you are working with. 
By varying the pattern as the head moves, you prevent sanding marks from appearing. In comparison with other hand-held designs, a detail sander has a triangular-shaped head and a smaller head.
What Is The Purpose Of A Detail Sander?
Sanders of this particular type was created with the purpose of reaching places that are difficult for larger sanders to reach. Traditionally, square-headed machines had difficulty reaching into corners, but a triangular design allows operators to do so. 
In addition, the smaller toe on the triangle prevents perpendicular surfaces from being damaged by the sander's head. In the same way as corner sanders sand along corner joints, perpendicular sanders sand along joint lines of parallel boards. 
Additionally, since the heads of these sanders are smaller, they can be used to reach between pieces of your project more easily. Delicate projects can also be handled with most detail sanders. 
Since smaller designs require less material to be removed, they will remove less material than designs with abrasive surfaces. You have more control over your work when you have to work in tight spaces. 
Smaller yet powerful motors are usually used in detail sanders for small spaces, which allow them to run smoothly and remove less material. As corner sanders don't have as strong vibration as large handheld models, delicate work can be performed with greater control.
What Are The Advantages Of Using A Detail Sander?
There are a lot. A power sander with a powerful motor makes it possible to power sand small areas by hand that were previously sandable only with a hand sander. You can easily remove the material with a small hand sander so that you can finish the project. 
In addition to reducing energy usage, they are more aesthetically pleasing than blocks and fingers, which can be frustrating. Additionally, the smaller detail sanders are easier to control compared to traditional electric sanders. 
It may be necessary to achieve that control in projects involving thin pieces and surfaces that require minimal sanding. Models that remove more material and work in orbital motion are designed to work more quickly and are less suited to delicate operation.
Things To Consider When Choosing the Best Detail Sanders
Different sanders are designed for different types of work, which is why they come in different sizes and shapes. Precision, accessibility, and control are the main features of the detail sander. 
This triangular sanding pad makes quick work of woodworking projects that require access to narrow corners and awkward angles. If you prefer a corded or cordless detail sander, determine whether a cordless or corded model is right for your project. 
There are a variety of options on this list, featuring some of the best detail sanders. You can find the best detail sander for your workshop by learning about product features and shopping tips before choosing a tool.
You should consider a corded sander or a cordless sander when choosing the best detail sander for your next woodworking project. Furthermore, you should keep in mind how long the battery can run and the speed at which the sanding pad rotates. Here are a few more factors to consider.
Intended Use
The detail sander should meet the requirements of the project while also taking into account the material's composition. A powerful detail sander can rapidly sand down softwoods and particle boards, while sanding down robust hardwoods may take longer.
When working on DIY projects with broad surfaces that must be sanded a lot, use a detail sander that is equipped with coarse sandpaper to remove the rough layer of material fast. 
A compact detail sander with a sanding attachment may be required on other projects, such as sanding chair rungs, stair balusters, or window trim, to produce a smooth finish on corners, edges, or curved or rounded surfaces. Decide on the best tool to suit your project's needs.
Power
You can choose between corded or cordless detail sanders. Both types have advantages and disadvantages. Power cords are required for corded detail sanders. Cordless sanders allow for more mobility, but they have a lower power output. You can attach the cord to an extension cord to gain greater mobility, but you still need an electrical outlet nearby. Usually, these devices have power output between 1 amp and 4 amps.
The sanding pad in a cordless detail sander is powered by a rechargeable battery, but they are not usually as powerful as corded sanders. It doesn't matter how you work because there is no wire to trip over or cable to get tangled up. A cordless sander's power output is measured in volts, and it typically ranges between 10 and 30 volts.
Speed
A detailed sander's speed is an important consideration. The sanding size depends on the oscillation speed of the sanding pad, a measurement of how many oscillations are made in a minute. Oscillations per minute (OPM) is the most common unit of measurement. Detail sanders are more effective at removing material when their speed is higher.
Some woodwork projects can suffer from high speeds since they can rip too much of the material away and leave a rough surface behind. When sanding smooth finishes, opt for a detail sander with a lower oscillation frequency or variable speed trigger. A detail sander can run between 10,000 and 25,000 RPM.
Runtime
You should also consider runtime when choosing a cordless detail sander over a power cord if versatility and maneuverability are important to you. The running time of the sander is determined by the amount of time it can operate on one full battery charge. There are, however, a number of factors to consider, such as the type of material, the age of the battery, and how experienced a user is.
A user with limited experience may push the sander too hard, drawing more power from the battery than necessary. In time, the runtime of the battery will shorten, until it is better just to replace it instead. As the battery is used and charged more frequently, the shorter the run time will become.
Ease of Use
The weight, vibration, and handle of a detail sander can make it easier or more difficult to use, so consider those factors when deciding on the right tool. One to four pounds is usually the weight of a detail sander.
Sanding machines run at high speeds ranging from 10,000 to 25,000 opm, which results in significant vibration. Sanders with ergonomic handles coated in vibration-dampening padding will keep your hands from getting tired and stressed. As a result of the extra padding, the sander will be less likely to vibrate, making the work easier on the hands.
Additional Features
You should also consider additional features such as air pressure detectors, dust collection devices, accessories, and safety features after deciding on the speed, power, runtime, and use.
Detecting pressure is done by indicating the amount of pressure the user is applying on the side of the sander. The sander will notify the user if the pressure is too great via a sensor light or vibration.
The detail sander is equipped with a fan for dust collection. It can collect any fine dust particles produced by the sander. In some models, a dust collection bag or compartment may be included with the system, but in others, a separate dust bag or vacuum system is needed.
Accessory storage boxes and carrying cases may also be available, as well as sandpaper, detail sanding attachments, blades, and accessories.
Details Sander safety features make use of vibration dampening padding primarily to reduce muscle strain and fatigue. Nonetheless, some products may come equipped with built-in lights to improve visibility during low-light conditions.
Versatility
Sanders with a triangular-shaped sanding pad works best on woodworking projects that require access to hard-to-reach areas, such as sanding corners and edges. In addition to providing deep sanding, these devices are equipped with attachments for sanding in tight corners, like the spaces between spindles on a backrest.
Sanding pads in certain products can be replaced by cutting blades so that they can be used for a wide range of tasks, such as grinding, scraping, and removing grout. For best results, look for a multifunction detail sander that includes a kit and a bag for the accessories so they are protected and organized when not in use.
Frequently Asked Questions (FAQs)
Q: Should I use a detail sander for preparing a large wooden canvas?
Ans: Detail sanders are best used to give finishing details to a project or reach places that are particularly hard to reach by hand. They do the job better for details and as intricately as possible. Other sanders, such as belt sanders, might be good for your particular need.
Q: What kind of sanding paper should I use with my detail sander?
Ans: It depends on the material you are working on and the finishing that you want to achieve. Sandpapers that have very coarse grits are not very good for fragile surfaces and might damage them. Those with medium grits often work fine, while the fine sandpapers are the best to give a finishing touch.
Q: Should I opt for an internal dust collection system or external?
Ans: None of these are better than the other. So, choose based on the kind of environment you are working in and assuming that hoses will not cause much of an inconvenience to you.
Conclusion
Conclusion
Now that you have finished reading the article, you have a clear idea of what to look for while buying a detailed sander. See what the best detail sanders have to offer from the reviews we have written for you. So, what are you waiting for? Get a detail sander, and you can finally finish that long-left wooden project of yours!
I'm Joost Nusselder, the founder of Tools Doctor, content marketer, and dad. I love trying out new equipment, and together with my team I've been creating in-depth blog articles since 2016 to help loyal readers with tools & crafting tips.