I love creating free content full of tips for my readers, you. I don't accept paid sponsorships, my opinion is my own, but if you find my recommendations helpful and you end up buying something you like through one of my links, I could earn a commission at no extra cost to you.
Learn more
As an engineer, steelworker, carpenter, cabinet maker, or craftsman of any kind, you will be all too aware of the importance of accuracy and precision in these professions.
And you will know the importance of scribing tools in helping you achieve this precision.
A scribing tool is indispensable for all tasks that require accurate marking and measuring of materials, prior to cutting and machining.
However, because there are so many different types of scribing tools, choosing the right one for your particular needs, is vital.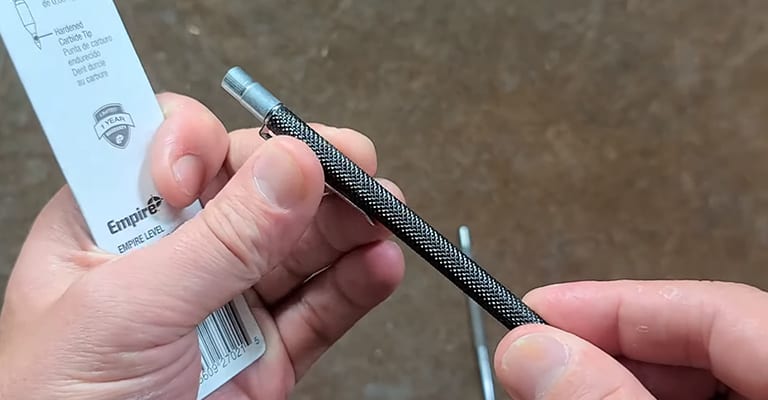 Some scribing tools are designed specifically for carpentry and woodwork. Some feature a much more solid design with a sharper point ideal for use with materials such as metal and steel.
Some are multi-purpose tools and can be used with a variety of materials and for numerous applications.
After researching the various scribing tools available, assessing their various features, and reading the feedback from users who have invested in them, it is clear to me that the best, most versatile scriber is the General Tools 88CM Tungsten Carbide Scribe and Magnet. It is a multi-purpose scriber that can be used for a variety of applications, and it offers real value for money. The perfect addition to your toolbox, whether you are a professional or an enthusiastic DIYer.
I've listed some of the top scribers on the market today and highlighted their specific purposes and features. Take a look at the reviews below to find the perfect tool for you.
Buyer's guide – how to choose the best scribing tool
Scribers come in many different shapes and sizes and are designed for specific functions. Whether you're a model builder, a professional cabinetmaker, or an engineer, there's a scribing tool that will suit your needs best.
In my experience, scribers have different features that complement their specific purpose.
However, there are some things to look out for when selecting the best scriber for your needs. Here are some top tips to check before you buy:
Quality brand
Check that the tool is made by a respected, quality brand. Accuracy is important when it comes to scribing tools. A professional, well-known brand will manufacture a quality, accurate and durable product.
Sharp point
The sharper the point, the better. Make sure that the tip of your scriber is made from high-quality, strong and durable metal such as tungsten carbide or diamond.
Designed for purpose
Check the specific purpose of the scriber. If you're a hobbyist and model-maker, then choose a scribing tool that's been specifically designed for that purpose.
If you're an engineer, you'll need a super high-quality, versatile, and hard-wearing scribing tool.
Best scribing tools reviewed – my top 6
So what makes the scribes on my list so good? Let's dive into the extensive reviews.
Best overall scribing tool: General Tools 88CM Tungsten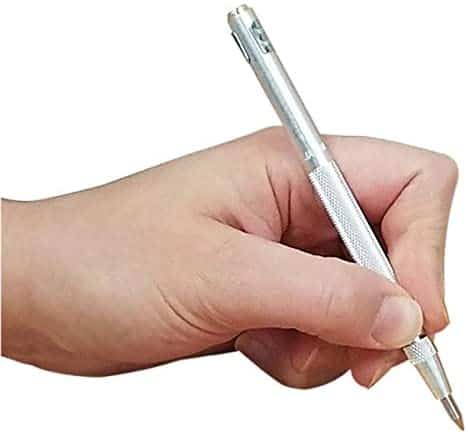 This extremely durable scriber, sometimes called an engraving pen, features a tungsten carbide tip that can mark the hardest of metals, including hardened steel, stainless steel as well as ceramics, and glass.
Thus, it is a multi-purpose tool that can be used for engraving on delicate items like jewelry, watches, and glassware as well as a marking tool for professionals and engineers.
It has the added feature of a powerful, built-in magnet which is useful for picking up metal shavings and for retrieving cuttings from drilling holes.
The screw chuck is useful for reversing the tungsten carbide point so it can be safely carried in a pocket or toolbox. The point is also replaceable.
The aluminum handle with knurled finger grip provides maximum control and comfort of use. The tool comes with a convenient pocket clip. Its hexagonal head is useful for preventing the tool from rolling off the work surface.
Features
Reversible and replaceable tungsten carbide tip
Powerful built-in magnet for picking up metal shavings
Aluminum handle with knurled finger grip
Pocket clip
Hexagonal head to prevent rolling off surfaces
Here's another tool that many jewellery makers will appreciate: a good and reliable flush cutter for clean cuts
Best multi-functional scribing tool for woodwork: FastCap Accuscribe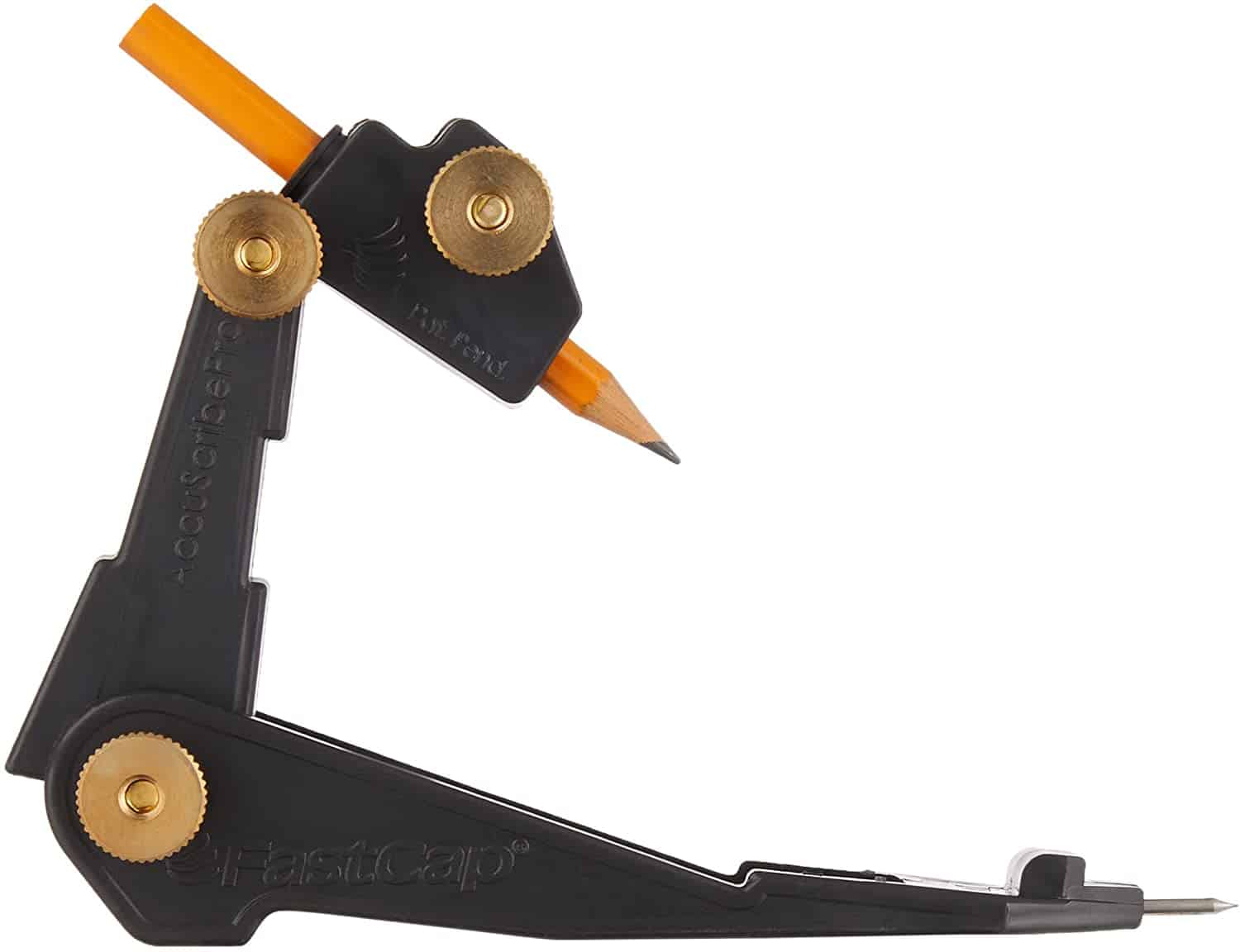 If you are a professional woodworker, engineer, or simply a hobbyist, the FastCap Accuscribe Scribing Tool is ideal for both occasional and daily use.
It features an adjustable grip which means it can hold any standard pencil.
Keeping parallel to the surface, it is easy to maintain an accurate and consistent scribe offset. Made of durable polymer, this is a tough and durable tool.
This scriber is ideal for cabinet trims, countertop redesigning, installing trim and paneling and for architectural moldings, the perfect addition to any carpenter's tool collection.
It has a retractable point for circle making and will scribe a controlled circle of around 25 inches when using a full-length standard pencil.
Features
Made of heavy-duty, indestructible polymer
Adjustable pencil grip
Flat bottom for precise marking
Retractable compass point
Built-in pencil sharpener
Ideal for making a radius and for marking gauge.
Best pocket-sized scribing tool: Simple Scribe
This scriber may be simple in design and easy to use, but it will not let you down when it comes to accuracy and versatility.
Whether you're installing flooring, countertops, or paneling, the Simple Scribe scribing tool will help you get a perfect fit every time. Simply rotate the 7-sided tool to the appropriate side and slide it along your wall.
It features seven offsets ranging from 1/4″ to 1″ to meet different needs.
This tool is designed so that it never needs setting and it works with a standard No 2 pencil. It ensures perfect cuts even when you are working with uneven corners and surfaces.
This multifunctional scriber is ideal for cabinets, countertops, flooring, paneling, carpentry, and more.
Features
This doesn't have a tip. Instead, it has 7 angled sides that you can slide along a flat surface to create a mark with your pencil
It features 7 offsets ranging from ¼ inch to 1 inch
Super simple design
Works with a standard pencil size
Multifunctional applications
Best scribing tool for professional craftsmen and engineers: Thingamejig Precision Tools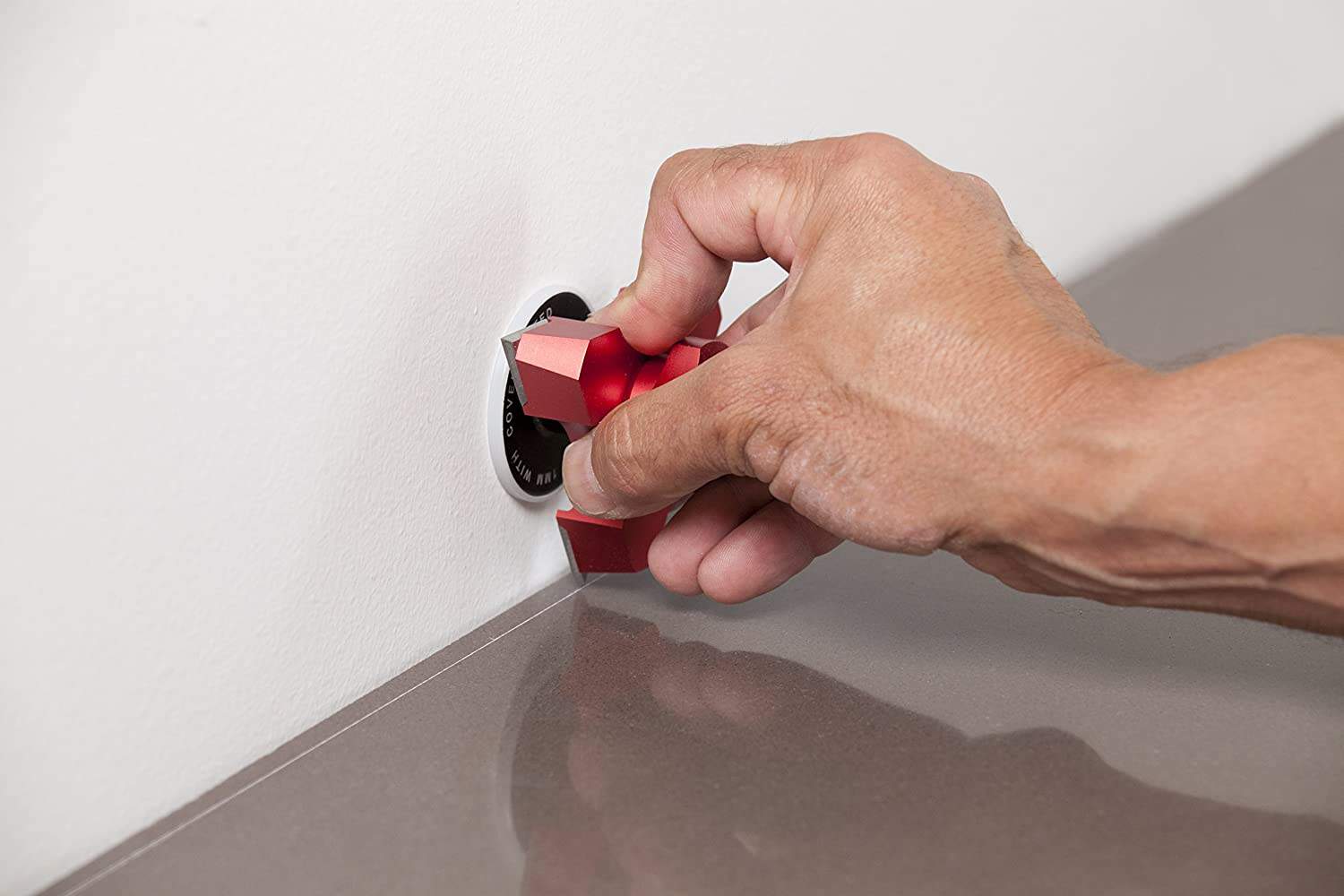 This is a scribing tool for the real professional. Its many refinements mean that it is heavier on the pocket than the other scribers we have looked at, but if you are a professional carpenter, cabinet maker, or engineer, this scriber is well worth the investment.
It is manufactured from lightweight anodized aluminum which makes it extra strong, durable, and rust-resistant. The 3-winged head features a carbide blade on each wing and each blade has 3 tips that can be rotated to ensure a constantly sharp edge.
To ensure precision results, the tool's measuring ruler has been laser cut with easy-to-read dimensions.
A threaded shaft running through the center allows for fine height adjustment. A locking nut secures the setting before scribing. The ergonomic 3-finger grip makes it comfortable to hold and to apply the necessary pressure.
The Thingamejig is easy to control with one hand and can scribe right into a corner.
The blades score easily, slicing through any finish, laminated surface, or cross-grain. In this way the scriber works like a cutting gauge, eliminating chipping or tear-out when making the subsequent cut.
The Thingamejig comes with a plastic cover that fits over its base, to protect the surface below while scribing a line.
It also comes in a storage box to protect the blade tips when it is not in use.
Features
3-winged head with carbide blades, each of which has 3 tips
Easy to control with one hand
Threaded shaft allows for fine height adjustment
Ergonomic 3-finger grip for comfort and control
Locking nut to secure the setting
Best scribing tool for model builders: FPVERA 5 in 1 Prime Model Scriber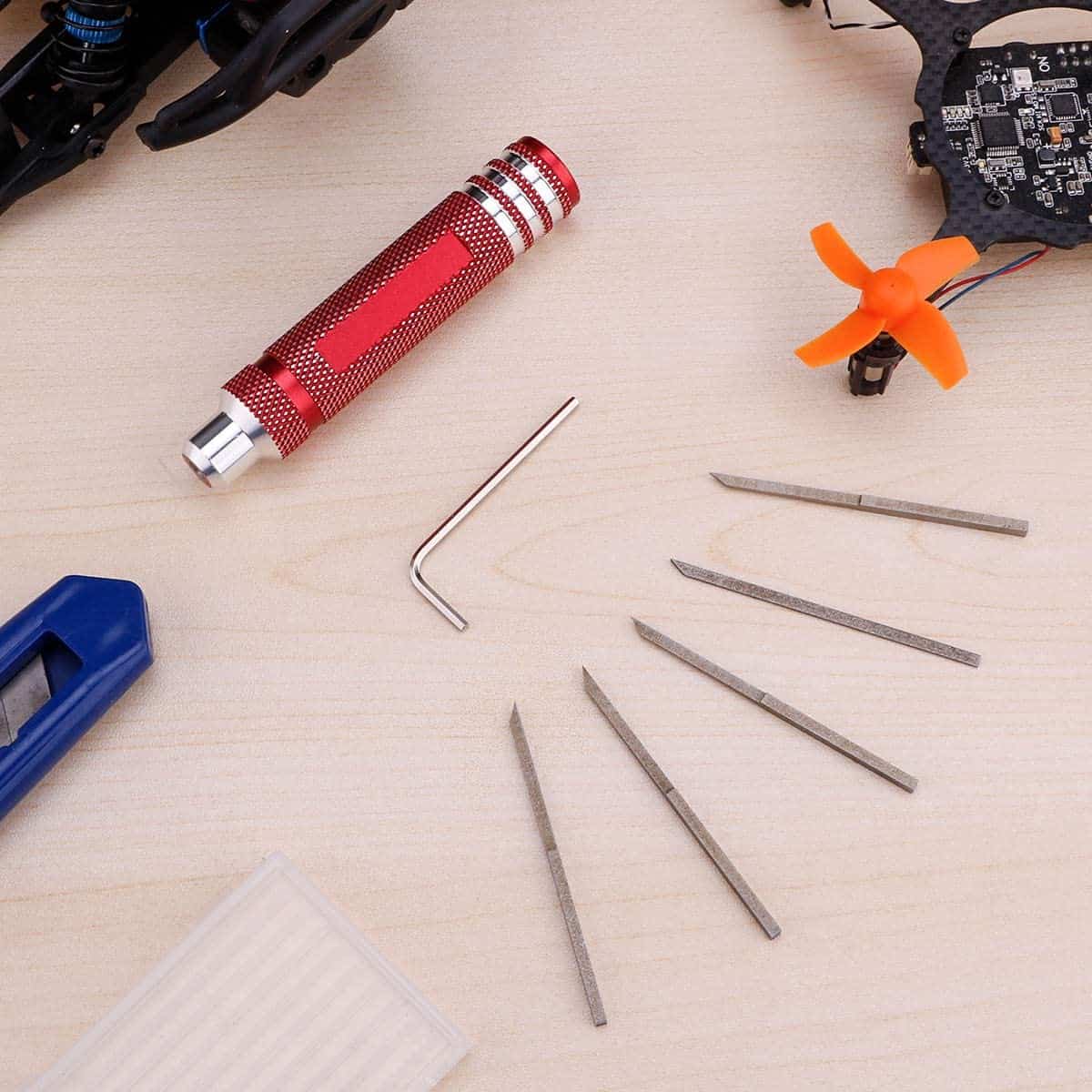 If you are a model builder and have never used a purpose-built scriber, then you will find this tool to be a game-changing addition to your model tool kit.
A sharp scriber is easier to control than, for example, a knife. It leaves even and defined lines and pulls a curl of fine plastic out to ensure the cut is clean of debris.
The 5 in 1 Prime Model Scriber is designed specifically for model builders and hobbyists, from beginners to extreme builders.
It has five different size blades – 0.2mm, 0.4mm, 0.6mm, 0.8mm and 1.0mm. The blades are made of high-quality tungsten steel which is ideal for working on styrene and resin models.
The scriber and blades come in a convenient and easy-to-carry plastic case.
Features
High quality tungsten steel blades, which stay sharp and don't rust
Designed specifically for model builders
Comes with 5 different size blades
Tungsten steel blades are ideal for scribing plastics and resins
Best scribing tool for home DIYers: Trend E/SCRIBE EasyScribe
The Trend E/Easy Scribe Scribing Tool is ideal for scribing worktops, end panels, walls, shelves, alcoves, skirtings, plinths, floors, even tiles. It's ideal for a handy home DIYer who wants to ensure their cuts and fittings are precise.
It has a built-in, replaceable 0.7mm thick 2H Grade flat lead which gives a fine line that is easy to follow and leaves a perfect fit.
The extendable steel guide plate keeps the tool parallel to the surface, ensuring complete accuracy. The steel guide plate can extend up to 50mm, allowing it to project into narrow gaps to get the perfect fit.
It is thus ideally suited for fitting doors to linings and frames where a fine parallel gap is needed.
Comes with 3 spare leads, refills are readily available.
Features
Built-in, replaceable 0.7mm thick 2H grade flat lead which gives a fine, easy to follow line
Extendable steel guide plate extends up to 50mm
Comes with 3 spare leads
Can be used as a marking gauge
Specifically looking to cut glass? I've listed the Best Glass Bottle Cutters here
Frequently Asked Questions
What is a scribing tool?
For those DIYers who have been managing by simply using a ruler and pencil, perhaps now is the time to consider adding one of these essential tools to your collection.
Basically, a scriber or engineer's scribe tool is a hand tool used to mark or scribe various materials such as wood, steel, metal, and plastic, prior to being machined.
The act of "scribing" consists of physically marking a precise line, circle, arc, or angle by scratching the surface. This tool produces more accurate cut lines due to the fine point and the tool hardened ends.
Scribing tools are simple and easy to use and are often used with various other hand tools including saws, chisels and hammers when carrying out tasks such as carving or measuring.
Scribers can be manufactured from a wide range of materials including aluminum, chrome, and vanadium steel. They feature a tip often made from tungsten carbide or diamond.
The design of the tool is often slimline and pen-like, ensuring that can be safely stored and carried in a toolbox or even in a pocket.
How does a scriber tool work?
Although many scribing tools have a pencil-like design, they produce a more precise line when marking or scribing.
The durable pointed tip allows you to produce a shallow scratch that is not easily rubbed out, making it ideal for producing a faint line when measuring or marking materials with precision.
If required, marking ink can also be used to make the line more visible.
How many types of scribing tools are there?
A scriber is a pointed tool used for marking lines on metals. Scribers are made from high carbon steel and the points are hardened and tempered.
There are numerous shapes and types of scribers for various applications. From cabinet making to tiling and model-making, scribers are used by craftsmen and DIYers to ensure their work is neat and precise.
What does a scriber do in engineering?
An engineer's scriber, or scribe as it used to be called, is a tool used to mark or scribe a guideline onto a workpiece prior to it being machined.
The name scriber comes from the word scribe, which itself comes from the Latin word scriba, which was a person who would write, engrave or inscribe documents.
What is a scribing block?
A scribing block (also called a surface gauge) is a gauge consisting of a scriber mounted on an adjustable stand; used to test the accuracy of plane surfaces.
It is a measuring instrument for measuring and indicating a quantity such as the thickness of wire or the amount of rain etc.
What is a carpenter's scribe?
A carpenter's scribe is designed especially for wood etching. The Thingamejig Precision Tools SC-IM Scribing Tool would classify as a carpenter's scribe.
Also read: the 5 Best Carpenters Nail Bags reviewed
Why must the point of a scriber always be sharp?
A scriber comprises of a hardened point made of strong metal which must be sharp in order to obtain sharp layout lines over the surface of the object that you're scribing onto.
What is the angle of a scriber?
Generally, the point angle of a scriber is 12 degrees to 15 degrees.
Conclusion
The most important question you need to ask before purchasing a scribing tool is what you need the tool to do and what materials you will generally need it for.
Then you can check out the features of the scribers that have been described above and make an informed decision as to which tool will serve you the best.
Looking for a fun project? How about making a DIY Floor Lamp With a Drill and a Jigsaw?
I'm Joost Nusselder, the founder of Tools Doctor, content marketer, and dad. I love trying out new equipment, and together with my team I've been creating in-depth blog articles since 2016 to help loyal readers with tools & crafting tips.